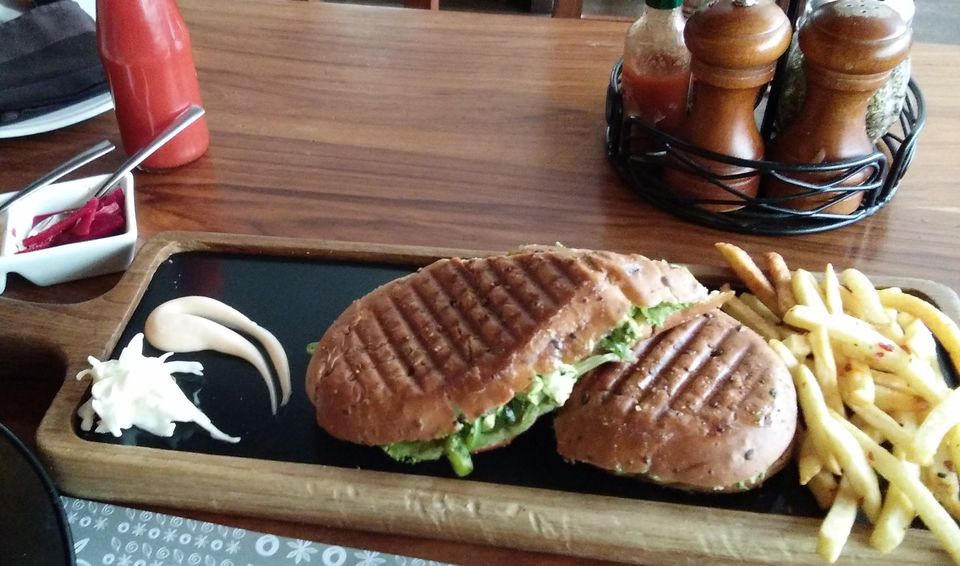 I'm from Delhi and one of the many commonalities in people from Delhi is the ultimate love for food. Scrumptious, full-flavoured, spicy and aromatic food that won't even take permission before entering your system and distracting your mind from third world problems and boil it all down to food. As the legacy has it, being a Delhite I'm not allowed to like a bit of Mumbai's food. And frankly, I really didn't, at first. I presumed that no place in India can match Chandni Chowk's chole bhature, Sarvana's dosa and Big Chill's pasta. This perception owes its inception to my experience at Leopold café in Colaba which was supposed to be the most famous café in Mumbai. We hopped off to this place thinking that it will be worth every penny, and it so wasn't. It is a historic place which marks the terrible 26/11 incident and this is the only "famous" factor about it. I was comparing every inch and corner of this little café with that of Delhi's incredible eateries.
Nevertheless, I went back to my cousin's place wherein she agreed to go on a food hunt with me the very next day and help me explore the unexplored. I won't call these places under-rated but they sure are not visited that often by Mumbaikars. If such eateries resided anywhere in Delhi, they'd be a huge hit! So guys show some love and visit these amazing food joints if you're already in Mumbai or planning a trip to this beautiful city.
The J
If you're a girl and you follow the famous notion of "fries before guys"; or if you're a guy and all you like to do is hog, this is the perfect place that fulfils your craving for fries. Combined with a hundred choices for sauces and toppings, these fries make a heavenly option. You can choose from the available combinations or create your own; The J will serve your fries in a cone and will fill you up till the gut. Located at Churchgate, right in front of HR College, this place is no less than a blessing for students who study here.
Tips: make sure your stomach is empty and you have no further lunch/dinner reservations because, boy the portion is UNMATCHABLE!
Spesso Gourmet kitchen
Famous for its devilish shakes, this place is a quite inside seating at Nariman Point. Quite why? I have no clue! Why do people not show up here? Whyyyyy? Freak shakes top the never ending list of delicacies. We had the hazelnut freak shake and I can't even begin to explain as to how good it was. I had never EATEN a shake before, until I visited Spesso. This divine chocolate melts into your mouth like the only pop of taste that could have possibly completed your existence. Trust me. I can go on and on about the greatness of this shake but let me take a moment to inform you about the other food options here. From Chinese to Italian, pizzas, pastas, sandwiches, and sizzlers, this gourmet kitchen has everything to offer! If you're on a diet, salads are delectable too.
Tips: if you're planning to lunch or dine, take at least 3-4 people with you. Two people cannot finish the shake. I swear.
Di Bella coffee, Dadar
When it comes to desert, waffles always top my list. The love for waffles has induced me to try waffles wherever I go. This little café in Dadar was supposed to be very famous for waffles; and I was like, eh let me hoist the flag of Delhi and tell them how good it is when it comes to waffles. However, the Chocolate explosion waffle swept me off the floor. And when I say explosion, I mean explosion, literally. The first sight of it had me like "do people in Mumbai really eat that much?" turns out, very less people do; else this place would have had a waiting time of hours, like they do in Delhi. The waffles are accompanied by vanilla and chocolate ice cream and lots of nutella.
Tips: There are healthy options too, I can't give examples, I don't like healthy. But go check it out yourself! :P
Light House Café, Worli
I'd never really heard of anything like a deep dish pizza until I actually saw one! In a deep dish pizza, the magic is in the crust. The toppings are wonderful too, though but the crust is what makes this one a star. Stuffed with tons of cheese, the crust of deep dish pizza is lightly baked bread with a slice of heaven in every bite.
We ordered the Indie style Chicago crust which was definitely meant to be eaten by at least 4-5 people. We were nowhere near to finishing it. It was so delicious that it redefined the whole pizza experience I have been having for years now.
Tips: pack the leftovers, feed them to little kids on the road, the pizza is sooooo good that they'll end up remembering you for life!
Joey's Pizza, Malad West
With another branch in Azad Nagar, Joey's Pizza is the best American Pizza that Mumbai has to offer. Now if the name of a place is so irresistible and describes the whole vibe of a pizzeria, you've got to try it, right? I can always find myself relating the most to Joey when it comes to food, why, oh well you must have understood why. Also, I don't share food!
We ordered the Paneer makhni pizza which is one of the best vegetarian options available. If you do not like paneer (which is super weird; sorry no judging), then go for the Mexican bonanza or Brave heart.
Tips: alone or on a date? don't even try Joey's special, if you know what I mean.
Boston Cupcakery, Andheri
Located in Andheri Lokhandwala, this little cupcake shop is like one of those American huts you would find in Boston. Squeezed in a tiny corner, this shop almost took me to a ride on American streets which are filled with fragrance of freshly baked cupcakes.
Nutella well cake is hands down my favourite! One dig into its soft outer bread opens a hallway for the outflow of eternal chocolate. No less than a dream, these cupcakes and muffins are a paradise for one with a sweet tooth.
Tips: if you can't handle too much of sweet together (like me), take a bunch of people with you.
Fat kid Deli, Vashi
This one reminded me of one of those soul-filling burgers of Burger Club and Johny Rockets. These are perfect for a heavy lunch, accompanied by dips, fries and wafers. I finally figured out the perfect burger joint in Mumbai. The ambience adds up to the food and tags this café as one of the finest.
Tips: order for fries rather than wafers; they'll stick around till the end. The burger is so large that wafers will become soggy by the time you actually finish having your burger :P
Huge shoutout to my cousin, Riddhima for helping me see the foodie side of Mumbai that I otherwise could not have. Also, she takes wonderful pictures (all of them are by her).
I can probably say that it isn't that much of a deal for a Delhite to survive in Mumbai. There is some crazy food out here. We just need to keep our eyes and mouth open.
Frequent Searches Leading To This Page:-
food joints in mumbai, eating points in mumbai, weekend holiday trip near mumbai, budget weekend getaways from mumbai, weekend trip for couple near mumbai