Mumbai, a city with cosmopolitan essence, has the most prolific nightlife in the country. With a spunky and jazzy essence, the pubs in Mumbai are a variety, from open air rooftop cocktail bars to a bollywood themed garage, sassy classic places to musical havens. Here are some of the best pubs in Mumbai.

1. Woodside Inn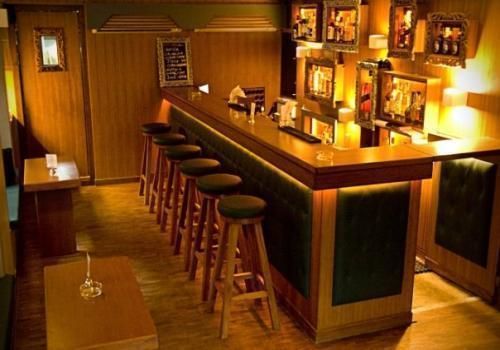 (Source: evening flavors)
Housed in a 120 year old heritage building, a closest thing to a tavern, the Woodside Inn, is a big hit with travelers, with a cozy, cramped atmosphere, lined up with wooden floors, low ceilings and wall-hung sepia prints of the grand Victoria Terminus with a colonial charm. Quite a popular pub in Mumbai, this place attracts students post sundown and a business crowd later in the night, and serves a rare variety of items like San Miguel, Hoegaarden, and Jagermeista to blueberry pancakes and French toast!
Location: Wodehouse Road, opposite Regal Cinema, Colaba.
2. Toto's Garage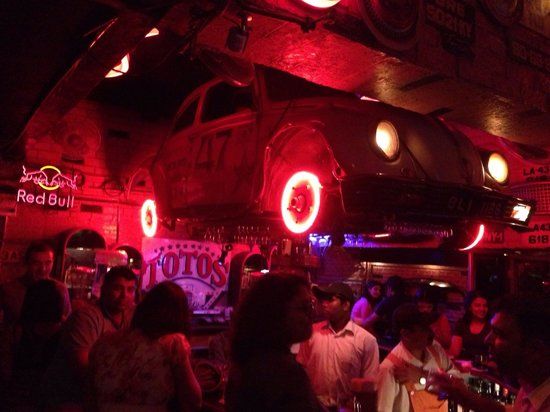 (Source: indian youth)
The place just like its name is designed as a garage and is a neon-lit bunker with a body of a VW Beetle suspended above, across the bar, whilst the DJ belts out popular music from inside a 'Maruti Van'! The décor of the place is themed on a bollywood style garage, with a dangling mixture of number plates, hubcaps and bonnets in the brick walls. Along with the glorious drinks, Toto's Garage, which is one of the most popular pubs in Mumbai, gets pretty packed as the night comes alive, is quite popular for its earthly Indian style delicacies of chilli paneer and chicken in 'mesh wires' and has the hype of a crowded after-party than a bar!
Location: 30 Lourdes Heaven, Pali Junction, Bandra West.
3. Aer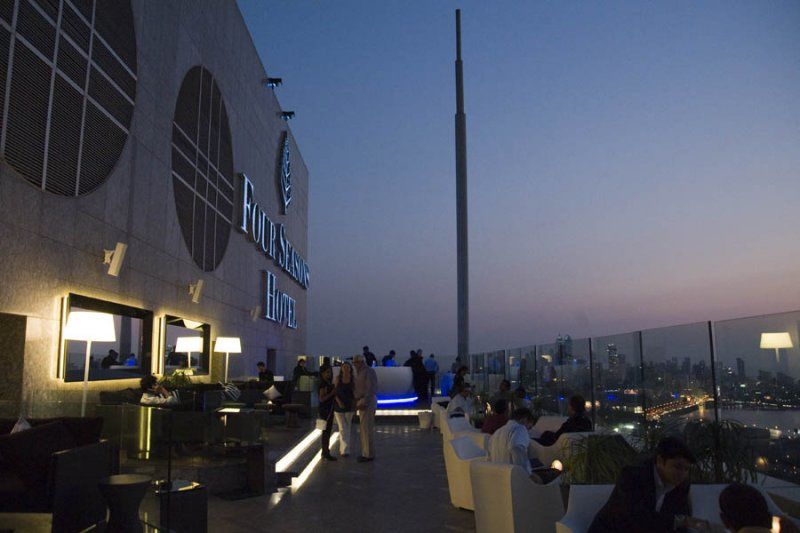 (Source: p base)
One of the most posh and grandest open air pubs in Mumbai, Aer is termed the 'sky high club' located on the 34th floor in the rooftop of the Four Seasons Hotel. Aer offers a panoramic view of the city and is a 'Bollywood magnet' attracting a Page 3 crowd, especially past midnight as the place grooves to the music of the in-house DJ. Aer is most famous for its aptly named uniquely appealing drinks, like the 'Lady Boy' and the 'Falling Indian', and is most popular for its 'happy hour' from 5.30 PM till 8 PM, where half-priced cocktails are served, as the setting sun paints a breathtaking view with the city lights on one side and the mesmerizing sea on the other!
Location: The Four Seasons Hotel, 114 Dr. E. Moses Road, Worli.
4. Blue Frog
(Source: mumbai east west)
Blue Frog is revolutionary, for it heightened the live music scene in Mumbai, harboring a state of the art acoustics, high tech LED screens, along with the necessary and is every guitarist's dream. Though the drinks are accused of being overpriced though nevertheless worth it, the place also has good burgers and steaks. With egg-shaped seating arrangements, Blue Frog, founded by a bunch of musicians, admen and filmmakers, is a paradise for night owls and is frequented by high-profile guests. Blue Frog is an eclectic combination of a concert hall, dance floor, restaurant and bar along with a stage out front and a recording studio, and has hosted some impressive indigenous as well as international artists, like the popular indie duo Shaa'ir + Func, Anoushka Shankar and Brit saxophone player Soweto Kinch among others.
Location: Mathuradas Mills Compound, N M Joshi Marg, Lower Parel.
5. Café Mondegar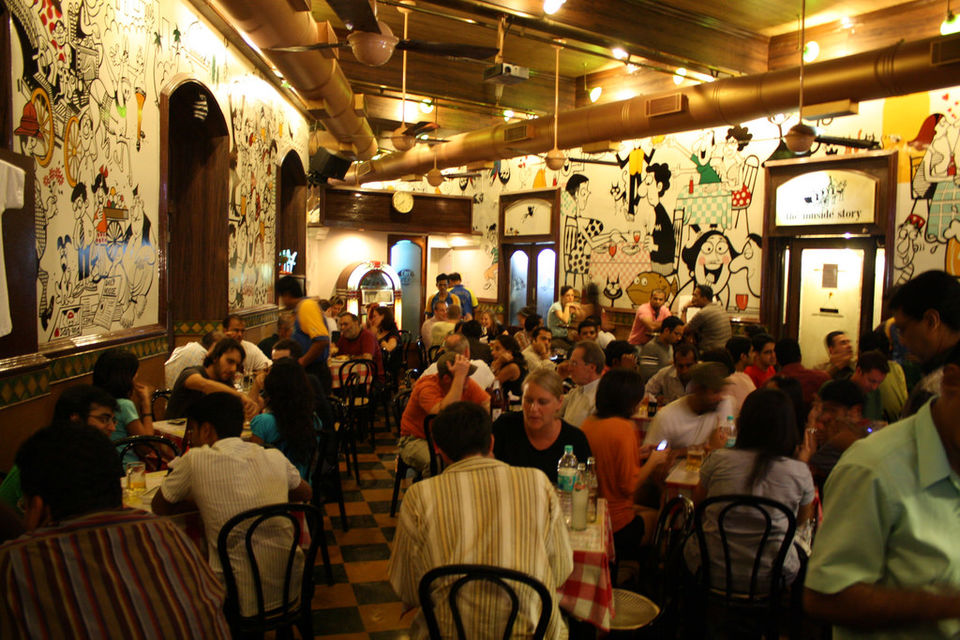 (Source: flickr)
One of the oldest and best pubs in Mumbai, Café Mondegar has history in its very ambience, started in 1932 as an Irani Café, housing the first jukebox in Bombay and donned many hats as a café, restaurant and finally to emerge as one of most spectacular bars in the city today. Quite popular with the tourists, the place also known as Café Mondegar and Mondy's stands out for its iconic décor, wherein the famous cartoonist and painter, Mario Miranda, painted the inner walls and the entrance ceiling with murals! One wall is themed "Life in Mumbai" and the other, "Atmosphere in the Café".
Location: Situated in a proximity to the Gateway of India, in the "Metro House" in the Colaba Causeway.
6. Tote on the Turf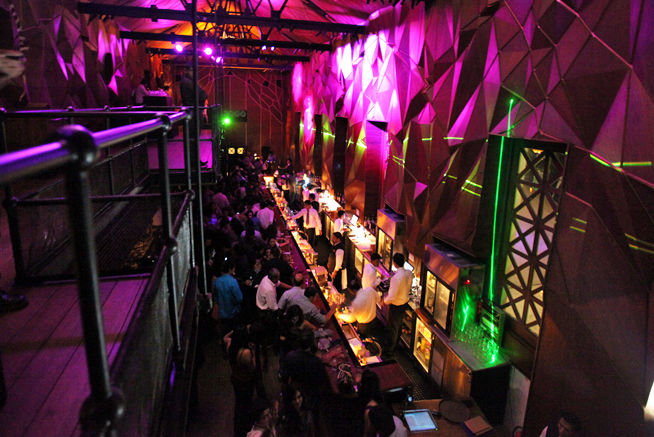 (Source: the tote)
Known for its exquisite interior, Tote on the Turf is a pub in Mumbai which has the essence of the informal in a formal, cozy setting, lined with rain trees at the entrance, wood paneled bars and suspended mezzanines, serving chargrilled kebabs ferried over from its adjoining restaurant, Neel, along with the swanky liquor, ranging from a wide variety of beers to Indian wines. With a couple of awards for its designed decor, Tote on the Turf attracts a mixed crowd, and is significant for its themed nights, be it a Halloween party or the city's biggest New Year's Eve party for which it grabbed headlines!
Location: Mahalaxmi Race Course, Keshva Rao Khadye Marg, Mahalaxmi.
7. Olive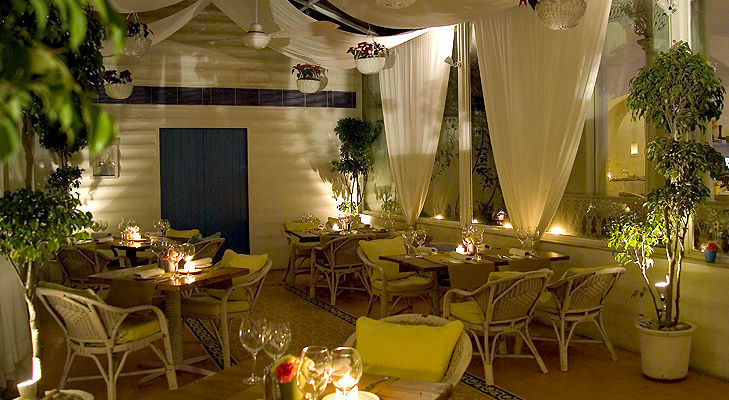 (Source: coupon raja)
Just like its name, Olive, a Mediterranean style retreat is considered one of the best pubs in Mumbai, in a dimly lit with candles in a comfortable setting, lined with pebbled pathways and colored in soft white hues. Described as a 'Mumbai tradition' Olive attracts a mixed crowd ranging from A-listers of the Film and Fashion industry, their associates, outsiders and the locals alike, especially to its TGIT (Thank God It's Thursday) night, with grooving music until sunrise, wherein the make-shift dance floor is floored with tunes that ranges from lounge to house! This pricey place serves a wide range of wines, especially international brands.
Location: Pali Hill Tourist Hotel, 14 Union Park, Khar West.
8. WTF!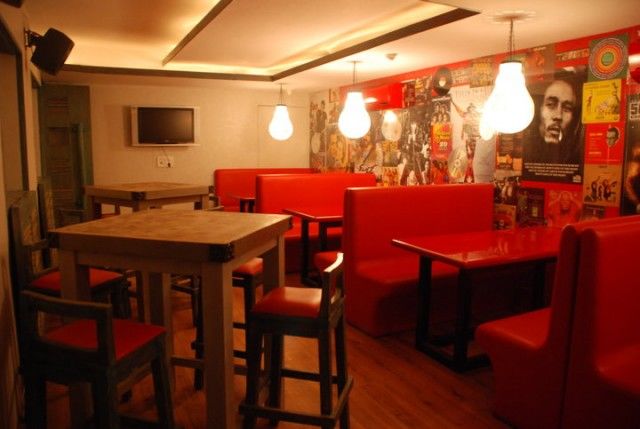 (Source: off track planet)
The walls covered in antique vinyl's, adorned with posters of music legends, from Bob Marley to Pulp Fiction, WTF, gives the image of a bedroom of a teenaged music buff and reminds one of their good old days! With a cozy atmosphere heightened by the blood-red booths lit up with giant vintage hanging bulbs, this pub in Mumbai is prominent for its simplicity, offering the most sought after mandarin mojitos and plain old beer. Often in summer, the graveled courtyard is transformed into a club, as the in-house DJ fills up the air with retro pop, rock and a bid of country!
Location: Vora Building, 3rd Road, Khar.
9. Amadeus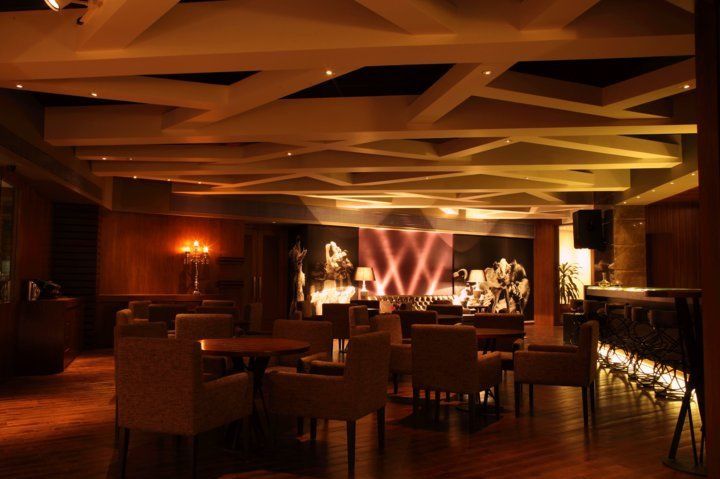 (Source: mumbai mag)
Amadeus is stylish and sassy, an award winning Spanish restaurant by day famous for its Pork Belly, transforms into a low-lit lounge which in the weekends becomes a Sangria hotspot for the South Bombay elites. Serving beverages indigenous to Spain and Portugal, Amadeus also has a good music scene with live performances and DJs rolling out numbers specializing in western dance as well as a few bollywood bites. With an energetic vibe reflected in its atmosphere, this Spanish styled night club often tends to get packed up.
Location: NCPA, Nariman Point.
10. China House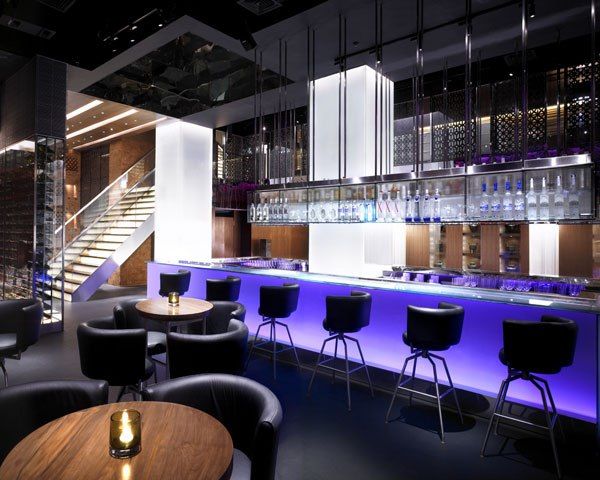 (Source: zomato)
Located at the Grand Hyatt Hotel, China House is always on fire, with music playing until the wee hours! With a new DJ every week, the place has something for everyone, especially youngsters as it always provides great free Wi-Fi! Mostly letting in only a mixed gang, with both gents and the ladies, the place is quite strict about dressing up appropriately. China House is known for its unique cocktails like the 'Bonnie Beb' made with Dewar's, apricot brandy, apple juice and Assam tea!
Location: Grand Hyatt Mumbai, off Western Express Highway, Santacruz.
Frequent searches leading to this page:-
best pubs in Mumbai, pubs near me, Mumbai pubs, best pubs in Mumbai for girls, best pubs in Mumbai for boys