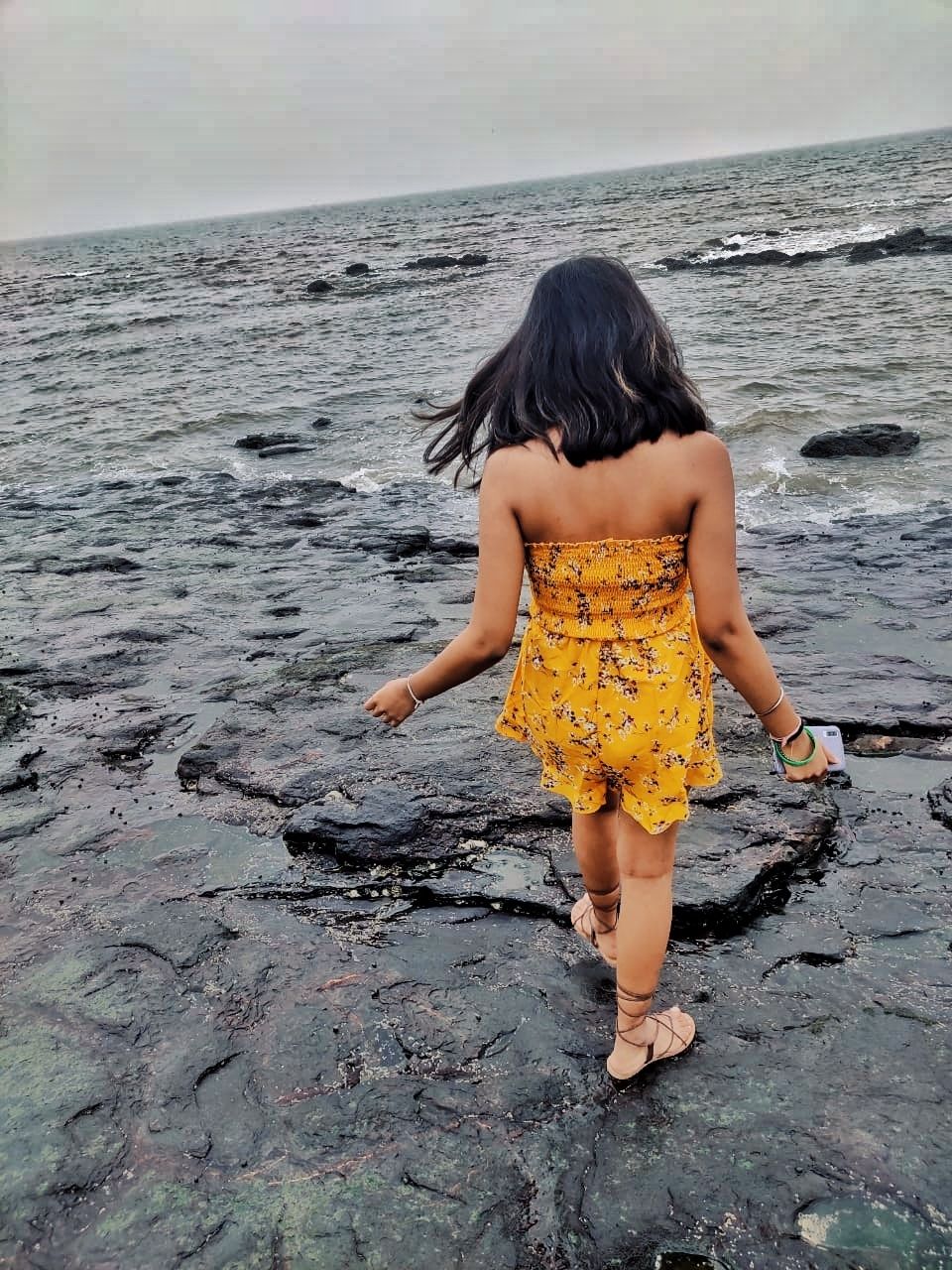 Us, the travellers we cringe if the schedule is not on fleek. Don't we? But what harm it is to listen to Naina saying "kitna bhi try kro Bunny, life mein kuch na kuch to chootega hi. To jaha pe hai vaha ka maza lete hai".
I was feeling the Mumbai air and seas for the third time in my life. This time with quite a bunch of responsibilities of the 18 team members. I was extremely sick, my throat was dead and I had fever. I cried on the 3rd day of the trip and decided to not let any sickness devoid me of the fun.
I cancelled all my plans for a day to go candid in the city of dreams. My friend and I, we got into our best clothes, booked a cab to the Band Stand to just go and relax and live the moment. What fun it is to crib when you're in Mumbai?
We did not talk, we looked outside the window. Mumbai is unreal, even in the slums and dirt, I found myself at peace. And all I wanted next was to ask the cab driver to never stop the car or the music and just let me be like that for some time.
Arrived. Band Stand.
It was crowded, a lot. A LOT. (I know I have made my point but what's too bad in too much emphasis).
First things first, we walked our way nearer to the sea shore to get some beautiful pictures clicked. I'll add them and you must see it for yourself. Tired of capturing we held on to each other and sat by. We were awfully quiet for the good. We cherished the sun set and the lovely people doing all the different kinds of activities around. I felt elated and glad that I was in the moment.
After stopping by Shah Rukh's Mannat we decided to follow the lane right next to his place. It is overloaded with Goa VIBES. At the end of it we discovered a beautiful beautiful church. We went inside and sat for half n hour. Could this day be any better than that? It was getting dark and I had people waiting for me, sadly we had to come out. But we were all set to feed our stomachs some special mumbai items an aunt was selling right outside the Church. Delicious is the word.
We were tired but still wanted to explore. We walked about a few lanes finding cafes when we were absolutely lucky to find us into a heaven of a place.
I confirmed with a guy if it was a cafe since I could not find it on Zomato. He smiled and said "No, it isn't but you surely wanna come inside". I laughed to when he further added "Coffee on me, girls". To when we finally hopped inside.
He just really opened the door to a safe and lovely place located in Mumbai. It was a Coworking kind of a space. He promised us a tour, and meanwhile we were also introduced to the people working there. It was a theme based space knitted and curated wonderfully around the different kinds of rock bands and artists. Artistic is the word I am telling you. It was gorgeous.
The best thing about it was the prescription wall which had song suggestions in case anyone was having a bad day. I picked one for myself and wrote one song from myself. We were so so so mesmerized to have been there to explore such a nice place.
We bid them goodbye. Finally found a cosy cafe. Had our French fries and mojito, to ride back to the IIT Campus.
For those 10 days I had been in Mumbai, it was the most unplanned, serene and gorgeous day. That I promised myself that I will always have a day as candid as this on all my next trips to wherever I go.