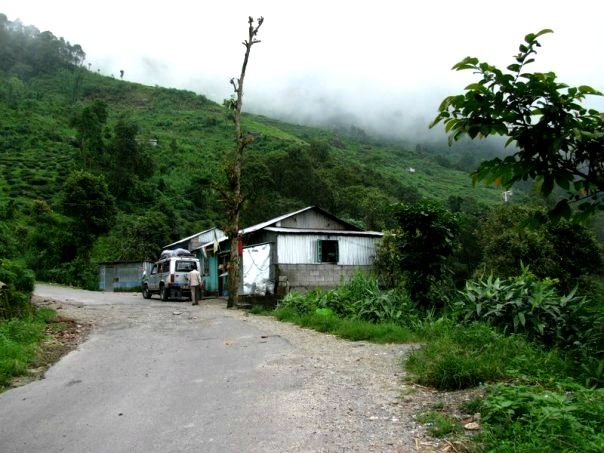 Well, the realization that there are sprawling tea gardens and that tea smell little weird than how it actually smells in a cup, came to me quite late in life, precisely, when I visited Darjeeling with a gang of 25 relatives, few cousins and a dear friend of one of my cousins, who I met for the first and the last time on that trip.
Travelling with a very promising 20+, when I was a decade and a half old and so was the climactic degree of the place, did stir a lot in my cup. The morning dew and mists, evening fog, a veil of cloud suddenly blocking your view as you walk uphill; were the things that made me fall in love with the beauty of the hills more than anyone in the trip. That was the first time I realized what beauty 'hills' are!
To live on with this experience, appreciating "tea" was an obvious and organic extension. The most adventurous I can claim myself to be is in matters of tea. My favourite tea places range from Nasir Da's stall, on whose "lebu-cha" (lemon tea), I have spent my university days, to some of the sprawling and most illustrious tea houses in Bombay. My indulgence in tea has made me taste anything from a paste of Matcha to a porcelain of world's top Single Estates, but the best I have tasted was in the company of that 20 + 'dear friend of one of my cousins'.
Sitting aimlessly and at peace by the hills, realizing that the sun was going down faster than I could blink, I remember, a deafening silence engulfed the entire region within minutes. One by one, lights of houses downhill went on, the chill in the air started piercing my skin and fragrance of the hills encapsulated my senses as it started drizzling.
Amidst all this, I vividly remember the bliss I experienced. A warm hug of a person, who I met for the first and the last time on that trip, snuggled a little close to me and gentlypressed my ice cold palms in his and placed my hand on to that steaming hot glass of tea.
Since then, tea has been as intoxicating to me as a goblet of wine, and where else could I have lived that beautiful moment, other than what is rightly referred to as the Champagne of Tea – Darjeeling.