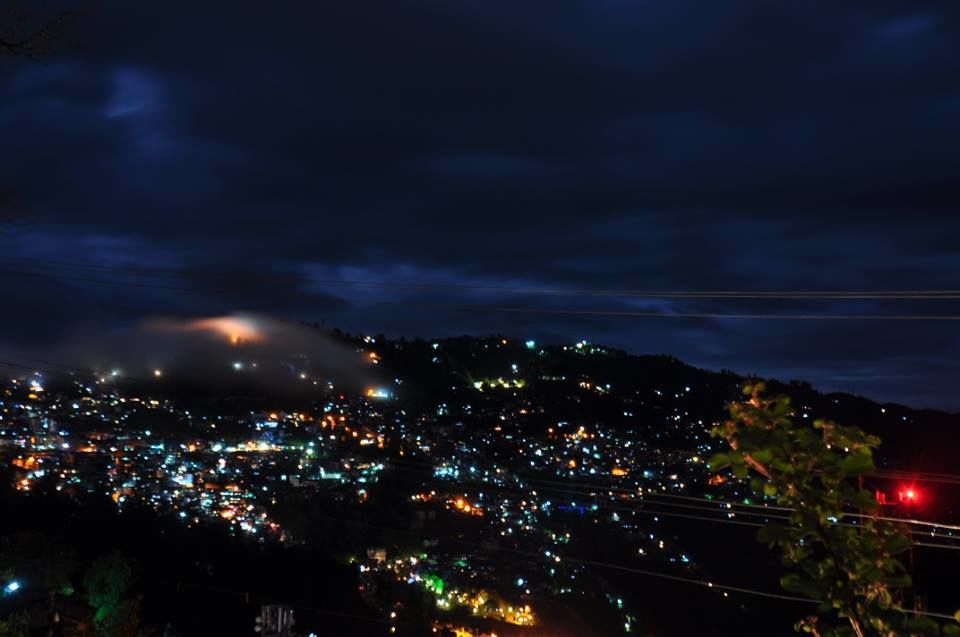 Darjeeling - with its blue skies, emerald hills, an unmatched view of the great Kanchendzonga, and the noticeable British influence has charmed many a traveler. The hill town also has a considerable Tibetan presence so a gastronomical journey through the narrow cobbled streets of Darjeeling would not be complete without a full English breakfast, a Nepali style lunch, followed by a Dinner by the fireplace at Glenary's - which sounds like a cafe right out of a Sherlock Holmes story! - And did i mention authentic Chinese sausages?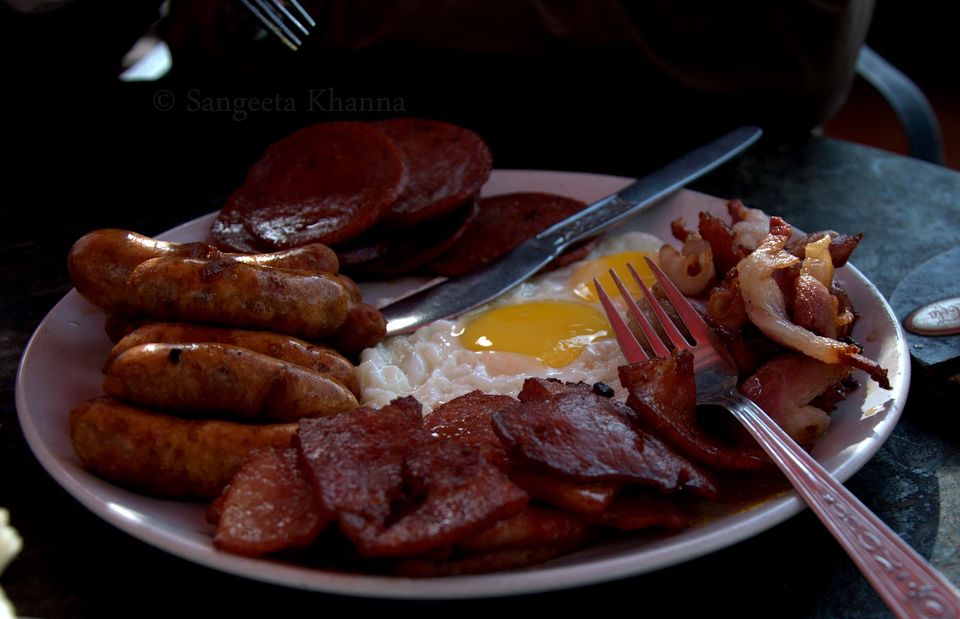 Keventer's or Kev's as the locals call it is housed in a three storey building right where the Mall road starts. while the ground floor houses a cold store, the real charm is the rooftop cafe. Climbing up the narrow stairs, hands on the stout wooden railings, eyes on the vintage photographs of what Darjeeling used to be - it's like a journey back in time. Little has changed since i first visited Keventer's some 15 years ago - the colors look the same, the place smells the same, the people are the same - just a little older. A plate of "everything" is what you should order here. Perfectly cured bacon, deep fried sausages with spilts that enhance their beauty, salamis, ham and eggs - sunny side  up! A platter of this, cold coffee (Through bottles which haven't changed too) and the view of the clock tower and the hills above, followed by a cup of pure Darjeeling tea - What could be a more filling breakfast?
The breakfast at Kev's - wonderful as it is, it surely adds quite a lot of extra calories. And what better way than to walk the beautiful mall road in Darjeeling in the pleasant weather! A walk towards the Mall along heritage landmarks like the Darjeeling pharmacy, Frank Ross Pharmacy, Das Studio and Ajit Mansions brings us to Chowrasta - where four roads meet. This is the place where everyone in Darjeeling hangs out, over a cup of tea. Chowrasta has its different flavors in different seasons. Some have found love here and some have lost it. Some have good memories, some have bad. But let's leave it to a different time to talk about love and heartbreak! A walk around the mall road, a clear view of the Kanchendzonga will surely leave a space inside you that cannot say no to momos! Though these wonderful dumplings have had an identity crisis over the years, i have always thought them to be part of the tibetan cuisine. The best momos i have ever tasted! Ever! are from the tiny restaurant towards Toongsoong, one of the three roads leading to Chowrasta. A walk across the fountain, along some curio shops and the horse stables leads us to this tiny restaurant - which is as much of a kitchen. A hot favourite among the locals, you could have to wait in queue for 10 - 30 minutes sometimes and if you are unlucky, you may have to visit again the next day. But if you are lucky enough to make it inside, the inner hunger in you will be satiated! Juicy inside with the right amount of wrapping, perfectly cooked meat and a tibetan family serving you! What could be more authentic? But make sure you have some space left! We still have a Nepali style lunch to devour!
In Darjeeling we have our own way of letting people know where exactly we are. And that my friends, most of the time does not involve long addresses with street or road names. Anything could be used as a reference and a true local would know exactly where you are. Hearing directions like "Sathi Siri" (the 60 stairs) ; "Orient ko ukalo" (The road uphill from the Orient restaurant) and the most famous "Tallo Bata" (Lower bata) or "Mathillo Bata" (Upper Bata) is very common and trust me however arbitrary they may sound to the first time visitor, it works! One such landmark is the Economic hardware store. On H.D. Lama Road, this is one of the oldest hardware stores in town and the most famous, so well known that sometimes people would recognize the street only when you call it the Economic Hardware lane. I am sure now with a little help from the locals, you will manage to reach the Economic hardware stores - our next stop. Lunch at a hardware store? you would ask! No. But my friend the place we are dining at is a hidden gem. Not too many people know about it except for the frequent visitors and a few food lovers who explore! Right opposite to the hardware store and into the building that houses Ajit's barbershop, then a staircase to the first floor would bring you to a couple of shops selling imported garments and also a beauty parlor - one of the good ones in town (or so the locals say). Across the shops at the far end will bring you to a tiny shop - Zilu's. Though a little dark at first, your eyes will get accustomed to the place in a minute or two. A tiny kitchen with a bench inside and one outside and a window overlooking the market - that's the place you're looking for. The menu is simple here. It's either rice or rotis, with a non-veg curry, served with dal and some sides - all cooked authentic nepali style. The best however is the piping hot rice with pork curry in mustard greens with black lentil soup and seasonal vegetables. If you are lucky you could get the best Chayote curry you woule ever have! The perfectly cooked meat with the right amount of fat, right amount of everything all complete with pickles and salads and refills makes you feel like there sure is heaven on earth! After a fulfilling meal with enough pork what else would be better than to get a quick nap after which we pay a visit to the Chinese aunt to satisfy our pork cravings. If you don't get along well with pork you can extend your nap until dinner starts!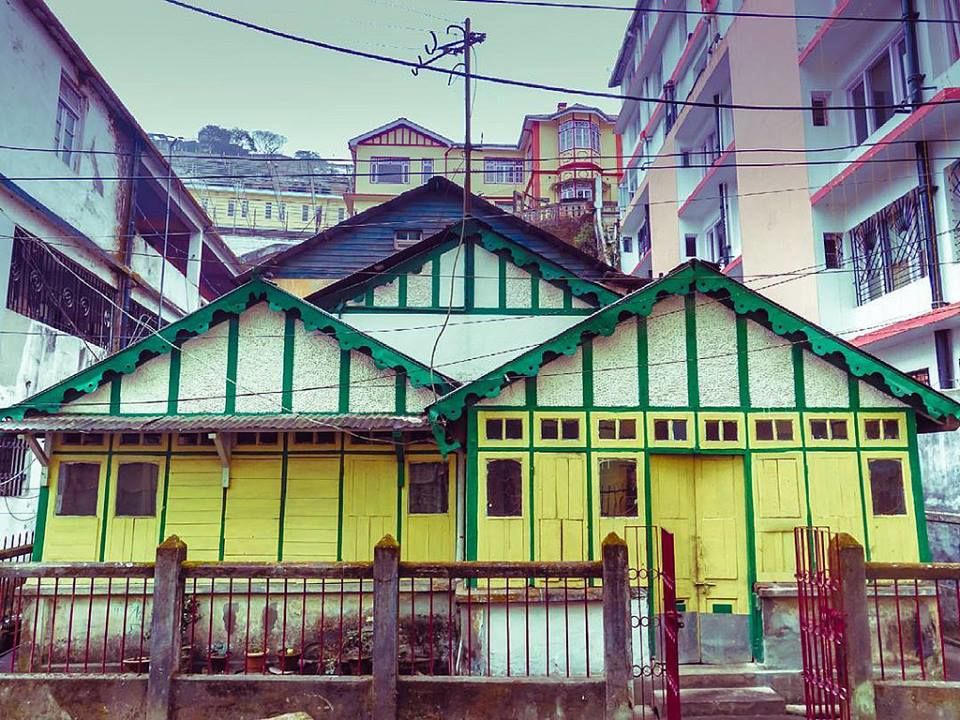 Darjeeling has its share of heritage and many would agree with me when I say that the town hasn't been the same since a few years ago when "development" started. Many iconic buildings and landmarks were torn down to make space for malls and shopping plazas. Well let's not deviate from our journey to the ugly facts, but in the midst of all these developments, there is this quaint old place that has managed to retain it's charm - and its taste. Inside this quaint little home right across big branded stores like Adidas and cafe coffee day, it will surely be an experience of a lifetime. Run by a Chinese lady, this place is known among the real food loving circles of Darjeeling for its sausages. Sold per piece, eight of these could keep you running through the day, but you would not know it because it tastes so good that you wouldn't want to stop! The place - a little dark, but charming, all wooden structure, wooden furniture, three small cabin like structures for diners, tables and chairs that have seen a thousand plates of these sausages, a quaint little incandescent light bulb lighting up the room, and the sausages - Juicy, perfectly colored, well marinated, well cured, with a wonderful fat:meat ratio and the lady who is fun to talk to as she fries them sausages! It's like a journey back in time - which lasts only as long as the sausages do - because once you are out of that wooden door, you are into a whole different world - reality!
After quite a day enjoying the delicacies Darjeeling has to offer, there's nothing like a dinner at Glenary's wine in a hand and a book on the other and with a view of the town at night. Its a whole different feeling. One with inner peace. Post 8.30pm, most of the people in the town are at home sitting preparing to sleep. A walk to Glenary's around this time would be a less crowded one, with the evening air on your face and temperatures below 10 degrees so that there is no unpleasantness - not one bit! Glenary's is one of the few restaurants that still retains its old world charm. Once you enter the white door, held open by waiters dressed in black and white and a bow-tie it feels like you are dining at some manor in 18th century England with a Lord and being served by his butler and footmen. The fireplace well lit and the candle-stands on the mantel, perfect lighting and the decor of the place complete with wonderful paintings by local artists provides a wonderful ambience for a dinner to remember. The sizzlers here are wonderful - served on sizzling plates with potatoes, vegetables, choice of meat, freshly baked bread and butter. And what sight it is to see the whole restaurant filled with smoke as the waiter brings your sizzling plate across! Order one of those and you won't think about anything else for as along as you take to finish them. The meat is perfectly cooked and the flavors are all over your plate. Every bite renews your love for food!
After a wonderful dinner  - well , as Oscar Wilde rightly said - "After a good dinner one can forgive anybody, even one's own relations."