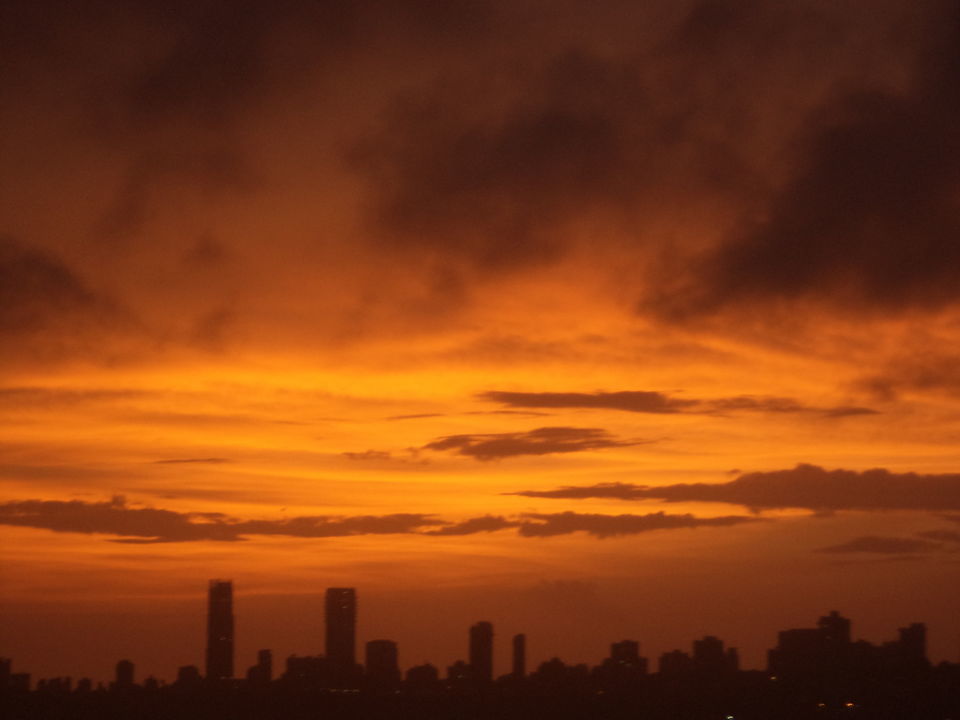 Never did the world make a queen of a girl who hides in house and dreams without travelling. Because dreams never come true without stepping out of comfort zone baby!!!
I happened to learn it the hard way though…
Hello fellas. Sending love to all. Since it's our first post I asked Shrishail to wait for his post and decided to get started from my city. Not his! Although his place is my favorite too but let's tour my place first… Because, ye hai Mumbai!
As they say, some journeys in life can only be traveled alone. It goes true for me loads of time. I chugged down the city lights when I finally decided to take the plunge in the city I lived.
A bit chirpy, a lot enthusiastic and probably the most punctual one! This is the definition of a 'Mumbaikar' or 'Bombayites' the coequal name for "The Mumbai People".
My spirit gets nourished in faraway places, the places I've never been before. Sometimes I wonder if it's a biological need, perhaps a biological flaw, that compels me to seek the excitement and challenge that comes of being in a place where nobody knows me. And then the city is so big that you barely get known.
Other times I think that my compulsion to settle into communities that are different from the ones I know is related to my passion for experiential learning. The madness that is around for known the strangers is like an adrenaline rush for me. Yes sometimes it's scary and sure enough to land in trouble, but then again, that's the beauty of it!
I learn best by doing things I've done never before, touching the things carved out, sharing experiences and tasting the food cooked by localities.
I always had a dream. A dream to be a part of this city. Because the inhabitants of this city are hard-working, cultural, witty, modern, who are passionate about their lives and are very approachable. You become what you live. And this was what I always wanted…
The speed. The lights. The rush. No other city can give so much like this place.
I used to visit this city only on vacations, but since now when I'm a part of it, I understand the emotions attached with this place.
Every morning is like a mad rush. Be it getting up or taking a bath or running errands for my mum or simply catch an auto-rickshaw and reach station on time to catch the local train!!!
Everything has speed. Everything is bound by time. Everything makes your adrenaline go haywire!
Actually It is hard, or almost impossible to define a true Mumbaikar, as they are actually one of their kinds! You'll find a real Mumbaikar who is away from Mumbai getting sentimental when words like Chembur; Dadar; Andheri, Bandra fall on their ears. People of Mumbai are with the perfect transfusion of North-meets-South.
So when I actually got to know this city, I felt amused. I still do. The madness is in air here. It's like you don't have to be a part of it to know it. You just get mixed all along.
Couple of years ago, when I was a small town dweller, just like every other girl or boy of my age, I had a dream to go to this beautiful metropolitan city and do loads of cool things. Well, my definition of cool things included getting dozens of books from the stalls below oriental building at Churchgate, visiting Haji Ali, essel world, the bandstand and the famous marine drive. The laid back attitude of this city which now I proudly call as mine is not famous only for its crowd in trains, but for many other things.
But when I actually came here, it was like a dream come true. The city gives goosebumps as you just breathe in.
The city breathes life and you feel energetic when you visit few places here. In the beginning, travelling in Mumbai was just from home to my tuition classes and back.
But that one fine day I decided to take the roads rather than hitting the local trains or cabs. Walking from CST (Chatrapati Shivaji Terminus) to Churchgate was one such beautiful experience I had.
The suburbs have the underground paths and also a bridge that connects these two stations from road. I happened to recognize it and started walking only to find that the way was not for the pedestrians but for the vehicles. Getting back on the road, I took a little journey backwards. There I found a pathway leading to a lane which wasn't the usual way around. The shabby kids playing in dirt and the slums placed on the stairs.
As always, every time an opportunity took me to Mumbai, I dived into the city. And that day was one such…An old uncle who recently had his Namaz done showed me the way out and the smell of salt n' water hit me. I did reach my destination and I walked through a different road too. Obviously this was the very less taken road and also much hidden one, but sure enough to leave an imprint in my travel list.
When I reached the foot path of marines that day, I felt victorious. I did my little victory dance when I saw the vast Arabian sea. The road I took was the first time I traveled like that. And I felt proud of myself. When I saw the view in front, the esplanade was as usual full with the crowd. That is one of my favorite place in Mumbai. Mumbaikars are quite proud of the sea view the Queens necklace offers them. Why should not they be? It's one amazing view to have. Couples like to spend their time in the evening sitting on the balustrade there. The old senior citizens take an evening jog with their pets. The young newly married or new parents take a stroll on that esplanade with their loved ones. The city is queen itself and the necklace just adorned her beauty. Without queen's necklace Mumbai was incomplete.
The monsoon was already there, that made the winds bit chilly than usual and so I had to zip up my jacket as I walked. My walk which I always do with myself, alone gives a sense of calmness and believe me, it helps to look at the surroundings or the people around you. The clouds, the breeze and the waves… it can't be explained rather felt first hand. All the stress says bye-bye when one walks through the balustrade.
I still find it strange how easily I accepted this city and it accepted me in return. Now I feel the anxiety increased whenever I'm not in crowd. I get the sense of safety whenever I'm in this city. The rush makes me feel safe and happy. It's not same story for all but it is sure for me.
Even after basking with so many setbacks, Mumbai stands glorious and instills the courage and hope each passing day in everyone.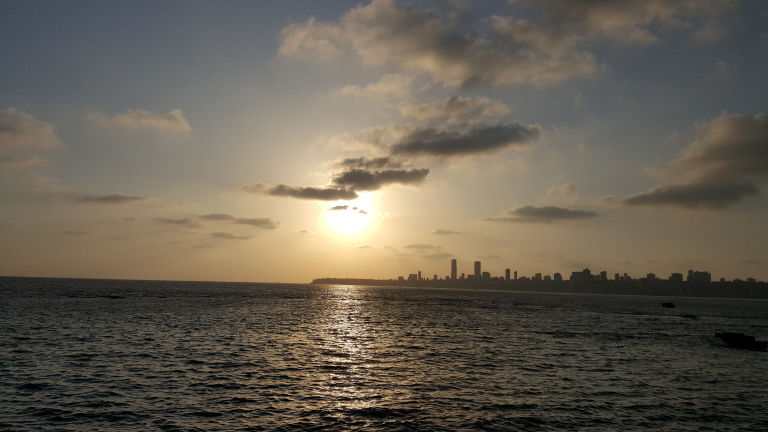 As I sit back on the balustrade yet again today alone and watch the sun setting at the horizon I find a small smile creeping its way to my face. The water was reaching the boulders today. The monsoon effect. Tides were high and thus one big splash and I was half drenched. But no matter what it is still appealing to my senses.
I'm finding a whole new world ready to be changed and be a better place to live. For this entire place taught me the meaning of simplicity and fighting my own demons as there would be no knight in armour for a girl living in a city as busy as this. Be a girl or a boy. Fighting our own demons will only take us where we want to be. Because no one else will fight for us.
The orange hue that managed to come up through the clouds was ready to spread its wings. My eyes grew misty because the time was up and I had to go home. Leaving this sea view. Wondering yet again where I was and where my life is going to take me.
I hope this monsoon is treating you all as well because I'm blissfully lost in my intricate thoughts.
Frequent Searches Leading To This Page:-
weekend trip from mumbai, weekend holidays from mumbai, weekend trip cost from mumbai, weekend getaways from mumbai, weekend tour from mumbai