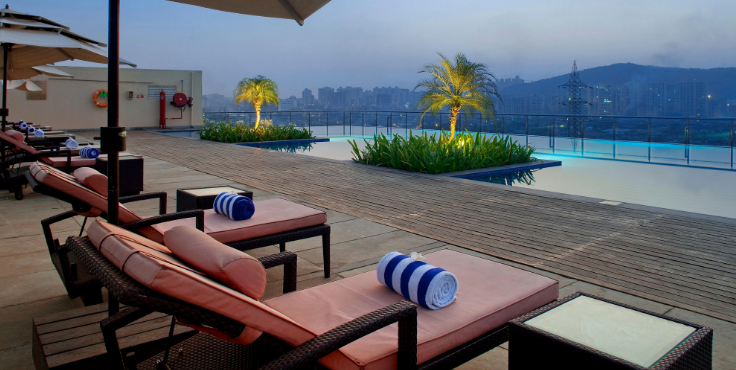 Living in Mumbai is a pleasure to a lot of people, but for someone who likes some me time, the only option could be at home because this city is too crowded everytime. Yes, there are a lot of underrated places in the city too, but for an average introvert, I find them crowded as well. Are you an extrovert or an introvert? No matter what you are, you can do a staycation at this hotel in Mumbai for the best experience of a weekend. Head to Holiday Inn for a getaway from the hustle bustle of the city life and to get rejuvenated.1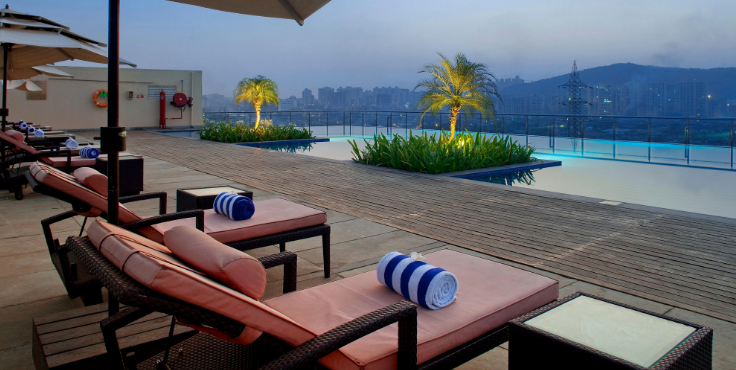 How to get there?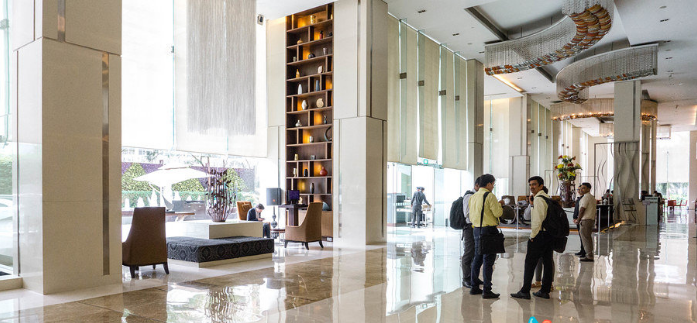 It might be a little tricky to find at first because it is in a quiet secluded area, but there are many hoardings guiding you to the hotel once in the realm of Sakinaka. A car is the most ideal means of transportation. You can just put the hotel on google maps and it will take you there. Also, it is super close to the airport, so if you are new to the city and are looking for a place, this place is ideal for you.
funny thing: we took 10 circles around the international airport to get here because google maps made us do that. Just take a turn when you reach the signal, don't turn around.
What are the activities at the hotel?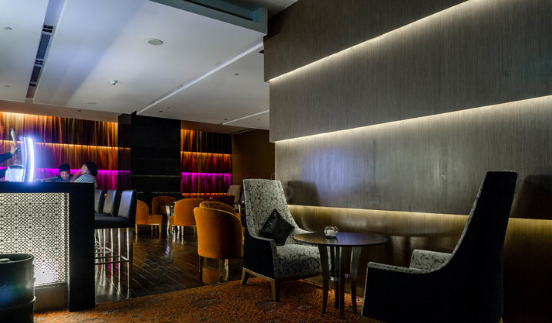 Spa - The was one of the most tranquil and chilled out parts of my stay at Holiday Inn (apart from my wonderful room with a mountain view of,course). It helped me feel connected to myself again and helped me relieve myself of the abundance of stress I was facing. I started off with a simple head massage and that itself really helped me ease out. The masseuse was catering to every need of mine, and providing her skills in the exact way that I wanted. She was massaging every corner with the right pressure and movement. It felt great to just lay there in bed and relax. Living in Mumbai, I don't remember the last time that I had relaxed like this.
Swimming pool - An infinity pool on a high floor from where you can glance at not only the city but also all the mountains around is surely one of my favorite things about the hotel. The pool gives a feeling of endlessness. It opens to a vast expanse of city lights at night and it is refreshing to just sit by the pool and grab some drinks. It is surely a place which gives you a bird's eye view of the city life in Mumbai.
Gym - A good workout with some great healthy food is what makes every weekend a fruitful one. If you stay here and are feeling unproductive, just head to the gym for a refreshing workout session. You can glance at the city from this indoor gym. And yes, the AC does feel good after a wonderful gym sweat session.
Bar - Let's be honest. There is no weekend without a good bar. There is a fantastic bar at the Holiday Inn and the bartender understands your personal preferences very well and he customizes the drink for you. You can spend your game night here and watch a football or cricket while you enjoy your drinks. It is also an ideal place for a party.
What are some of the best dishes to try at the hotel?
I loved the buffet at the hotel. You should surely try their pizza and pasta. They also have some fantastic Indian chaats. Their mocktails were a sure winner on the menu, extremely well curated and great in variety. Apart from all this, they have a variety of cuisines like Thai, Indian, Italian, Mexican etc. They also have multiple different dishes from various states in India.
Why is this better than other hotels around?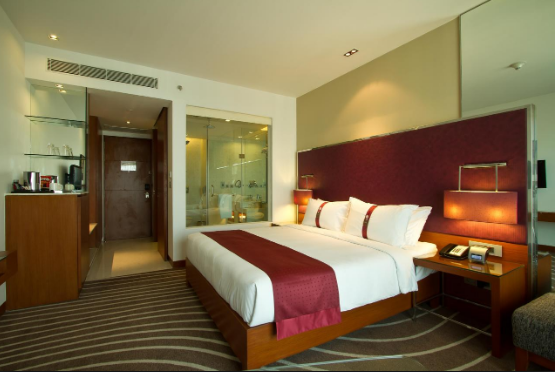 This is one of the best hotels around because it is worth it in its price. The rates are much better for the amenities around than other hotels. Moreover, their food is also great. The infinity pool is a sure winner since its one of the only hotels in the area with an infinity pool. More than anything, the comfort which their room offers to you is unparalleled. Nothing is better than dipping in a bath tub after a long day.
What is the best thing about the hotel ?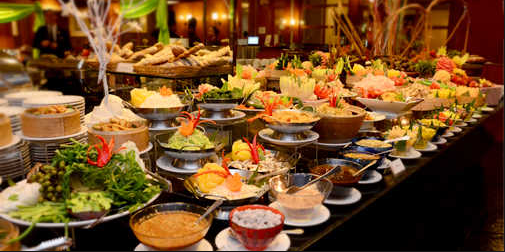 I would surely say their infinity pool. What is better than a pool which opens to a city. You can enjoy and exclusive and hot city night life view in the evenings. It is a sure winner. I also loved their mocktails. I would surely vote for their mocktails and have it by the pool.