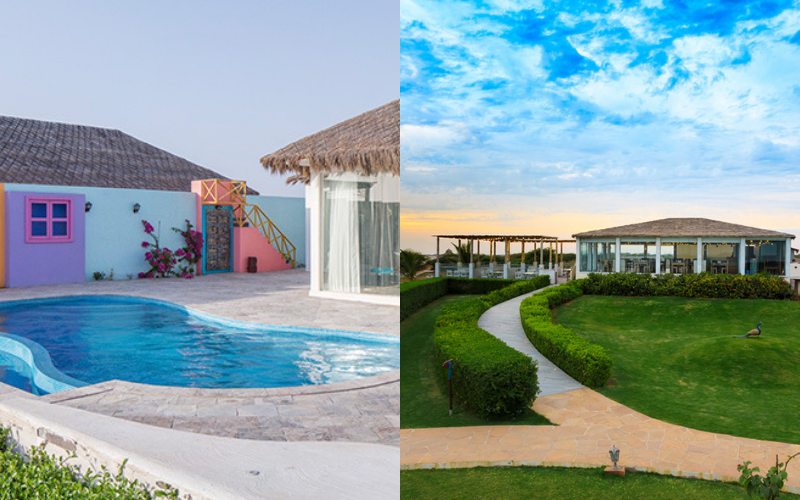 Serena Beach Resort has a massive infinity pool that gives you a mesmerizing beach view with an inbuilt Jacuzzi.
It houses some beautifully done up tents, garden rooms and private villas each designed with international destination based themes.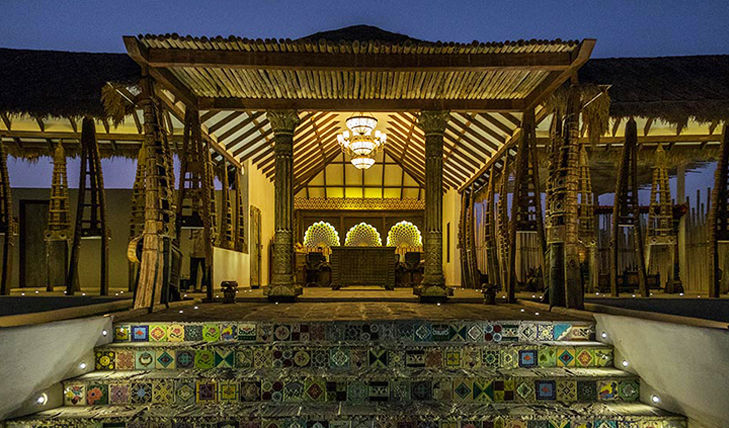 The most famous being the Greek villa, inspired by Santorini. Check it out, it's like India's own mini-Greece in Gujarat.

Of course its hard to guess that, this resort is situated in the desert-land of Kutch.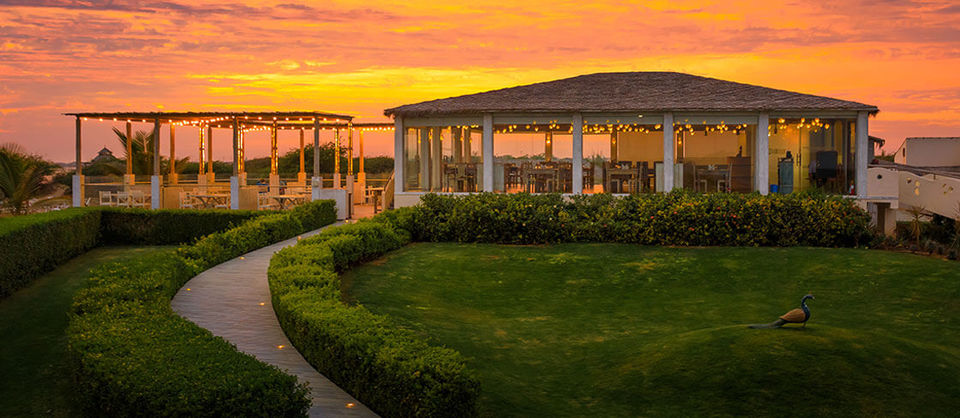 About the property:
With 26 luxury tents, four majestic sea view pool villas conceptualized around unique destinations around the world that have their very own private plunge pool and gorgeous garden villas that are cradled in green pastures with sprawling balconies.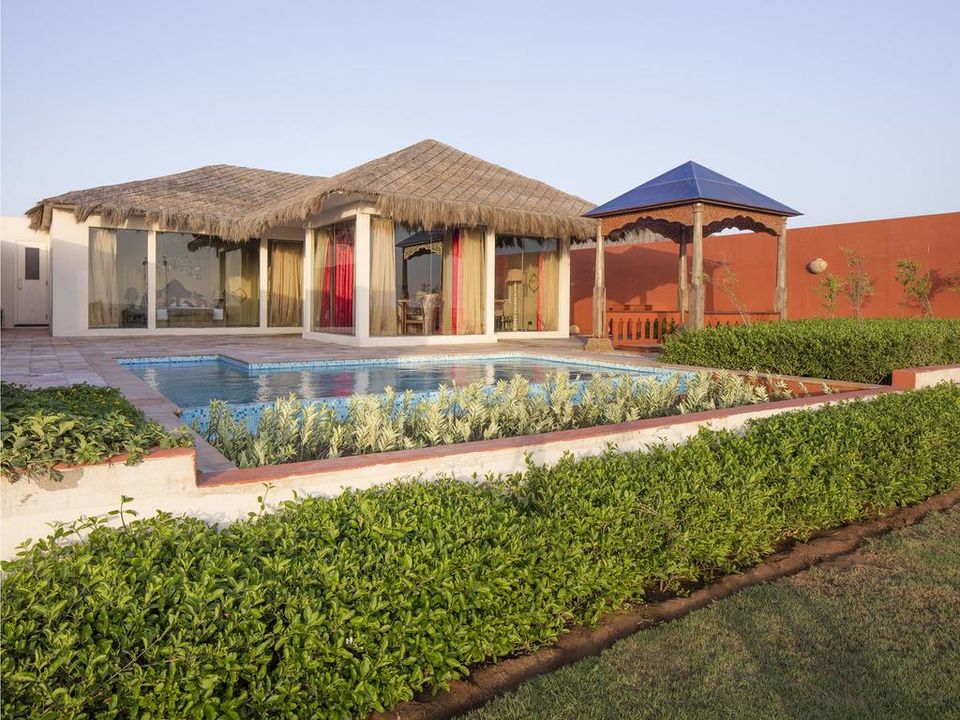 The rooms are almost made in godly fashion keeping them eco-sensitive and reusing waste in an aesthetic way where the local craftsmen were roped in to give an ethnic touch to the spaces. 7000 sq. ft. deck with its infinity edge pool, a state of art fitness center with steam and sauna rooms.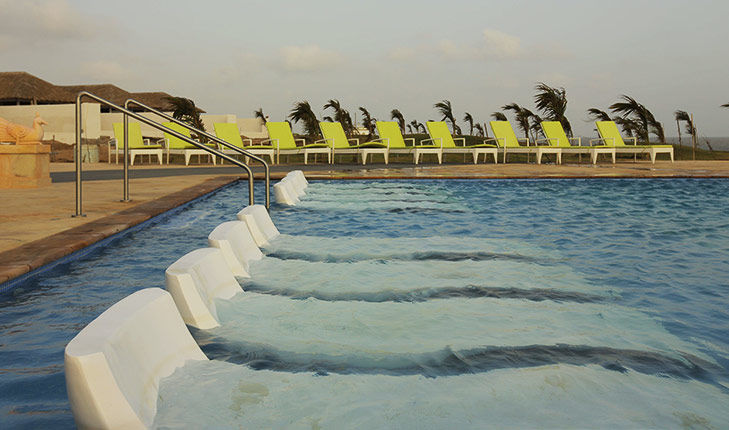 Accommodation:
Serena Beach Resort has three categories of rooms based on your budget and requirements.
1.) Awe-inspiring creek view huts.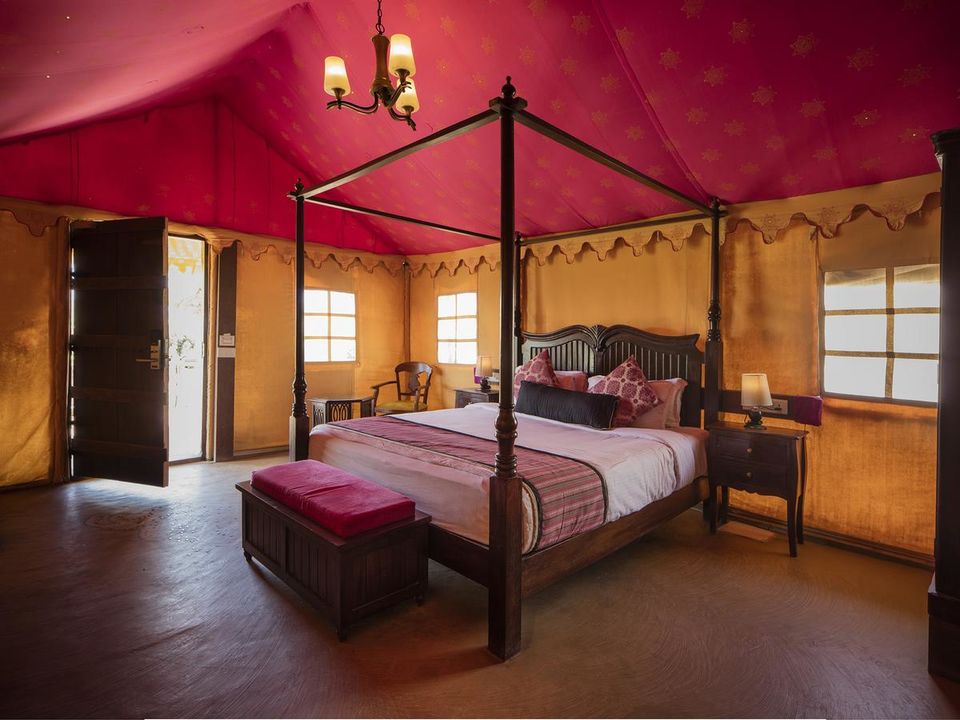 2.) Garden facing luxury huts.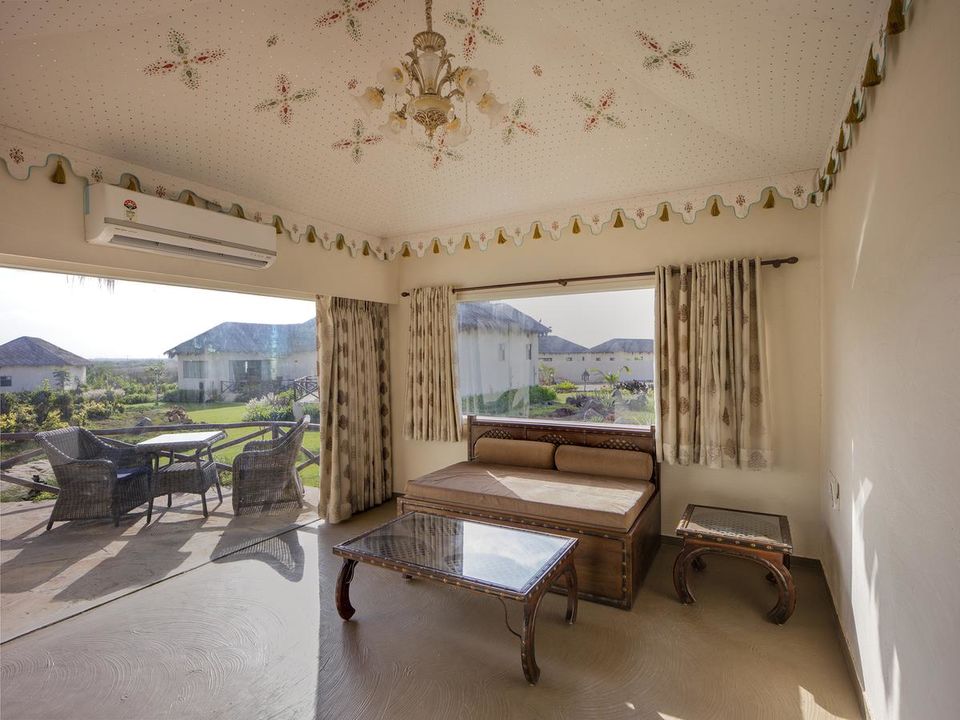 3.) Four beach facing luxurious villas with a private plunge pool.
Villas:
All of these themed villas have a private pool, a walk-in closet, a swimming pool with cabana and a mini-bar.
Marbella Villa
The decor of this villa is inspired and influenced by Marbella, a city in Spain on the coast of the Mediterranean sea which is a playground for the rich and famous.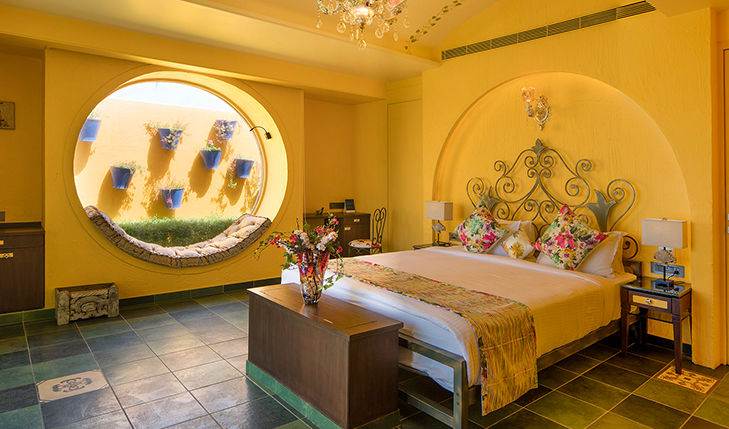 With colours like the mango and blue, the add a touch of vibrancy, the interiors mirror nature. Paintings of birds and grape wines, the mosaic is used abundantly.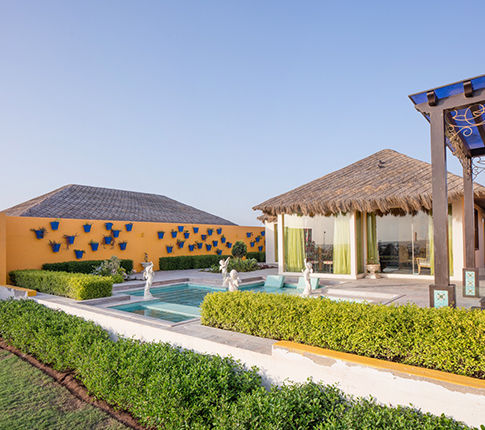 The outdoor swimming pool is embellished with four cupids and has a submerged lounger to give you a picture-perfect romantic soak!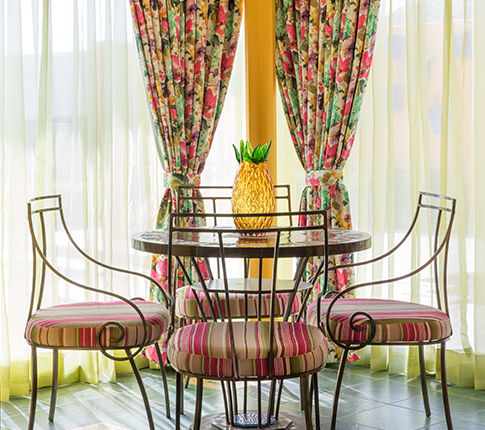 Santorini Villa
Inspired by the famous Santorini in Greece, the entire villa is white in colour and looks like a rustic house carved out of a cave.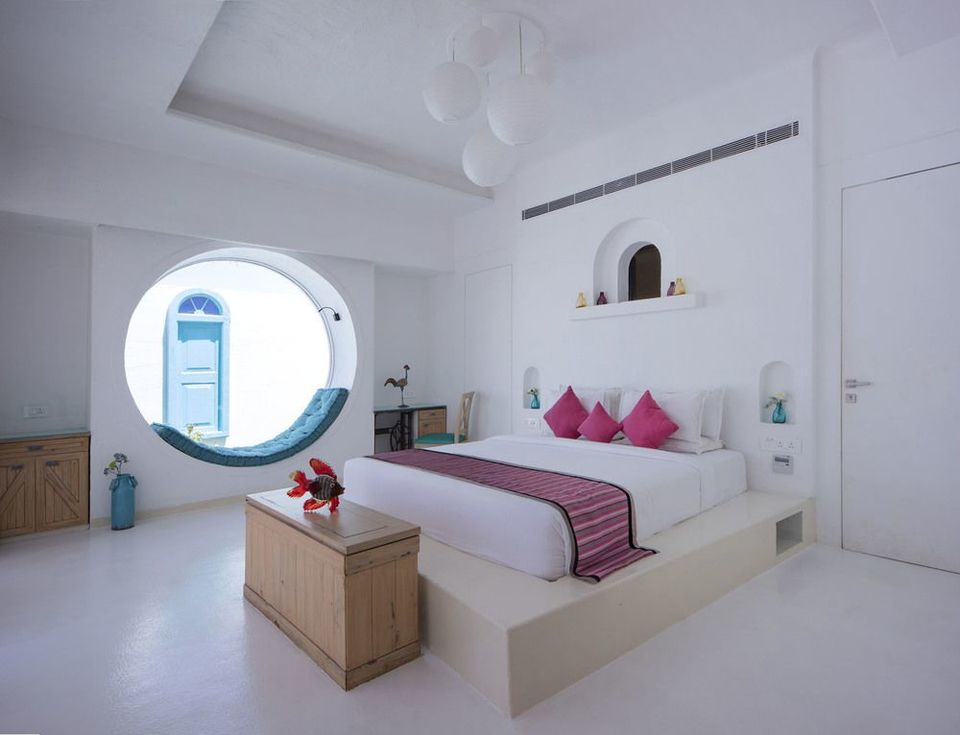 The furniture, murals, and lights pop out on the white canvas with bright their vivacious colours.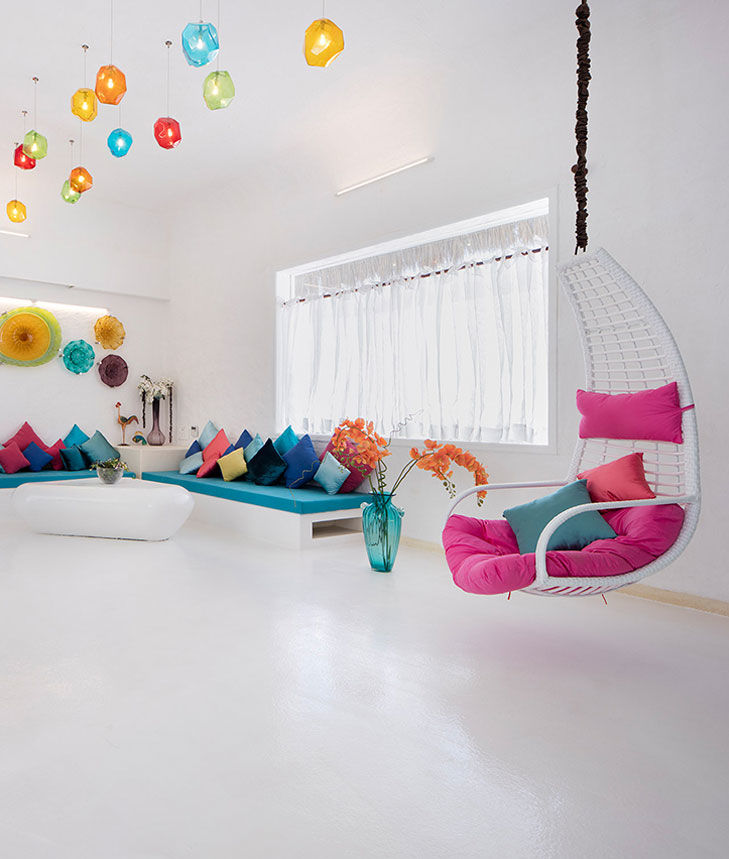 The outdoor gardens are laid out with the cobble stoned streets and colorful doors and windows of Santorini. The beach-facing pool is bright azure blue with an in-pool seating so that one can gaze at the sun setting into the illuminated sea.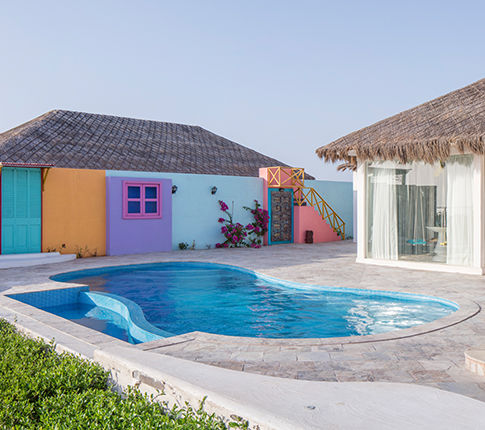 Mishmi Villa
The Mishmi villa is enthused by the Mishmi hills rain forest in the northeast corner of India in Arunachal Pradesh.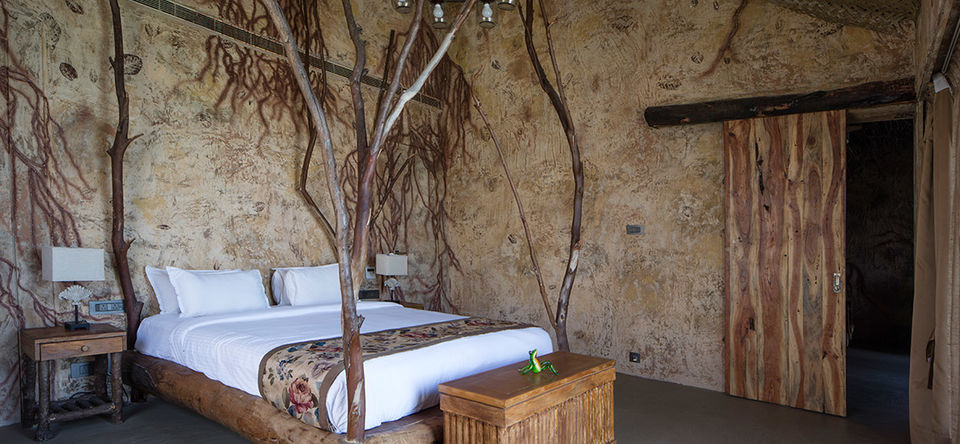 It looks like a cave nestled in the rain-forests. The decor is made of twigs, vines, roots, tree trunks, and barks and the entire villa has been crafted with throwaway dead trees.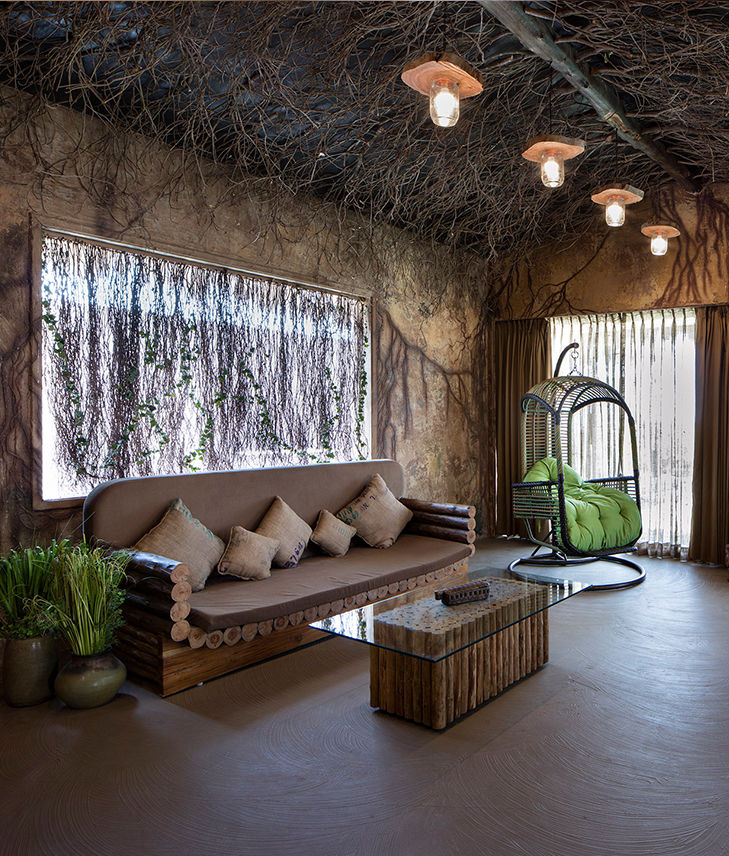 Outdoors are sculpted in lush greenery, stones and a green coloured pool with a Jacuzzi.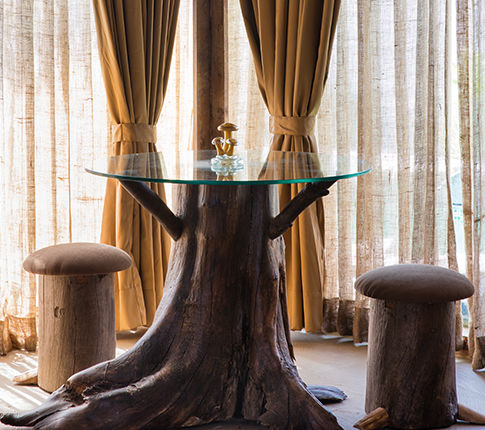 The special touch to the architecture is that you can witness the panorama of the Arabian Sea from every corner of the villa.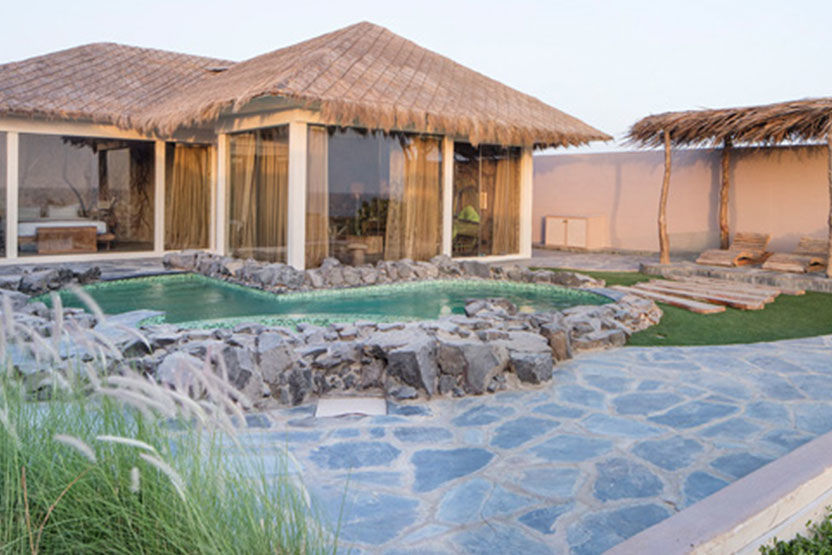 Agra Villa
Influenced by architecture from the Mughal era, this villa reflects richness and has a lot of details taken from the Persian influence.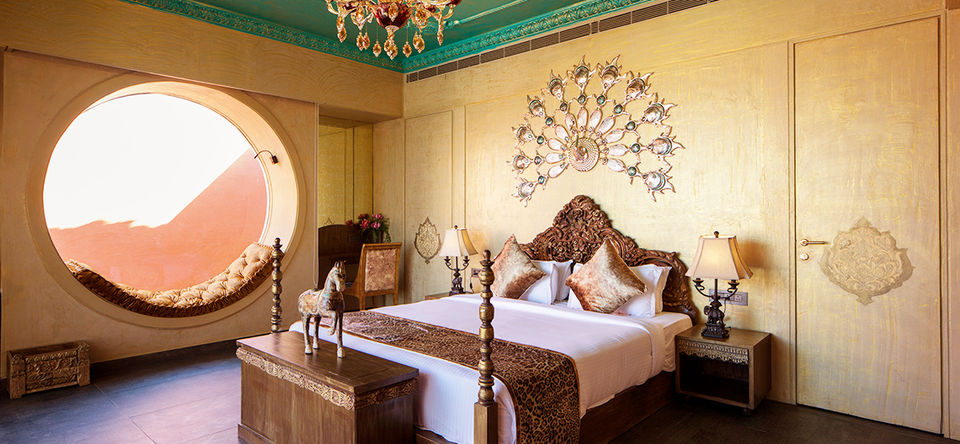 Be it the red coloured courtyard which is identical to the sandstone of the red fort or the intricate garden that ape the Mughal palace courtyards.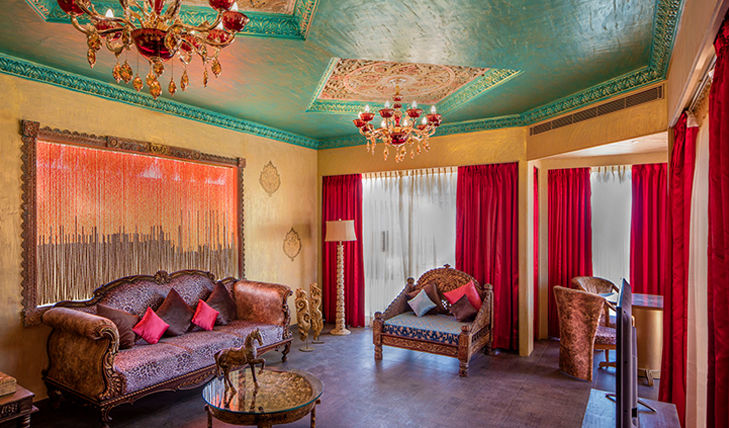 The swimming pool though geometrically rectangular has tiles laid in the period design. The ceiling uses carved Mughal designs, murals and inlay work from ancient times.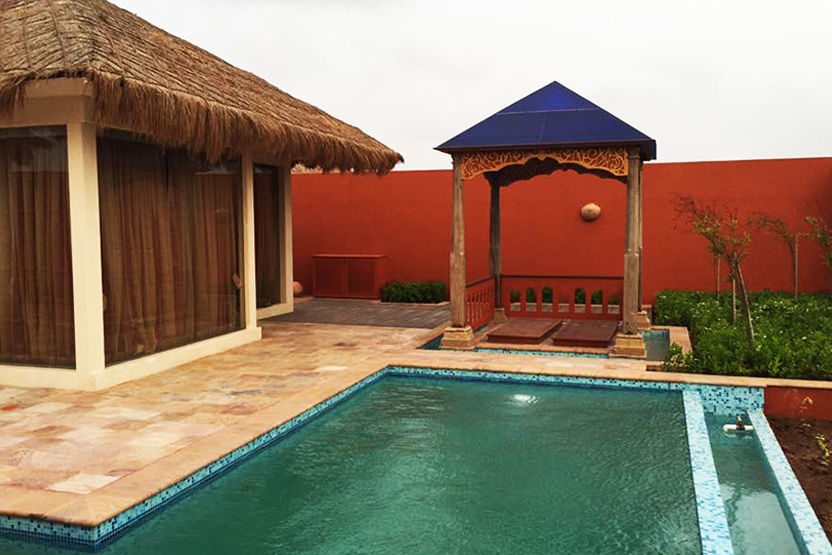 Things To Do Here:
In the resort:
One can indulge in beach-side cycling as they rent out bicycles at their private well-maintained beach just behind the resort.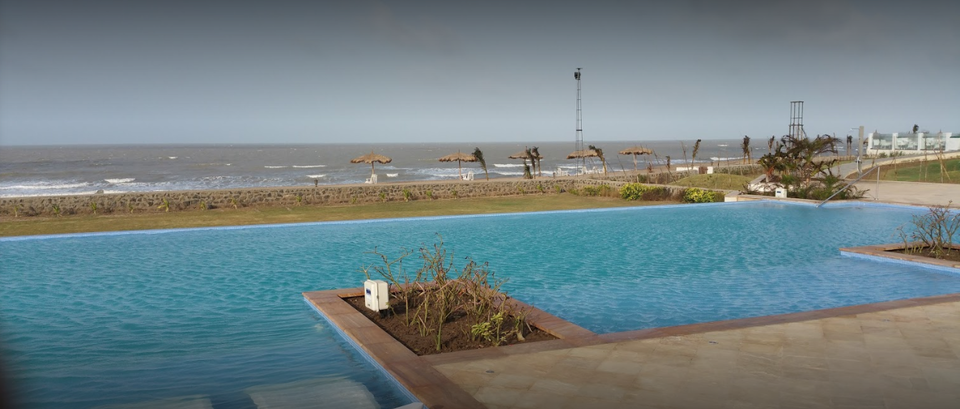 The resort has a plethora of indoor activities like table tennis, carrom, video games, badminton, board games, air hockey, Foosball, and computer video games.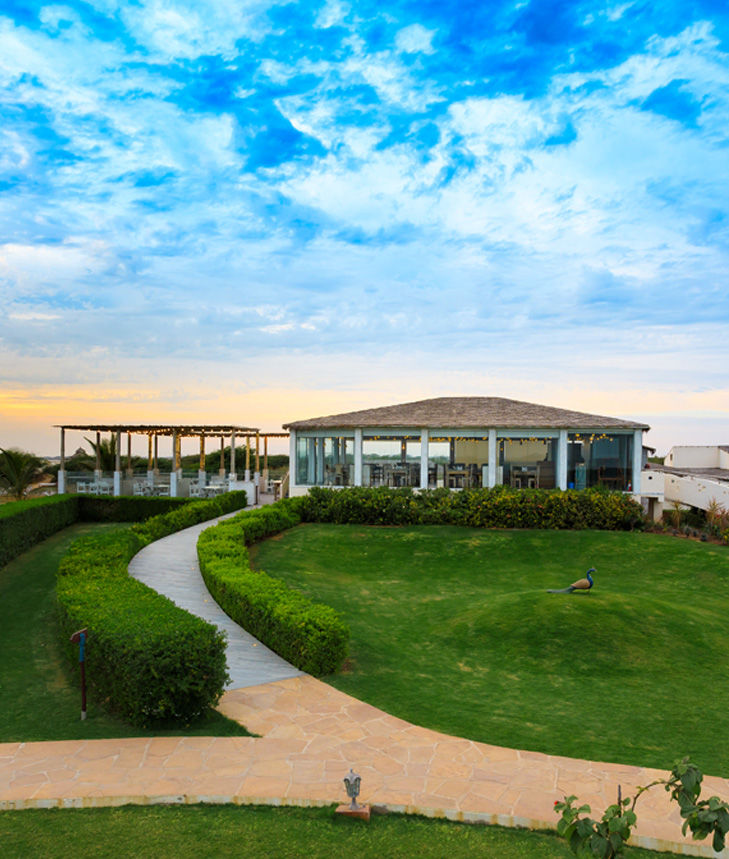 Equipped with a state-of-the-art gym, sauna, steam bath, and jacuzzi, it has a crazy 18-hole golf course - the first of its kind in Gujarat.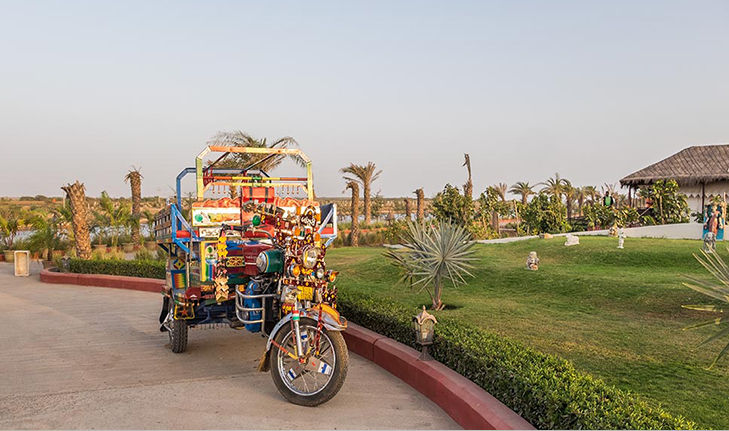 One will definitely need more than a day just to enjoy all the in-house facilities.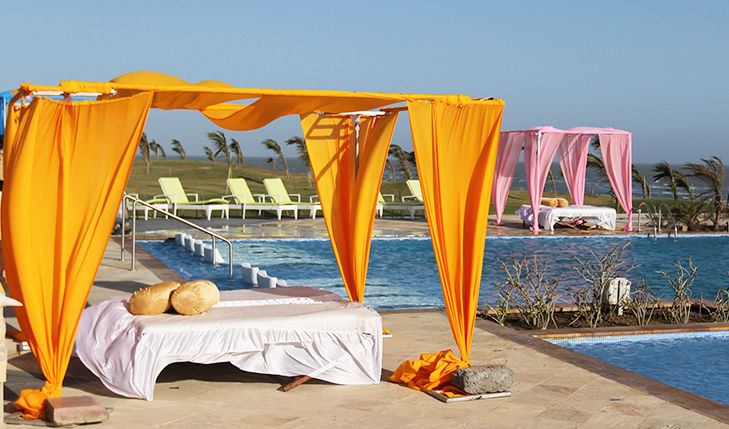 Around Mandvi:
Once a major port city and a popular summer retreat of the royal family of Kutch, Mandvi stands untouched by overt modernization.
1.) Visit the Vijay Vilas Palace by the sea which is an amazing depiction of fusion architecture, that has inspired the Bollywood Movie Hum Dil De Chuke Sanam. You can choose to stay in the luxury tents off the private beach of the Palace too.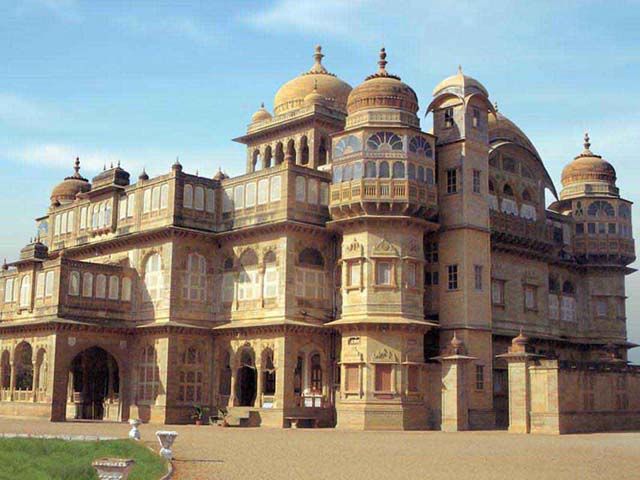 2.) Hang out at the ship building yard which Mandvi is famous for. Watch the craftsmen at work or if you feel adventurous climb up a long ladder and explore the inside of the huge ships.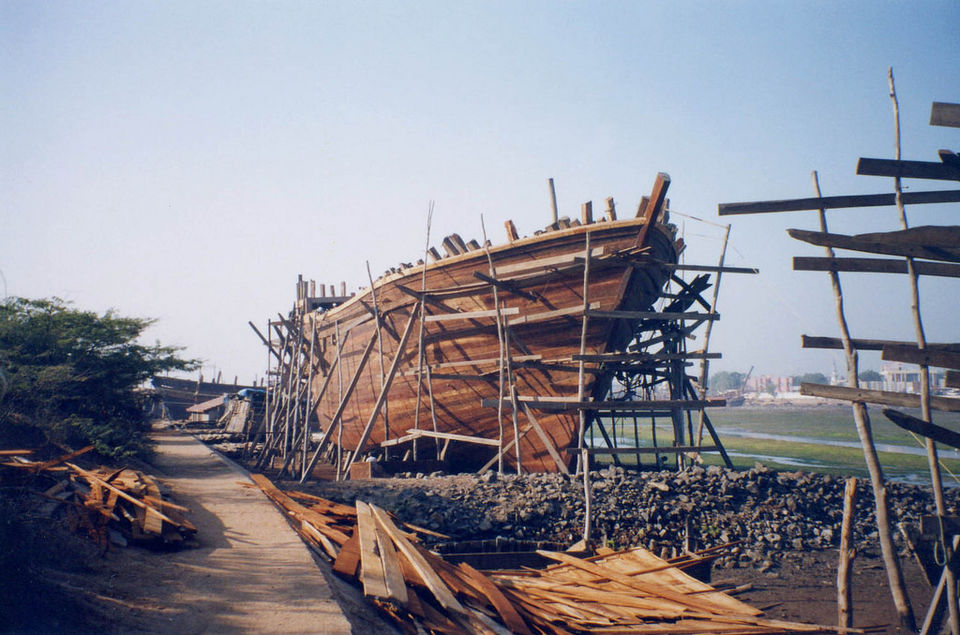 3.) Beach bumming at the Wind Farm Beach, which is named after the wind mills located on the beach, and the Mandvi main beach (which is often crowded) or the secluded beach behind the Vijay Vilas palace which is isolated and offers great views.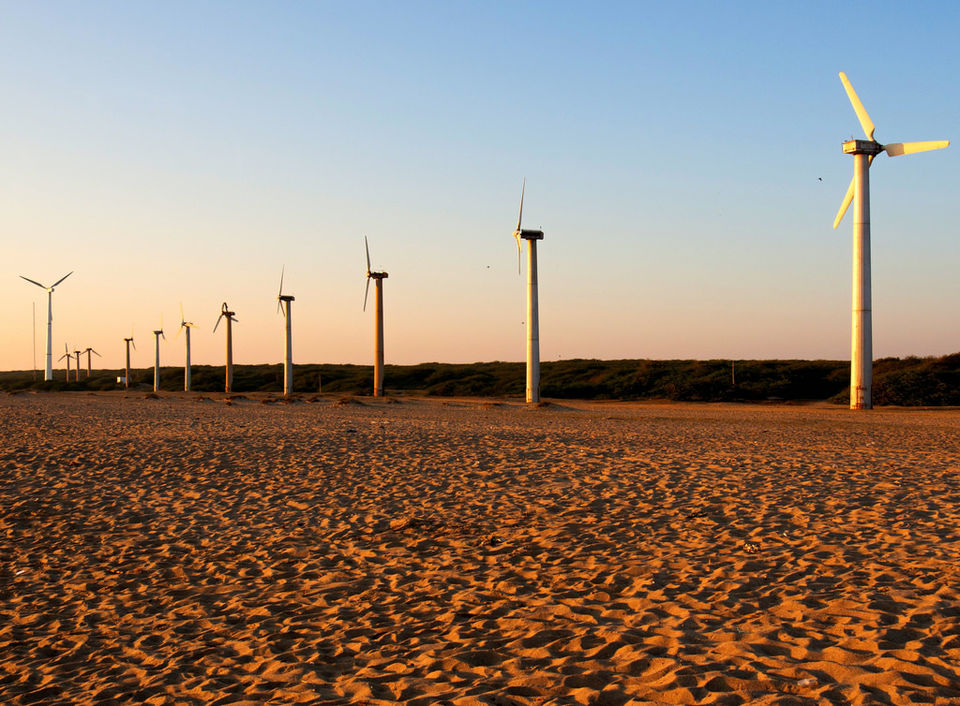 4.) Indulge in some handicraft shopping at the many small local vendors and shops.
TIP: Try making the sojourn in the period between November till March and you can head to the Great Rann of Kutch Utsav too!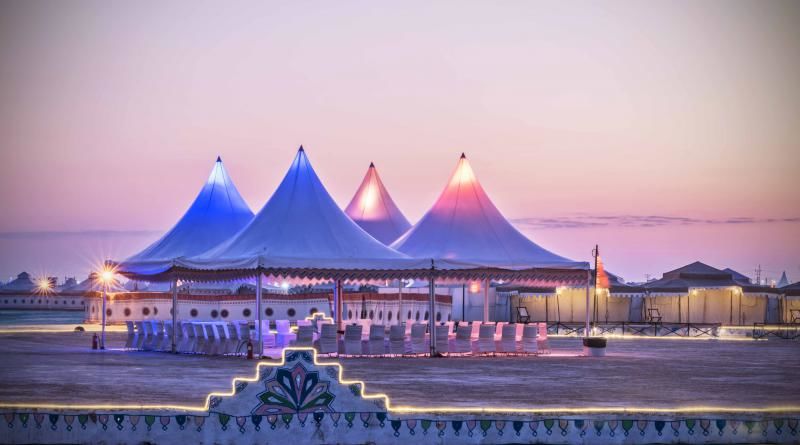 Food:
Serena Beach resort has two in-house eateries.
Dunes which is a vegetarian multi-cuisine fine-dine restaurant. It serves Indian as well as international delicacies, offering panoramic views overlooking the deep blue Mandvi sea.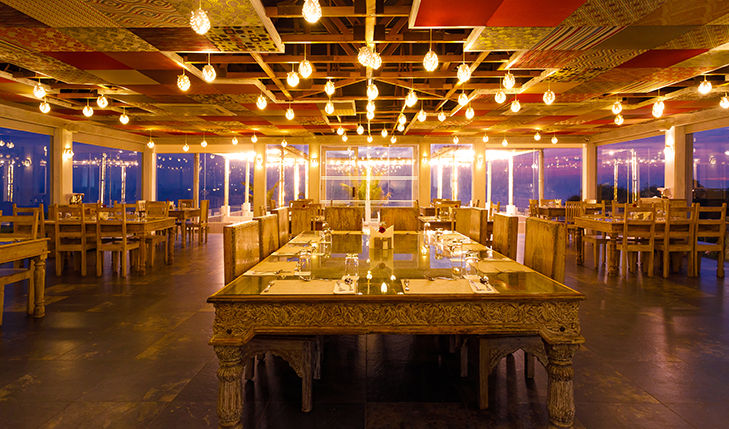 Laguna Pool Café is a sun-downer restaurant by the pool deck which serves up fun mocktails and snacks, where you can enjoy a romantic candle-light dinner with your partner over the rumble of the crashing waves.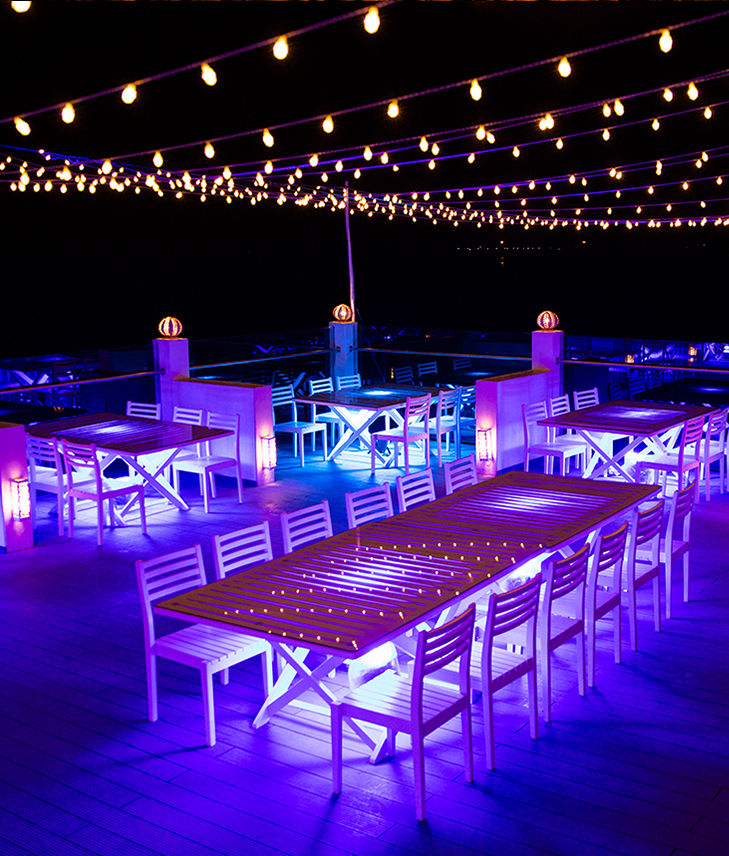 They also offer services like a beach-side barbecue, where you can enjoy chilly evenings with starters piping hot right from the grill on your plate and picnic lunch were they pack you a tiffin with scrumptious authentic Kutchi food.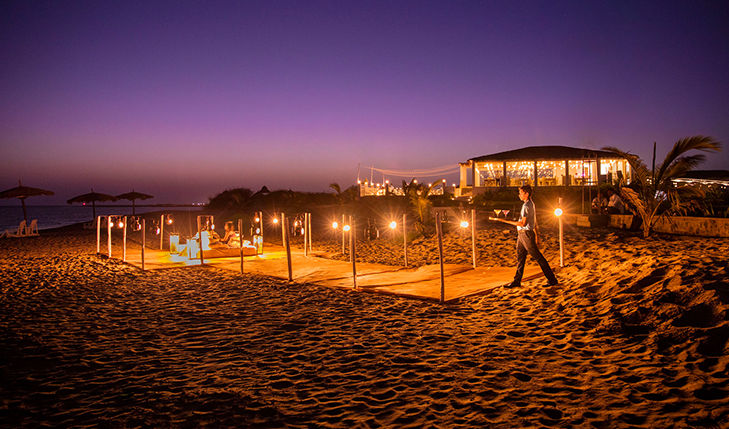 Cost:
The Deluxe A/C huts cost around 5,000 INR, the Garden Villas 10,000 INR for a night and the themed private pool villas are for 24,000 INR.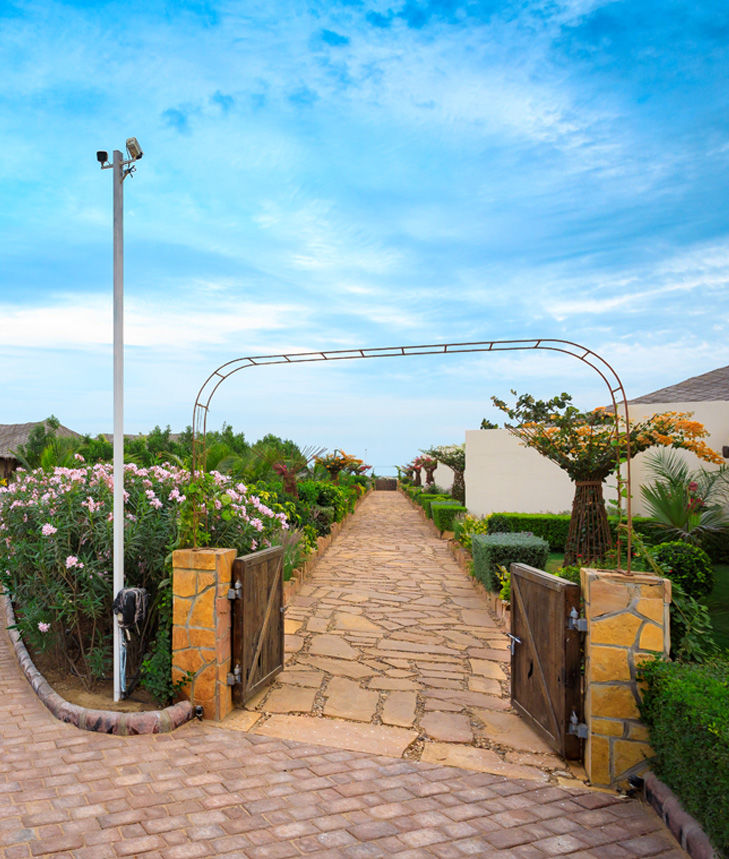 How to get there:
Mandvi Beach is 60 km from Bhuj, 381 km from Ahmedabad and 904 km from Mumbai.
By Flight
While Mandvi doesn't have an airport, you can take a flight from any Indian city to Bhuj or Ahmedabad, and then take a cab or rent a car to Mandvi.
By Road
There are many buses plying from Bhuj to Mandvi. Buses from all major cities and towns in Gujarat ply to Bhuj and some may even take you to directly to Mandvi.
By Train
You can take Kutch Express from Mumbai to Gandhidham then take a taxi from Gandhidham to Mandvi. There are many trains that connect major Indian cities to Bhuj from where you can drive down to the Mandvi beach.