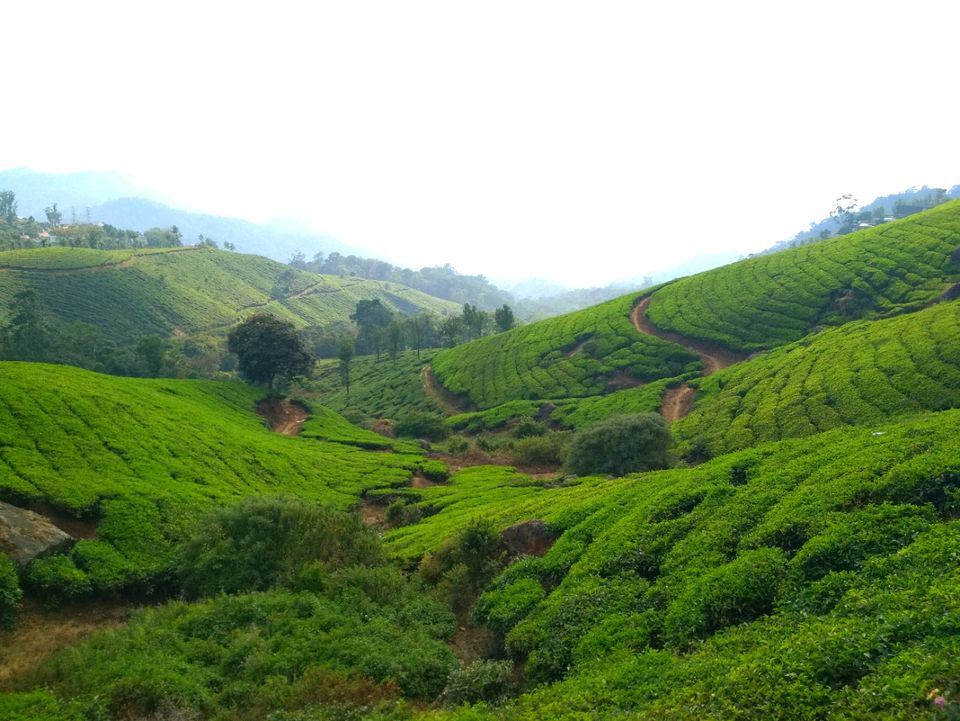 Munnar, a hill station, nestled at the top in God's Own country is a delight to backpackers and nature lovers. The scenic tea estate laden mountains overshadowed by cloud makes it a top holiday destination of India.The cool weather all round the year and hotels, home stays & cottages with panoramic view of the valley is another reason which makes it preferable among couples.
If you have chosen to visit Munnar, you must pat your back for the choice made and get yourself ready for indulging your soul into nature.
Things to See
Scenic views are everywhere in Munnar. Although designated viewpoints are also in large numbers. For the ease of convenience in sight seeing itinerary can be divided into two parts. At first, the top area towards Mettupatty can be explored. The dedicated Photo point in the tea estate is a must. For nature lovers Jungle Bee Nest, Elephant ride in the jungle and Elephant Arrival Spot are exciting to experience. There are quite a few water bodies in Munnar formed by Dam reservoir and lakes which seems entrapped between mountains and provides an eye catching scenery. Facilities have been developed to enjoy the scenic beauty amidst boating through silent waters with mountains in the backdrop. It takes almost 6-8 hours to cover this part.
Second part starts from the Munnar towards bottom of the hills. Again, the scenic views are eternally graceful. Although the valleys with tea estates and lakes but view is different from the top area. In this route you can also see Athukadu Water falls, Kallar water falls which are pleasant to watch. There are many viewpoints in this route like Pothamedu View point, Sunset View point 2nd mile, karadippara View point, etc. The one thing which differs it from the Top Tour is the Spice plantation. The Spice plantation is spread in 500 Acres and is done from generations by the local tribal people. The tour is provided by the Spice plantation management with an entrance fee. The explanation regarding the Ayurveda, Spices are worth the every single penny. There is also an outlet for spices, Natural Fragrances and Ayurveda products. Spices are of top notch quality and at discounted rates. A win-win situation for family trips.
In Tea estates, Tea tasting is arranged by the estates for travelers and tourists. One can taste the different varieties of tea (black, white, green, etc.), an unique experience. For the food lovers, you can always count on vivid Kerala cuisines which are readily available in Munnar restaurants and shops. Although multi cuisine restaurants are also present, it is advisable to try the authentic Kerala cuisine and the Arabian cuisines in Munnar.
Every hill station visit is incomplete without shopping! Munnar offers you plethora of variety for shopping from spices to tea, chocolates to coffee and some memorabilia shops. It is very certain that you will end up shopping something for yourself or family.
Stay
Munnar has everything to offer for backpackers, family, couples, honeymooners. All kinds of stays from budget, couple friendly, isolated, cottages, homestays with kitchen, camping, hotels are available. If one likes to stay in isloation and on mounatains, homestays or hotels can be selected through Air BnB, Oyo etc. For backpackers and adventure seekres, camping facilities are also available.
How to Reach
Munnar can reached from Kochi (131 Kms), Coimnbatore (179 Kms) via road. It is also connected by Bangalore via Direct buses which takes 12-13 hrs to reach.
One important point to note is that during the Kerala floods of2018, major landslides have happened in Munnar which led poor connectivity of Road. Reconstruction is in full swing.
Caution : It is almost 3.5 Hrs journey through curves of hills before you reach Munnar. Motion sickness people should keep that in mind and should take break in between (or peppermint) to avoid mental fatigue.
Keep travelling and exploring.
Happy Tripping !