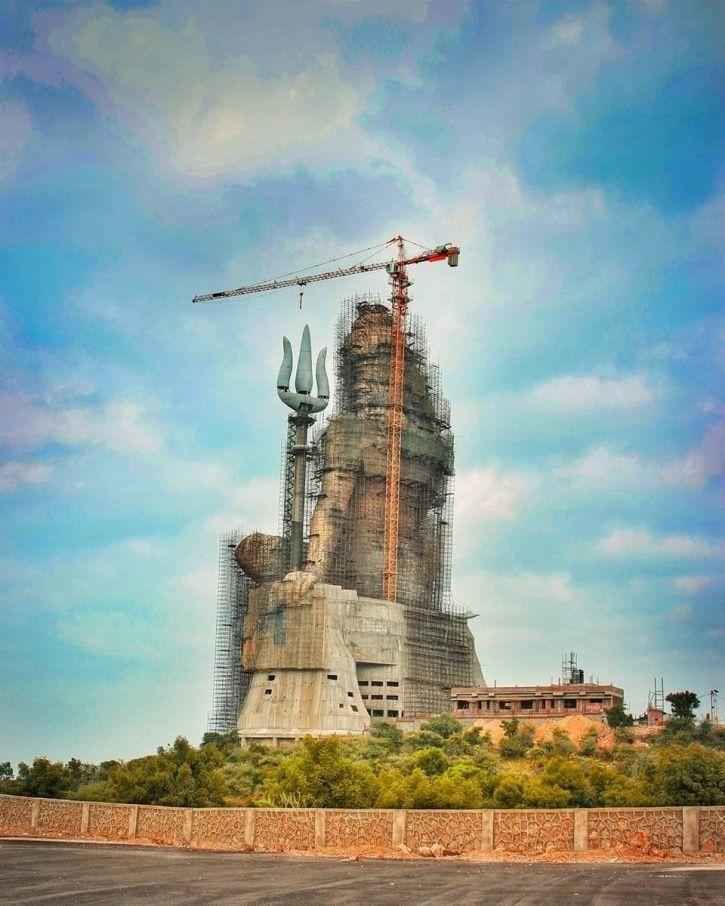 After the recent inauguration of Sardar Vallabhbhai Patel's Statue of Unity, India is all set for another massive sculpture to be launched soon. Set at Ganesh Tekri in Rajasthan, the statue of Lord Shiva called the Statue of Belief is being built at a height of 351 feet, making it world's tallest Shiva statue.
Built with 2500 tons of refined steel, the statue will have a base of 110-feet. While the shoulder of Lord Shiva stands at 260-feet, his trident will rise up to 315 feet. With nearly 750 workers, working on the project, the construction was started on April 17, 2013.
Now in its final stages, work on it is expected to be completed by August this year. After its completion, it is expected to be the fourth tallest statue in the world after the Statue of Unity, Spring Temple Buddha and Laykyun Setkyar.
Photos being shared on social media show that the face of the statue has been painted in hues of red and work has begun on the chest, arms and lower limbs of the statue. The statue will also be complemented with a Nandi which is about 37 feet wide and 25 feet tall in size.
There are three viewing galleries situated at 20 feet, 110 feet and 270 feet, all connected by an elevator. The area will also have added facilities such as a meditation and yoga centre, air conditioned halls and even a 16-acre amusement park. Intricate art work and well-manicured gardens with a fountain and amphitheatre will also be added to attract more tourists.
With the statue reaching its completion soon, excited devotes are making a rush towards Nathdwara to get a glimpse of it. With its massive height, the statue will be seen from places as far as the Kankroli flyover which is around 20 km away.
What do you think of this initiative? Share your views with the travel community on Tripoto.
Check out videos and more on Tripoto's YouTube page!