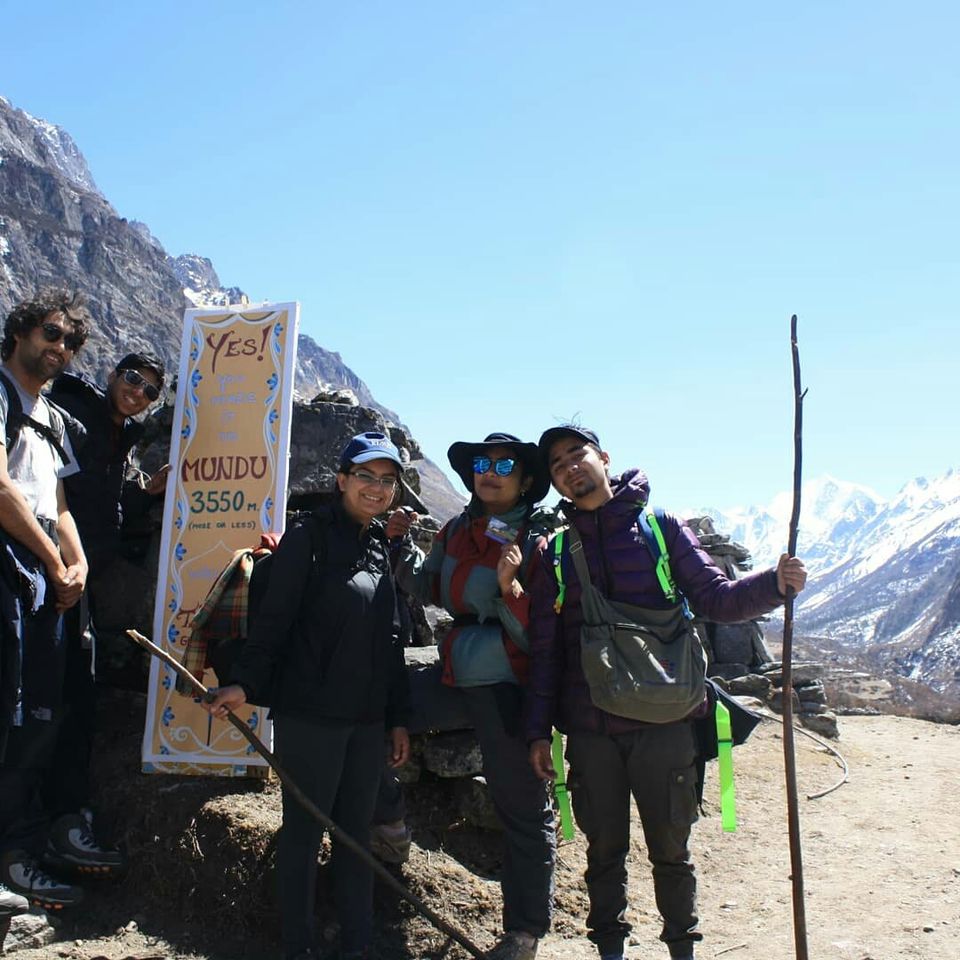 Traveled to Syafru besi from Kathmandu.
8 hr bus ride.
We took a heavy meal after reaching and started our trek asap.
We hiked for 5 hrs till we reached 'Bamboo'.
We experienced the beautiful night sky which you couldn't ever see in the cities.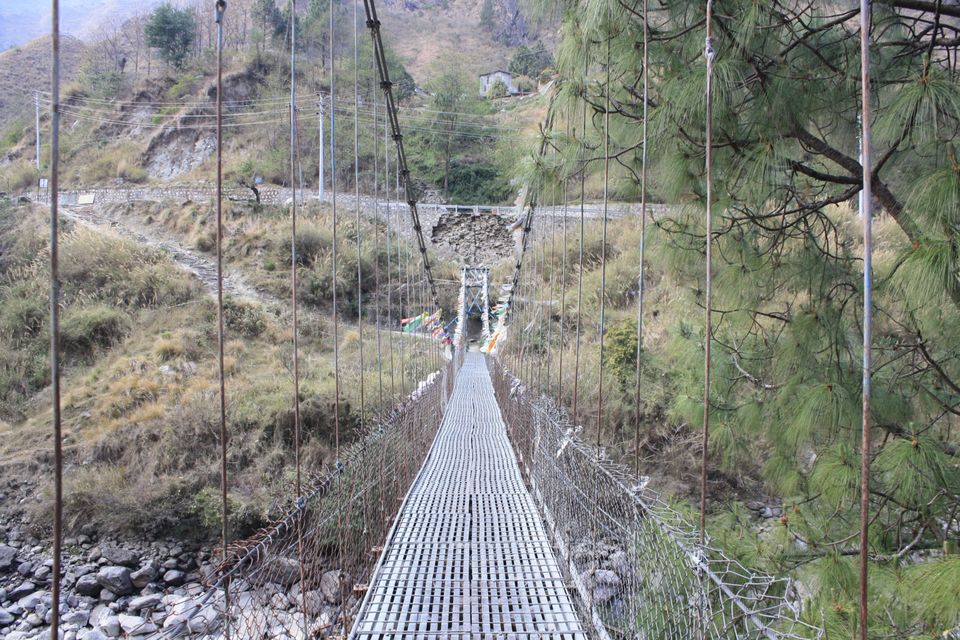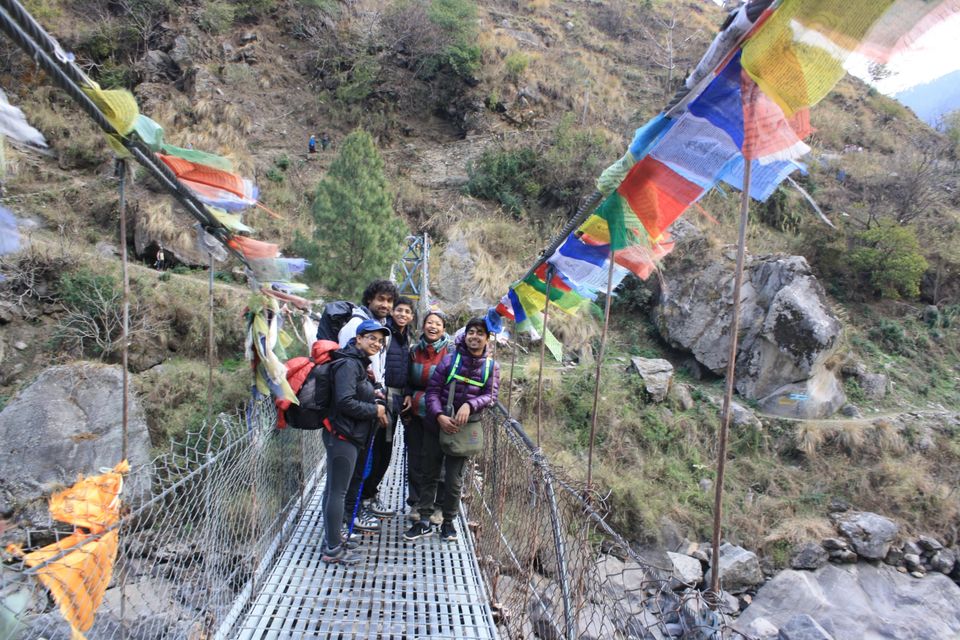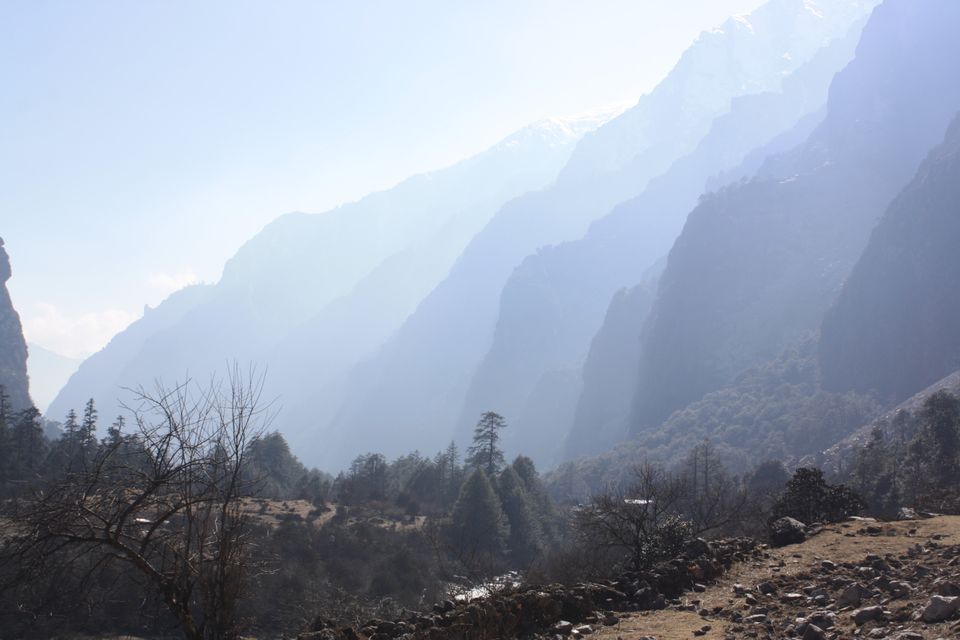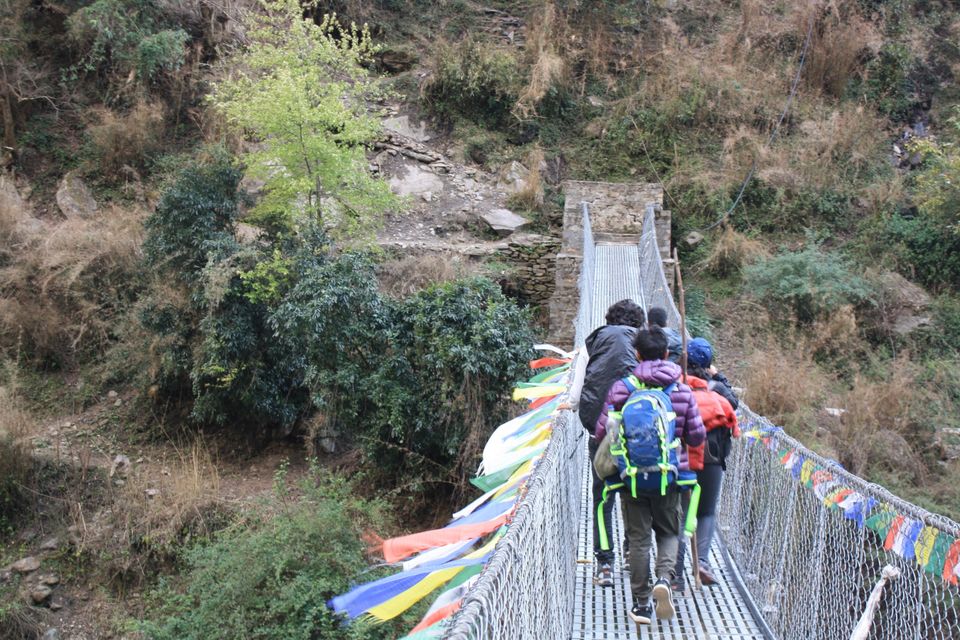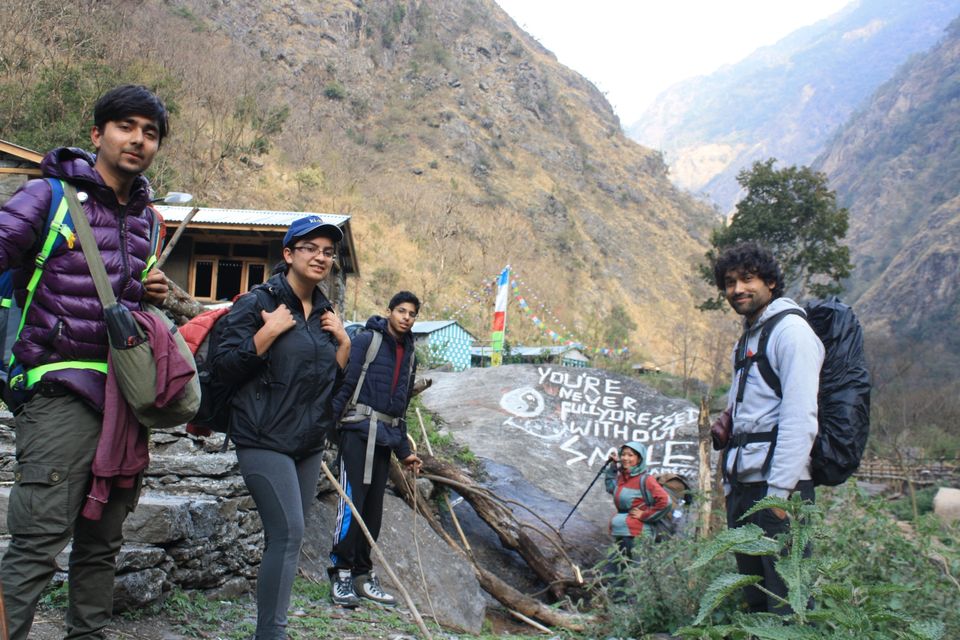 Woke up early in the morning, ate light breakfast and then we headed towards lama hotel which was approx. 5hrs hike from there.
Around 11 o' clock we reached there. We ate our lunch and resumed our trek around 1 o' clock. Our last stop on that day was at thangsyap.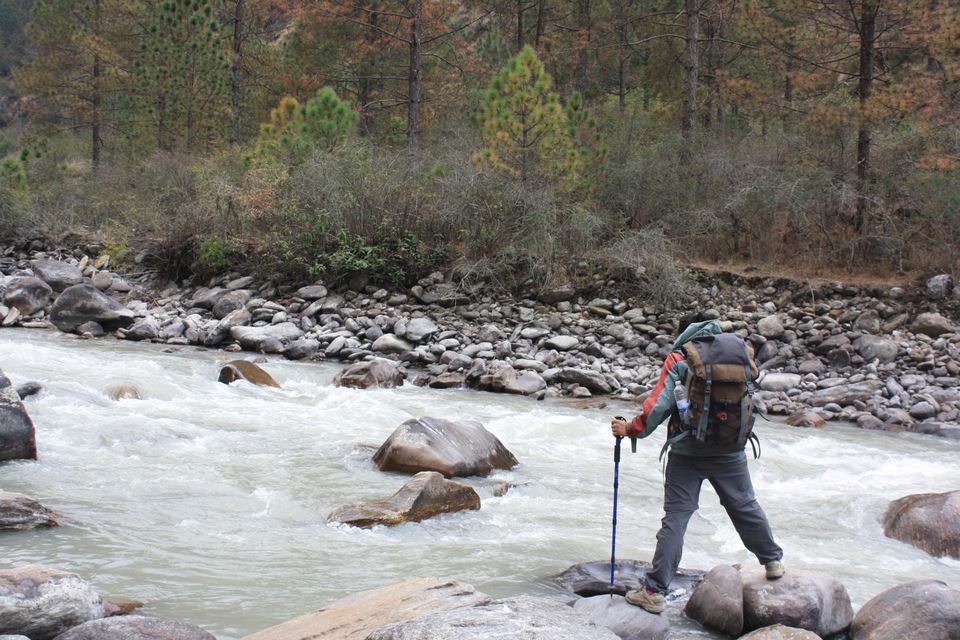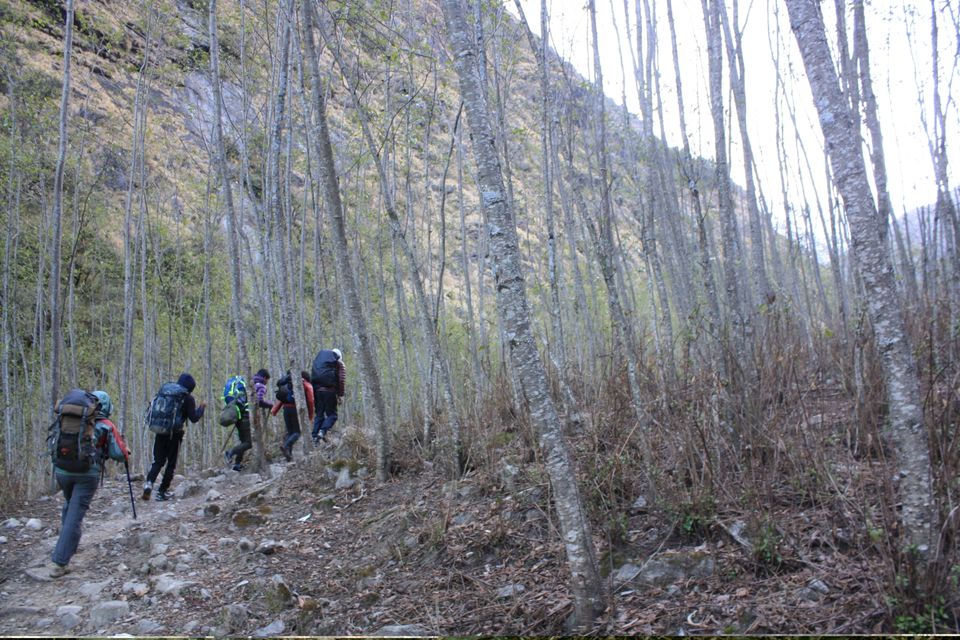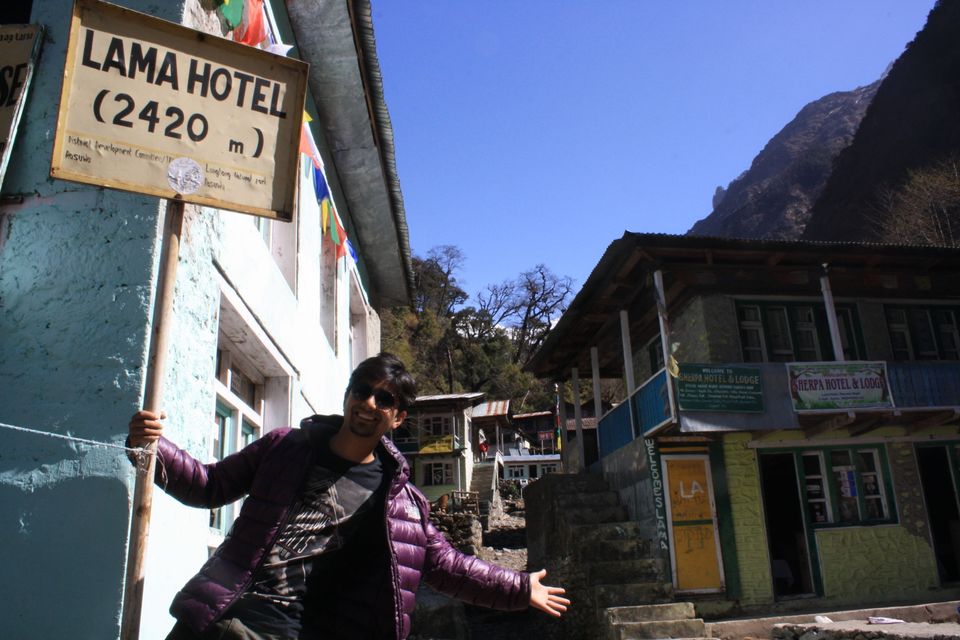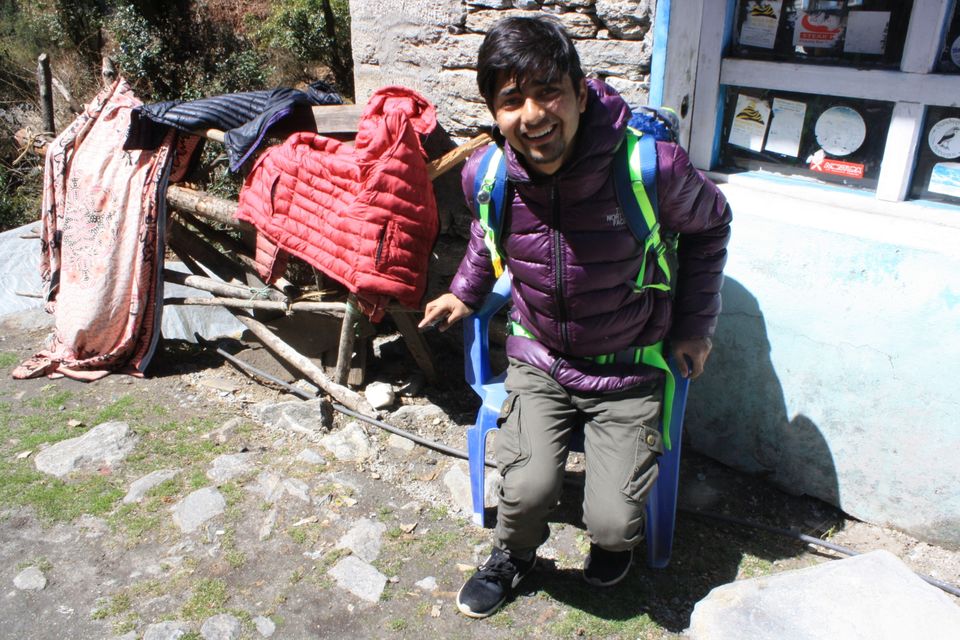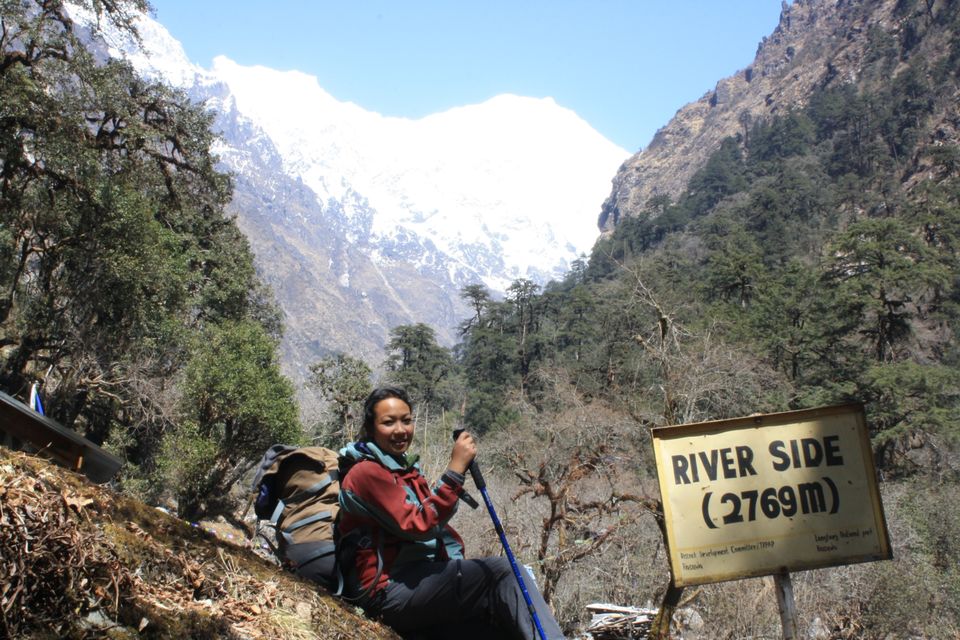 We woke up early as we had another long trek day ahead. While we paid bills for yesterdays night; We realized that along with the elevation of altitude; The bills were elevating too (as it's very hard to bring goods and foods to such an extreme site).
After light breakfast, we headed to our final destination. After a walk of 60 mins, we realized that we're entering into dense snow zone now. We observed that mountains were full of snow from one side but the other side may not be the same. (it's because of some effect where sunlight directly hits only at a side at instance)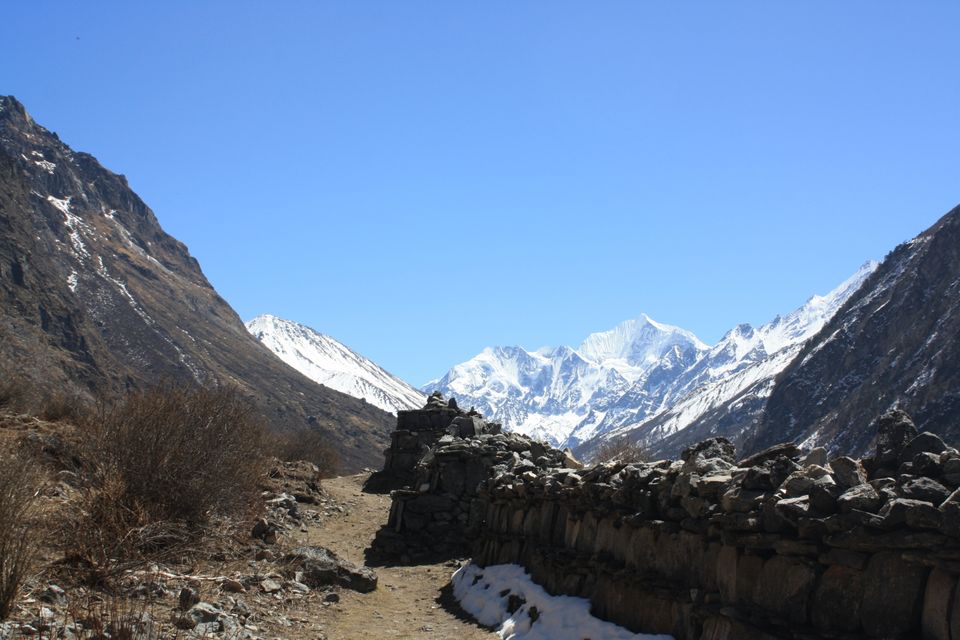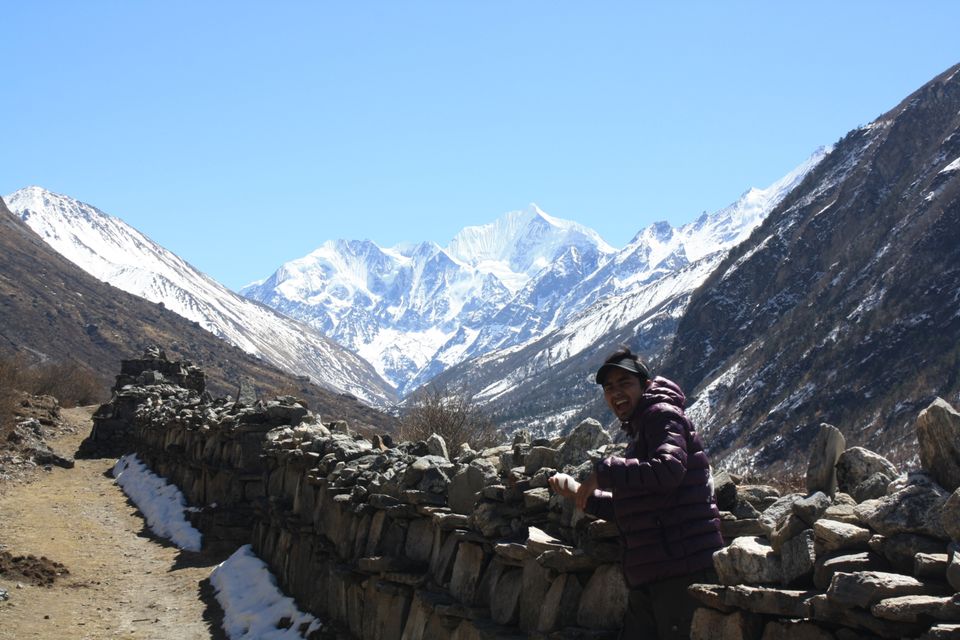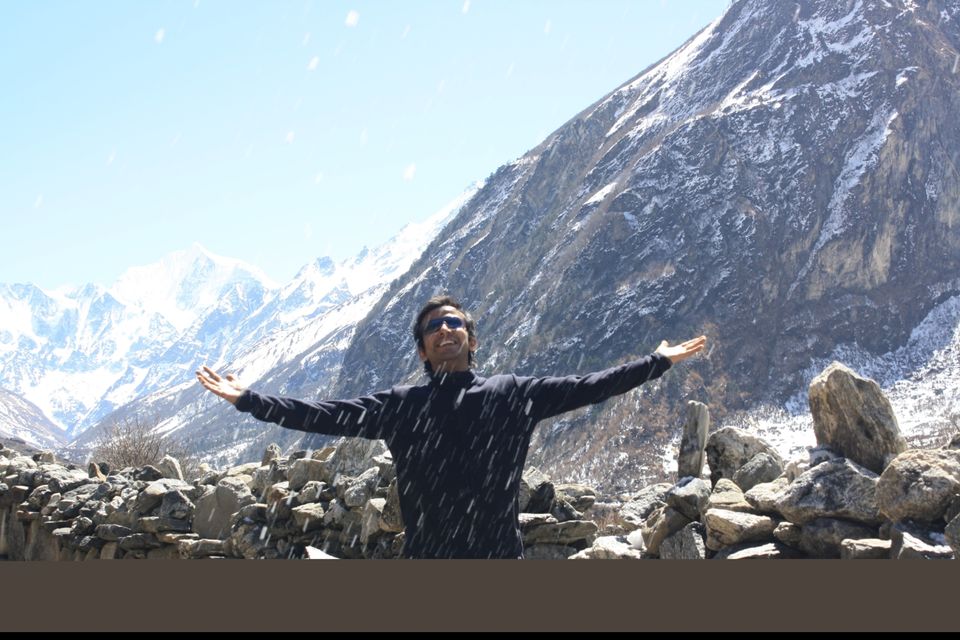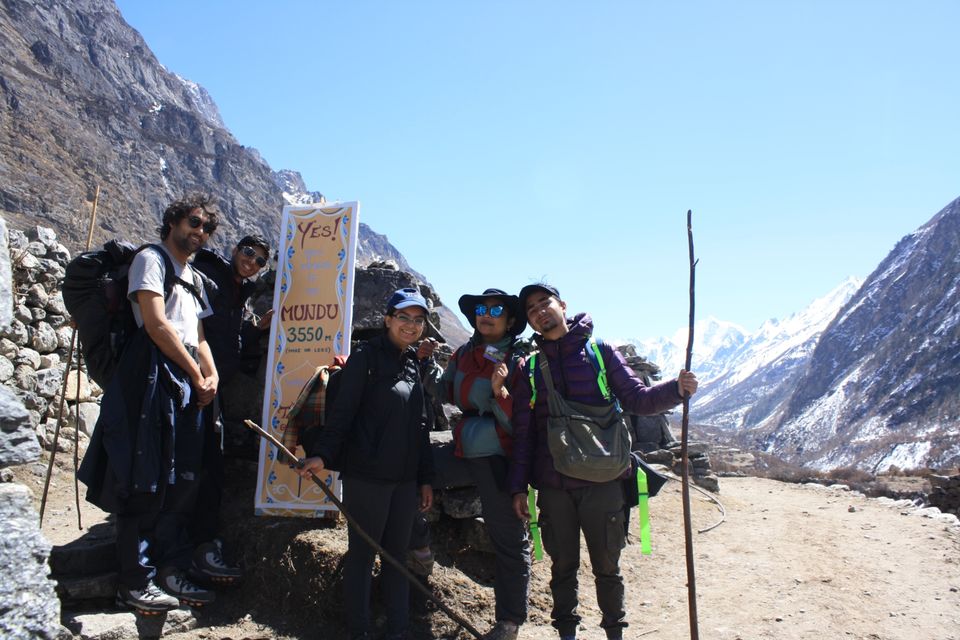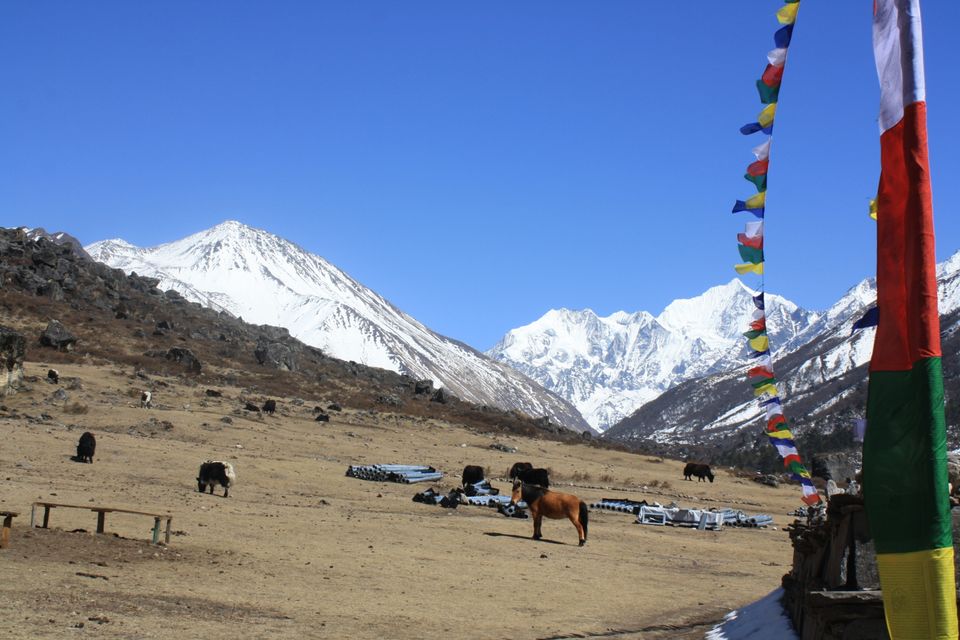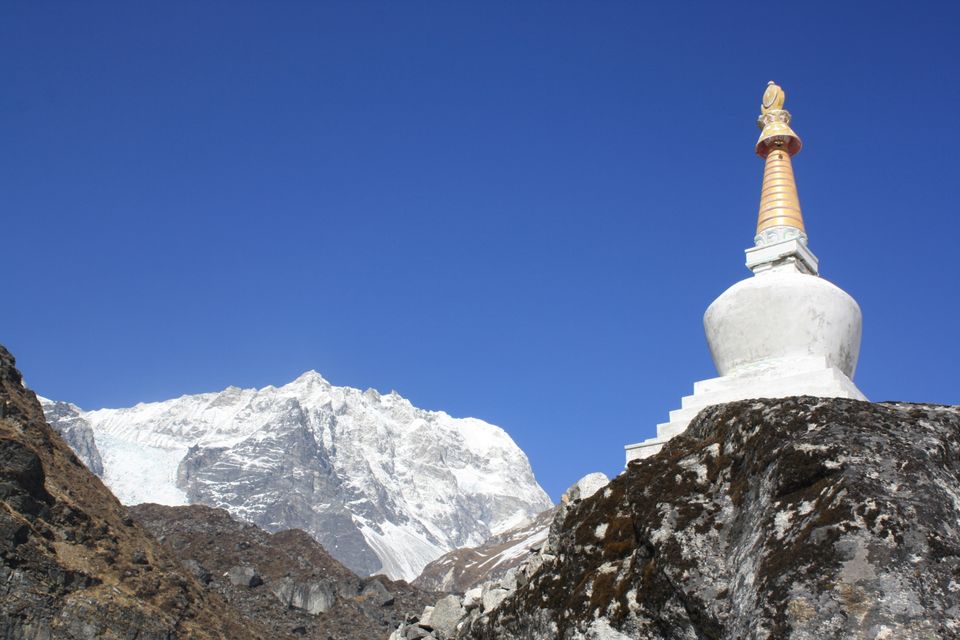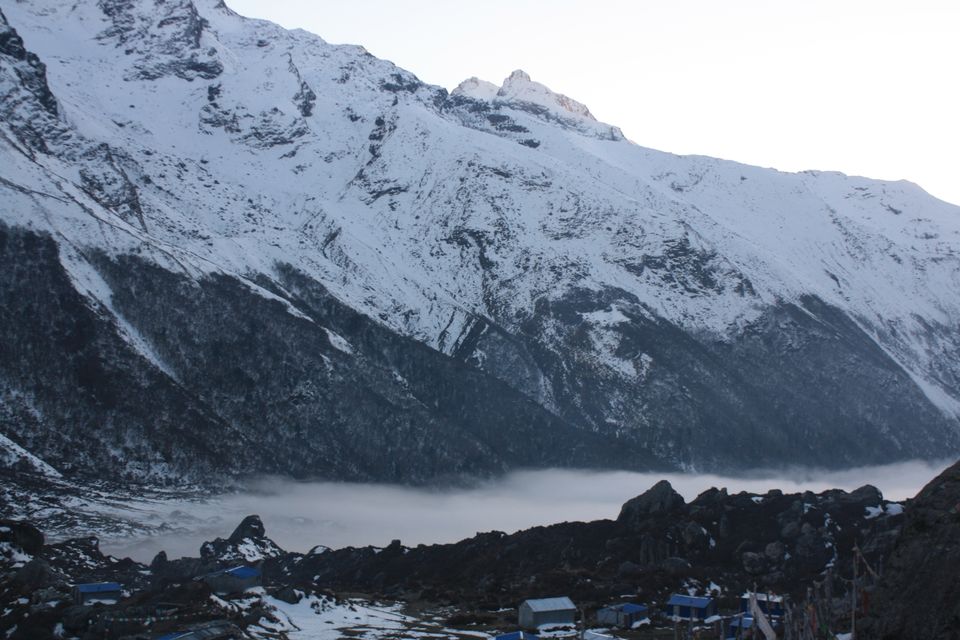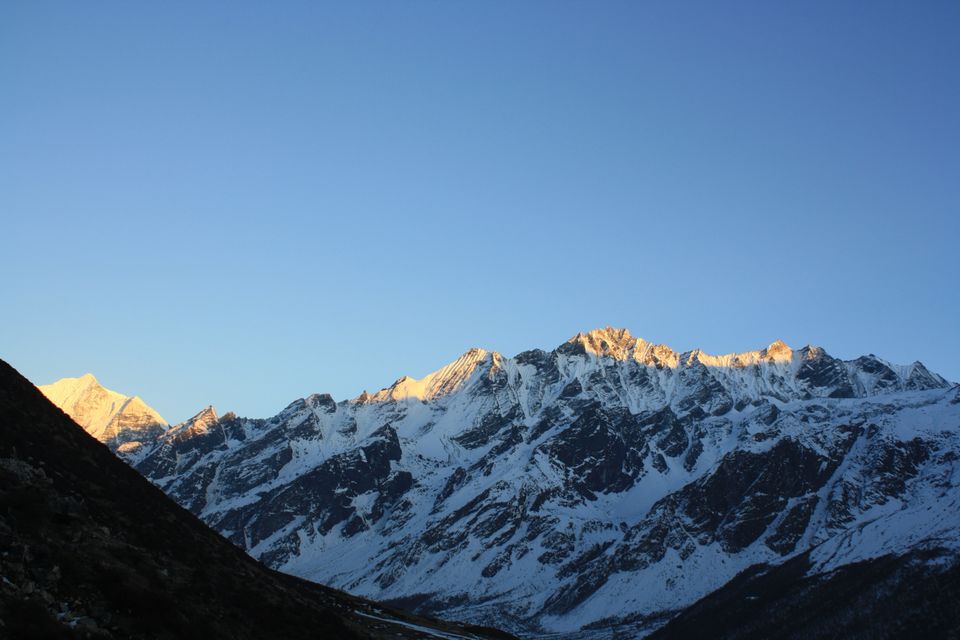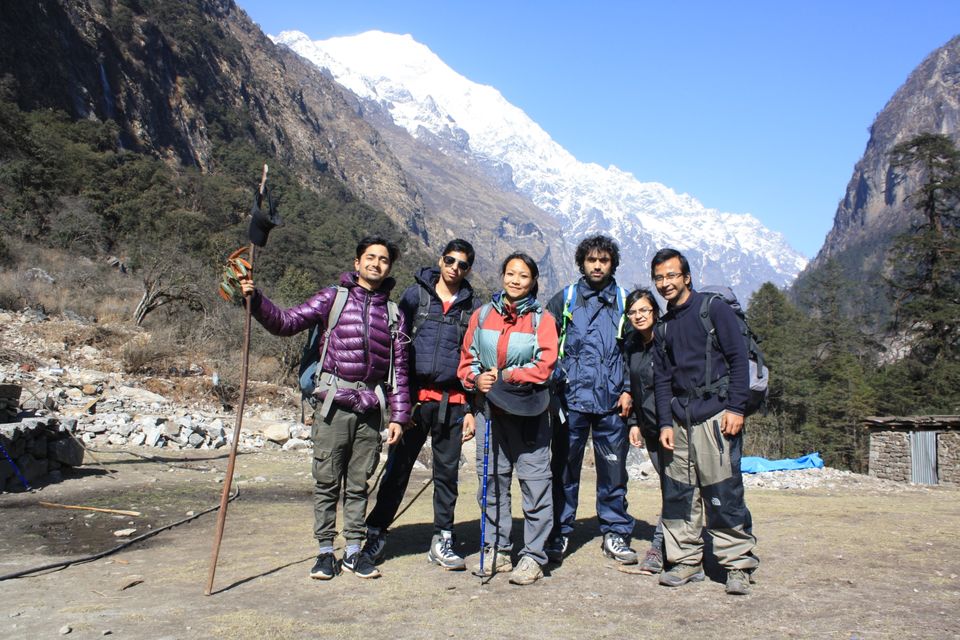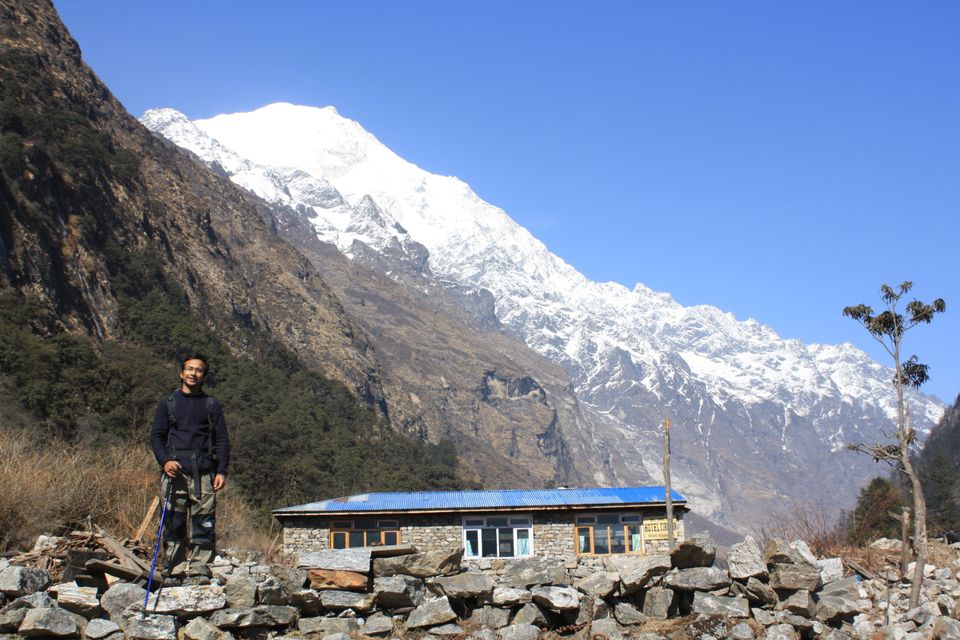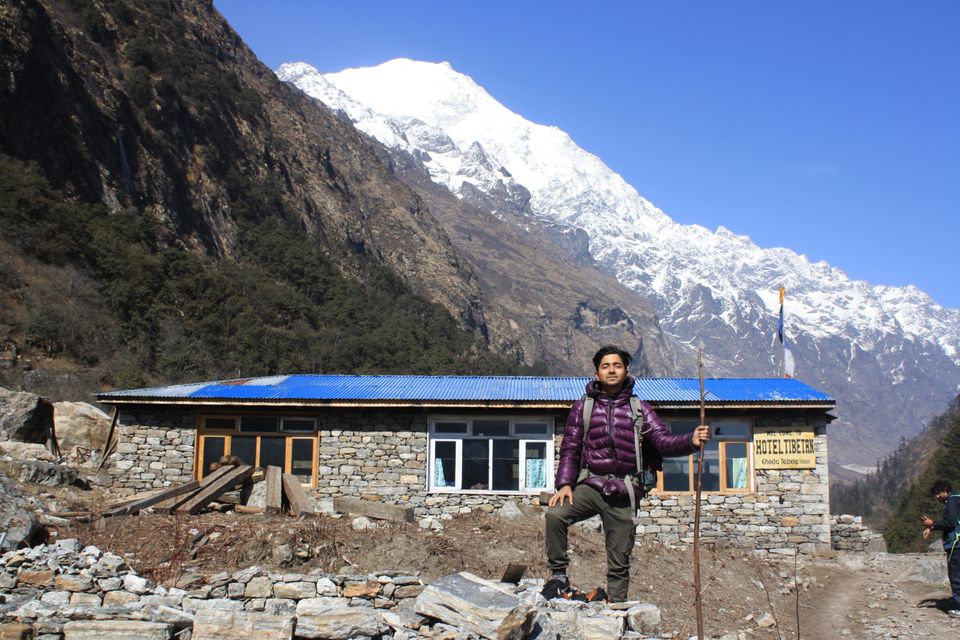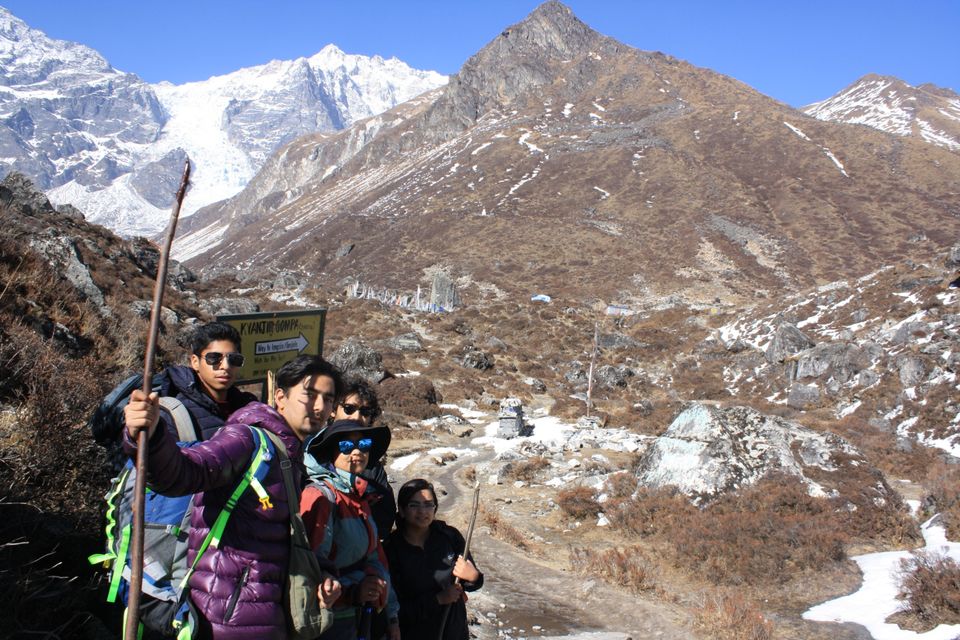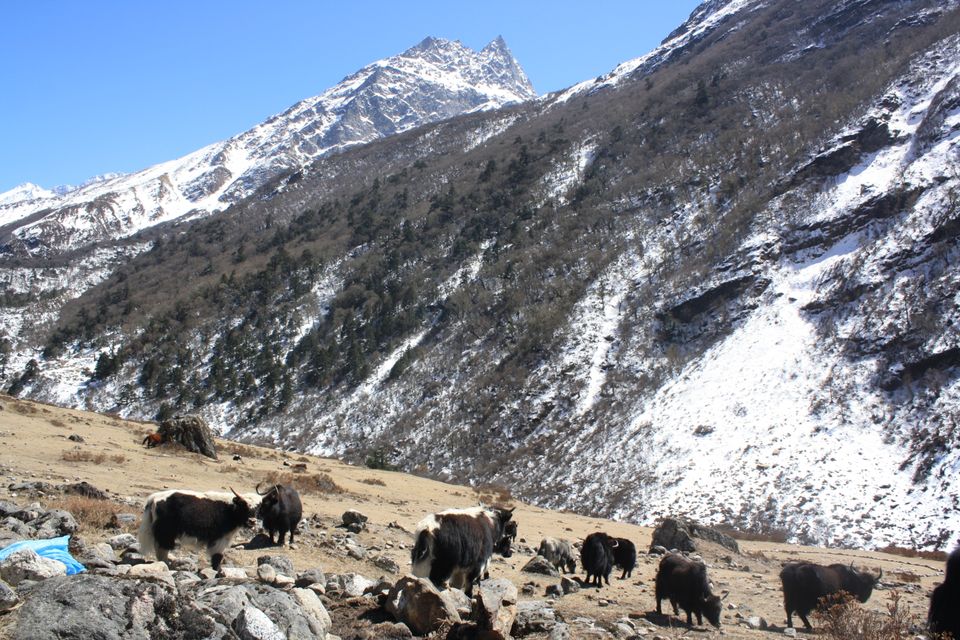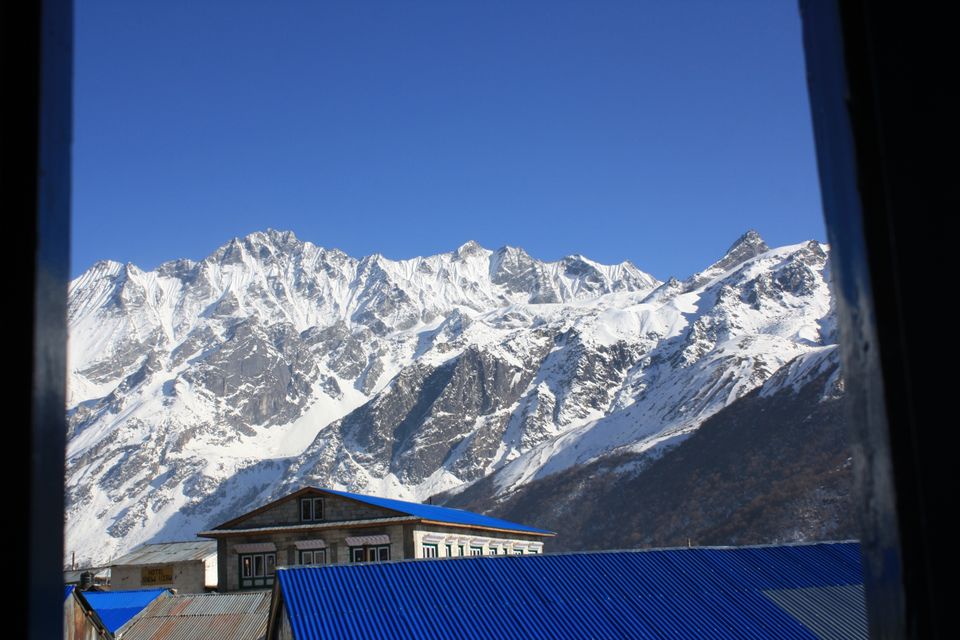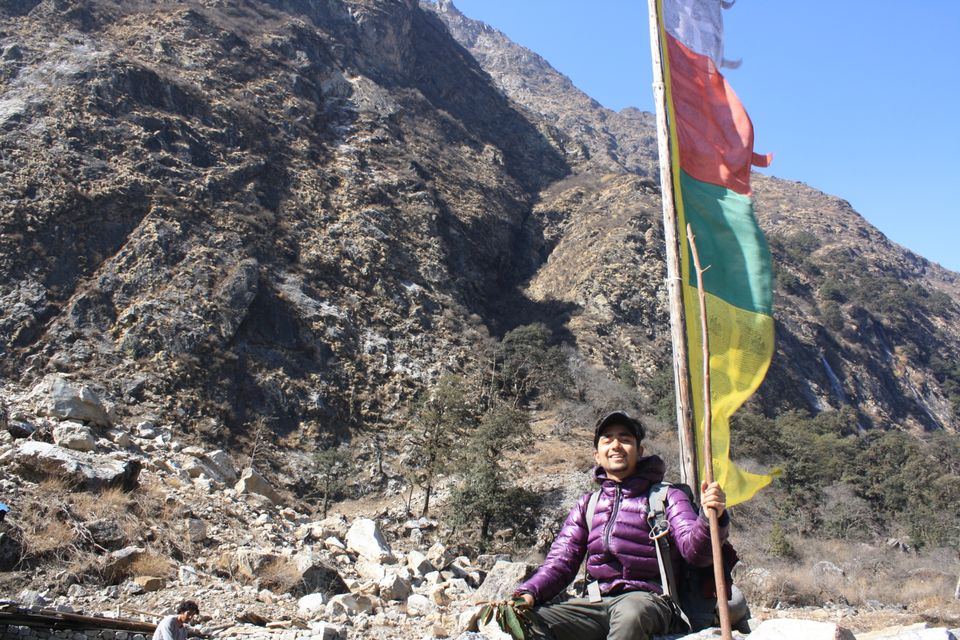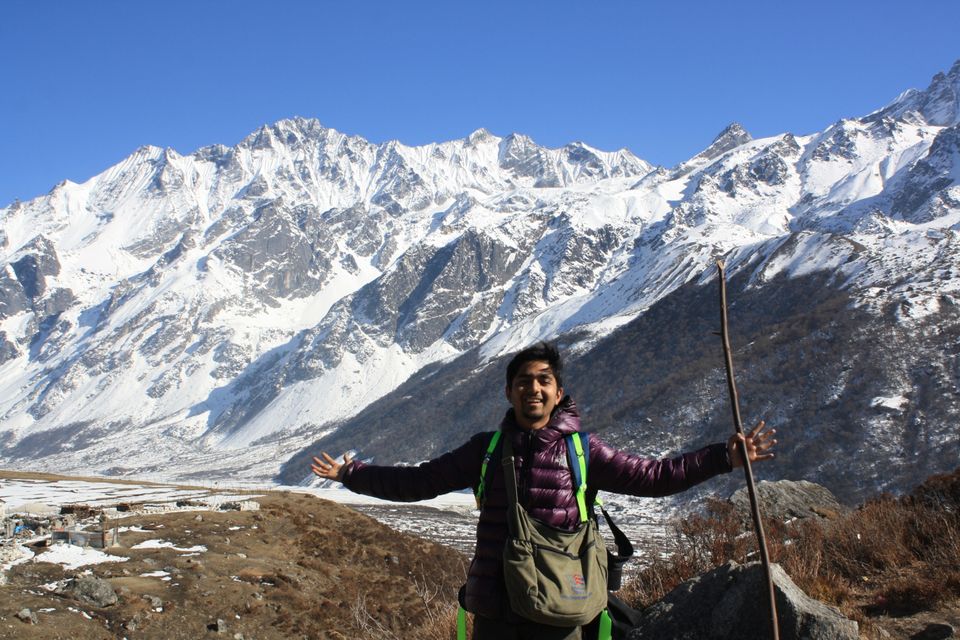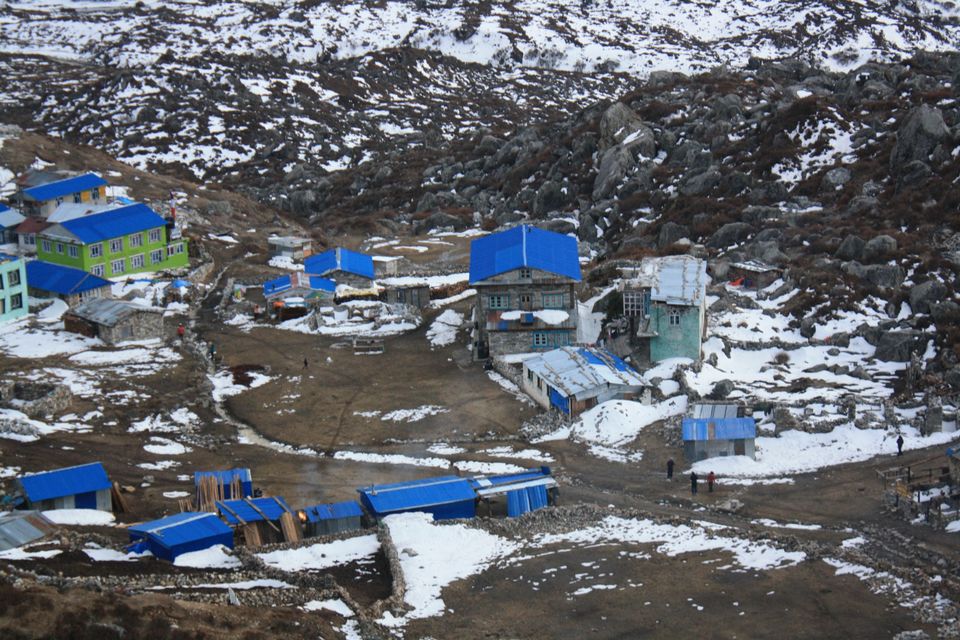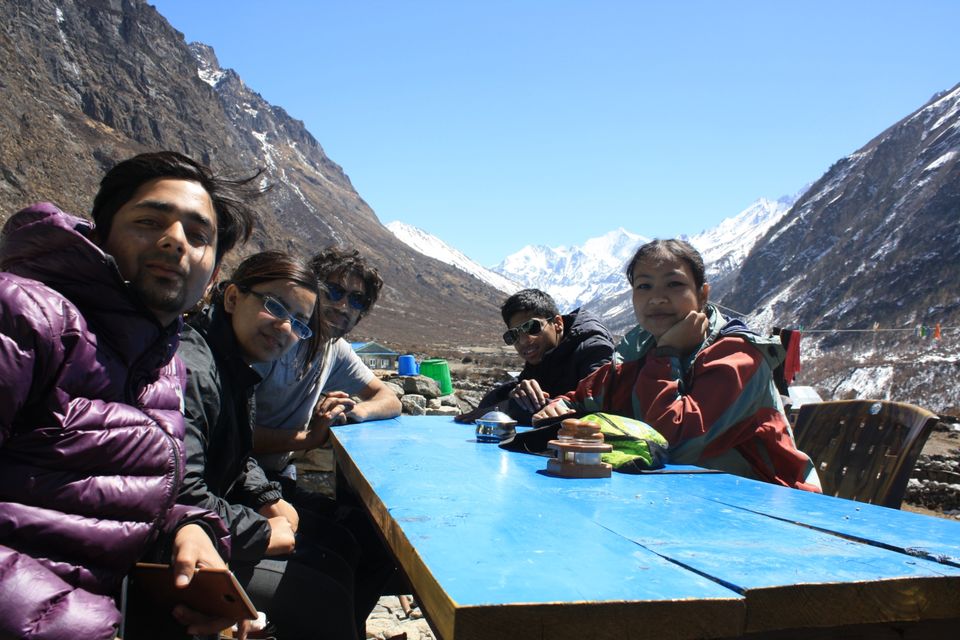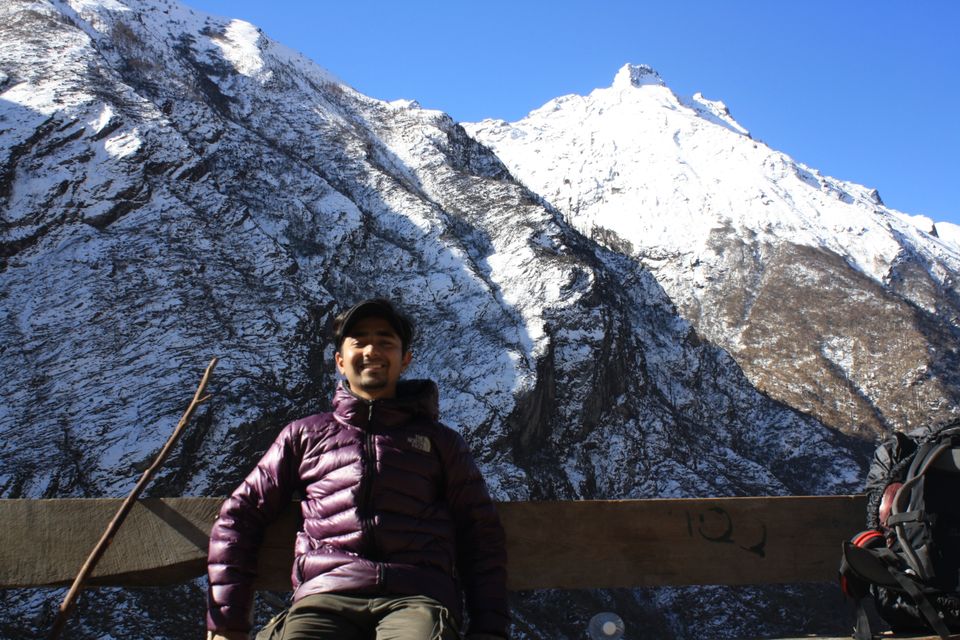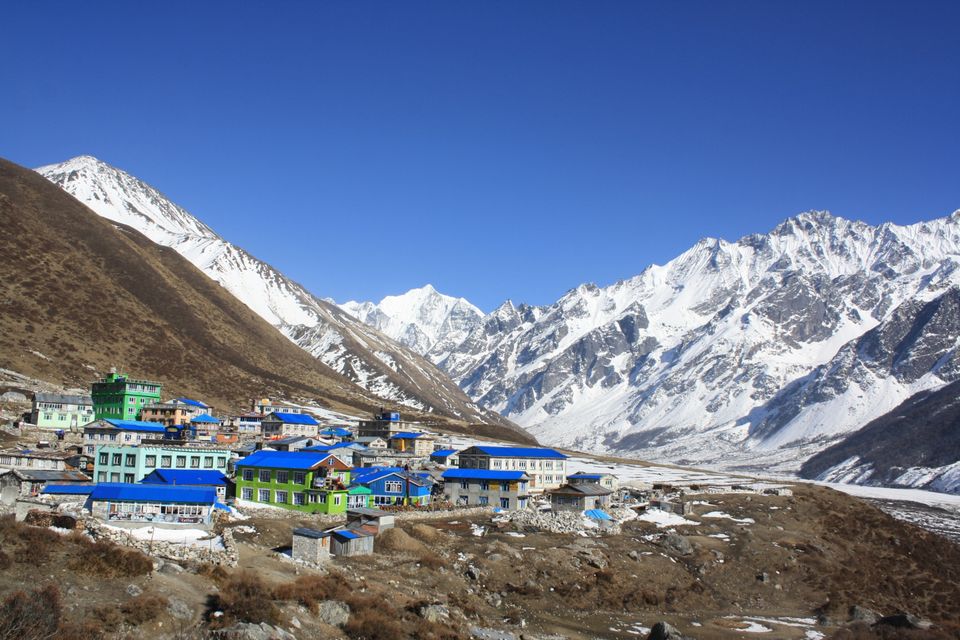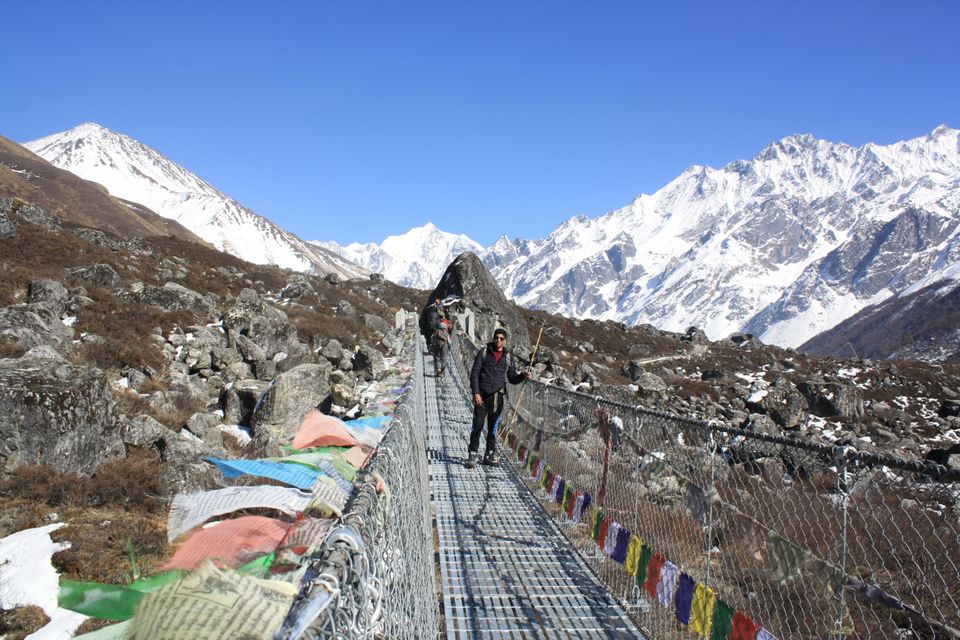 We woke up and freshen ourselves up.
We went to the point where Dipesh dai & Suresh dai had explored from Height.
After a while, we reached a place which was a bit downhill and it was a kind plain snowy area. Might be frozen lake, but we were not sure. We decided to go downwards. In a while we reached the spot which was literally in the middle of the plain; juxtaposed in between 3 mountains.
We played around the spot. Took beautiful photos, tried our photography skill. After spending 1 hour there, we had to hurry up back to our stay so that we can take our lunch early and head back to lama hotel.
We reached to our stay, ate our lunch, paid bills and packed all the stuff and hit the trek.
While moving downhill now, it was much easier yet scared of losing the ground.
After a very very long walk, we were completely exhausted but we were determined to reach lama hotel so that we could make it up to syafru the next day.
This might be the longest trek day of the trip.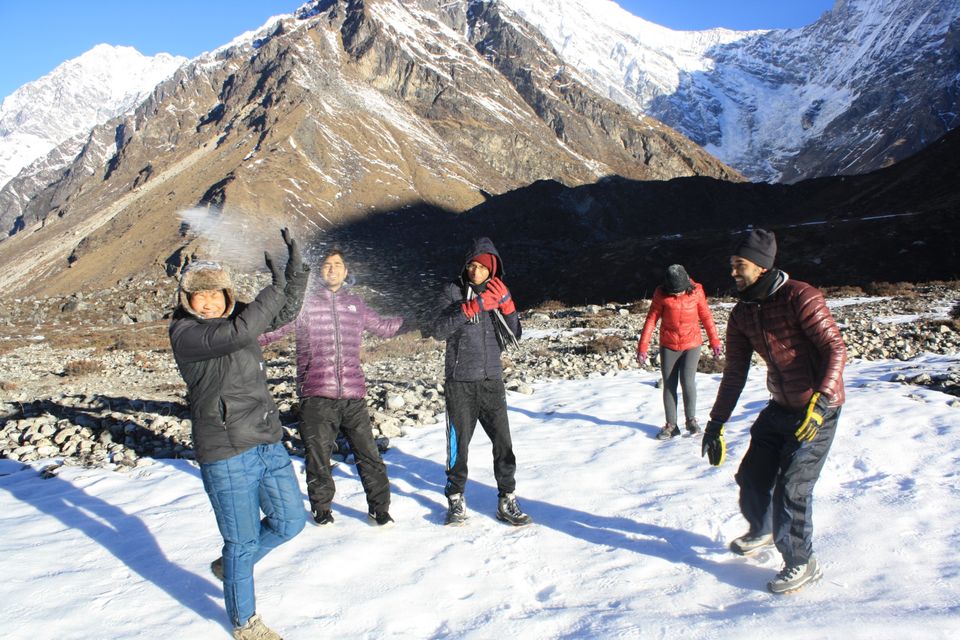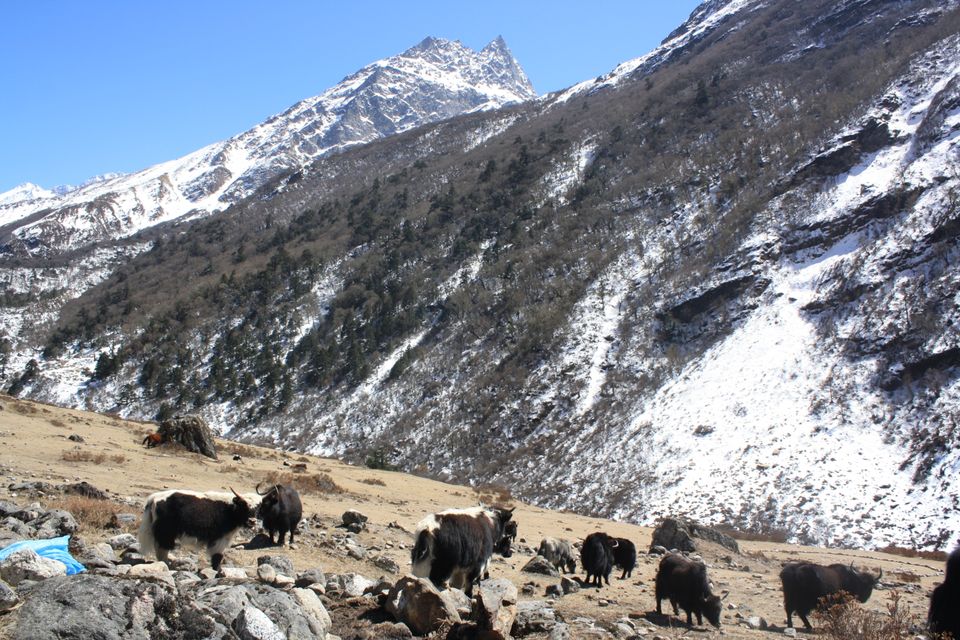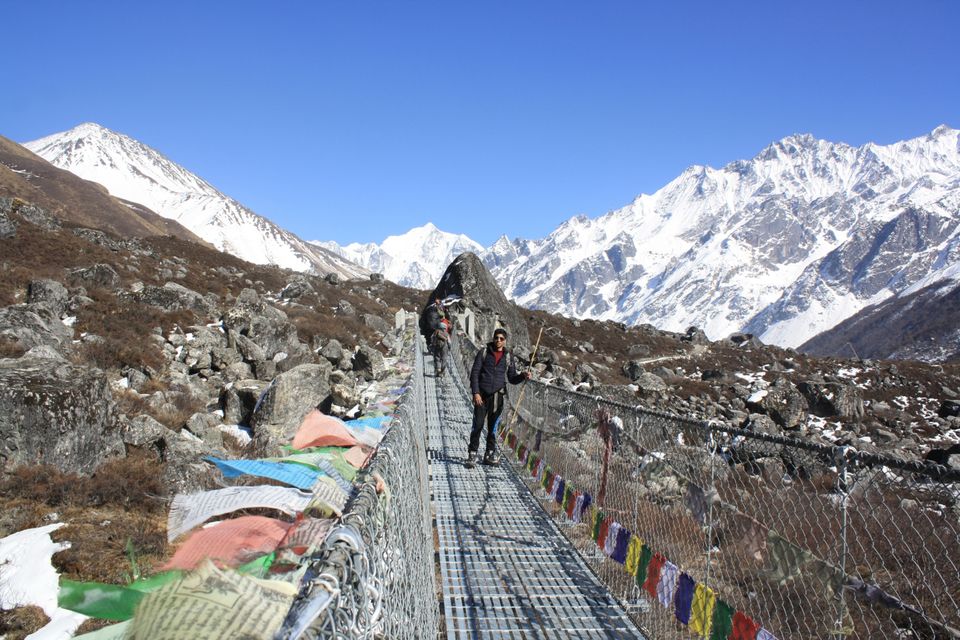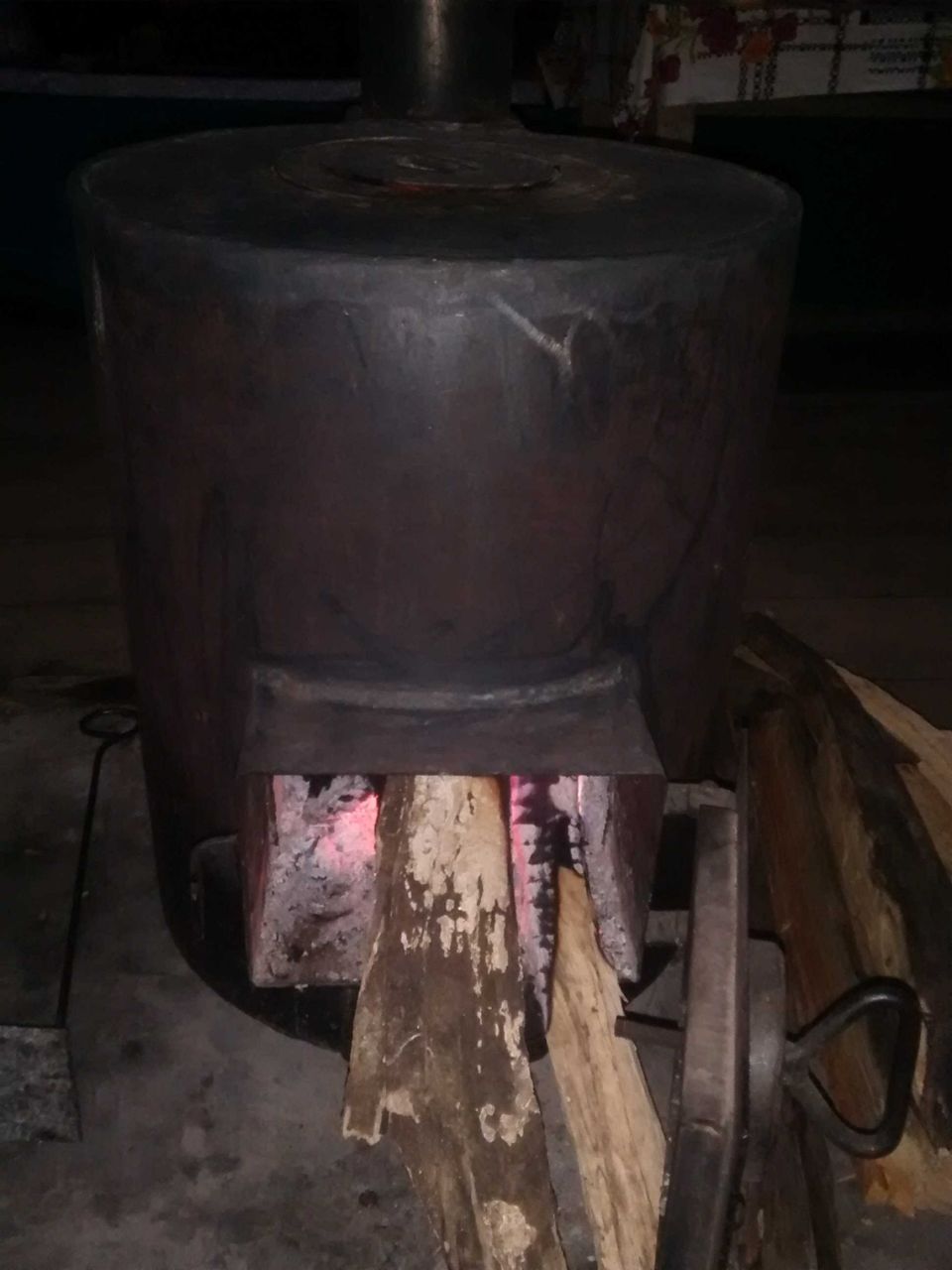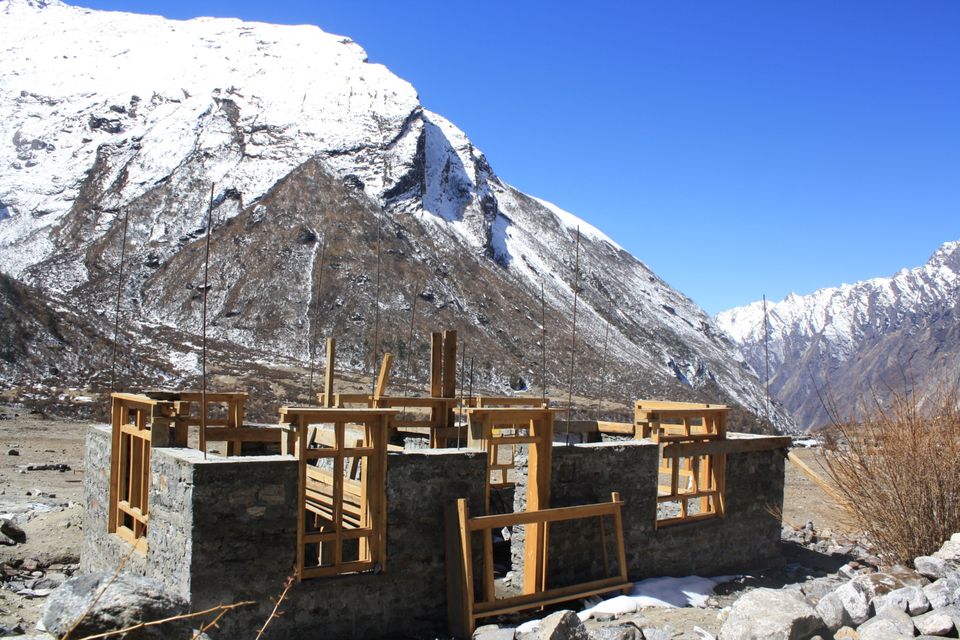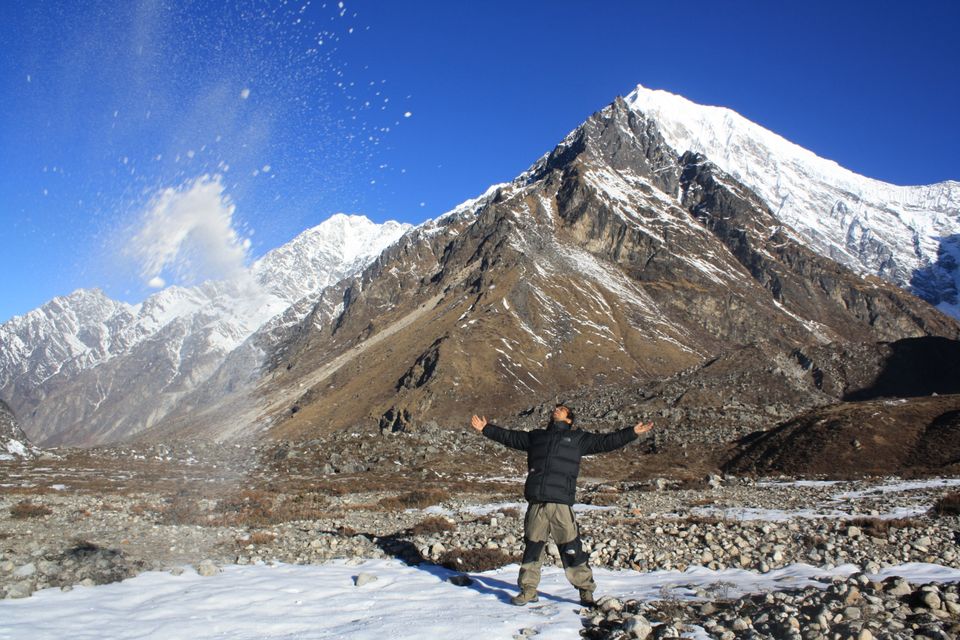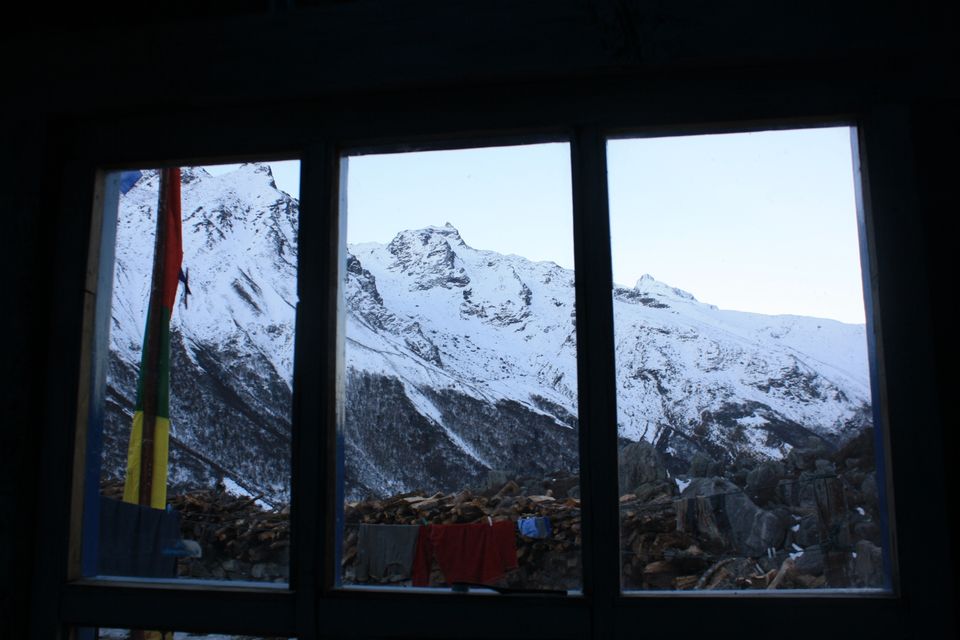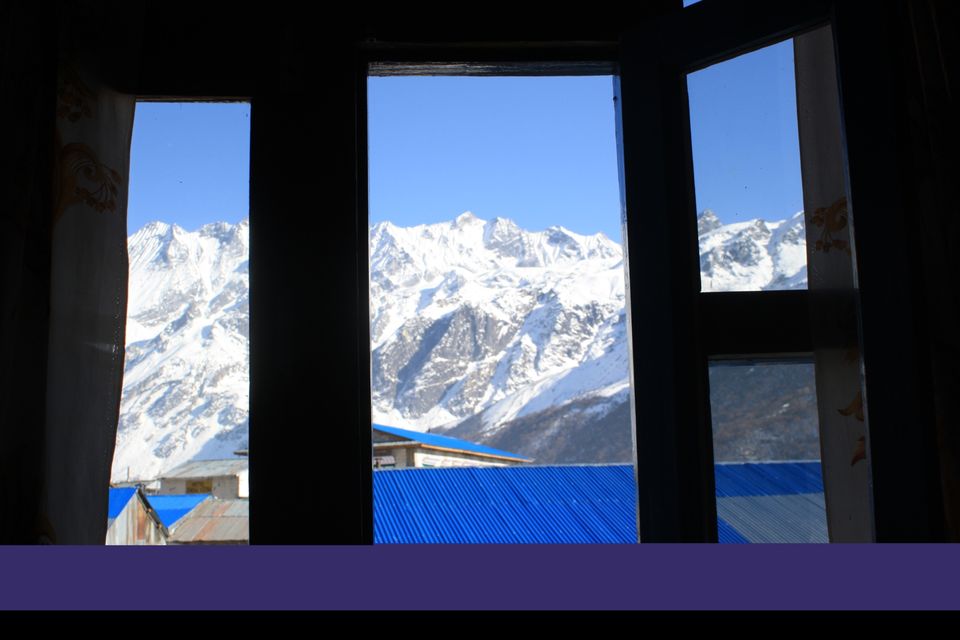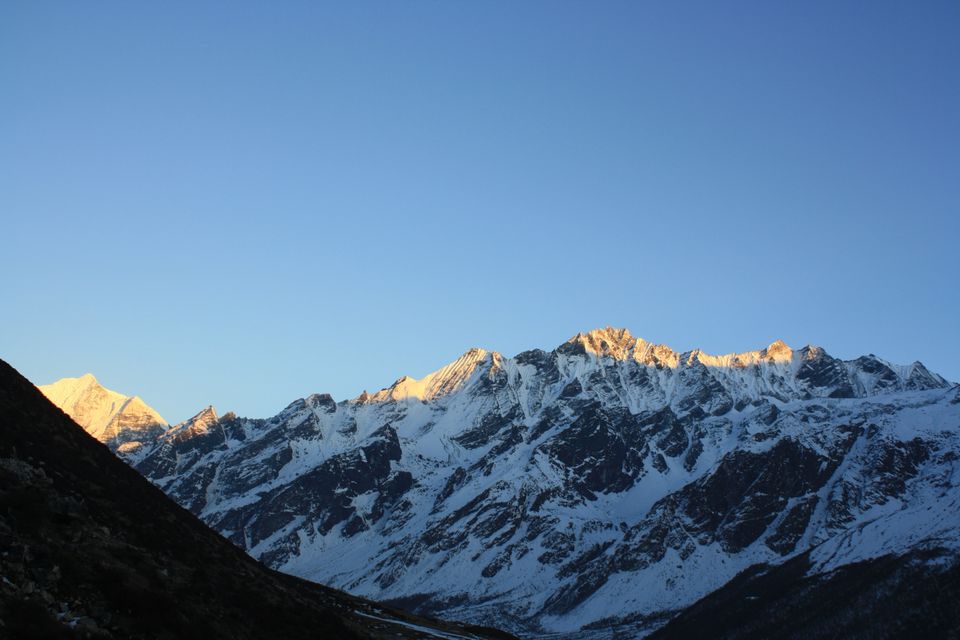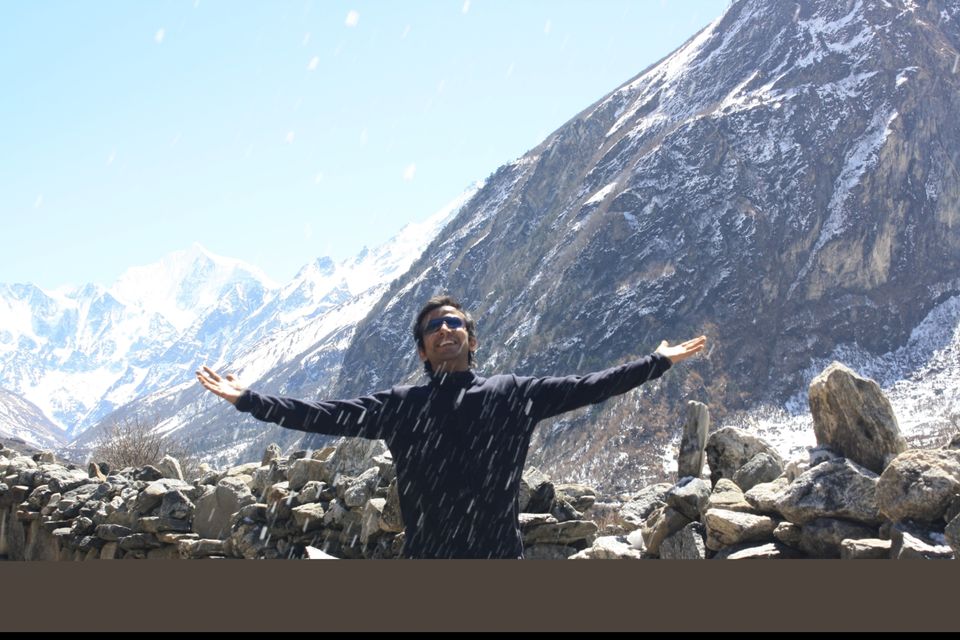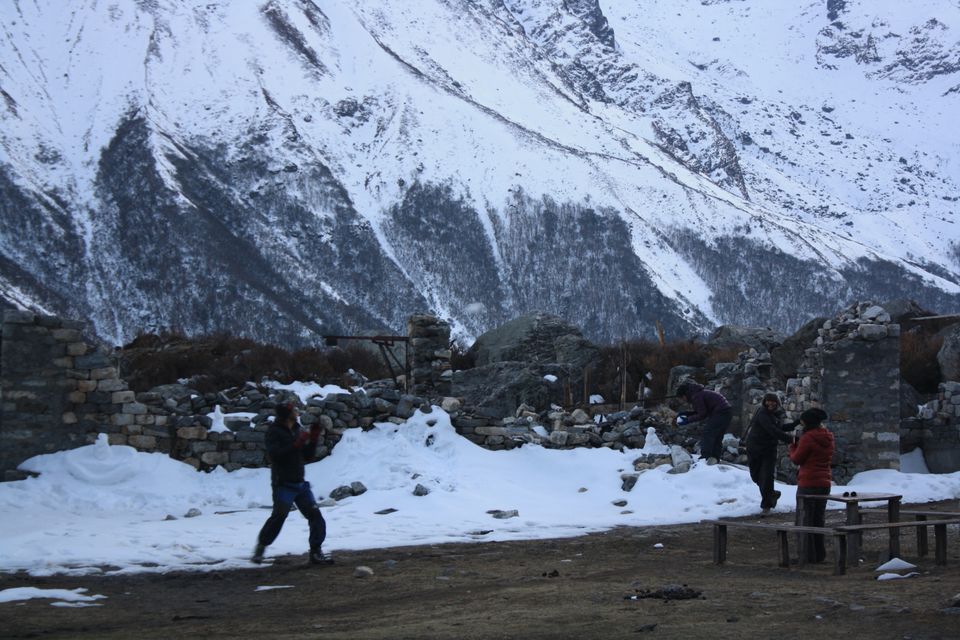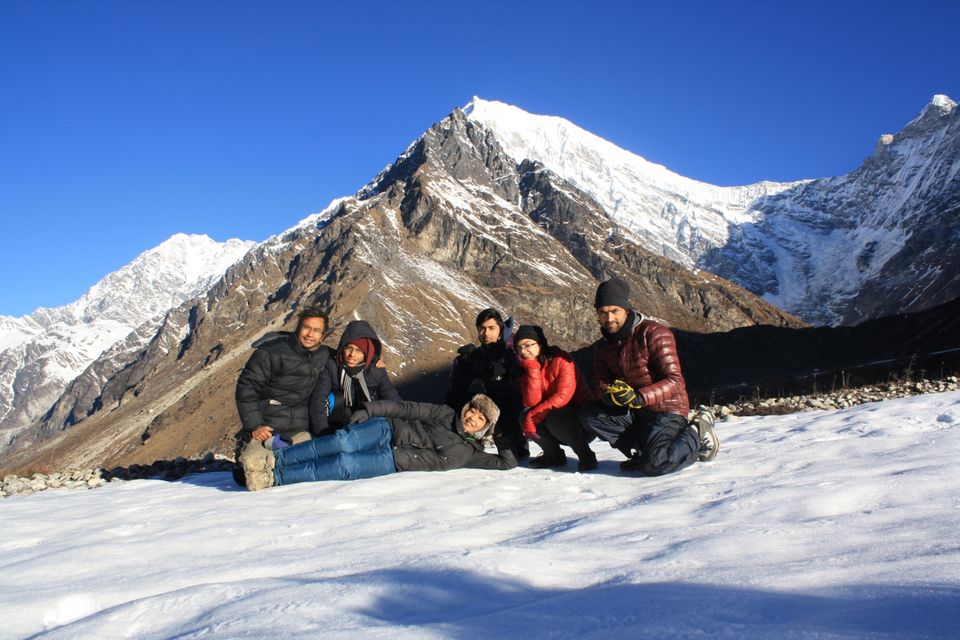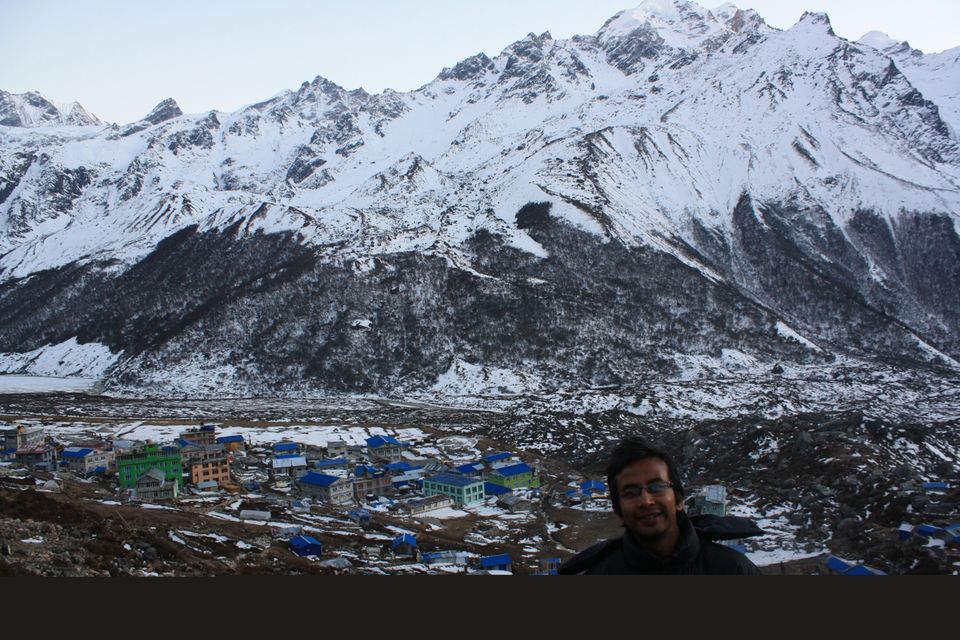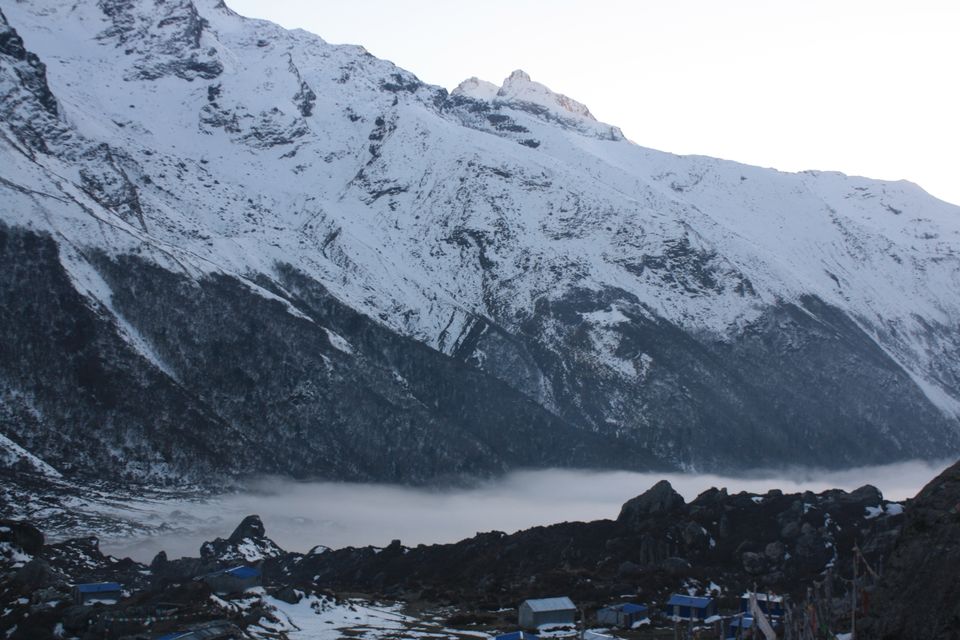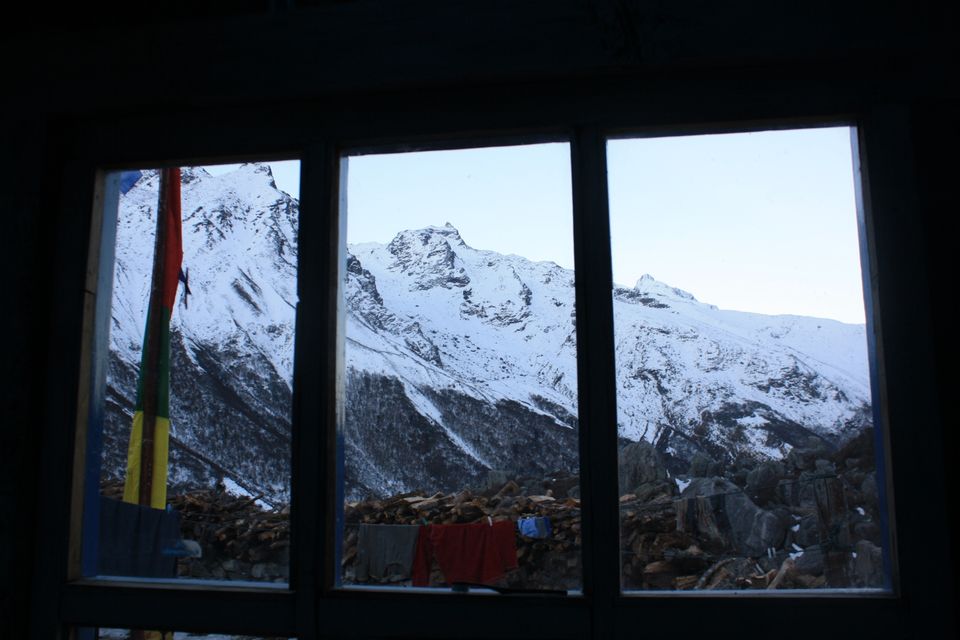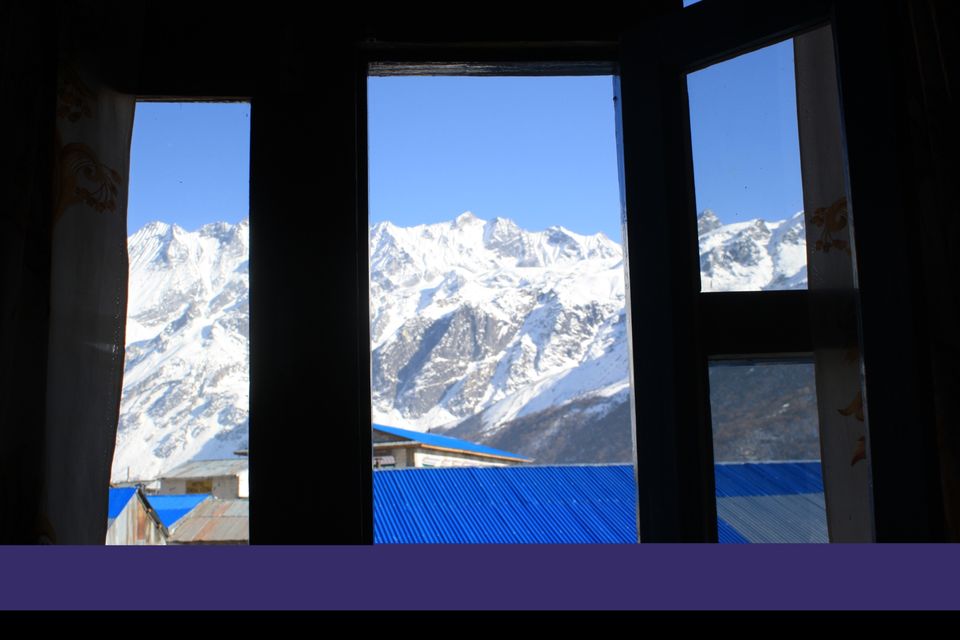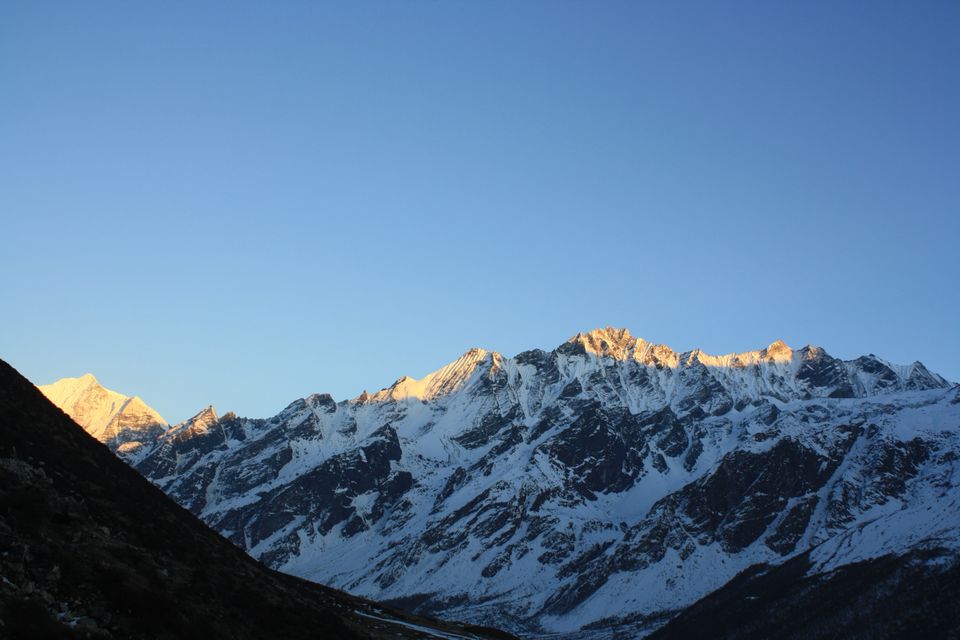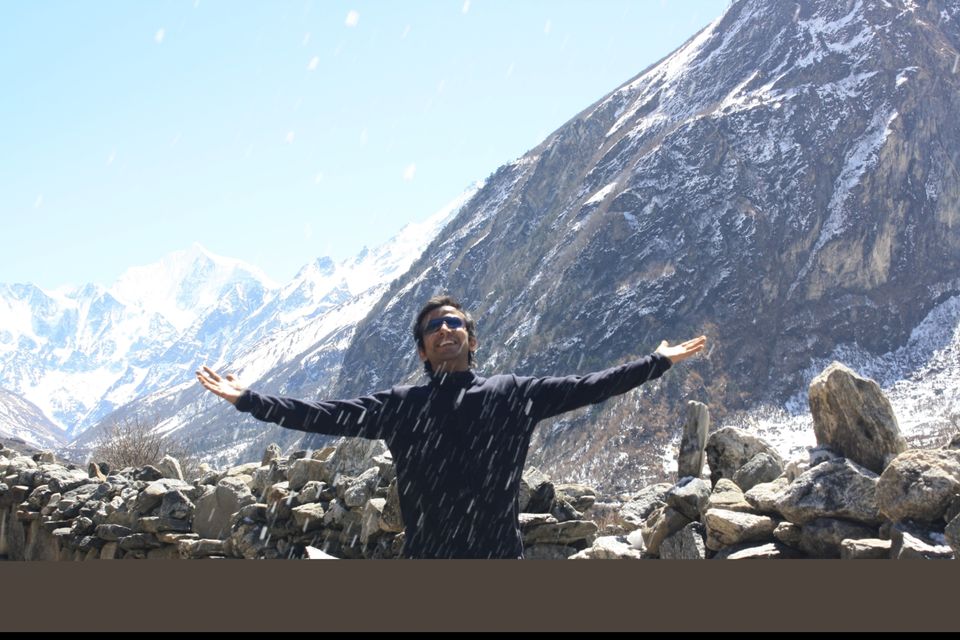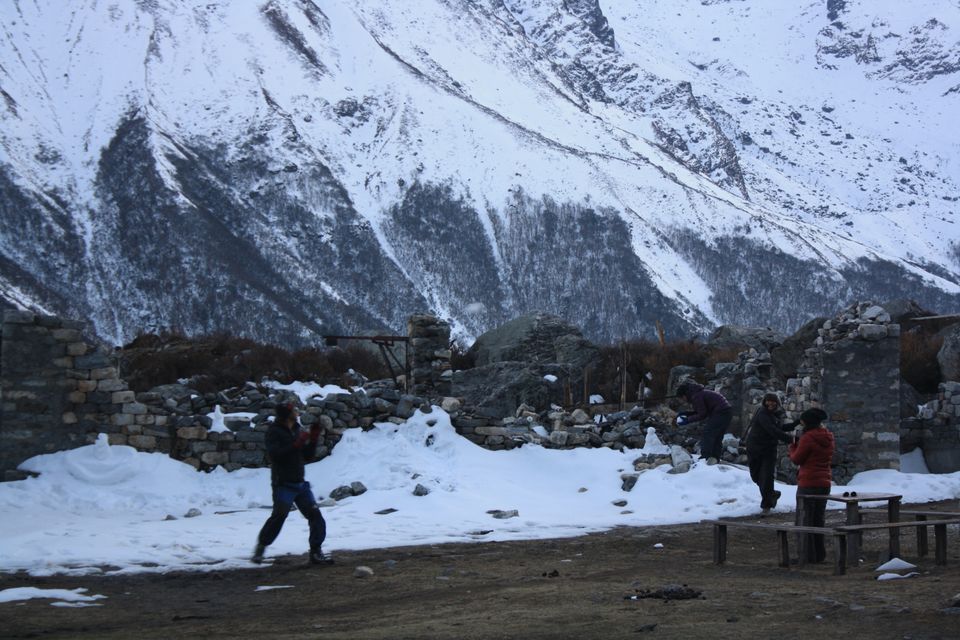 First thing first, we divided into two groups of 2(me and dipesh dai) and 4 (Keshav, Irina didi, Suresh dai,& Aditi didi) to find a place for the night. We got good rooms for very reasonable prices for such terrains.
We entered into our warm wooden rooms with cozy narrow compact beds and spectacular view from windows. We took light Energizers and went on to explore the KYANJIN GOMPA. We explored the locals, played with the snow to our fullest.
We roughly estimated the damage caused due to the deadly Earthquake. Locals reported that all of their yaks were swept beneath surface during landslides of Earthquake.
As I was busy in crafting a ☃️ and Aditi didi, Irina didi, & Keshav were playing in the snow; Meanwhile, Dipesh dai and Suresh dai decided to go off trek route more uphill to explore and easy navigation for tomorrow's plan. After some time, my little snowman was ready with two eyes of stones. We saw Dipesh dai and Suresh dai were returning after their exploration of frozen lakes and flat snow grounds around the valley.
We headed back to our stay. We talked about how we met each other and stuff (God, I miss that moment a lot) with melodious local music in the background. We ate our dinner and went back to our rooms.
In a while it was pitch black without candles. (The darkness you've never experienced in cities and urbanized villages). That thing was really meant to be lived and embrace the darkness and it's really very very beautiful unless you don't have the stereotypical thoughts from horror movies.
Dipesh dai asked if I wanted to go for stargazing ???? The only answer to such thing is Yes; after all, we came all our way for such observations. We observed literally the darkest, the clearest sky in beautiful moonlight with a most beautiful combination of stars. It's more beautiful than that of which you see in the best photos.
After a lovely moment we went back to our rooms and had a really good sleep on narrow beds yet coziest at the moment.
We woke up a bit late as it was the last day of our trek. We started our last day after a quick photo session trying to pose like one of our fellow at karkhana yelling out loud "Are we ready?".
We reached back to Bamboo after 5 hours of trek downhill. We ate our lunch there and started the trek again. We fooled around a lot that day. Cheering ourselves with the most hilarious non-veg jokes in our mind. Keshav plucked rhododendrons for Irina didi and Aditi didi with his expert monkey skills.
Before it was dark, finally we reached to syafru where we checked in into a lodge and had first non veg meal of our entire trek as the price of foods were back to normal again. After dinner, we reflected ourselves back to last amazing 4 days we spent together and future plans as I was about to get separated from the Karkhana as I had to come to India for my undergrads. We slept late that night after wonderful talks.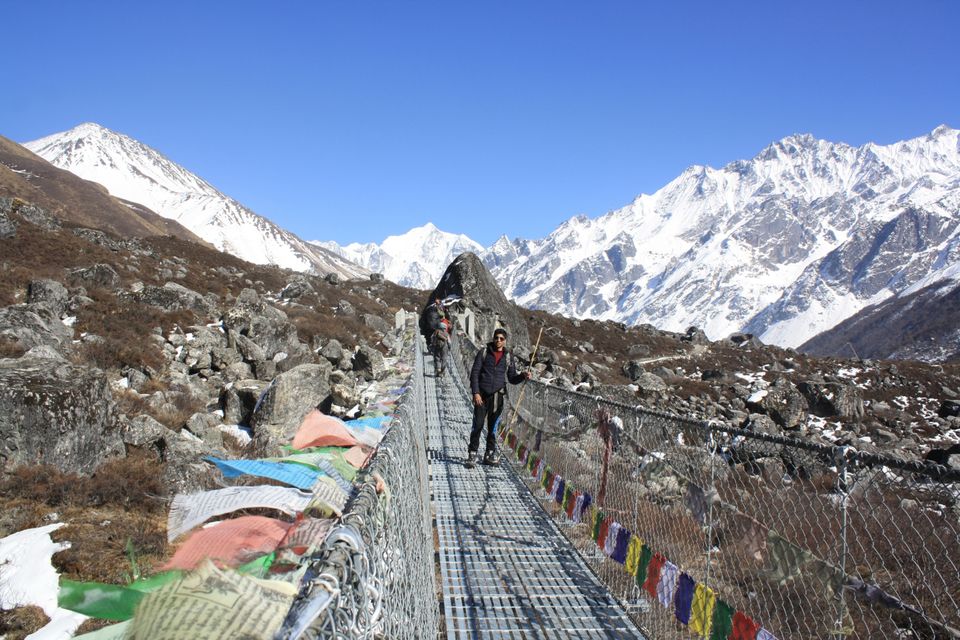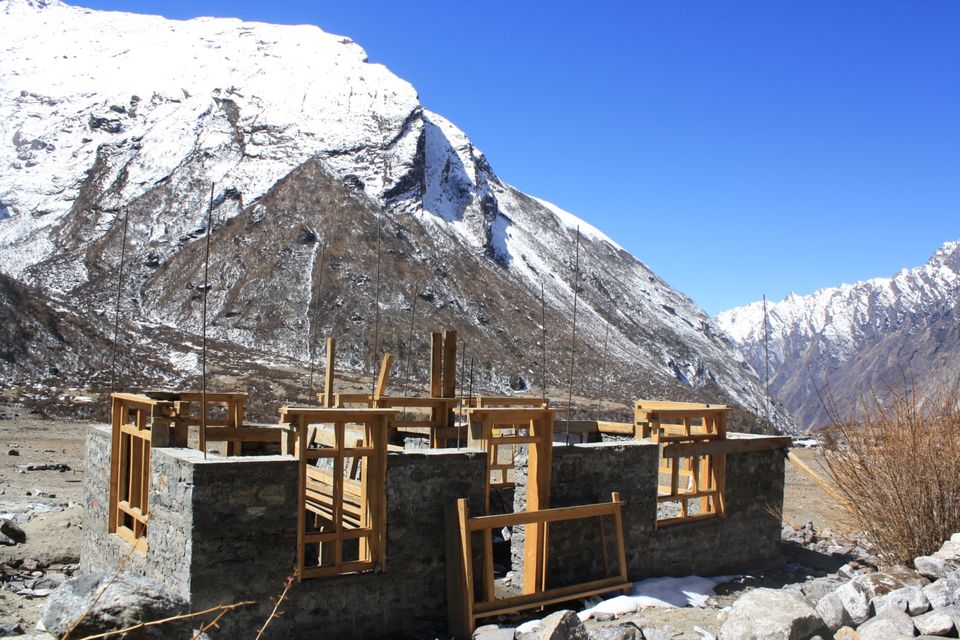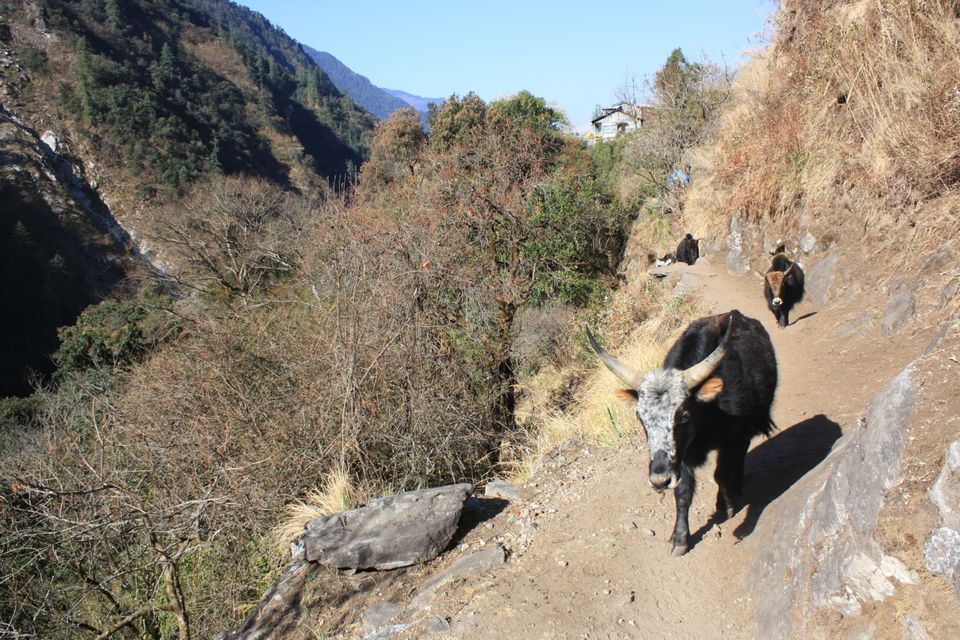 It was freaking cold there as if it was about to snow but unfortunately, we didn't experience any snowfall there.
We ate our dinner and went to bed after a series of past talks, Truth-Dare games and all the hidden secrets spilled on terms and conditions that nothing would be leaked.
We reached Langtang after 4-5 hours of a long and tiring walk uphill. Further, we reached mundu where we halted for lunch. We intended to rent a horse there, but unfortunately, the cost of the horse was half our entire expenditure. So, we decided to give no rest to feet and moved on after our lunch. This is the time when you realize why is food so precious!!!!! The food was very simple(rice, boiled potatoes, pickle, and thin pulses) yet very tasty and must need. It'll cost around ₹400-500 per head.
As we were heading with our hands waving to other tourists as they were returning from our destination and literally asking everyone how far is it now???? ????
We were moving with the flow with increasing sights of Yaks in herds. At this moment, I realized despite yak are big and heavy; they're afraid of humans and are similar to cattle in the plain. It's literally like a cow with big size and more fur.
After 8-9 hours of very very long walk, The destination was in our sight. Such a beautiful and small place it was from that point. We could navigate every part of our destination from that point.
We got energized from 0 to 10 within a couple of minutes and headed with all we had got. At last, after an hour, we reached the Kyanjin Gompa.
Anyhow, we reached the lama hotel in the dark and didn't bother to search hotel rather staying in the first hotel we reached because we had no energy left now.
We took our dinner and went to bed early that night.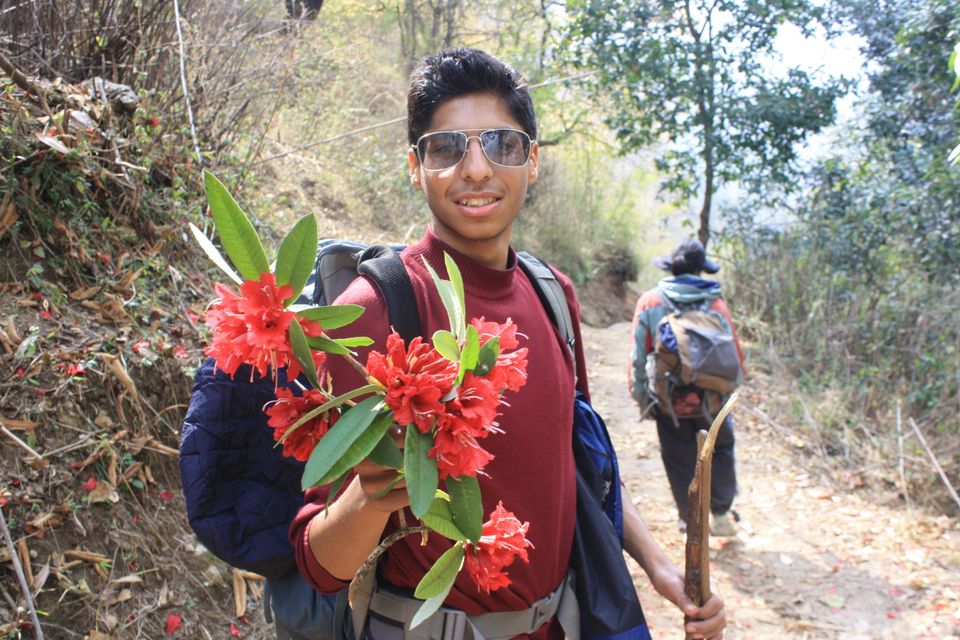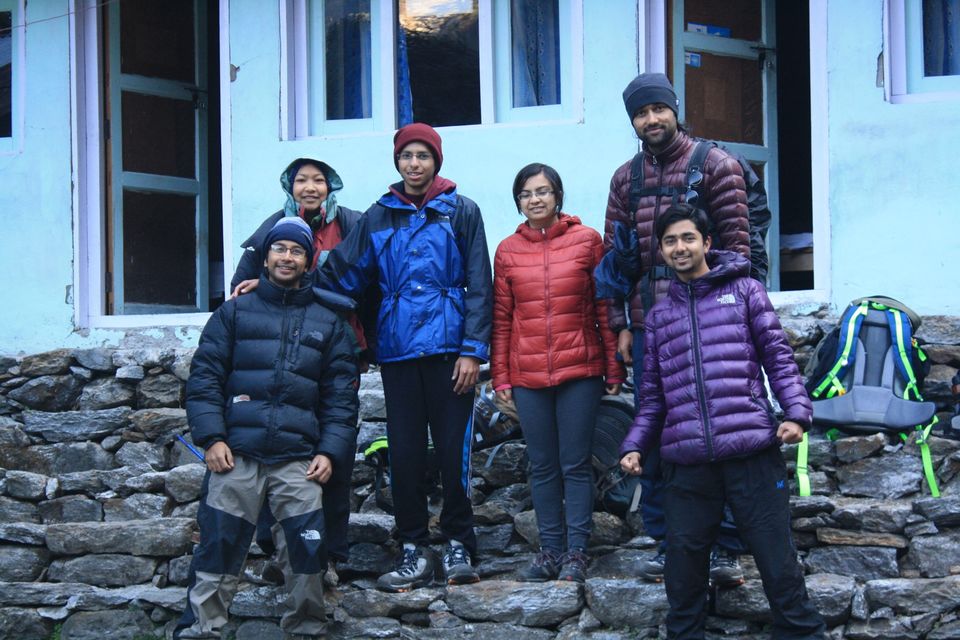 We woke up very early and boarded on the bus to Kathmandu. Thus, Our sweet trek came to end, but memories will last forever. Today(2018/10/30), It's almost two years but it's still the best travel experience so far in my life.
It was my first travel blog. please comment down below for suggestions on how can I improve my blog writing skill!! Also, please wishlist it if you wanna go to Nepal someday because you know, "Heaven is myth, but Nepal is Real".