Trekking has been popular in Nepal for decades. At Kathmandu, you can find several good guiding companies, and 'teahouse' lodges, where you get to stay while trekking, make your treks astonishingly comfortable. Even for those with little or absolutely zero trekking experience, Nepal offers several amazing, affordable and absolutely unforgettable experiences.
Being an outdoor junkie, trekking was an absolutely must do activity for me on my Nepal trip. After a lot of discussions and research, I decided to do the Gorepani-Poon Hill trek, which is considered to be an easy 4-5 days trek. (Being alone, I decided to go at my own pace, soaking in the beauty of nature and the culture of the place, and took 7 days to finish it.) The trek falls in the Annapurna mountain range of Nepal.
From the first day, we (myself, my guide, and a porter) used to walk on for hours on 'kuccha' ascending and descending village roads. We crossed many bridges over streams and rivers. I used to stop of breathers at such spots, to catch my breath and some nice snaps of the trek, while my guide used to take naps; he of course has seen these breathtaking places thousands of times. The second day, I remember, was the toughest for me, as we ascended on what turned out to be the steepest climb of the entire trek. I had to rely on my walking stick a lot on this particular day, a thing which I had considered would be unwanted additional weight while packing. I used to spend a lot of time at the dining areas of the guesthouses where we would stay; to have food and to enjoy the view outside - rain, wind, clouds, hail, etc., and to gossip of course. These long hours in the dining rooms was probably the most enjoyable time of the trek for me. As a solo traveller myself, I would often find the inviting company of other trekkers, making the dining experiences quite chatty.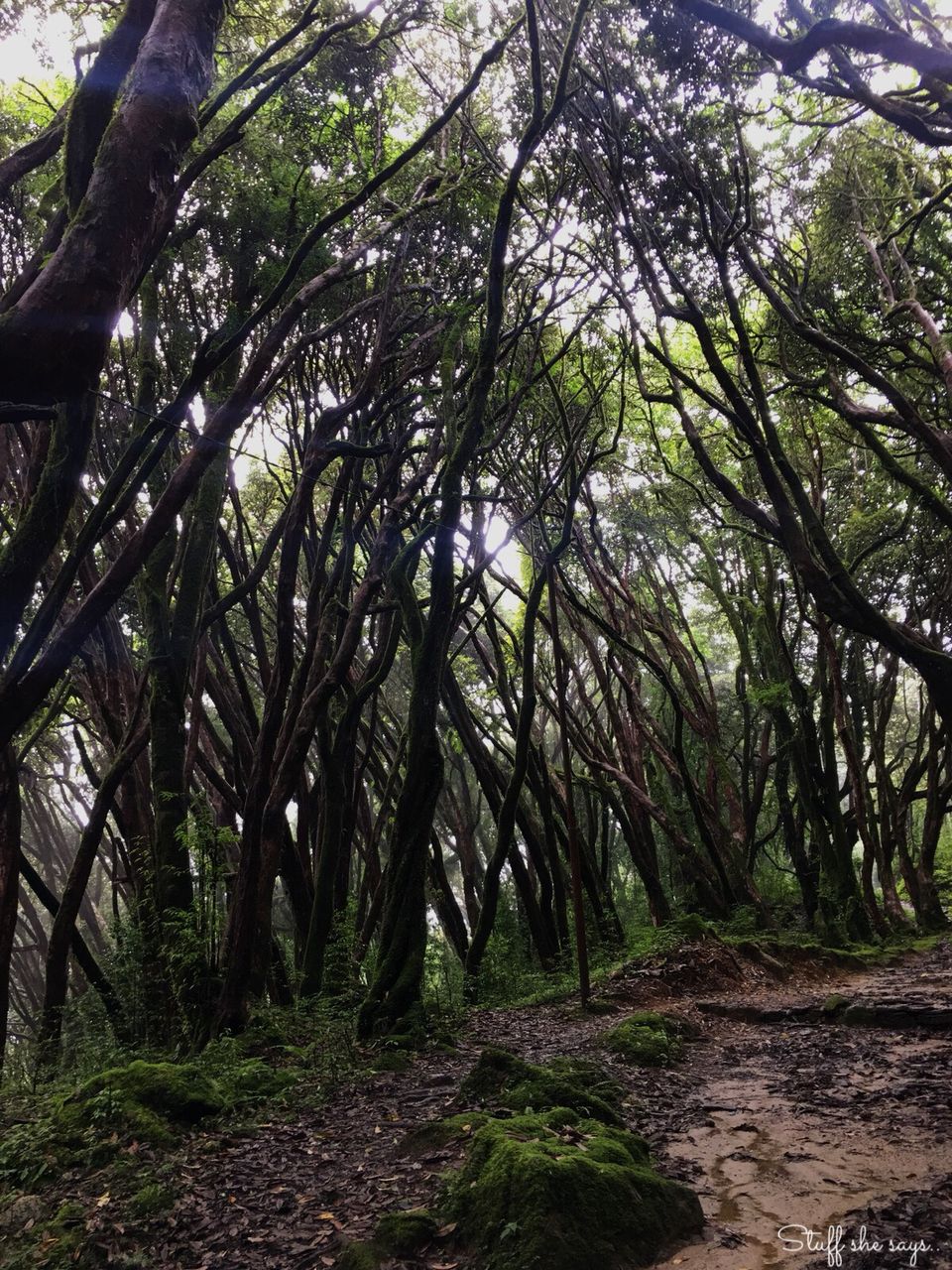 The beauty of the green hills and valleys simply kept on accentuating as we trekked in some of the densest Rhododendron forest, something that this part of Nepal is famous for. When I reached Poon Hill, our highest point in the trek, the weather was cloudy and and the view we were supposed to get was not clear. But I did still feel an overwhelming sense of joy, relief and accomplishment when I got a misty glimpse of the mountains from Poon Hill. Despite numerous tries, I could not contain the beauty of the view in my camera; it's a sight to behold. The smell of the fresh green foliage permeated my nostrils, and I took in all I could, as we descended down to finish our trek. I spent the last day at Ghandruk village, and this is when I experienced the most blissful relief I felt during the entire trek, as I relaxed my shivering knees. After a whole week of scampering up and down in the mountains, I decided to take advantage of the technology around, and took a bus to Nayapul and then a cab back to Pokhara.
Trekking outside the peak season of Nepal was extremely rewarding. I was afforded cheaper rates, found solitude, and befriending the locals was also easier as they were not busy with loads and loads of tourists. Although landslides and leeches are a problem during this time, I was lucky enough to not be bothered by these problems much. Weather was quite humid throughout, but the temperature varied quite a lot.
Here are some pointers and guidelines in case you are interested in the Poon Hill trek:
• The Ghorepani-Poon Hill trek can be done all year round.
• Moderate level of fitness is required to complete the trek. The maximum elevation is 3210 meters, so there is no real risk of altitude sickness.
• Pokhara is the closest main access city to begin treks into the Annapurna range.
• It is advisable to book your treks in advance through travel agencies. Otherwise, hotels in Pokhara can also help. I booked through Welcome Nepal Treks and Tours on some best prices (link). I arranged everything through them and I would highly recommend their services.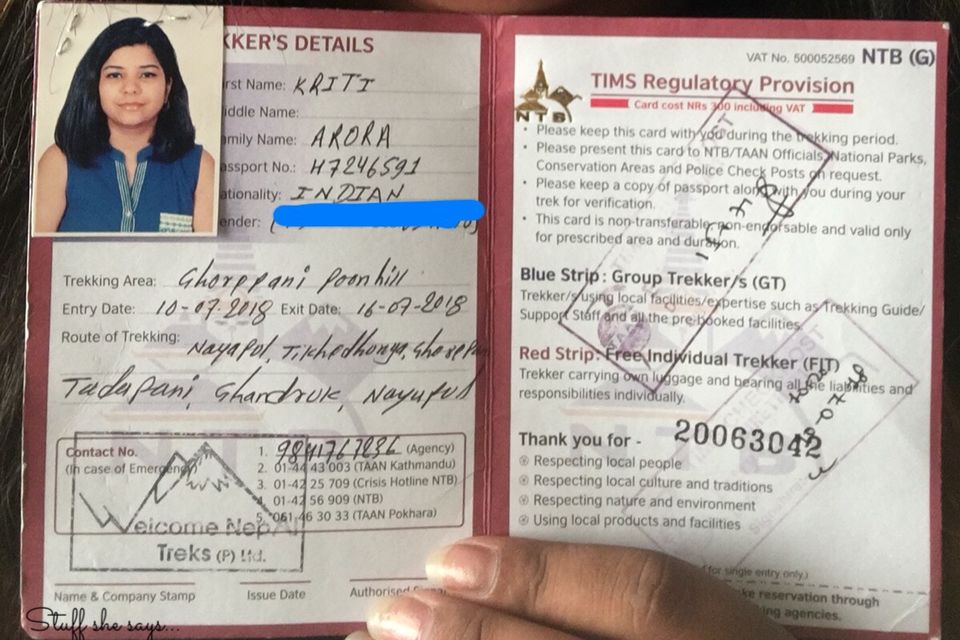 • Trekker's permit (TIMS) is required and is around INR 1,800/-. Again, it was booked in advance.
• It is debatable whether you need guide or not. I personally thought it was a great idea to get a guide. I could focus more on taking photos and enjoying the sights rather than look at maps every 30 minutes. My guide also knew which guesthouse we need to go to every night. And of course, good company makes your trek much more enjoyable.
• Porter can be hired at a nominal cost if you need someone to carry your backpack.
• Trekking gear and supplies can be bought/rented through various shops from Pokhara. Packing lists are available online for reference.
• This trek is also called a Tea House Trek. There is always a hike from one village to another, and there are basic, but decent, lodges everywhere. Wifi, charging points and hot water showers are available on extra charges at few of these places. I did the trek in July and it was very easy to get rooms, and sometimes I was the only one in the lodge.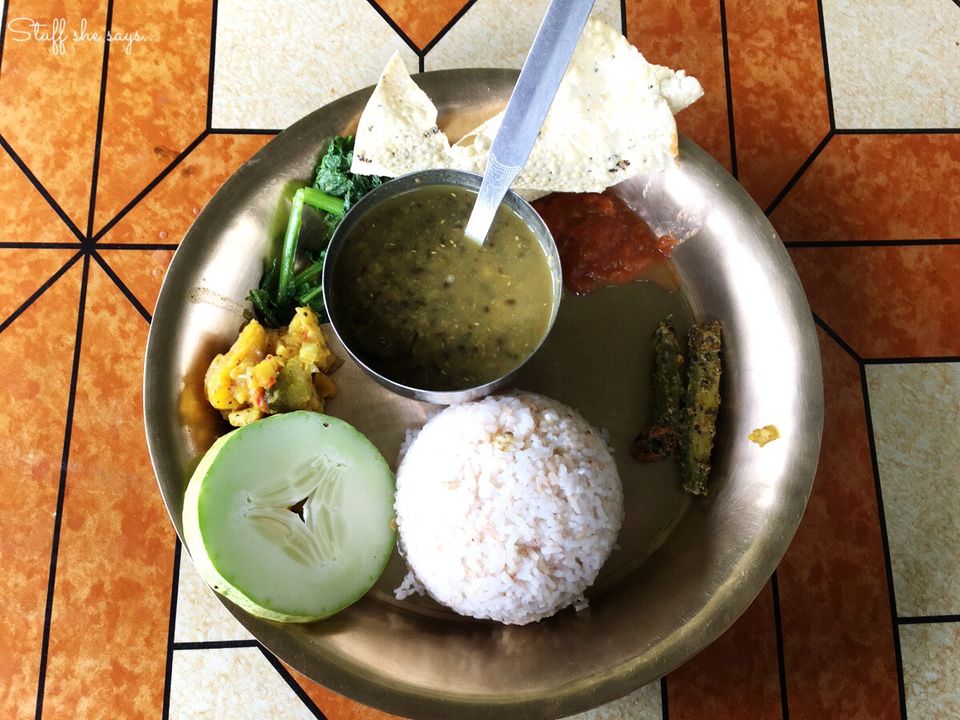 • Food in the mountains is priced due the transportation required to get it there. The menus were pretty much same at every restaurant, offering local Nepali daal-bhaat, spaghetti, bread and omelette, Tibetan bread, porridge, fried noodles and fried rice. Tea and coffee is available at nominal cost. I had stocked up on some energy bars and chocolates from Pokhara because I was told that chips, cookies and other packed items are quite expensive in the mountains. I always enjoy having local food wherever I go, and I really enjoyed the hot daal-bhaat (staple food of Nepal), spinach vegetable, with some bamboo and chilli pickle for all my meals. It was an energy-packed meal, much necessary for the trek.
• There are opportunities to but bottles of packaged drinking water almost everywhere. Usually the price is around 80-100 Nepali Rupees, depending up on how high up you are in the mountains. I chose to re-fill drinking water from the lodges I stayed at, sometimes for free, but at most times for a charge of about 60 Nepali Rupees. If you are not sure, but a packet of Aquatabs (water purification tablets) from Pokhara.
I had an absolutely amazing time during the trek. The Ghorepani-Poon Hill trek is a great way to hike and be in the mountains, while still being able to sleep securely and eating freshly cooked meals. The trek was the highlight of my trip to Nepal, something I will not forget for a long, long time.
P.S. Stay tuned for more stories from Nepal.
Frequent Searches Leading To This Page:-
Nepal trek to Ghorepani Poonhill, poon hill trek cost for nepali, poon hill trek cost for indian, ghorepani poon hill trek 6 days