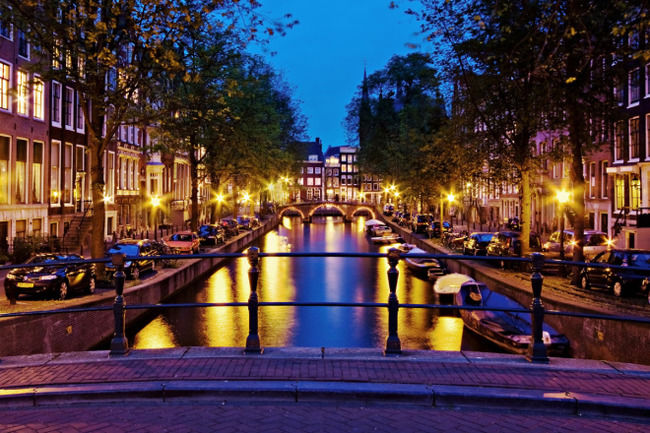 Amsterdam is quite a developed and beautiful city. It's posh and well maintained. It sees tourists not just from it's own continent, but from all over the world. A newbie would of course need help. But what can be better than self-help ????
"FREE WIFI"
Keep your mobile on and charged, for almost the whole city is wifi-ed, and at 90% of the places you will find a free connectable wifi network available. Either you would directly be connected, or the wifi would ask you to sign-up with your fb account or with you email id. Please make sure that this facility is utilised to your level best, for it is given to be used and taken advantage of.
Also, before coming to Amsterdam(or even any place in the world), switch on the map history of the maps app of your mobile and search the area you are visiting. This way, you will be able to geo-locate the city in few seconds when you actually reach there.
You may walk a lot to save few euros in Amsterdam, but then again you may get lost. Maps+GPS+Wifi are a boon there.
But then, there might be places where the connectivity is intermittent or you only end up seeing-"Obtaining ip address…". For those cases, and an ever easing offline option, the best option is :
"Using Google Maps to the best of your advantage"
Get a snapshot of the map with the nearest landmark.
Since I had to reach the Hostel Leidseplein, I had taken a snapshot of the ways of reaching my hostel in the following ways: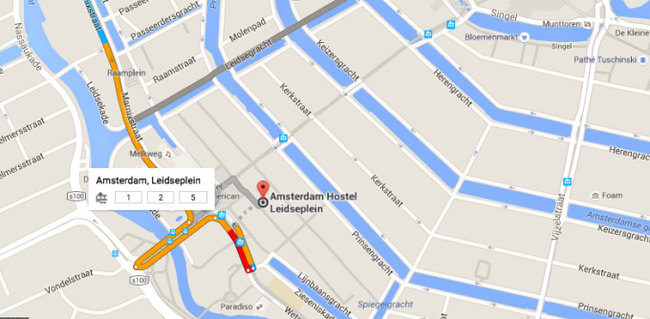 This map showed me which number trams to take to reach the station nearest to my hostel and then reach the hostel.
Few of my friends had their booking done in the Hotel Princess(well it's not just for girls). So we had this map(Hotel Princess to Hostel Leidseplein) cleared as well so that we could reach a common meeting point :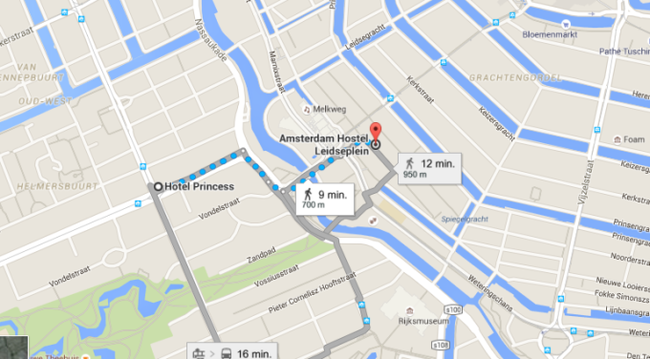 Another friend was to reach the Hotel Van Gogh, but since she was a little worried, we did send her both so that she could look at all the stations she passes by :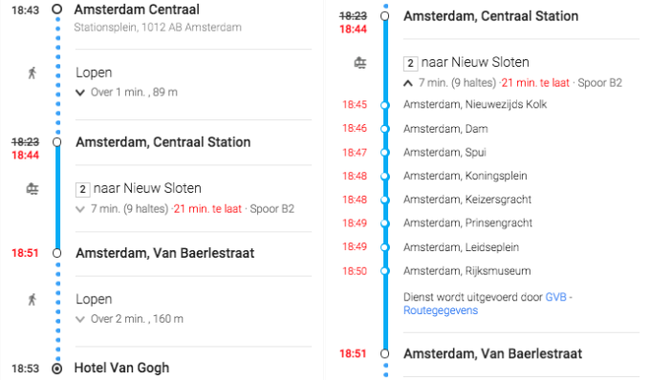 Last but not the least, since my trip involved going to Den Haag**(The Hague) first, I had tried finding different ways of reaching my hostel in Den Haag, and the cheapest, easiest, and most exploratory one was ON FOOT :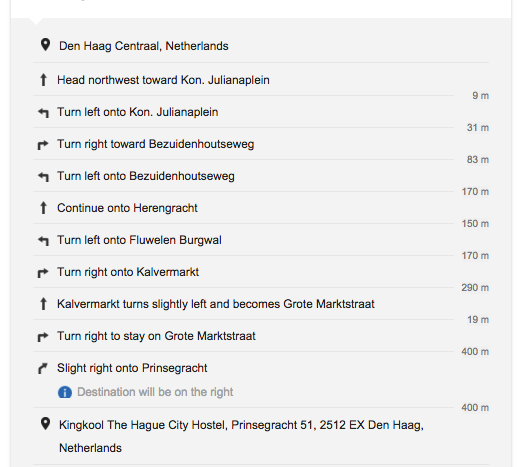 Advantages :
-I knew my way back
-I had already roamed around the city
-Already noted the best hangout areas and markets
-Saved money
-Prevented confusion and re-mapping
**It takes 30 minutes in a train from the Schiphol Airport to reach the Den Haag Central station
For me it was almost a realisation of the tag-line of Tele-Brands-"Choose Wisely, Live Well" ???? ????
More in Part4…..
This blog was originally published on 'READALOGUE'