I recently found out that there are two 14th century historical structures, the Khirki Masjid and the Satpula, standing desolate, looked over by the glitz of these sprawling and swanky Saket community centre malls. Most of us are not aware of the existence of these and those who are have never been motivated to patronise.
This Sunday morning, I had a brief engagement in Saket and therefore I decided to take a closer look at both these structures situated in Khirki village almost on the main Press Enclave Marg. Although Khirki Masjid is almost 50 metres away from the main road, one can catch a glimpse of the structure from the narrow by-lane that leads to it. It is said to have been built during the Feroz Shah Tuglaq's reign by one of his prominent wazir Khan-e-Jahan. Most of the historical places from the medieval era that we see in good shape are said to be from the Mughal times. Anything that is said to have been built before that has suffered destruction in the past itself. While the inside structures had been plundered by the then invading forces, what is left for us to see today are barren sites and some walled forms.
But interestingly Khirki Masjid has survived almost 700 years of pillage and weathering and stands erect in quite a complete form. Built like a fortress, it is amongst those very few mosques which have a covered style of architecture. This one has a series of khirkis (windows) through which the sun rays stream in. Because of the absence of light, the structure is heavily infested with bats. Our Catholic friend ran for his life the very moment he heard the screeching of the bats. They are believed to be diabolical in nature and in various biblical scenes, a bat has been presented as a symbol of Satan.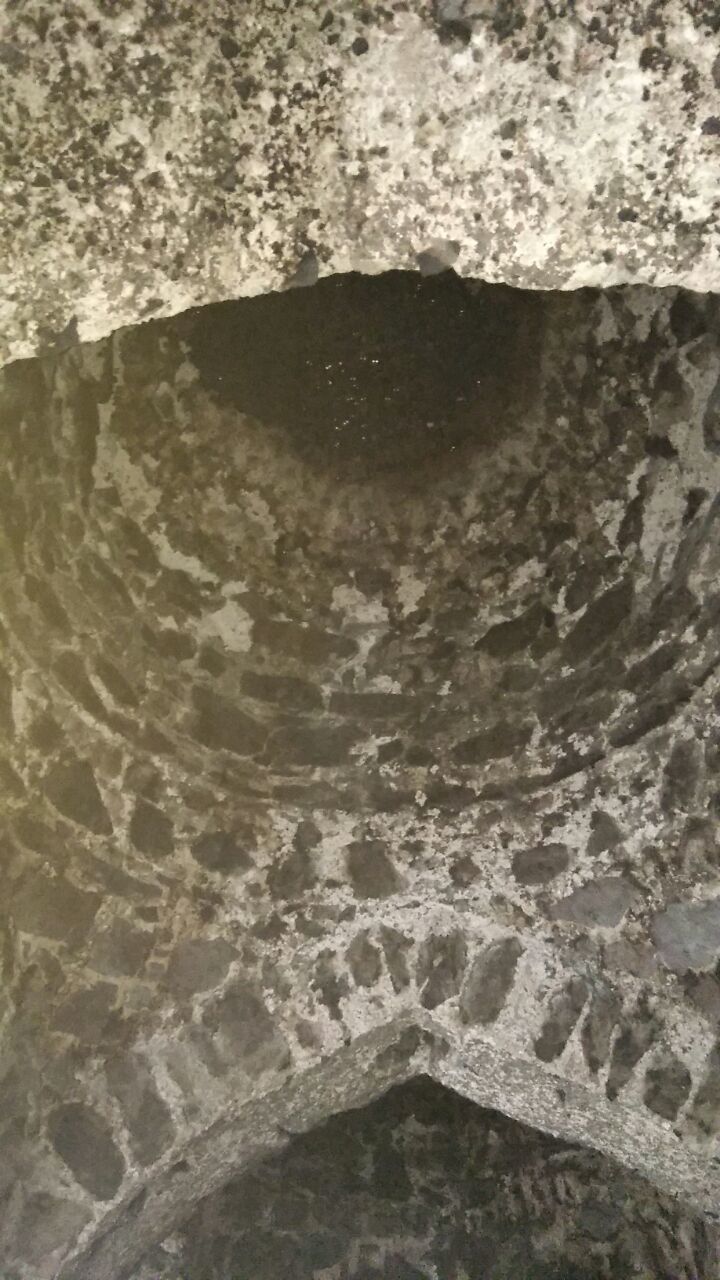 This monument is under the aegis of Archaeological Survey of India. According to the legislation, carrying out any public work or project or other constructions is prohibited in any area which is in the 100-metre radius around a protected monument. However, the mosque has been encaged in a wire mesh, a narrow concrete alley has been constructed around it and there is an extremely dense settlement of the Khirki village living as near as 4-5 feet from the monument. (Unfortunately, Lok Sabha on this Tuesday, January 2, 2018 has passed the Ancient Monuments and Archaeological Sites and Remains (Amendment) Bill 2017 that will now allow government to take up infrastructure projects within the 100 metre prohibited periphery around protected monuments.)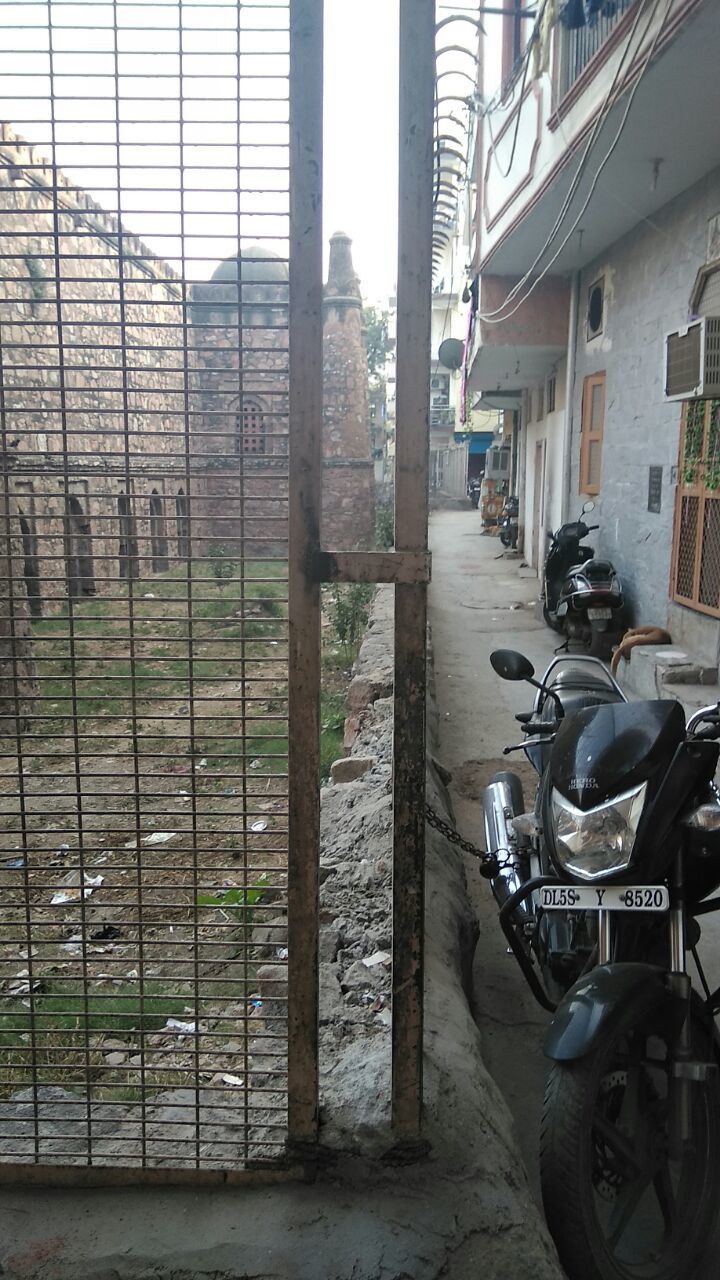 Next, we walked up to Satpula Lake Complex, a park which leads to seven bridges dam again built in the 14thcentury by Muhammad Bin Tughlaq. It was constructed to utilize the stream water to irrigate the arid area of the Jahanpanah city that he had established. While the drain has dried out, the landscape now is dotted with multiple groups of children playing cricket, buffaloes mooing, cows grazing and little rancher boys.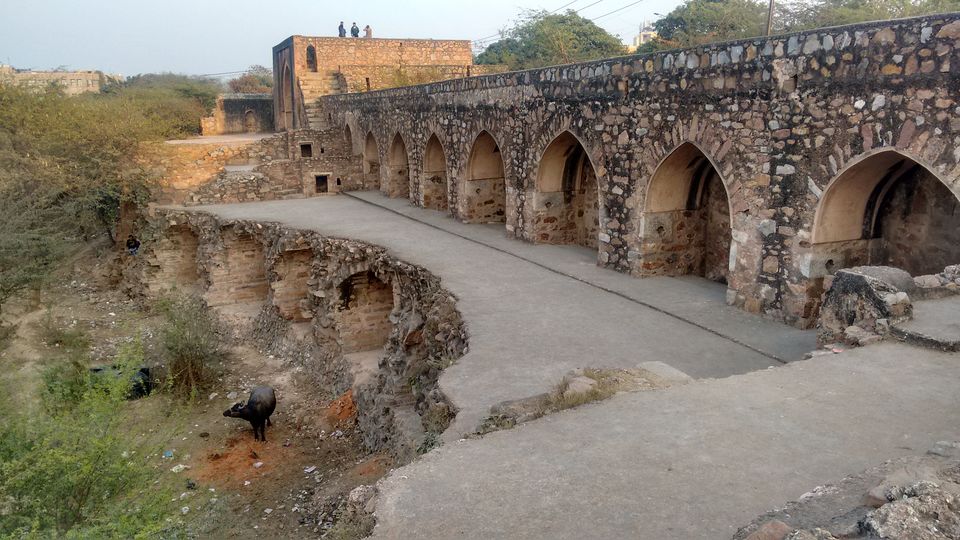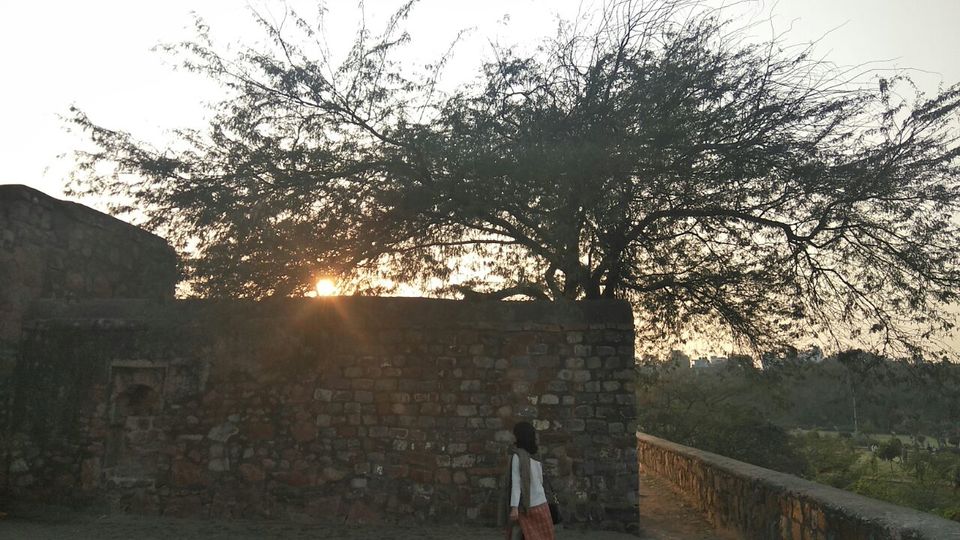 We ended our Tuglaqi affair and took our famished selves to Champa Gali. I had been seen reading about this place on various food features. It is a kilometre away from the Saket metro station onto its left to Westend Marg. Another left turn from the Westend Marg led us to one of those semi urban pockets of Delhi, where land owners have rented out their properties to businesses and migratory population. At the end of that street, we saw a gated property and young city people walking inwards. That property which was being used to manufacture thelas (carts) has been converted into a little gallery for restaurants and repackaged as Champa Gali. It belongs to a Yadav person endearingly called tau (uncle). The space has been designed with a firm faith on the idea of rustic being the new sophisticated. All the restaurants have tried to improvise the space using elements of nature such as foliage, bamboo, wood for furniture, clay for serveware. We tasted the promotional potato flour dumplings at this recently started restaurant, Phoking, had some coffee at Blue Tokai Coffee Roasters, and grabbed some sandwiches at Jugmug Thela, came out chatting about opportunities in odd and quaint locations like these and called it a day.