Delhi! Not just a word but an emotion!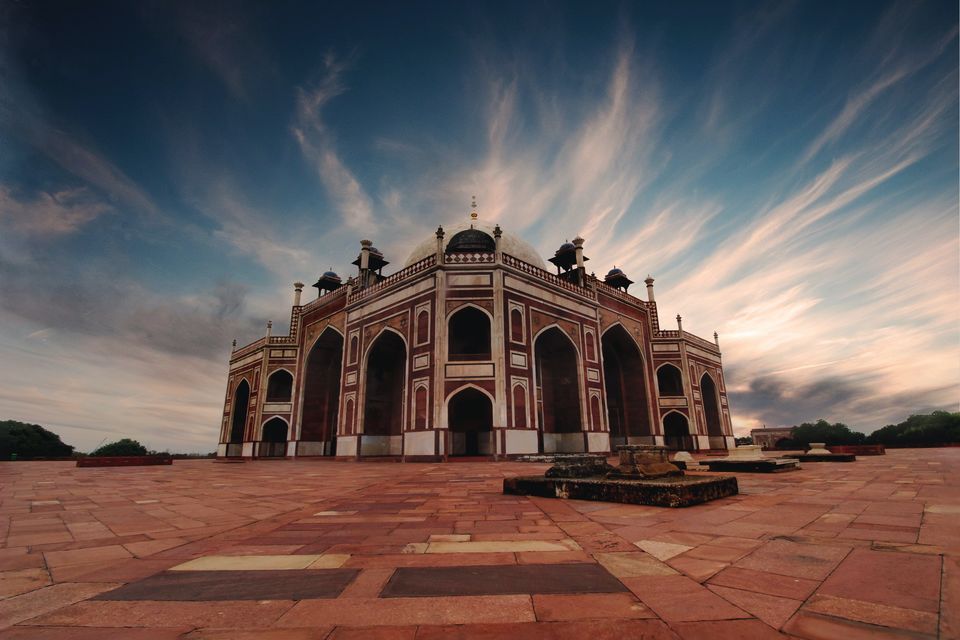 Everybody associates with Delhi in a plethora of ways, for some it is their home, the best shopping destination while for others it is the best tourist destination. This magnificent city has something to offer to each and every person, and as someone rightly said about Delhi; " yeh sheher nahi mehfil hai" which means that Delhi is not just a city but a festivity where everyone comes together and cherish what this cosmopolitan city full of diversity, heritage and history has to offer.
So, presenting ' Glimpses of Delhi' a series where we will explore the myriad corners of this diverse and lively location.
" Saket Metro Station, doors will open on the right please mind the gap." And here we are in the heart of South Delhi, Saket. Known for it's cafe's, restaurants, shopping and more, Saket is the perfect place for having a leisure time with your loved ones, let's initiate our quest to South Delhi from Saket. Heading to our first destination which is...
Champa Gali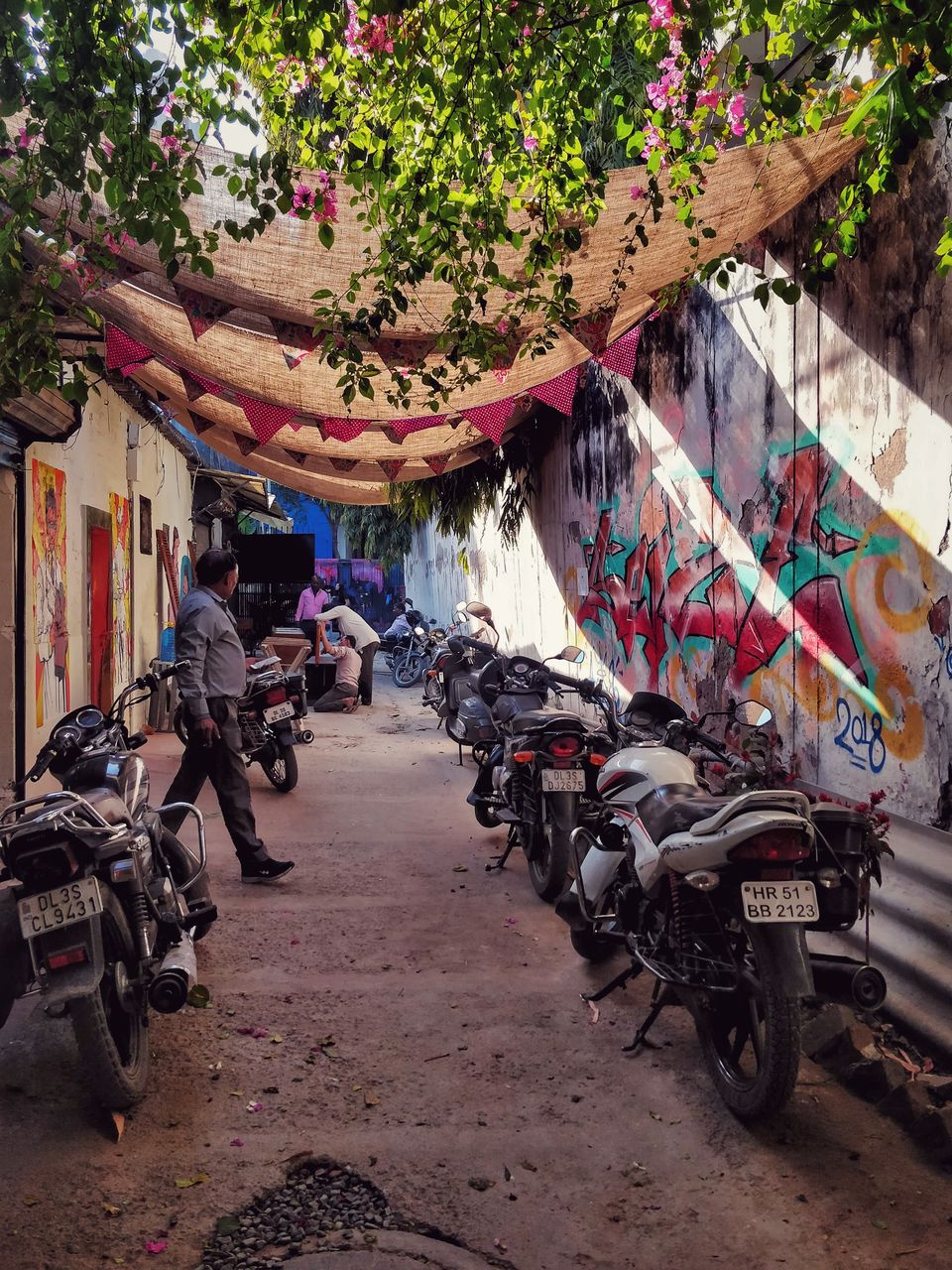 Just a five minute walk away from the Saket Metro Station, Champa Gali is also known as Delhi's best kept secret. The moment you set foot in this lane you will get the Parisian vibes you have been craving for. Champa Gali is the best place if you love a blend of delicacies. The Gali has a number of Cafe's and restaurants. My favourite place in the Gali is Jugmug Thela. The cafe has a certain kind of calmness to offer you the moment you step into it. Jugmug Thela has an amazing menu ranging from delicious sandwiches, pizzas, pastas, coffees and tea too. The place is perfect not just with friends and family but even if you want to enjoy your sojourn within and don't forget to click pictures since the café will for sure give you some insta worthy pictures. Besides Jugmug Thela, one can check out other must visit cafe's like Blue Tokai Coffee Roasters, Patta Café and shop too.

After a mesmerising Parisian experience let's traverse to our next destination.... after a five minute auto ride we are now at....
Garden Of Five Senses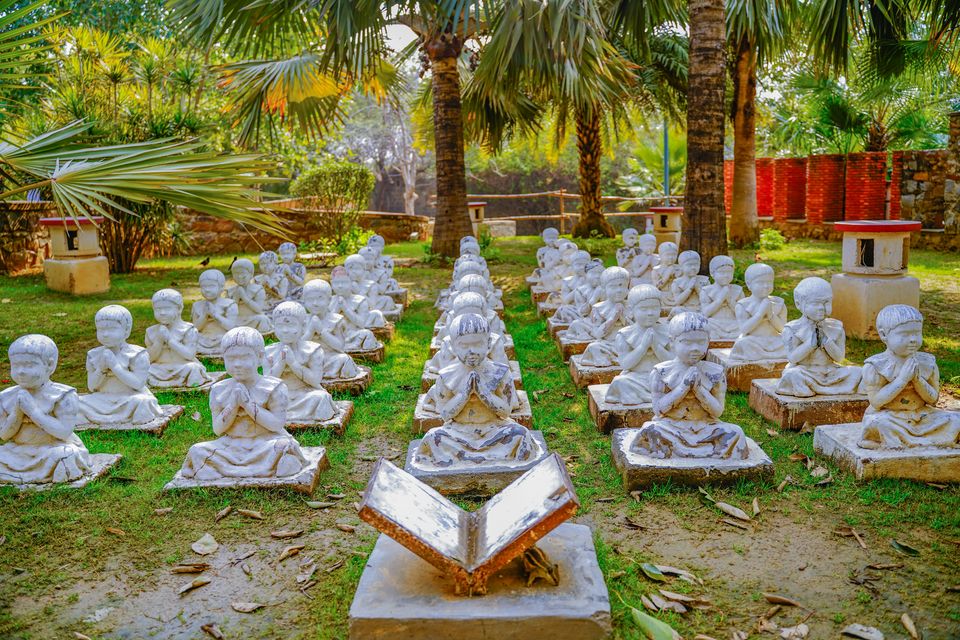 The Garden, as the name suggests will kindle all your five senses. Located in the ' Said- Ul Ajab' village, which is close to the Mehrauli Heritage Area and just a kilometre away from the Saket Metro Station the garden is a bliss if you want to move far from the madding crowd, it is so peaceful that you won't believe that you are still in Delhi. The garden is perfect for picnics with your friends and family, or even if you just want to take a walk, since the park has a huge footpath and don't forget to take your cameras because here you will get a chance to click aesthetic pictures of the diverse flowers, myriad kind of birds, and the statues that are spread in the garden. If you are looking for a place where you can enjoy with also keeping in mind the Covid protocols, then this is the place you need to visit.

Now that was a rejuvenating experience that also gave us a taste of nature. Now onto our next destination, which is a one of it's kind place that brings the diversity of India together in one place. Yes, you guessed that right we are now headed to
Dilli Haat
Located near the INA market, Dilli Haat is the complex where diversity is united and surely this is one of my favourite places in the city. Yo enter the Haat buying ₹20 ticket and once you step into the place you are welcomed by the myriad art pieces from all across the country which believe it or not are handmade, walking deeper into the haat you will find a manifold of accessories, clothing, footwear and much more, and the best part about all of them? They are all made in India, so the moment you buy something from the complex you also receive an essence of India along with it. Last but definitely not the least , the end of the Haat holds a special treat for everyone, yes it is food!! Now since the Haat showcases the Indian diversity, food too also holds the same flag. You will find delicacies from all over the country , like Punjab, Maharashtra, Himachal and more but don't forget to try out the Chole Bhatures from the Punjab stall and Sabudana Khichdi from the Maharashtra stall, both of them are an absolute delight. Dilli Haat is a must visit place.
After this exhilarating experience of the Indian way of life it is best to call it a day by visiting one of the most peaceful places in the city m, that has it's own share of history to offer. Yes I am talking about
Qutub Minar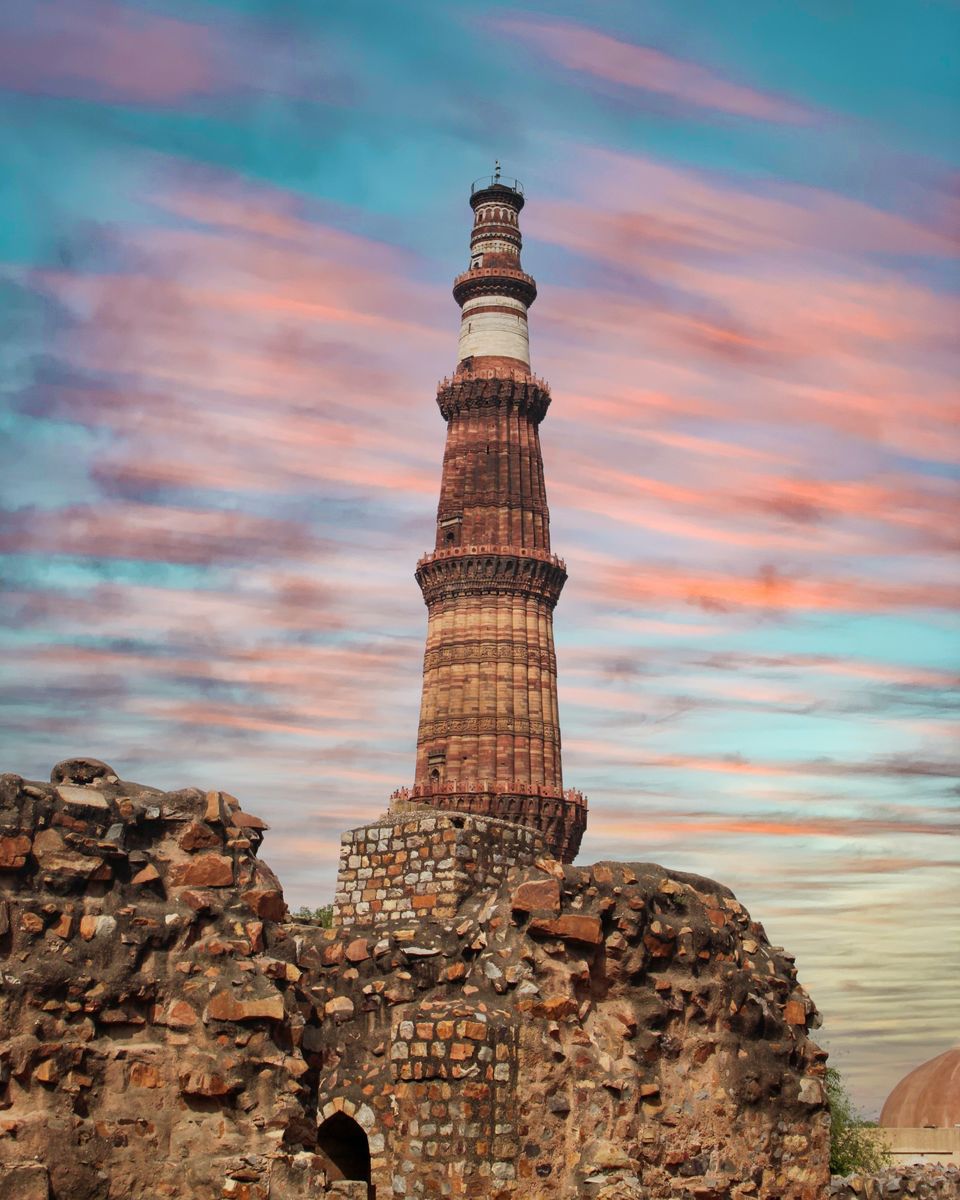 Located in Seth Sarai of Mehrauli district, this 73 metre tower is one of the most visited places in Delhi and also marked as UNESCO's Heritage Site . The complex is perfect if you just want to take a stroll, click Insta worthy pictures, nurture your historical knowledge bank, people even visit the Minar for picnics and having a cherishing time with their dear ones. This tower that showcases the the pride of the Mughal Dynasty is a must visit and should be added by everyone on their travel bucket list.
And with this we come to an end of today's Quest to Delhi, the easiest way to commute from The Qutub Minar is the metro with the nearest station 'Qutub Minar Metro Station' just 5 minutes away, besides the metro you can also take cabs or autos from outside the Minar.
Liked the Blog? Then do click the like button and share it with everyone you know who is even love with travel and exploration. Do let me know what you think in the comments section below and if you have any suggestions for where I should go next or suggestions for the for the blog, you can either comment below or mail me at 'questtheblog@gmail.com '