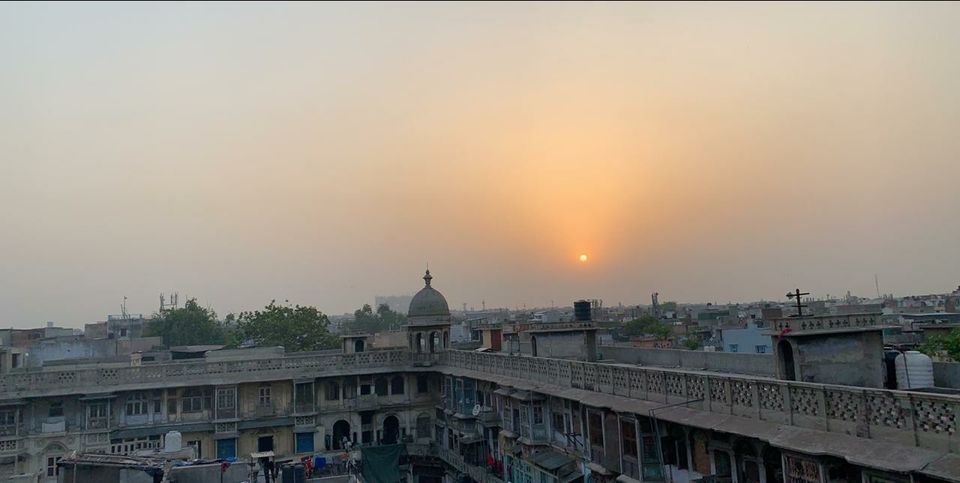 It's never too late, to get smitten by the charm of Old Delhi. And given the season of Ramzan, the festivities just add stars to the food offering on the narrow streets of Old Delhi.
Me and my friends decided to try our luck and finally execute a long dragged plan to visit the place. And we get to witness it, in all it's glory.
Our tour started with some veggie delights at Natraj cafe, the gol gappe from famous Pandit ji, the Gianni's most popular kulfi faluda and we halted at a peaceful terrace in Fatehpuri to soak in the evening Namaaz under the backdrop of sulking sun.
From there we headed to Quereshi kabab corner which you can identify from a distance from it's fragnance of sizzling kabbabs roasted on the bed of coals and it's buttery mint sauce and if not that, then definitely follow the crowd which will straightaway lead to its mouthwatering shop.
Soaked in our sweats and gulping on litres of water we humbly waited for our turn at Aslan's chicken. It was hard to believe a four storey restaurant, completely filled and still had a queue at it's entrance, and the butter chicken was worth the wait. They only serve half or full plate so choose wisely.
Our next stop was at Mohd. Hussain chicken for our take on fried chicken or popularly called Jama Fried Chicken (JFC). Guilty pleasure for a reason. You can taste the chicken from it's flavours spread in the air
The group of self proclaimed foodies that we were just got served. Haleem, Nihaari, Biryani never felt this authentic, this true. The flavours, the aroma, the spirits were commendable and at the end we all felt content.
We unwinded at Wall City Cafe over a Hookah in a Haveli turned restaurant, with it's rustic colorful charm and a perfect ambience with a soft music
The food walk was truly a delight and a Soulful Appetite.
And the whole tour was organized by team of Spin Monkey. They are equally passionate about the city as they are about it's food. And they organize a Cycle tour as well for the enthusiasts willing to explore the city on the wheels.
You may get their details here.
And quoting my name may get you a special deal.
http://www.spinmonkey.in/
I am Yatin Narang and this is a non-sponsered content. Each and evry word describes the million feeling I felt with every bite at Old Delhi.
Thank you for the read. 🙂✌️