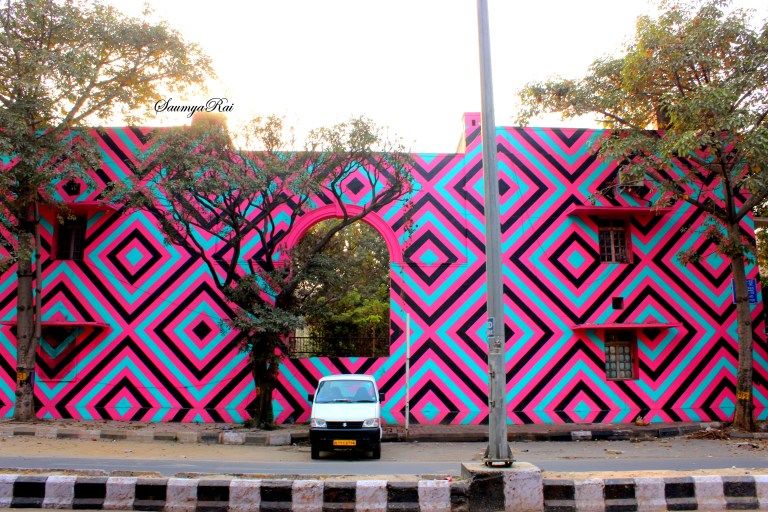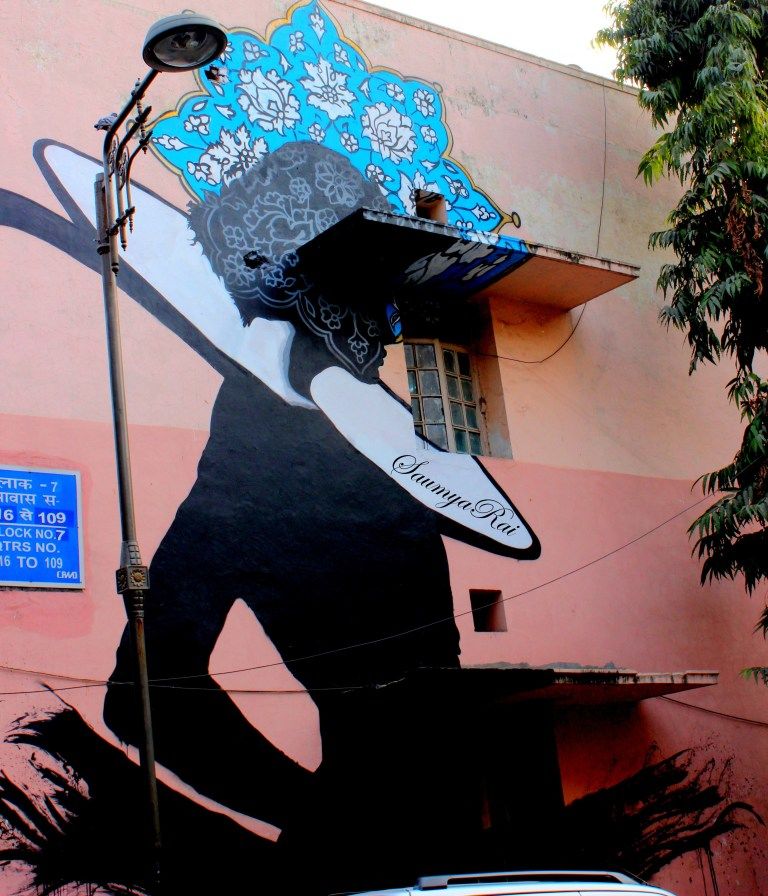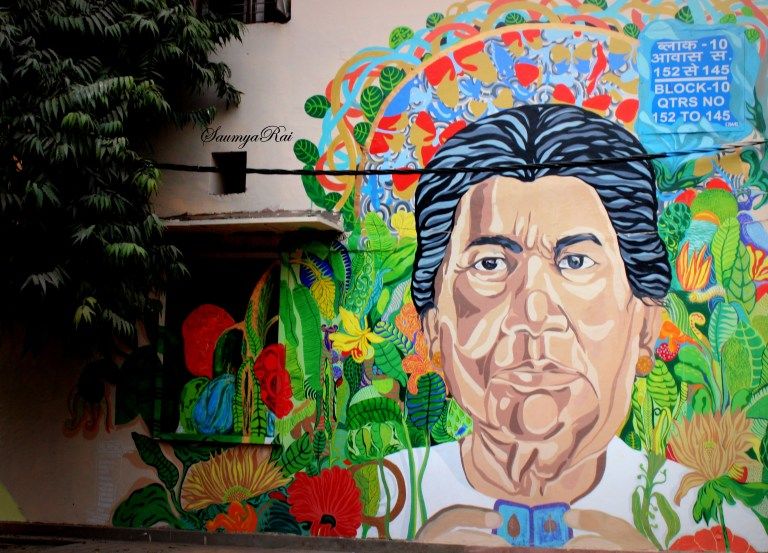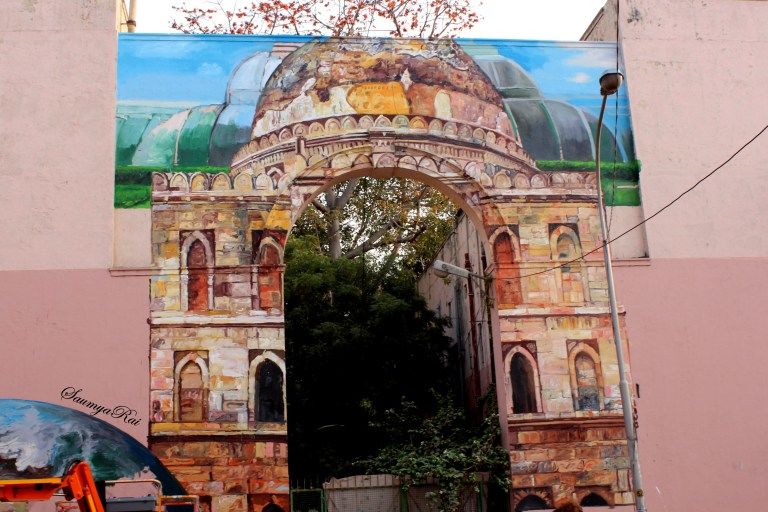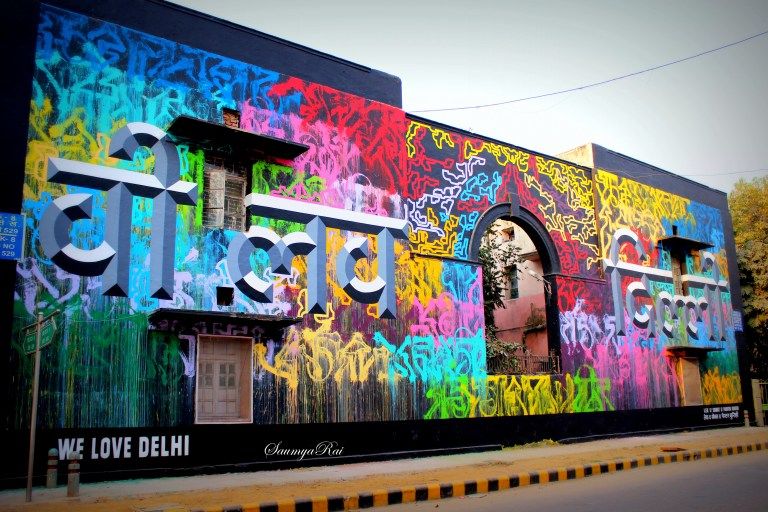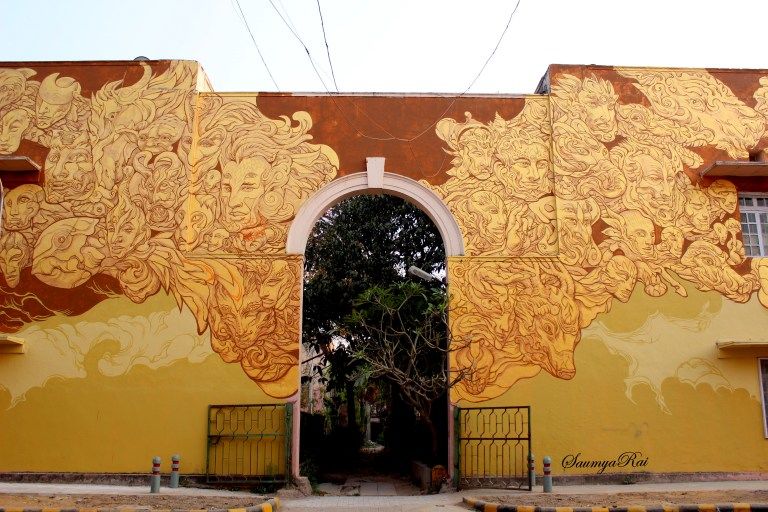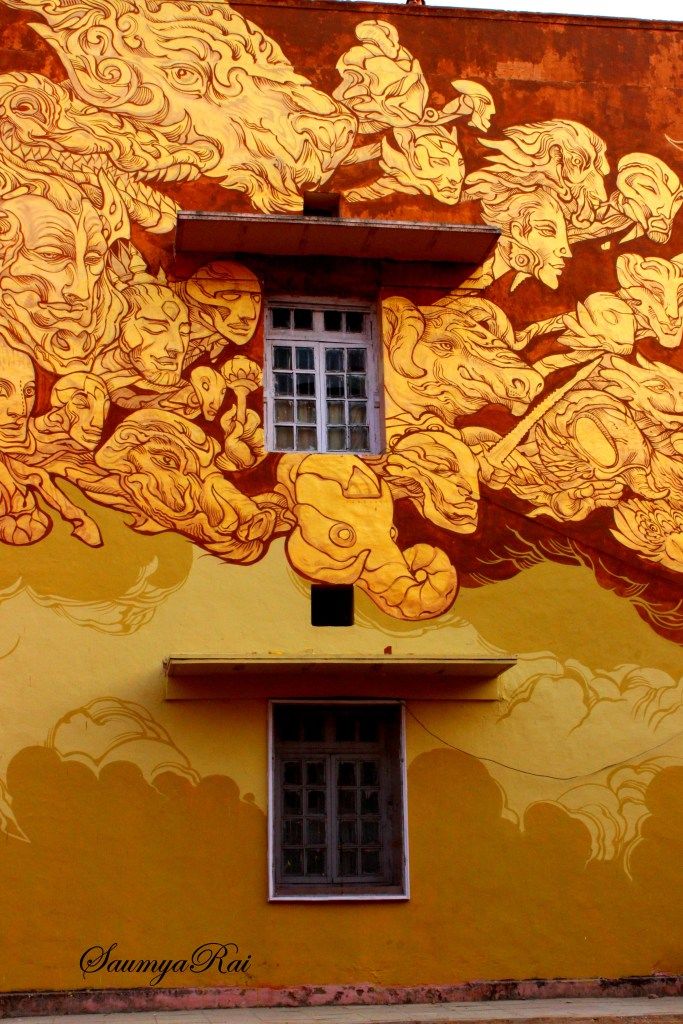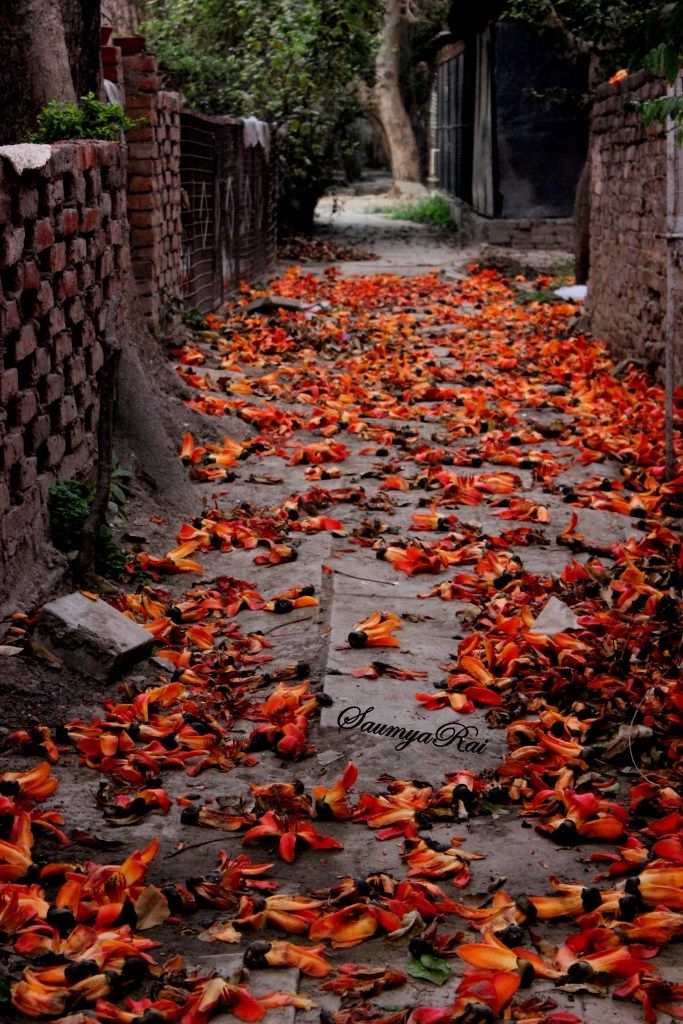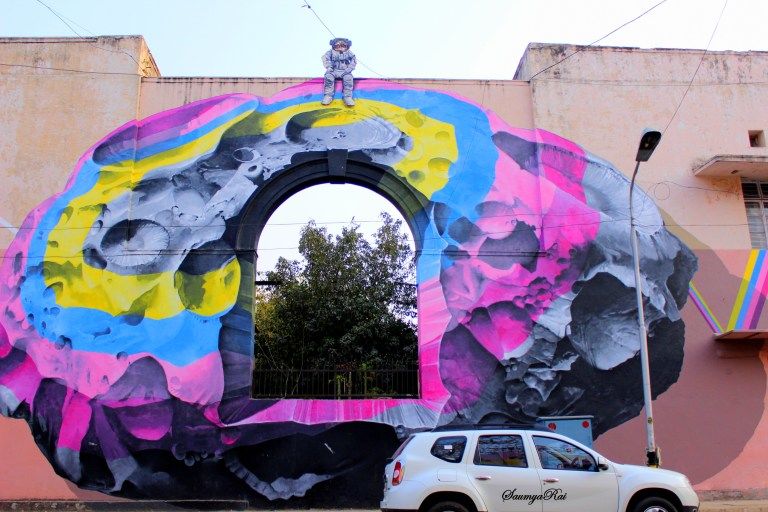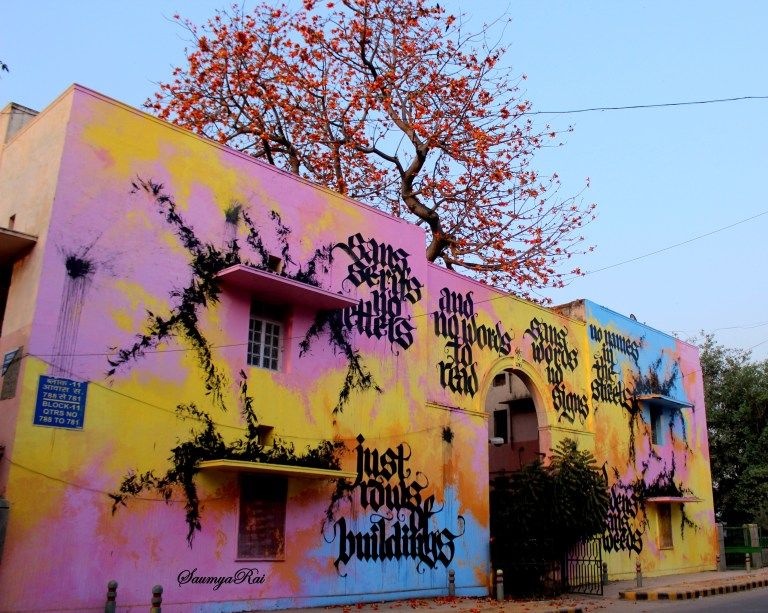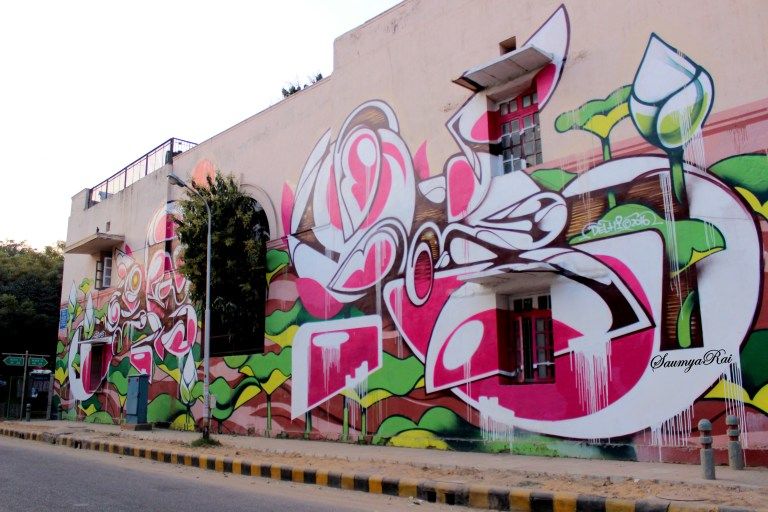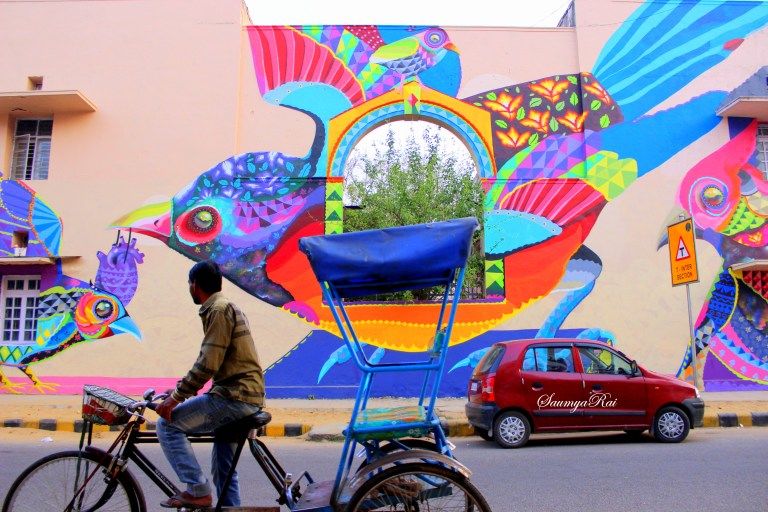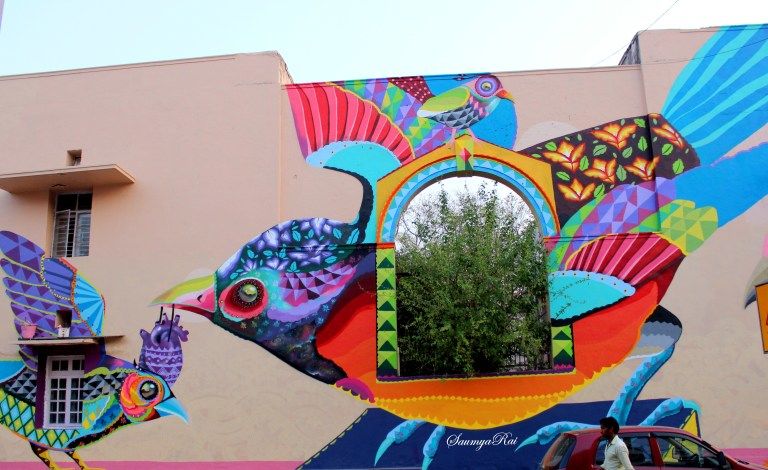 Lodhi Art District is the first-ever Public Art District in India, as over 25 street artists from India and around the world came together to paint the walls of the iconic Lodhi Colony of Delhi. After my visit to WIP, I decided to spend my evening taking a walk through the streets of Lodhi colony. This art gallery is located between Khanna Market and Meherchand Market in Lodhi Colony. Let me now take you on a virtual tour of the Lodhi Colony through my lens. Hope you like it!
One piece by an Iranian artist NAFIR is about women's rights in the eastern part of the world. Living in Iran, he feels that Iran and India are places where women are subjugated as culture or traditional thought can cast a shadow on women. This mural can be found at Block 7, Lodhi Colony.
The artist chose to make the portrait of a mother figure who has diverse manifestations. Like mother nature, she is carrying the memories of lost lands, in an urban context, our cities which are becoming concrete jungles are inhabited, by people who are all, in some ways migrants and hence the concrete jungle reminds them of their own mothers and mother nature represented in forests and agricultural lands, which they have been compelled to leave behind. This mural can be found at Block 10, Lodhi Colony.
For his wall in the lodhi art district, Gaia explores the impact of greenhouse gasses and global warming on our society. The Shisha Gumbad (glass dome) with the greenhouse in the background from Gia's mural in progress at Lodhi Colony. On either side of the wall, the artist has painted one inflated globe, and one deflated globe, to show the effects that globalization has on our planet.
This wall in Lodhi represents a collaboration between French artists Fred Visualek & Sowat – Da Mental Vaporz and Indian artist Hanif Qureshi. After discussion, they decided to paint characters resembling Sanskrit letters to form a base, which Lek would then half erase with water to create an effect they describe as 'color rain.' After speaking with children of the community who play cricket at the site every day, they decided to write the text 'We love Delhi' in Hindi, which Hanif then painted on top of their Sanskrit ciphers to create an artwork which everyone in the neighborhood could relate to and enjoy.
In a piece, Inkbrushnme continues to explore concepts of Indian mythology which are a recurring theme in his work. Vishvaroopa is an all encompassing omniform of Vishnu and marks the beginning of 18 day battle of Mahabharata. Vishnu manifests in his cosmic grandeur hypnotizing Arjuna, the supreme warrior and shows him that all universal matter, animate and inanimate is him.
NEVERCREW, a Swiss duo painted an astronaut on top of the wall. The astronaut atop the wall is a metaphor for someone who can see things from a different perspective, as a silent viewer of a larger picture. This mural can be found at block 9, Lodhi Colony.
Niels Shoe Meulman's love for lettering mixed with Calligraffiti – an art form he developed and pioneered, along with his love for plants seems to have all come together in this piece in Lodhi colony. Here's the poem he wrote:
SANS SERIFS NO LETTERS
AND NO WORDS TO READ
SANS WORDS NO SIGNS
NO NAMES IN THE STREETS
JUST ROWS OF BUILDINGS
AND GARDENS SANS WEEDS
Suiko paints the national flower of India – the lotus and re-imagines it with his signature of curved lines and Japanese characters to create this mural for the Lodhi Art District.
Across several cultures, birds are a symbol of diversity, identity, and freedom. Often, migratory travelers, they are also creatures that see and experience many different places/things and hence have a lot of stories to tell. 
Senkoe painted these birds in Lodhi colony to represent the colorful diversity of the people who live there and also to encourage them to communicate with each other and share stories, just like the birds would.
We recommend you to take a stroll on these streets of the Lodhi Colony and witness the mesmerizing artworks that have transformed the area into a colorful gallery.
This post was originally published on Road to Taste