Kiara has successfully made food more soulfully beautiful and intellectually engaging.
The food is purely vegetarian with a farm to table concept, embedded in the ideology of serving fresh healthy food with memorable flavours, you will be amazed how the thought of meat doesn't cross your mind even once!
Even the most virtuous dishes taste luxurious, especially when eaten in such chic surroundings.
The restaurant is a sleek vision in brushed blue, blonde wood and herb-earthy upholstery.
The ambiance balances elegance with relaxed sophistication, and a meal here never feels rushed.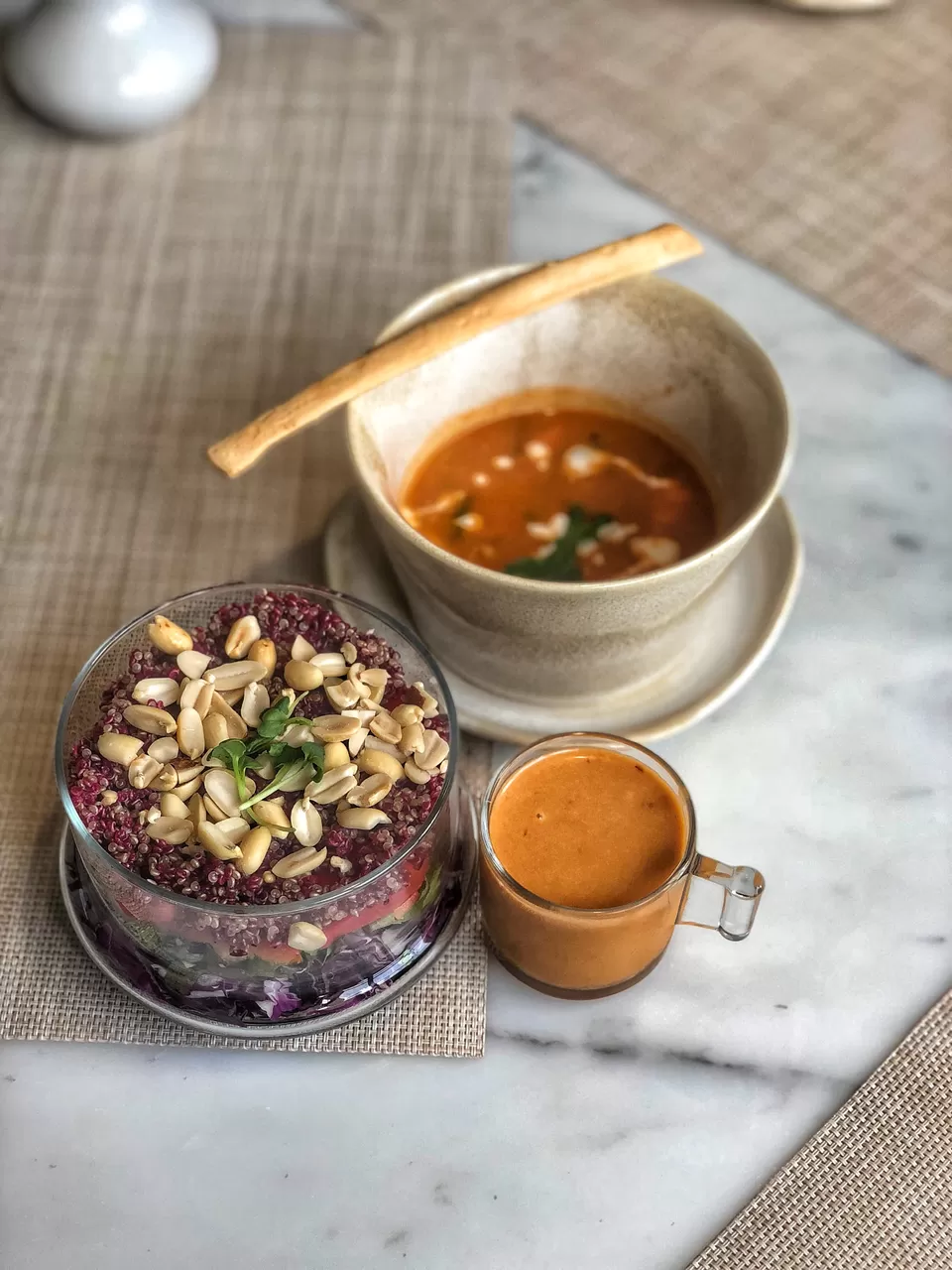 I began the holistic dining experience with a warm bowl of Tom Yum soup performedh heavily with aromatic lemongrass and kaffir lime, it tasted most comforting and I slurped it within seconds making way for the salad.
Kiara Flower Pot is a stunning layered quinoa salad with a zingy lemon garlic dressing.
What really makes it work is the sprinkling of peanuts which add volumes in both flavour as well as texture served with a creamy perfumed dressing. This salad is testament to the fact that uncooked vegetables can be sexy. It's scrumptiously crunchy, I could eat it every day.
Steamed Pokchoy Dumplings are stuffed with burnoise vegetables, delicate and packed with tremendous flavour, served with a sweet soy sesame sauce. They're so light, one can down half a dozen without a sigh.
Sweet Potato & Pumpkin gallete was equally decadent served with a tamarind sauce, had a nice Indian foreplay to it yet tasted distinctively divine.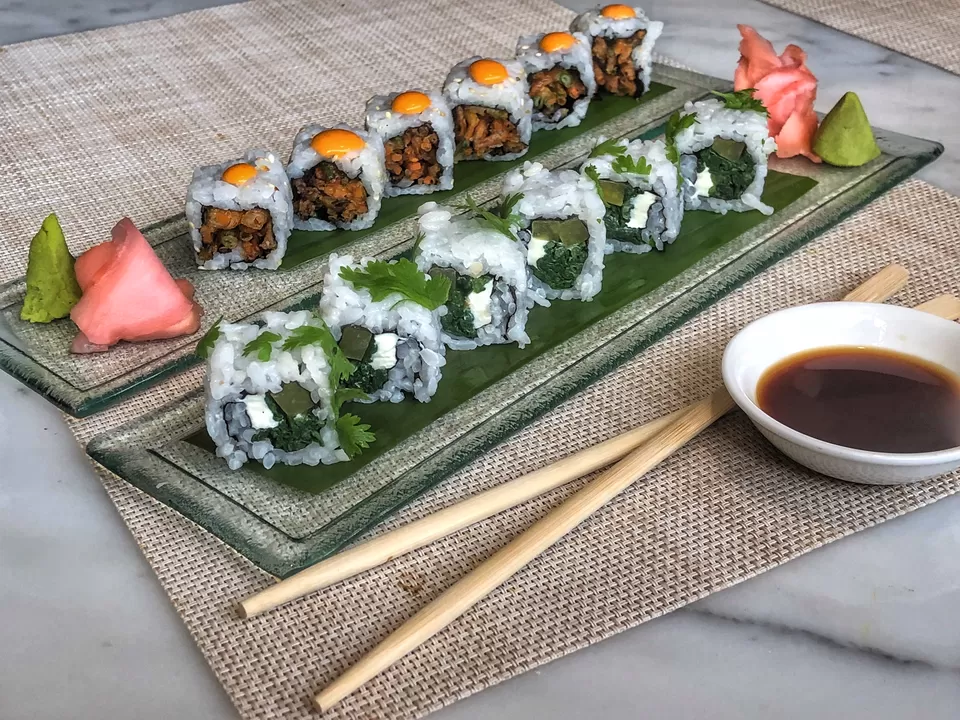 Coming down to the Sushi menu, I was obviously very greedy and ordered myself quite a variety. Kiara has managed to sneak in greens so easily in rolled rice, it's almost effortlessly brilliant.
*Spinach Cream Cheese Roll had me pining at the first bite, so rich in flavour yet light in composition.
*Kaleage Roll is made with assorted vegetable tempura, crunchy and luscious, this one is a real hit with even those who swear they hate sushi!
Desserts
Date Crunch Rolls stood out for me, a beautiful culmination of dates embedded in crunchy pastry with smokey notes of sesame served with a drizzle of cranberry sauce. Kiara's crisp Apple Crumble arrives at the table, looking innocuous enough with layers of sweetly caramelised apple bits between phyllo sheets. It's Served with a scoop of vanilla ice cream and a streak of miso apple ganache, looks pretty! Then we dig our spoon in and,boom! A positive explosion of crunchy against soft sweet apples on the palate is absolutely stunning. Much light on the tummy and an intelligent dessert I'd certainly like to have again!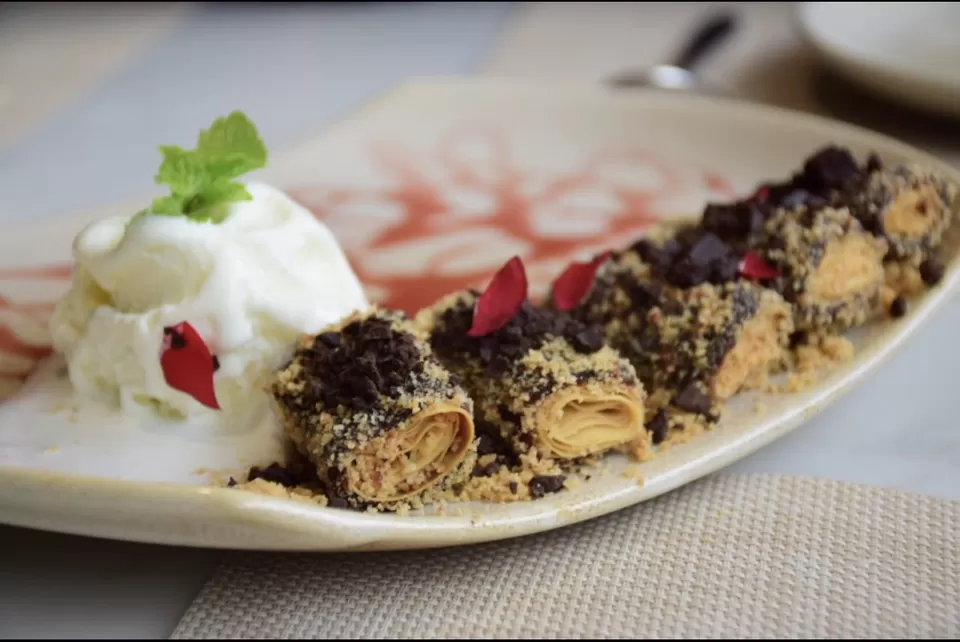 *
It's safe to say that Kiara had a carnivore like myself eating out of the palms of my hand. The food will leave your palate pampered with fascinating flavours which are essentially VEGETARIAN, yes, it's just great culinary work put to plate!
Kiara Soul Kitchen M30, First Floor, M Block Market Greater Kailash || New Delhi
This blog was originally published on Sukhmani Sakhi.