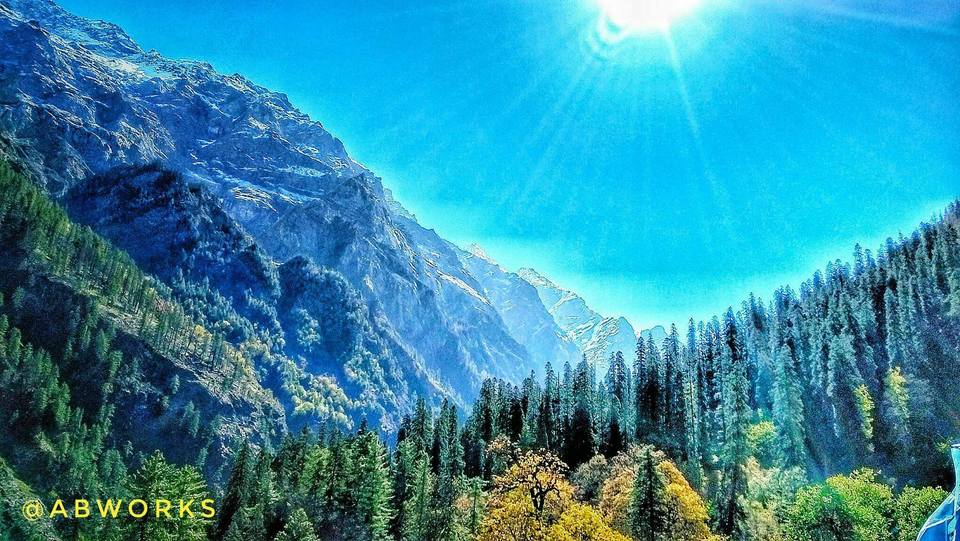 "Travel makes one modest. You see what a tiny place you occupy in the world."
Travel, as soon as we hear it we start thinking about all the amazing places on planet (or maybe outside) that we want to visit. The experience of travelling is above all as it gives you a real exposure to the actual world that we are living in. Above all, it shows you all your actual capabilities and you also might end up discovering the real you.
Everyone loves to travel after a period of time to get out of the urban world and spend some time with the nature. Surviving in the urban world is just like that we are in a prison and need to keep fighting for our lives. I don't really know that where it all started from but the procedure of life in urban world is way different than in the natural world. Columbus, the first greatest explorer of the world who discovered most of the part of the world at that time is an inspiring character and person for the world and really an icon for travelling.
After getting into all this deep things, I really wanted to explore and feel the natural world rather just being a part of the virtual urban world. Travelling solo is not a very big thing to do however it has so much to give you against that. You just need to believe in yourself and get out, that's it. I have been going to different places earlier as well, obviously with friends and family but a solo travel experience was huge in comparison. After thinking for about 10 days and also gathering the stuff, I finally packed my backpack and headed to have a getaway from the urban life.
Now if we think practically, the urban world still exists no matter where ever you go. So planning a solo trip would be a good start. I really did not wanted to carry too much stuff as I just wanted a back pack with me. So I got a 70ltr rucksack which is enough to carry all the needed things for one person. I took 2 shorts for road rides and some woolen clothes for the place itself as no matter which time you go, it will be always cold. Taking a high beam torch, swiss knife, power bank, portable speaker, trekking shoes, some dry fruits(helps in giving a lot of energy for you to keep going) I was ready to start. Taking unwanted things especially when you are travelling alone through public transportation would make it hectic. Only keep the things which are needed and try to make it as comfortable to carry as you can.
I decided to go to Kheer Ganga(14000ft) which is a ceramic peek at the top of Parvati Valley, Himachal Pradesh. As I was travelling from Jaipur which is my home town, I first headed to delhi. I got in a volvo which is available in every half an hour from the bus stand. I reached delhi in the night at about 10:30 pm. If you are travelling from delhi then it is good to start in night as it is an over night journey from Delhi. If you have really planned your trip then you must have booked the bus ticket from Delhi to Bhunter. However, I didn't do that so I didn't got any tickets available at ISBT, Delhi on real time. So I had to go for a private bus that is available outside the bus station. I got on the bus and slept for the night as I had to start exploring next day and it would need a real lot of energy so a good sleep is very much necessary. Reached at Bhunter which is on the way to Manali, in the morning at about 8AM. From there one can easily get buses to go through whole Parvati Valley. I decided to go Kasol first and took the next bus to the place.
While travelling through the valley in a bus what you get to see is an experience itself. As soon as you start from Bhunter, you will get to see amazing things. Valleys, mountains, snow peeks, parvati river, bridges, sinked roads. If you talk about the people around you, they will be all different. Some are from different parts of the world or states in our country. The citizens of valley and a lot more. Experiencing that you are one in all these whole lot of different people you will be amazed by yourself.
As soon as I got down at Kasol, I first decided to have a heavy breakfast and then go for exploration. Oh, this place man. I have been here before but was never the same feeling as it was right now. After having the breakfast I was completely enthusiastic and was ready to have a great start.
Being a solo tripper I didn't liked to go to crowded places like cafes or sights. I rather decided to look for a place where I could really feel the nature and myself. I started walking while looking for a good place to sit down for sometime and finally got myself in the backside town jungle of the place. It was a complete utter place with only birds talking and the great musical sound of the heavy river flowing from the top. I took off my upper clothes, started the music and sat down in the river with my full body in it. AHHHHHHHH!!! Oh, man. That feeling is something that really cannot be explained in words. As we all know that the human mind is capable of processing billions and trillions thoughts in mili seconds. I was going through whole my life till today in mili seconds and thinked that who really I am. It was a total psychedelic feeling that happened as that is the only word to explain it. You really feel yourself, every particular part of the body and would also understand that you are also a part of this nature. You could completely relate it when you really get into that. I stayed there for nearly about two and a half hours but I really didn't felt that time. Looking at the forward journey I had to leave from the place and start with the other.
Starting the day with such a great trip and time was an utter happiness and I was boosted to go for more. After staying at different points in Kasol for about seven hours, I got through the lovely caves, waterfalls, extreme peeks, new plants(I never saw before), local people of Kasol and many more. The experience was an extreme relax and refreshing. I really forgot the urban world and could totally feel connected to the nature. I then headed towards Manikaran and visited the Gurudwara of Sikhs to take blessings. Its a place where you can relax, eat and also stay if you want to.
Going from there, I took a bust to the last stop in Parvati Valley which is Barshaini(12000ft) located at the top most peeks of the valley. From there you can start walking if you are up for Kheer Ganga. People going to Tosh from there can get a private or sharing taxi from bus stop itself. As I was heading towards Kheer Ganga, so I started to walk from the bus stand. After walking for about 3kms you get to the point to start the trekk for the peek. You should carry a wooden stick climber that is easily available at the start. It will really help while trekking as it really is a hard trekk to complete. As soon as I started to trekk, I was going through the inner jungles of the valley, different points, some hidden waterfalls, new stones, amazing houses of the locals. After continous trekking for about four hours and covering 14kms, I was finally at the place.
It really felt like being at the top of the world. An exquisite feeling it was while looking at the all the different peeks around you. You are completely covered by nature. High mountains, utter greenery, snow peeks, musical birds and also different people enjoying the place in their own way. You would surely see instrument players, singers and painting artists over there. After the long trekk, I was totally exhausted. But as soon as you get to the place it all goes itself. The temperature was about 9degrees and it was cold for me. I got in the natural hot water lake located in the temple of lord Shiva at the top most point of Kheer Ganga. Nobody knows the real truth of the extreme hot water fall in the extremely cold weather and atmosphere. Surely there are stories and myths about it however it depends on you to believe or not. Not thinking about all these things at the moment, I just wanted to enjoy myself and completely get in the place. I took bath in the natural hot water pond and as soon as I got into it, the feeling was just incredible. In the cold temperature when you get in the hot water it really relaxes your whole body and you even might feel sleepy as it gives you an extreme comfort with the tremendous view of the valley and nature around you. Just laying in the hot water and looking around the complete amaze of nature and beauty, I just felt that I want to live my whole life like this. Sounds a bit crazy but hey, I was high and didn't actually was thinking about anything else at that time. After a 50 minutes relaxation in the pond, I got out and went to get a room to stay for the night. Feeling the cold temperature after getting out from the pond was again an amaze. The weather continues to get colder by the night. It was a bit uncomfortable for me personally to go for a tent so I went ahead for the cottage. There is only one cottage at the place with enough rooms that you will always get the place. All the others are the tents providers. There are two cafes for western food and extra things that you may want to have. After having my dinner and looking at the amazing and best night view of my life, I went to sleep. Next day, early in the morning I again started to look for some solitude and a lonely peek. However, I was unable to get a point like that but I kept exploring the peek itself and it was of total fun.
That feeling when you are sitting alone looking at a tremendous work of nature at 15000ft above the sea level and its only you. Trust me you will feel like this is life. I really felt myself. Everything in me, for me, about me, by me and most importantly ME. That's when you really feel that what actually the difference between the virtual urban world and natural world is. I really didn't wanted to return to my civilized city life. I just wanted to be here. But, obviously as soon as the thoughts changes, you feel that "Can you really do that?" and the answer is NO. I kept enjoying the moments and the place and just thought that this is the time, do it now. When the time will change, you may not be here. That's what the truth is. Time is the only reason for our existence. Feeling an absolute solitude and tremendous peace for about 2 days in the same place I was completely refreshed and really started to think in a different way about life. I got to know me and that's what I really wanted. I was totally going through whole of my life till that moment and was actually feeling that is this the real purpose. A new great experience of life was with me while traveling solo. I never felt anything like this before. Finally, I had to return back to the actual life as well so a bit disappointedly I headed back from the place. I was totally refreshed and reformed after the trip. I started trekking towards the down and really did it faster than it should be. I had my Lunch in the midway of trekk.
After reaching down at the start point, I was really not in a mood to get out of the place right now. So I decided to head towards Tosh and spend one day there as well. Took a taxi from the stop and it took about 35 minutes of drive to reach to the point. It was late evening when I reached so I first decided to get a place and eat. I got a single room in a local person's house in a budget rate. I also got the ravishing tosh stuff from the same guy that too in a good budget rate. After having a long sleep in night, next day I was again totally energetic to start. So I went ahead with different solitude locations, snow points, river view and waterfall. For about 6-7 hours, I was exploring the Tosh town and really didn't felt the time. As soon as I saw that the sun is going down, I moved to Barshaini through a taxi. I had to reach Bhunter before 10pm as there were no buses after that. I was lucky enough to get all the transportation at the time and reached the Bhunter bust station at about 9:30pm. I got the seat in the last volvo to Delhi and there it hit me that now it's the end. Now I am going back to real world that I need to live in. I was ready to do it as I got a lot of refreshing thoughts and experiences with me. A new energy and positivity . A new point of view for life and myself. It was again an overnight journey from Bhunter to Delhi so I had my dinner at the stop and went for a relaxing sleep on my seat. I was full of memories and they were not ready to go out of mind for that particular time. I was totally in that experience and feeling the same till now. In those extremely great memories I didn't even knew when I fell asleep and it was one of the best sleeps I have ever had.
Solo travelling was a great idea for me to start my life in a new way and experimenting that once really gave me soo much. I got to know myself and the meaning of life. It really shows you that the only thing that is with you is you. You get to understand about you and really feel every positive part. This is the only thing that I really want to do.
As per me, we should all travel solo at some place at least once in the lifetime. For me it will not stop now and will keep going. I may not be able to see every part of the world but I really want to see and feel as much as I can in this one short life.
Travel and love yourself.
Keep Travelling
Cheers.