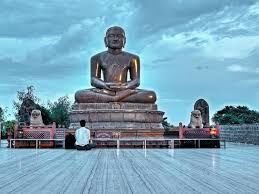 (Blog 3 in my series of blogs - Delhi Delight)
Among the Jain community of Delhi, a place known as Ahinsa Sthal is popular. Literally translating to "The Region of Non Violence", the place is named after the most important principle of Jainism i.e. Ahinsa or Non Violence. A 14 ft tall granite statue of Lord Mahaveer sits here on the top of a hillock.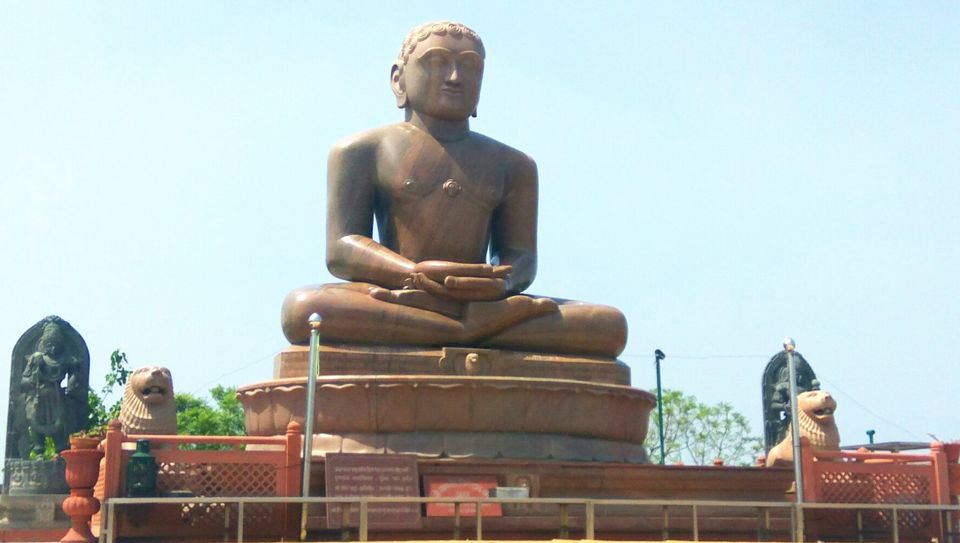 It was a hot Monday morning when I decided to visit this place. Being located in a very busy locality of south Delhi, I had expected to see some crowd at the temple. Surprisingly, apart from the caretaker, I was the only human there. I wondered if people came here to pray only during festivals.
As I was climbing up the hillock, I noticed that another family had just arrived. There was a very old lady who seemed too weak to climb up to the top where the idol sat. The lady's son pulled out a wheelchair and started moving towards a spiraling pathway that went all the way to the top. It was impressive to know that the designers had taken special care to make the spiral pathway for old and physically challenged devotees. Such facilities are a rare sight in public places.
At a distance, the Qutub Minar stood majestically surrounded by greenery. On the other side was Azim Khan Tomb. The Jain flag flew in between. In the middle of Muslim style architecture rich locality of Mehrauli, the presence of a Jain temple reminded me of Indian spirit of harmony.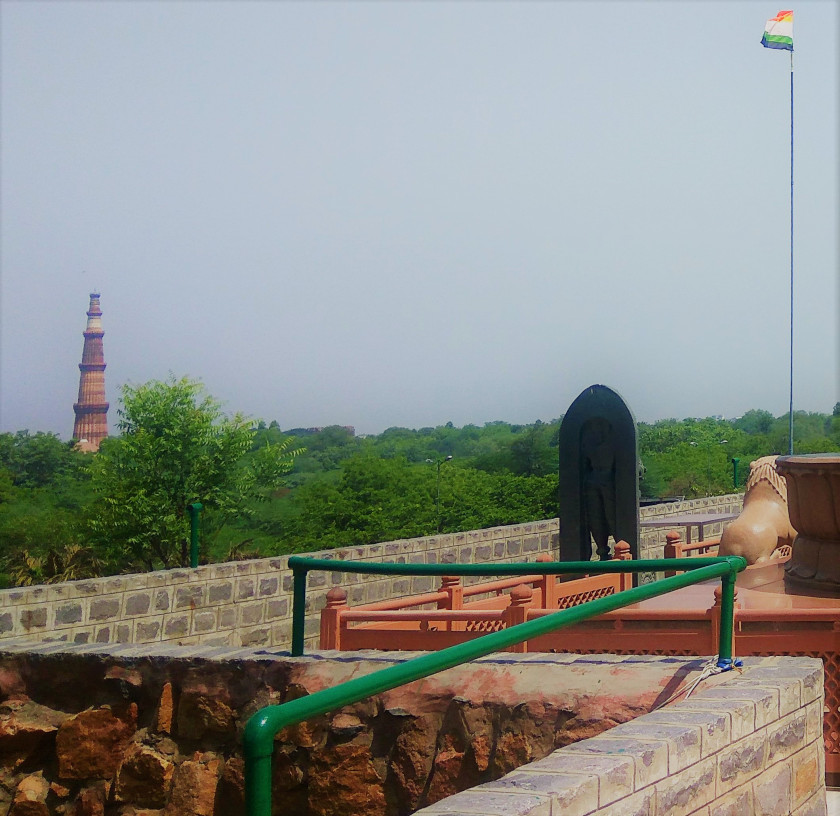 For the little time I was there, I tried to absorb within me the calmness and serenity that was present in the atmosphere. Contemplating on the teachings of Lord Mahaveer, I decided to take a walk in the surrounding garden. Throughout the pathway of the garden, there were boards on which lines from a Jain prayer "Meri Bhawna" (My Emotion) were written.
Ahankaar ka bhaav na rakhu, na hi kisi par krodh karu
Dekh doosro ki badhti ko kabhi na eershya bhaav gharu
Rahe bhaavna aisi meri saral-satya vyavhaar karu
Bane jahan tak is jeevan mein aur ka upkaar karu
Translation:
I shall not be too proud nor shall I be angry towards anyone
I shall not be envious of anybody's success
My behaviour shall be true and nice, This must be my feeling
As long as I shall live, I shall be helpful to others.
Being located very close to Qutub Minar, I wanted to come here while visiting Qutub Minar the previous weekend. I couldn't as I was extremely exhausted. I am glad I came back here specifically to visit Ahinsa Sthal. I would have regretted not coming to this place.