#TripotoTakeMeToSandakphu
Amar Colony is a refuge colony in Lajpat Nagar 4 and has become very popular among the youngsters primarily because of the vast numbers of PG's in the area for both boys and girls. This popularity of the area has led to the development of Amar Colony market as a foodie's hub. One can find a variety of yummy food items in the Amar Colony Market.
Momos, a Tibetan delicacy has become a hot favorite among a wide range of foodies– young, old middle aged, vegetarian or non-vegetarian, have become a popular snack for all Delhiites. They are loved as much as the Samosas and Bread Pakora stalls scattered across the city and what's even better is that you can find momo sellers in every nook and corner.
Have a look at my list of the 4 best places to have 4 different kind of Momos in Amar Colony.
1. Tandoori Momos at Hunger Strike
The first time I heard about Tandoori Momos and Hunger Strike, I knew that I had to visit this place at the earliest. And I did and it was just so satisfying. A plate of Momos fresh out of the Tandoor tossed in fresh cream and served with onions and chutney, I immediately fell in love with this.
A plate of Tandoori Momos costs INR 100-150
2. Vodka Momos and Afghani Momos at Queens Boulevard
One day while checking my mails in office, I stumbled across an article on Facebook and read Vodka Momos and I was there trying them in the evening. This is the only place that sells Vodka Momos in the area. Vodka is mixed in the red spicy gravy which is poured over the tandoori momos, which gives it a zingy kind of a taste. You can even tell them to go strong on the Vodka or go light as per your preference.
Another delicacy served here is the Afghani Momos which are a kind of paneer tikka only that instead of paneer there are tandoori momos along with capsicum, tomatoes and onions.
A plate of Vodka Momos costs INR 150-180 and a plate of Afghani Momos costs INR 120-140.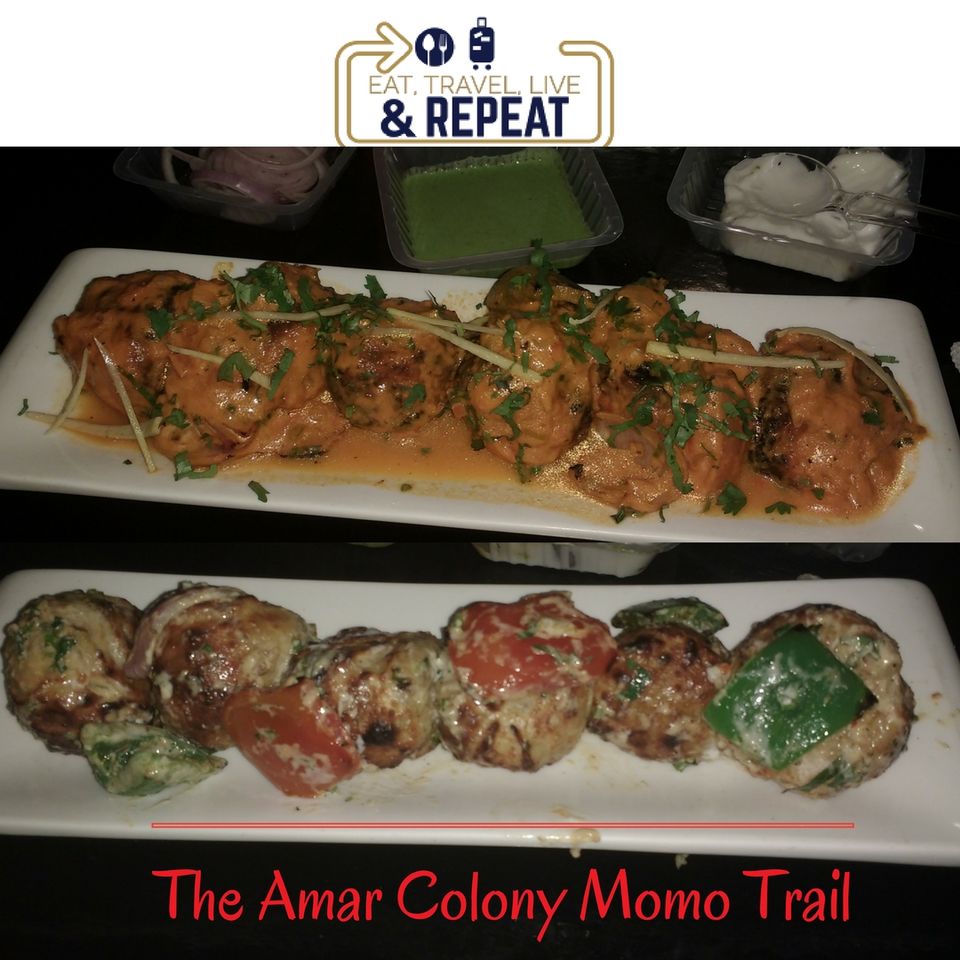 3. Fried Momos at Tibet Kitchen
I was introduced to this heaven by a friend who stays in the area, and am forever grateful to her.The place serves authentic Tibetan cuisine and the fried momos here are the best of the lot.On any evening, this place is usually full and one can find a plate of Fried Momos on almost every table.The momos are hot and crisp and there's uniformity in the dough which is the best part.The spicy chutney served along with this is the best possible accompaniment one could ask for.The spice balances the whole flavor.
A plate of Fried Momos costs about INR 80-150
4. Dolma Aunty ke Momos
Any food trail in Amar Colony is incomplete without the famous Dolma Aunty ke Momos. The momos served here are steamed momos and they just melt in the mouth, the size of the momo is also quite big which justified the price.
A plate of momos costs about INR 50-100
Become a Wraveler and keep INR 500 in your pocket and head out to Amar Colony on any of the evenings and go on a Momo Trail. Amar Colony Market is 20 min walk from the Moolchand Metro Station and the rickshaw takes INR 20 till the market. The taste of momos is more appreciated in the winters and guess what WINTER IS COMING.
Know about any other places serving good momos in the area? Share your knowledge in comments
Read more such articles on Eat, Travel, Live and REPEAT