Staying so close to Amar Colony, I've practically grown up eating the street food here. The place that now has a gazillion cafes to boast about, earlier only had impeccable street food joints. And most of them have stood the test of time and still continue to dish out exemplary stuff! The list below is in no particular order, but they're all majorly street food. No seating facility, no dine in, just head here and enjoy your food, standing in the narrow lanes, sitting on the pavement- that's what the essence of Amar Colony is.
Plus, none of the places listed below need you to have more than 200 bucks in your pocket to visit them. Go explore!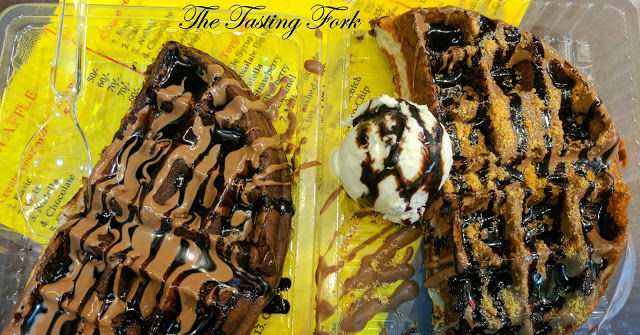 1. Hunger Strike
The place needs no introduction! Tandoori Momos with a superb stuffing, lathered with their special creamy sauce filled with oodles of flavour! Mint chutney, red chilli sauce and mayo, and you're all set! Go here at any time of the day and you'll find the place full, but mornings and afternoons are slightly better. They might be famous for their tandoori momos but their Afghani Soya Chaap and Chicken Shawarma are things that I have here as often as I have the momos.
Timings: 12 Noon to 11 PM
Home delivery: Yes
Location: In the middle lane of Amar Coloy
2. 34, Chowringhee Lane
Imagine a crisp flaky thick parantha, layered with sauces and onions, and rolled around a stuffing of spicy flavourful chicken tikka or paneer tikka (or anything else for that matter). One roll is enought to satiate your hunger, but maybe not for stuffing you. Opt for the roll with egg if you're a non vegetarian. Rolls here are pure bliss!
Timings: 10 AM to 11 PM
Home Delivery: Yes
Location: Right before Sharma Chaat Bhandaar
3. Sharma Chaat Bhandaar
Since my childhood we've known this place as 'Naale wale golgappe', simply because there's a 'naala' right next to it, but also because the place falls last in this list of unhygienic places in Amar Colony. But taking all this into consideration, I proudly say that neither I nor any of the people I know who eat from here, have ever fallen sick. So it can't be that bad, right? Gol Gappe to die for!! Crisp Aloo Tikki topped with chutneys and onions to kill for!! And Dahi Bhalle and Papdi Chaat with such chilled curd that you would swear by their stuff. I've grown up eating these and have very fond memories attached to this place. Trips to the tuitions were incomplete without stopping here every now and then for a plate of gol gappe and tikki being shared with a friend. What crazy chaat!
Timings: 12 Noon to 10 PM
Home Delivery: No
Location: In the small tiny lane to the left of Hunger Strike
4. Chocolate Desire
Waffles, crepes and pancakes that fulfill your every chocolate craving (with a few options like blueberry and strawberry too)! Choose the toppings you want in your base, choose what you want it to be topped with, and you're in for the best treat (specially waffles) in and around Lajpat Nagar. Affordable like anything and complete value for money, this place is going to be your regular haunt after your first visit. Incredible stuff!
Timings: 12 Noon to 11 PM
Home Delivery: No
Location: Right behind Hunger Strike, turn left from Aunty Momos and it's the second shop
5. Aunty Momos
Aunty Momos is your one-stop solution for Chinese snacking goodness in Amar Colony. Her momos are really famous, but a bite of the Spring Rolls and you'll know why they beat the momos hands down. Must also try the Honey Chilli Potatoes while you're at it. Typical Indianised Chinese food that makes your heart melt!!
Timings: 12 Noon to 10 PM
Home Delivery: No
Location: Walk straight from Chowringhee Lane towards a wall in front of you- it's the last shop on your right
6. Muttu South Indian Anna
A South Indian haven in the middle of a bustling market! Order any dosa off the menu and you'll be delighted! The idlis and vadas served piping hot with sambhar and chutney are like Christmas coming early for a South Indian food lover like me. A no-fuss seating outside the restaurant, so just finish your food and leave, as the waiting for a table can be quite a lot at times.
Timings: 10 AM to 10 PM
Home Delivery: No
Location: Next to Juneja Sweets
7. Juneja Sweets
Want a more hygienic option than Sharma Chaat Bhandaar for your chaat cravings? Head to Juneja. They have two outlets in Amar Colony and both are bang opposite each other. The one next to Muttu Anna has crazy chilli paneer hot dogs, paneer kulcha, paneer kathi rolls and Chocolate Brownie with chocolate sauce, and the one across the road is where all the chaat items are. Beautiful stuff!
Timings: 7 AM to 10 30 PM
Home Delivery: No
Location: In the main Amar Colony market when you get out of the Hunger Strike lane
8. Biryani Corner
Biryani given by weight, made in huge matkas and served with a curry which is actually the gravy of Qorma that they also sell separately as a dish. A little too oily but so good, majorly because it's roadside stuff and not many places around do a decent biryani. The gravy alongside is spicy and I think that's what draws me towards this biryani each time. They have veg, chicken and mutton biryani and I'd suggest you stick to the chicken version.
Timings: 12 Noon to 10 PM
Home Delivery: Yes
Location: Diagonally opposite Hunger Strike
And while you're devouring the food at all these places, you have Depaul's for your cold coffee and soft drink fix, situated right next to Biryani Corner!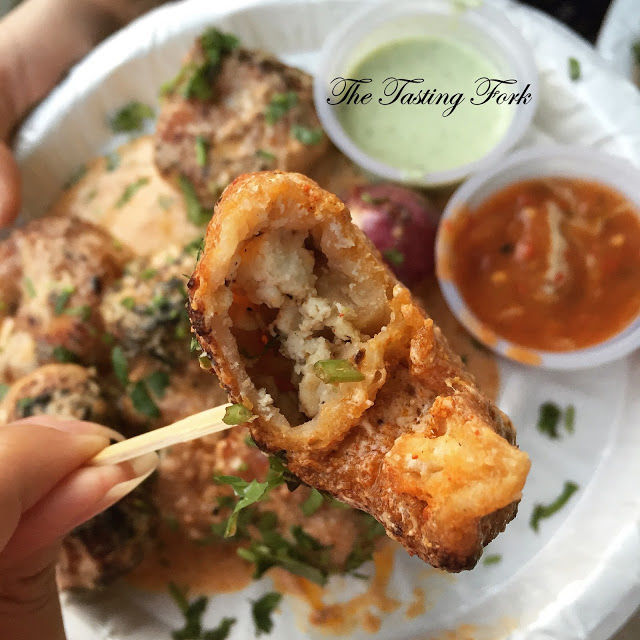 Connect with me on:
Twitter: @sahibagursahane
Instagram: @thetastingfork
Facebook: www.facebook.com/thetastingfork
Snapchat: @thetastingfork
Roposo: www.roposo.com/@thetastingfork