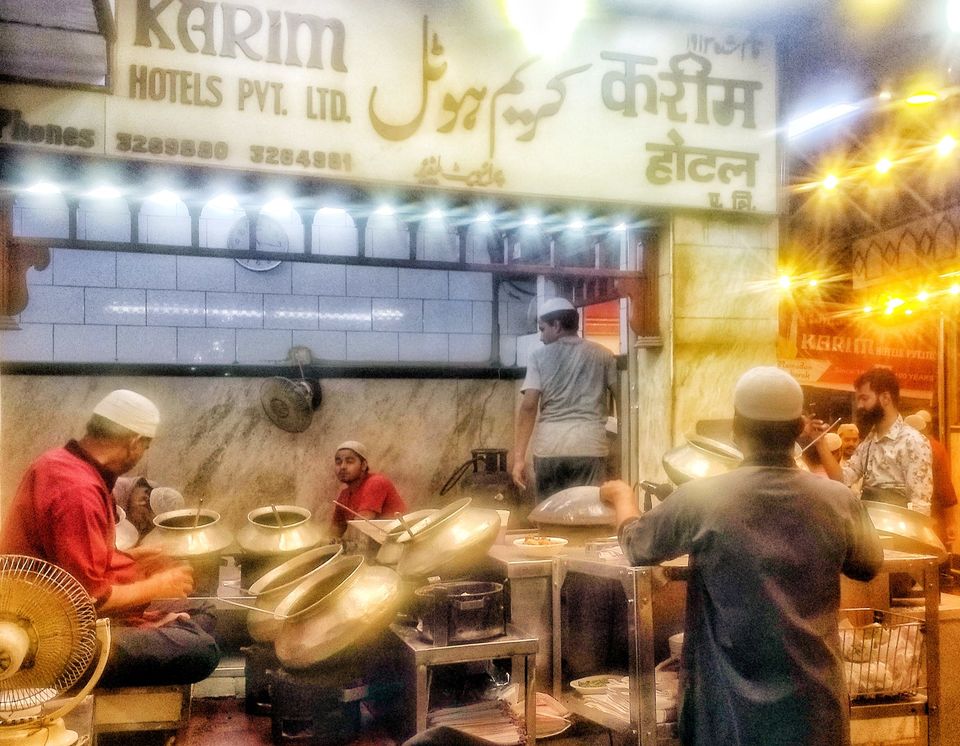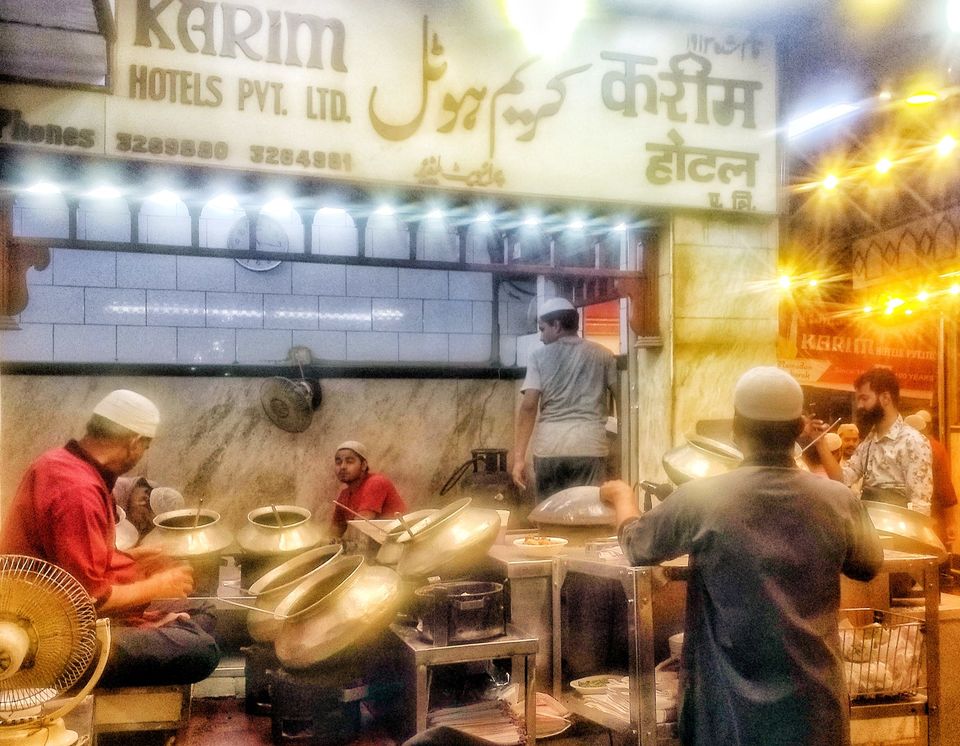 The merciless sun of Delhi was long set and the pigeons were returning home.
Delhi is hot in summer like a boiling pan. And it is full of pigeons!
Pigeons are the aboriginal residents of Delhi, aren't they! No Bollywood movie staged in the Capital is complete without these birds. Every Mughal painting has pigeons nestled in the garden as the emperor sniffs a flower of rose.
I got down at the Jama Masjid Metro Station and hired an e-ricksha towards the mosque. I fell in love with every e-ricksha in Delhi! Silent tuk-tuks, let's call them. The ricksha crawled at a snail's pace, squeezing through a forest of men in long white kurtas and bushy beards. It was the month of Ramazan. A policewala motioned his lathi, and stopped the ricksha from going beyond the barricades. I had to walk till Karim's.
On my right was a towering Jama Masjid. From its chajjas hung dim light-bulbs, and the Masjid looked like an abandoned mansion. Numerous heads in netted-white-caps ushered out of the mosque after the evening Azaan, searching for their chappals.
On my left was a series of dhabas, clouds of smoke escaped from each of them. Leg-pieces of chicken sizzled in the oil-pans. Every breathe I took came with a spice. Outside each dhaba stood a man yelling the prices from his menu, and uttering the name of Chicken and Biriyani of all kinds. This was no place for vegetarians!
The alley towards Karim's was very narrow. An eatery documented in numerous travelogues and the one that has a Wikipedia page was nestled in such a remote, unfashionable area. They say – 'Every city hides her best secrets in the remotest corners!'
The history of Karim's dates back to India's First War of Independence in 1857.
Mohammad Aziz was a cook in the royal court of Mughal Emperor – Bahadur Shah Zafar. When the emperor was exiled to Rangoon in Myanmar, his cook – Mohammad Aziz fled to Meerut. Several decades later, in 1911, Delhi Durbar was chosen to hold the coronation ceremony of King George V. People from across India would be visiting Delhi. And Haji Karimuddin, the son of Mohammad Aziz, returned to serve the visitors.
He started serving aloo-gosht (mutton with potatoes) and daal (lentil curry) with roomali roti, outside the gates of Jama Masjid. Two years later, in one of the narrow alleys around Jama Masjid, he began a Dhaba with a maximum occupancy of 20 people and named it after Karim, one of the 99 names of Allah. It is here, today, where Karim Hotels Pvt Ltd sits in pride, serving 300 people at a time, often running out of Kebabs and Biriyani towards the end of the day. The present-day owners of the restaurant are the fourth generation descendants of Mohd Aziz.
On the kitchen platform sat a Bawarchi, commanding several large pots placed in front of him. Every time his hand disappeared into the pot, it came back with a large spoon of Biriyani topped with chunks of chicken. On another platform, stood a pair of cooks turning the marinated kebabs over the fire and luring the visitors to occupy the seats without wasting another minute.
We took our seats, as my Jijaji, a seasoned visitor at Karim's, explained to the waiter what we wanted. It's always amusing to observe a food-buff ordering his food as a scientist teaching how to make an atomic bomb to a waiter. Fixed inside one of the walls was a quote from City Improbable, a collection of stories edited by Khushwant Singh. If there existed the greatest tour-guide to take you around Delhi, it would always be Khushwant Singh.
First came Chicken Bharrah. A not-so-spicy, fried chicken that felt delicate and gentle to the tongue. A nice way to start a long meal. Let's call it an appetizer!
Then came Chicken Stew with Naan, complemented by Mutton Korma. An overload of spices defeats the rest of the precious ingredients in the food. A good chef knows how to limit his spices and mix them well! Karim's Chicken Stew was just that!
I sucked, licked and nibbled at the very last bit. There was a tinge of sweetness, as every Mughal dish has. There was Elaichi, a mellow taste of ginger, and the chicken was well boiled and married well with the flavours. I sensed all of them dissolving on my tongue!
I spent a lot of time with Qeema Naan too. It was a Naan (thick bread) made from the dough of wheat, chicken, mutton and egg-yolk, all churned and mixed into a single mixture. Result? A heavy, heavenly, royal piece of bread that forms a great pair with any gravy you order. One Qeema Naan satisfies your hunger and costs Rs.150.
Thanks to Haji Karimuddin, I tasted what a Mughal Emperor would've had on his menu sitting on the Peacock-Throne. Only a crown was missing on my head.
If outer Delhi is a modern city lined with plush malls and IT buildings, it is in the interiors near Jama Masjid and Chandni Chowk that one finds the heartbeat of this city – the one which has suffered the plunder of Babur, the reformation of Tughlak, watched the sun set over the British Empire, and wept at the murder of Indira Gandhi.
Delhi is like an old, ageing Grandfather telling stories of ancient times to his children. Delhi is a unique marriage of history blent with cultures and modern tradition.
Delhi is . . .