The history of Delhi has changed many forms. Many dynasties have established themselves developing various parts of Delhi as their capitals. Mehrauli by Qutb-ud-dinAibak, Siri by Alauddin Khilji, Tuglaqabad by Ghiyas-ud-din Tughlaq, Jahanpanah by Muhammad bin Tughlaq, Firozabad by Firoz Shah Tughlaq, Shahjahanabad by Shahjahan and finally New Delhi by the Britishers are some of the 7-8 cities the present-day Delhi has nurtured. The remains of all these cities are still there, some respected and popularized and some forlorn. If one starts noticing, Delhi is spotted with these. Any corner, any street, you may find a piece of history standing tall amidst the bustling city. Whenever I get a chance, I stop for a while to spend time with these.
Shahjahanbad (the present-day Old Delhi) – the walled city developed by Shahjahan, the fifth Mughal emperor during the seventeenth century, after having his capital moved from Agra to Delhi, is a never ending affair for me. I keep taking friend groups to that place for exploratory walks. Most people fret at the idea because honestly that place is extremely crowded and chaotic. However if you seek, there can be charming surprises and stories unfolding at every other random turn.
This time the group comprised of three indolent men, one being my husband. Asking them to step out early on a windy December Sunday morning was cruel but lured by the good food promise, they agreed to adhere to the plan and we managed to reach the place by 9 in the morning. Nevertheless, we missed some of the quintessential breakfast delicacies. 7-8 am is the ideal time to hit the breakfast points there.
At Shiv Misthan Bhandar, we had a rich bedmi (urad dal pooris) aloo breakfast with sooji halwa roasted aptly and jalebis with a tinge of sourness. The sooji halwa is to be eaten with nagoris (gol gappa like pooris) but nagoris were over by the time we reached. With great difficulty, we moved our tired of eating selves in pursuit of the abode of the maestro of Urdu and Persina poetry – Mirza Ghalib's haveli. Gali Qasim Jan in Ballimaran, where his haveli is situated finds a very integral mention in the accounts and movies composed on his life. Hence it was thrilling to see these signages. A slow-paced guard opened the haveli for us and showed us around while dusting off the exhibits. Although saddened to see the structure, the poetry and literature loving group enjoyed being in that space, passionately and loudly reciting the excerpts from his poetry hung on the walls. It is a heritage site under the aegis of the Archaeological Survey of India, a small portion of which has been acquired from the existing owners by the government and has been converted into a museum recently.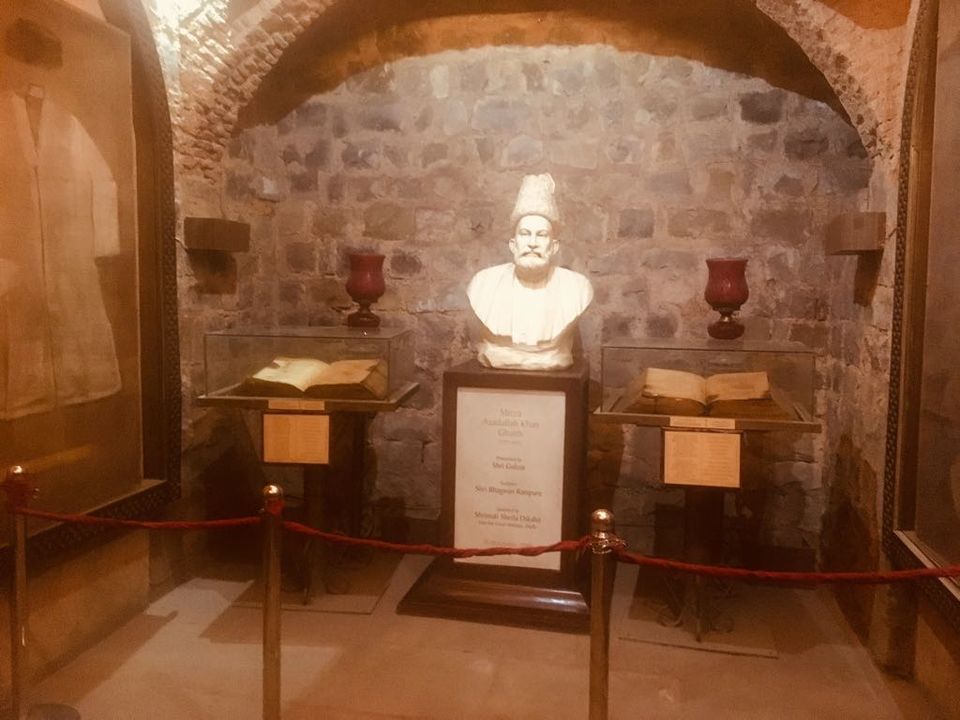 Our next stop was the Haveli of Chunnamal, a very wealthy brocade merchant. Although this is also a heritage site, and the existing owners (said to be the descendants of Chunnamal) should allow people to visit the insides of the haveli, the guard slyly and nonchalantly asked us to come the following day as some guests were over.
We went ahead to visit Dharampura Haveli from the outside as this property is being run as 14 room heritage hotel by the owner, Mr. Vijay Goel along with Welcom Heritage, a joint venture between ITC Ltd. and Jodhana Heritage. Not only has he restored the old haveli, but he has also taken care to put in order the entire street by organising the overhead wires, installing street lamps, painting the walls of the street so as to make it a comfortable passage for his discerning guests. Many foreigners could be seen ambling on the street, enjoying rickshaw rides, riveted to multi lingual tour guides. While we were having tea sitting on the pavement of the street, an old resident stopped by for a little chat asking what we were on to and suggested to walk a few metres to savour the delicious chole kulche at Lotan's. On reaching the spot, we were told that Lotan wraps up by 10:30 – 11 in the morning.
Because the non-vegetarians in the group would not settle for anything less than Al Jawahar or Karim's for lunch, we had to tread towards Jama Masjid. In my view, Jama Masjid and Red Fort should be visited as a separate trip as there are plenty of other old eating places within the main Chandni Chowk. But I let the boys have their way as I had myself not seen Jama Masjid from inside.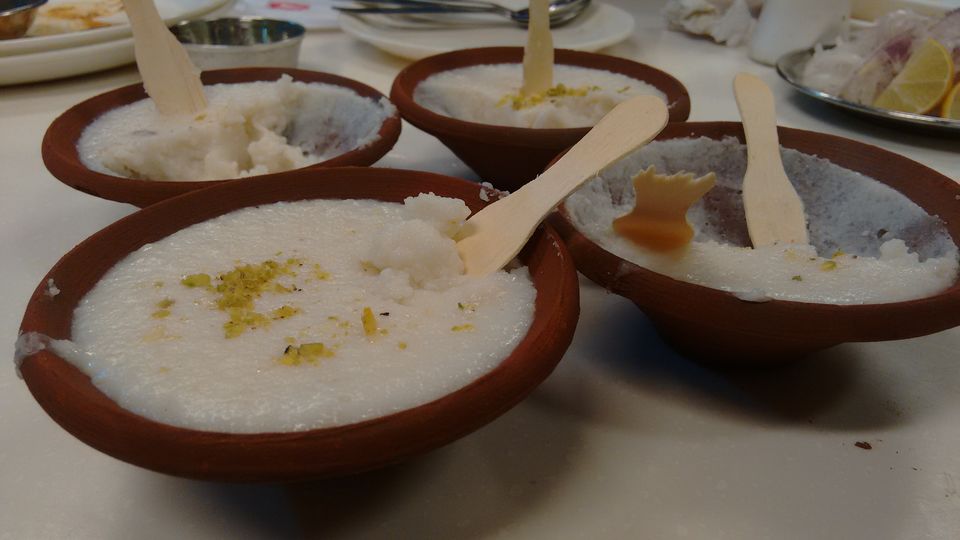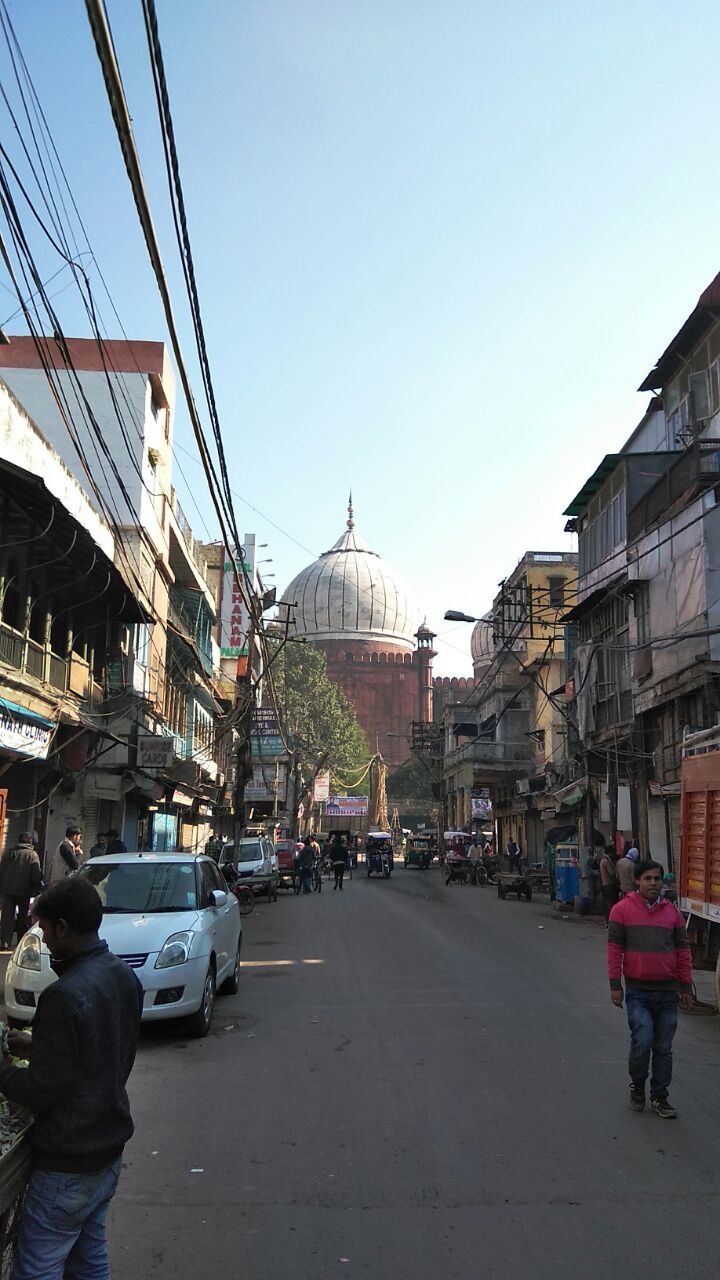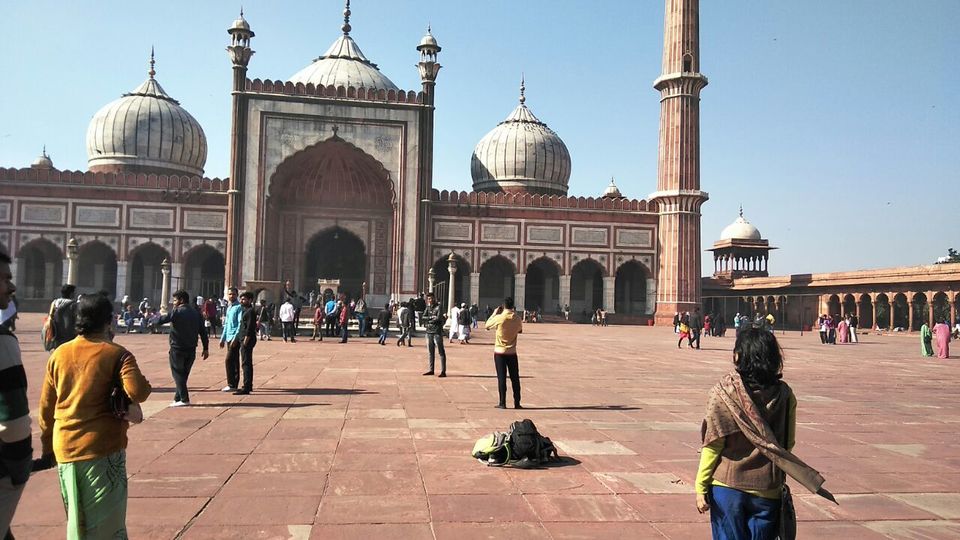 After a quick round of the Jama Masjid, we made our way straight to Karim's, had a sumptuous meal – paya (goat), egg curry, brain curry (bheja curry, goat) accompanied with khamiri roti and beautifully set phirni in earthenware. The brain curry (bheja curry) was introduced to us by our food enthusiast friend. It spurred a reaction from all of us. However one amongst us agreed to share the dish with him.
Again, unable to move, we dragged our tired selves to the Red Fort, the citadel of Shahjahanabad, also a UNESCO World Heritage Site. The walk from Jama Masjid to Red Fort should be avoided as a kabaddi bazaar is set up every Sunday which is nothing but annoying. Since it was a sunny winter Sunday afternoon, hordes of people had gathered at the Red Fort. Booking tickets online while queuing up for the same was a very smart idea. Most of the structures inside the Red Fort are said to have been destroyed by Nadir Shah's invasion in 1700s and the Britishers during the 1857 mutiny. We spent time walking around, admiring Shahjahan's architectural flair and brilliance, thus ending the day.
This area that we wandered around in is so integral to India's medieval and modern history but has been left to decay. A lot has been lost, a lot is in shambles and what remains is so difficult to access. The trading community is oblivious to the historical significance of the place they have occupied. And even if some are sensitive, nobody wants history to come in the way of their livelihood. This place needs a massive and an inclusive restoration, not only of the historical sites but the way the market has been organized.