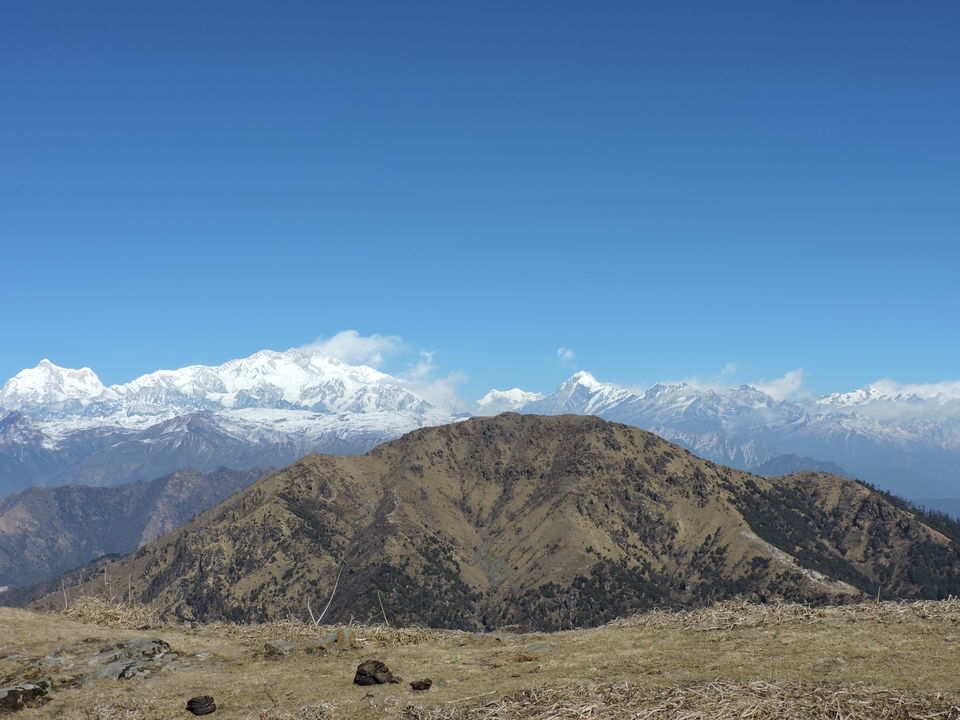 Sandakphu is the highest peak in West Bengal. It offers grand views of the some of the world's tallest peaks viz. Mt Everest, Kanchenjunga, Lhotse and Makalu, the 1st, 3rd, 4th & 5th highest peak in the world. One moves constantly in India and Nepal during the trek.
I have been travelling (rather leisure touring with family) to the beaches, lovely forests, mountains and deserts but this time I thought to travel and trek as a bachelor with my friends. :D My friend and I began to search for the places to visit in the month of January. I was a bit reluctant to leave the famous kite flying festival of Gujarat (Makarsankranti). But for the first time in these many years, I thought to give it a miss and grab the holidays to travel. We started looking for the places to trek in Southern India, thinking to stay away from freezing cold of the North. Gradually, we zeroed down to Sandakphu & phalut trek to be done thru Indiahikes, one of the leading trekking company of India.
Raching the base camp:
Nearest airport: Bagdogara. Nearest railway station: New Jalpaiguri
Jaubari - Chittrey - Tumling:
On the first day there is steep uphill trek in forest that after sometime one will start perspiring even in winter. The trek route passes through narrow trails of mud and stones.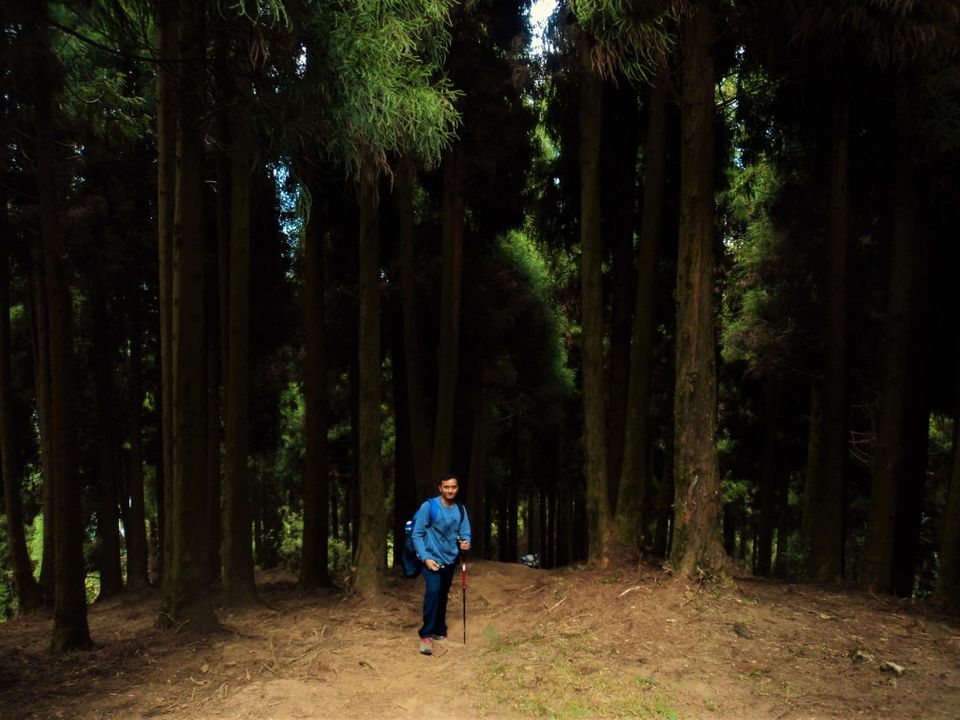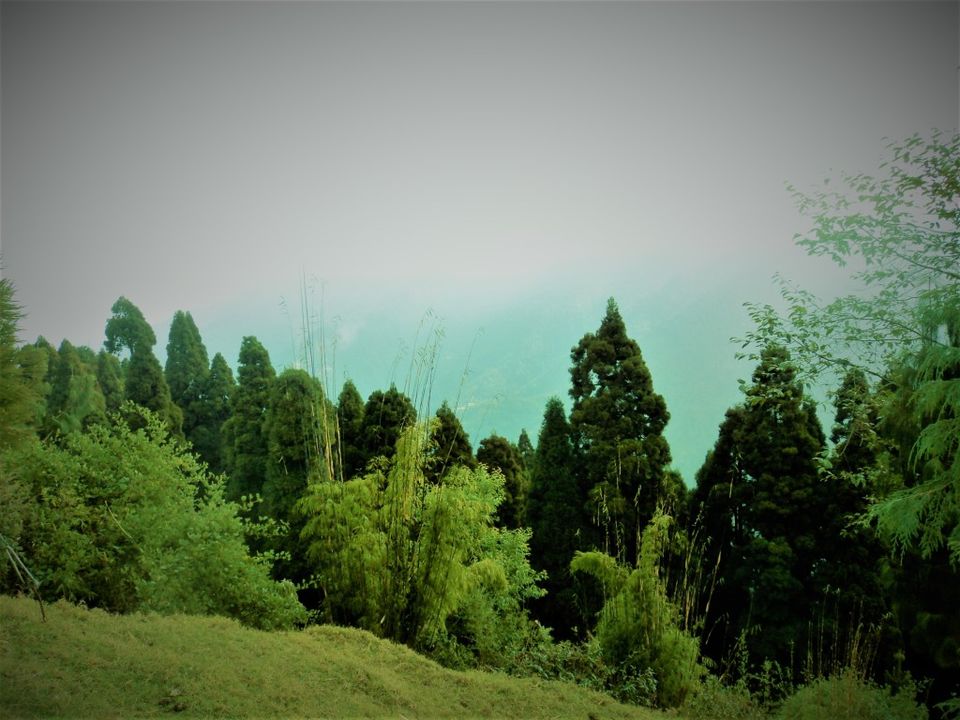 After steep ascend thru forest, we reached in open meadows after about 2 hours. It was very windy and we felt chilling as we were already wet by perspiration.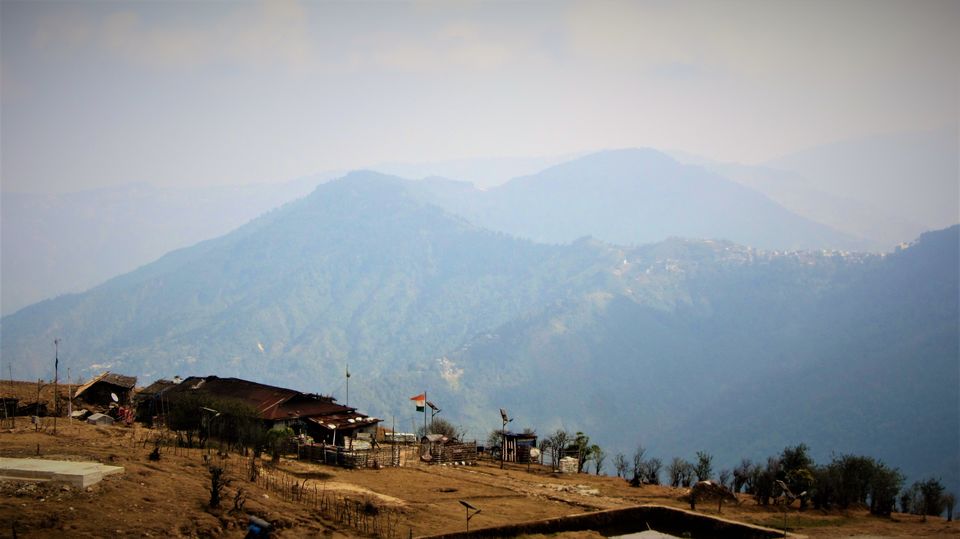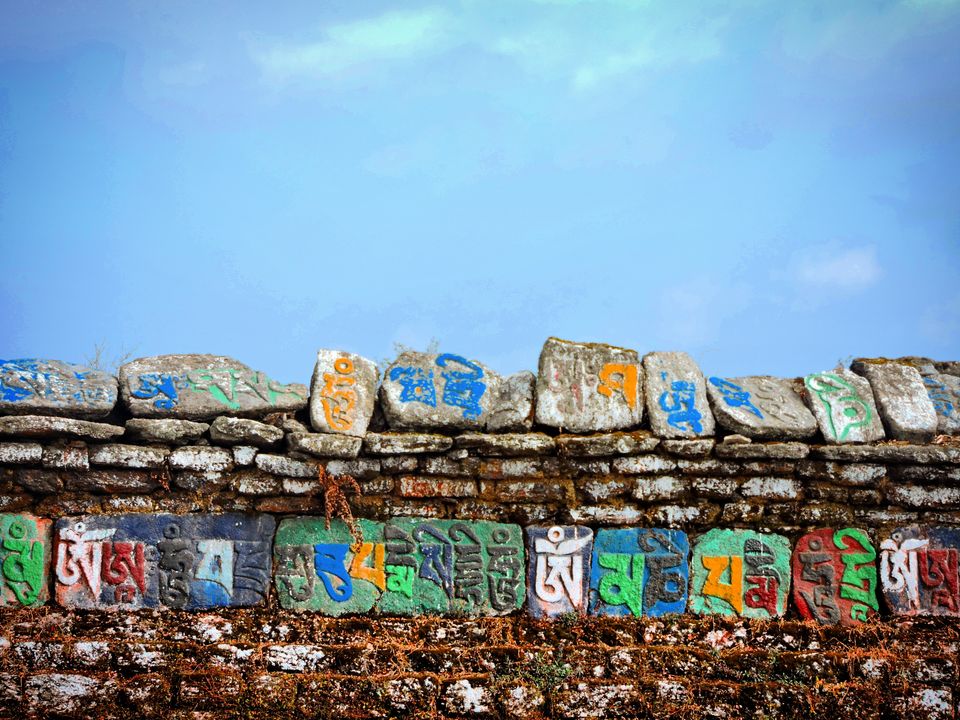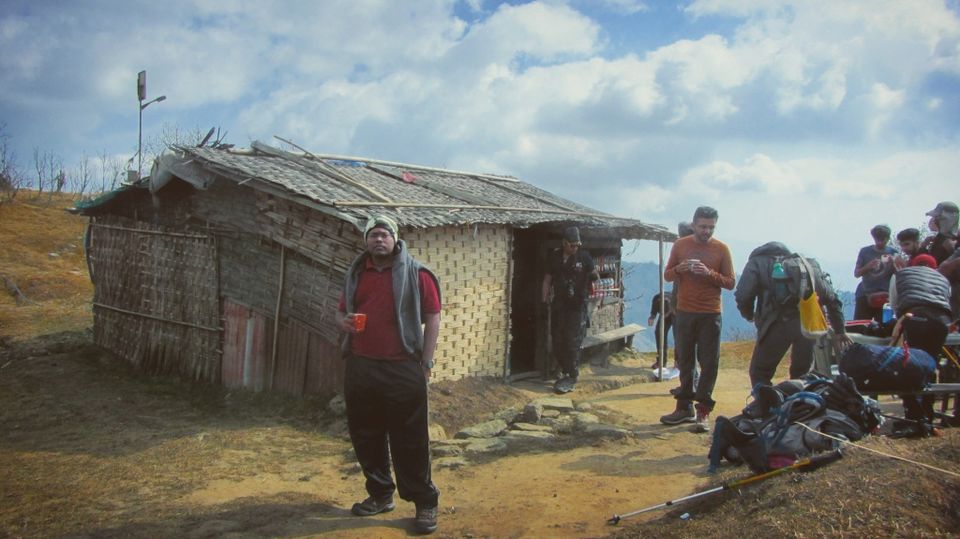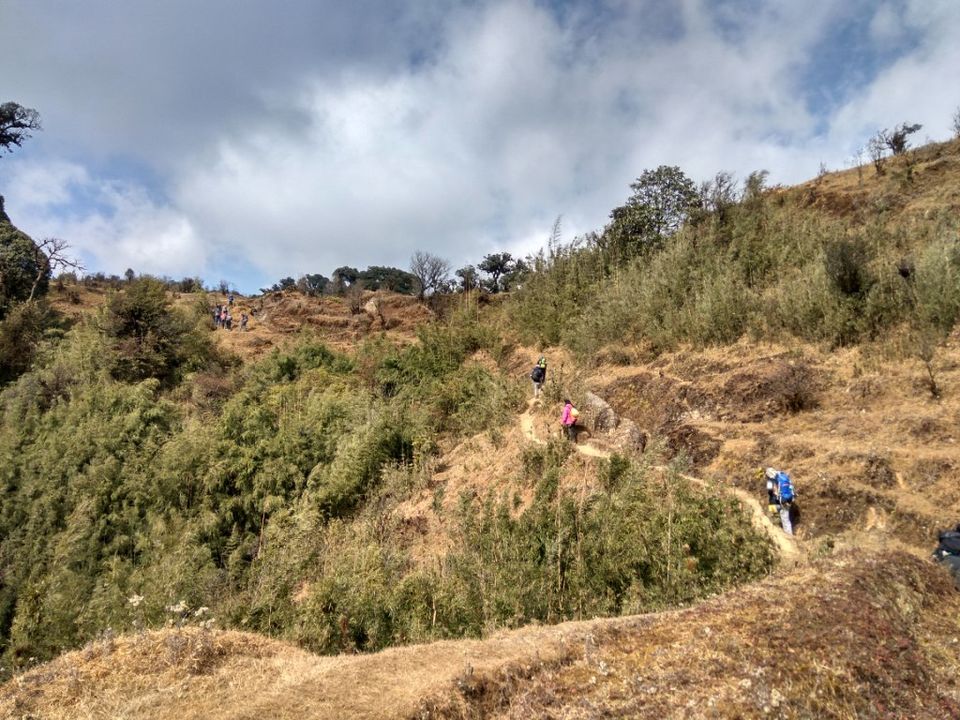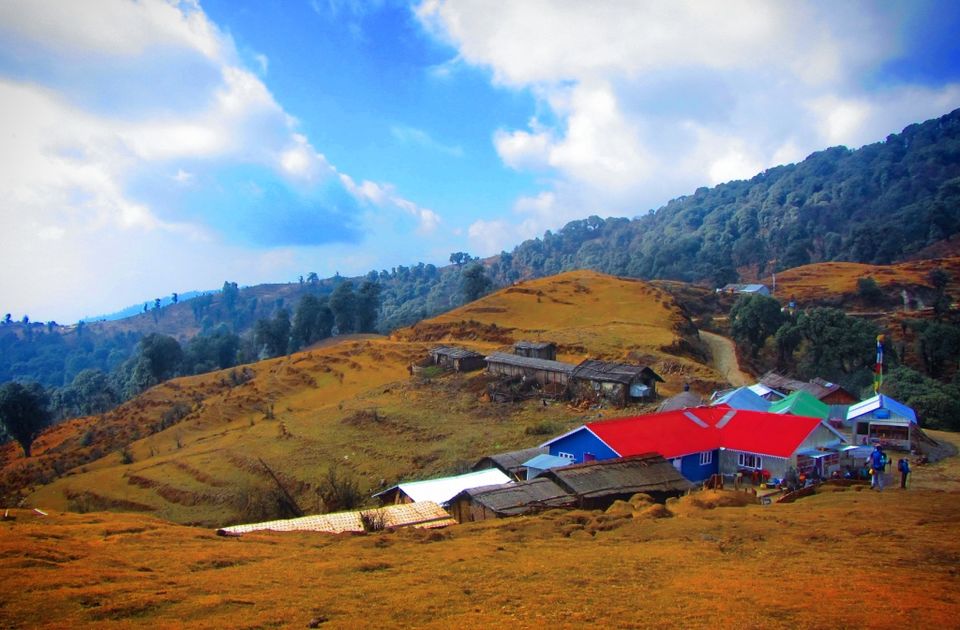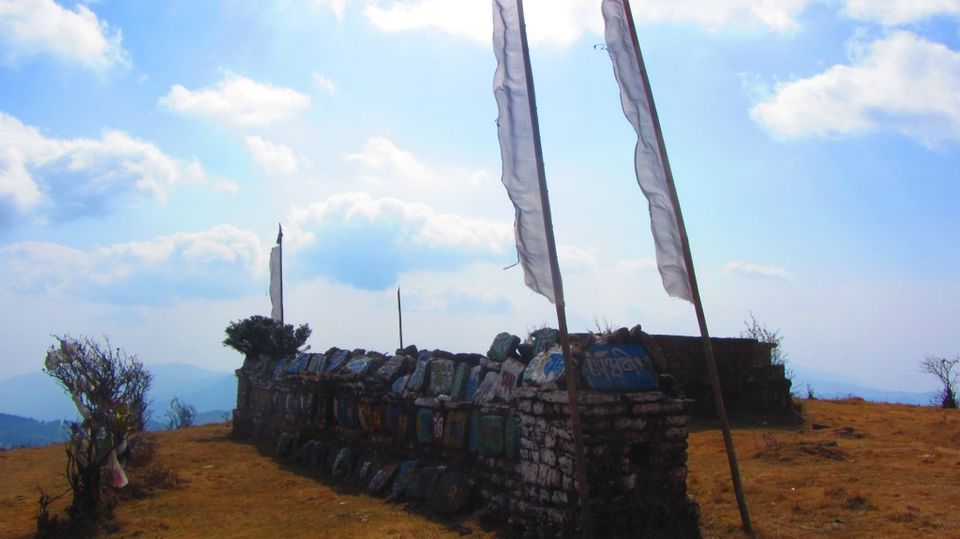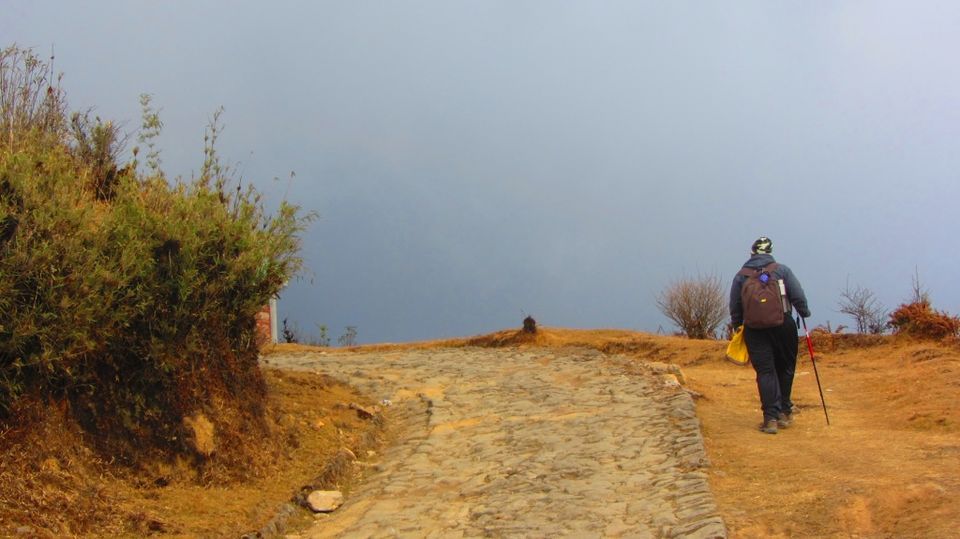 After tea halt, the trail passes parallel to the stony road on which you can see odd Land Rover taking tourists to Sandakphu. We reached lunch point besides a Buddhist monastery.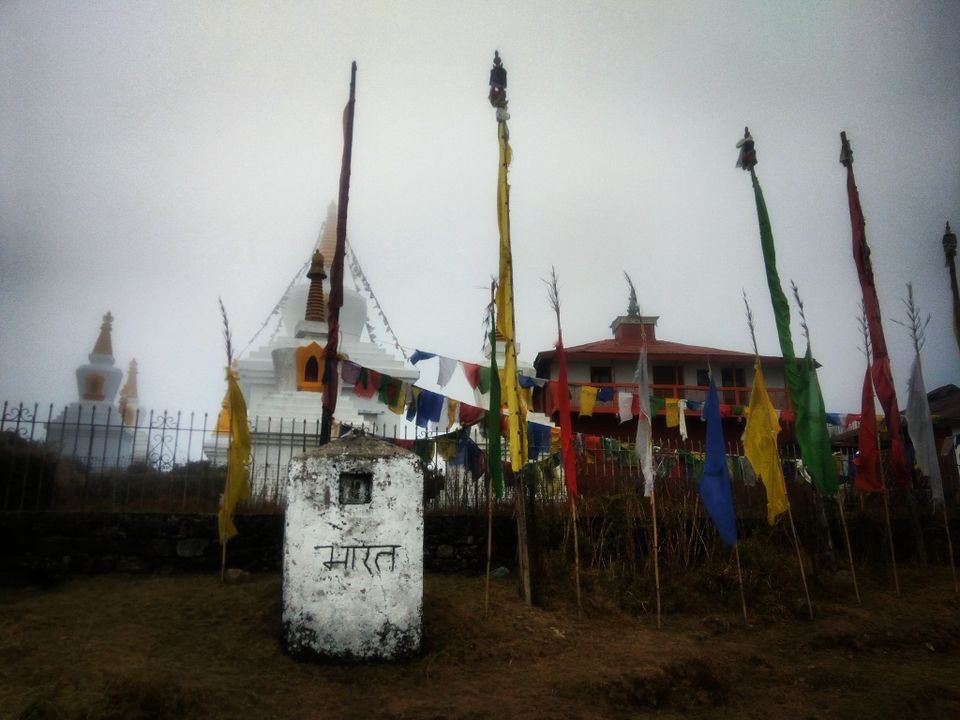 Further uphill, we reached Tumling, which was our night halt. We had a night stay at Siddhartha Lodge. From here, we had first view of sleeping Buddha, the "star attraction" of the trek.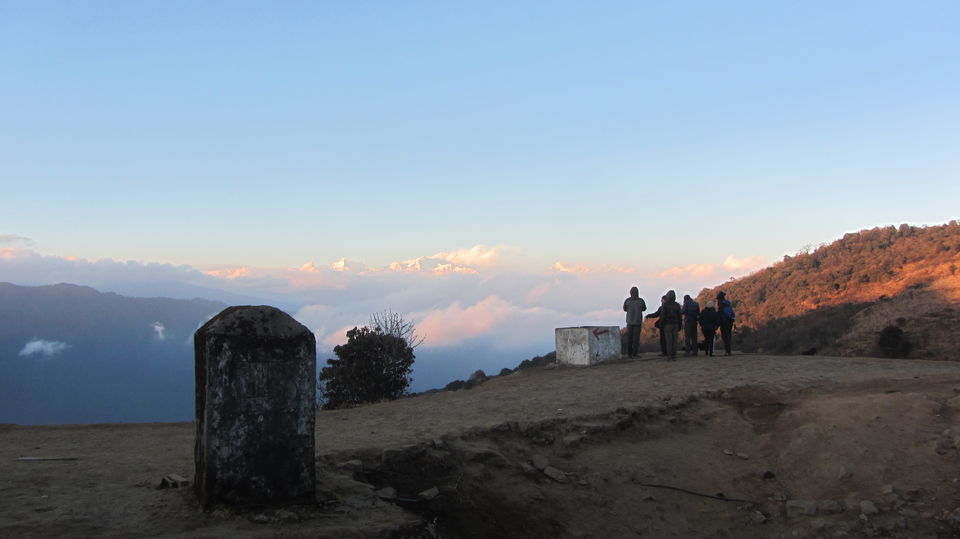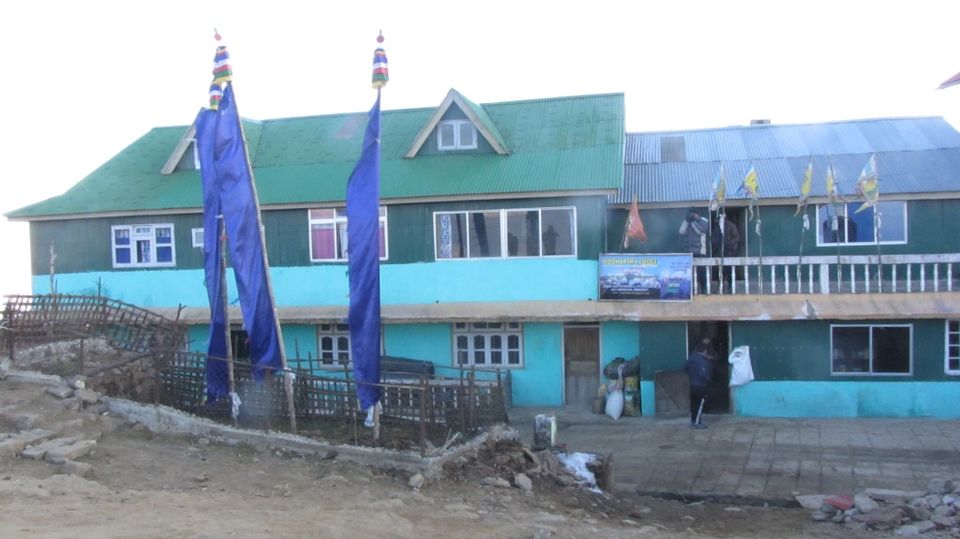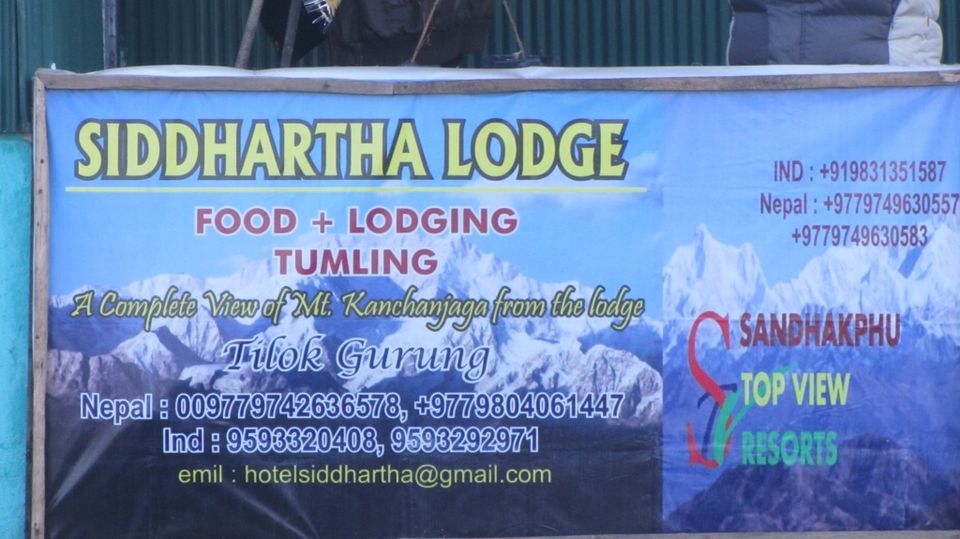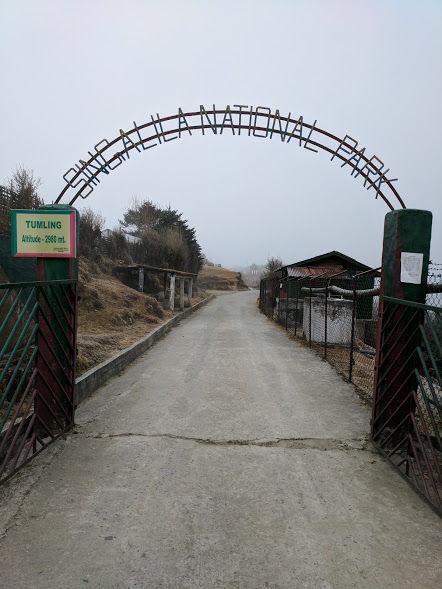 The trail thru Nepal was a mix of open meadows and medium thick forest.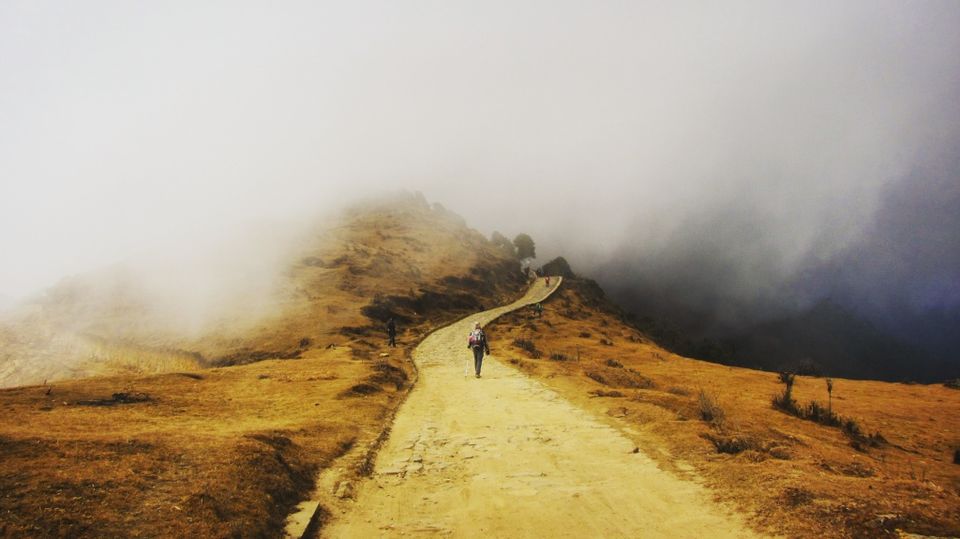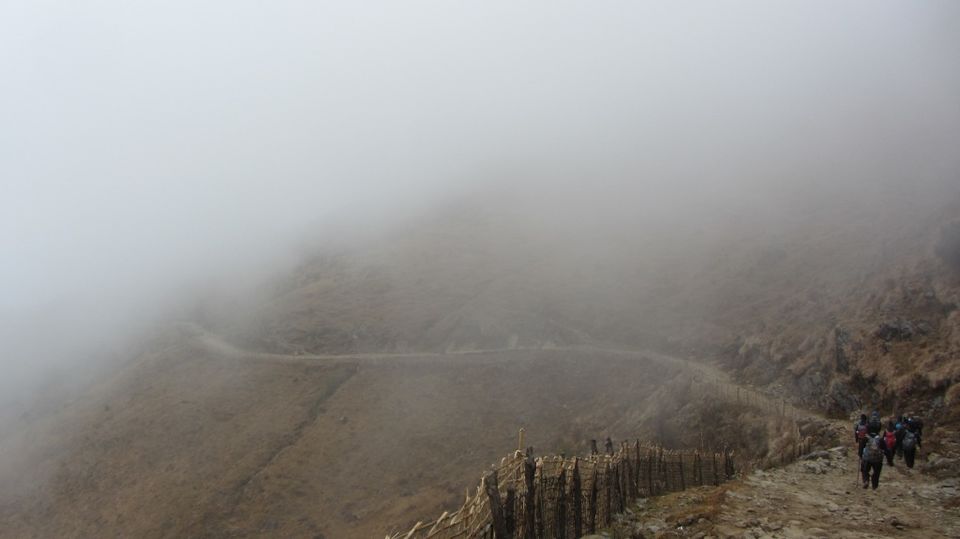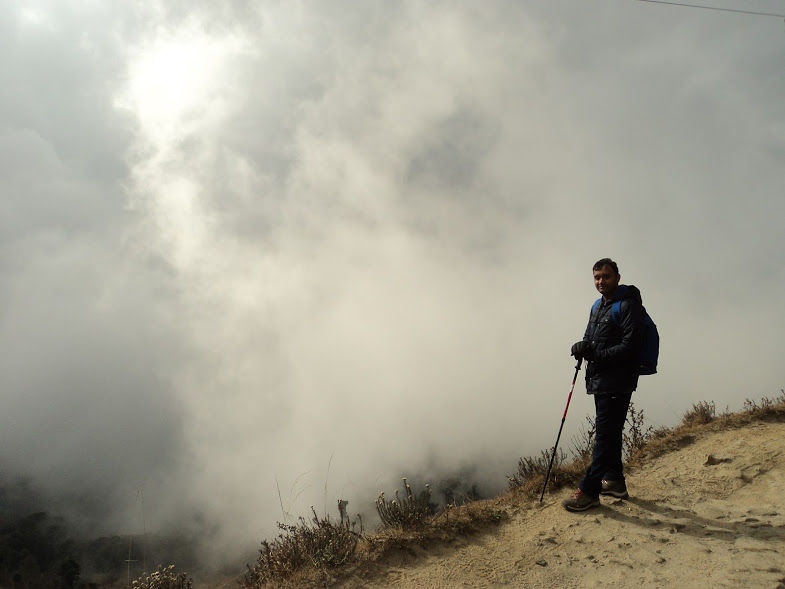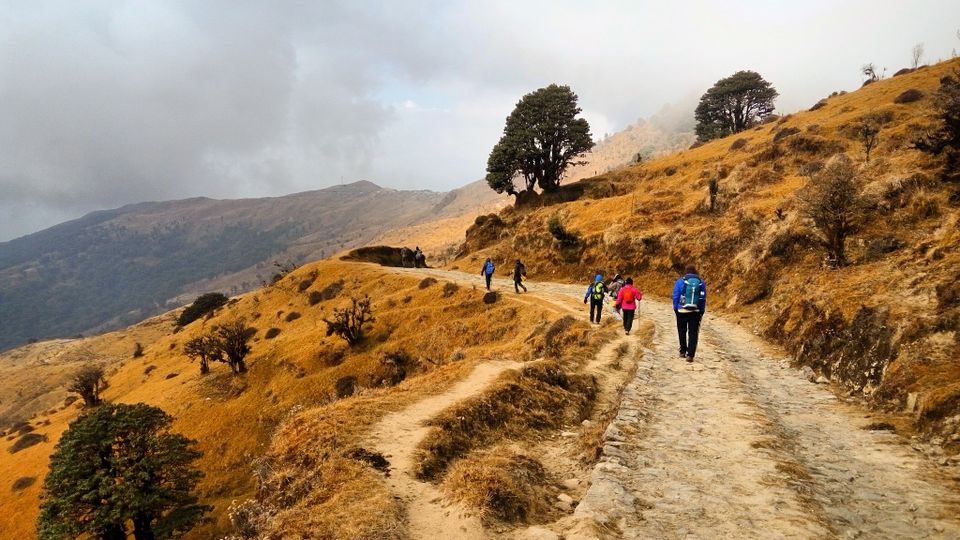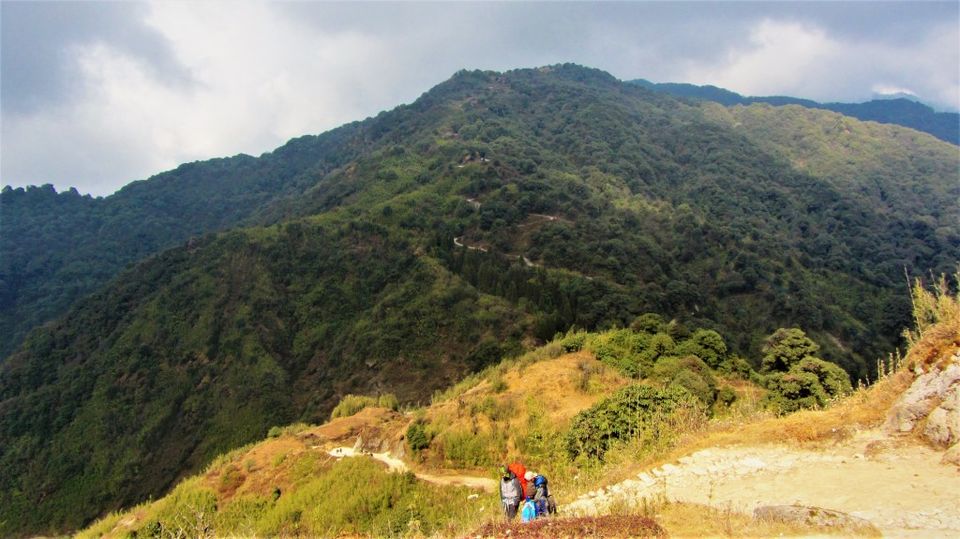 Then we reached Gairibas , which was the midpoint of the day where there is SSB camp and Singalila check post. We enjoyed Tea & momos there. who will not like hot tea & snacks amid so cold climate !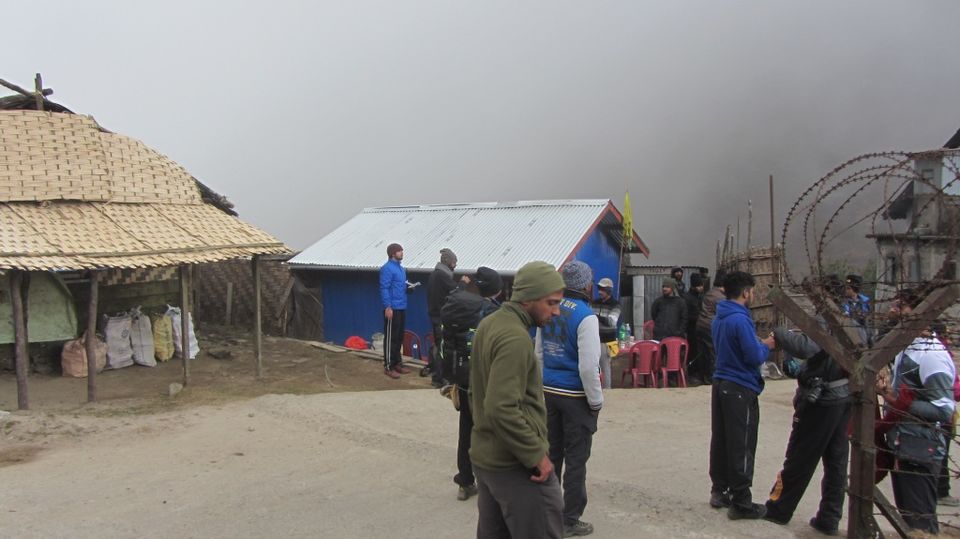 Finally we reached kalipokhri, weather turned more harsh. I shouldn't say harsh because if you are on a winter trek, what else can you expect ? certainly not a bright sunshine and a clear sky every time. The clouds surrounded and hugged us making a visibility of only a few meters.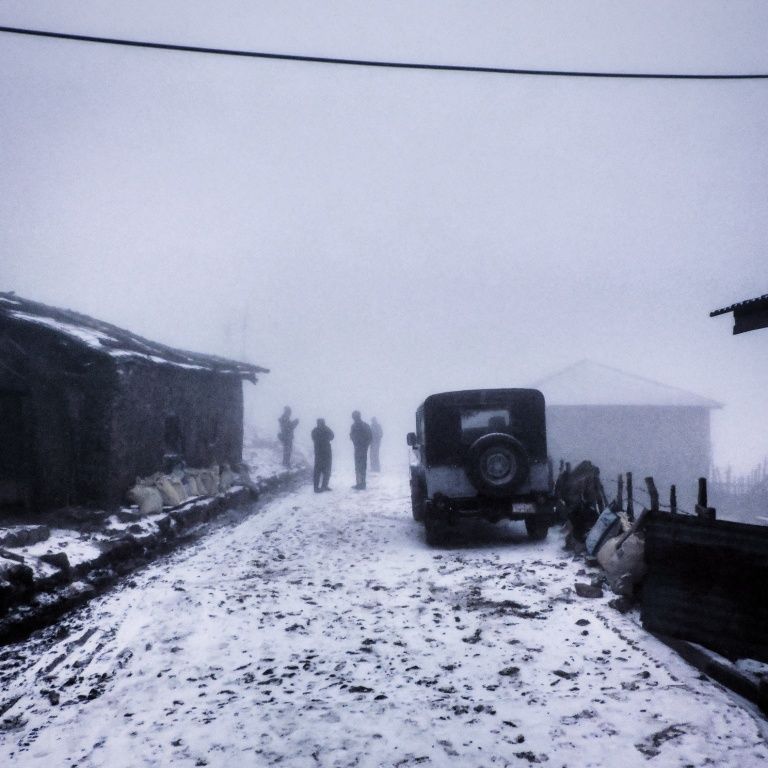 Day 3: Tumling - Gairibas - Kaiyakatta - Kalipokhri
We departed from Tumling and enter Singalila National park, some part of which is in India & some in Nepal. Our guide advised to chose the trail which passes thru Nepal, which is shorter as the weather was harsh and cloudy.
One becomes so hopeful to see Red Panda in the park. But there are only about 30 Red Pandas in the 78.6 km2 of the area. Even the local guides have seen it rarely.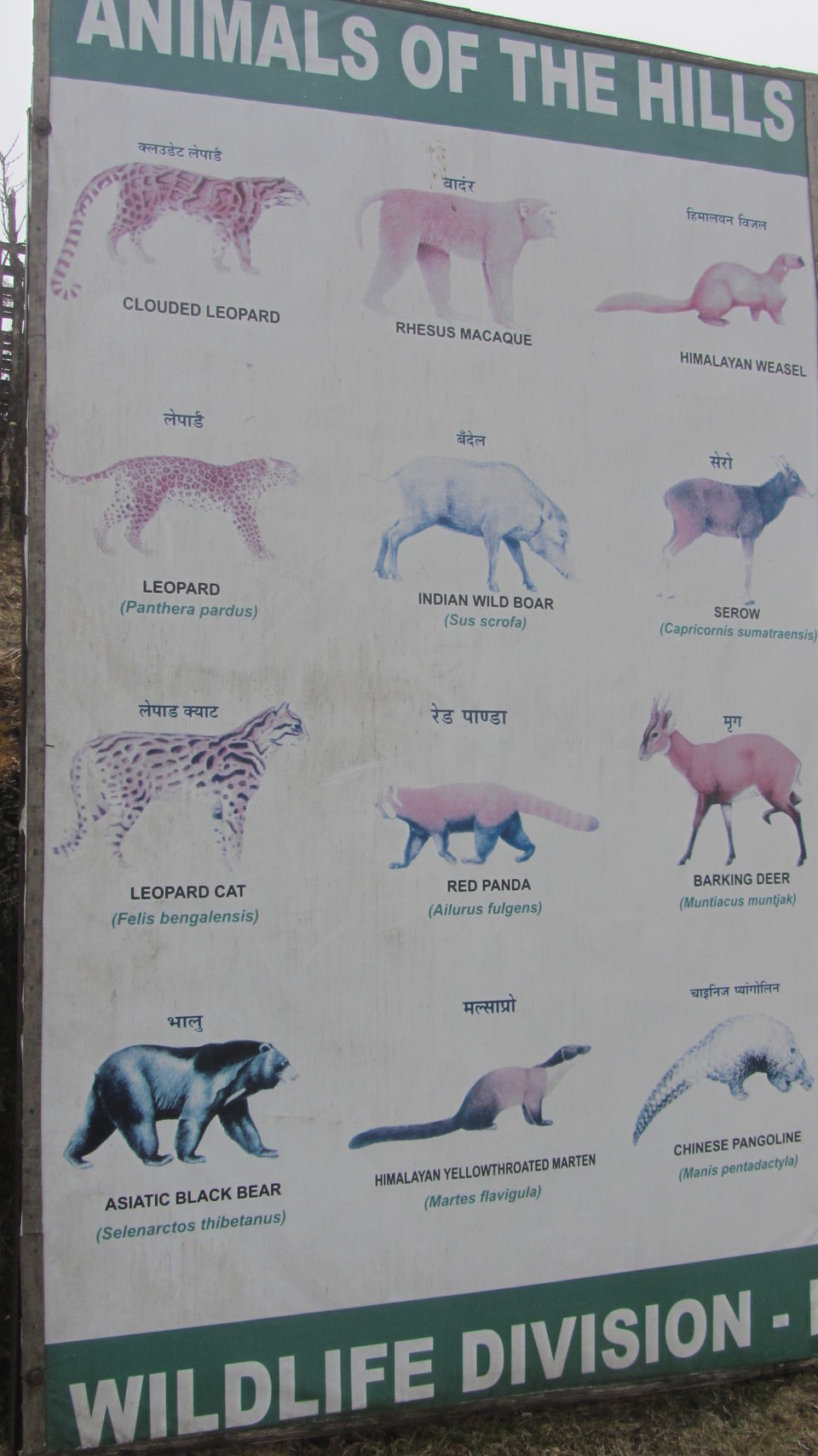 A thick carpet of grey clouds hugged the mountains in the background as we enjoy tea & momos at Gairibas, celebrating halfway mark for the day. From Gairibas, we trek further to reach kaiyakatta and had lunch. At his location, we encountered not exactly snow fall, but small ice ball falls :D (not the destructive hailstorm). We all wore our raincoat/ponchos and started way ahead to reach Kalipokhri.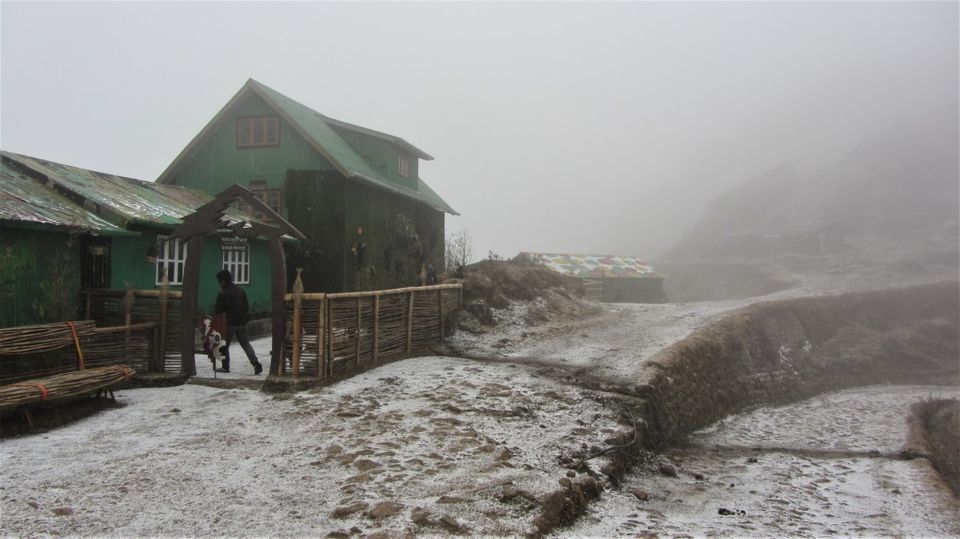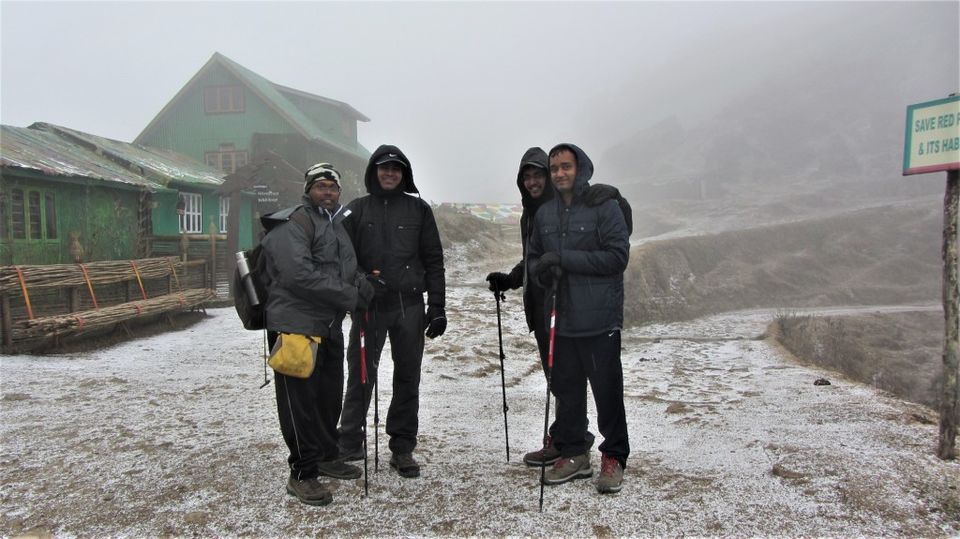 We had halt at Pandim Lodge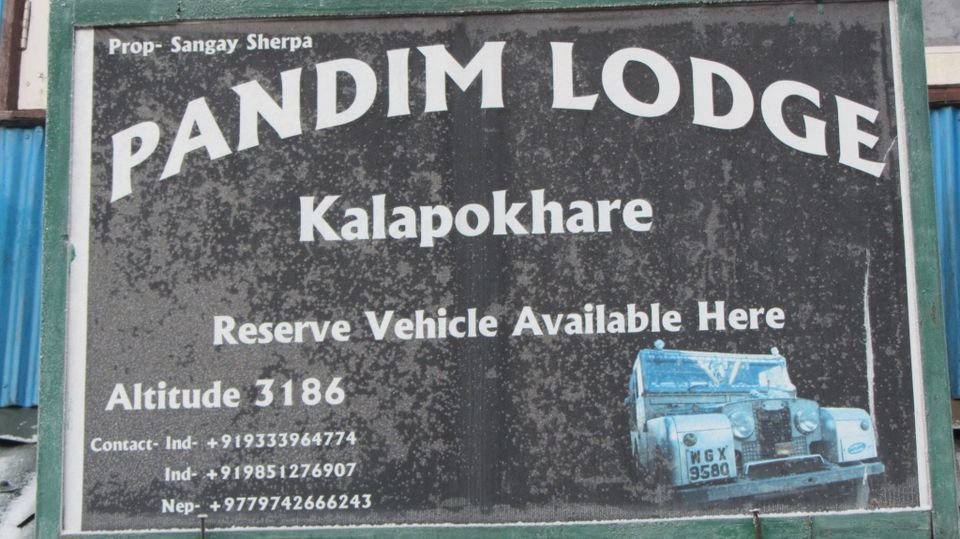 The next morning, we went to see the lake. sky was absolutely clear and golden sunshine for which we were yearning was available in ample.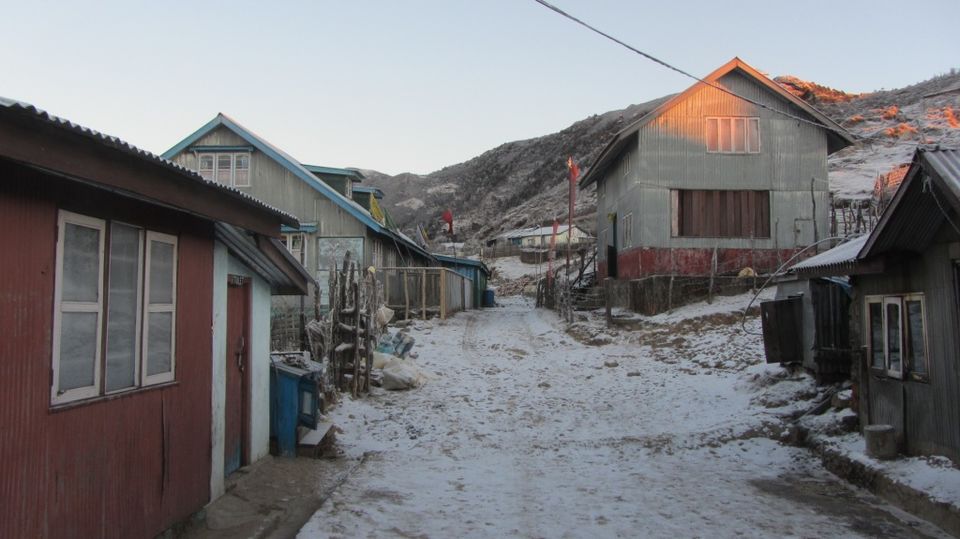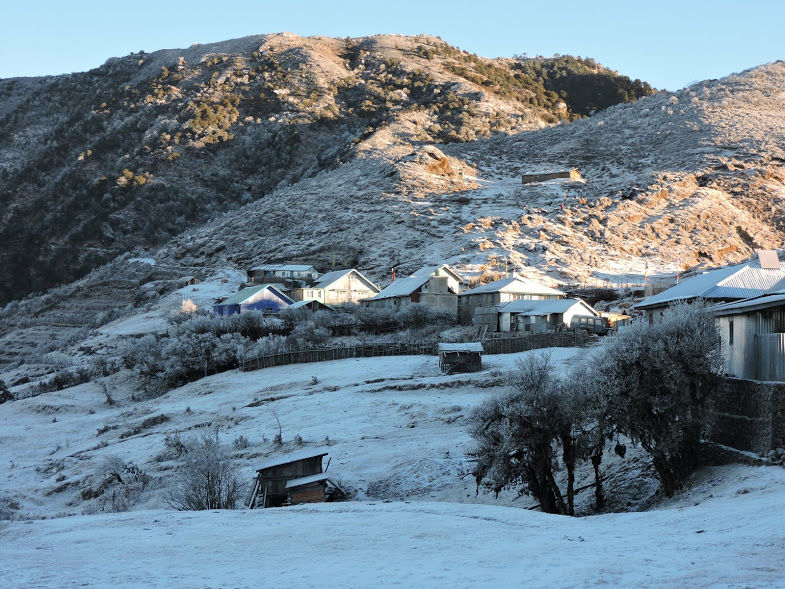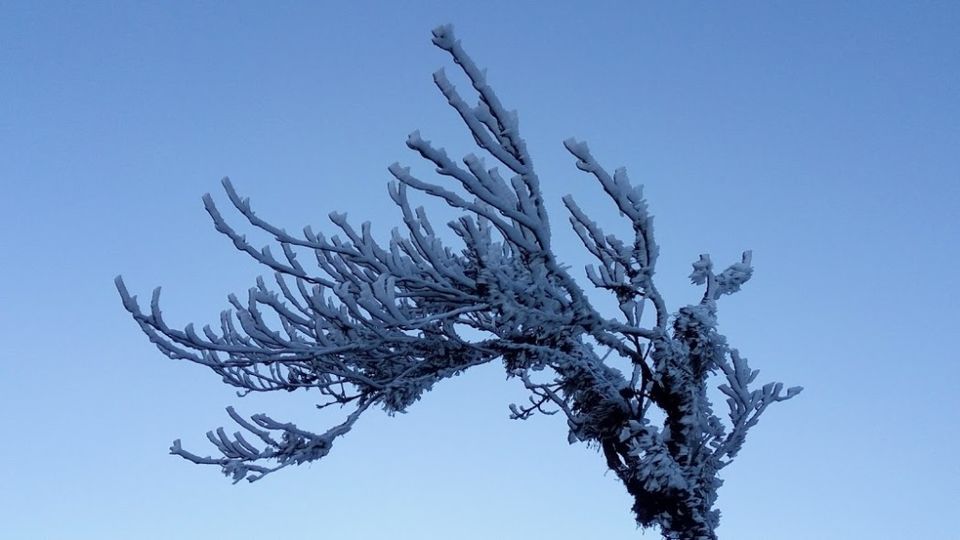 The colour of this lake seems blackish. Its a sacred place for the locals as the mythology says it to be left leg impression of Lord Shiva. The water never freezes even in core winter months.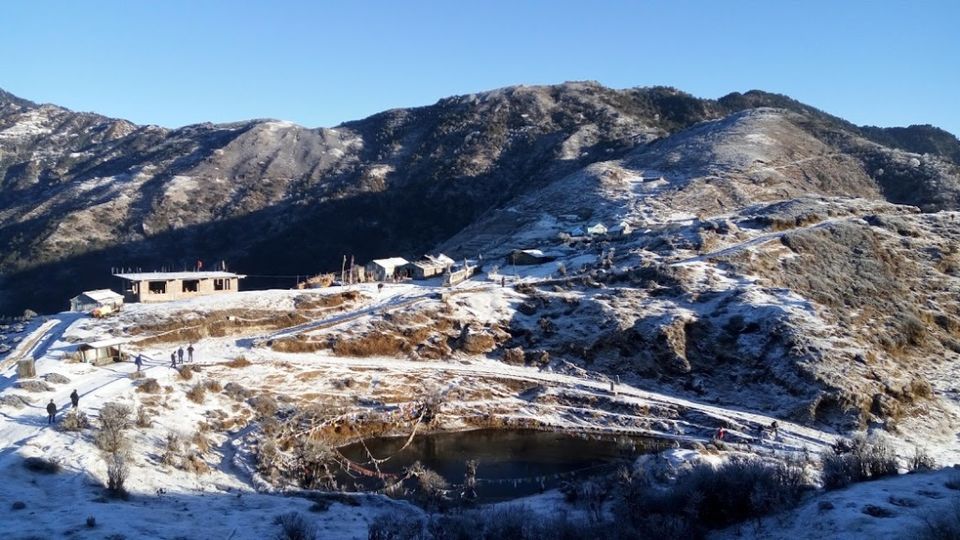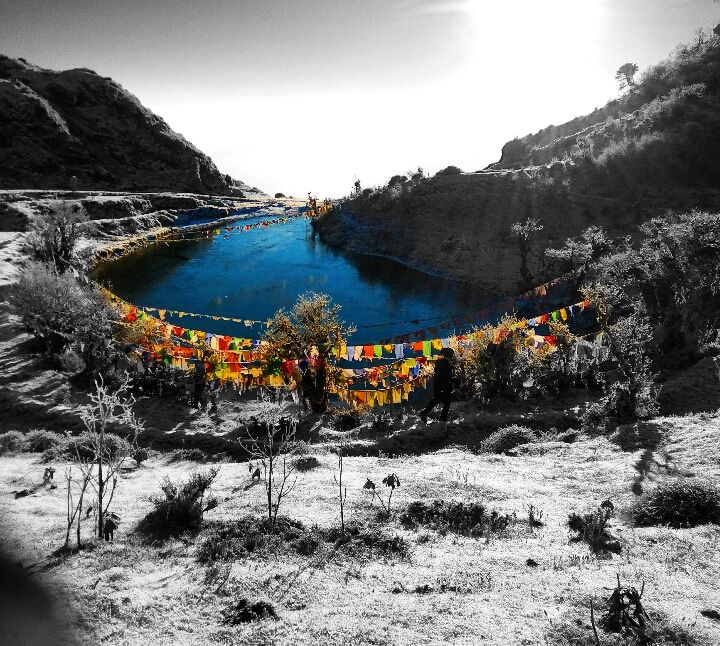 Day 4: Kalipohkri - Bikheybhanjang - Sandakphu
Today the trek trail was snow laden throughout till Sandakphu. it was a combination of gradual n steep rise, plain land and descend.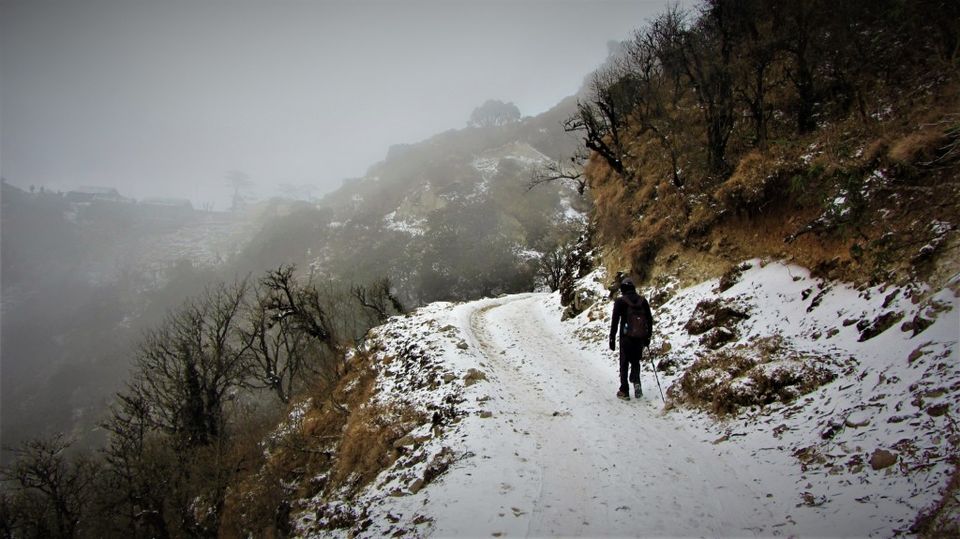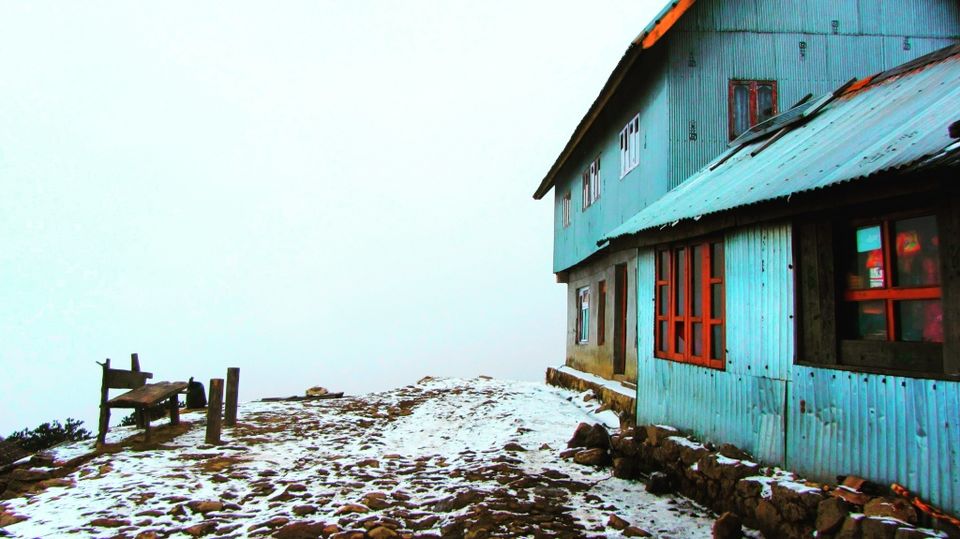 After so much ascending, we finally reached at the top. woha !!! We were at the topmost point of West Bengal and at the acme of our trek. It was dusk and we all started layering up to get some shield from the cold. Some of us played kickball, some of us ascended a small cliff and had a look at the majestic Sleeping buddha as we could not wait till other day sunrise only to get a more beautiful view. we then relished on the soup, enjoying some indoor group mingling games followed by dinner. Then we broke into our allotted rooms and wished to fall asleep as soon as possible. due to windy weather, tents could not be pitched and it was decided to stay in a lodge.
Night temperature drops to -10 and can even go to as low as -15 due to winds from the Kanchenjunga mountains. Nonetheless, do get out and look at the stars.
Some of the fellow trekkers were on the course of diamox tablets. at higher altitudes, reduction in atmospheric pressure results into thin air i.e. less dense oxygen. This may give feeling like head ache, nausea. Diamox helps in thinning of blood and helps to get relief. As our trek leader told, it is perfectly okay to go on a diamox course, but the irony of this liberty is that you have to hydrate yourself more than normal. Now Imagine yourself at midnight when the temperature outside is dipped to -10 with blowing winds; you have to get up removing blanket layers, step out of room, go out in open for peeing. :D :D Their plight at midnight is one of the memories being cherished right now.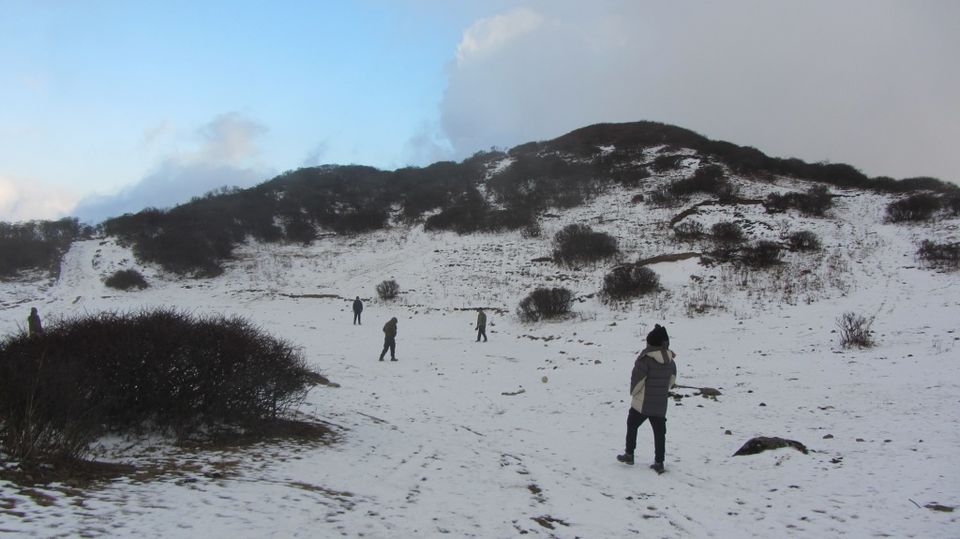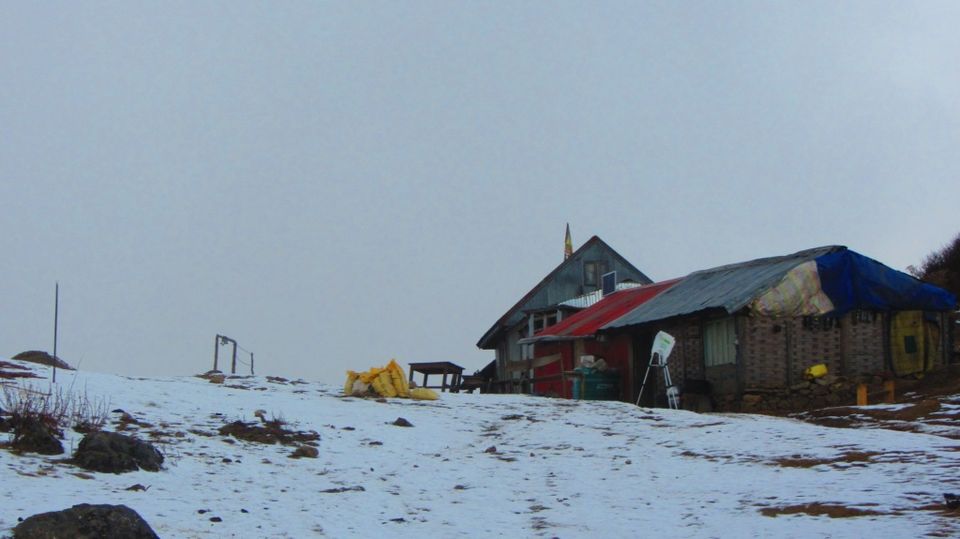 As said, one keeps on moving in & out of India/Nepal throughout the trek. I was amazed to see that people move so freely. there is no fenced border and only pillars like in the image below are found to make you aware where you are.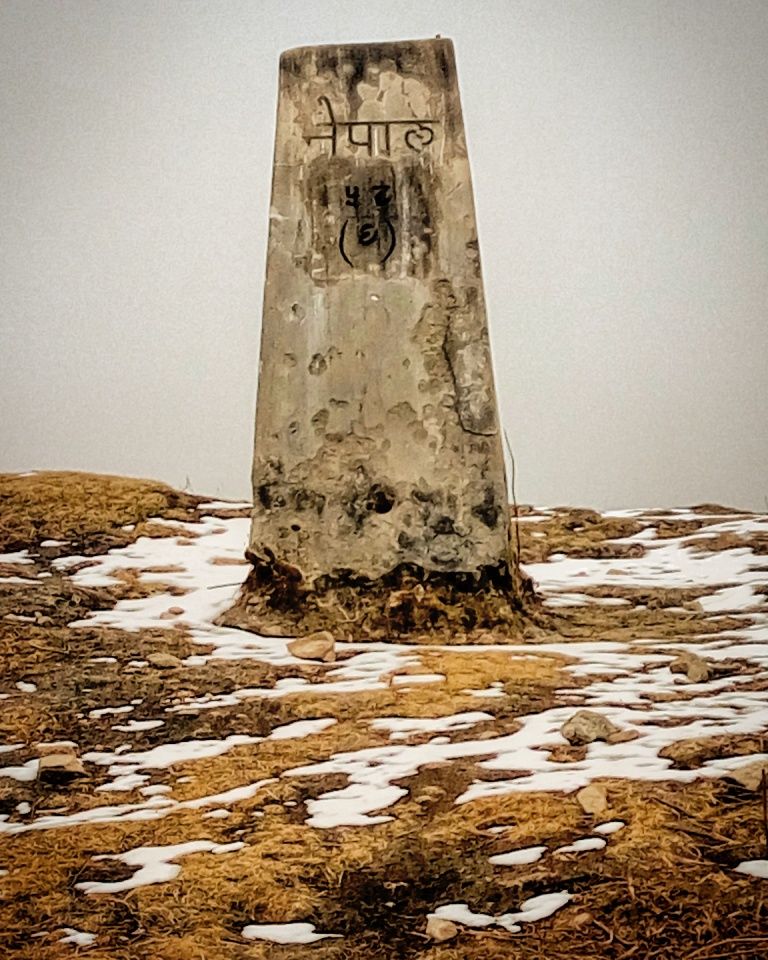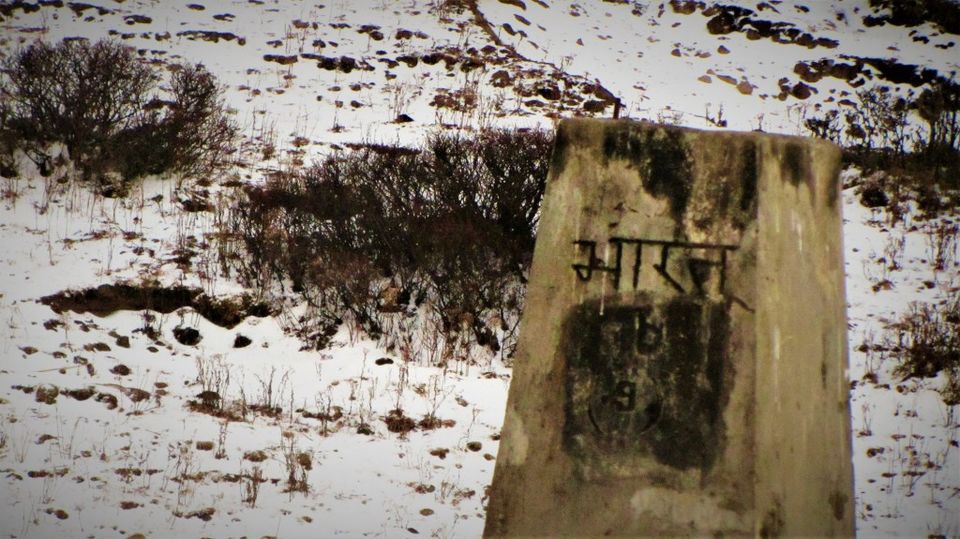 Being aware of total trek route length of 82 km, this was our first ever multi-day trek trip that too in winter and in North India. Upon reaching base camp, our trek leader had our quick health check and shown our rooms in a tea house (small hut like structures as in image run by locals for trekkers)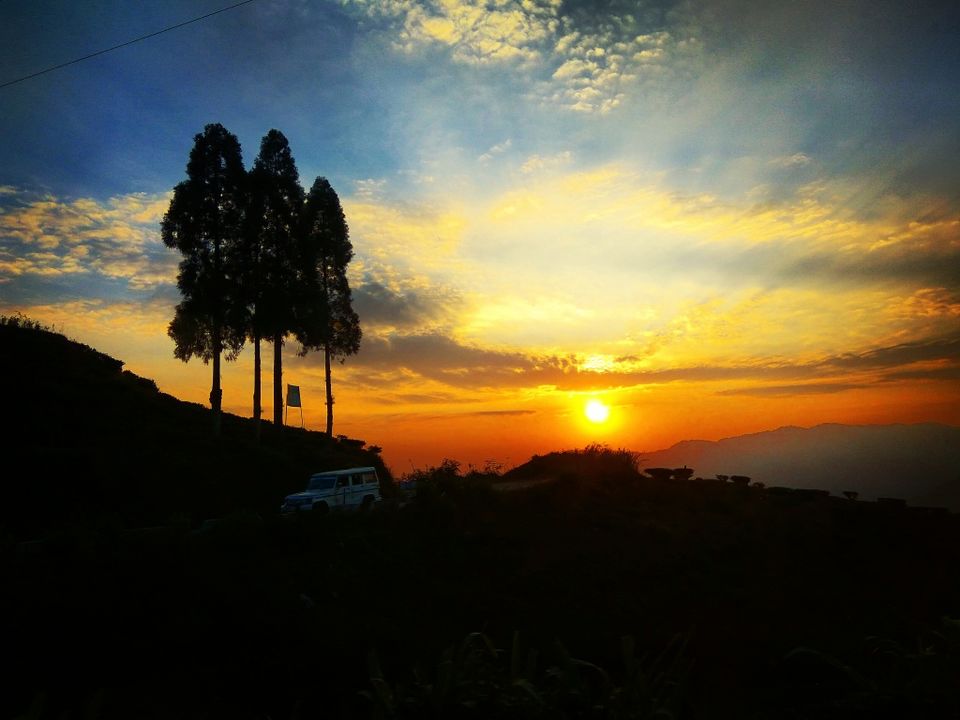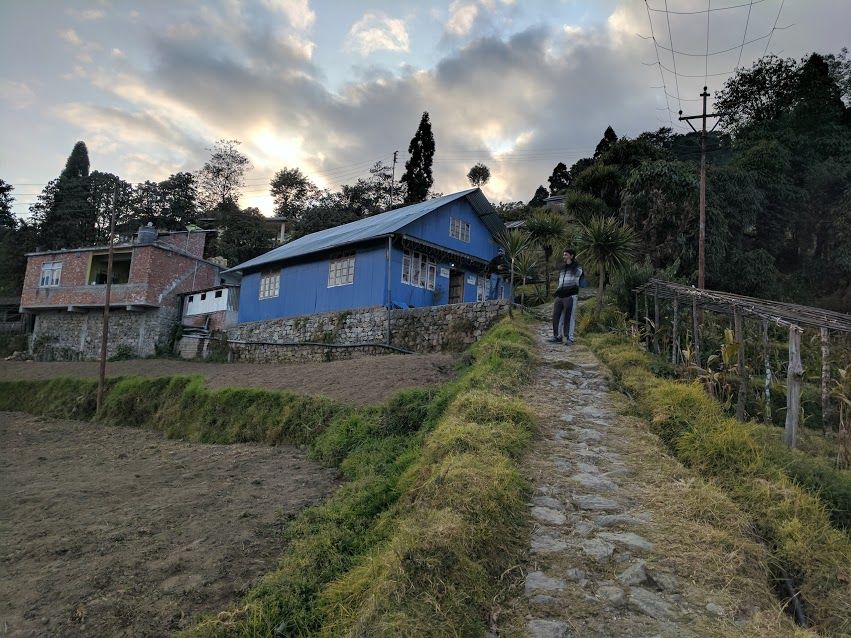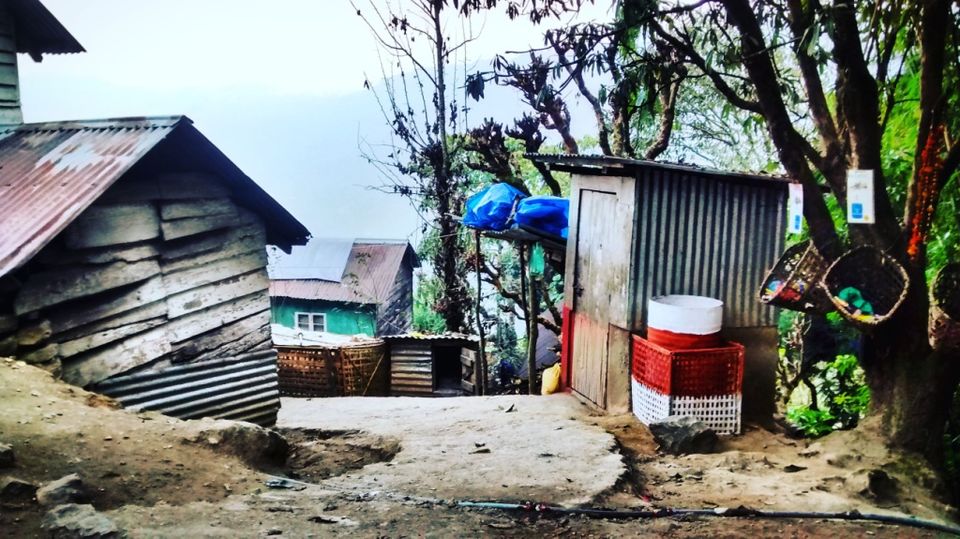 Day 5: Sandakphu - Sabargram
This morning, we again climbed up the cliff to have a look again at one of the world's most coveted panoramas.
Makalu, Lhotse, Everest, Nuptse, Baruntse, Chamling, Chomolonzo, Machapucchare and other peaks of the Annapurna range spread on towards the west.
Three sister peaks stand tall towards the north. The Sleeping Buddha lies before you with Kangchenjunga, the third highest peak, standing with its family at 8,586 mts. The entire cluster is famously called as The Sleeping Buddha due to its appearance. Mt. Kumbhakarna forms the head and face of Buddha, while Kanchenjunga forms the upper body. The other peaks that make up the rest of The Sleeping Buddha are Kokthang, Rathong, Frey, Kabru South, Kabru North, Simvo, Mt. Pandim, Tenzingkhang, Japanu, Narsing.
Towards the east, you see the highest ranges of Bhutan. Its highest peak, Chomolhari, rises above of all other peaks around it.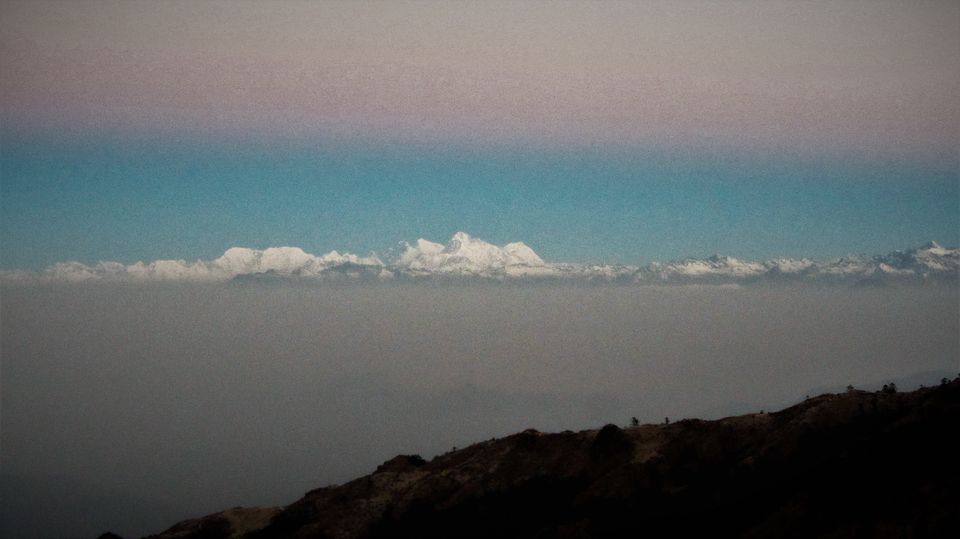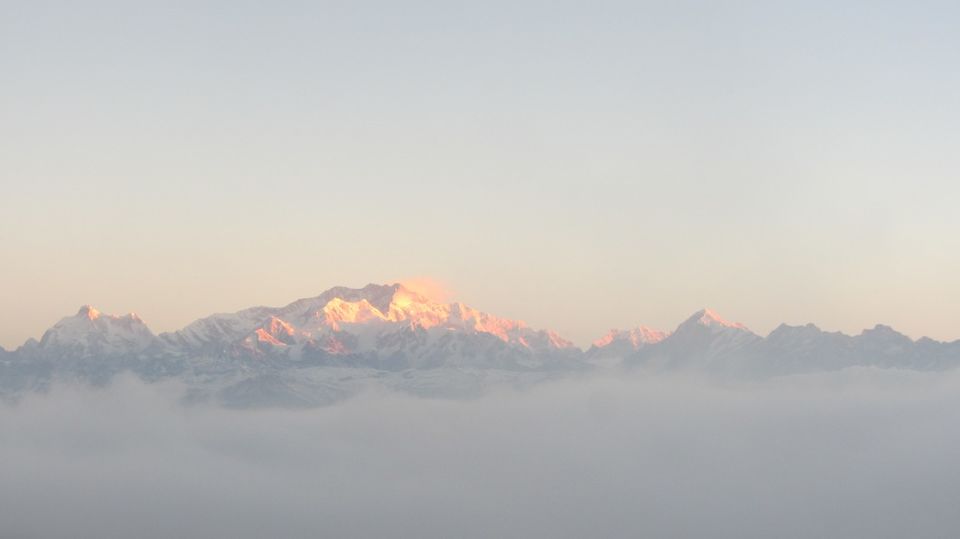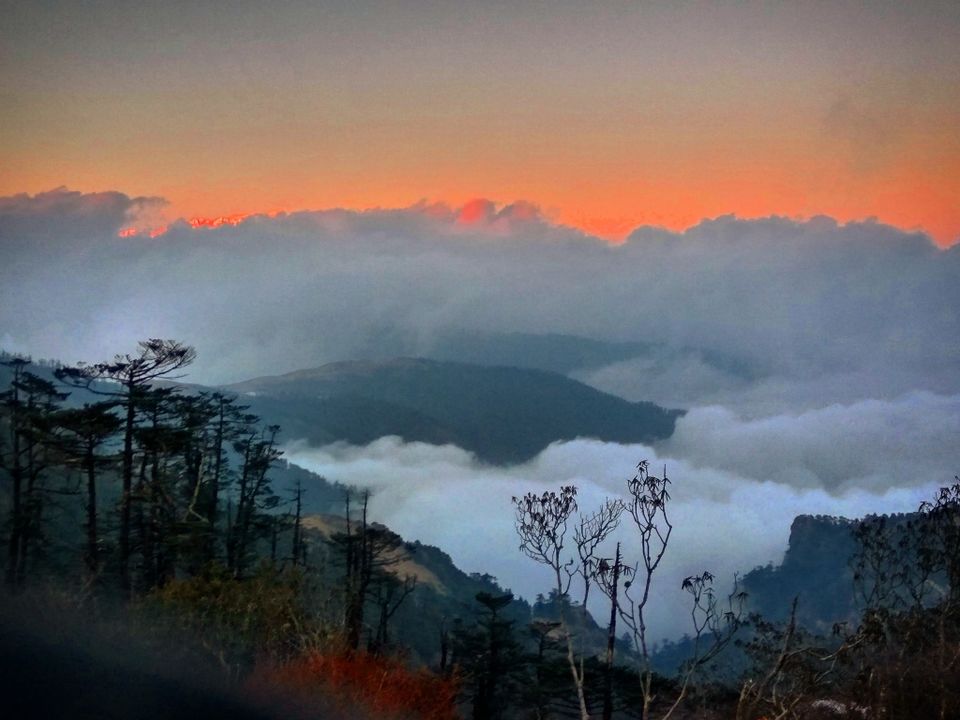 The mountain peaks were like a row of arrow tips and sky-piercing. The air felt ice cold as we gazed at the golden ball coming out gradually over the horizon.
And in the early morning, once again in the ice cold winds, we woke up to move on further to our next destination i.e. Sabargram. The night was freezing and morning was also chilling. The care taker had placed the breakfast on a bench outside in the open. As we relished the delicacies removing our gloves, our hands froze turning numb like wooden sticks. Never we had felt sunlight so valuable !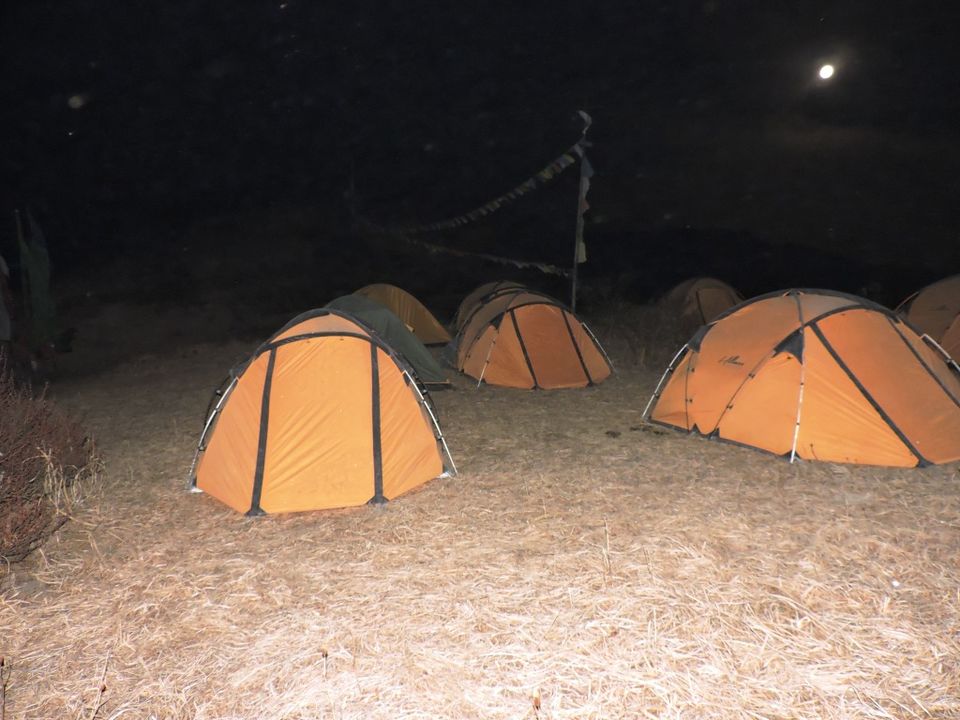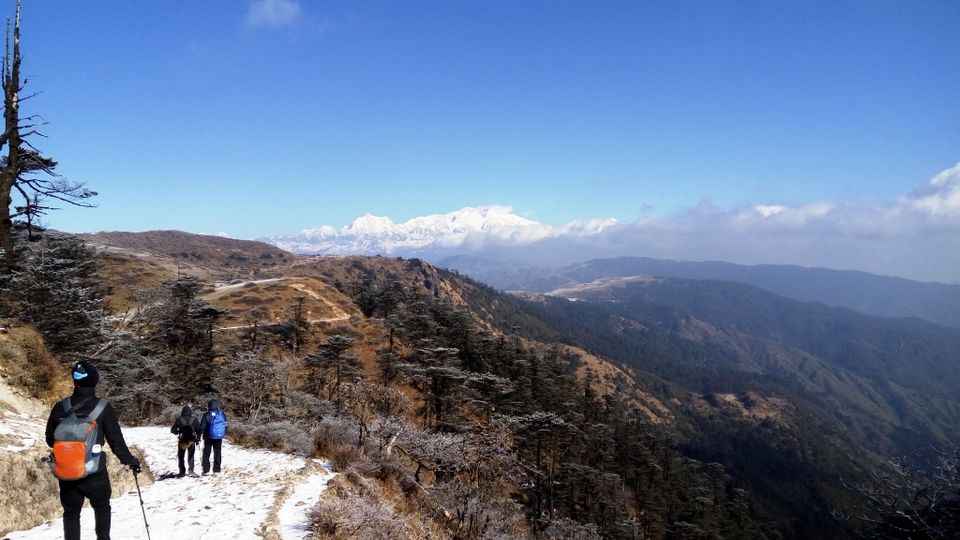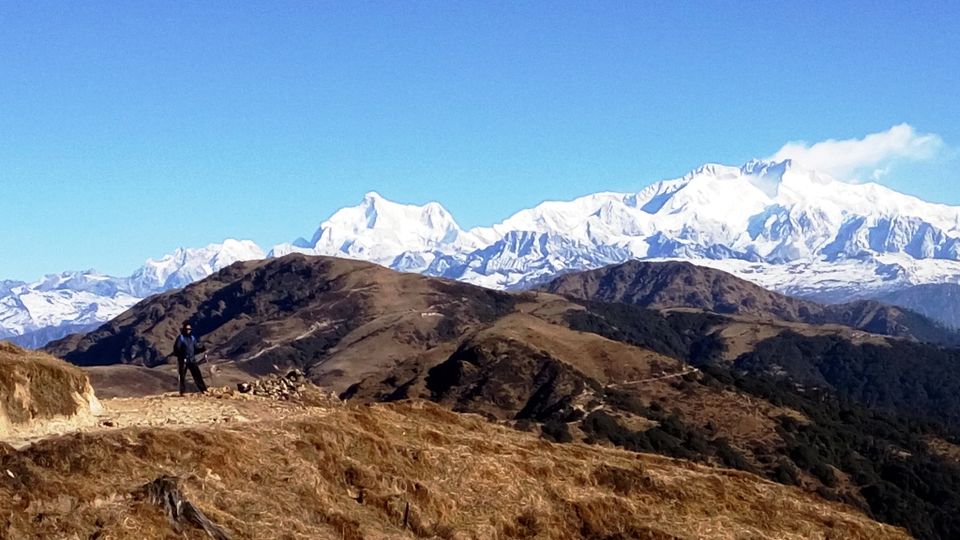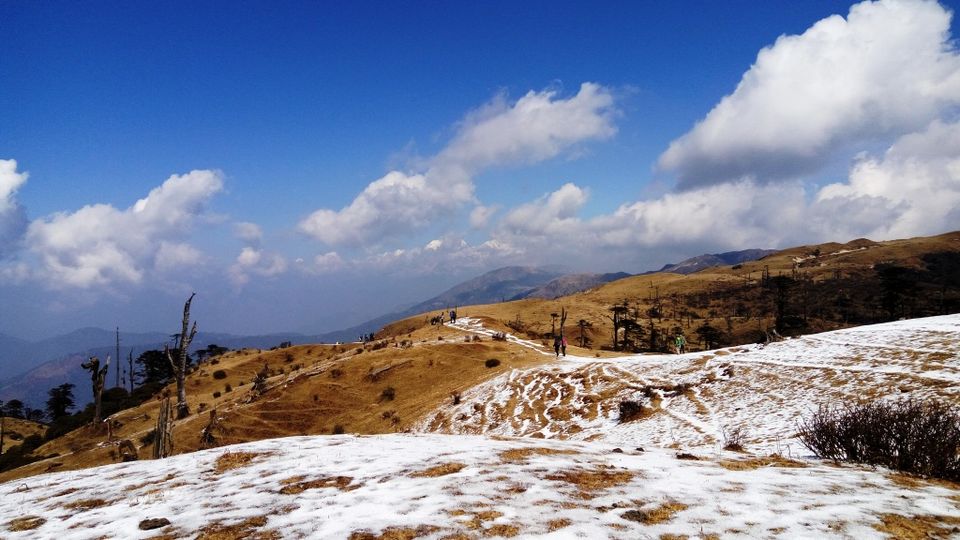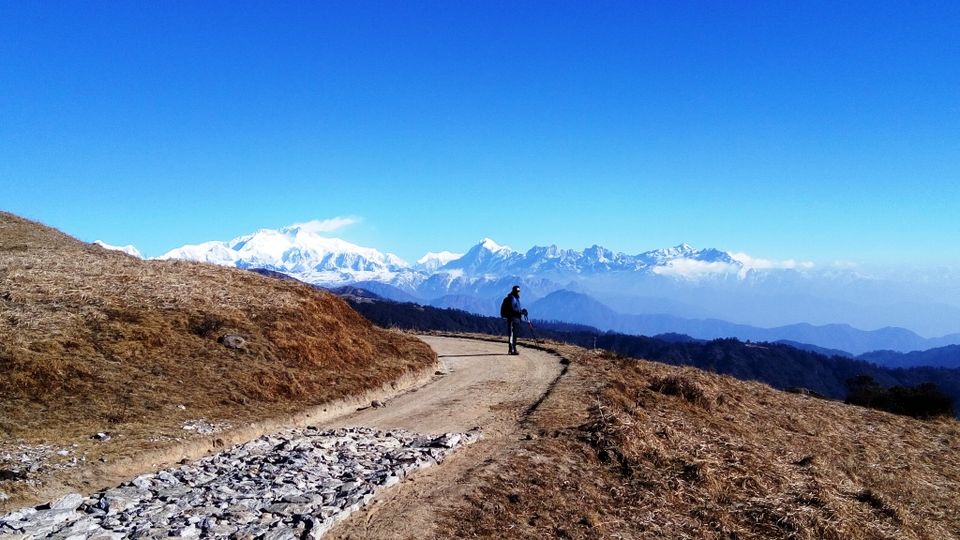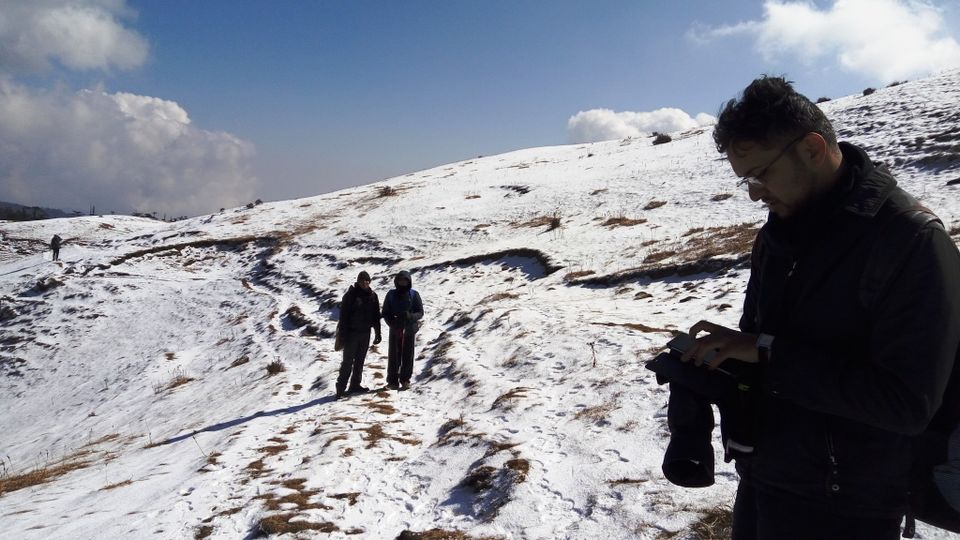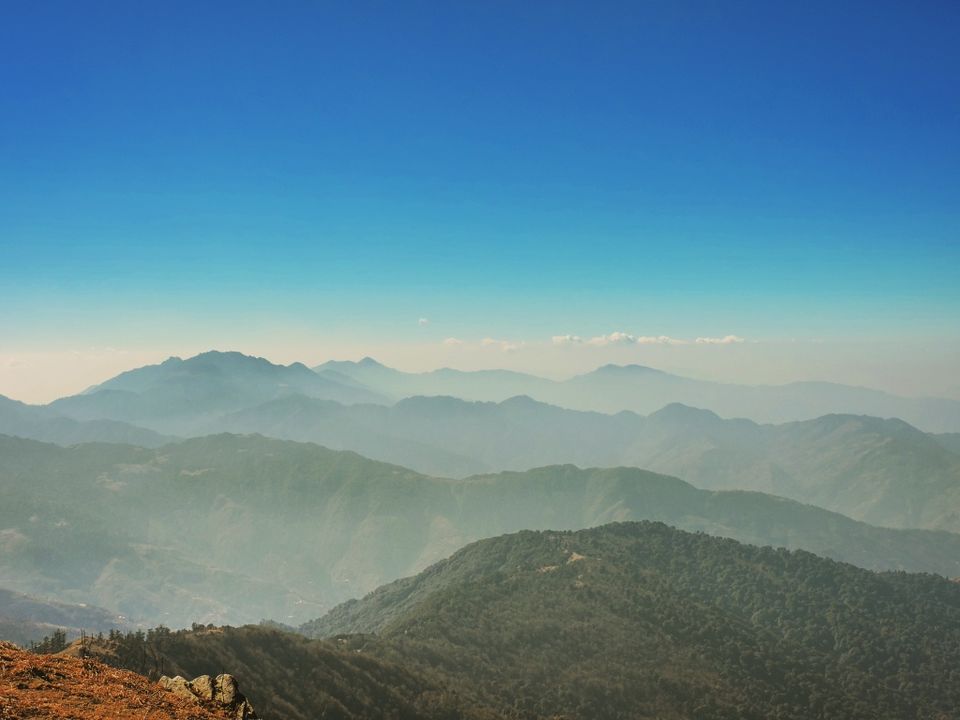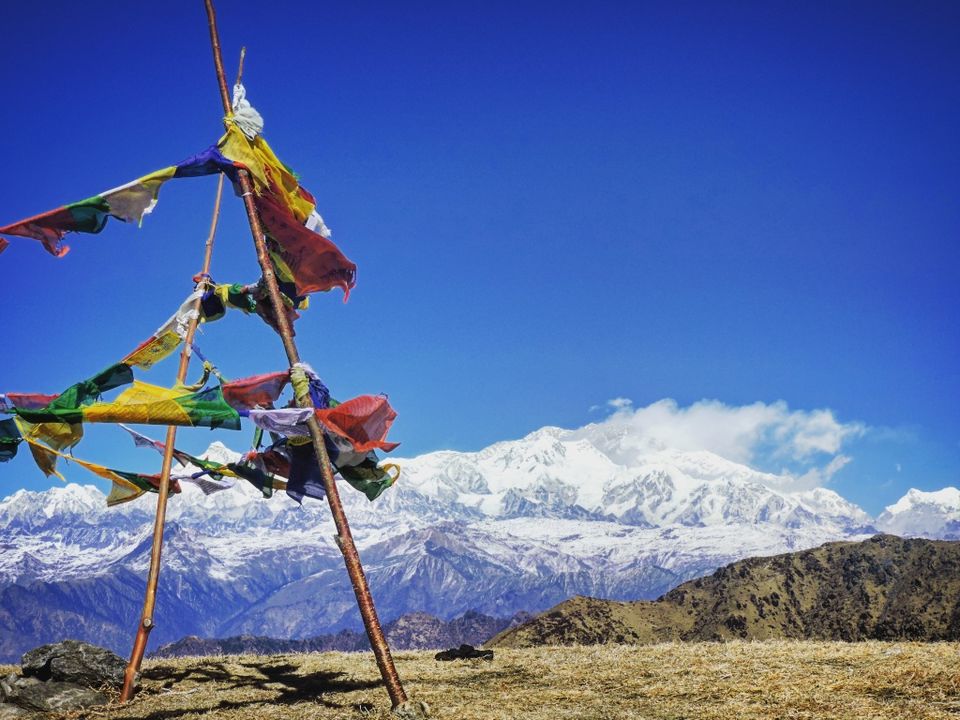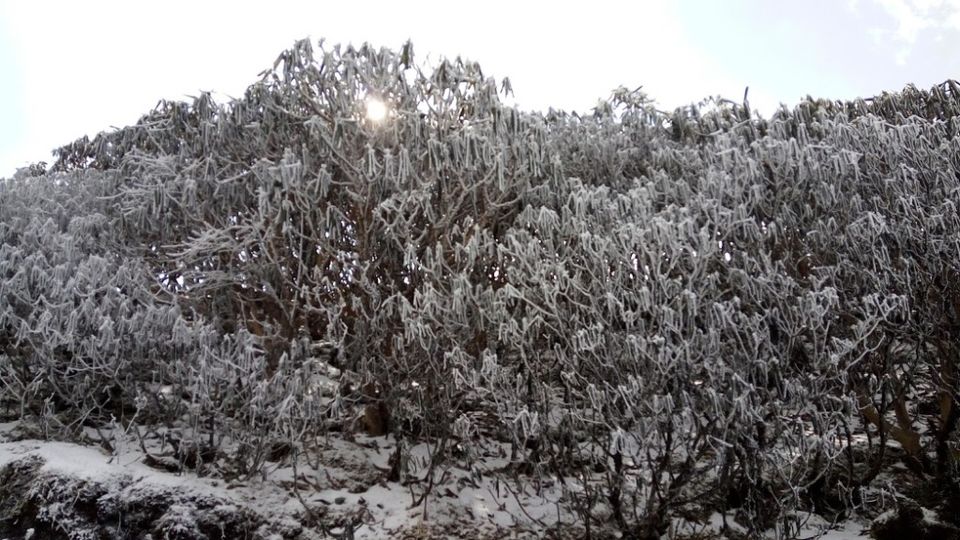 The climate was okay to pitch the tents. Not too windy.
Day 6: Sabargram - Phalut - Gorkhey
Today, all were hoping for a bright clear sky, for today we were to be closest to sleeping Buddha. (11 km aerial distance). And fortunately, we woke up to a clear sky. Else, the journey to Phalut top would have been called off by the trek leader as it would not serve the purpose of the majestic view. The first things you do while being amid the mountains is to watch golden rays kiss the snow clad peaks. soon, we had tea & breakfast and started 3 hour journey to Phalut top.
Gosh ! What a majestic view !! So calm, so peaceful, so serene that you could feel your beats. We all sat there for few minutes just looking at mountains, feeling the peace within. To our front was Kanchejunga & family (sleeping buddha), to our left was the Everest, Makalu, Lohtse & family. To our right were the Tibetan ranges - all the Greater Himalayas.
Mountains can never be conquered !! They just allow us to climb them. We started our descend to Gorkhey as we held our hands in a circle, paid respect and thanked the mountains for allowing us to climb. A very high moment indeed...
After this, its only descend to Gorkhey for about 15 km thru dense forest of bamboo & pine trees. After 5 cool days, we came across a town that actually seemed to be a town !! Gorkhey is beautifully situated at the confluence of two rivers bordering Sikkim and West Bengal.
Day 7: Gorkhey - Samandeen - Ramam - Sepi
Bidding good bye to this folktale village, we started our half day journey to Sepi from where we would be picked up by car back to base camp, Jaubari. After gradual uphill ascend, we passed by sleepy yet another sleepy town-Samandeen. Soon we entered pine forest.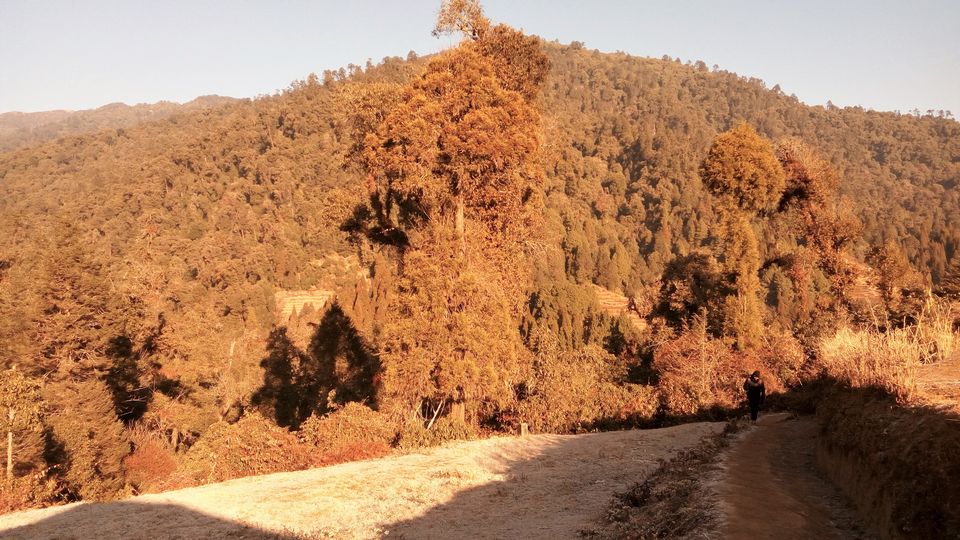 The peace of the morning was soul soothing. Soon we entered dense forest. The forest's smell was fresh and organic. The pine trees were towering high. We picked some pine cones and wild oak nuts. The further we went, the more mystical and spellbinding it became. We had seen the contrasting side of Singalila National park. Earlier, on the 2nd day, it was yellow meadows and wide open forest area. Here, it was so lush green, quiet and very dense with leaf carpeted trails.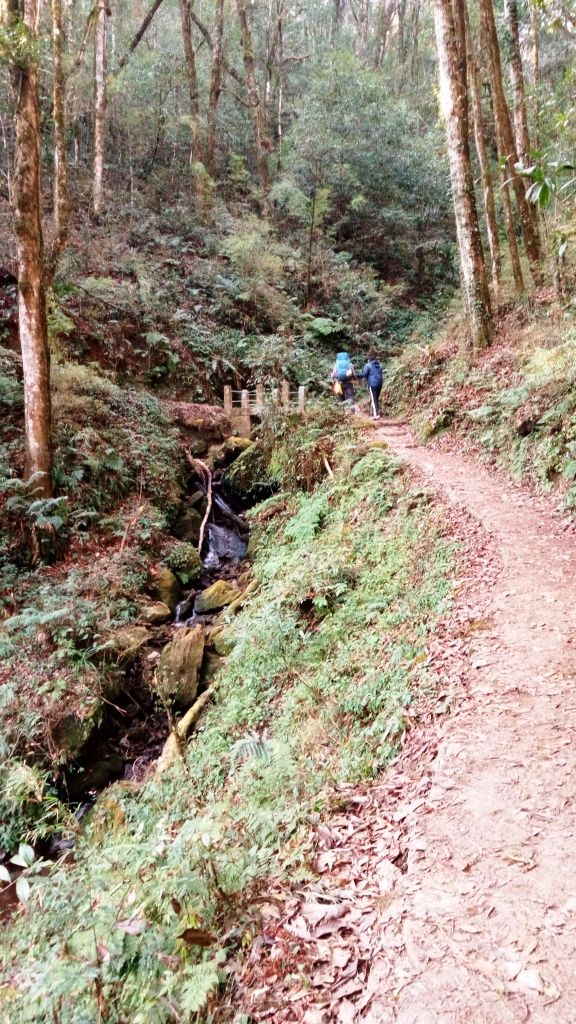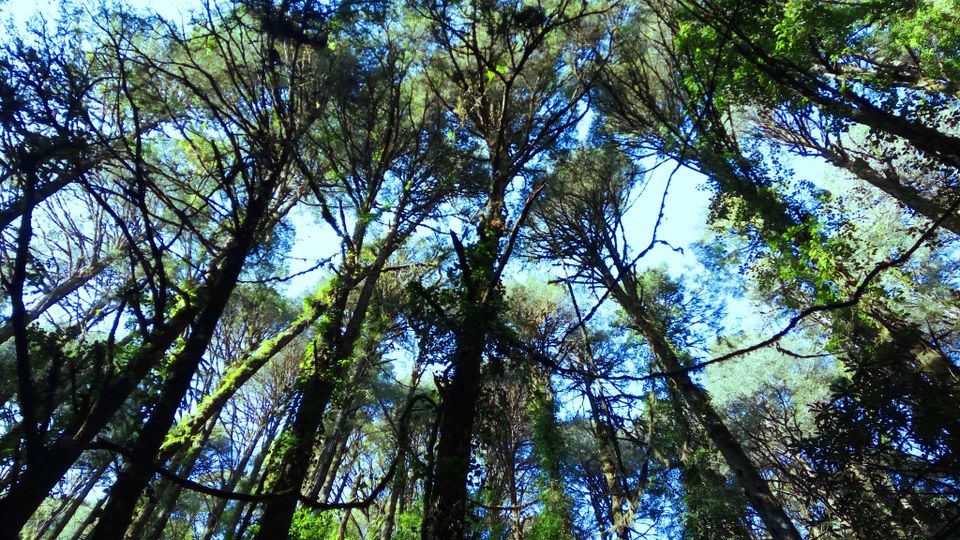 After about 3 hours, we reached Ramam and had tea break. Further descend took us to Sepi.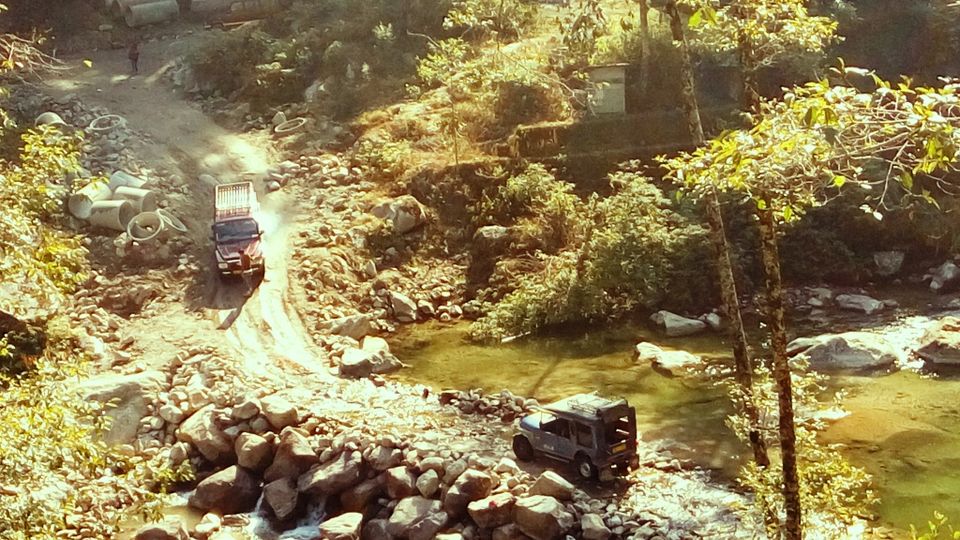 Crossing a suspension bridge, we reached sepi soon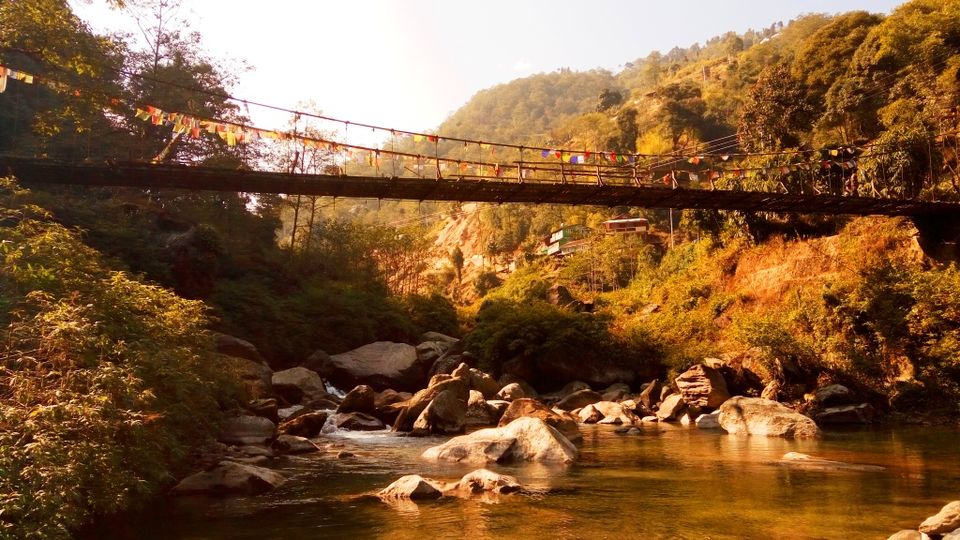 and with mixed feelings the Sandakphu & Phalut trek came to an end.... The trek gave me beautiful glimpses of Bharat & Nepal. The majestic mountains, the open yellow meadows, the dense lush green forests, and the snow and the ice cold winds.....all moments now turned into memories to be cherished...
Frequent Searches Leading To This Page:-
sandakphu trek west bengal, sandakphu and phalut trek, sandakphu and phalut tour, trekking places in west bengal, trekking trip in west bengal