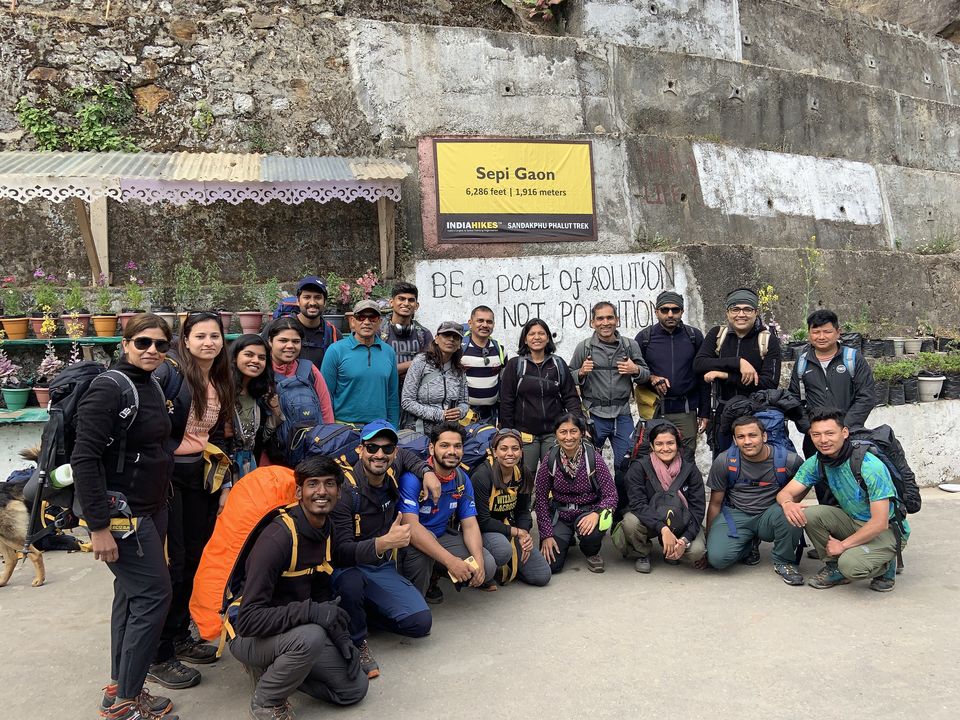 Our day started at around 6 where our TL checked the pulse oxymeter, and if it were below the prescribed level at anytime during the trek, we took half of diamox tablet. After which we had our breakfast;then at around 8am we did our stretching and started moving from Sepi to Samanden which is our next campsite, 10kms away and took us nearly 6 hrs.
Along the trail we picked up trash and put it in our Eco bag, and after reaching the campsite we'd dump it as advised- a good initiative by IH to leave mountains better than we found it.
Now after walking few kms we entered the jungle route which is so eye pleasing- you get so close to the nature and its beauty **hands down** the photos can't do justice.
Samanden(Heaven on Earth) is a place where you'd love to retire.Beautiful colourful houses with pretty flowers placed in front of it.
Different kinds of flowers(cherry blossom and apricot blossom) and variety of birds chirping everywhere.
Also played some football with the local boys at this altitude and after reaching our first tea house we gave each other a group massage, did some stretching and we realised that all of us were little bit tired.
PS- we had the option to offload our bags but
most of us were carrying it as it adds more meaning to the trek.
Later in the day our TL explained us about AMS(altitude mountain sickness) , HAPE(high-altitude pulmonary edema) and HACE (High altitude cerebral edema) with some real life examples, which got us worried ki aage apna kya hoga(what will happen to us) and are we going to be the next examples for the upcoming group?
All with worried minds, we just went to sleep post dinner.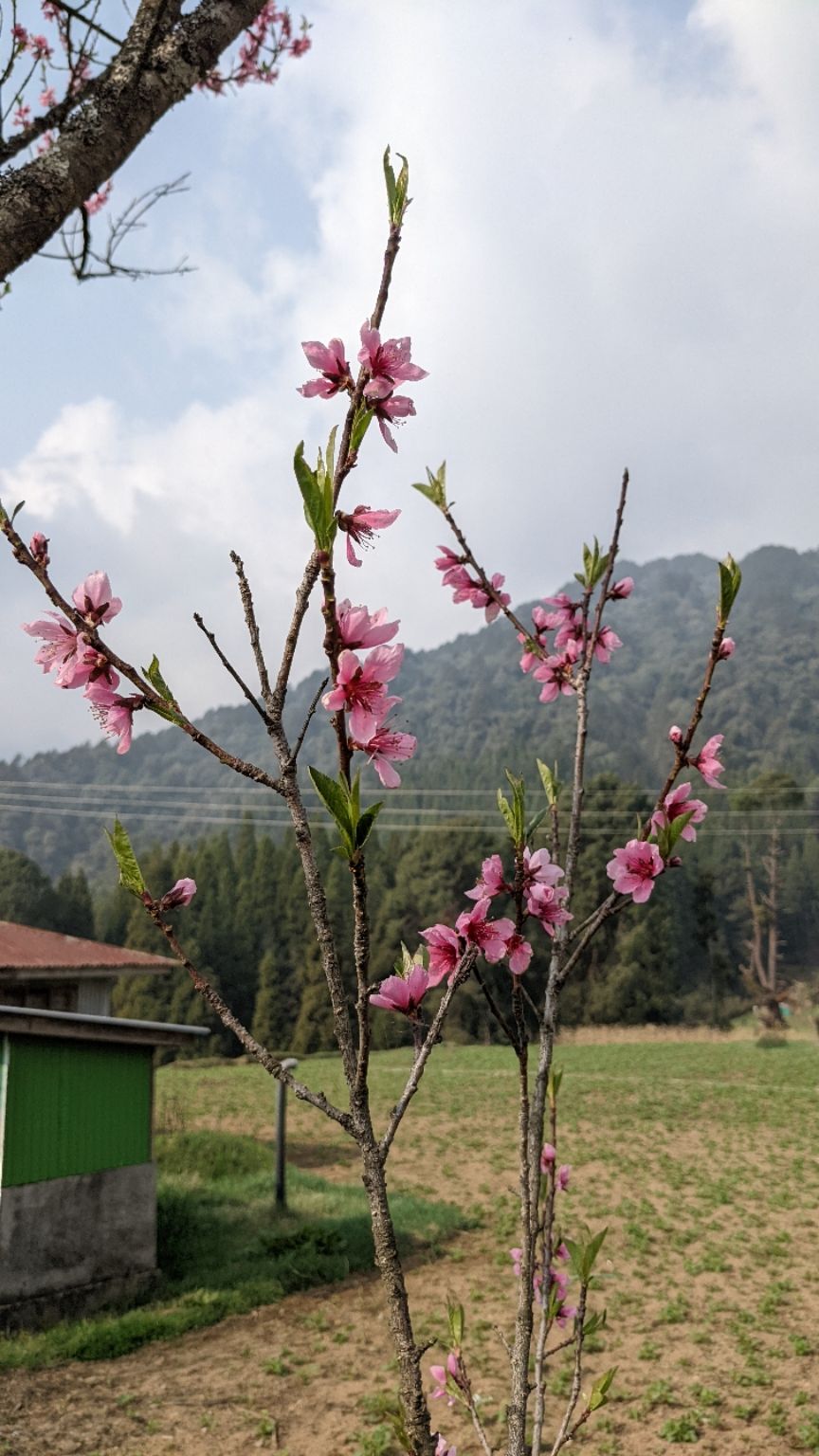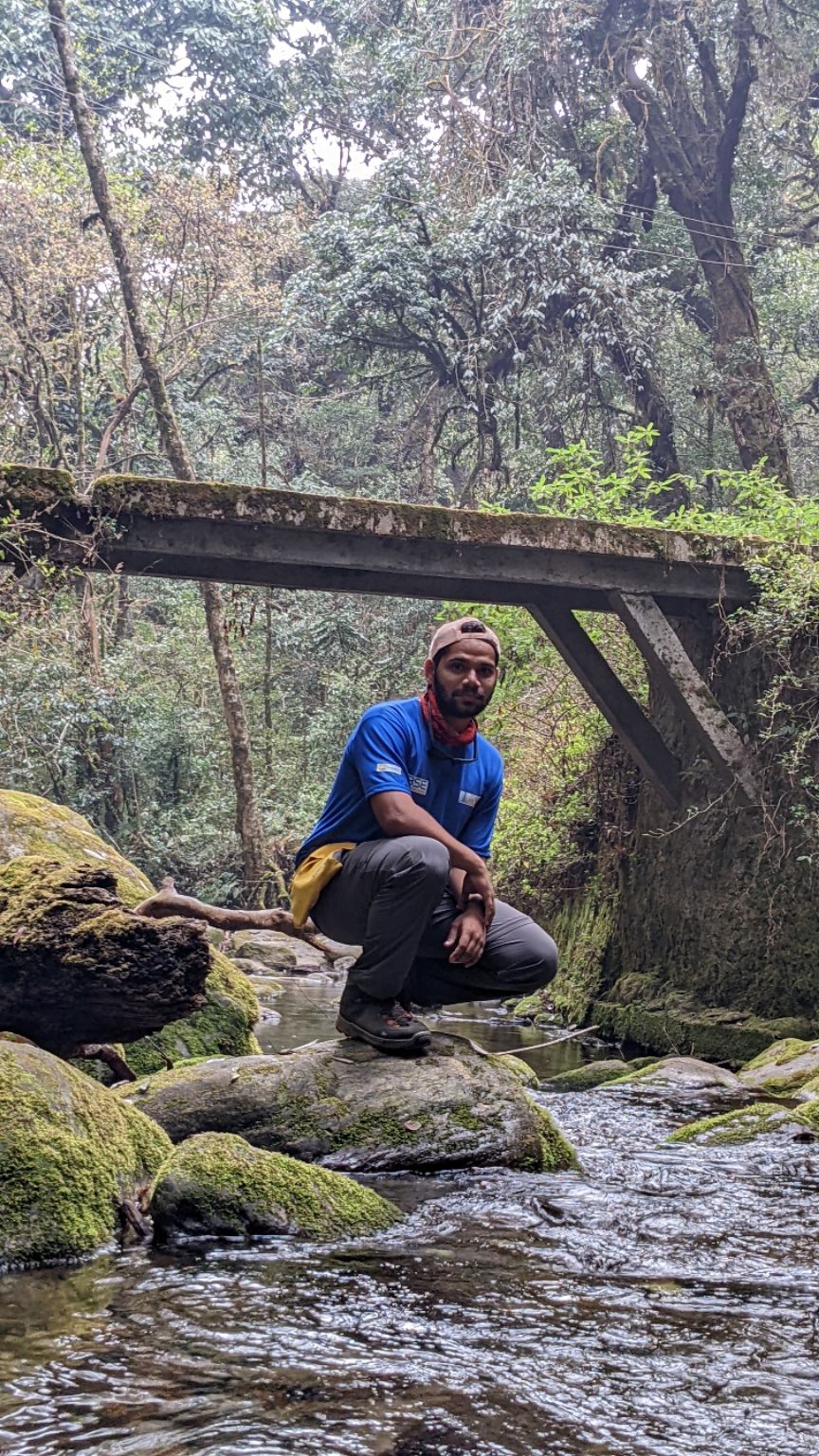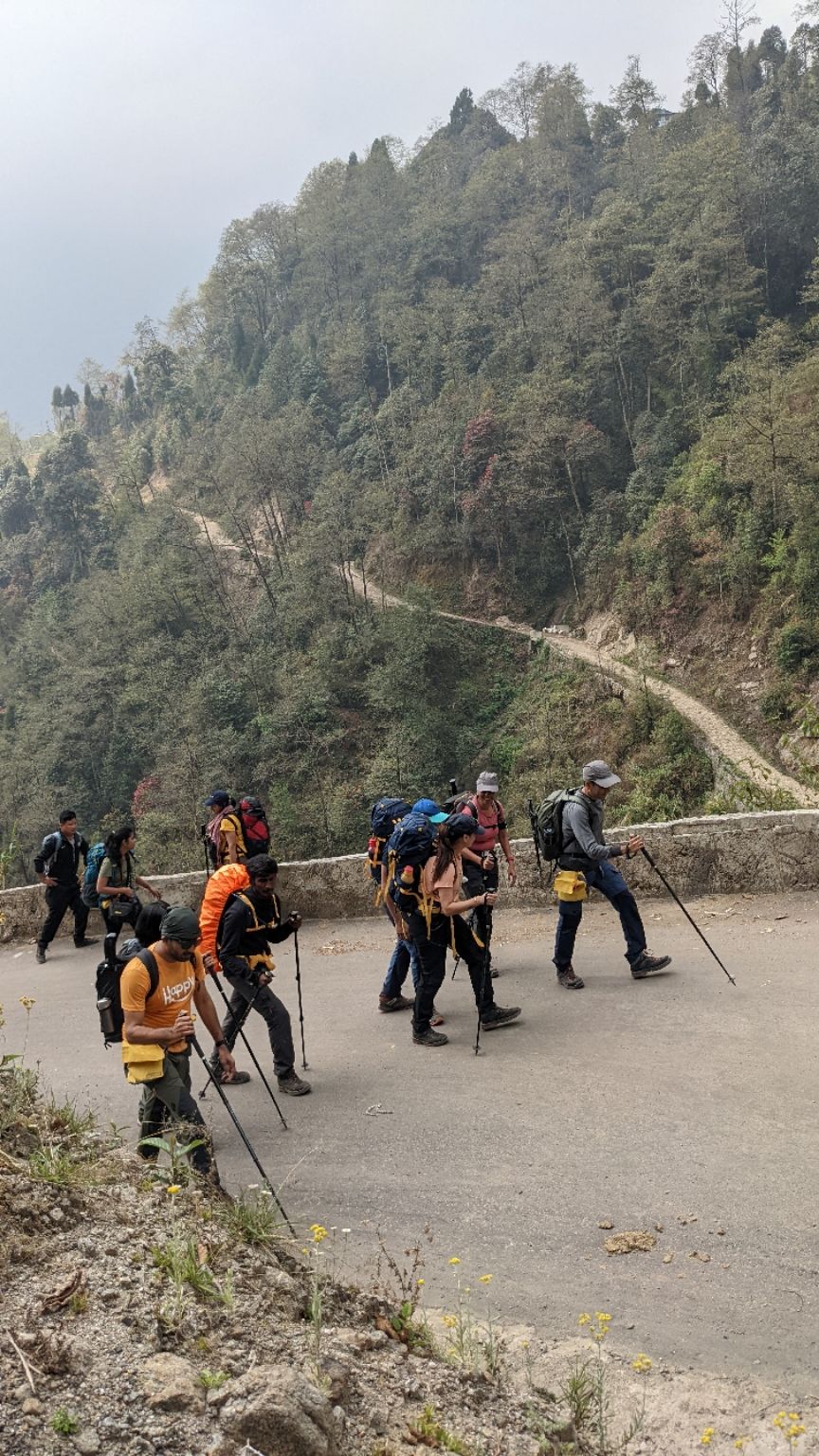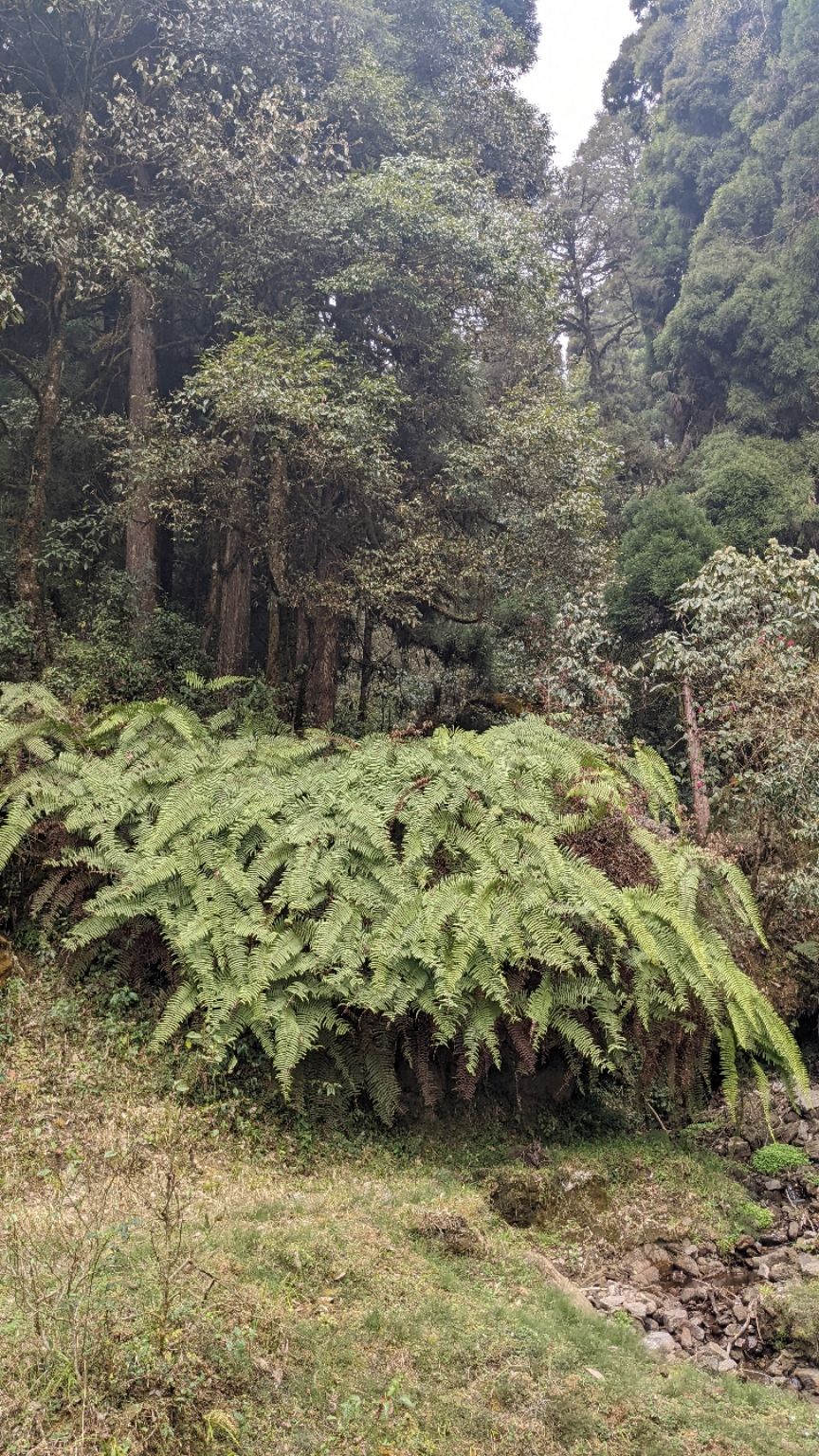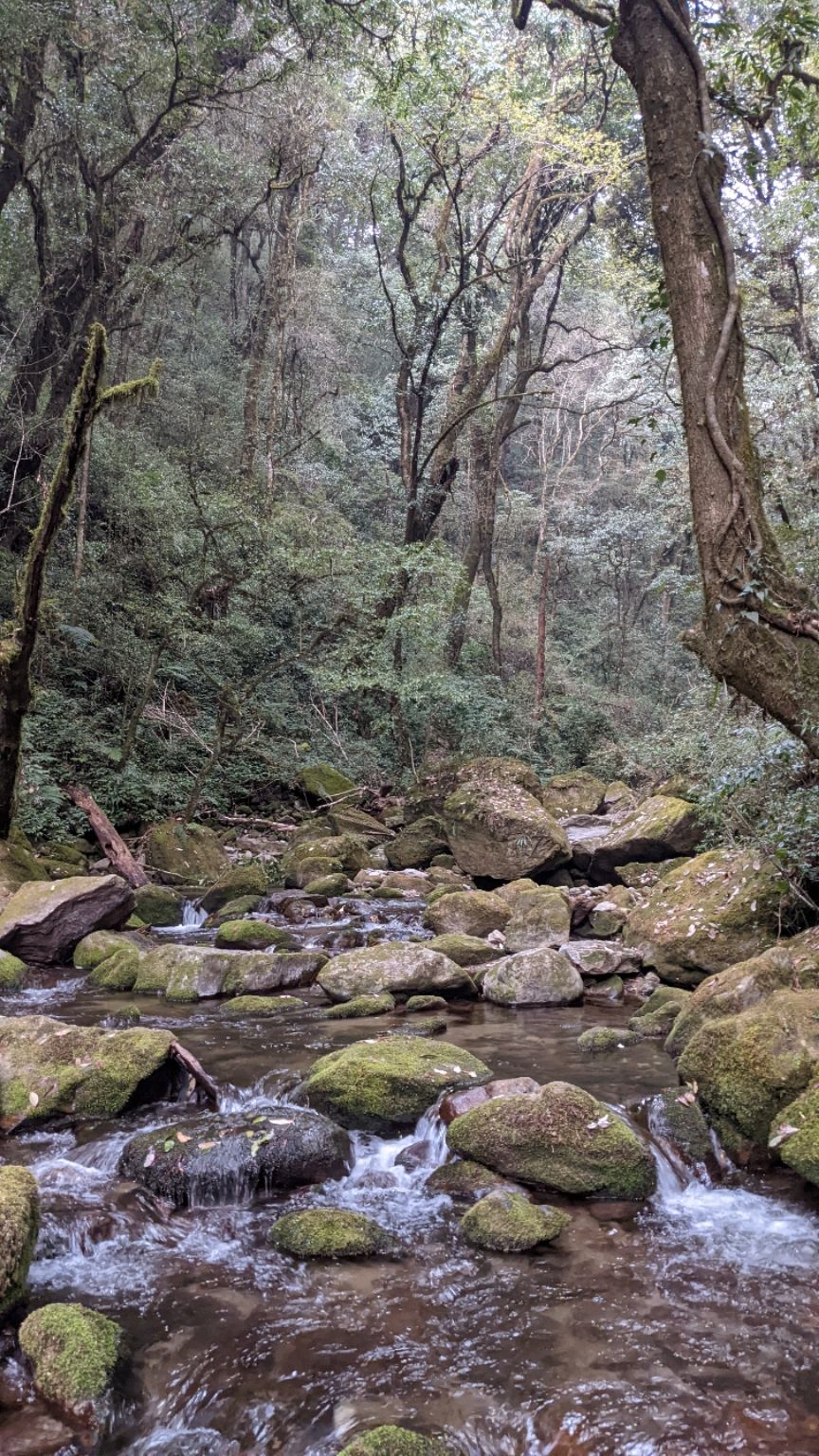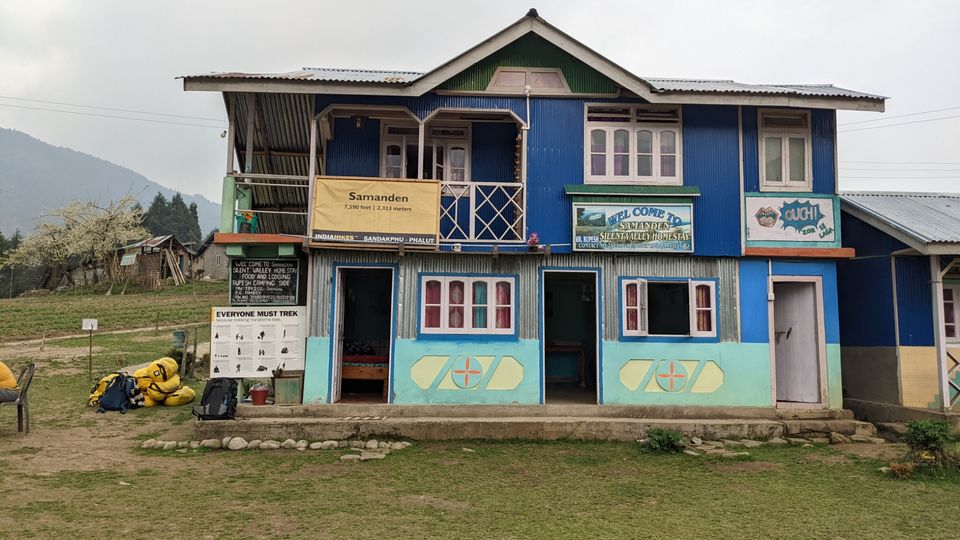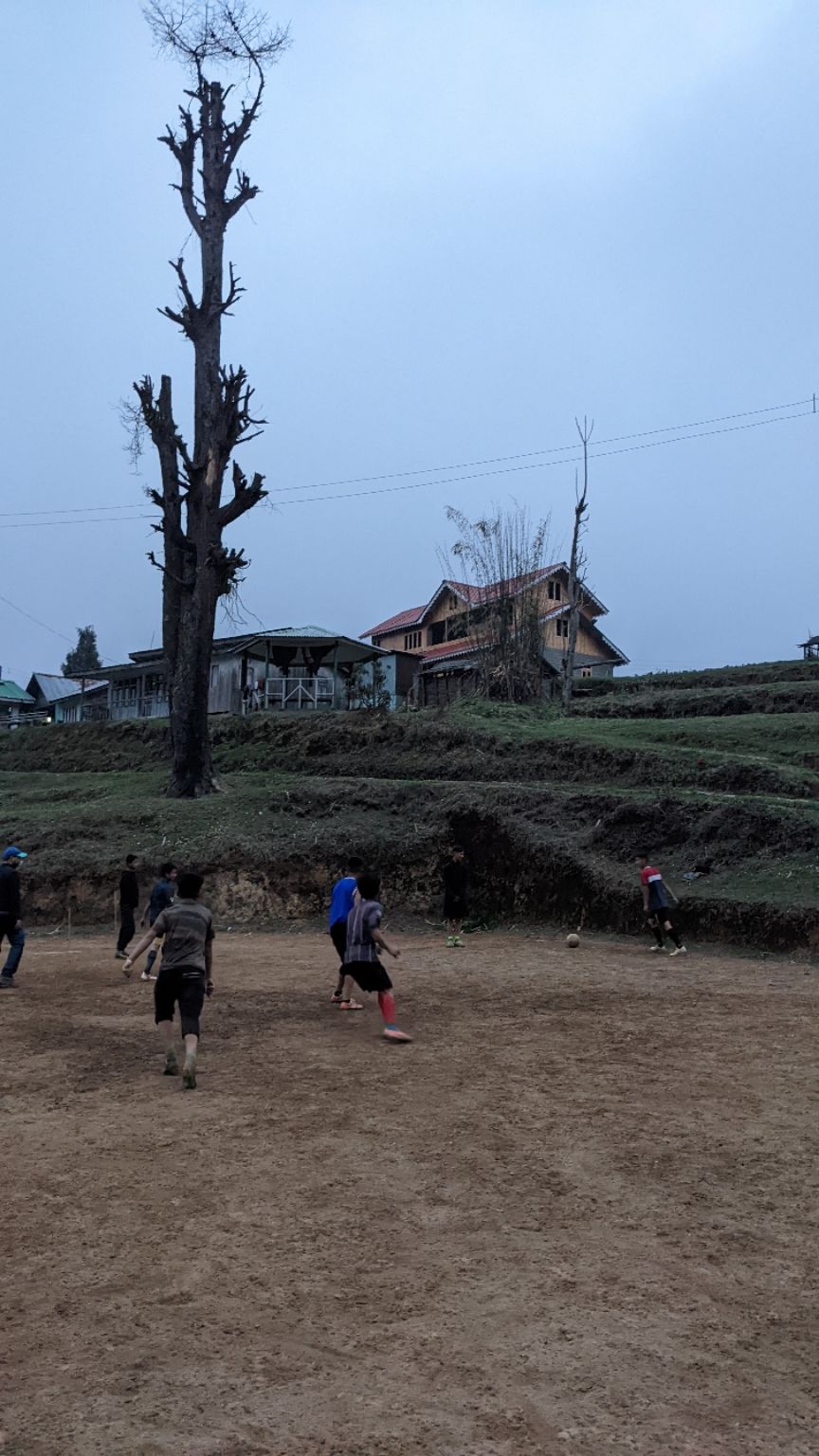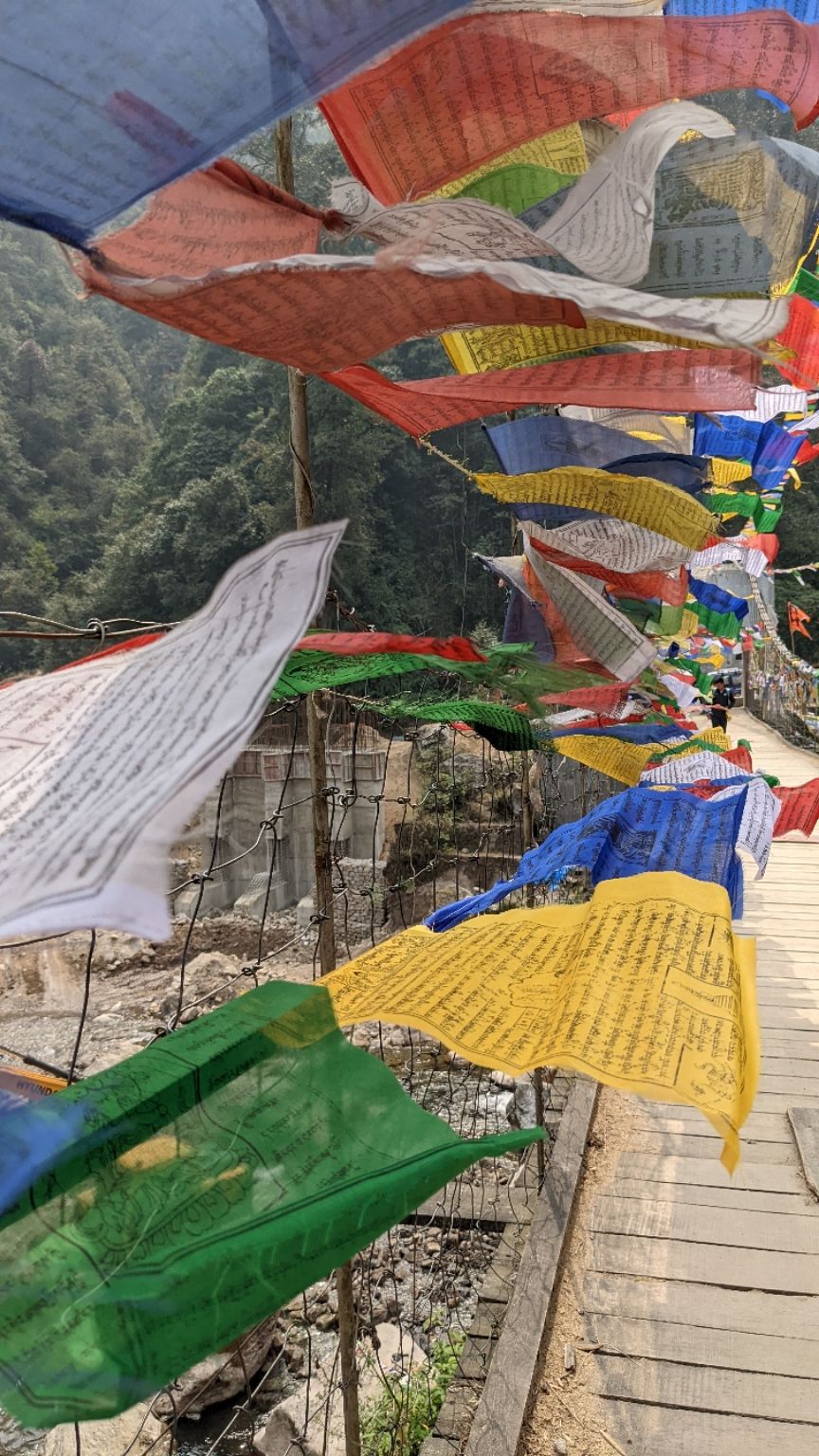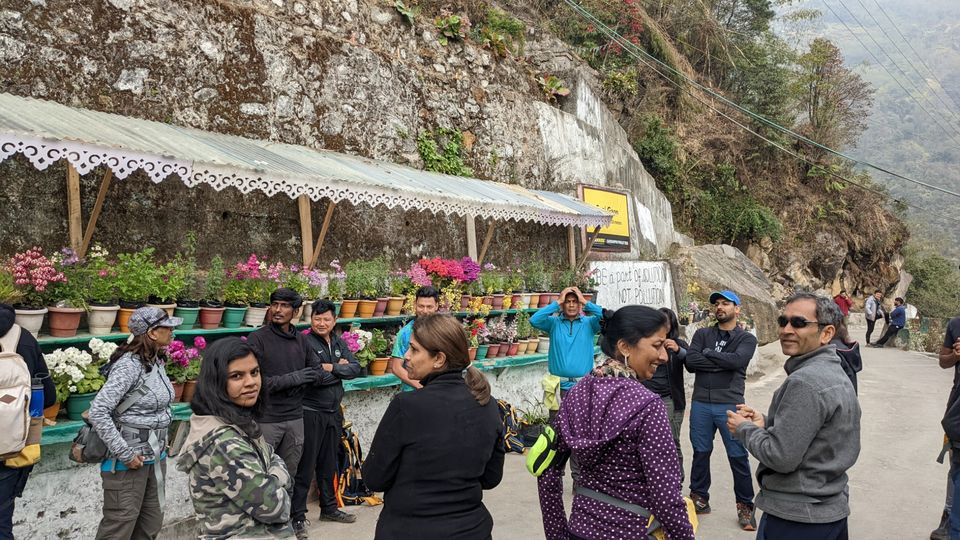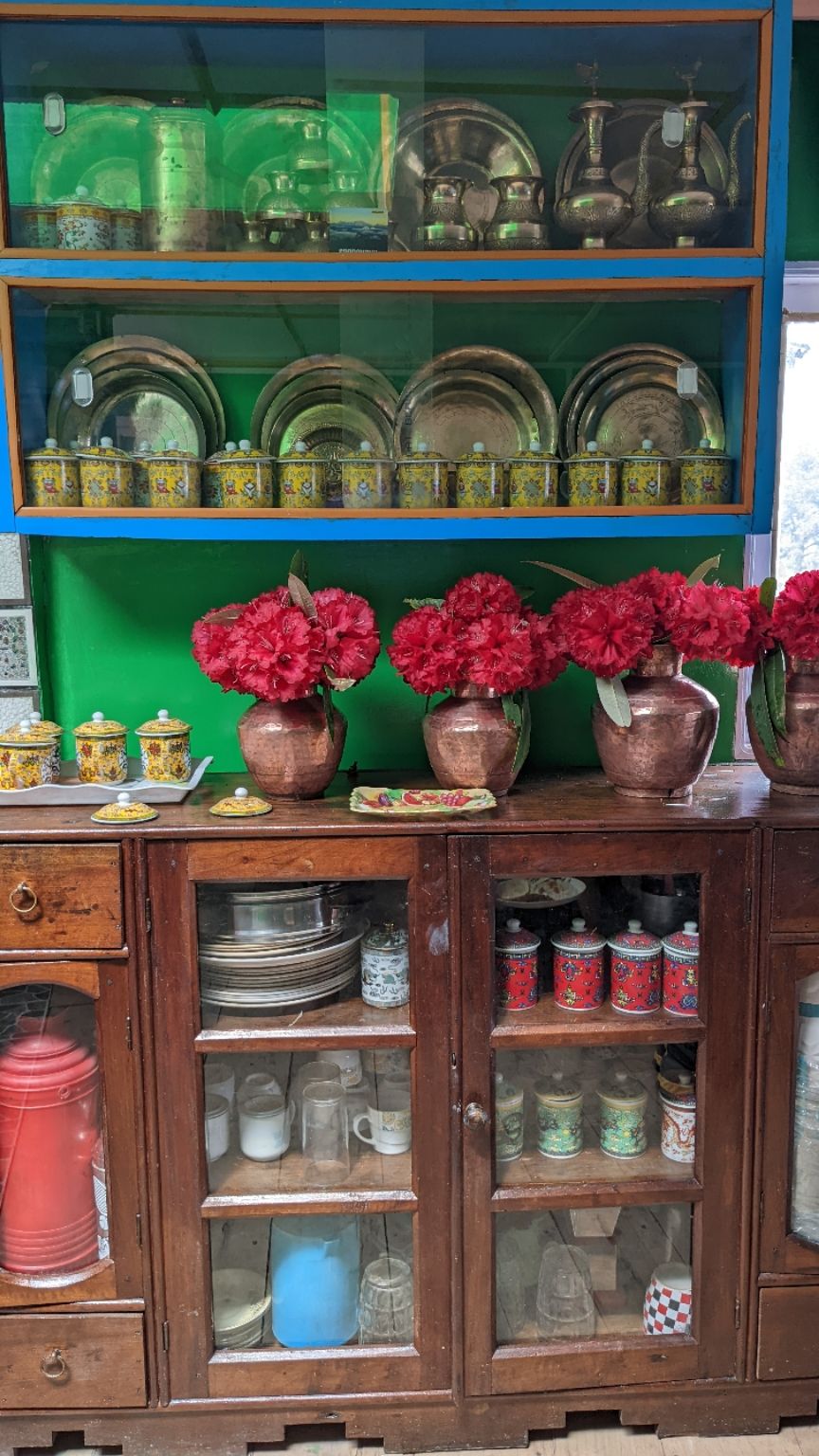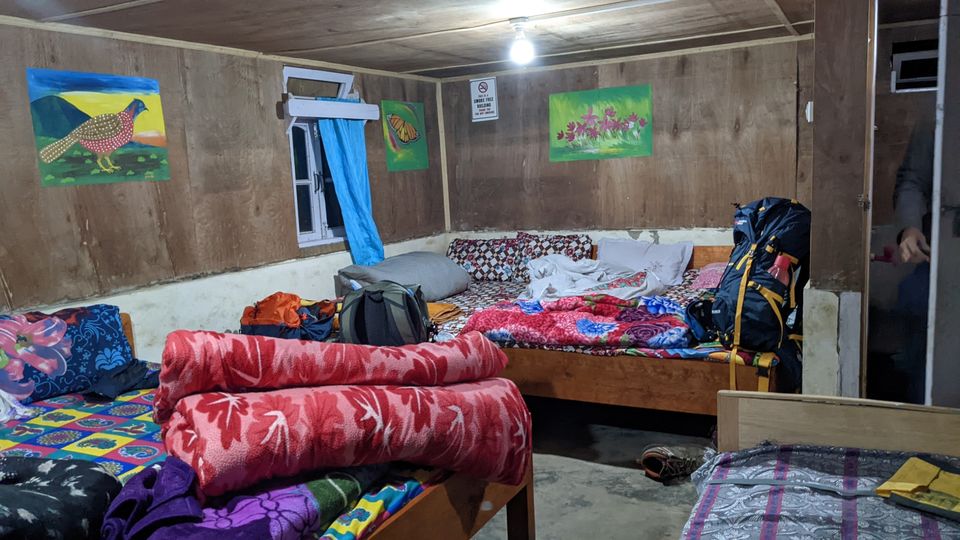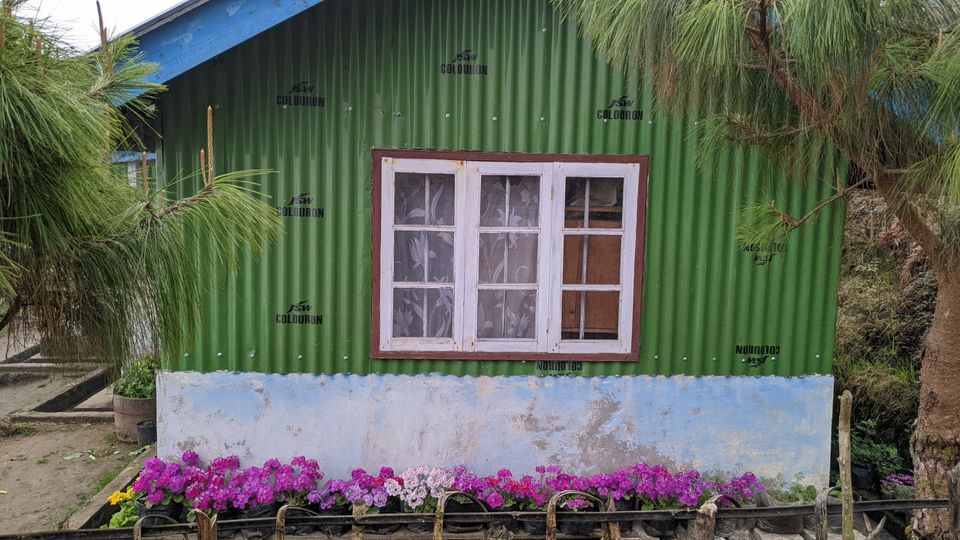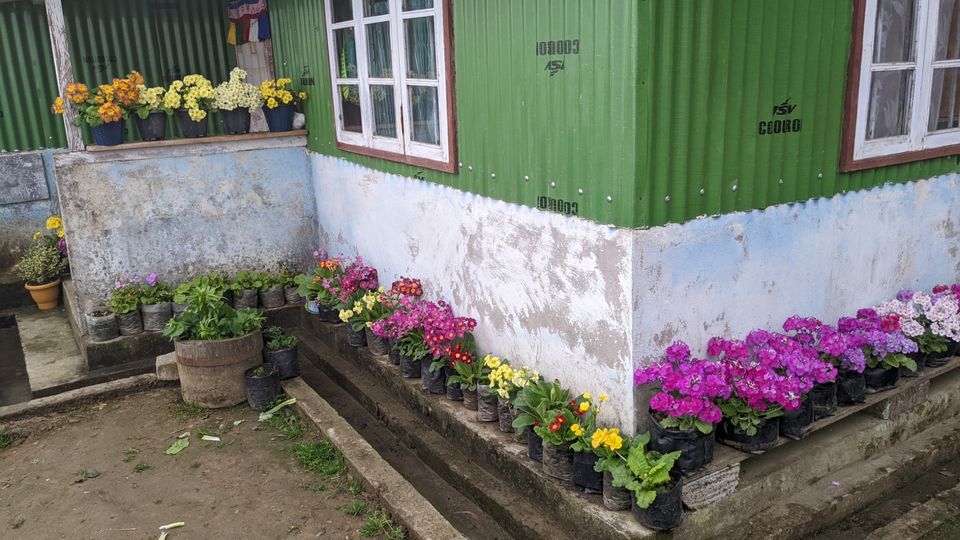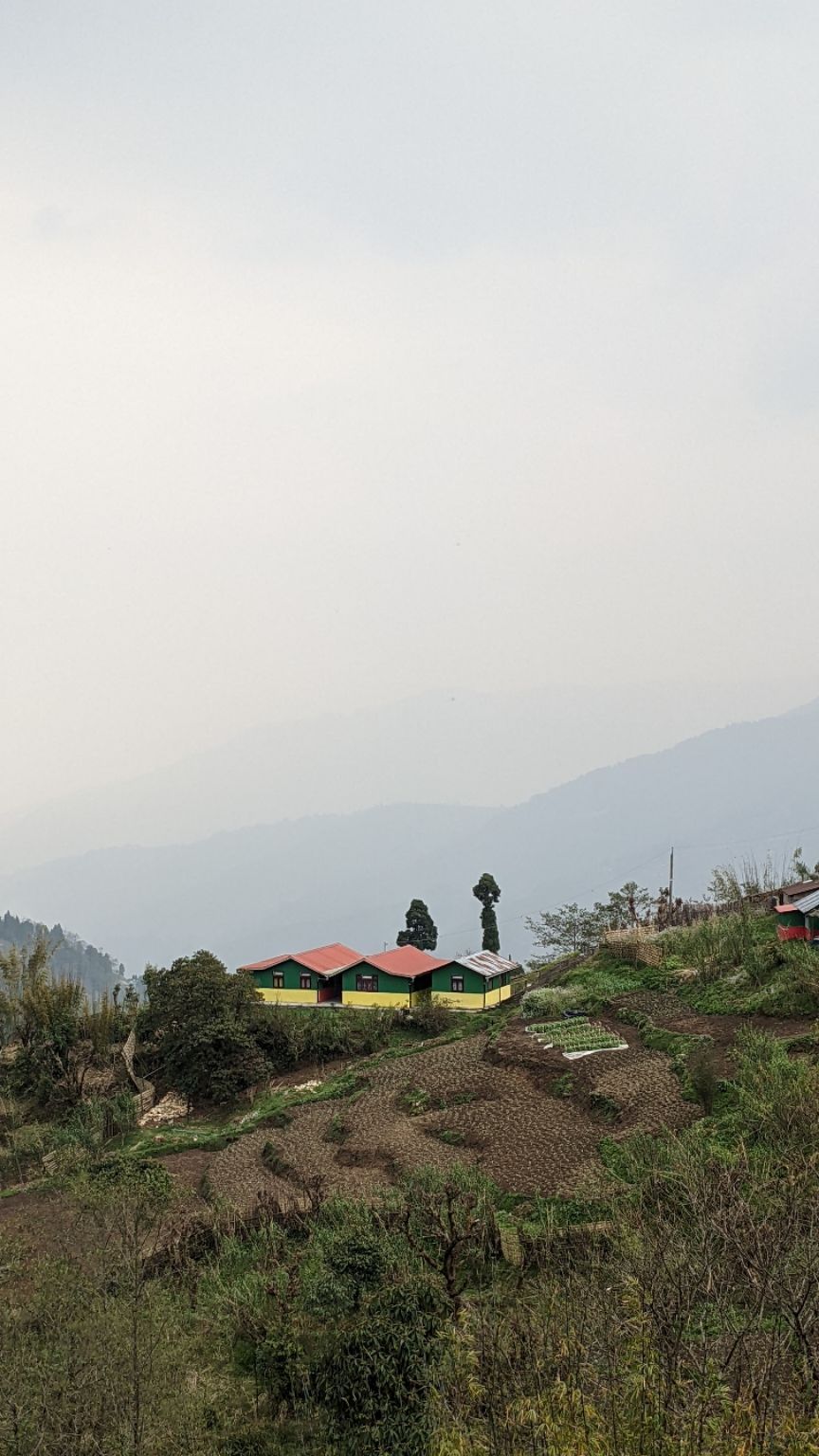 Hello Everyone,
In this photo blog, I'll be sharing my first trek to Sandakphu Phalut with India Hikes.
This trek lies at the Indo-Nepal Border which is in and around Singalila National Park from where you get to see four of the tallest mountains in the world.
My journey starts from Mumbai(BOM) to West Bengal at Bagdogra Airport(IXB).
On a bright sunlit day, seated on the left side of aircraft, flying towards Bagdogra can become a memorable experience. Half hour to 40 minutes to touch down, the Himalayan panorama unfolds, prominent peaks being Everest, Kanchenjungha and other assorted Himalaya peaks.
After touching down and walking few metres away from the airport, I decided to take a shared rickshaw to Siliguri and stayed in a lodging for the night. Tried Bengali thali along with jaggery rosgulla(nolen gur rosgulla) and mishti doi.
Day 1- Next Morning our pickup had been arranged by India Hikes to the basecamp(Sepi) which is ₹6500 and it was shared among us fellow trekkers. It was a beautiful drive where you get to see beautiful tea gardens, old darjeeling houses but to top it all I got to meet these two - one in his mid seventies and the other in her late sixties, who have travelled the world and have done few Himalayan treks before and now wanted to resume after the covid break.
Talking to them felt so good and inspiring;
Hoping to have the same energy and curiosity.
And now after 6 hours of drive with few halts in between and change of cab from Manebhajang due to landslide that happened a year earlier, we finally reached Sepi where we were given evening snacks followed by briefing from our Trek leader Sanket and post which we had our dinner and good sleep as we were starting our trek tomorrow.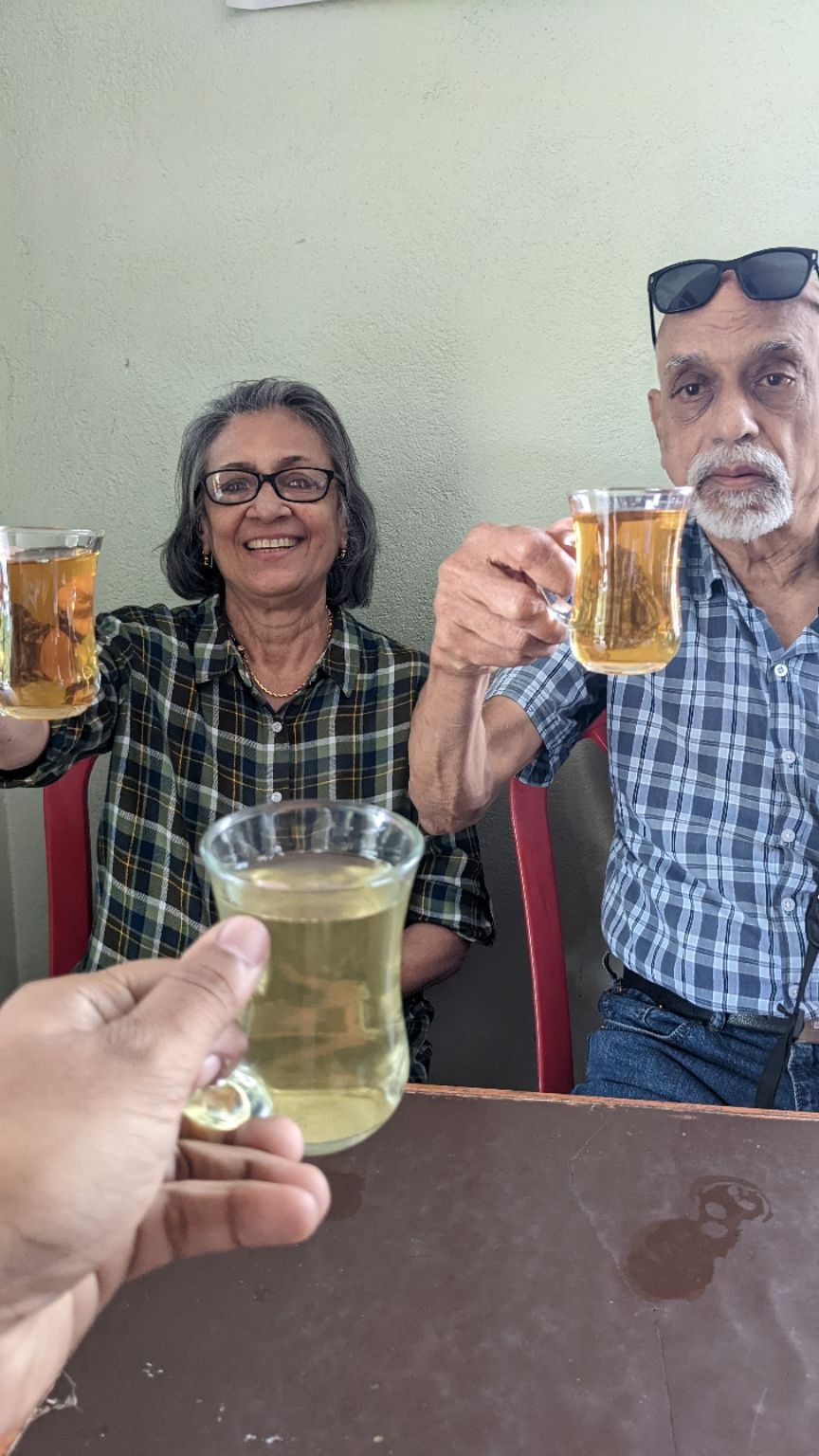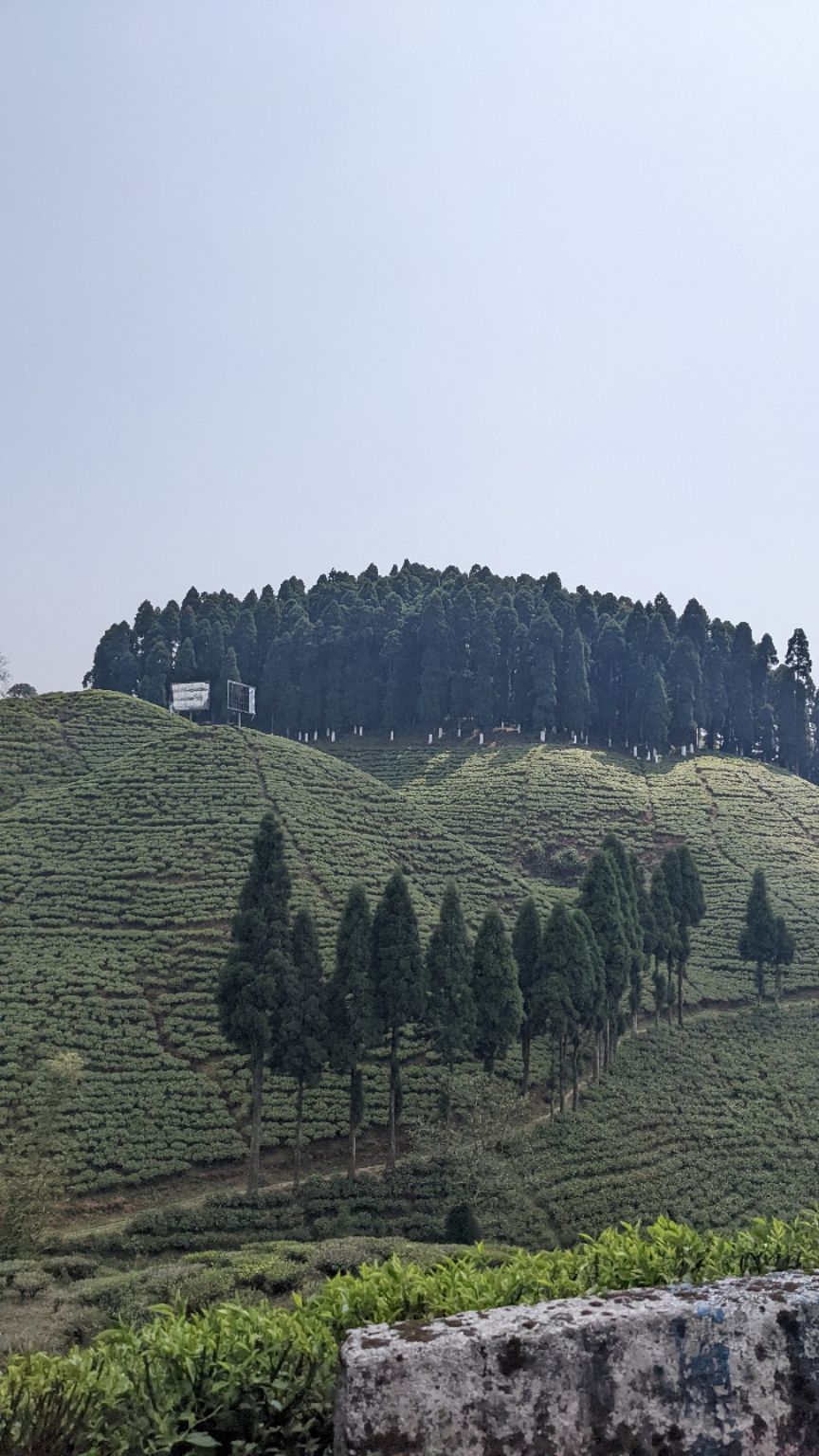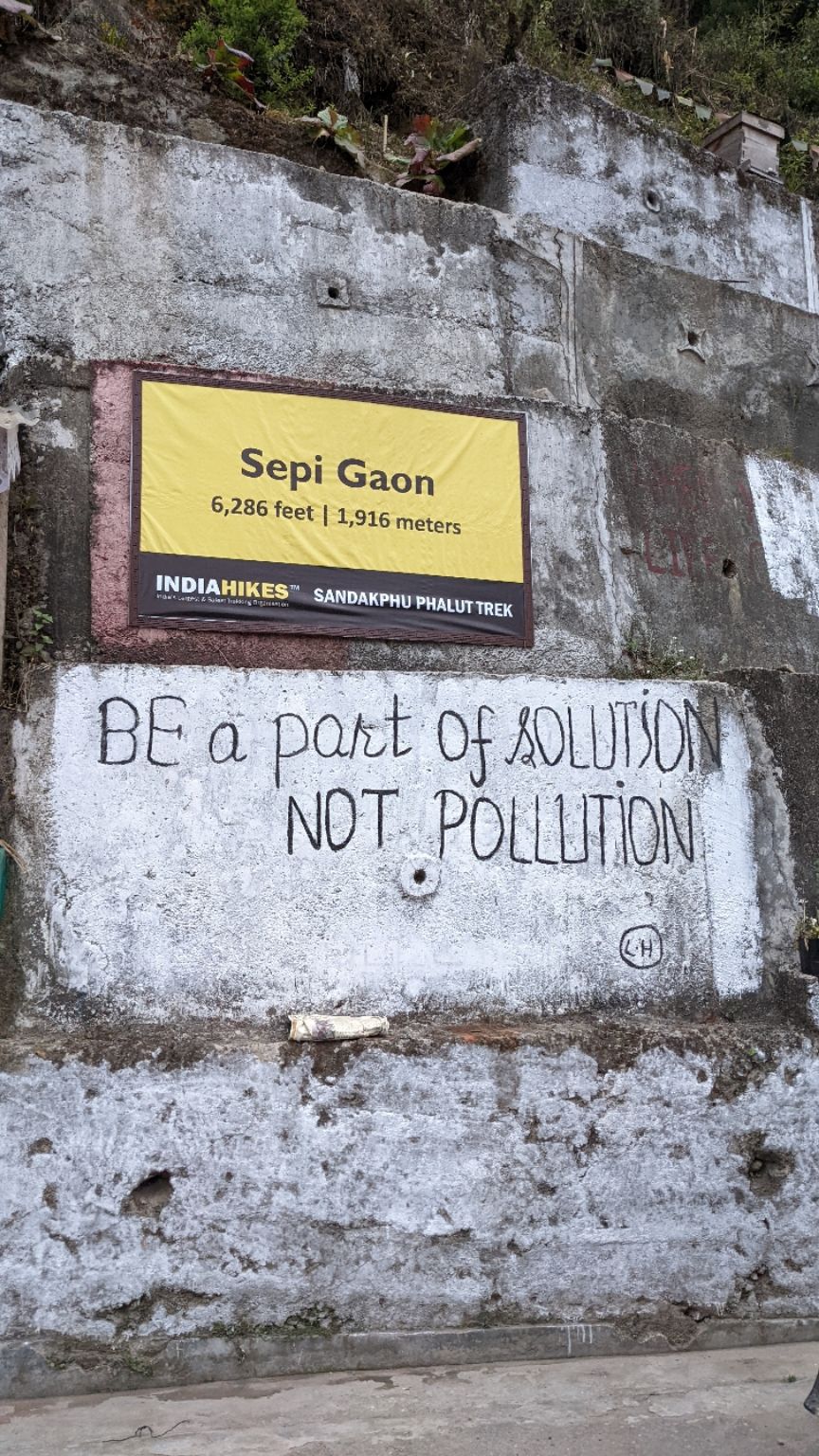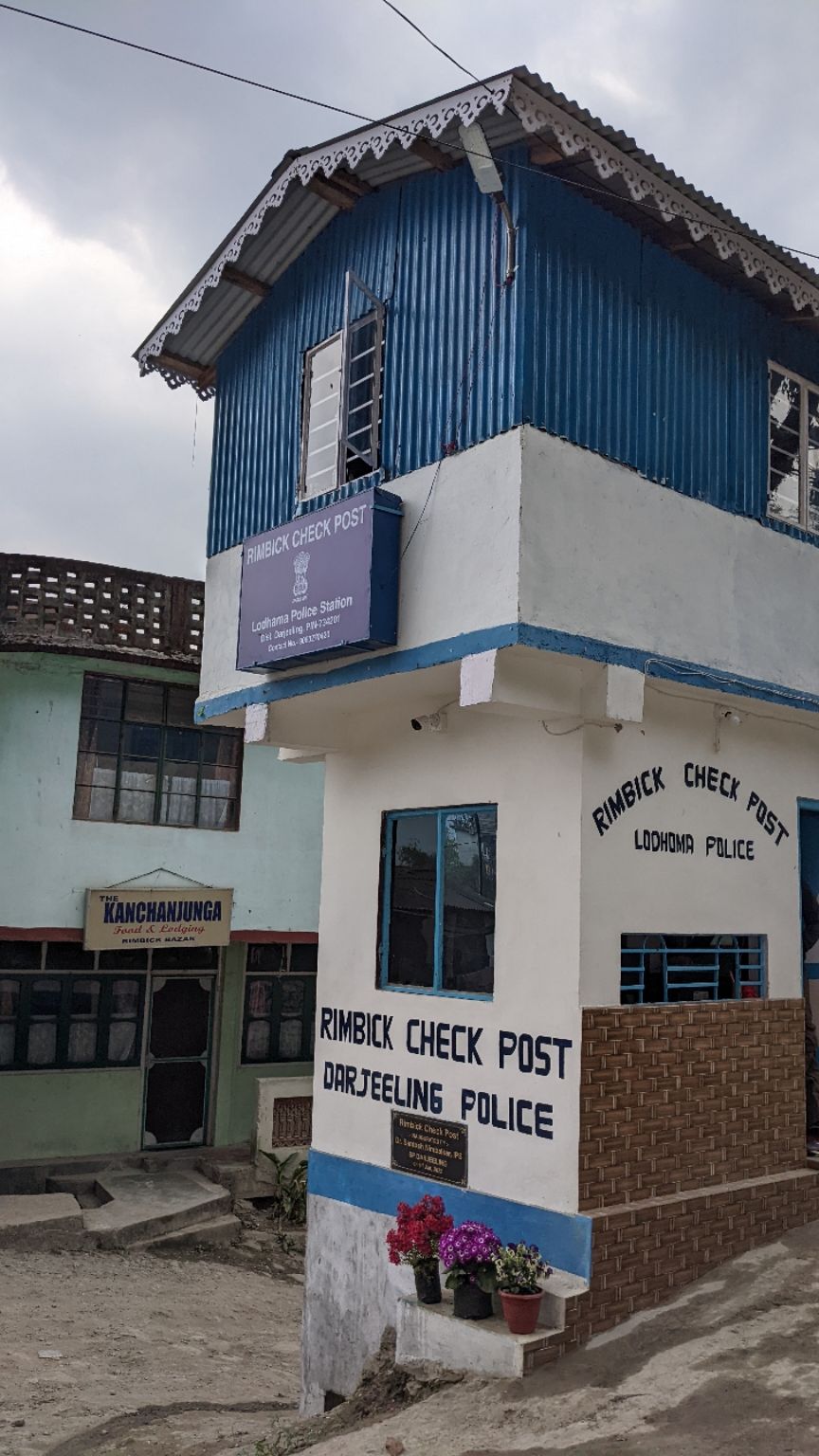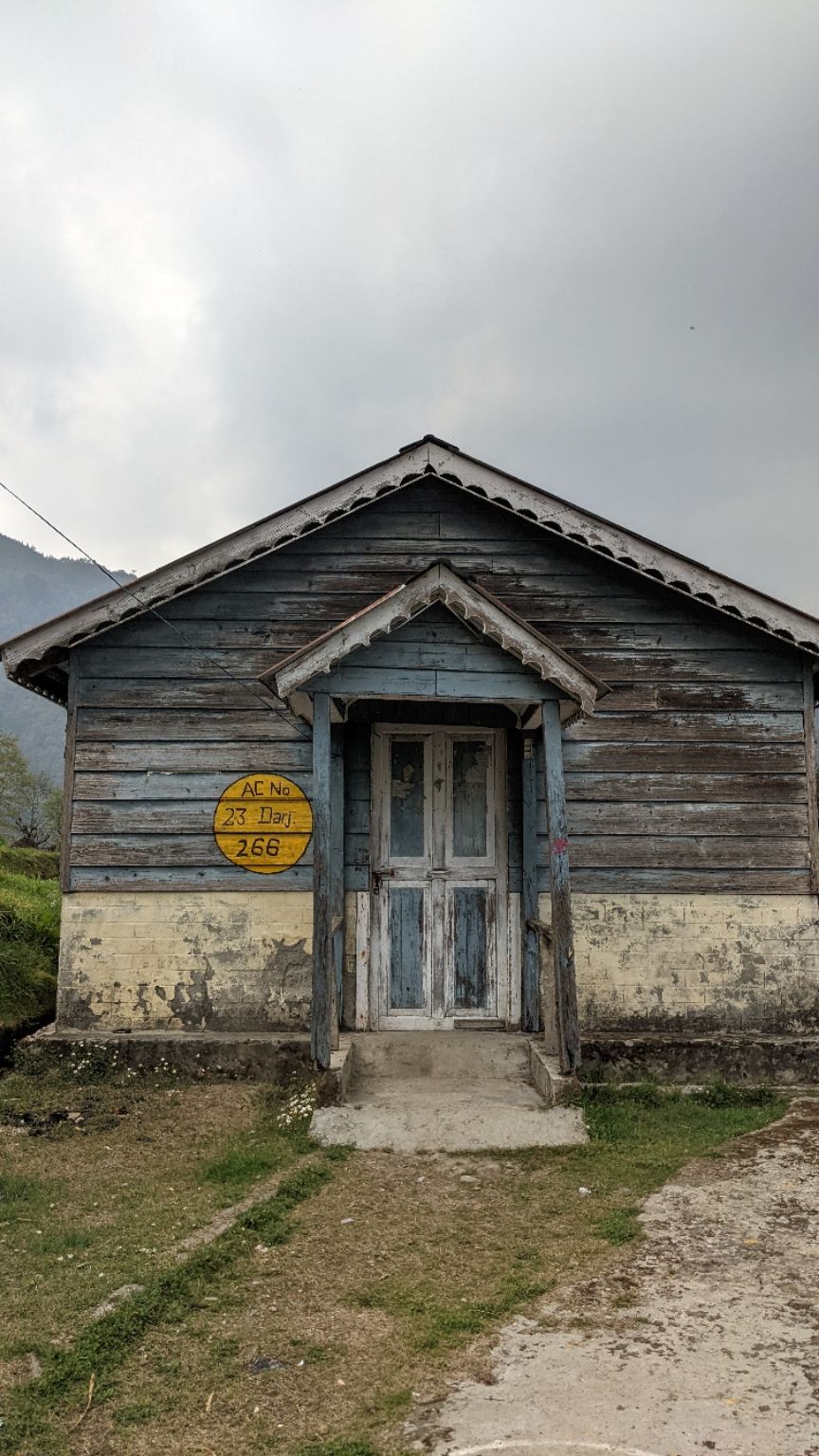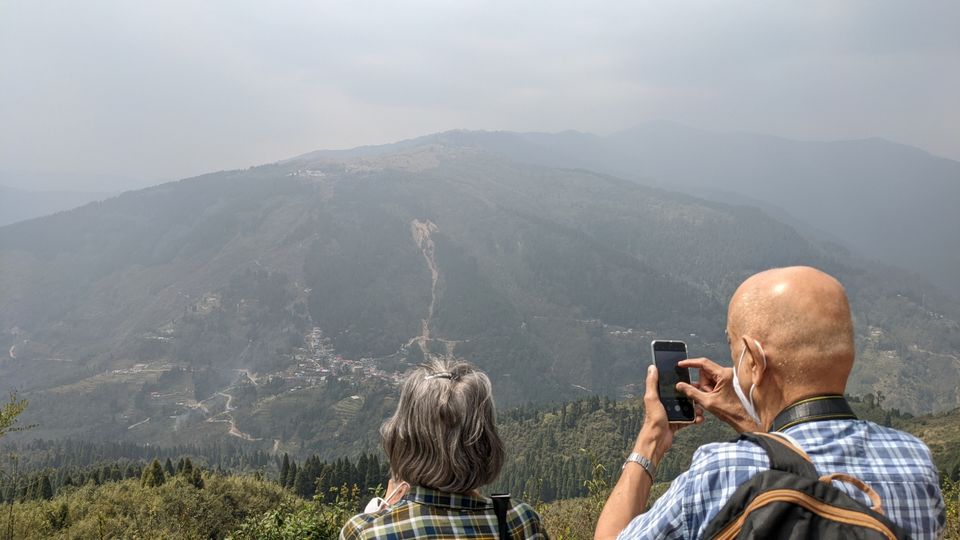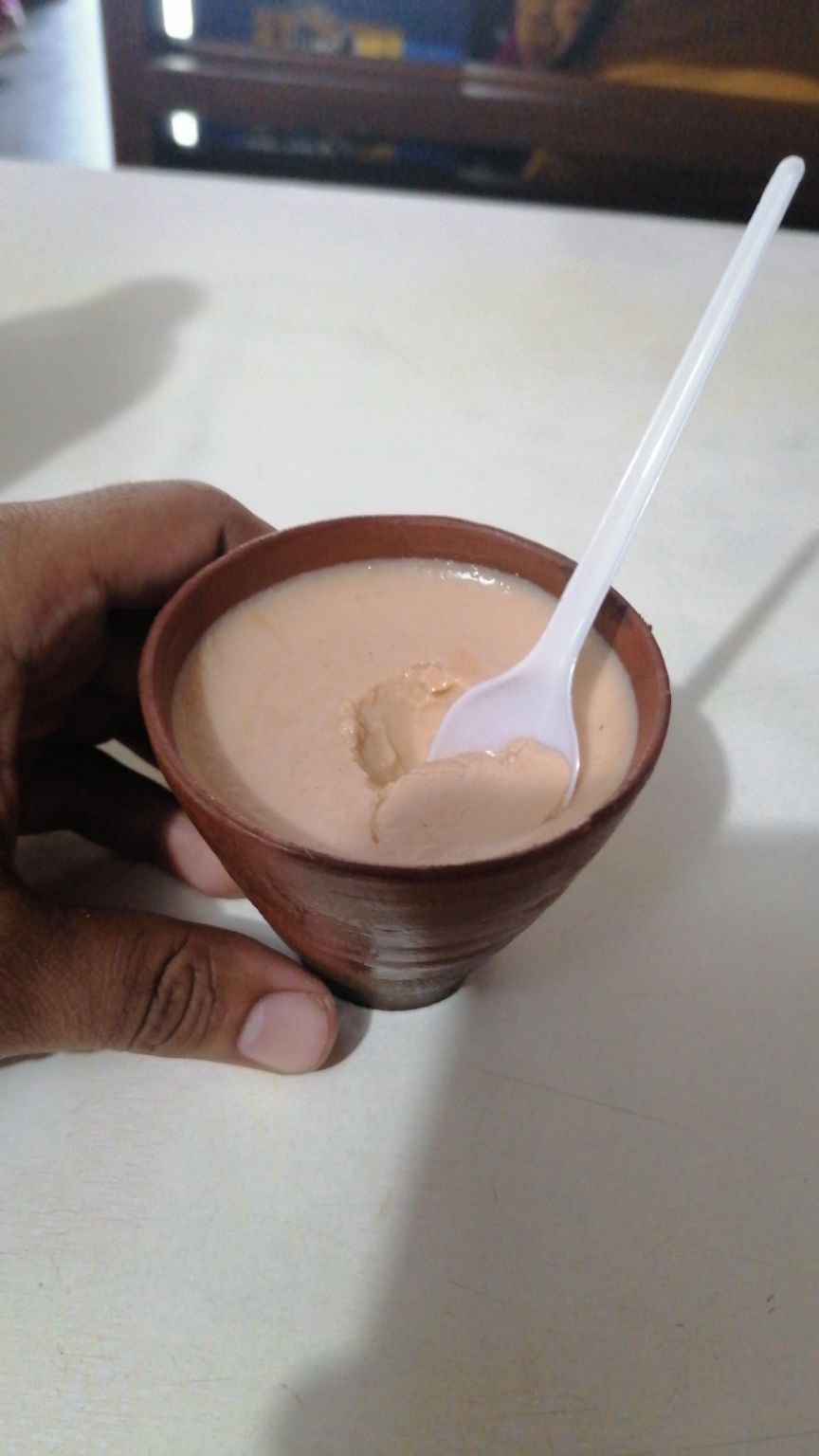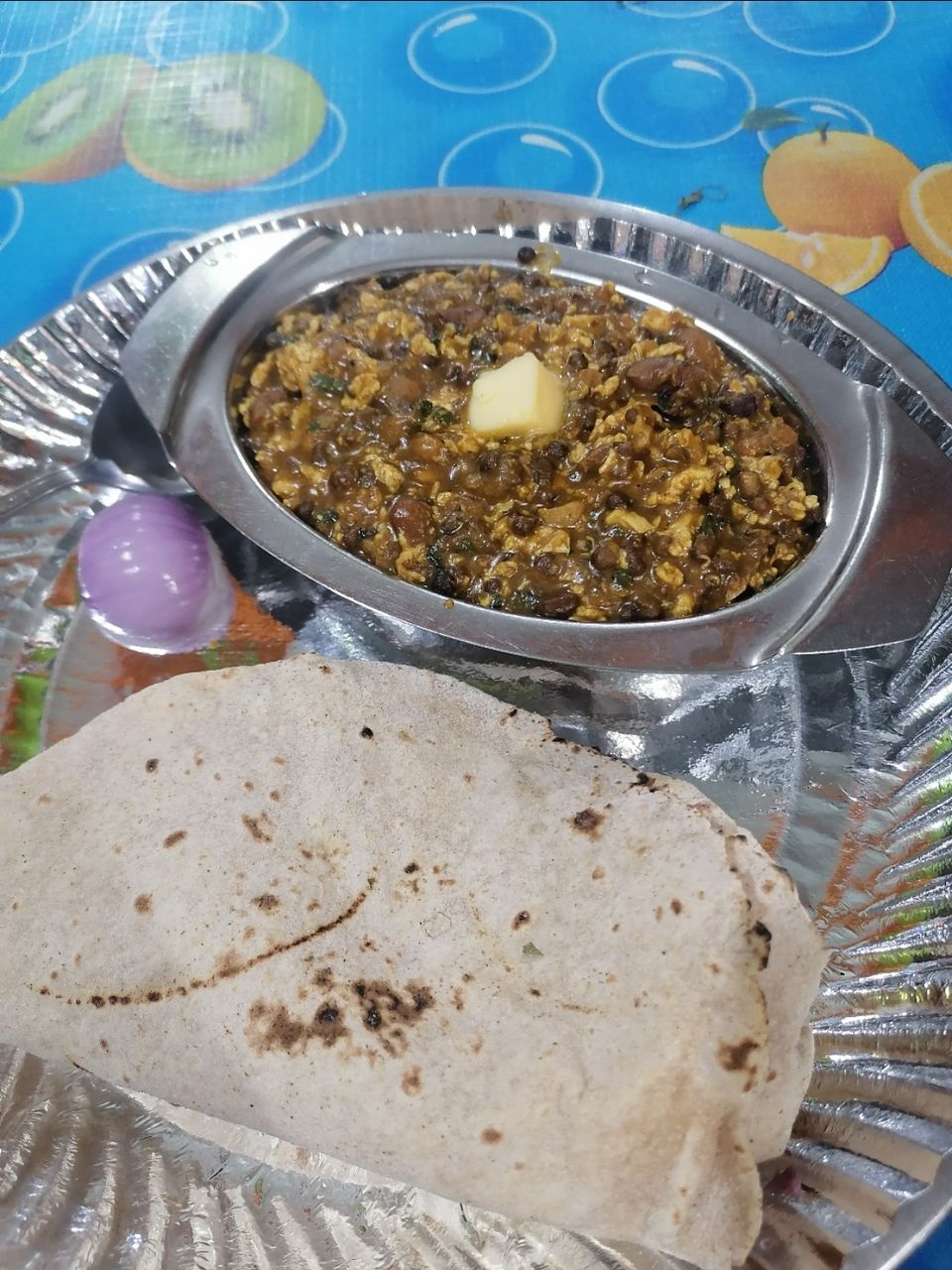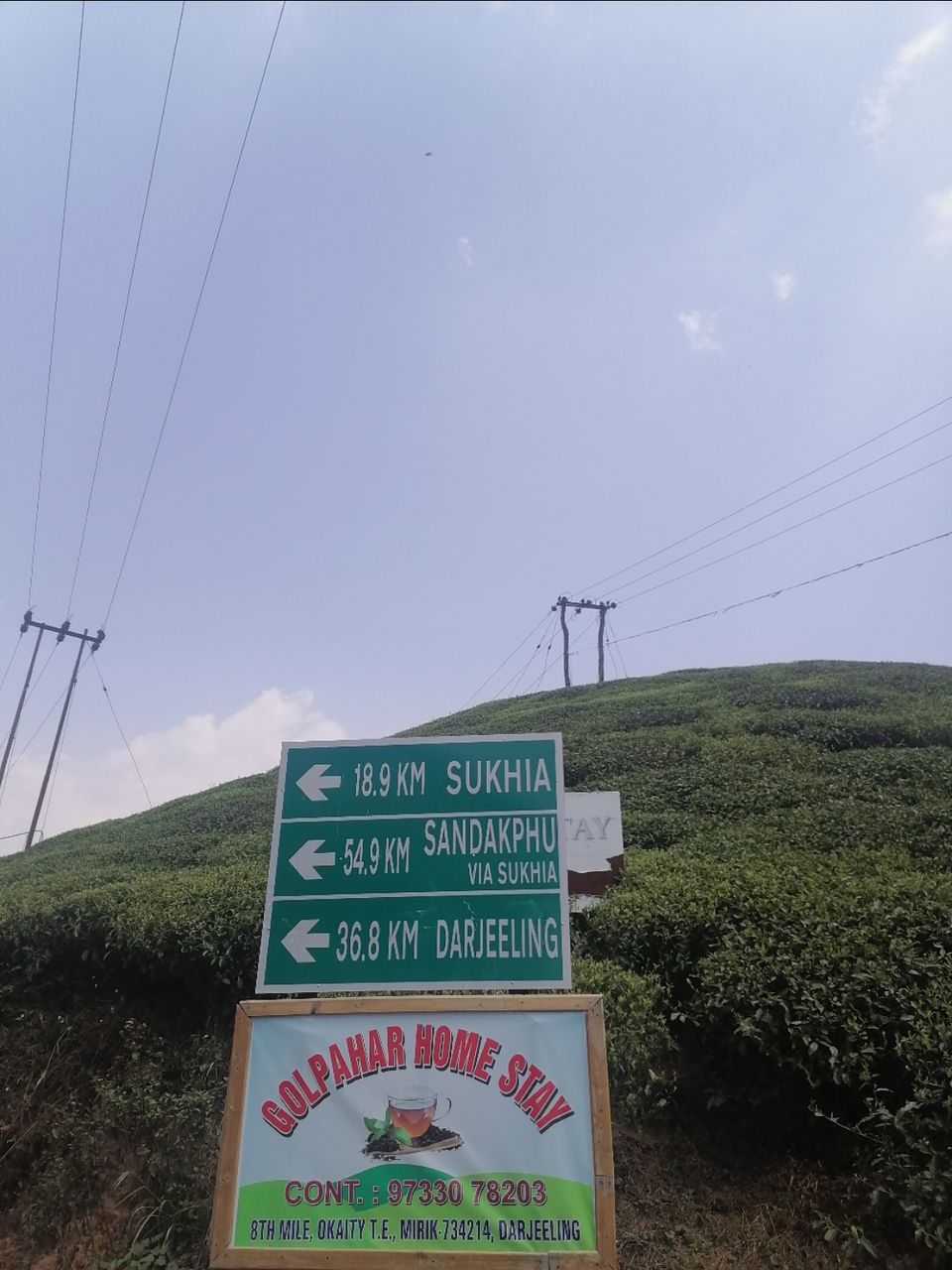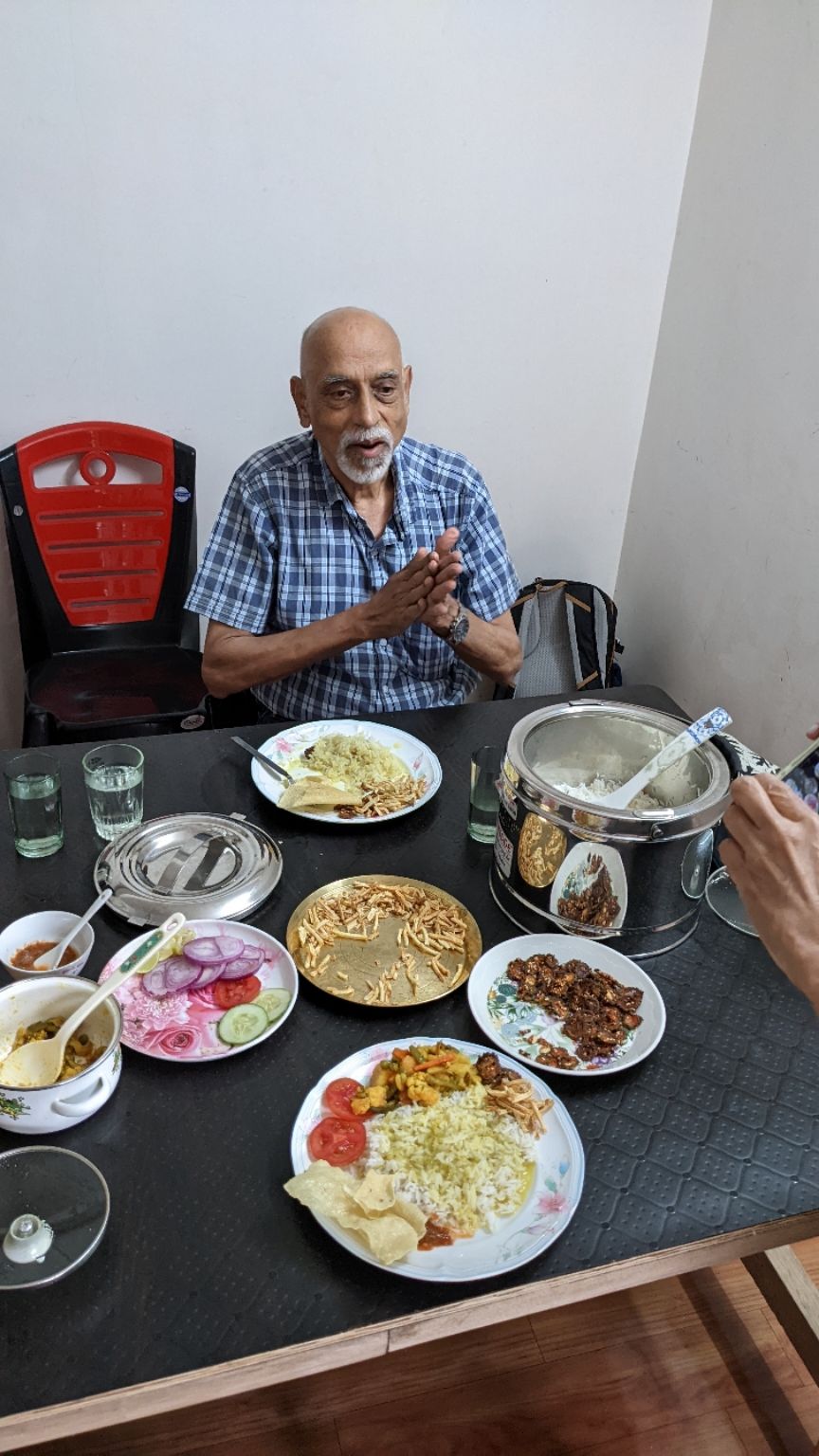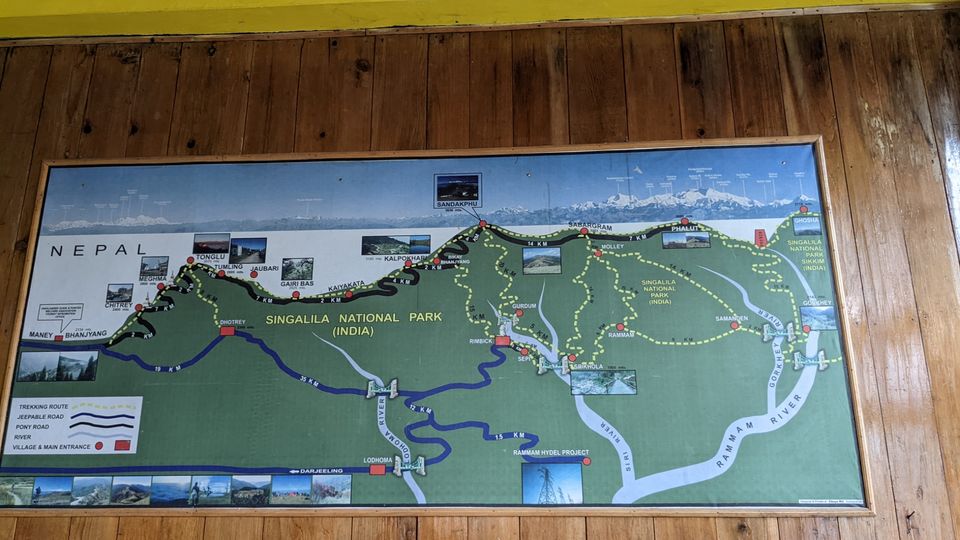 Now Day 3 was supposed to be the hardest of all the days as it was a good ascend from Samanden to Molley which is a complete jungle route and one might not find a way without the guide or gpx. It starts with pine trees, then oak trees, bamboo tress and finally you see rhododendrons in full bloom.
To me without a doubt it was challenging but the view along the trail kept me excited to move forward and hoping to spot the red panda here but they are shy and manage to hide well.
But during the long ascend we got to interact more with our fellow trekkers now friends, shared our personal stories, had some dried fruits/theplas and helped each other during the trek.
I got to interact with people from various stages of life and it helped me gain some fresh perspective;and I think Trekking brings one's close to himself as well as others, because you are disconnected from the outside noise and just focusing on the present.
At reaching Molley campsite, we saw that weather was acting as a spoilt sport and it started raining, so we had to collaboratively decide on how to plan our next day.
That night some of us slept in the tent and some opted to pay 450 and sleep inside the SSB quarter. (Sashastra Seema Bal is a border guarding force of India deployed along its border with Nepal and Bhutan. )
And we played antakshari before heading off to sleep(Suprisingly we all had one more thing in common- we'd love to sing Bollywood songs for hours)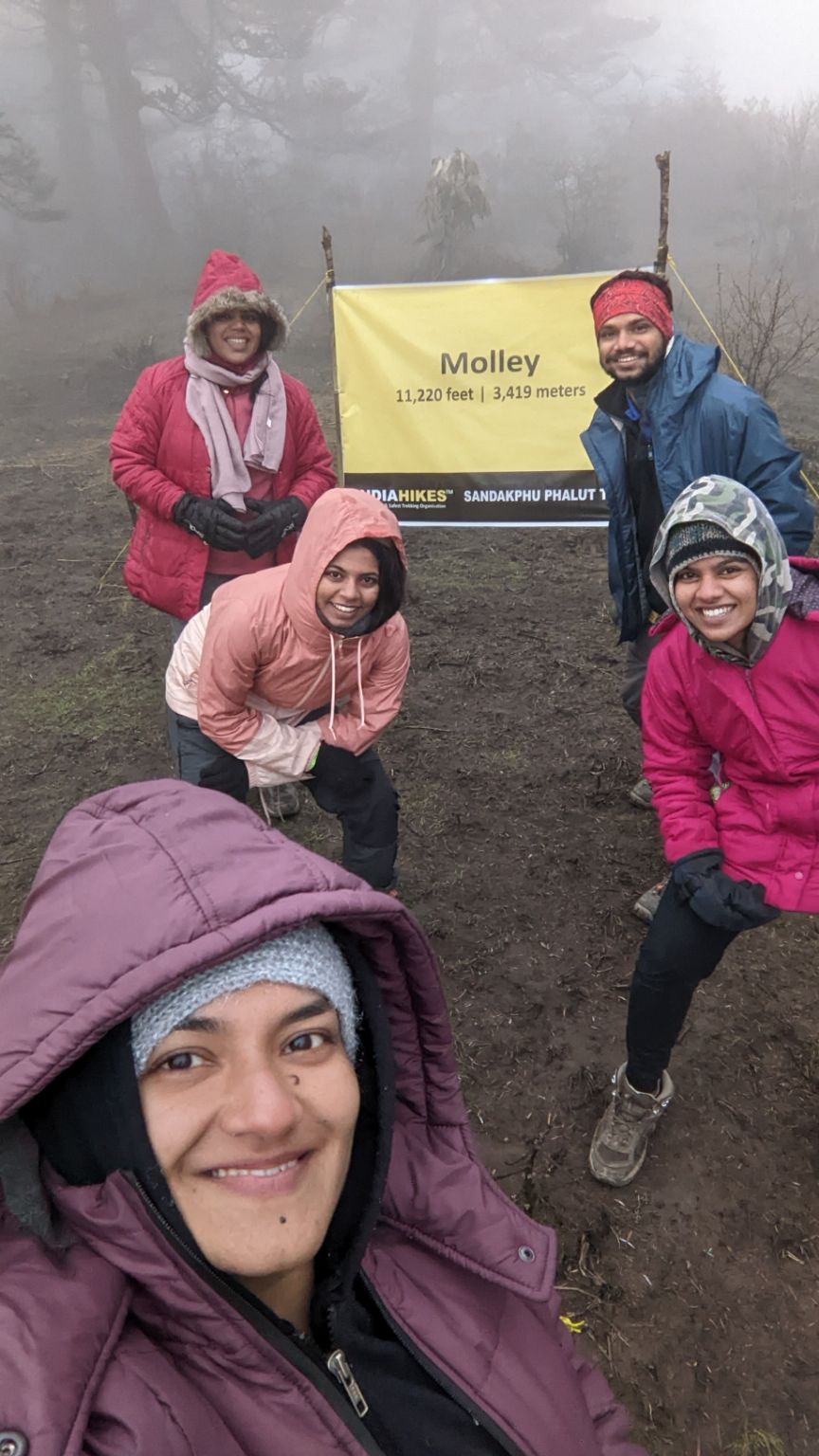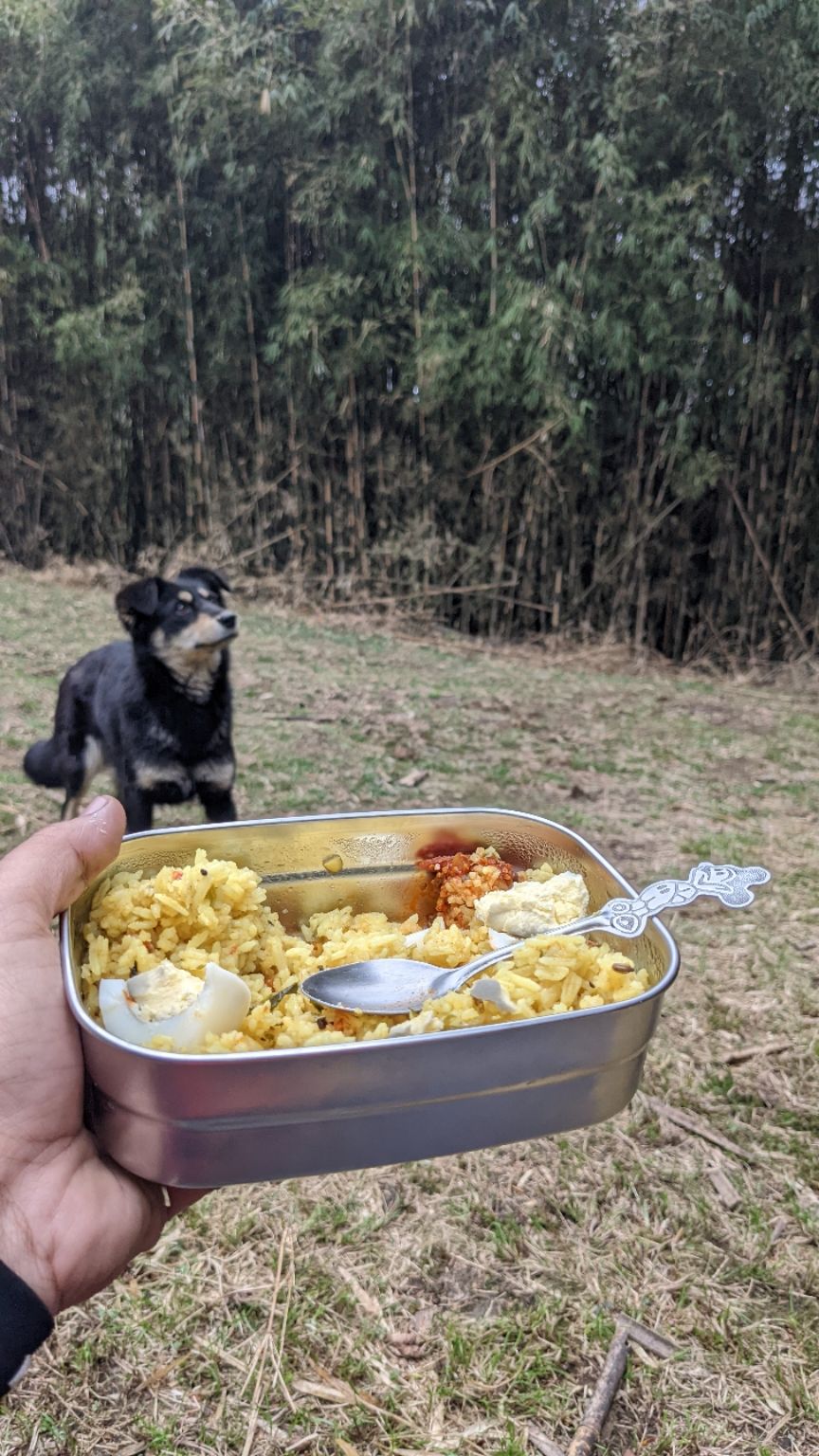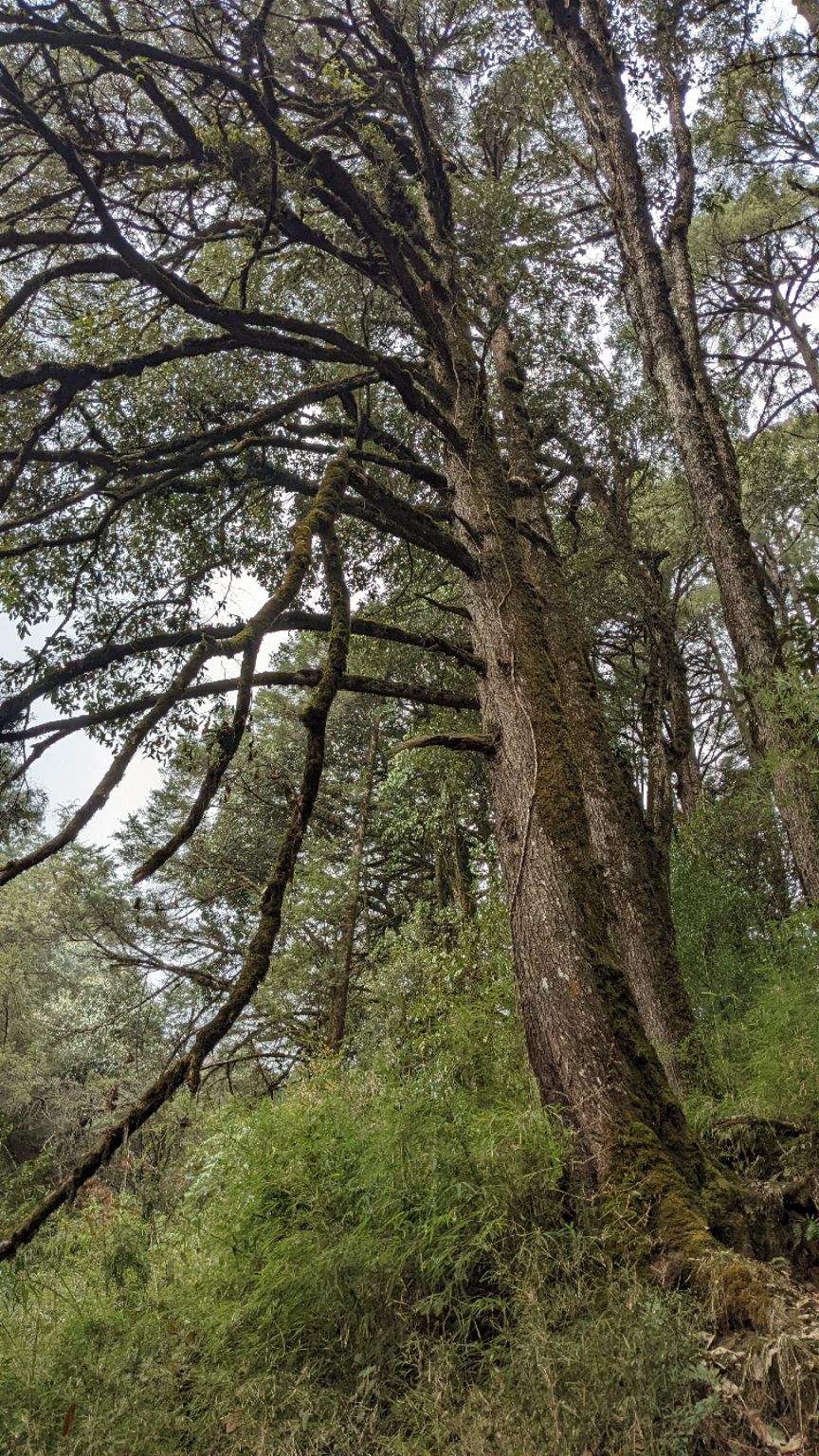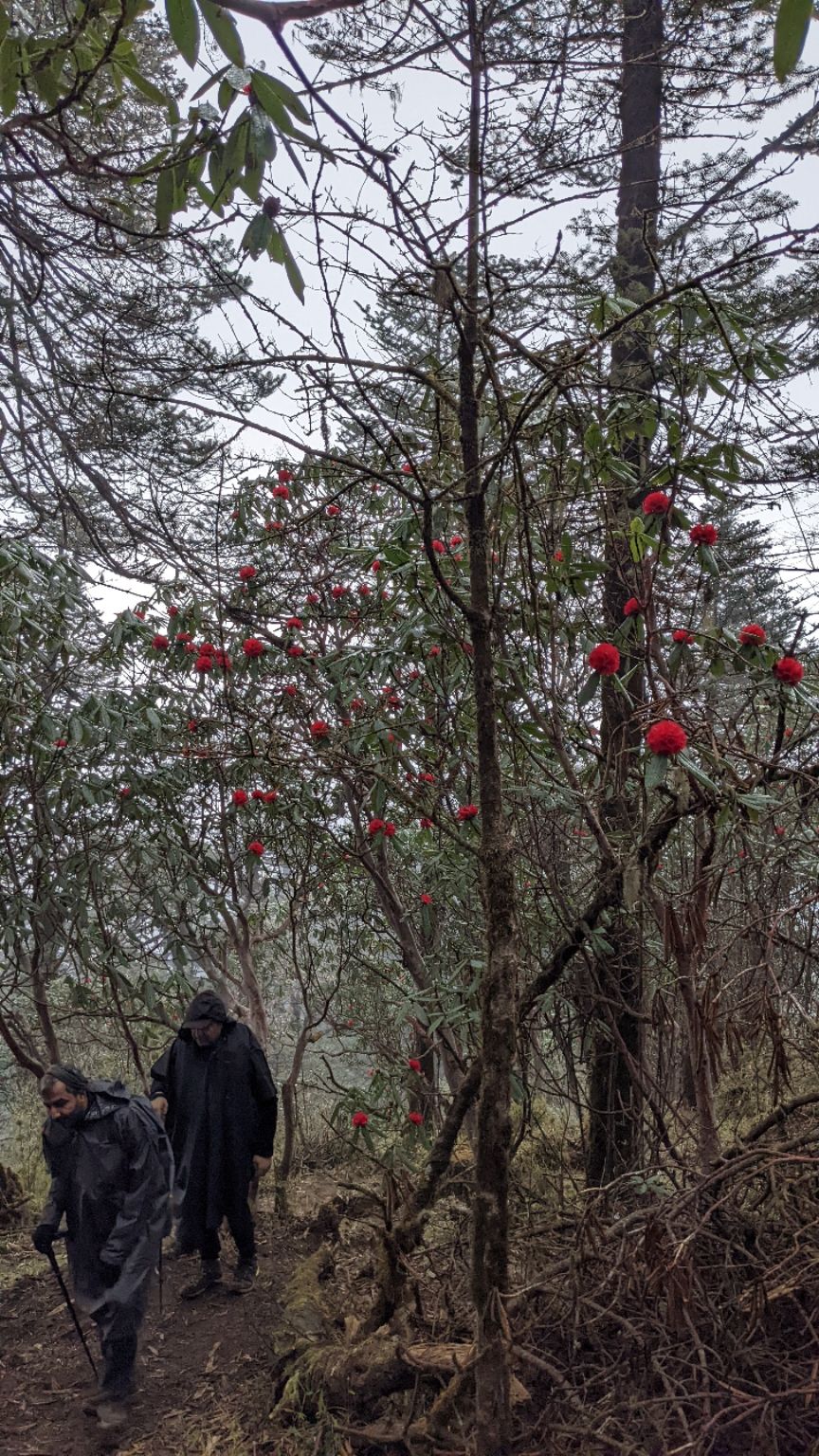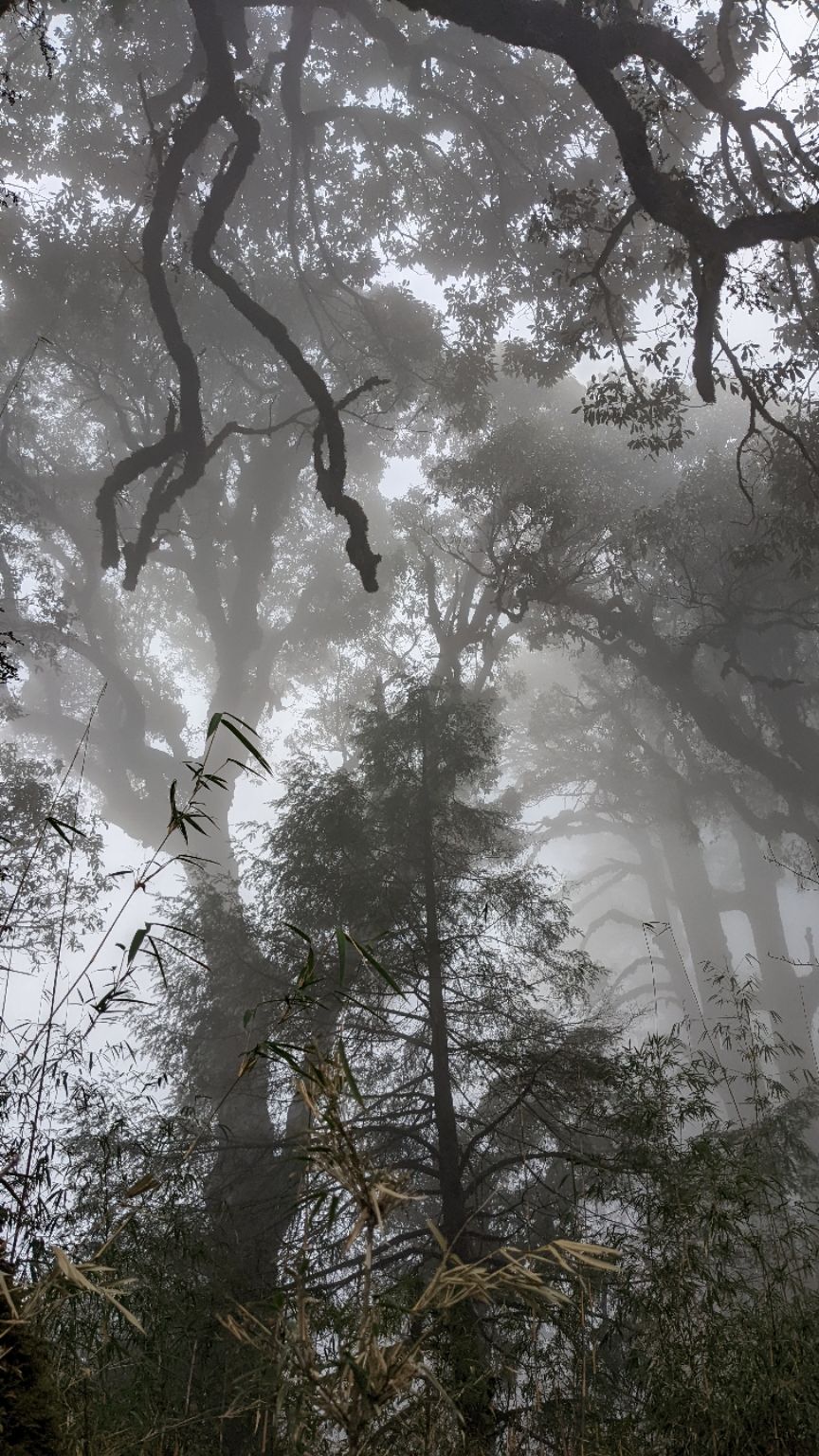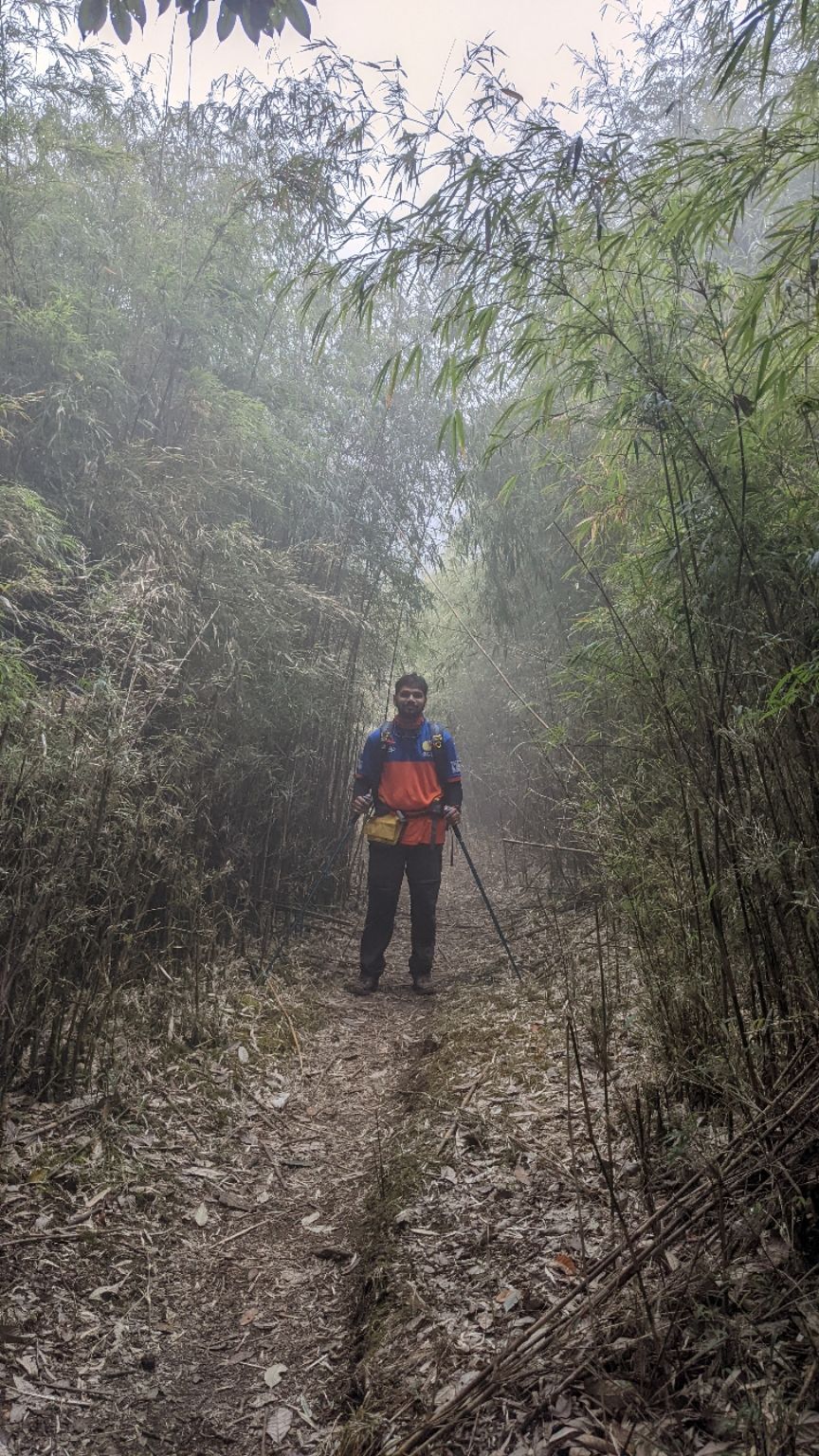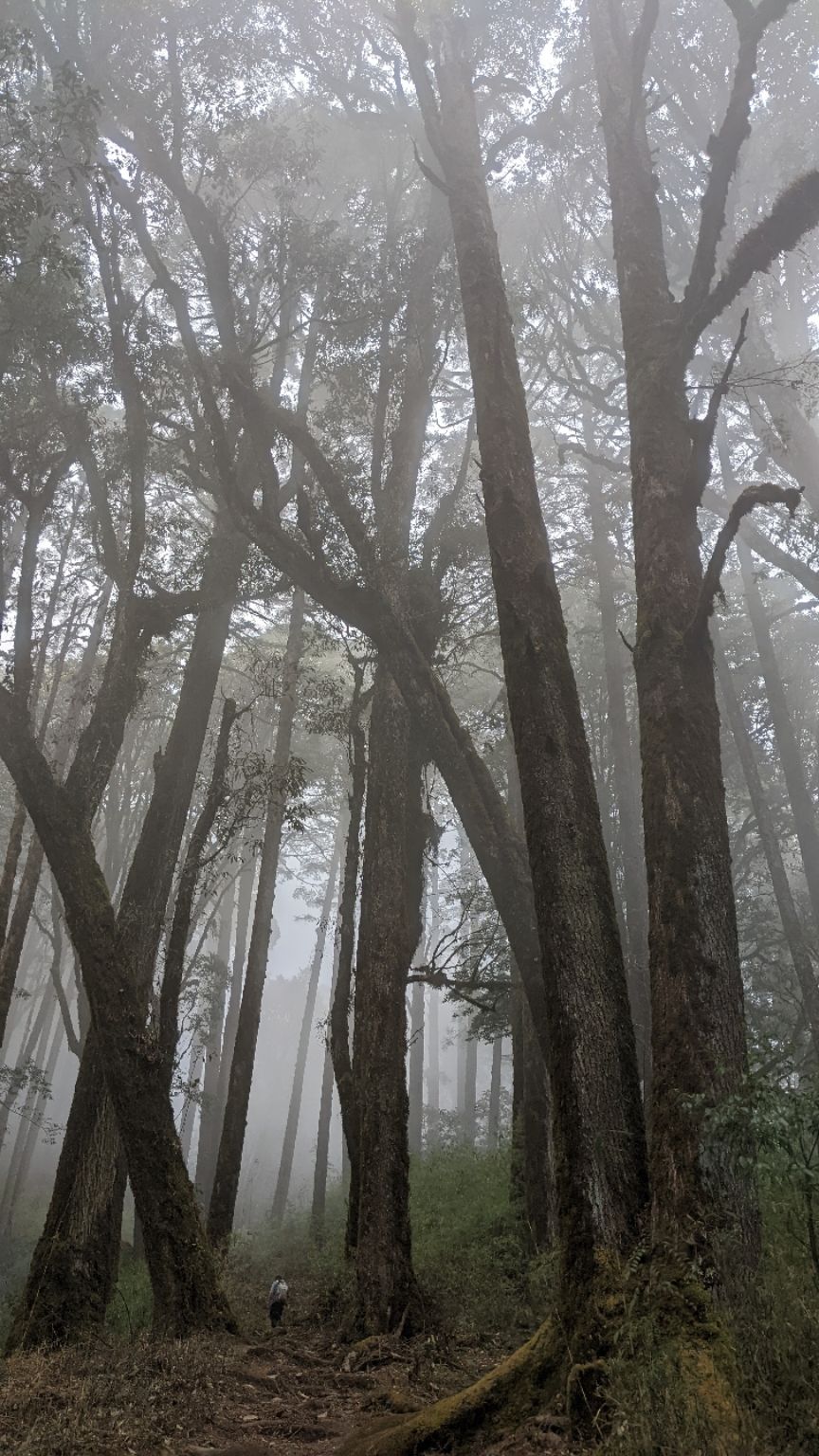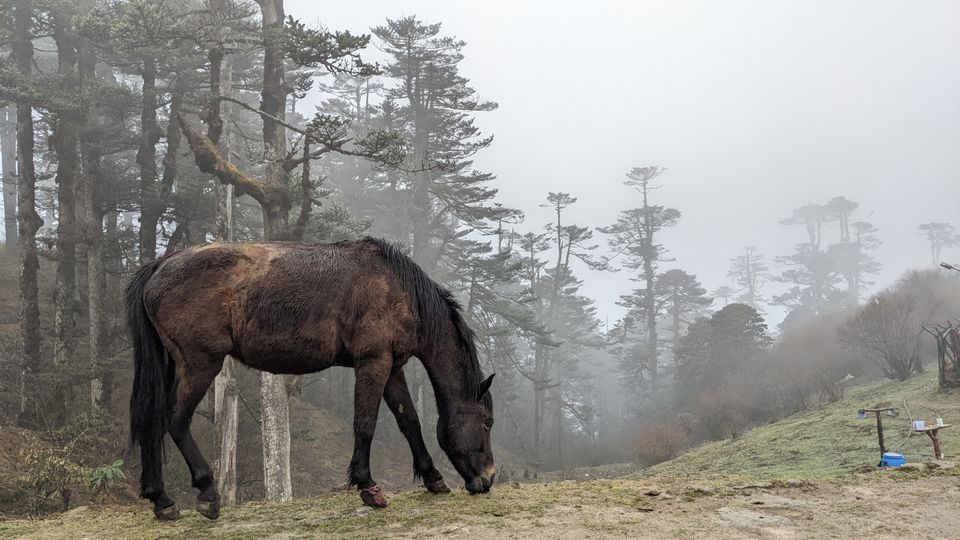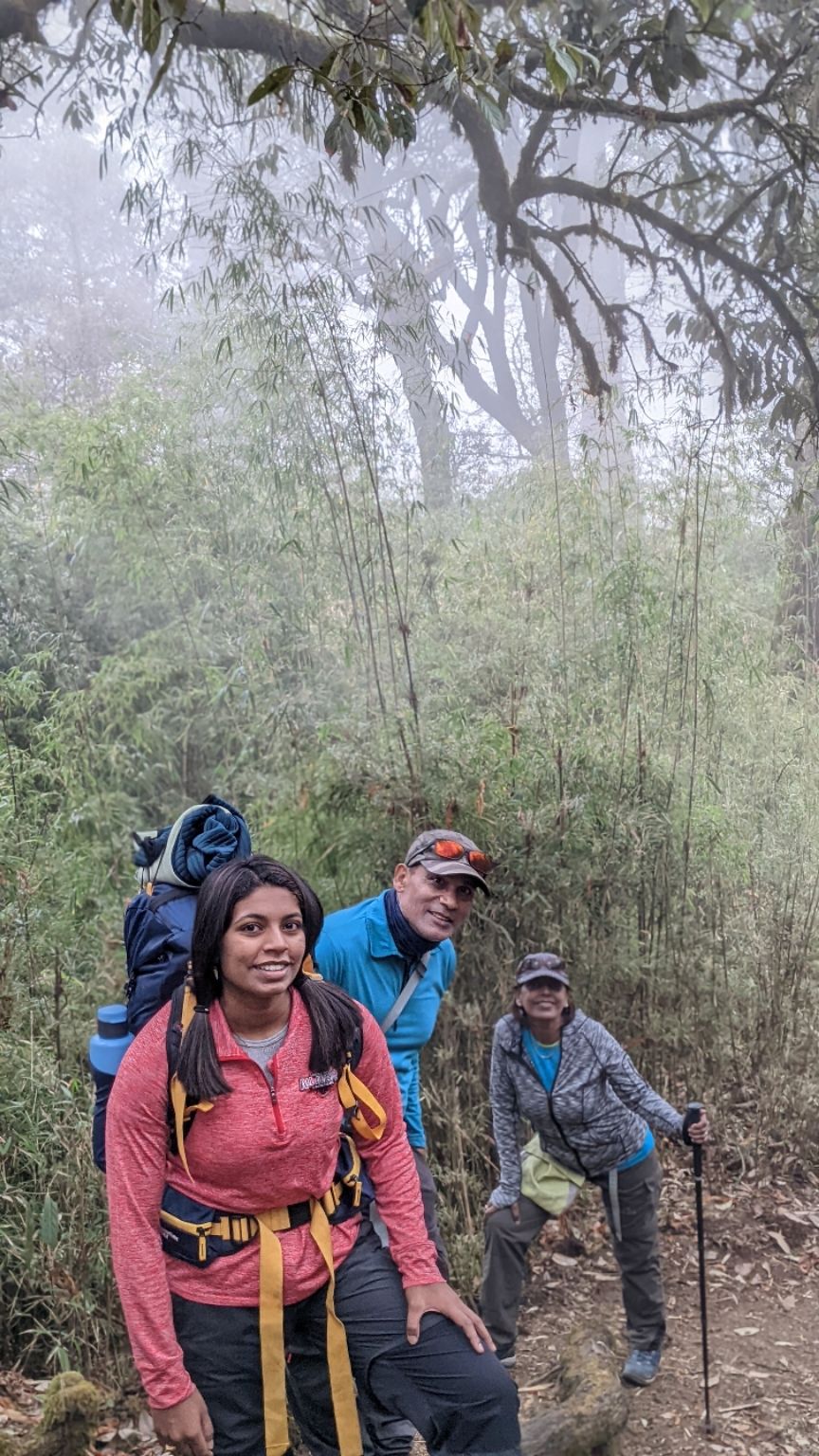 From Molley to Sabargram it is just 1.5kms away where we then kept our bags in the Campsite and went for a walk till Phalut which is 7kms and return
But it was a difficult call for us to make as it was raining the previous night and we were not sure if we should halt at Sabargram or hike till Phalut?
We woke up early at around 6 and saw that there was no rain but also no sunrise-meaning our dreams to see the tallest mountains were crushed but wanted to make the best out of the day and we continued with our original plan.
Now keeping our bags in the campsite(8-9kgs off my back) made me super happy and now it felt like walking in the park;also the route is properly made as its a famous spot.
**But keep hydrating yourself even if the weather is pleasant and you're not thirsty.
At some point I realised that my throat was parched and was losing energy quickly.**
Got me some ORS and then was back on track.
Also on our way we spoke to a shepherd who was kind enough to give us some yak milk.
I got to try yak cheese and tea as well(perks of tagging along with the sherpa)
After reaching Phalut, did some vibe check and took some photos. I don't have enough good photos to justify the landscape but there it felt like I was in some Scandinavian country
PS- The next group couldn't reach Phalut due to bad weather and Phalut means "winds that blows rocks" as it gets very windy on top
Note: Don't eye to eye with the yak, they might charge on you.
Reached the campsite at around 4, and then to pass time we learnt a new card game, thanks to our fellow trekker Ellora;then we played Mafia, had dinner and went back to our tents calling it night!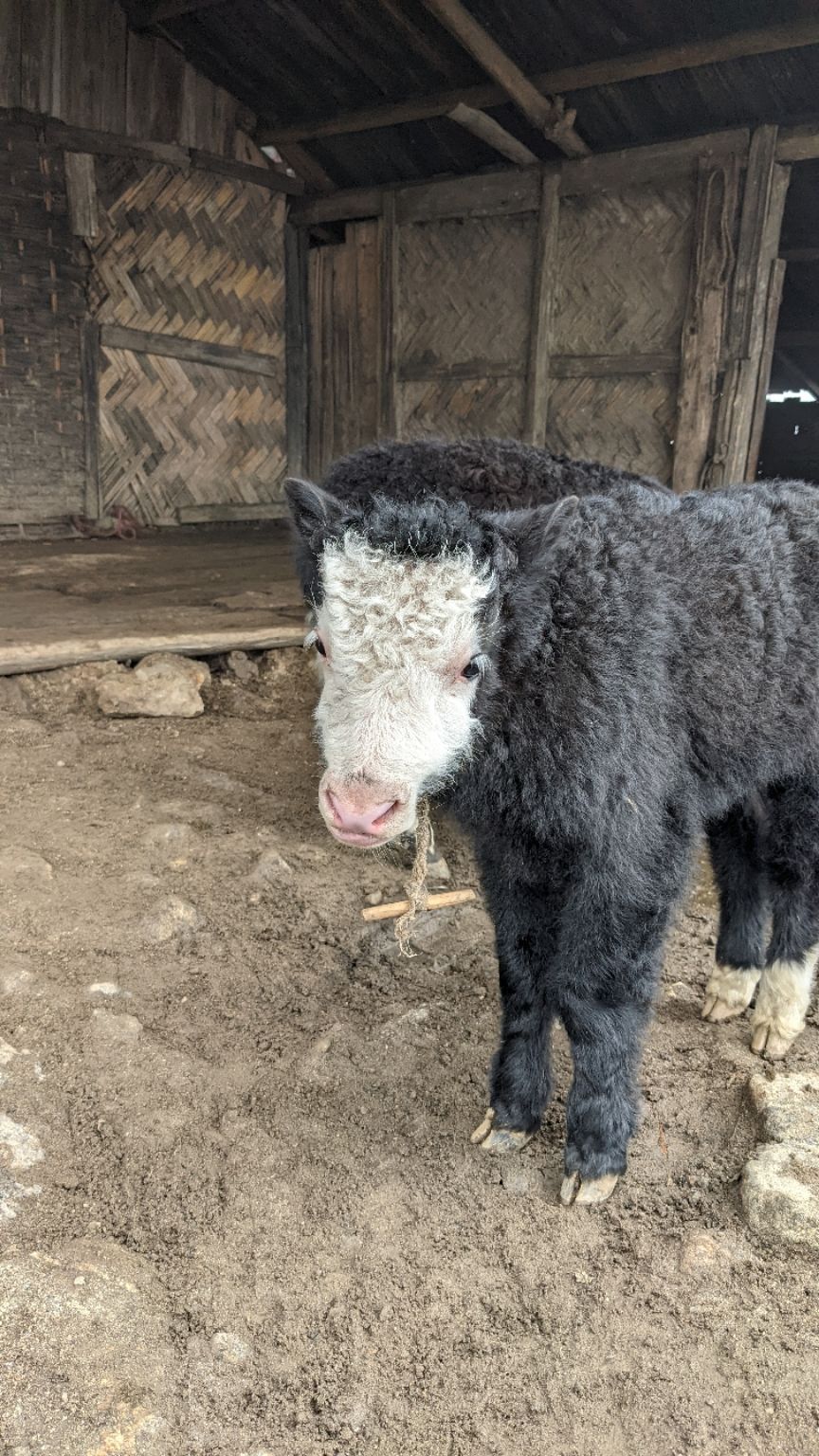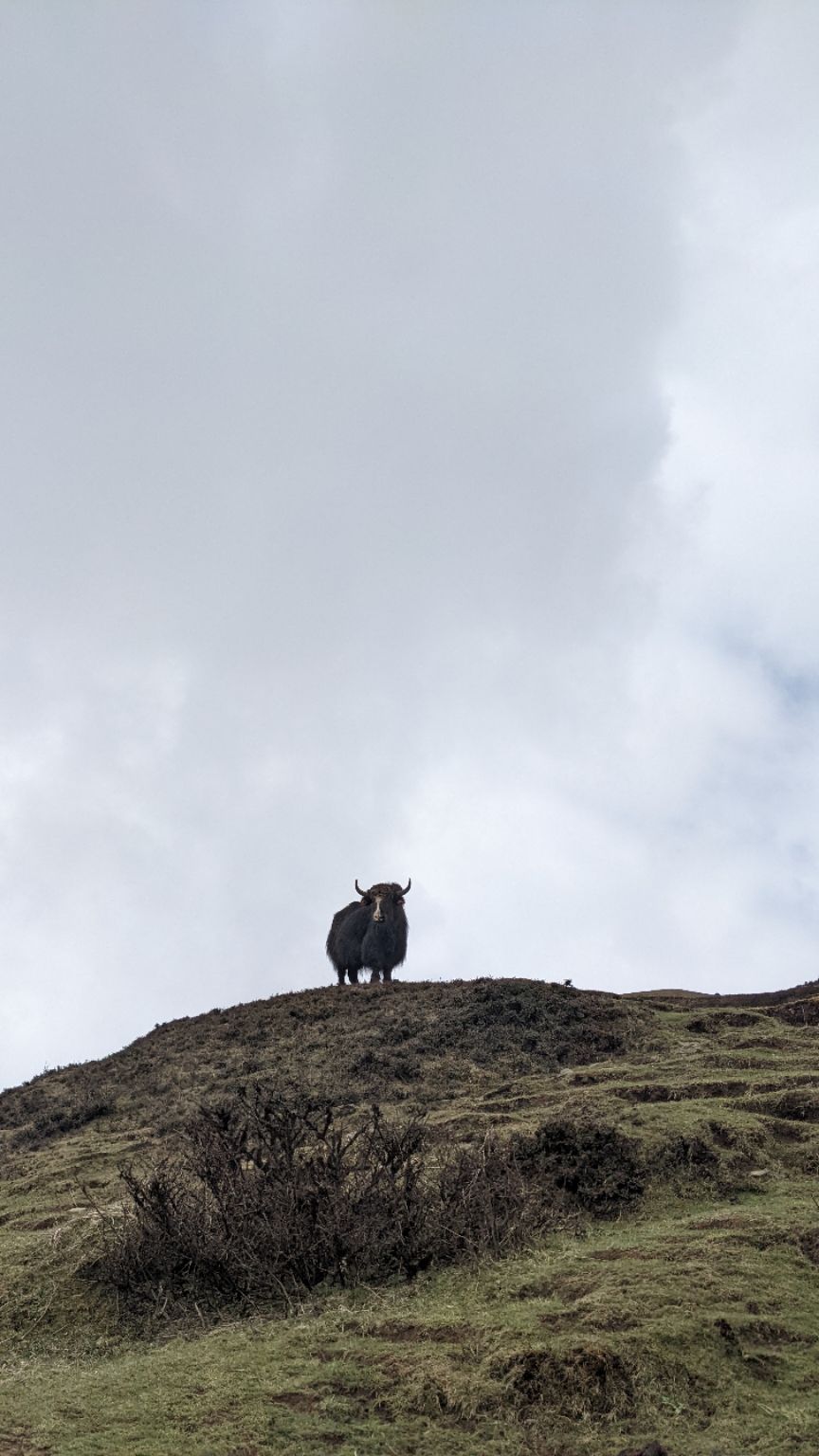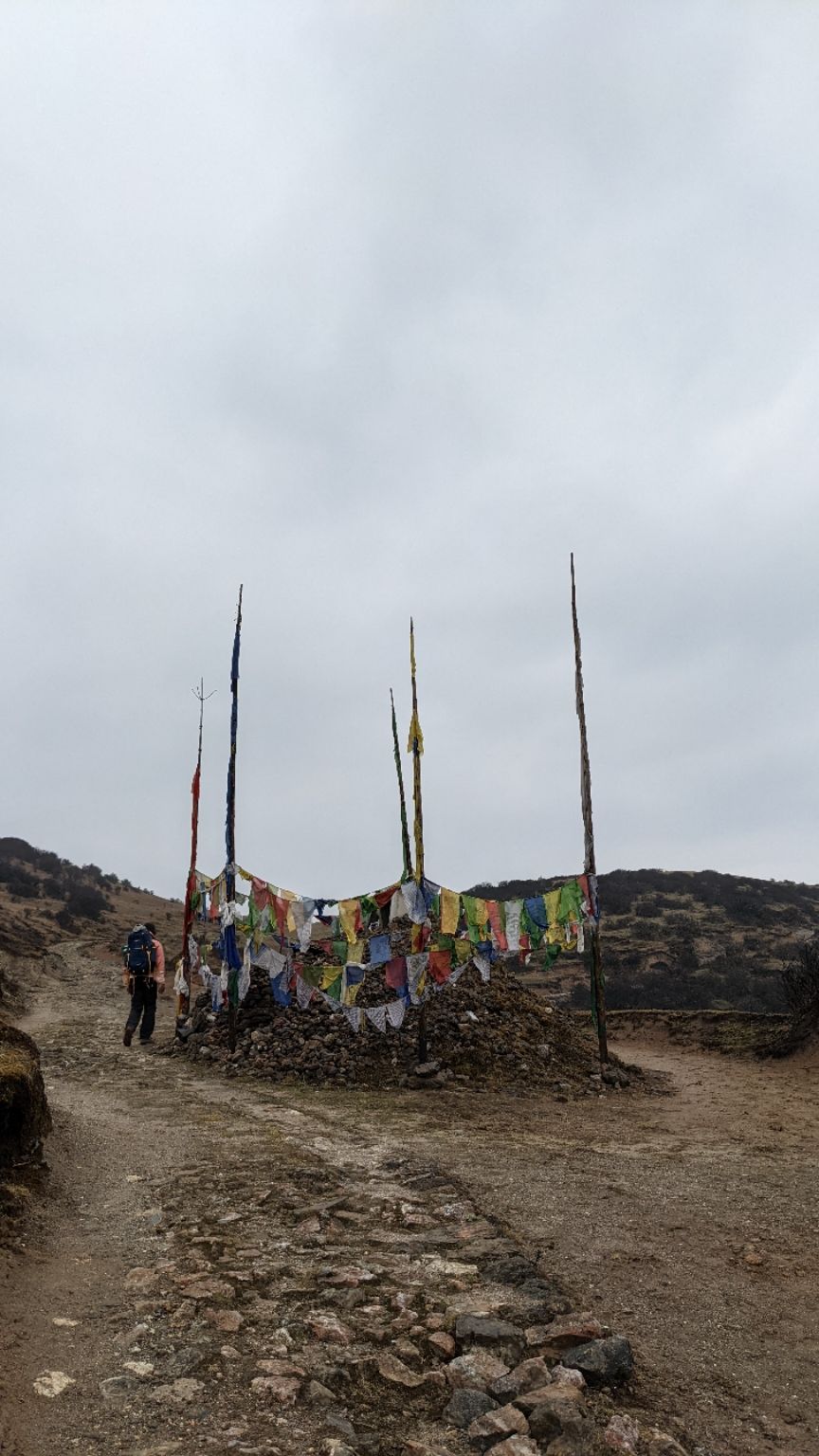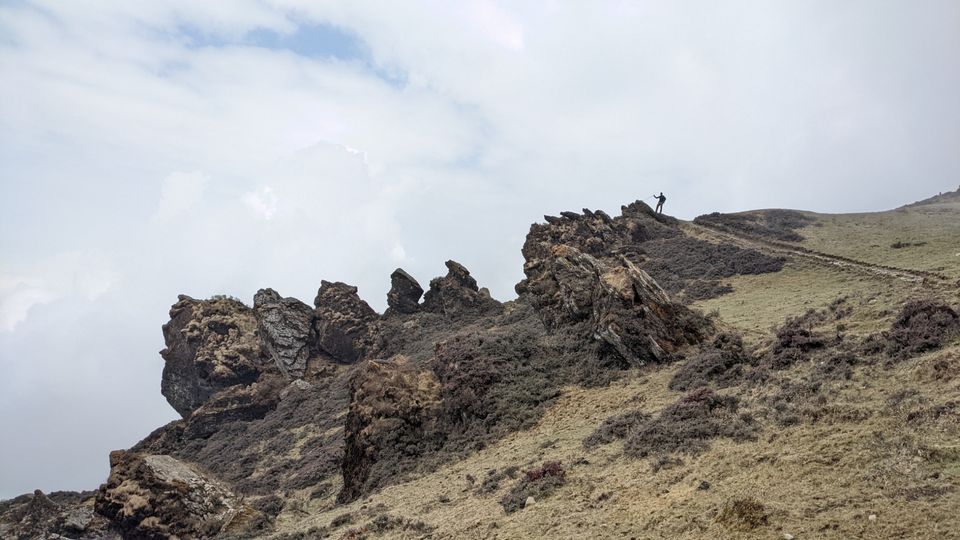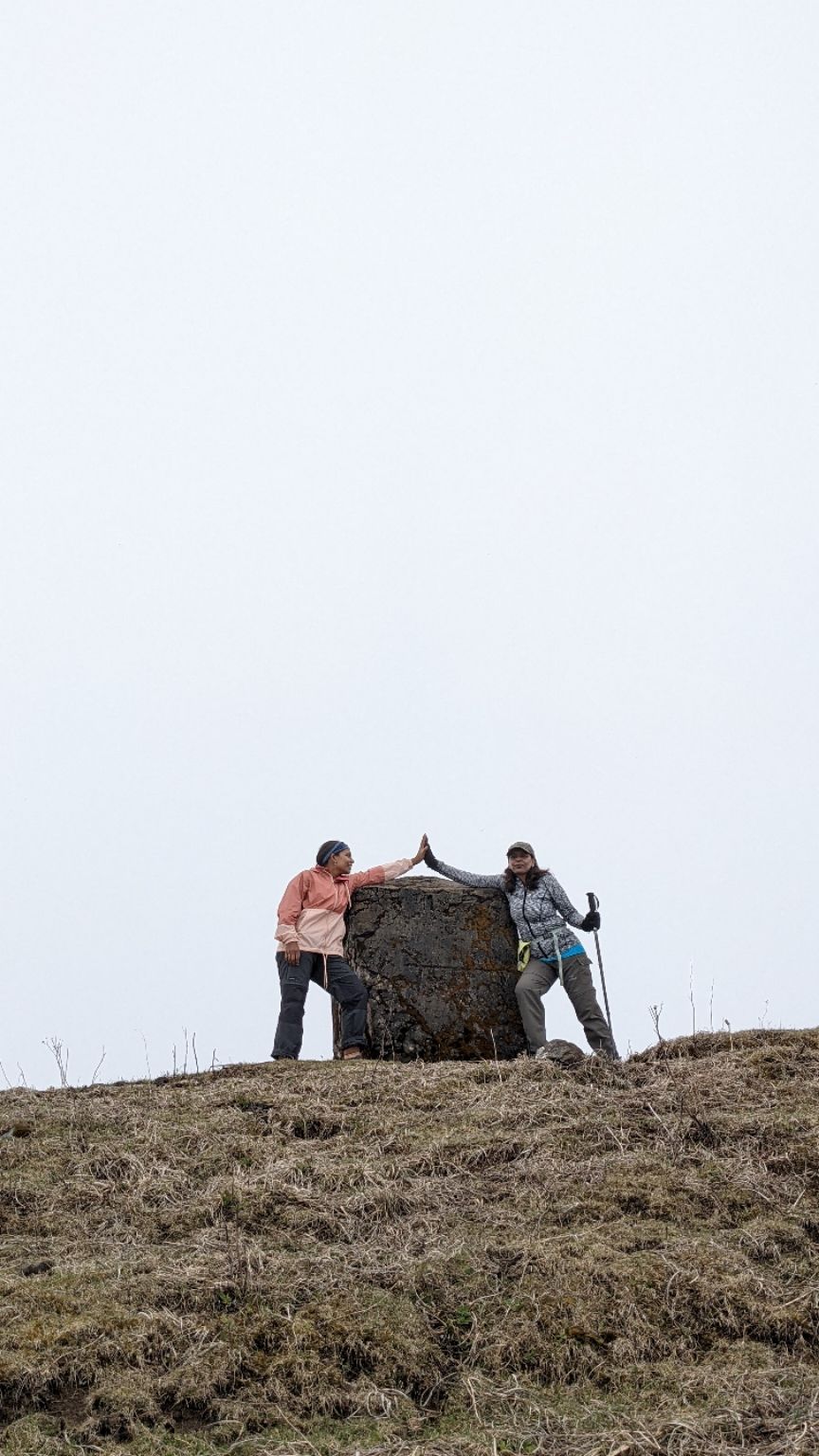 Aal
Now we were heading towards our next campsite Aal, hoping today we could get a better view but no luck and all we had was each others company.
But sabargram to aal, felt refreshing as we were walking on the open green meadows, paused for lunch and then continued towards where we stayed in a tea house for the night.
One of the funny thing that happened to me was the digital time on both my phones caught different time zones, as it showed Nepal time(15min ahead) , Bhutan time(3o mins ahead) or China time(+1 hr)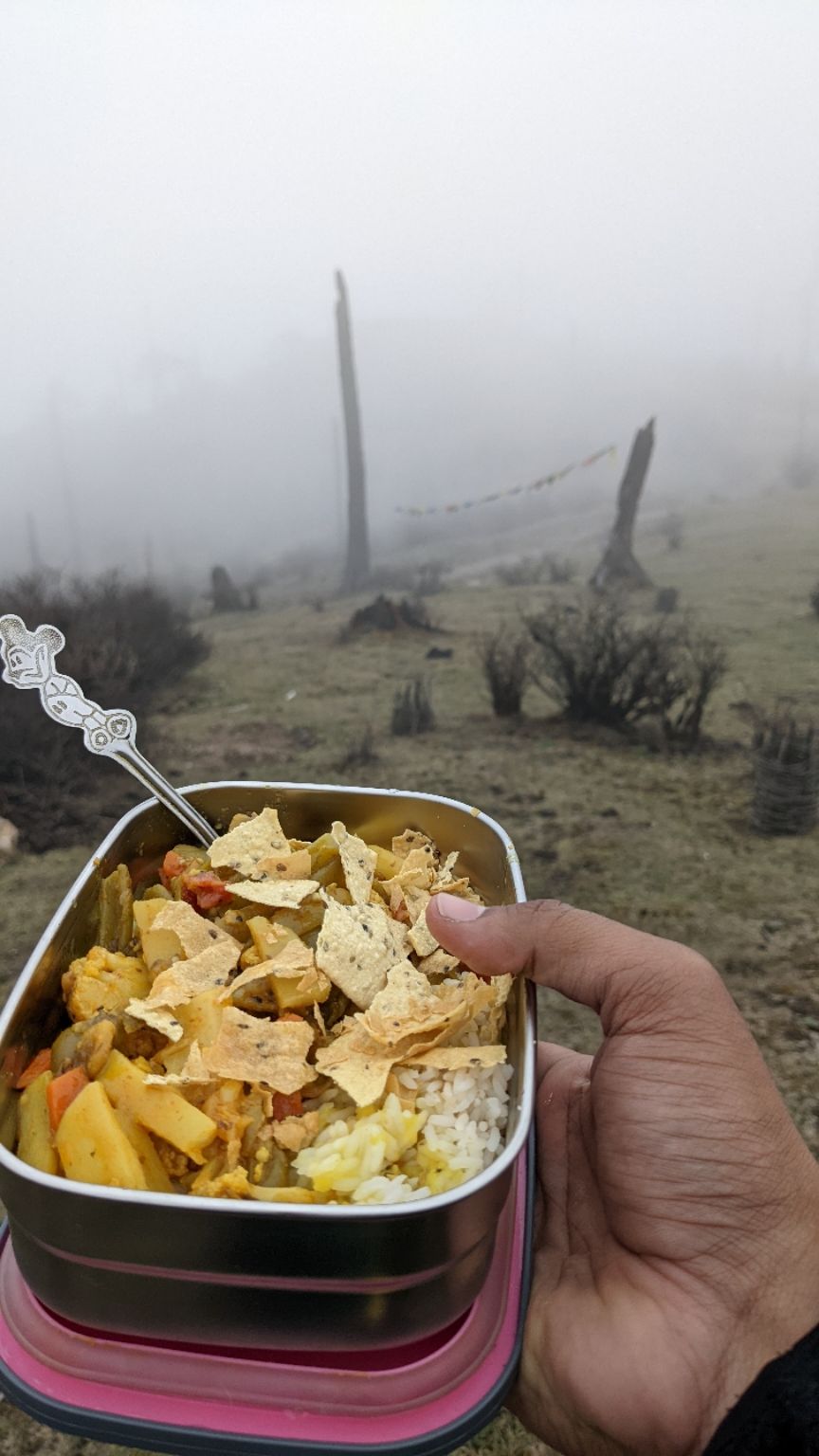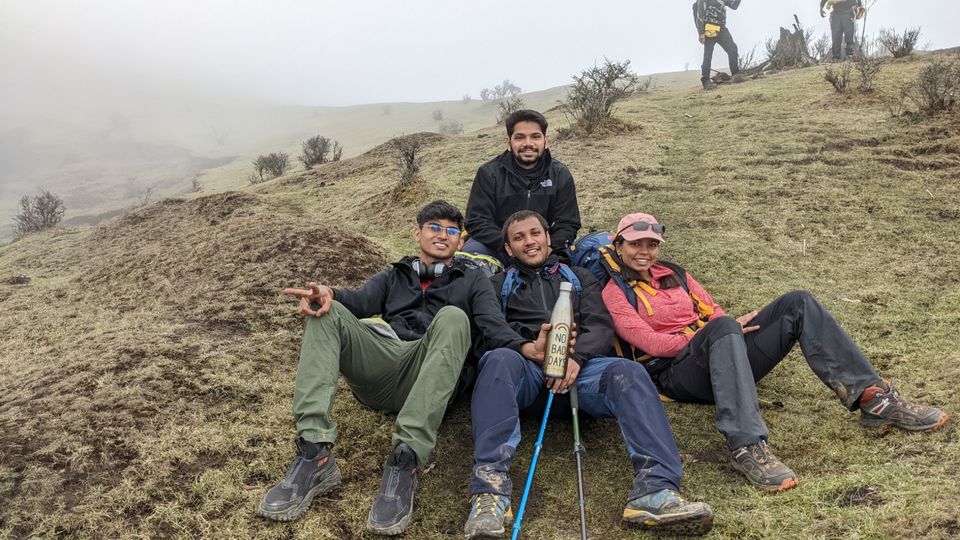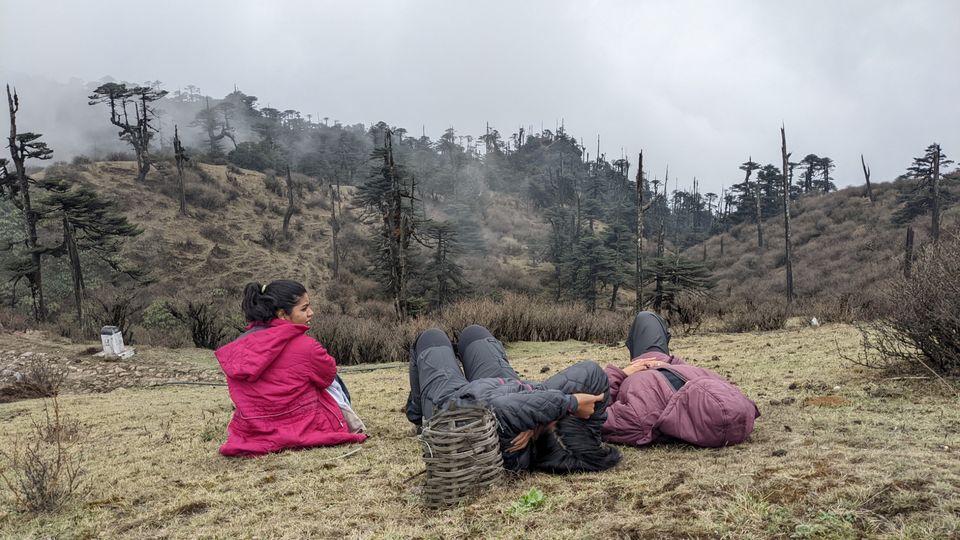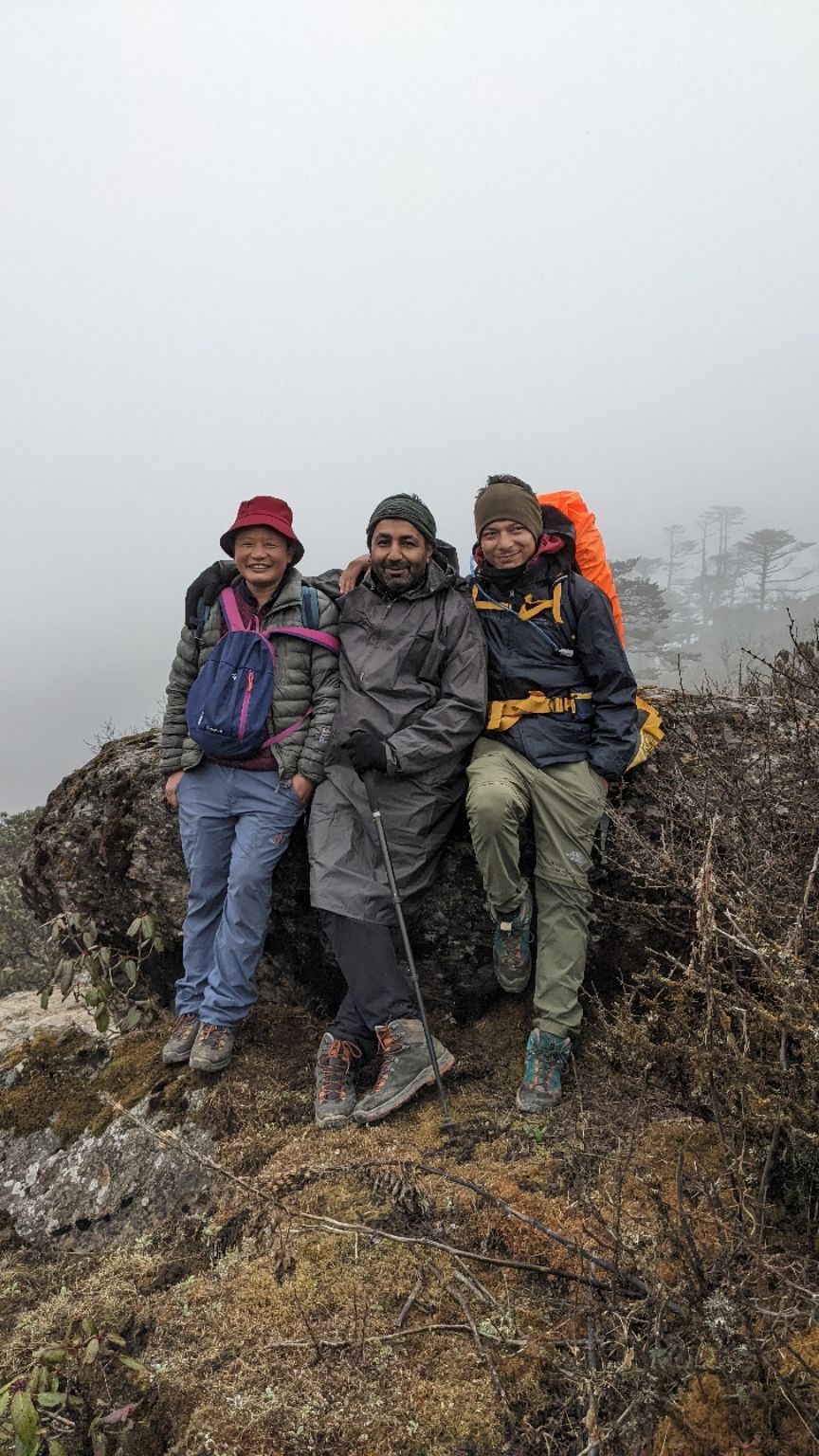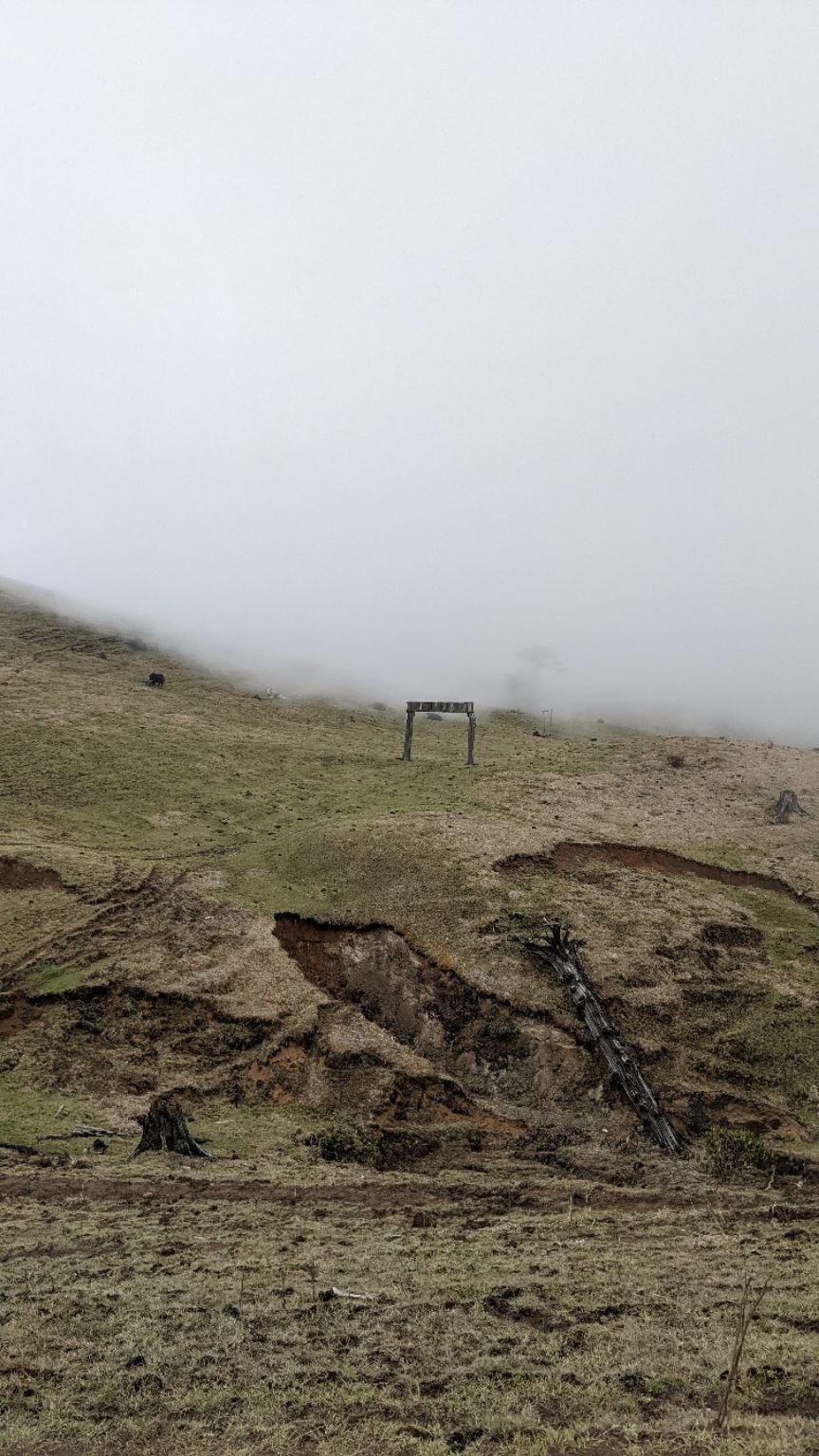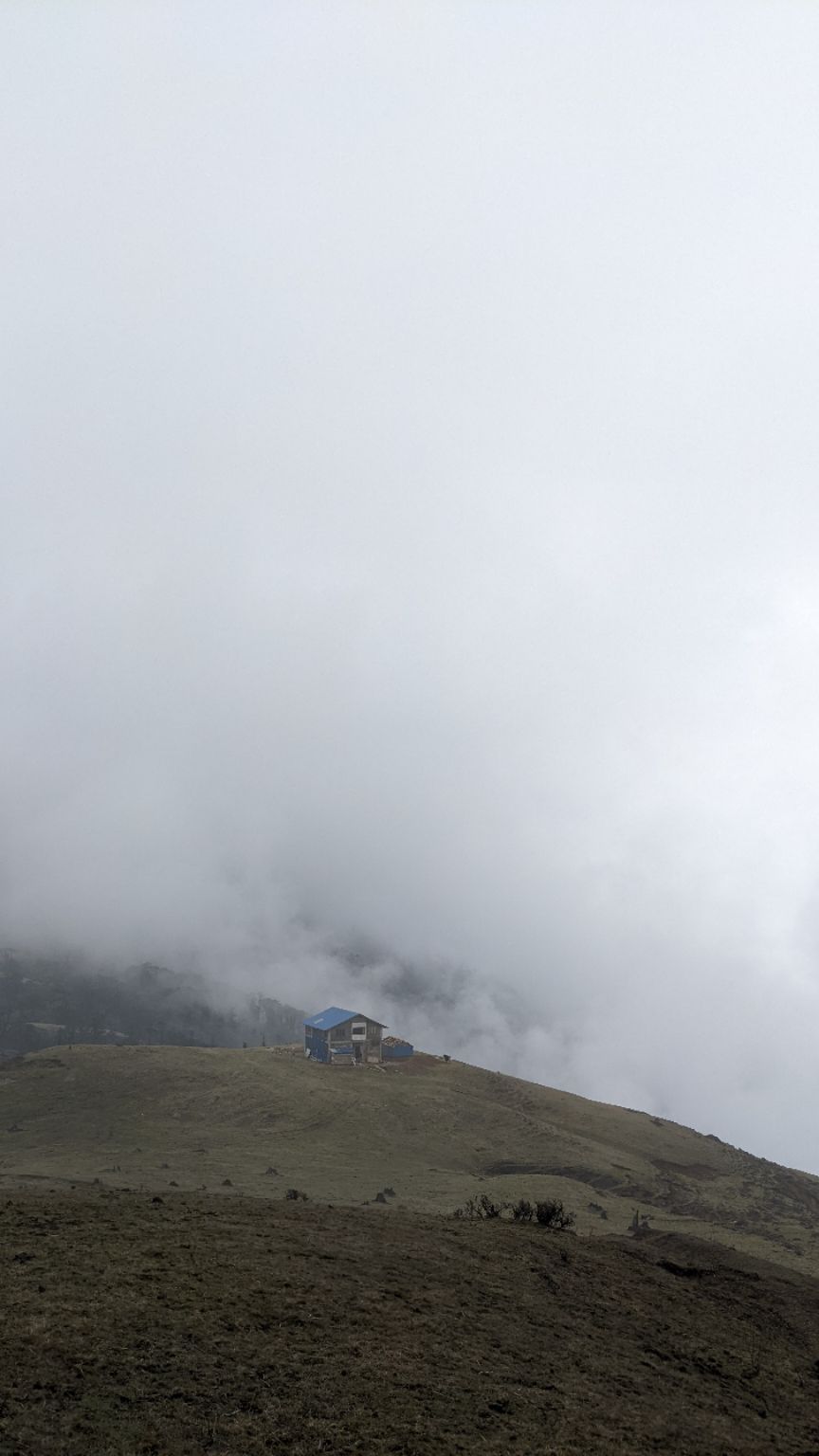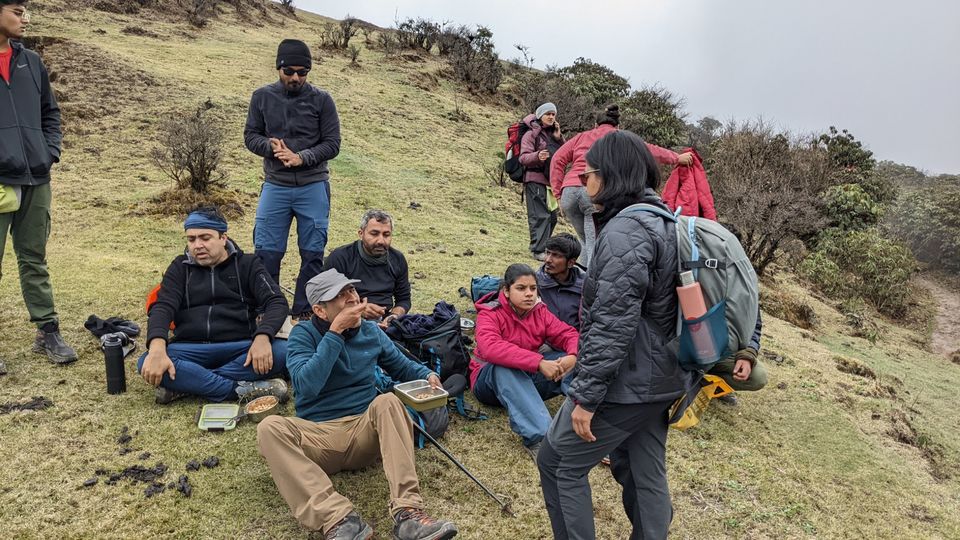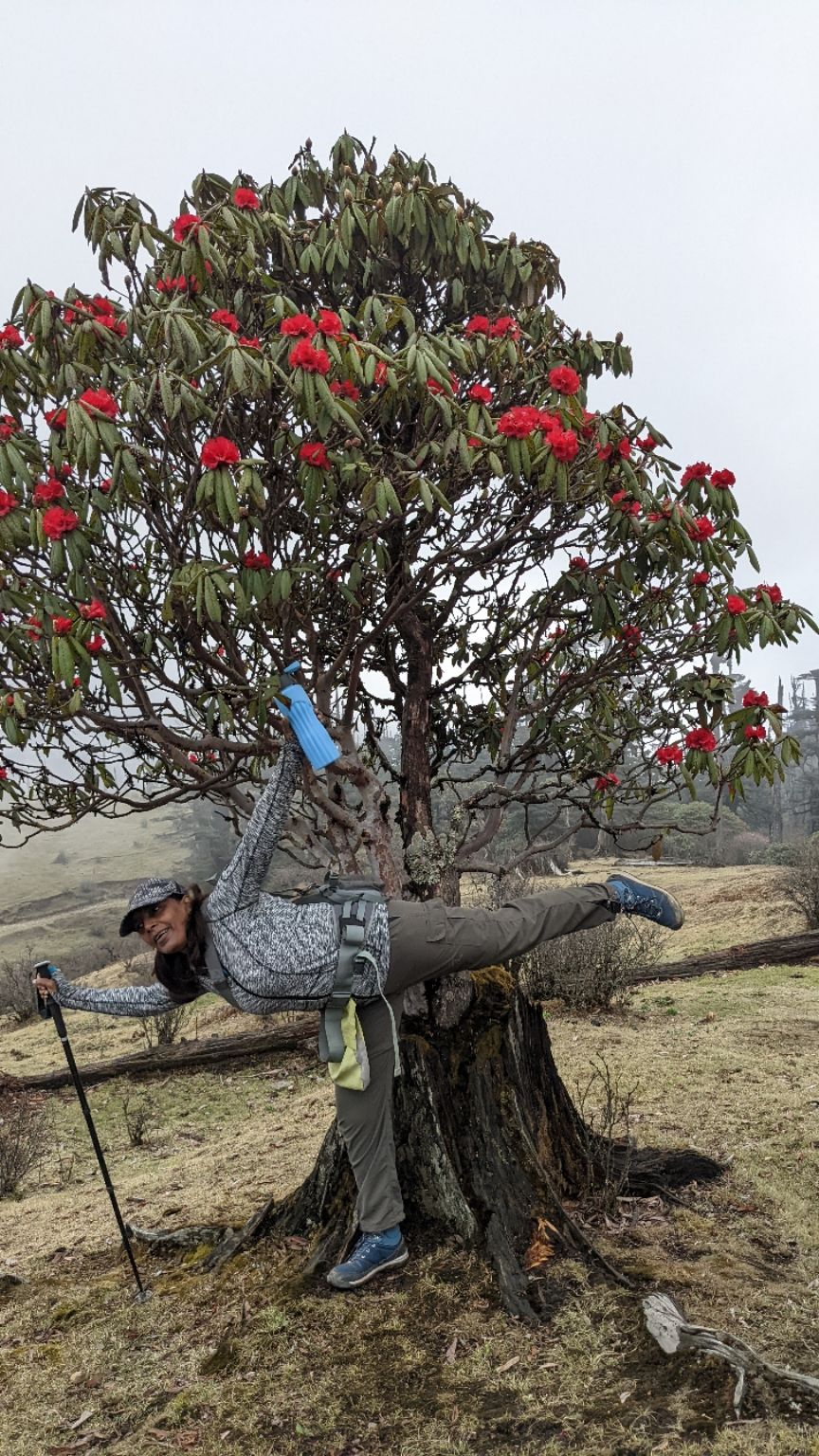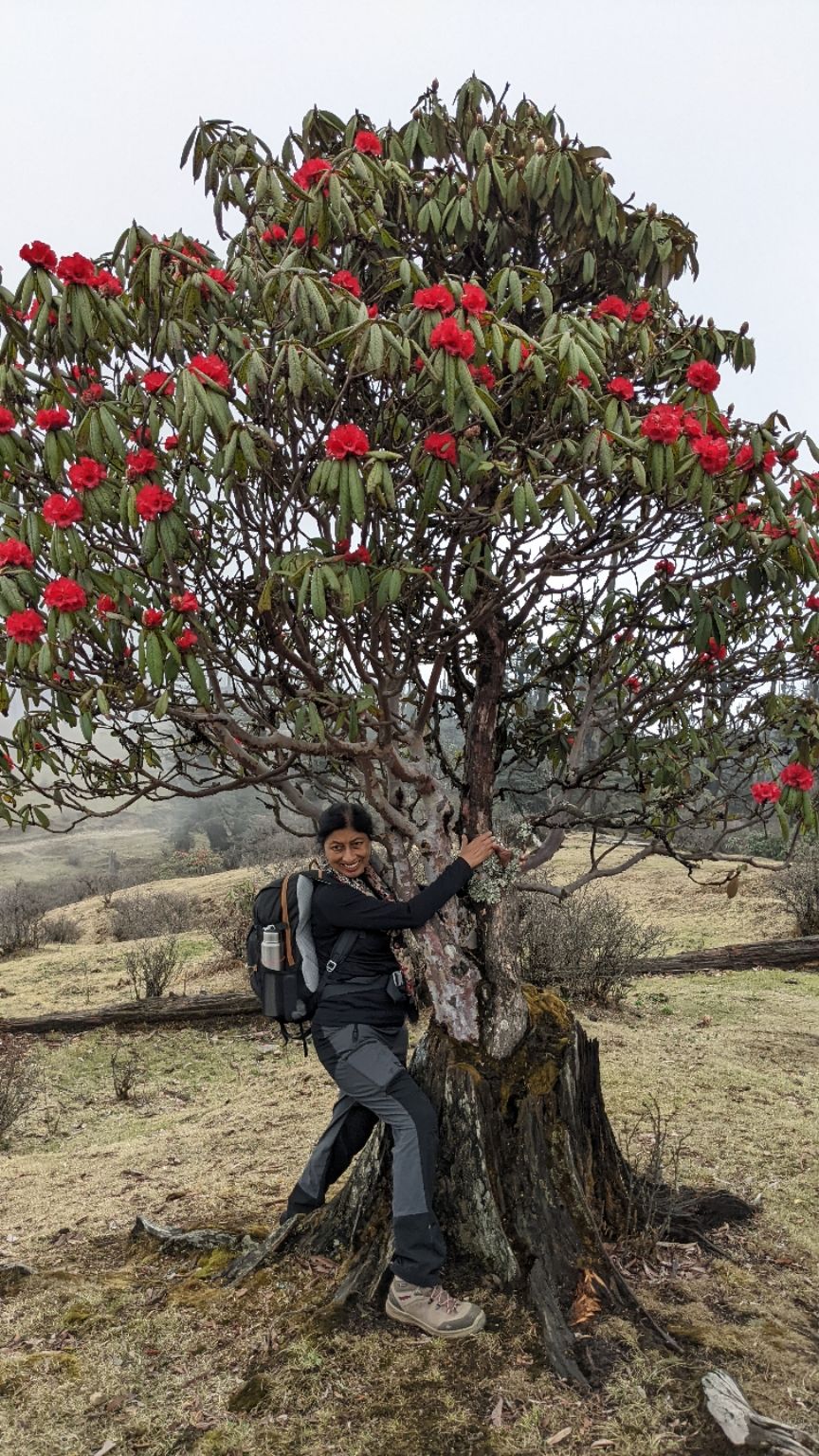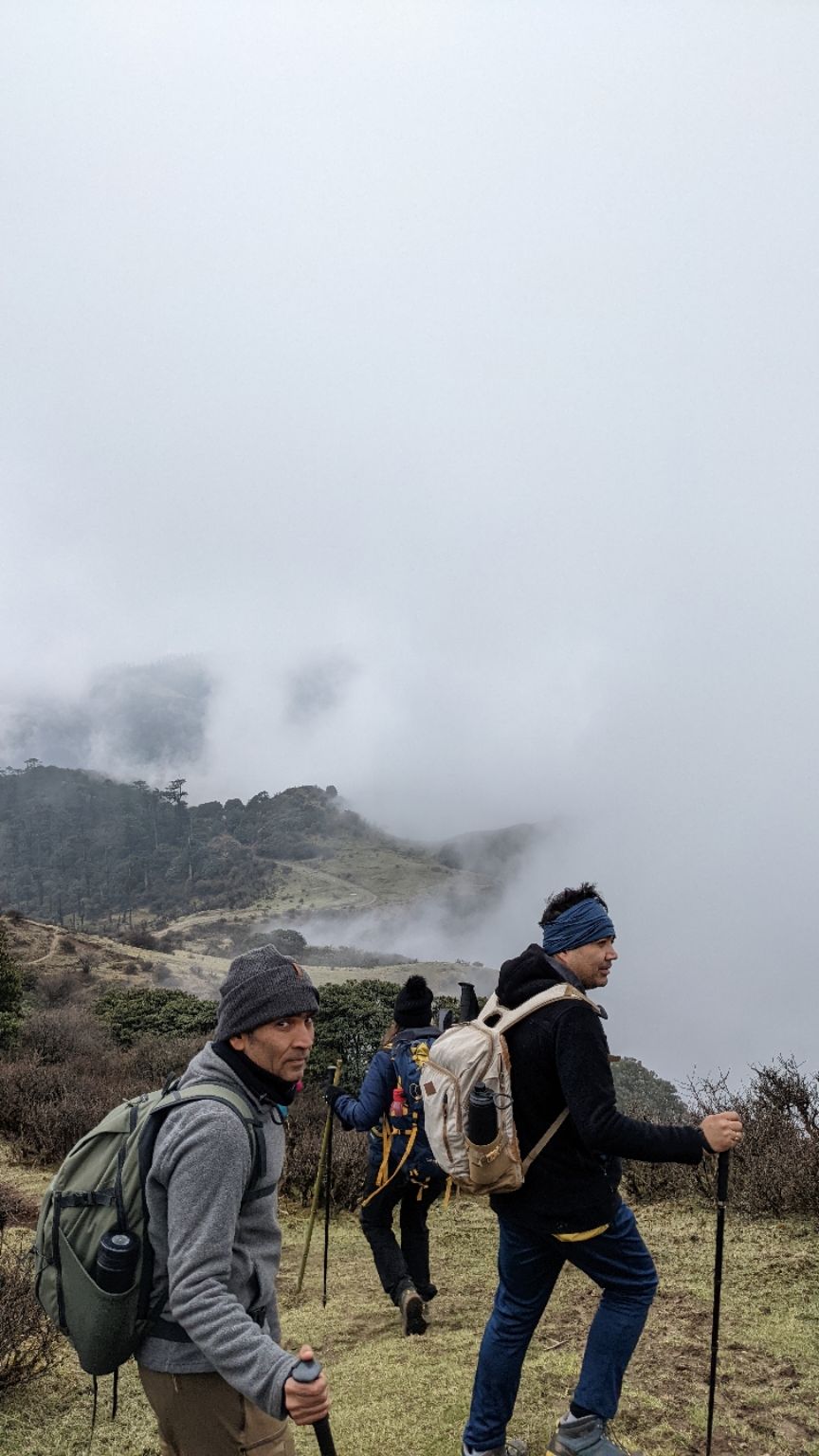 Final Day-
Reached Sandakphu but it was just a viewpoint(which was covered with rainclouds) with lot of Homestays and hotels nearby; which was sorta annoying and it kept drizzling, so the last descent became difficult as it got muddy.
But with the motto in mind "mushkil waqt, commando sakht" finally reached our last campsite at gurdum, which was really nice.
Took a nice shower after a long time.
We spoke about our learnings from this trek,
Got a fridge magnet as a memory to hold and one last time we danced, had dinner, arm wrestled, did push up and plank challenge together.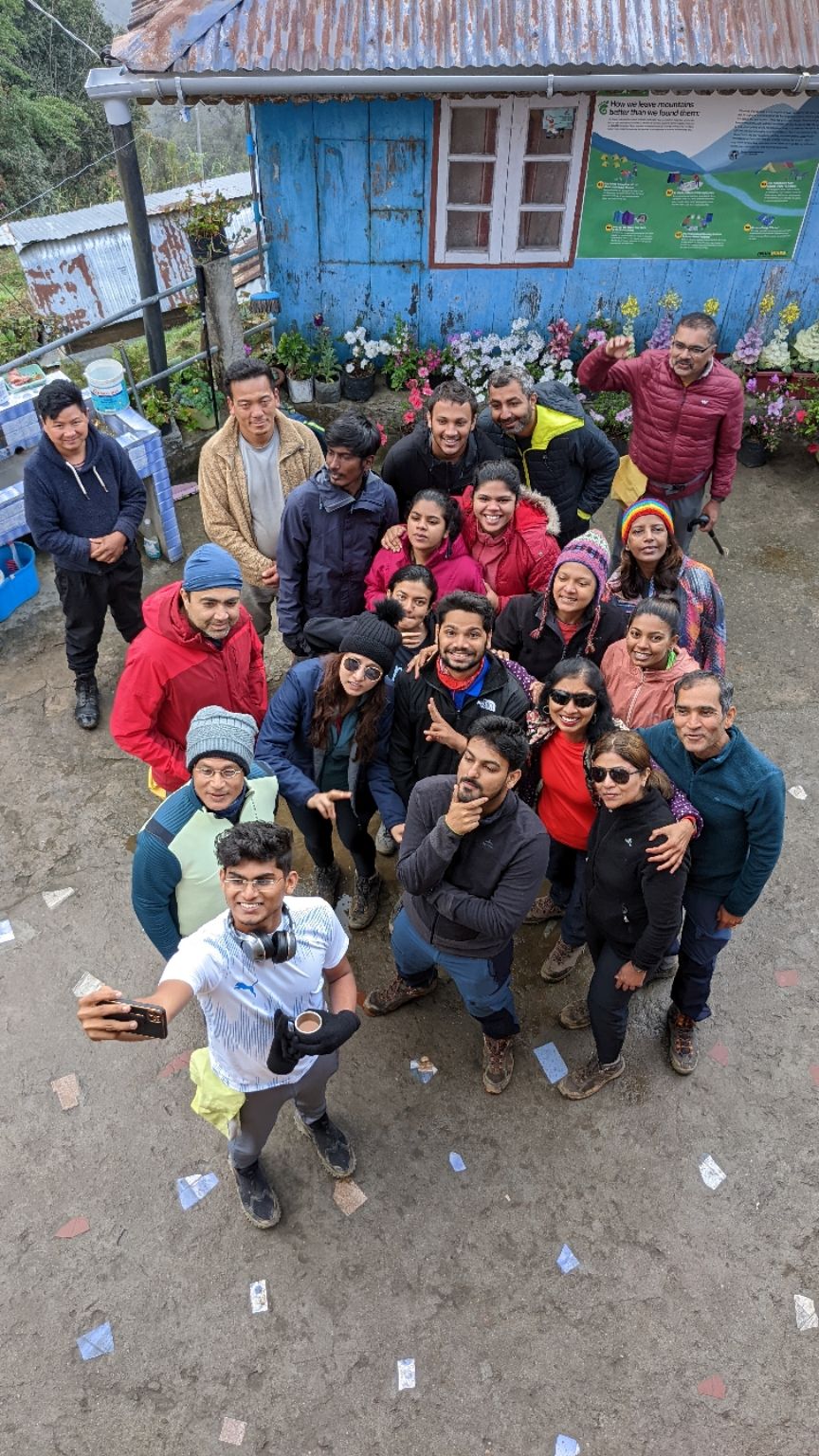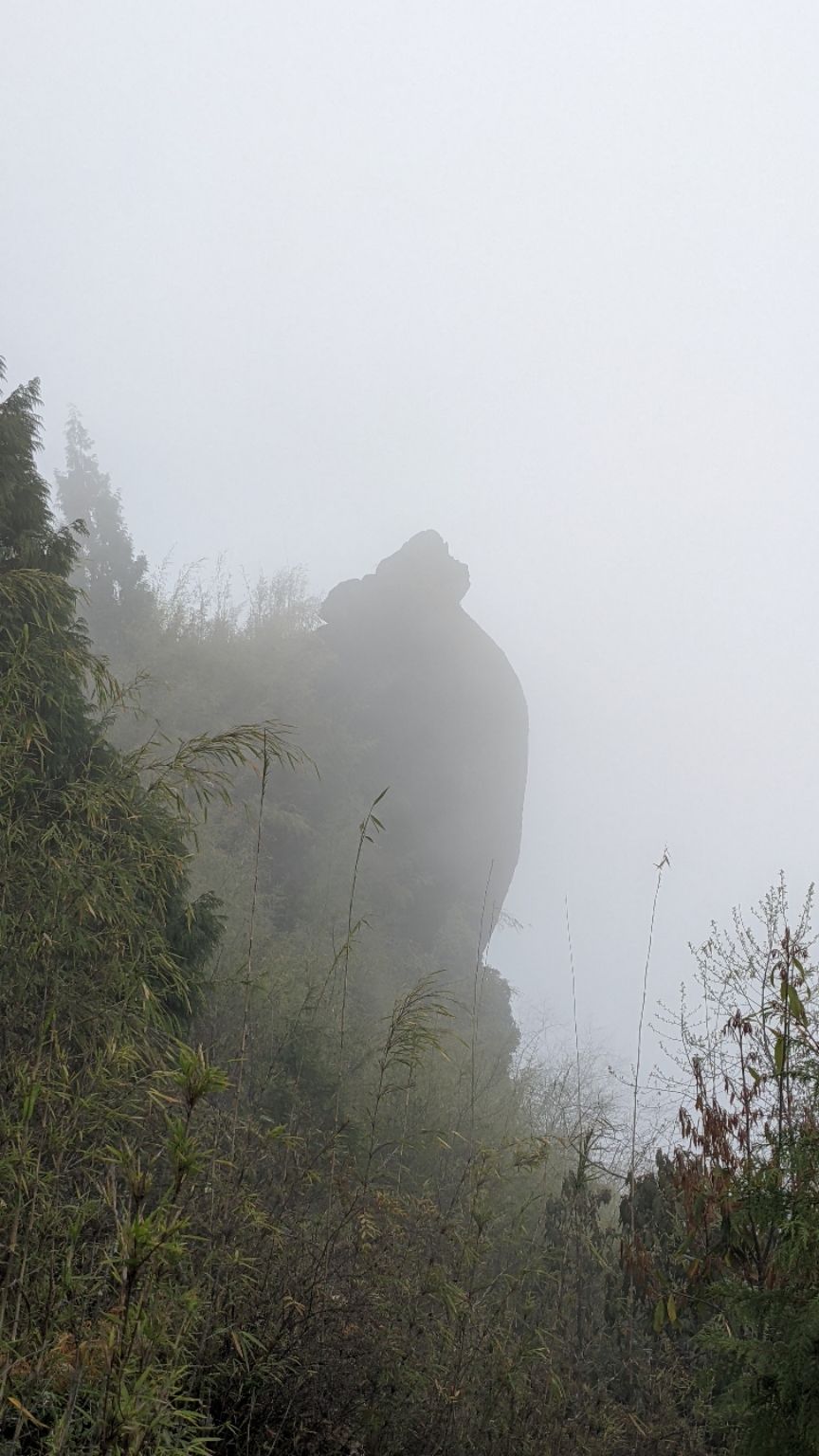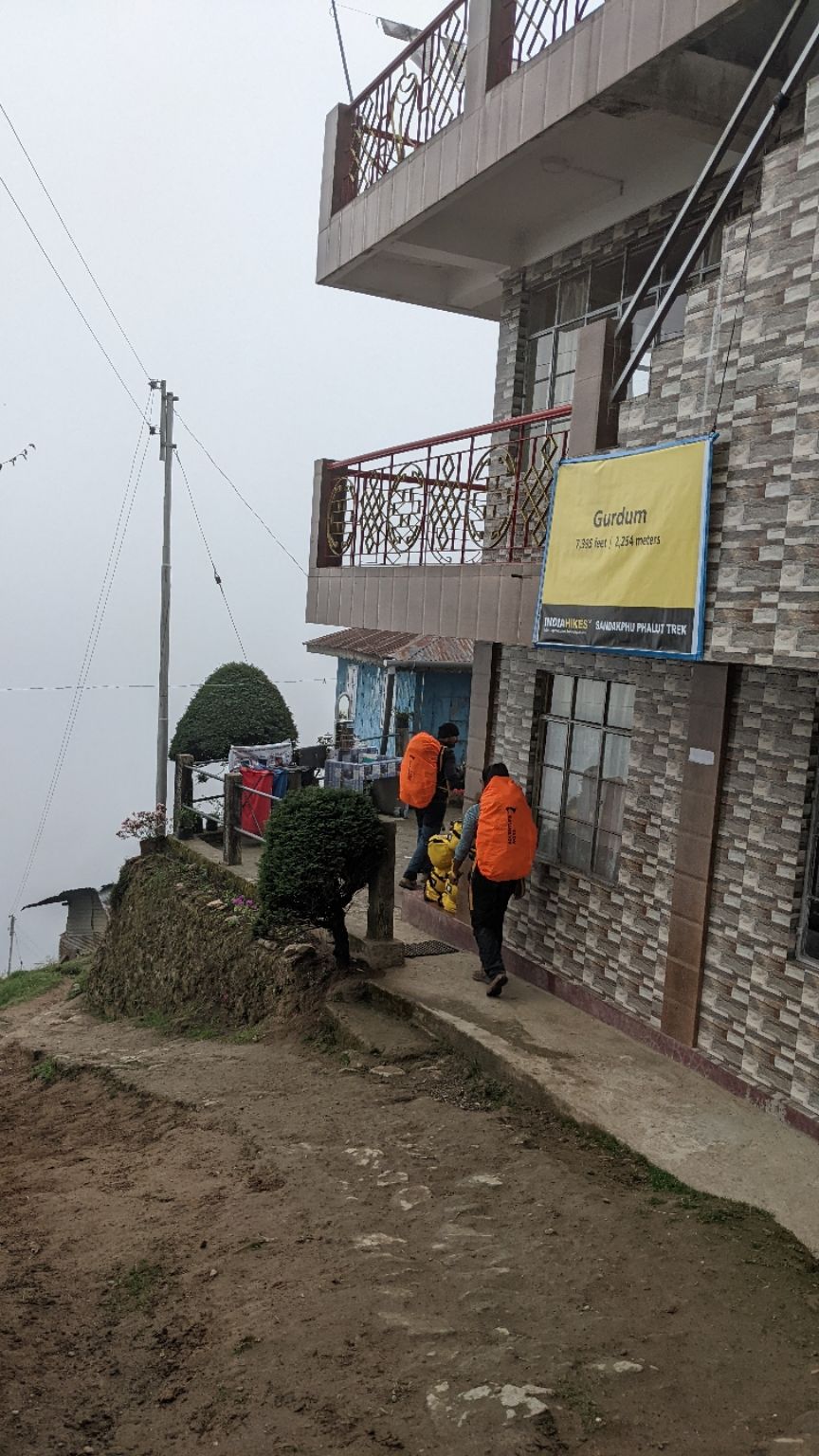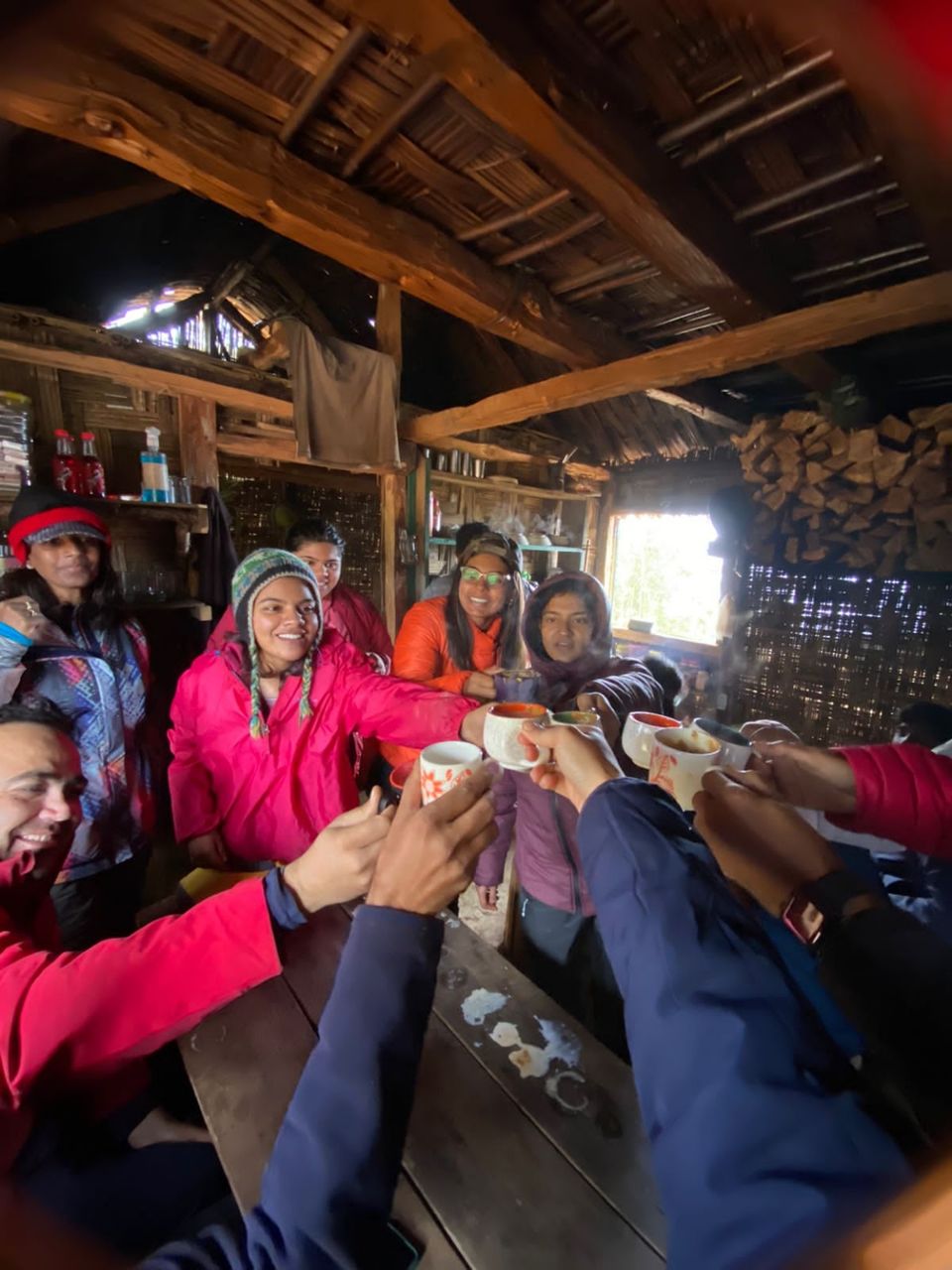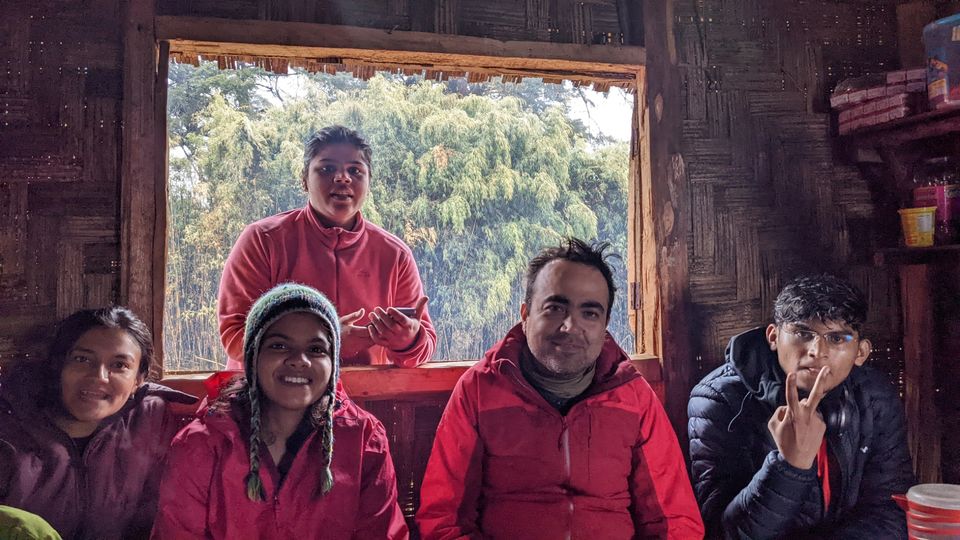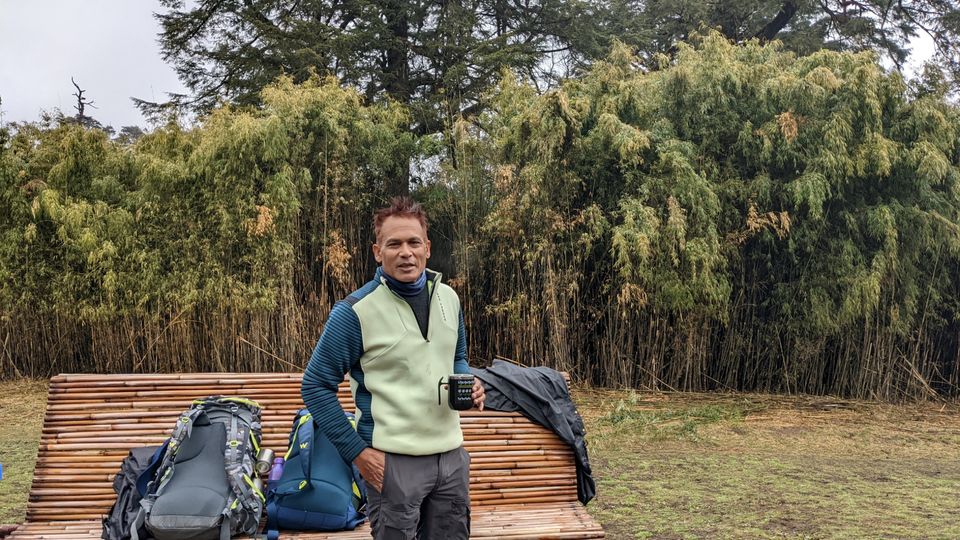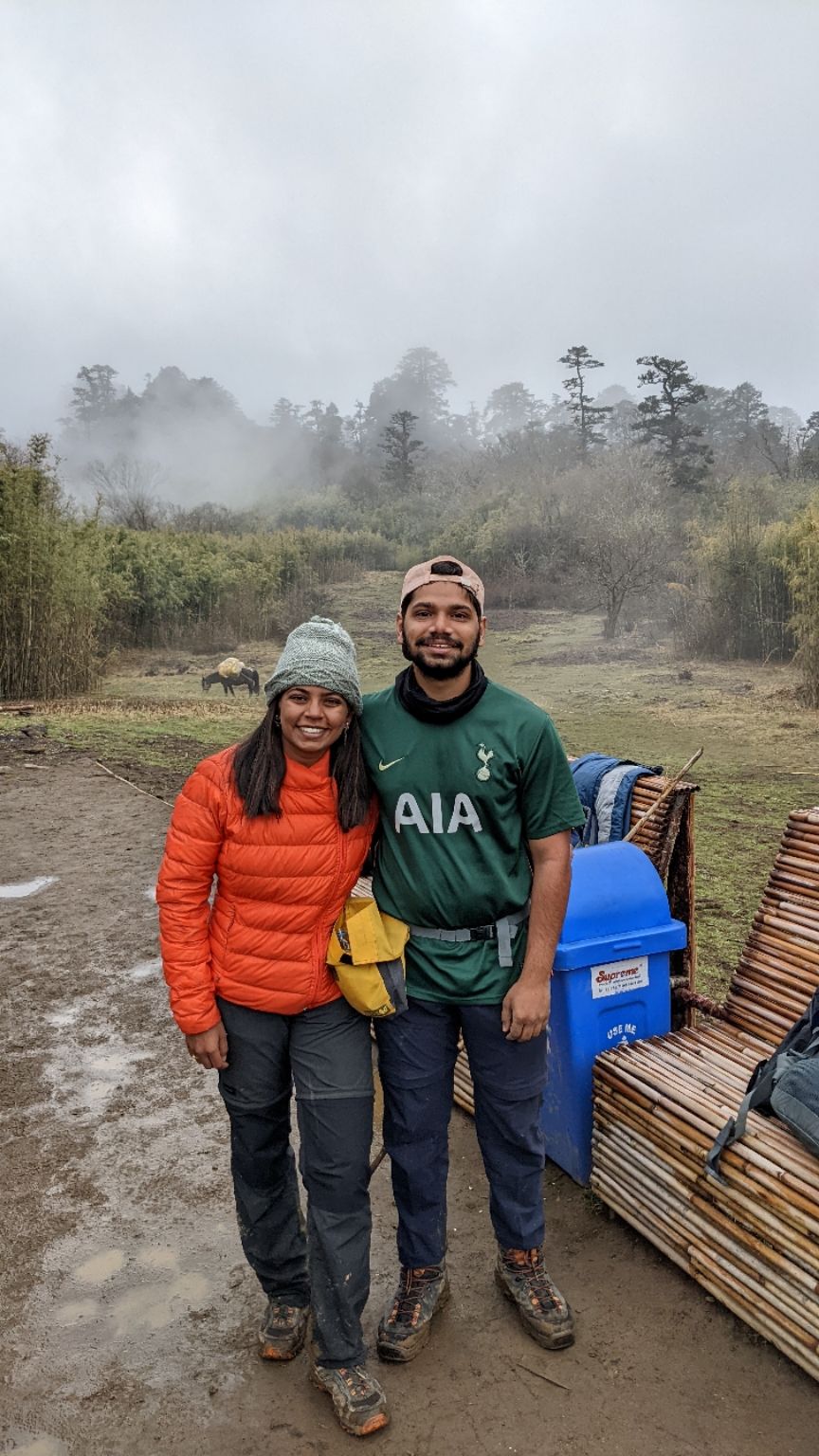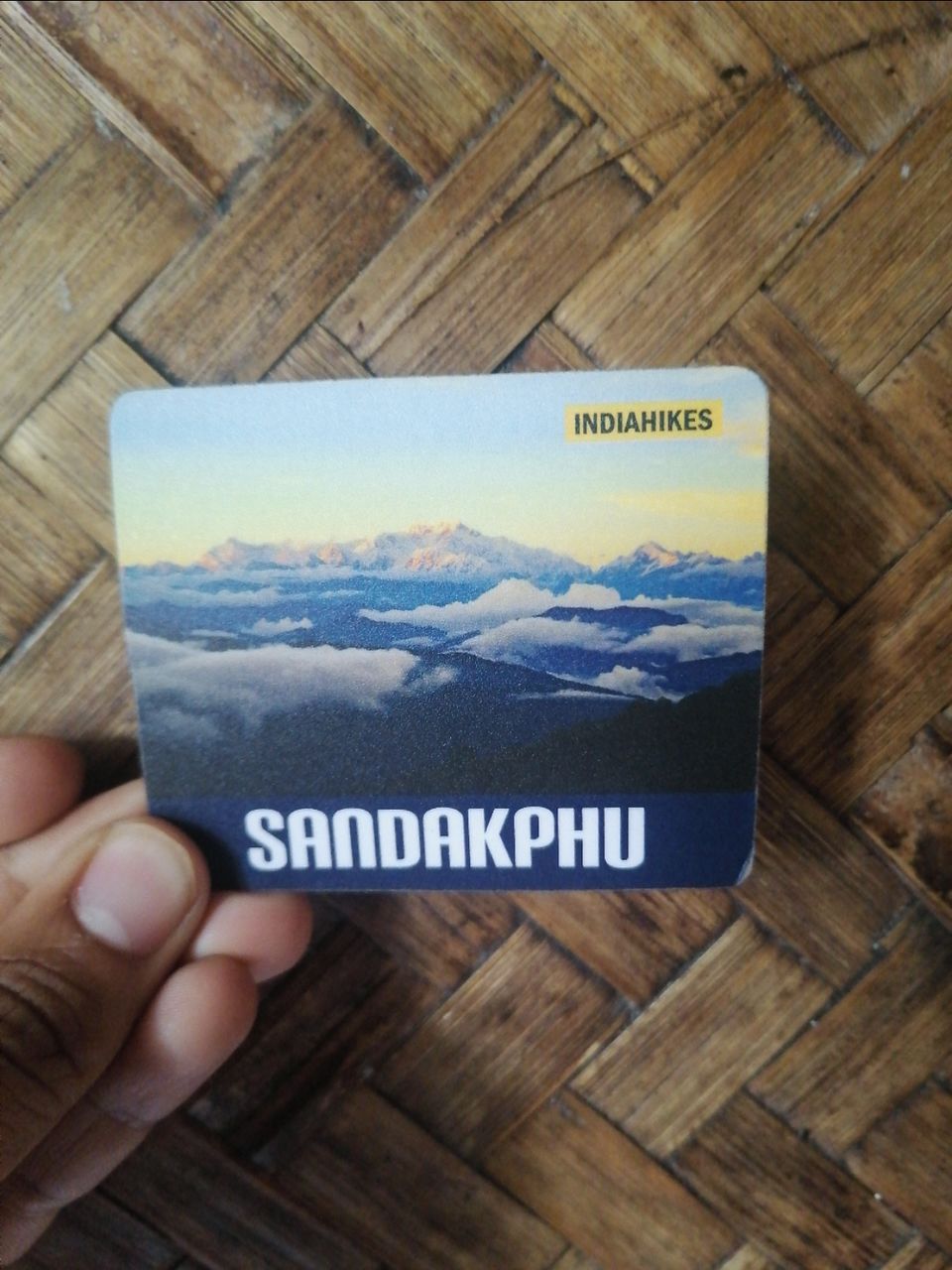 Circuit was completed as we came down to Sepi from Srikhola covering a total distance of nearly 66kms with lot of learnings and even if no view.
"A good trek is like a music note synced harmoniously"~Nitin(fellow trekker)
For more details related to this trek, check the below link
https://indiahikes.com/sandakphu-phalut/