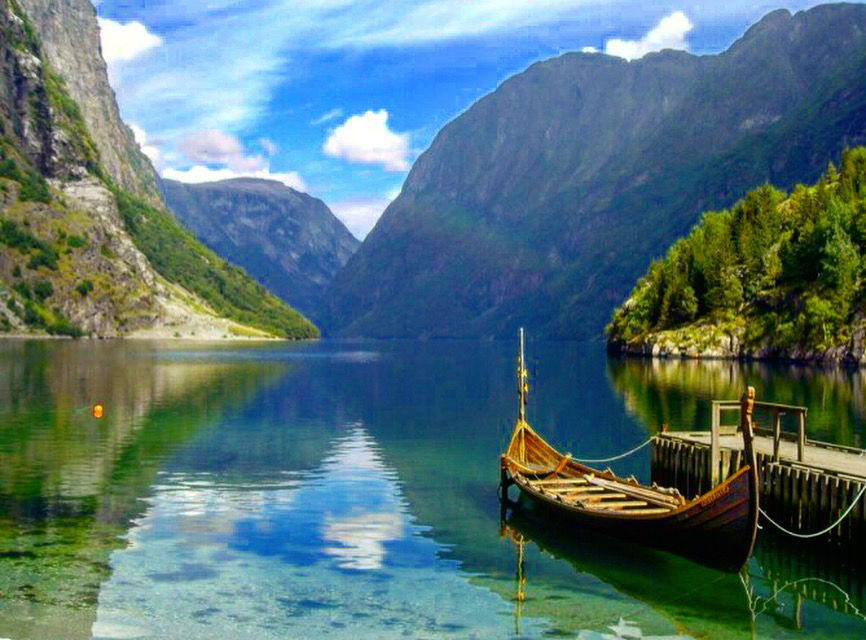 After experiencing the Polar Nights in the Arctics, chasing the beautiful Northern lights, experiencing the adventurous Dog Sledding and driving around the Fjords of northern Norway in Winter, we wanted to experience this beautiful country during Spring season as well. (To explore more about our experience in Tromso visit our blog: The ultimate guide to explore Arctics in 72 hours! And if you wish to explore the capital city of Norway you can find more details about Oslo at )
So, what is the first thing that comes in your mind when you talk about Norway?
Fjords. It's always the fjords. They are the symbol of the country with picturesque landscapes and one of the reasons why many people consider Norway as the most beautiful country in Europe.
We couldn't say we saw everything of Norway without visiting these beautiful fjords in spring or summer, which is why we chose to visit Bergen. Bergen is not only a beautiful and perfectly sized city, but it's the gateway to the fjords. By taking one of the fjord tours you can get an unforgettable experience of beautiful Norwegian fjords.
After been recommended it by tons of people, including several readers, we had our eye on something special: the tour, which we wanted to do for years. And when we found that the flight from was reasonable at Budapest to Bergen , we did not hesitate even once to book our flights instantly.
What is Norway in a Nutshell Tour?
The Norway in a Nutshell is round-trip tour from Bergen. The tour includes a ride on one of the world's most scenic train journeys in the old-fashioned Flåm railway, a cruise through Aurlandsfjord and the UNESCO World Heritage-listed Nærøyfjord and a bus ride that goes via the Stalheimskleiva (a 1.5 kilometre stretch of road with 14 hairpin bends).
This tour is one of the most scenic tours of Norway. It targets the travellers who want to see the "best of the best" of Norway in just 1 or 2 days - perfect for those with short on time.
The tickets for the tour can be booked or at the Tourist Information centre in Bergen. Since we were short on time we booked the tickets online before our trip and picked them up at Bergen train station.
Our Journey (with some photography tips to get the best views):
1. Bergen to Voss - The first leg of the tour (1 hour train ride - departing at 8:43am)
Photography Tip: In my opinion. sitting on the left side of the carriage gives you the best views.
2. Voss to Gundvangen - The second leg of the tour (1 hour bus ride)
After arriving in Voss there were buses sitting outside the station ready to take us to Gudvangen for the fjord cruise. The buses had signs to say they were for the Norway in a Nutshell tour, so the transfer from train to bus was very easy.
During the summer months (May-September) the bus travels via the Stalheimskleiva hairpin bends.
Photography Tip: sitting on the right side of the carriage gives you the best views.
3. Gundvangen to Flåm - The third leg of the tour (2 hour cruise ride)
Once we got off the bus we had a little bit of time to wander around and take some photos before getting on the boat.
The boat has an indoor and outdoor seating as well as an indoor cafeteria. The indoor cafeteria is at the front of the boat and has great views. Despite the blue skies it can be chilly outside! So don't forget to carry warm jackets and hand gloves with you.
Photography Tip: Try to grab a spot on the third level of the deck in the direction of captains cabin. This way you will get the front view. Also once the journey starts you can move around the boat and capture 360 degree view beautifully.
4. Flåm - The fourth leg of the tour (Layover for 1 night)
Our cruise ended in Flåm where we had where we had our hotel booking at one of the village's two accommodations, for 1 night. Flåm is a very small village with not more than 100 residents. But being a touristic place this town has some tourist shops, cafes, a small museum and a Coop supermarket which is good for stocking up on some snacks and drinks for the rest of the journey. Explore more about Flåm in our separate blog post:
5. Flåm to Myrdal - The fifth leg of the tour (approx. 1 hour - Train Journey)
Next we boarded the train to experience one of the world's most scenic train journeys in Flåm Railways. This journey was incredibly spectacular. We just couldn't the whole time as everything looked beautiful and perfect. Some of the windows on this train can be opened so we advise you to try to getting a seat with open window to capture best photos. This train also makes a 5 minute stop at the Kjosfossen waterfall so you can get out and take some photos.
Photography tip: After enquiring at the info centre in Flåm, the right side of the train seemed to have better views.
6. Myrdal to Bergen - The sixth leg of the tour (2 hours - Train ride)
We then changed trains at Myrdal and from there its about 2 hours back to Bergen. The train travels non-stop from Myrdal to Voss and from there takes the same route between Voss-Bergen. We arrived back in Bergen at around 6pm.
Travel Tips:
The Norway in a Nutshell tour is available as a day trip or as a tour with overnight stays en route. You can start the tour in Oslo, Bergen, Voss or Flåm and it runs year-round. If you have the time we'd recommend adding an overnight stop like we did. Because we believe that it can be quite exhausting doing so much travel in one day.
We'd also recommend packing some food and drinks to take with you as the only opportunity to buy anything is on the cruise boat where your choices are fairly limited or in Flåm but you don't arrive there until after 2pm.
Where to Stay:
Our choice: Clarion Collection Hotel Havnekontoret
This Nordic Choice Hotel is right on the water, and has a delicious breakfast. We were luck to get an amazing deal at and we really enjoyed this hotel. !
One of your biggest travel expenses and time-consuming tasks is booking accommodation, and we all want to save time and hopefully some money when searching for deals online.
Whilst there are plenty of websites these days to help you search for accommodation, some are more trustworthy than others, and some are easier to navigate than others.
Choice Hotels, are proud to help you find hotels that make it possible for you to connect with the people who matter most. Whether you are seeking leisure or business hotels, around the globe, with more than 6,400 hotels in over 35 countries and territories their hotels are never far from where you need to be. These are best choice to save money and get to live in some beautiful style hotels!
Explore more about Choice Hotels and !
2. Booking.com :
In my opinion, not only are they are the best hotel booking site, but the best accommodation website.
And if the above options aren't enough for your style or budget, you can even book Lodges, chalets, luxury tents, campsites and more.
It is an online marketplace and hospitality service, enabling people to list or rent short-term lodging including vacation rentals, apartment rentals, homestays, hostel beds, or hotel rooms.
Unforgettable trips start with Airbnb
How to reach:
As we found that the flight from Budapest to Bergen was reasonable at, we did not hesitate even once to book our flights instantly. to book your flight or car rentals for anywhere in the world!
2. Disclaimer: This post contains affiliate links, which means I receive a small compensation if you make purchase using these links. However, it will cost you exactly same or sometimes less. This money goes towards maintaining the website.