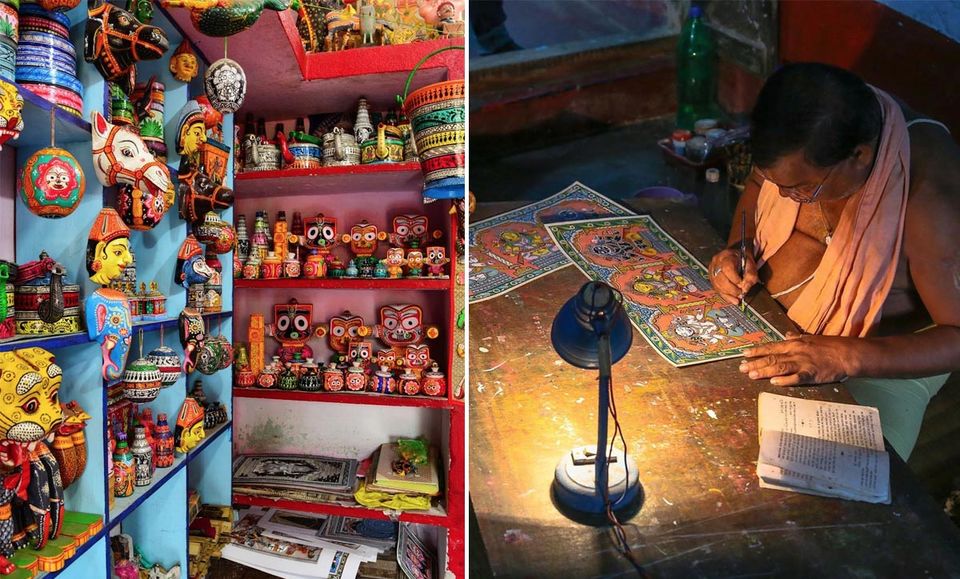 Raw and largely unexplored, the Eastern hinterland of India houses many hidden stories that almost never capture the imagination of the regular traveller. Merely 10 km from Puri, lies a one of its kind artisan village that is opposite of everything that the bustling religious centre stands for.
The roads in Raghurajpur are not in a great state and 4G connectivity is nowhere in sight but despite that, the people here have managed to put this village on the world map. Raghurajpur is credited for being the birth place of pattachitra, an ancient art form that involves painting stunning motifs on pieces of cloth. Even all these years down the line, the people of Raghurajpur continue to work day in and out to keep this rare art form alive. Believe it or not, there is at least one artist in every household in Raghurajpur, giving it the distinction of being India's only all-artist village!
Why travel to Raghurajpur
1. Pick up souvenirs on the streets of Raghurajpur
The quaint village of Raghurajpur is home to the Chitrakars, a unique community that has traditionally been involved in arts and crafts. The Chitrakars are particularly known for their signature cloth paintings called pattachitra (Patta means cloth, and Chitra means picture). The people of Raghurajpur work meticulously to preserve the ancient art form, using their skills to create unique souvenirs. Take a walk along the village and pick from a range of products to take back home–wooden toys, stone carvings, miniature paintings and more.
2. Offer your prayers at the famed Jagannath Temple
Considered to be the seat of Lord Jagannath, Puri is one of the four holy dhams of Hinduism. The temple town attracts devotees from all parts of the world who flock here to offer prayers in the famous Jagannath Temple. Puri also hosts an annual rath yatra dedicated to Lord Jagannath, an event that finds a place in bucket lists of many seasoned wanderers. Gandicha Temple, Pancha Tirtha, Vimla Shakti Peeth and Sakshigopal Temple are other important religious spots you can visit on your trip to Puri.
3. Take a day trip to Chilika
Located at a distance of about 100 km from Puri, Chilika makes for a great place to plan a day trip with friends and family. Start your day by heading to Nalbana Bird Sancutary, a protected island on the Chilika Lake which also happens to be home to several rare exotic birds. After a session of birding, head over to the shores of Chilika Lake, set up a picnic and spend the day bonding with your travel buddies.
4. Unwind on white sand beaches
Resting along the mighty Bay of Bengal, Puri also enjoys a pristine coastline that's waiting to be explored. So if you're someone whose idea of a vacation involves lazing about and doing nothing, take a day out to go beach hopping in Puri. Visit Golden Beach to witness sand art, Puri Sea Beach to try local street food and Balighai Beach to spot Olive Ridley turtles.
Cuisine on offer
Raghurajpur is a typical Oriya village with minimal tourism and hence, there are no restaurants and cafes. But if you're a fan of simple homely food, you will fall in love with Puri! The food scene in the temple town is dominated by dhabas, local restaurants and home kitchens. Though there are many North Indian restaurants in Puri as well, I would suggest that you go local and try Oriya and Bengali delicacies instead. Here are some of the top places to eat in Puri:
A local favourite, Dalma serves the most authentic Oriya cuisine in town. Opt for a veg thali and order a serving of the local macha besara and I bet you'll experience an explosion of flavours!
Located on the famous VIP Road, Wildgrass Restaurant offers the best of both worlds – great food and an even better setup. Head here if you're looking to gorge on Bengali delicacies like grilled pomfret and crab curry.
Sahoo Brothers, Jagannath Temple Road
No matter what kind of traveller you are, a trip to Puri can never be complete without sampling the chenna poda, or the Puri cheesecake. The burnt cottage cheese cake is cooked in huge tandoors and is unlike anything you will ever come across. Head to the Jagannath Road and ask around for Sahoo's sweet shop for what is arguably the best chhena poda in town.
When to go
Puri is almost a year round destination with moderate temperatures throughout. The April-June period is the only time when the weather gets a little too hot. However, if you don't mind the heat and want to save on accommodation, go ahead and plan a trip already!
Getting there
Here's how you can reach Raghurajpur from New Delhi:
By air
There are daily direct flights that connect Delhi to Bhubaneshwar's Biju Patnaik Airport, the closest airport to Raghurajpur. Hire a private cab to reach the unique village in an hour (45 km). Book your flight tickets well in advance and you might be able to get return flights for as low as Rs. 6,000.
By train
If you're looking for a budget option, catch a train from New Delhi to Puri, a journey that will take about 30-35 hours. From Puri Railway Station, hop on to a local bus headed to Chandanpur and get off at the main bus stop. Ask around for directions and walk for 3 km before a big, bright board welcomes you to Raghurajpur. Alternatively, you can also hire an auto from the railway station for half a day (Rs 500-700).
Getting around
The best way to explore Raghurajpur is on foot–spend your day walking from one house to the next, witnessing stunning artworks and interacting with the friendly locals. On the other hand, if you're going around in Puri, cycle rickshaws and autos will be your go-to options. Make sure you have your bargaining game on point!
Accommodation
There are no home stays or hotels in Raghurajpur. Puri on the other hand, has quite a good range of stay options for travellers on all kinds of budgets. Here are our picks:
You can get a premium room at Mayfair Waves starting Rs 11,000 per night. The price is for twin accommodation and includes a plush continental breakfast.
Have you ever travelled solely for the love of food? Click here to share your exciting travel stories with the Tripoto Community.
Get travel inspiration from us daily! Save our number and send a Whatsapp message on 9599147110 to begin!
Watch travel stories come to life with Tripoto on Youtube!
Frequent Searches Leading To This Page:-
exciting deals on wildlife tours Odisha, unique places in odisha, tourist place in odisha, amazing trip to Odisha, Unexplored Places in Odisha