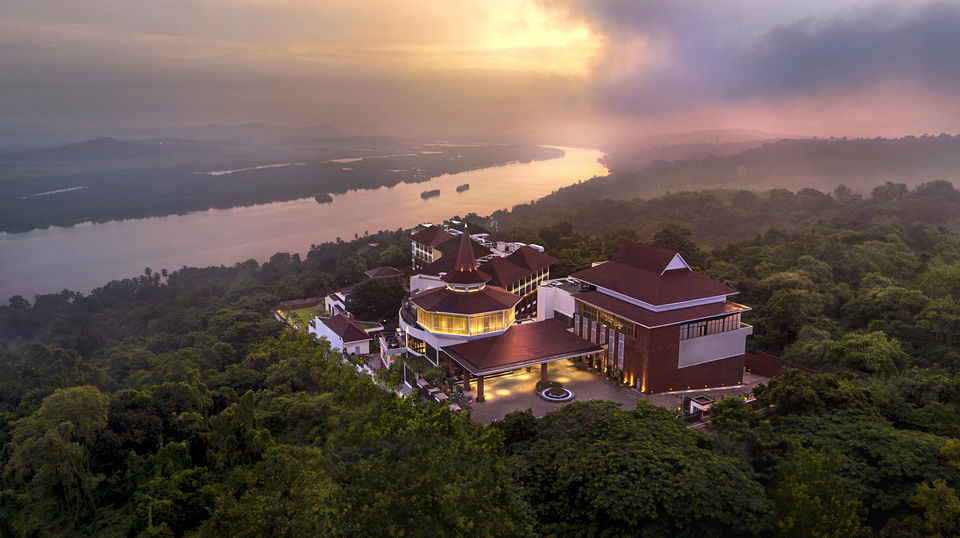 Post pandemic I took my first flight to Goa with family. This wasn't my first trip to Goa but considering I was traveling after a hiatus of almost a year it was exciting.
While on my most trips to Goa, I have stayed either in North or South part of the beach destination, this time I chose to stay at a luxe hotel in Panaji that has got rave reviews from families- DoubleTree By Hilton Panaji. Tucked between lush forest and quaint Mandovi river, the hotel is a 45-minute smooth driver from the Dabolim Airport.
After a three night stay, I can comfortably say that it exceeded my expectations, especially at the price point that it operates at.
My son was given that extra attention from the moment we entered. He did check-in formalities on our behalf and filled out his food preferences in the form. After thermal check-in and welcome drink we were escorted to our suite that had a safety seal, an assurance the room was sanitized and then sealed.
DoubleTree By Hilton Goa - Panaji houses rooms and suites in various categories, including accessible rooms. I was pleasantly surprised when I first saw the suite in which we checked in. It was spacious and had a gorgeous view of the infinity pool overlooking the Mandovi river.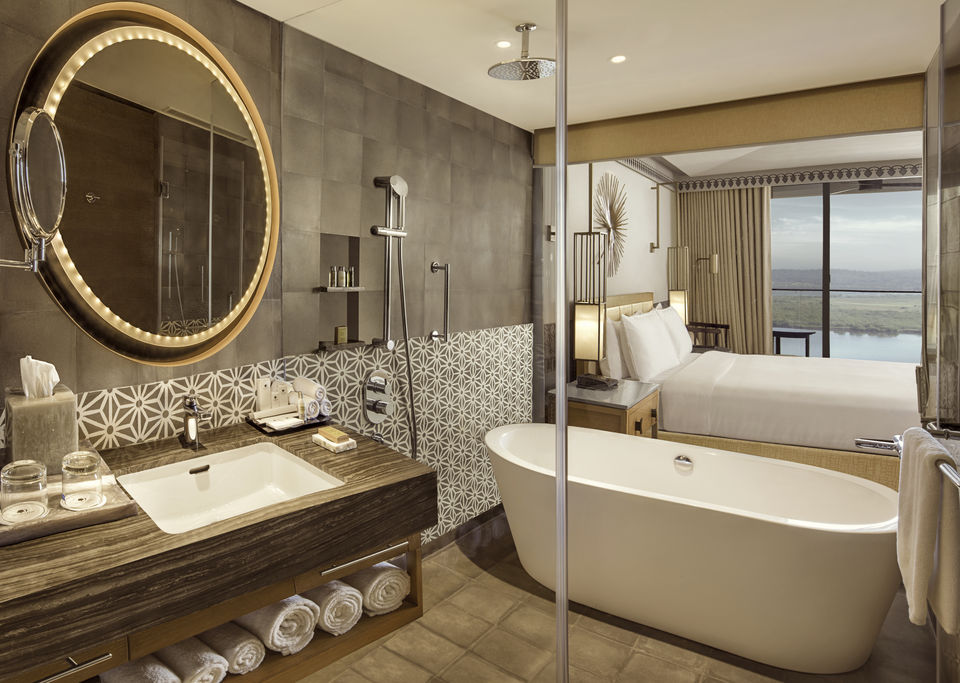 Personalised amenities welcomed us at our suite that had a living room, bedroom, plush bathroom and a beautifully done balcony where I spent time sipping juice and soaking in the gorgeous views.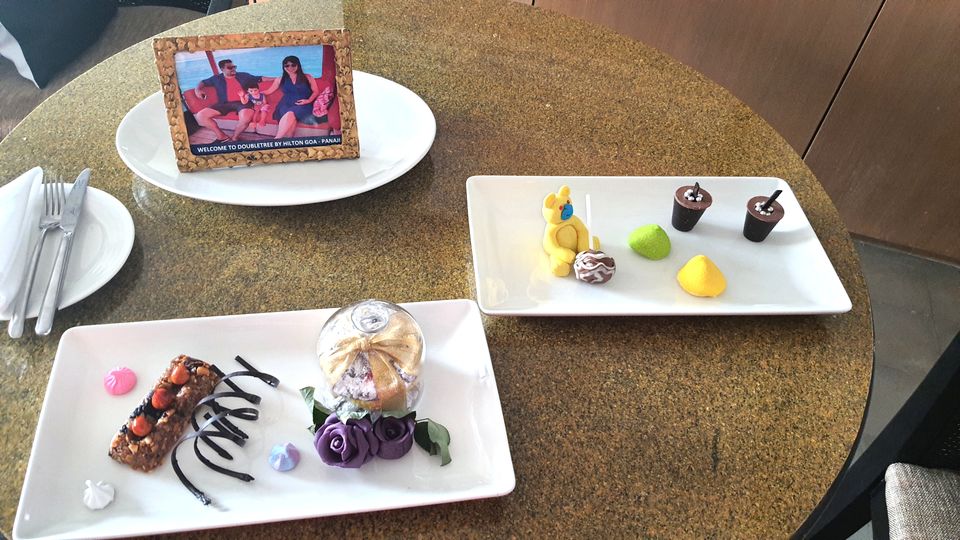 Goa is for gorging on seafood. Feliz at this hotel takes food a notch higher with its Goan, Magalorean and coastal cuisine. Executive Chef Ananth Shanmugasundaram rustled up a great meal for us at Feliz, which is open only for dinner and has a beautiful al-fresco setting. If you are in Goa and not staying at the his hotel, you still MUST drop by for a meal at Feliz. Our sumptuous meal included Prawn Ghee Roast, Mutton Sukka and Magalorean Fish Curry. On sides was the quintessential Neer Dosa, that goes best with this cuisine. For herbivores, there are vegetarian options available for Ghee Roast and even Sukka.
The modern all day dining restaurant Comida had a hearty breakfast spreadwith live stations and decent all-day ala carte menu. You can opt for Indian, Continental or Chinese. The presentation and plating is international, enhancing the experience.
Talking about meals at the hotel, well I loved our lavish breakfast in bed that the hotel nicely sent up. A soulful family meal in bed with view of the river.
For evenings Rio Salao and Comida Bar are perfect places to unwind with free flowing conversations, cocktails and panoramic view.
DoubleTree By Hilton Panaji is not your average cookie-cutter hotel. There are nice spaces that have been carved out to make your stay memorable and instagrammable. So on evenings you can spend time under the Mango Tree sipping chai at a Tapri-like setting with some munchies and pakoras. Sounds like a plan right?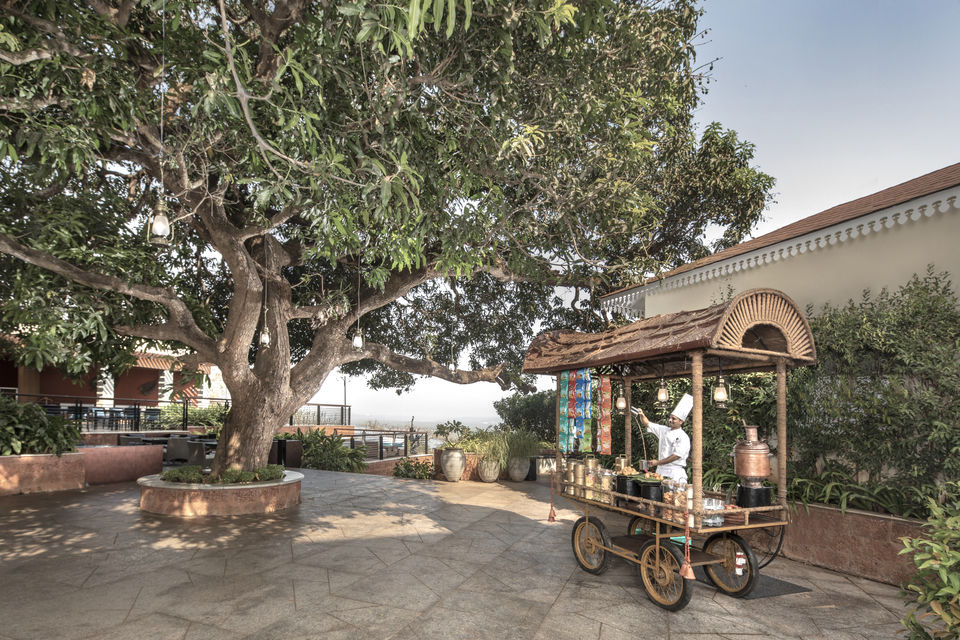 Beaches, shacks, late-night parties- been there done that in Goa? Well then it is time to let the hotel curate your itinerary. The hotel planned a very interesting #GreatSmallBreak for us. On our first morning we went on a trip to explore old Goa visiting the churches. Our car then hopped onto a ferry that took us to Goa's most beautiful hidden gem- the quaint Divar Island. During an hour long trip we strolled along the winding roads of the island, took a pause at the Church of Our Lady Compassion ( church in Divar Island), soaked in the panoramic views of Goa and photographed the Portuguese style cottages and Goan-style homes some of which were reminiscent of Santorini!
On another evening the hotel planned a sunset cruise for us with Champion Yachts. We chased the beautiful sunset on a luxe yacht. Of course there was beer to keep us company, that the hotel thoughtfully packed in the picnic basket, as we chased the sunset. On the river there were several casino ships slowly lighting up for a busy night.
This 'other side' of Goa is underrated and how! Can't thank the hotel enough for bringing this side of Goa alive for us.
The hotel has an expansive kids club and some activities like pottery to keep kids engaged.There is an infinity pool and fitness studio to ensure you have an active holiday. The Bambolim Beach is fifteen minutes drive from the hotel and Miramar Beach too is just 20-25 minutes drive. The casino ships are docked not very far from the hotel.
On our last day in Goa, on agenda was to spend time at the in-house Nilaya Spa and return home rejuvenated. Post a one hour relaxing massage at the couple suite that comes with a snazzy jacuzzi and a spacious bath space, we headed for the most surreal experience of our trip. A three-course meal at the poolside area that was decked up for a romantic candle-light dinner. The ambience, food, heady cocktails and the cool breeze, made it a perfect evening. The meal and this trip will remain etched in our mind for a long time.
Discover the other side of Goa with DoubleTree By Hilton Goa- Panaji: overview