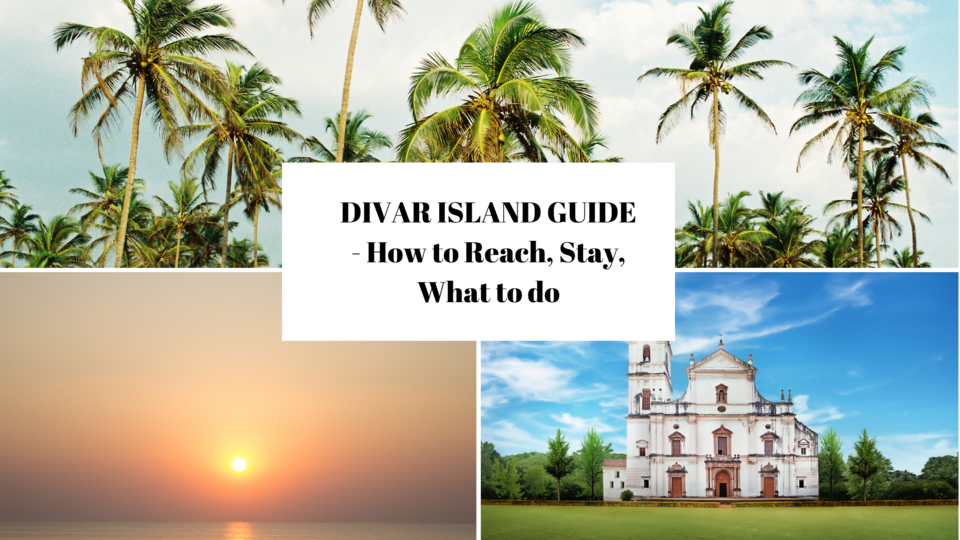 What flashes in front of your eyes when I say about an island trip? Maybe, swaying trees, a beautiful beach, pleasant weather and calmness?
What if I tell you that there are small clusters of Goa that remain unexplored and can help you fulfil your island fun? Divar Island, Goa, is that place I am talking about.
Surrounded by lush green paddy fields and dotted by vintage Portugal-styled houses, Divar Island is a destination one could not resist visiting!
Want to know more about this quaint place? Keep reading.
Divar Island Goa
Divar Island, Goa is an island and a quaint village in the middle of the Mandovi river with an identity of its own. Located approximately 10 km upstream from Panjim, this small island has a rich history.
It dates back to a time when Divar Island was home to a large section of Indians (mostly Konkani descents). However, people fled the island and old Goa because of the plague epidemic. Moreover, the Portuguese invasion during that era also played its part leaving behind ruins of famous temples.
Divar Island is between two bigger islands known as Chorao and Tiswaddi. There are four smaller islands such as Vanxim, Tolto, Jua and Accado.
HOW TO REACH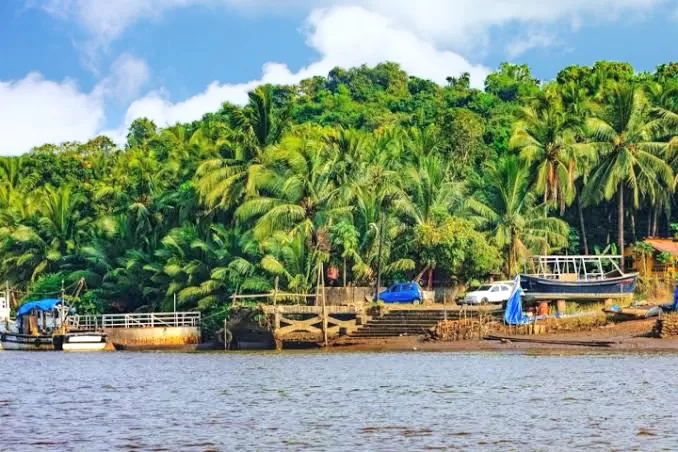 The only way to reach Divar Island, Goa, is by a government-run ferry. There is no motorable road to reach Divar Island.
There are three ferry terminals to reach Divar Island, Goa. There are various departure points to reach Divar Island. The details are as follows:
1. Old Goa
You can board it from Old Goa jetty, which is close to Panjim. This is by far the most popular route.
Piedade terminal is on the south-east between Divar Island and Old Goa.
Usually runs from 6 AM TO 2 AM (subject to weather).
The ferries that depart from Old Goa point will drop you at Piedade Ferry Terminal on Divar Island, Goa.
2. Naroa terminal in the Bicholim district (north)
If you are coming from North Goa – Baga, Calangute, Mapusa etc you can use this ferry crossing.
3. Ribandar (side)
This is on the southeast side of Divar.
Again, if you are coming from North Goa-Baga, Calangute, Mapusa etc, you can use this ferry crossing.
All these terminals may sound confusing, but they are not. I suggest simply checking on google maps the closest ferry terminal point from your location and hopping onto the ferry.
ENTRY FEE
There is no entry fee to Divar Island. However, Travellers with their 4-wheelers boarding their vehicles on the ferry have to pay a minimal price of INR 10.
If you are on bikes or bicycles, hop across for free! 😊
TRAVEL TIME
The ferry will make you reach in 15-30 minutes. The frequency is also decent as there is one ferry every half an hour.
THINGS TO DO
If you are looking for abundant activities, then Divar is not the place for you. However, if you get excited with stellar views, lush greenery, lazing around and old Goa charm, then you are in the right place!
There are 4 villages in Divar– Naroa, Piedade, Goltim, Malar. Piedade has the largest settlement.
Here are some places that you can visit on Divar Island, Goa.
Our Lady of Piety Church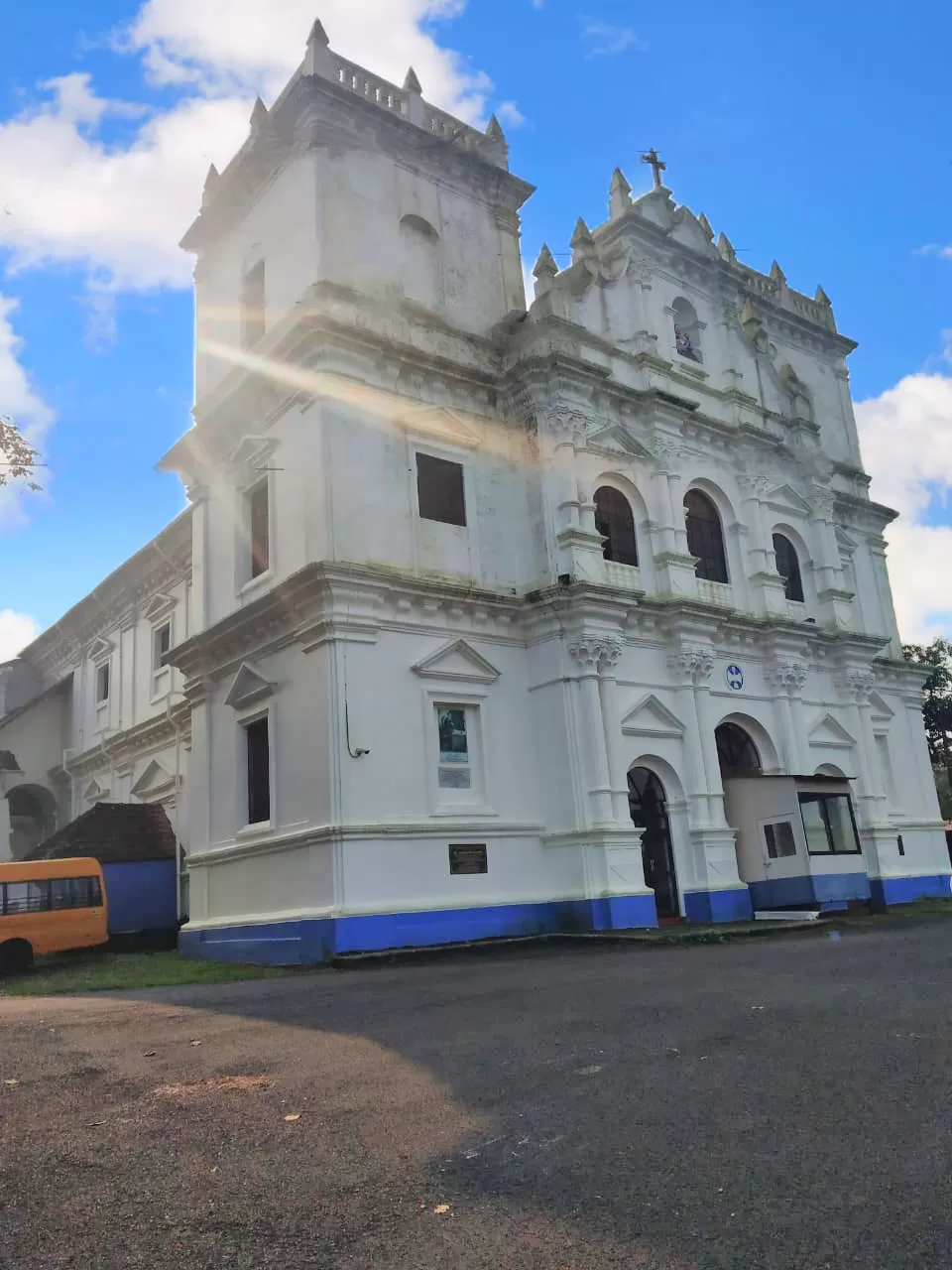 The Church of Our Lady of Compassion, also known as Our Lady of Piety, is in Piedade.
This Church is the first Christian structure constructed on Divar Island, Goa. The Church was rebuilt in and boasts Roman-style architecture. The peace and calmness that it radiates are matchless.
It is breathtaking to look at the beauty of this Island from this point, as the hill provides a great vantage point of old Goa. One can also see some structures of the Kadamba era.
Kadamba Dynasty Ruins
Ruins of the Kadamba dynasty (Koti Tirth Thali) is also in Piedade.
The original site of the famous Saptakoteshwar temple is the holiest shrine of the Kadamba dynasty, comprised of 108 temples. It was destroyed in the 14th and 15th century and thereafter, the main idols were moved to Bicholim. A temple was built in the 16th century.
The pond in the picture, which was originally part of the main temple, comprises submerged 108 carved miniature temples, i.e. the holes at the base where idols/murtis would have been kept.
The site is now a government-protected, archaeological monument.
If you wish to see the new Saptakoteshwar temple, take a ferry to reach the village of Narwe.
Saint Mathias Church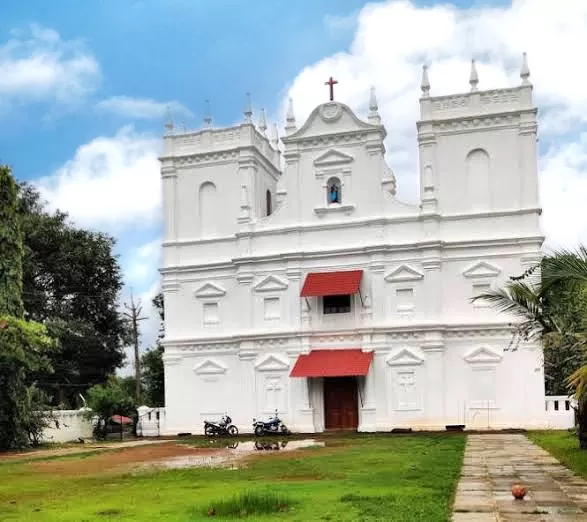 Sao Matias church is in village Malar. The church has attractive architecture and is known for its artistic graves. This church is over 400 years old.
Visit Prominent temples
There isn't much of a Hindu population in Divar, but there are quite a lot of temples. To name a few, you can visit Shree Ganesh Sateri temple, Shree Shakti Devasthan and Hatkeshwar temple. You can visit these temples if time permits and if it interests you.
Panchayat Office
If you click some colorful pictures, then visit this spot ;-)
I've never seen an office more beautiful and colorful than this one!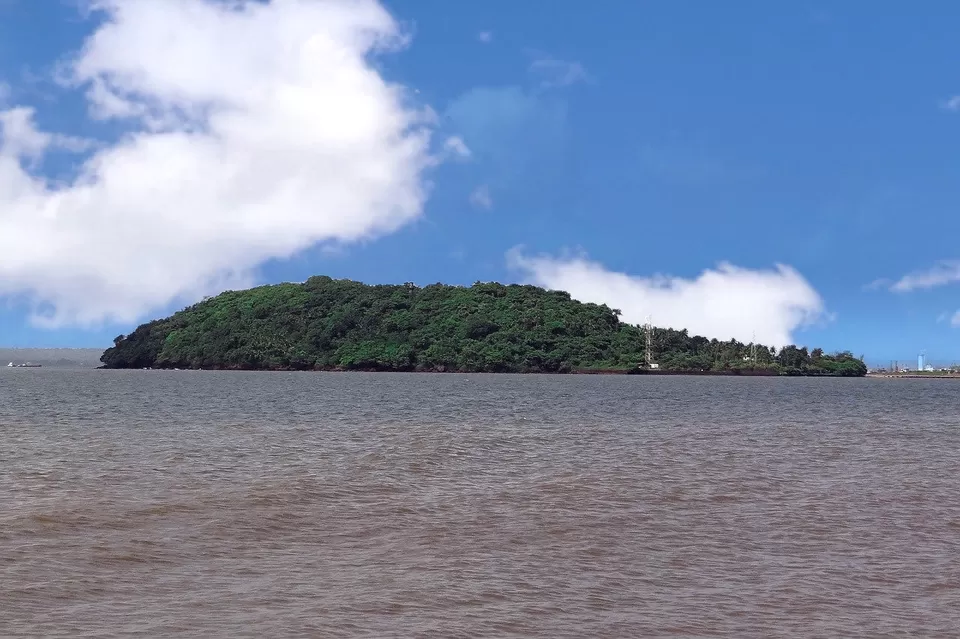 From Divar island, visit Vanxim island- a tiny fisherman island if you love fishing with the locals. This island is accessible only through Divar.
You can also visit the Chorao island that is famous for Salim Ali Bird Sanctuary. This island is also accessible from Ribandar point.
Take a bicycle tour
Do try E-bikes that will take your Divar Island experience to another level. It will be a roller coaster ride to the green paddy fields, ancient temples, hidden caves and much more.
You can visit E-bike tour details here.
Wander aimlessly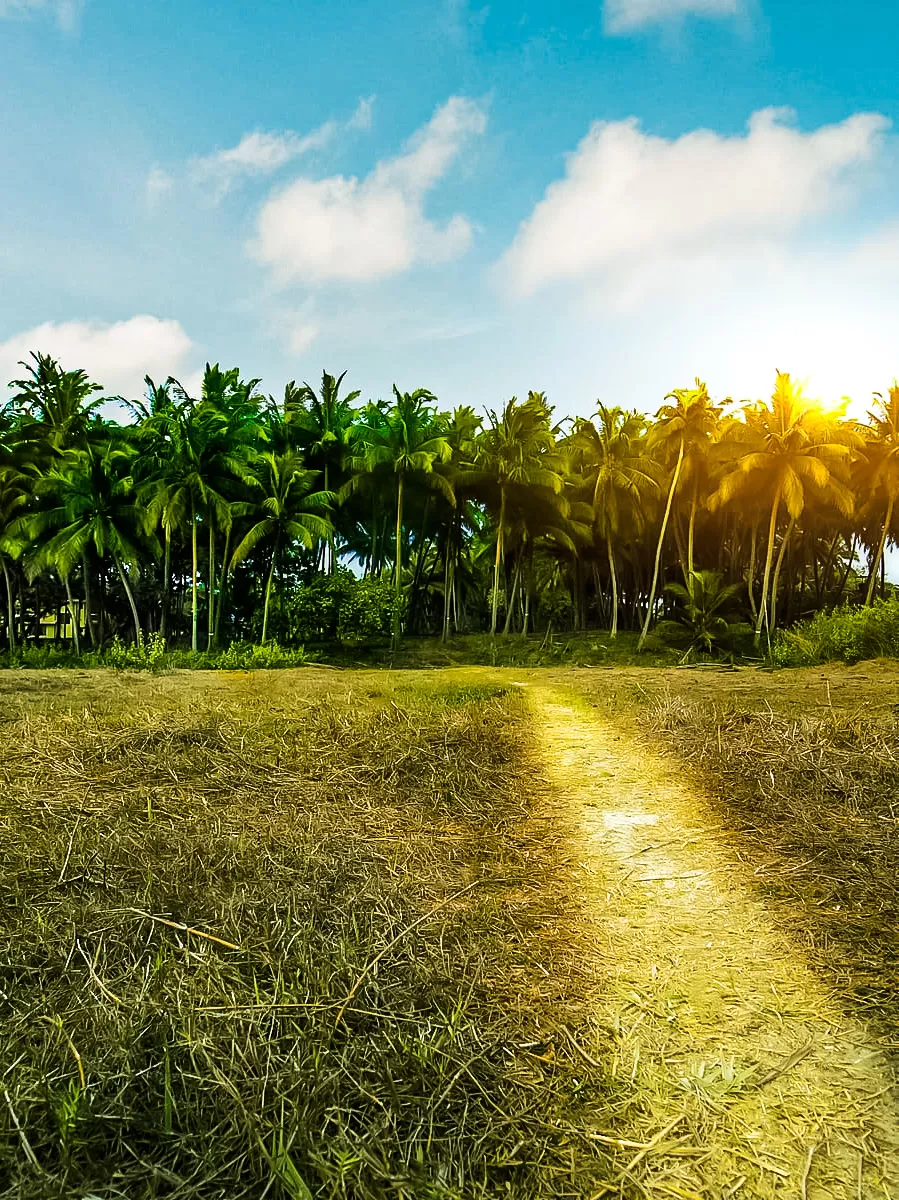 This island deserves some aimless exploration. There is something most wonderful about being lost and aimless. Lost in a new place and aimlessly exploring the same.
The more you wander, you'll discover some lovely pop coloured Portuguese-style houses, narrow streets with panoramic views.
The bungalows on Divar Island are so fascinating that it makes your mind filled with curiosity about the people living in those humongous houses and promise to take you back to another era.
WHERE TO EAT
Divar Island is yet untouched by much commercialization, so don't expect the chain of eating places.
Rock Inn Restaurant
This is heaven for sea-food lovers. The restaurant also serves vegetarian food.
Island Bar
Located at Piedade, they boast about serving Goan style dishes since 1995. They also serve a variety of fenny.
Dilkhush Hotel
You must try their sweet buns, suki bhaaji and paattal (curried) bhaaji!
This small hotel serves simple dishes with lots of love! This small place is owned by a theatre enthusiast, Mr Govekar.
Apart from the above, you'll find local street vendor/s putting their stalls in the evening in the main Centre.
There are no shacks in Divar, but the Island has small budget eating places; and luxurious eating places in the resorts, with unique riverfront views.
CAN WE STAY ON THE ISLAND?
Yes! There are beautiful homestays and a few resorts on Divar Island, Goa.
ACCOMMODATIONS
There are multiple homestays, villas, and a few resorts. I recommend:
Mercure Goa Devaaya Retreat
Swaying palm trees, lush greenery and the Mandovi riverfront view, this resort is a perfect fit for travellers who wish to spend more time on Divar Island, Goa.
This 4-star resort features 56 well-appointed rooms which include suites, villas and all modern amenities.
The peace and quietness of the place will impress you.
Prices per night start from INR 8000.
Moradia Dos Quadros
This pet-friendly Portuguese designed bed-and-breakfast is quite popular amongst travellers.
The bungalow has about eight (8) rooms and features a garden and balcony. With clean rooms, helpful staff, beautiful landscape and tasty meals, it has some great traveller reviews.
The price for a room starts from INR 1000.
Heritage Villa
This 4-bedroom 100-year-old villa will make you experience the life of a Portuguese nobleman.
This beautifully restored villa spreads across 1250 square meters of plot that has a garden and lounge area and is very picturesque.
Prices start from INR 14000 onwards. You can find the details on Airbnb.
Island House
This Indo-Portuguese house is a great place to experience the old Goan way of life. The house is 100 years old and is maintained well with modern amenities while preserving its grandeur.
This is homestay is aesthetically pleasing and charmingly comfortable.
Contact them directly for a good deal.
You can reach them on Call/ Whatsapp: +91 78358 00306 / +91 8298292257. You can email them at reservations@islandhousegoa.com
IDEAL DURATION
Depending upon the time in hand, you can make a day trip to Divar Island, Goa. If time permits, and you wish to unwind and explore locally, stay around for 2 (two) days.
BEST TIME TO VISIT
The island can be visited throughout the year, but I recommend avoiding the hottest months being March-May.
If you love monsoon and wish to witness lush greenery, visit during June- September. It is altogether a different experience.
PRO-TIPS
• Bringing your own vehicle (4 wheeler or 2 wheeler, bicycle) will make you enjoy the island in a better manner. For more information, check out Goa Tourism
• You can carry a water bottle and picnic basket if you are travelling in the early morning.
• Be open to experiencing the old charm of Goa, paddy fields, ancient temples, ruins and temples. Remember, it's a sleepy town.
• Please respect the locals and their sentiments.
Divar Island is a paradise. You'll be surprised how calm and peaceful this island is, given its troubled history.
If you want to experience local Goa, you need to visit this well-preserved island!