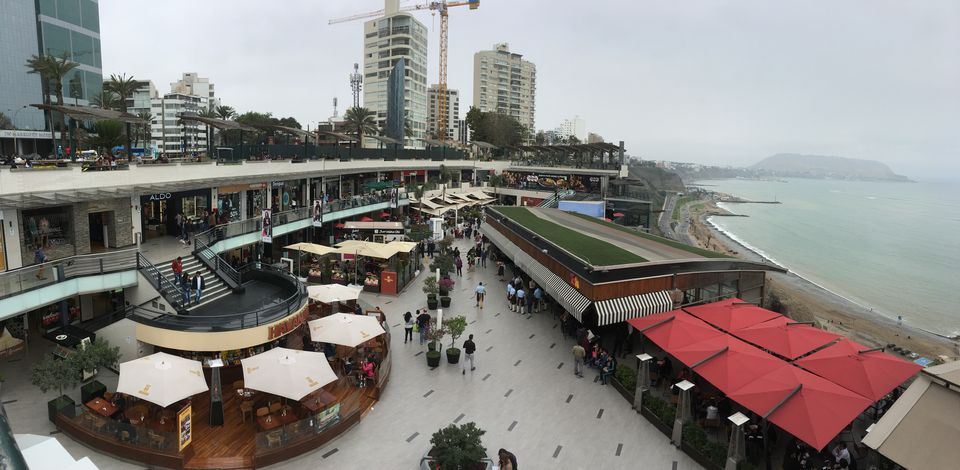 This is part 2 of the series of my blog post about Peru.
Lima is the capital and largest city of Peru.
While you're in Lima, Miraflores is a good place to hang out. Larcomar is a popular hang out for locals as well as tourists. It is a mall just by the sea with lot of restaurants around. This place its pretty safe as its highly guarded by security guards present all the time. Another good place to hang out is barranco, which is to a little south of Miraflores.
If you have an entire day, you could visit the museums and historical places. As I'm not too interested in that, I just visited Miraflores and Barranco.
Local travel
Airport express lima - From Jorge Chávez International Airport Lima, theres a bus that takes you to Miraflores for $8 (about 25 Soles). It takes about an hour, depending on the traffic. It is safe as this service was started keeping the tourists in mind. Theres wifi and charging ports on the bus. You can book the ticket online or buy it at the airport. For more details, check this link.
Uber - If you have internet, Uber also works in Lima
Of course, there are taxis as well. This is a good practice for any place you visit - Its always better to decide the price before taking the taxi and make sure you specify whether it is in Soles or dollars.
Stay
If you have an overnight or a short stay in Lima, you can save a lot of money by just going for a Airbnb. There are a lot of cheap Airbnbs close to the airport. On my way back, I had to wait 12 hours for my next flight, so I booked an Airbnb close to the airport, reached there by Uber, took a nice shower and got a few hours of sleep. It just cost me $15 for the room, and about 40 soles up and down in Uber.
Food in Lima
Needless to say, Lima has a lot of good places to eat, I'll just mention a few, the rest could be found online.
* Central - A Michelin star restaurant and voted the best restaurant in Latin America
* IK
* Brujas de cachiche
* Rustica (inexpensive buffet available here, you can get to try a good variety of peruvian cuisine)
Bars
There are a lot of bars and clubs in Lima, to name a few:
* Huaringas bar
* La Posada del Angel
* Aura, a popular nightclub
* La noche
* Del carajo