Looking at pictures of the Enchanted River on countless Internet sites, one may scream "Photoshopped!" But such is the essence of the most famous tourist spot in Hinatuan, Surigao del Sur: It's too magical to be natural.
Legend has it that one firefly-lit night, fairies floated above the river while elves watched from cliffs and banks. With their wands, the fairies stirred the water, toyed with sapphire and jade, and made the tones fade and meld to achieve a shade of bluish green that now paints the riverbed.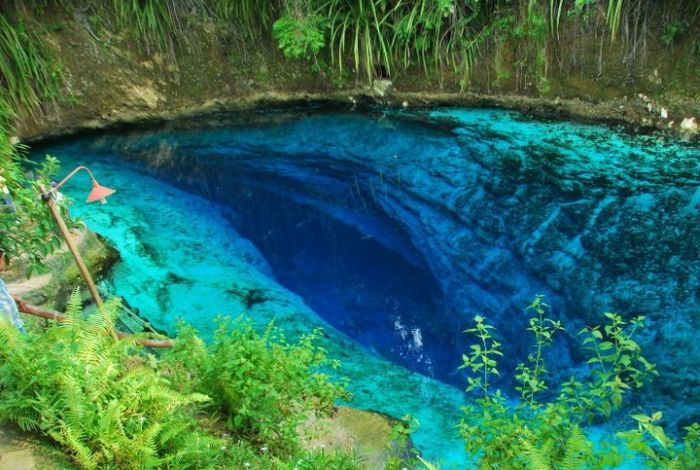 It is said to be enchanted 'because no one has ever reached its bottom.' Despite the fact that many people have already tried to reach the bottom including scuba divers, all of them failed. Hence the start of the legend of its bottomless pit. Moreover, the locals of Barangay Talisay shared that no one has been successful in catching fish in the river.
Another curious fact is that the water tastes salty when in fact rivers are supposed to be composed of fresh water. Upon doing some readings online, Tthetraveler came to know that the water here is actually brackish, a mixture of fresh and salt water. It is a fact that the water from the river flows to the nearby Pacific ocean, but as to why the water in the river itself is salty is still being studied.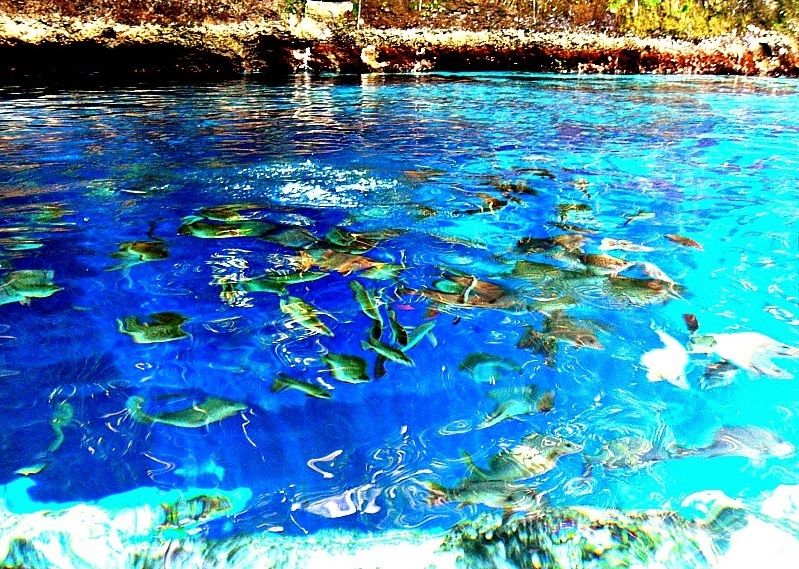 The area is surrounded with trees and also bordered by up to 40-meter cliffs of soft limestone and verdant shrubbery. Tourists can also enjoy diving in the river.  There are areas which are good for swimming or just taking a dip, but make sure to be mindful of the deep parts of the river. However, for safety reasons, there are life jackets that are for rent for as low as 100 pesos for those who don't know how to swim and life guards are employed in the area.
The Enchanted River is like a Monét painting. And what makes it more bewitching is the element of dread attached to stunning visuals. But for the brave-hearted, it's plunging into the abyss that makes the river a surreal experience. And one wouldn't know the feeling until she gives it a try.