I recently spent three days in Koh Phi Phi, which is a very popular tourist destination due to its aqua blue waters, white sand beaches, lush mountains and an exuberant nightlife. The beautiful island of Koh Phi Phi has found its way to being on my list of favorite places in the world, and it isn't hard to see why.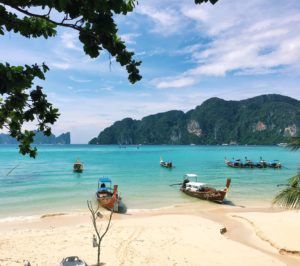 I've been getting a LOT of questions about my trip to Phi Phi Islands so I'm putting together a comprehensive travel guide based on my experience, which will hopefully answer all your questions. Before I begin, I think it's worth mentioning that my trip was very unplanned and spontaneous, so we figured out what to do only after we got to the island. But the best thing about Phi Phi is that you can wake up every morning without any semblance of a plan and still have an incredible day.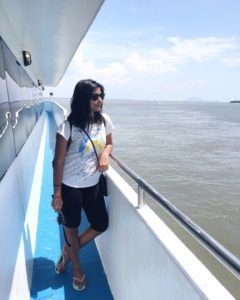 How to Get There
There are ferries from both Krabi and Phuket, but the frequency of the ferries and the time varies from season to season. We took a ferry from Krabi to Phi Phi Don (which is the main island there). The ferry ride is roughly 2 hours long. The boats have air-conditioned sections with comfortable seats. There are also decks outside from where you can enjoy the view of the clear blue waters. The ferry ride cost us 400 baht (one way). There may be cheaper options, although this was the cheapest one we found. Once you get there, you'll have to pay a 20 baht environmental tax fee, which helps to keep the island beautiful. There are no roads or cars on the island, so once you reach, you'll have to drag your luggage to your accommodation (unless your hotel provides pick up and drop). Alternatively, there are many men with carts at the dock area, so you could pay them and get them to transport your luggage.
Where to Stay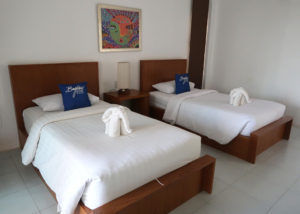 We stayed at the Bay View Resort because it had good reviews online and it was quite affordable (about Rs. 3000 per night, which came up to Rs.1500/750 baht per head as it was split between me and my friend). This included pick up and drop to the port as well as breakfast (and free water). The rooms were very nice and well equipped, and our balcony gave us a decent view of the ocean. The resort was in a quieter part of the island and the beach here was a lot nicer and almost felt like a private beach. Keep in mind that there is a lot of walking involved within the resort to get to your room, but we didn't really mind that. The island also has a lot of decent hostels, which I think are great for solo travelers.
Where to Eat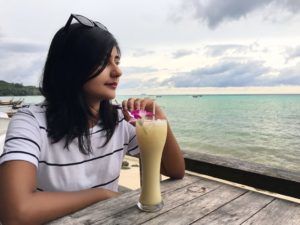 You'll be spoilt for choice with the number of restaurants there are in Phi Phi. Just taking a quick stroll along the island will give you a ton of options in terms of cuisine and ambience, so while we were there, we'd just walk around and pick a place that seemed nice to us in the moment. If you're vegetarian like I am, you won't really have a problem because most restaurants here serve vegetarian food.
One place that stood out to me was the Reggae Bar, which featured Muay Thai fights (most of them are just tourists taking on one another, but they also feature real Muay Thai fighters).
We did the Phi Phi Pirate Boat Tour and were quite pleased with the experience we had. The boat tour included island hopping (we covered Monkey Beach, Viking Cave, Pileh Lagoon, Phi Phi Leh, and the very popular Maya Bay), kayaking, snorkeling and dinner. The boat tour was for 700 baht per head and worth every penny.
There are a ton of diving companies that are easy to spot as you walk by the island. We didn't end up going scuba diving, however, if you're there and have the time for it, definitely consider doing it.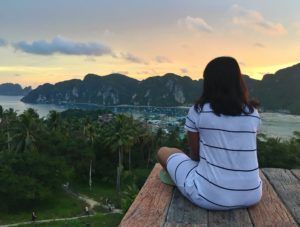 The view of the island from the viewpoint is unparalleled. The hike is relatively easy and manageable in flip-flops. We went there just before sunset and witnessed the most beautiful sunset I've ever seen.
Take a long-tail boat ride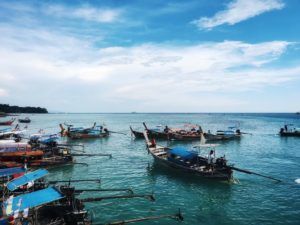 If you're in Thailand, you just have to experience being on a long-tail boat. Not only is it fun, but it also makes for good photos.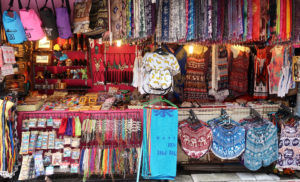 The entire island is basically one shop after the next and is great for buying bikinis, clothes and souvenirs. Make sure to put your bargaining skills to test (I got a bikini for 350 baht).
Explore the nightlife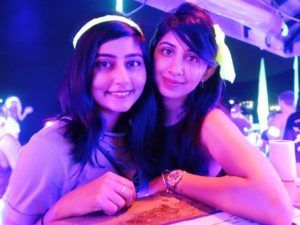 We didn't actually know this until we got there but Koh Phi Phi is known for its vibrant nightlife. We went to this neon party at this place by the beach called Apache and there was good music, fire shows, rope jumping, limbo and other fun stuff.
Walk around the island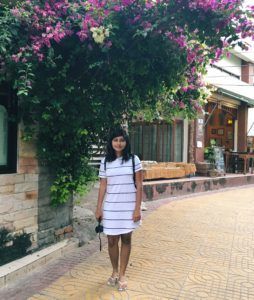 This is kind of a no-brainer but the island is really small and can easily be explored on foot. Just walking around the entire island is the best way to get a feel of Phi Phi.
Tips for anyone visiting Koh Phi Phi:
1. While we were researching the place before the trip, we were very confused with the many island names that showed up. Phi Phi Don is the main island, and it is where you will be staying. All the other islands can be covered during the day and are accessible via boats.
2. Be sure to carry a mosquito repellent (or you could just buy it on the island like we did) because there are lots of insects and mosquitos there.
3. None of the restaurants we went to served water so its best to carry your own water when you go out to eat (you can buy it for a lot cheaper at a 7-Eleven).
4. We visited during the off-season, which is why we didn't encounter too many tourists, but in general, tourists run rampant here.
I vlogged while in Koh Phi Phi and thought I'd share that with you here as well. Be sure to subscribe to my channel for more such videos.
Koh Phi Phi looks like a fictional paradise and people either really love it or hate it, and I, for one, absolutely loved Koh Phi Phi.
If you have any more questions about my trip, leave them in the comments below and I'll get back to you.