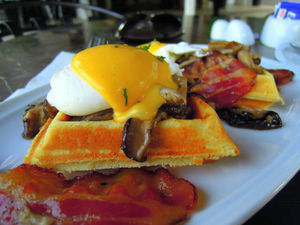 Alkaff Mansion Ristorante Singapore
Places to stay near
Alkaff Mansion Ristorante Singapore
One bedroom in plush condominium
MET A Space Pod @ Boat Quay
Modern, Cosy Bedroom Available!
Reviews of
Alkaff Mansion Ristorante Singapore
•
1
Sitting atop the quiet Telok Blangah Hill Park is the historical Alkaff Mansion.Recently, it's been restored to become a chichi restaurant offering Italian cuisine with a more relaxed cozy alfresco cafe offering brunch and snack items. The ambiance is generally relaxed being surrounded by lush greenery and interesting art pieces scattered all over the The Alkaff. The different areas in the Alkaff Mansion provides breathing spaces. Food at The Alkaff Cafe comprises of regular breakfast items such as pancakes, cereals and bacons with eggs cooked to your liking. They also offer local Singapore breakfast favorites and snack items after breakfast hours. But what got my attention is that they chose to pair WAFFLES, instead of English muffins, with the Eggs Benedict – I thought it was interesting, so, I went ahead and ordered it. The Eggs Benedict on Waffles arrived on my table with sautéed mushrooms, crispy bacon and a dollop of their rich and creamy hollandaise sauce. The eggs were poached perfectly with a runny yolk after breaking it open and the sauce was tangy enough to not overpower the creaminess of the yolk. The fluffy (and crispy) waffles was the perfect bed for the eggs for it's easier to slice than the more chewy english muffins. Pair it with a nice local Kopi-O and I couldn't think of any better way to wake up on a lazy Sunday morning.
Attractions near
Alkaff Mansion Ristorante Singapore