You might have heard Pondicherry being called with so many different names i.e. French colony of India, Pondy, the French Riviera of East, Puducherry. Now let me first state a few facts about this amazing touristic destination.
1. It was handed over to India by French in 1962 and hence the architecture in the entire city has a French influence 2. It is a Union Territory, prevoiusly known as Pondicherry then it was changed to Puducherry in 2006 3. This special union territory has its own legislature ???? Where to stay
The place to be in Pondicherry is definitely the White Town for me. It has its old-world charm, brightly painted walls, quirky cafes, promenade area and some really fun crafts shops. Most of the hotels and homestays are around that area but are a little on the costlier side as its a really famous area amongst the tourists. We stayed at Le_Dupleix , decorated in the french architecture style, excellent service and everything happened to be at a walking distance. Incase you are on a strict budget then you can even choose to go with OYO rooms , they will be economical and then you can roam around the cities by renting scooters and bikes.
This vacation was a very impromptu plan so I had not really done alot of research for this one and yet it turned out to be an absolute pleasure.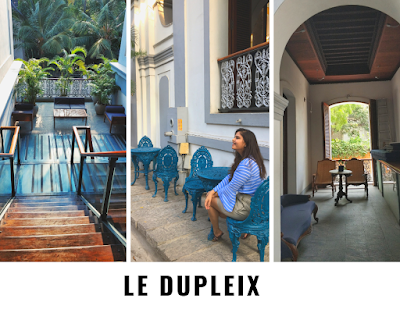 Cafes
When in Pondy, one cannot miss the querky cafes offering amazing desserts and great food along with an impressive ambiance. Every cafe I went to, seemed to be telling its own story. Every cafe has a different theme and very "instragammable" decor. We had gone in the low season hence some of them were going through renovation so could not cover all but had a blast visiting the others which were open and running for hopeful souls like us, to name a few Coromandel_Cafe , PY_Cafe , The_Indian_Kaffe_Express, Le cafe, Zuka cafe, Rendezvous.
There is no "we" in food so get away from me ???????? . . Food is a very Important part of my travel stories. It's not just a necessity but more a culture thing. The moment you change a state in India or even a country the food changes. Pondicherry being a French influenced town, the breakfast you get in the cafés are typical French breakfast along with other Indian cuisines. I tried to stick to the plan of living the new city by embibing everything about the city , culture, food, learning lingos, observing people (my fav hobby). This was at @coromandelcafe , beautifully decorated with plants with different sections for books and all the dreamy things you will like, antique furniture, different sitting areas, cozy corners ???????? Stay tuned for more stories of my Pondy Trip . . . . ???? @salonijain180 #pondicherry #puducherry #tb #tripstories #travelawesome #travelgram #slay #cafesofpondicherry #cafeswelove #traveltheglobe #goexplore #southindia #pursuitofportraits #cafesofinstagram #girlwhotravelstheworld #keepit_bhutiful #travel_captures #wanderlust #travelbug #instaready #instafollow #travellove #pictureoftheday #takemethere #doyoutravel #takemetherenow #cafestagram #travellingthroughtheworld #traveljunkies #instago #cafestagram
A post shared by Anubhuti (@keepit_bhutiful) on
Promenade
A leisurely walk in the Promenade area is a must, they have several small eating joints and cafes right beside the Promenade beach. If you want to wake up with a view of the beach then there are several options for hotels available in the Promenade area.
Serenity Beach
Out of all the beaches, we visited in Pondy, this became my personal favorite. Few minutes away from our hotel this beach won my heart with it's elegance and beauty.We went to the beach to watch the sunrise, it was a magnificent experience. Cold breeze brushing past you, sound of the ocean being my favorite, relaxed every sense of the body. It was quite a clean beach. We sat there on the rocks for hours till the sun was up and shinned bright on us. The rocks were quite slippery so I had a tough time walking on them.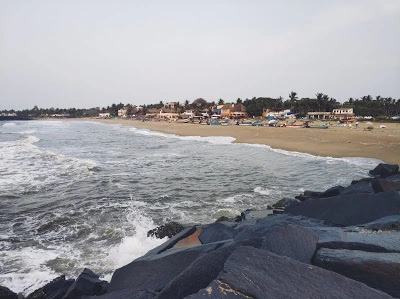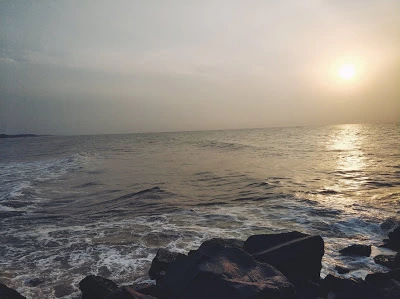 Serenity beachSunrise beach
Matrimandir (Auroville)
It is not a touristy place, considered to hold massive spiritual importance for integral yoga practitioners. It was quite a walk to the viewing area but was worth it.There was a place at viewing area to sit peacefully and watch the Matrimandir, this massive Golden globe like structure, shinning bright in the middle of lush green lawns. The entry was free of cost but to get the entrance pass, one needs to go there a day prior to get the pass for a visit the next day.Fortunately for us, it was not a Sunday because its closed on Sunday afternoons and is open from 9 am to 4 pm. I quite liked visiting the place though we did not have the pass so could not get in the temple but siting for hours at the viewing deck was a peaceful experience.
For more information check ( https://www.auroville.org/contents/252)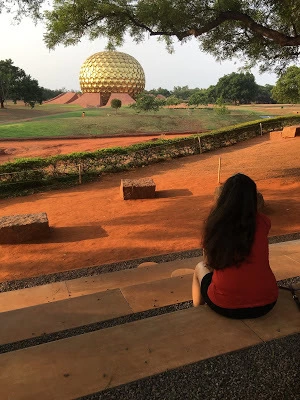 Matrimandir Auroville
Churches and Cathedrals
Pondicherry being the house for many Christians definitely has some of the beautiful churches and they are worth a visit. We visited two of them, Our Lady of Angels Church ( Eglise_de_Notre_Dame_des_Anges ) which was built in 1855 and is said be the fourth oldest church and was constructed during the reign of Napolean III. Immaculate Conception Cathedral was the second one we visited in Puducherry which was made in 1791 and is considered to be the mother church for Roman catholic Archidiocese. I was impressed with the interiors of the church, loved the huge blue doors and the artists have done a great job on decorating the interiors of the church. To my utter surprize people were opening there footwear before entering the church but I guess that was to maintain cleanliness. I just felt really strange because that is something we do before going to a temple or a mosque. I feel that the best part about travelling is that there are so many things one observes about culture, religion, food, people that it just blows your mind away ( in a good way).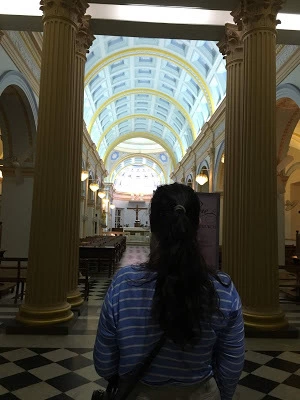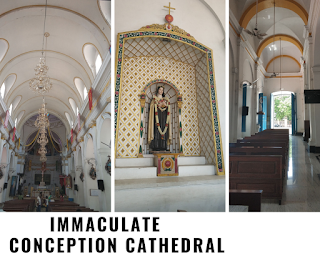 Our Lady of Angels Church
Time to visit
Best time to visit Puducherry is between October - March because then you can enjoy the weather more and the place is buzzing with tourist which makes the place more lively.
How to reach
If you are travelling by air then I suggest taking a flight to Chennai which has an International airport and then hiring a car to Pondy or taking a bus. It is a 3-4 hours drive from Chennai.
Approx time
I feel 2-3 days are enough to cover and have a relaxing trip to Puducherry unless you fell in love with a city and feel like extending your stay, you can easily do that but majority of things you can cover in a matter of few days.
You may also like to know
Incase you plan to drive to Pondy from Chennai, you may want to stop at Mahabalipuram to visit the Shore_Temple which is also a UNESCO Heritage site and a popular tourist spot If you are a vegetarian and want to try the vegetarian desserts, visit the Zuka cafe,as mentioned above, they offer a lot of varieties