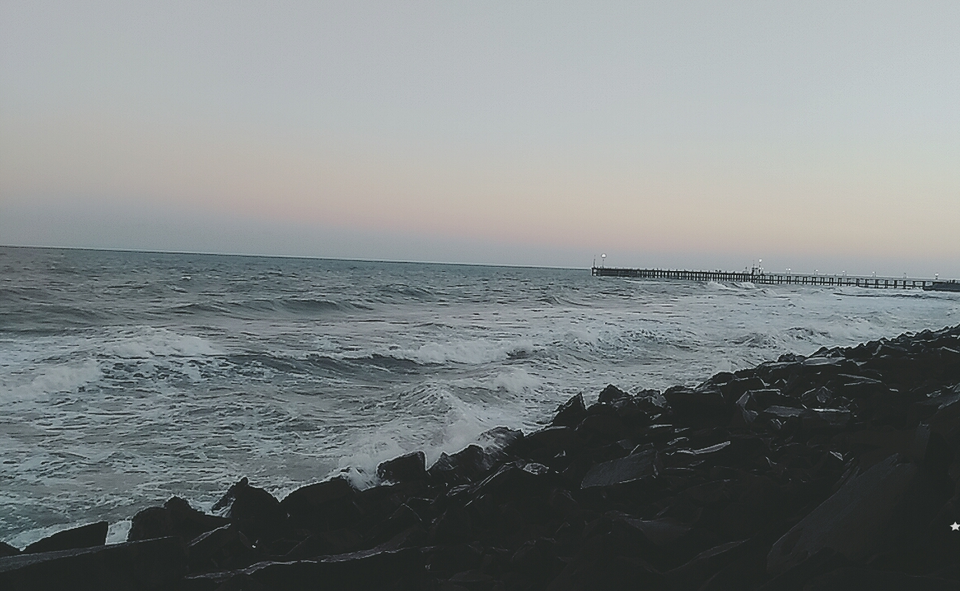 This year Christmas fell on a Monday thus making it a long weekend, and we couldn't come up with a plan better than going on a short trip to a nearby place. So we chose Pondicherry as our weekend getaway for an all girls trip!!
There are several bus services available from Chennai to Pondicherry. We boarded an early morning bus from the outskirts of Chennai, and in about 2.5 hrs we were in Pondicherry(via NH32). Our friend joined us there from Bangalore and completed the group of four.
Pondicherry/Puducherry also known as the 'French Riviera of the East' is a beautiful town located at the south eastern coast of India popularly known for its beaches and French quarters. The best time to visit is from November to February after which it becomes really hot.
Day 1
After reaching Pondicherry, we checked into a hotel in White Town and headed straight to the Paradise Beach. White Town is close to the Promenade beach/Rock beach and has few other points of interest making it a spot for major tourist attraction. If you visit Pondicherry, its better to stay in this locality. From White Town its about 20 mins in auto to the ferry point known as Chunnambar Boat House. We bought round-trip tickets and boarded the ferry for Paradise beach. It takes about 20 to 25 mins to reach the destination. One can enjoy the pleasant view while the boat sails through the backwaters. To and fro ferry service is available every half an hour. The beach was clean and beautiful and the weather was sunny. I'm sure the place would look serene during or after sunset. Small umbrella shades were set up here and there for people to sit and relax. Entertainment options like bungee trampoline and rain dance made it more lively. Make sure you go full-stomach or carry your snacks as there is not much option of food available. Also carry change clothes if you are planning to go to the sea, changing room is available. It was past lunch time when we returned and it was time we had something. We chose this place called 'Baker's Street' which offers authentic French bread items, pastries and other delicacies. The taste was on point and so was the ambience. It is known that Pondicherry was a French colony and its influence is still relevant in most part of the town through its buildings and eateries. So, while you are in Pondicherry, you should definitely savour the taste of French cuisine. Baker's Street is not just a treat to your taste buds, but to the eyes as well. They had an incredible assortment of mouth watering items laid out in the counters for customers to see and choose from. They offered the best croissant and burger I had so far. We ordered few other things and all were equally delicious. Some of the names were difficult to pronounce given their French origin. Later that day we roamed in and around the French colony, visited the Basilica of the Sacred Heart of Jesus which is an old Catholic church. Since we visited on Christmas eve, the church was all decked up with lights and a huge glowing Christmas tree adorned the courtyard.
Day 2
Our second day in Pondicherry started with an early morning walk through the road along the Promenade Beach or the Rock Beach. Along this long stretch of walk lies the Gandhi Statute, French War memorial and the Old Light House. While we were strolling along the road, we came across a Zumba session being conducted on the beach with people participating voluntarily. In no time we decided to join and groove to the music. After the surprise morning workout, we decided to explore the French colony again in daylight. The clean lanes, bright coloured buildings with ornate balconies and vintage lamp posts will surely time-transport you to the colonial era. The buildings were mostly in white or bright yellow color. The place was quaint and peaceful contrary the hustle-bustle of the city life. The street signs and names were in French and I came across names like 'Rue De Bazzar' and 'Rue Desbassyns Richemont', I was curious until I found out that 'Rue' means street in French. There are plenty of old buildings along these lanes which used to be offices or home to French Governors or other officials that has been converted to boutique hotels, shops, restaurant and cafes. I can come back to Pondicherry again and again just to walk around this colony and explore more. That is how much I loved this place!! For breakfast, we went to Le Cafe which is a sea front open cafe along the beach. It offers traditional South Indian breakfast as well as an English spread. One can have their breakfast or evening coffee while enjoying the view of the sea in front of them. Our next destination was Auroville. It takes 45 min(approx) to reach Auroville from White Town. It is a township built across a huge stretch of land by spiritual leader Mirra Alfassa where people from all over the world come to find peace and consciousness. From the entrance its a long walk upto the Matrimadir view point which is the main attraction of Auroville. You can only enter into Matrimandir if you have a prior appointment. The viewpoint is the place where people gathered to watch the beautiful golden-sphere structure. It was green all around the place with plenty of vegetation. There are cafes, nurseries and shops that sells in-house products like incense sticks & other scented items, bathing products and eatables all produced inside Auroville. Since we had time constraint, we could not explore the entire place. If you are planning a trip to pondy and want to explore Auroville to the fullest, its better to reserve an entire day for it. Aurobindo Ashram is one place that was on my must-visit list but we missed.
Our trip had come to an end and it was time to head back home. We left Pondicherry with amazing experiences and wonderful memories.