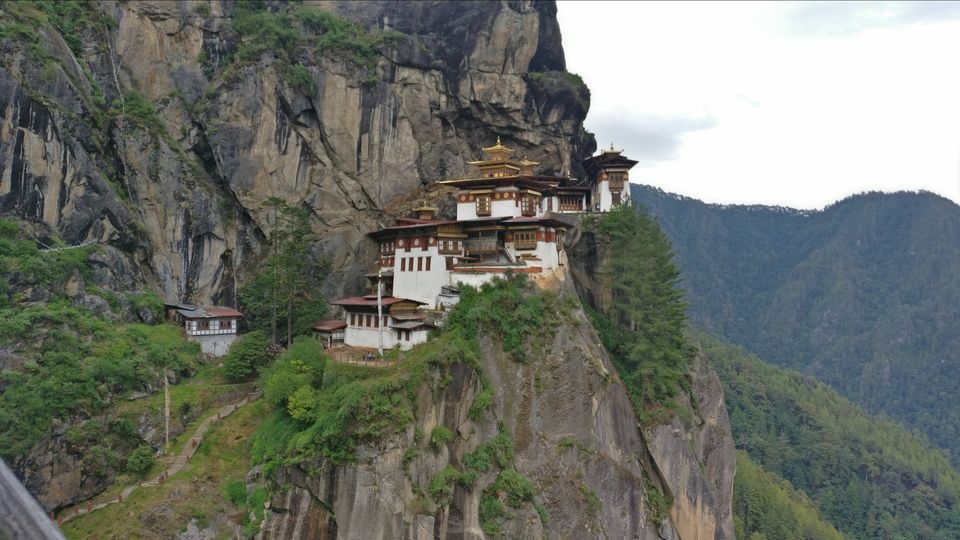 The Plan
When I got the call that the plan was to go to Bhutan in June, I laughed. It was mid march and I was at a relative's place in Mangalore. The idea of my old college group going to Bhutan was hilarious. As with most groups, coordinating and going anywhere isn't easy, going to Bhutan sounded downright impossible. So when I was asked if June 10th was fine I continued to laugh. A 10-day trip? Absolutely, it's not like it'll ever happen. It was even the first ever trip with friends for one of the girls in the group, because who starts their travels on a normal drive or weekend getaway when you can directly go abroad, sounds realistic, especially for someone who isn't allowed for a weekend away from home. It was only when the flight tickets landed in my inbox after hectic negotiations in April that I had to stop laughing and come to terms with the fact that this is actually happening.
Planning started in earnest the following month. In earnest being, it was a whole lot of bargaining about dates, budget and the amount of leave to take. 3 days needed, sounds reasonable. But if we include another day we can include white water rafting which is awesome, so it's 4 days now. But if we're taking 4 days of leave why not make it 5 and take the whole week off. HR and our managers will appreciate the easier scheduling after all. And so the dates were set at as 10th to 18th.
I just got the job of booking the trains, which was a simple enough task. All hail IRCTC. The rest was taken care of by the group with little input from me, so I wasn't really sure what was going on. There was no real plan for the stopover in Kolkata, which sounded like a disaster waiting to happen to me, but it saved on budget and I, like the rest of the group, being cheap went along with it. It was finally done, the planning, the begging parents for permission in some cases and convincing parents that we are not joking and that yes, we are actually going abroad, for real this time, we swear, in other cases. Mainly mine. After haggling to settle most of the bills we owed each other all that was left was to actually go on the trip.
Day 1: Kolkata
The actual trip started early on the 10th. After a lot of thought as to if Bhutan was really worth getting up at 4 in the morning for, we arrived at the airport on time and half asleep. It was a particularly exciting and nerve-racking time for 2 members of the group. Exciting because it was their first ever flight. Nerve racking cause they both ended up on a separate flight to the rest of the group, because the universe, in general, isn't too fond of us. After ensuring that they know exactly what to do and how not to get beaten up by security, they were sent on their way. The rest of us boarded our flight an hour later without incident. It was also at this time that my friends discovered my unwavering, uncompromising, all-consuming love for a window seat.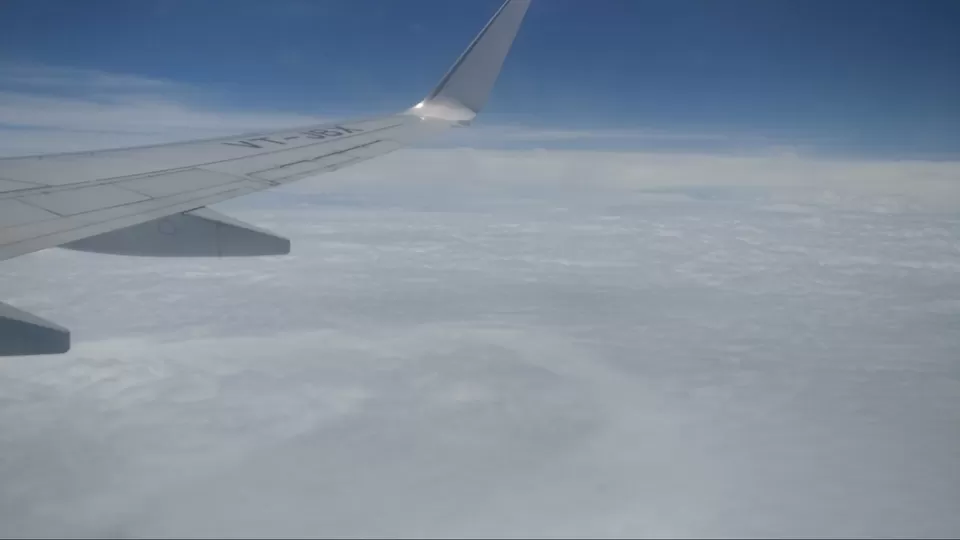 We landed in Kolkata at around 9 and after having a ridiculously expensive airport breakfast, we took a cab and began our exploration of Kolkata. From the Eden Garden cricket stadium to Howrah bridge to Howrah railway station, which is a tourist destination unto itself we took it all in like the awestruck tourists we were. It was the first time for most of us in the city, and for the ones who had been here before it was still an interesting experience.
I always found Kolkata to be a city of contrasts. Massive parks and Victorian-era buildings surrounded by posh areas with tiny streets and slums with what could be charitably called gully access. A city that's both grey in places and amazing colourful in others. Traffic that is chaotic enough to make a Bangalorean feel right at home, yet a strict adherence to not crossing the white line at a traffic signal. I'm told this is because of a very strict traffic police force which I find commendable. Also, unlike the traffic I'm used to back home, here it actually moves. It's the only city in India with a functioning tram system, which practically nobody uses primarily because it's old, unmaintained and so slow it'll struggle to keep up with you on a romantic stroll. It is also the city with some of the best food in the country!!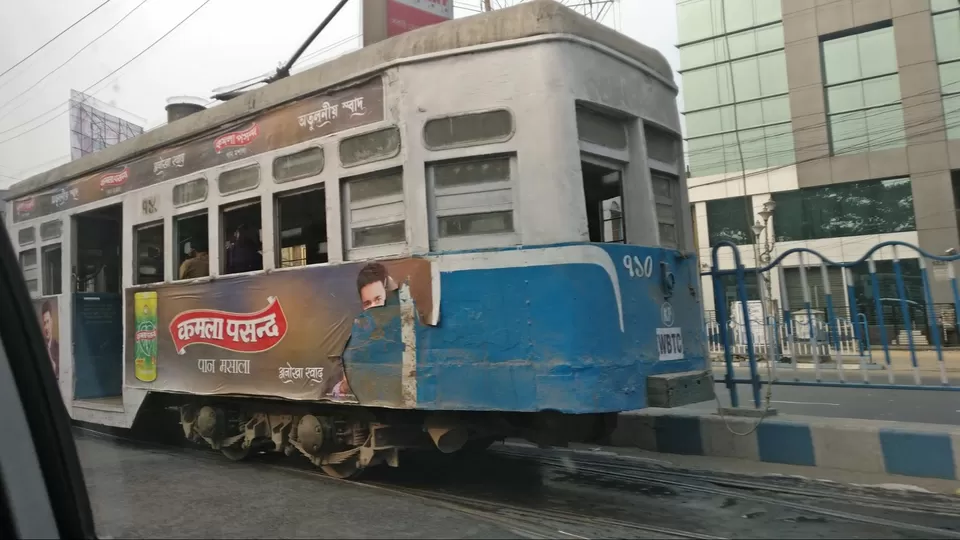 Howrah station is a monster by itself. With 22 platforms it's India's largest railway station and the complex is huge. After a long struggle to find the cloakroom and deposit our bags, we wanted to have lunch and then explore the area on foot in the midday June heat. It was decided we will definitely try some authentic Bengali food to test our culinary palate and ended up eating at a Pizza Hut instead. A walk on the famous Howrah bridge and a rickety ferry ride back across the Hooghly river later we were on the train and a step closer to getting to Bhutan.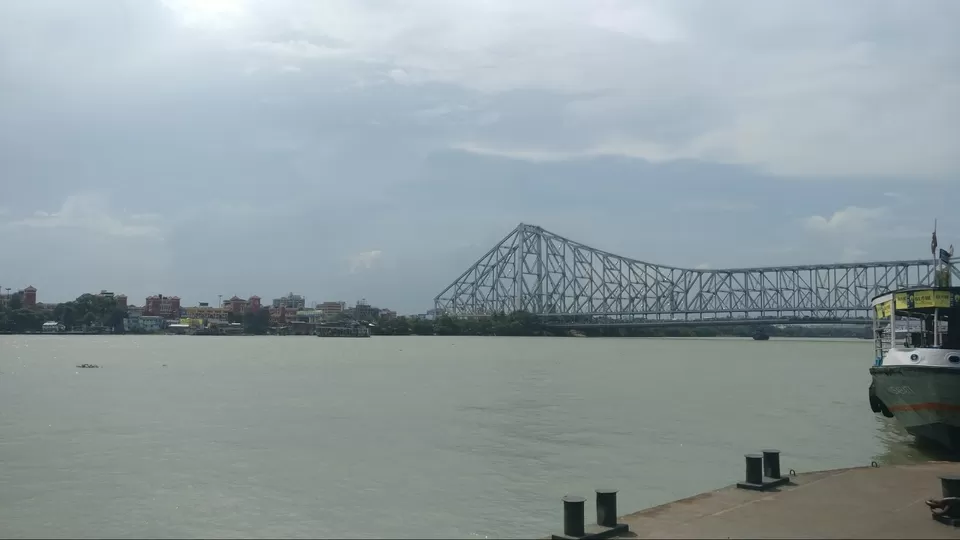 We arrived at Siliguri the next morning with no incident and hundreds of DSLR photos of us standing at the train door attempting to look cool. Alipurduar or Hasimara would have been the ideal place to disembark but due to an ill thought out idea to try to go to Darjeeling as well we ended up booking only till Siliguri. After it became apparent that the Darjeeling plan was not practical we asked the taxi guy to meet us at Siliguri and take us to the border town of Jaigaon. We found our taxi after a lot of confusion because our travel agent had sent us 2 taxi drivers instead of one due to a mix up regarding a flat tire and bad cell phone reception I won't elaborate on here. The effect for us is that we had to pack and unpack our luggage onto multiple taxis before we finally settled on when. As stated before, the universe isn't our biggest fan.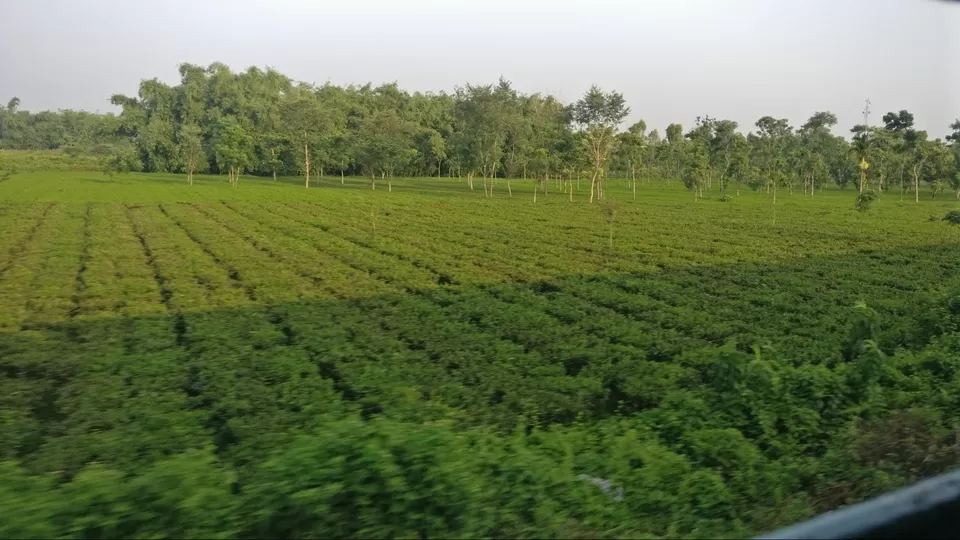 The drive through the tea gardens of West Bengal and the Dooars forest was beautiful. The road was good, traffic sparse and the landscape was a monsoon green. It's a landscape I find relaxing while the budding photographers of our group were busy trying to one-up each other taking pictures of every interesting tree, rock, person, car and hill and a few uninteresting ones as well, which proved to be challenging because we only had one camera.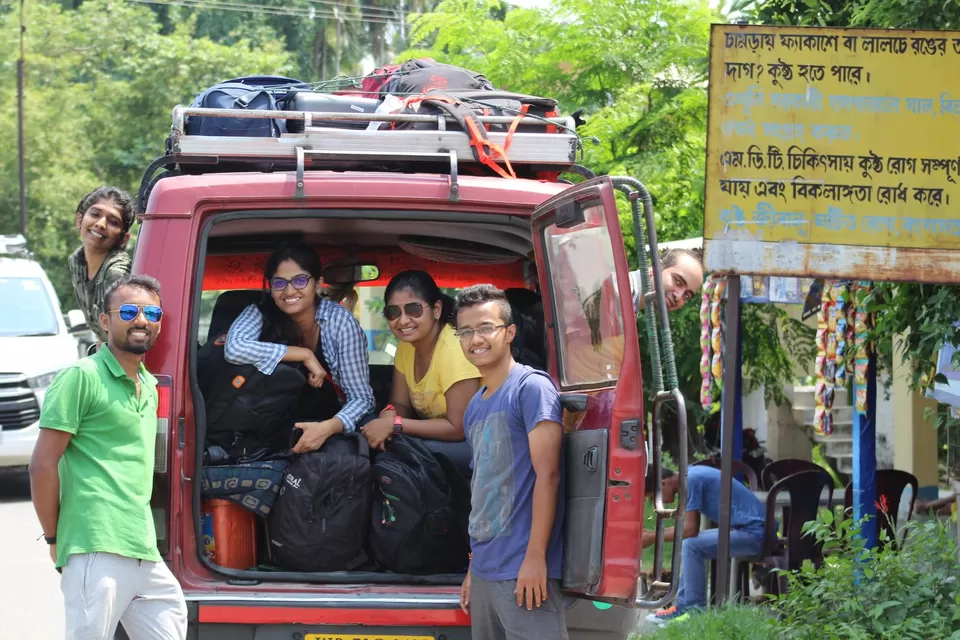 Jaigaon, at the India-Bhutan border, is a typical Indian town. The only exception being a variety of vehicles with strange number plates we assumed were from Bhutan, a lot of which were Toyota Land Cruisers and Hiluxs, which are a rarity on Indian roads. After meeting our travel agent and being asked to cough up the rest of the money for our trip we were finally heading towards the ornate arch gate that is the entrance to Bhutan.
The Bhutan side of the border town is called Phuentsholing which, while a mouthful to pronounce, is a quaint little town. The first surprise was how clean and organized and laid back, for the lack of a better word, it is especially in contrast to Jaigaon. Vehicles even stopped to allow us humble pedestrians to cross the road, what a novelty! After exploring the city on foot we ended the second day of our journey by walking back to India on foot for dinner. A concept we found so amusing that we did it multiple times because crossing a border between countries on foot is not a very common occurrence for us and we wanted to savour it!!! The locals take it in their stride and cross the border for work, school and the like while giving us amused looks.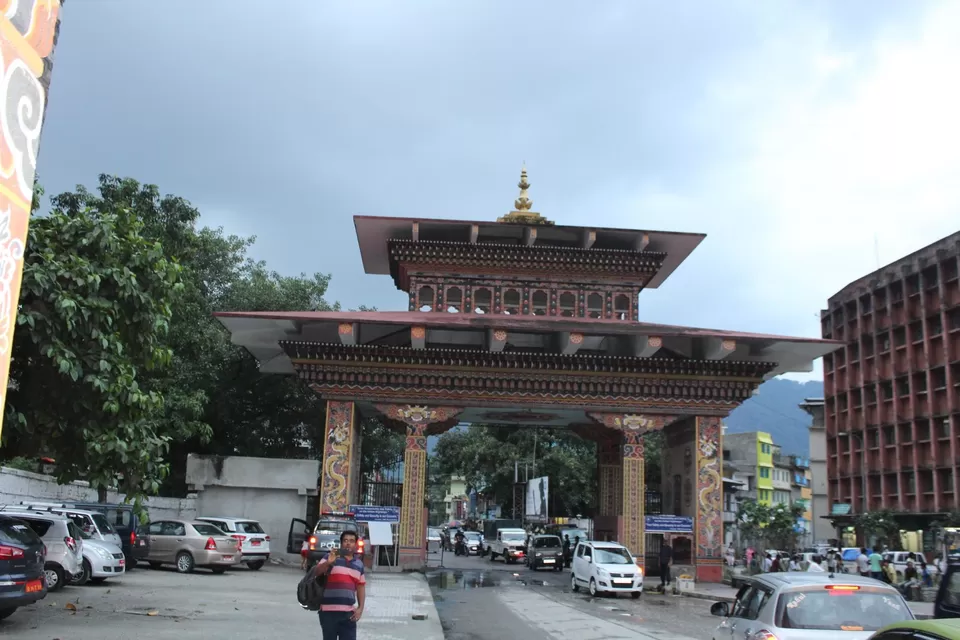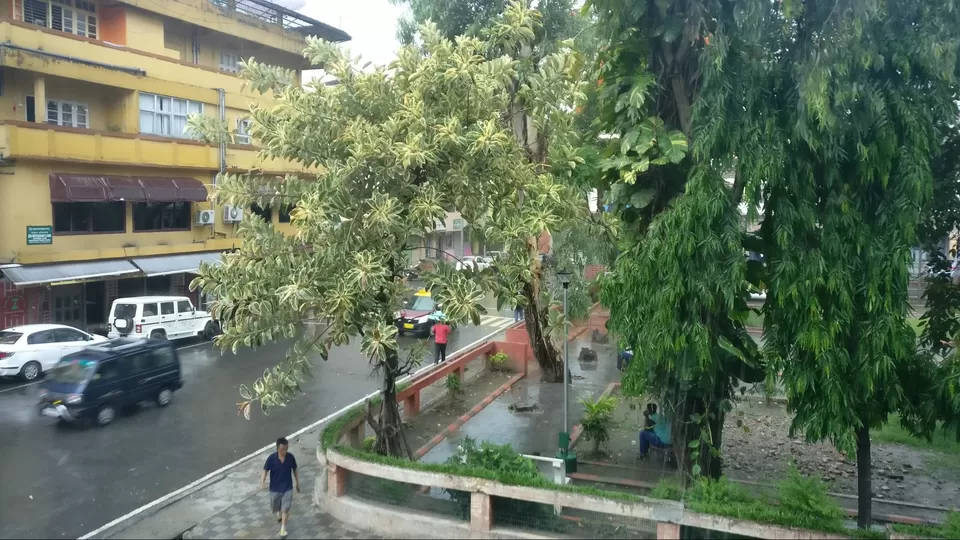 After a hearty meal of Dosa and Chai, since we were stereotypical south Indians, we settled in to watch a cricket match, play cards and go through withdrawal symptoms caused by not being able to use our phones. We had only one Tashicell sim card for use in Bhutan, for emergency calls only. We were going to live like pre-2000 era savages without mobiles for a week. With that in mind, we called it a day and settled in for the first night in a foreign country and much to my horror, bed bugs.
Day 3: Thimphu here we come
While Indian nationals can enter Phuentsholing without any issues, a permit is required to visit Paro, the tourist hub and Thimphu, the capital. This can be obtained at the permit office near the border gate. The office is open only on weekdays so arriving at the border on Sunday and going to Thimphu on Monday was deemed ideal. Unfortunately, practically everyone who had come to Bhutan that week appears to have deemed this plan ideal, which led to immense rush at the permit office on Monday morning. After 3 hours of bureaucracy, that would make anyone who's dealt with an RTO or government office in India feel nostalgic, we got our permit and began our journey into Bhutan.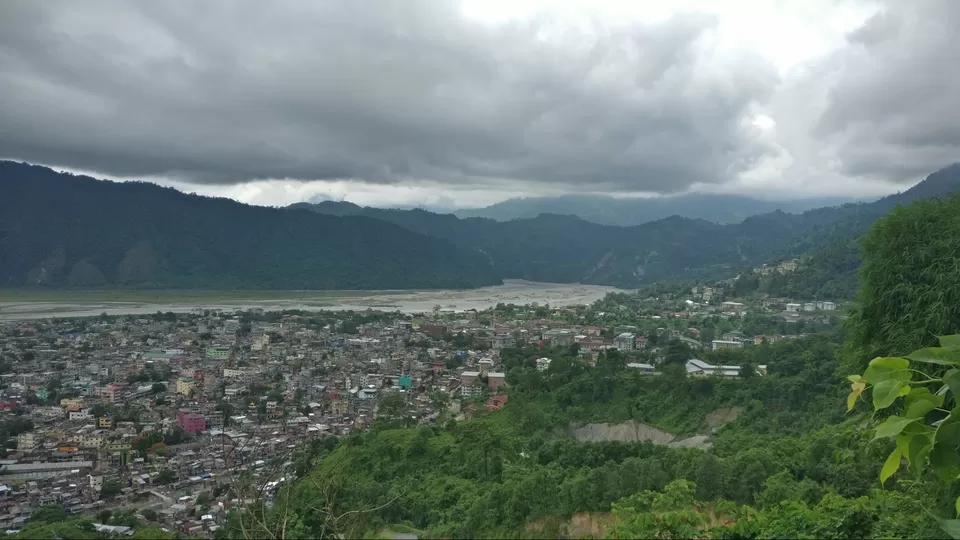 Our first stop was the Karbandi monastery. While there are other places to visit as well in Phuentsholing we did not have the time to actually visit them. The crocodile park is supposed to be a highlight but standing around and waiting for a crocodile to move was deemed too time-consuming for our busy schedule. Karbandi, on its own, is a sprawling place with a massive garden and Stupas and the like. It also gives a beautiful view of the border towns and the Toorsa river below. After doing the clichéd tourist things of annoying locals, annoying other tourists and taking a million photos while doing so, we pressed on to Thimphu.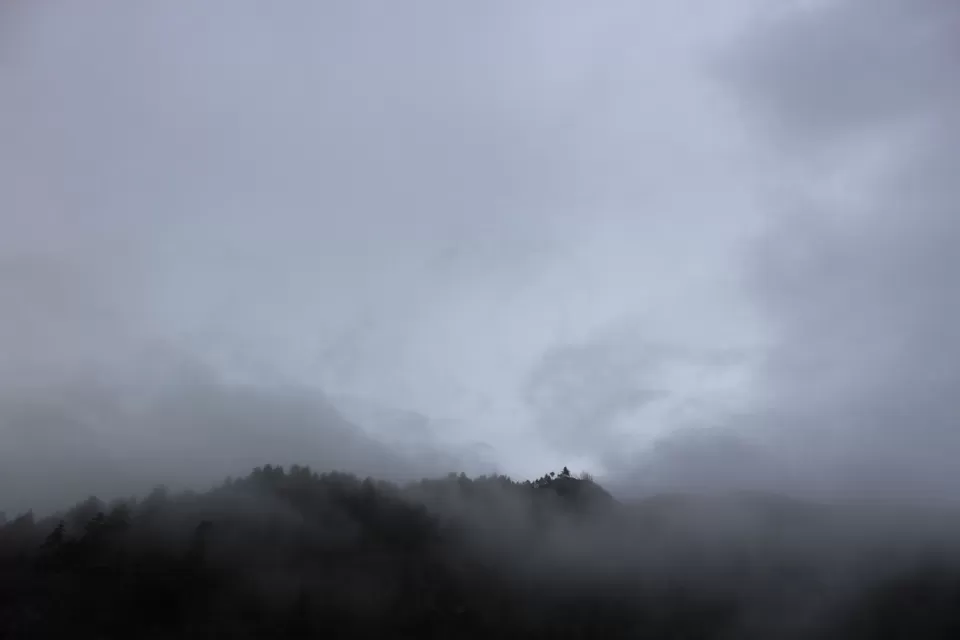 The roads in Bhutan are very well maintained but not for the faint of heart, or stomach. After a fight for seating position in the car we determine that the most stubborn and meanest got the windows while the more understanding, nicer folk got the backseat with the luggage, in an on the nose metaphor for life in general. I retained my window seat as usual. The area is prone to sudden fog and rain, during which it usually advisable to stop unless one wishes to test the flight capabilities of one's vehicle. If one does plan on coming in their own car ensure that there are at least 2 drivers per vehicle as it's a tiring journey. Each vehicle will also require a permit.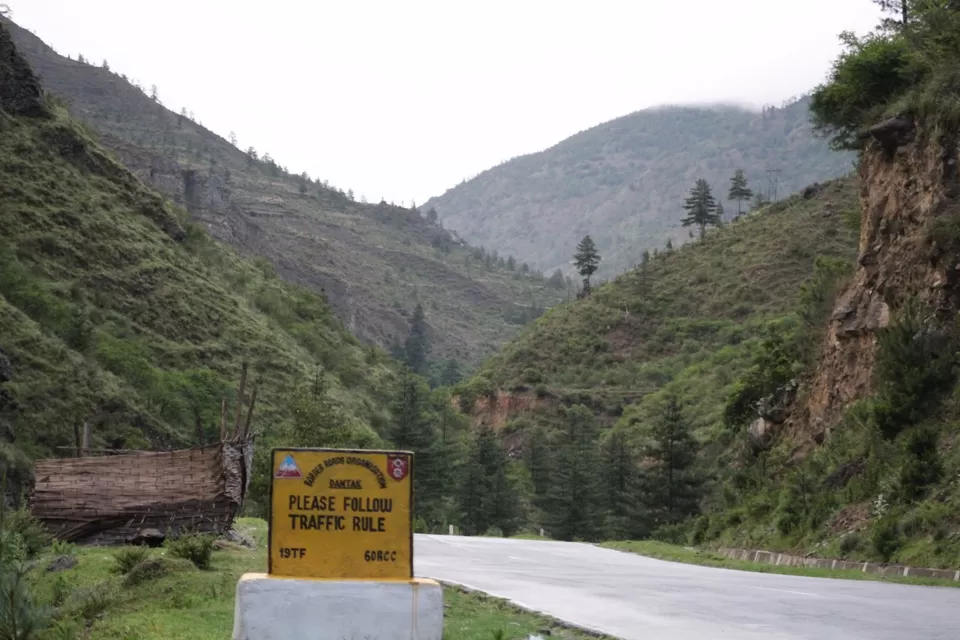 After the hairpins, we stopped for lunch at the first hotel we saw and were greeted with the pungent aroma of dry fish. An odour that, especially if you're new to it, will lovingly and effectively convince your stomach to rapidly give up breakfast. Needless to say, it was a short lunch. We finally reached our hotel in Thimphu just before dusk, but not before a number of stops to click photos of course.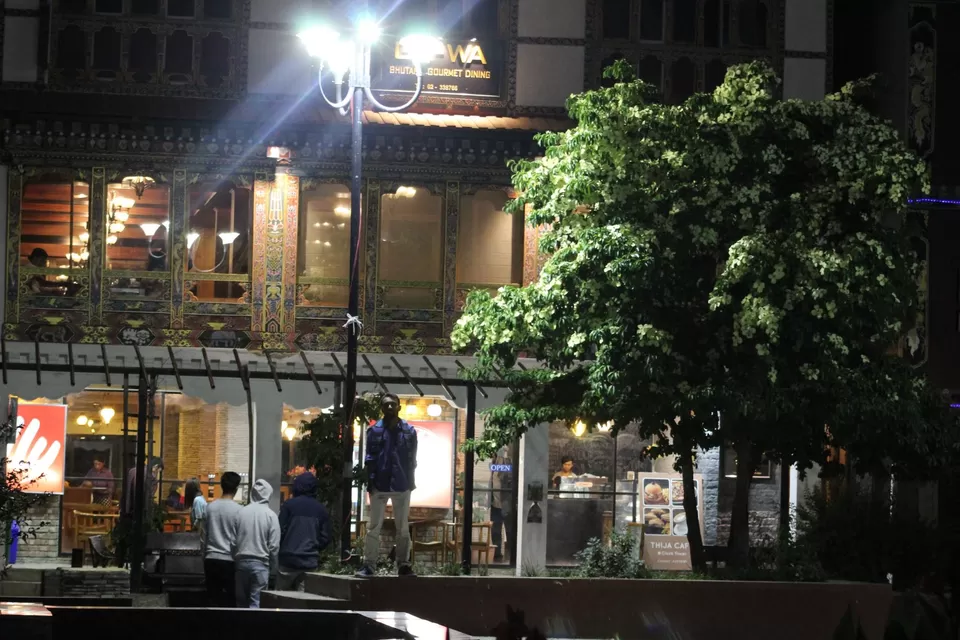 After an evening of exploring Thimphu on foot, it was discovered that most of the city basically shuts down after sunset, as does most of Bhutan in general. So with shopping thankfully, gloriously, stupendously out of the question, we ate at an Indian meal cause we at that point we were desperate for food, expanding culinary pallet be damned. With the plan of shopping the next day on top priority before doing anything else, yes it'll definitely happen, we called it a night.
Day 4: Thimphu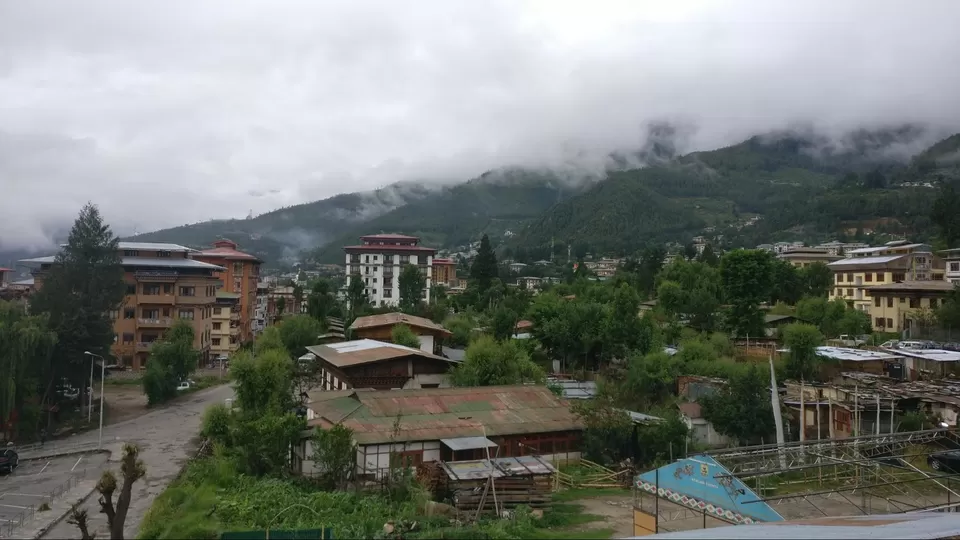 Mornings in the Himalayas are almost mystic. The chill air, the silence except for birds chirping, the mind-numbingly beautiful views, the coffee. It's all out of a Disney movie and yet real, afar cry from the dust, smog, froth, sweat, noise and not to mention 2.5 swear words per second you hear, see, feel and breath in the early morning traffic in any Indian city. It's something one should experience at least once, or multiple times, per year, at least.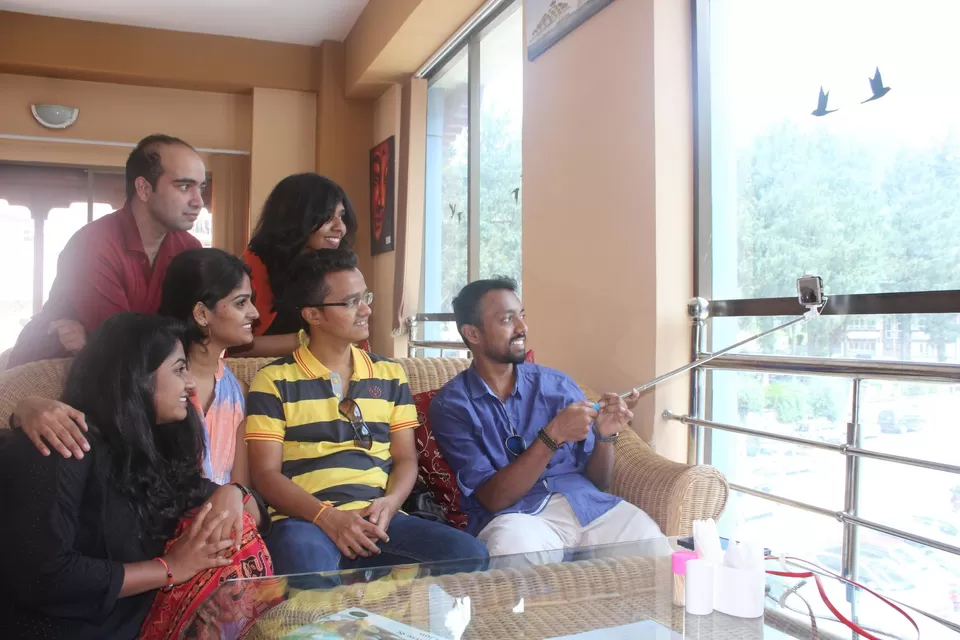 The main market in Thimphu is apparently closed on Tuesdays. As already established the universe does really hate us. This little bit of information left us dramatically moping around in a surprisingly quaint and beautiful cafe in the capital, soothing our sorrows the only way we knew how at 8 in the morning. Food, hot coffee and even more photos. Since we now had the day to ourselves we decided to explore Thimphu. Thus in a remarkably good mood for a group whose primary means of acquiring pointless trinkets and clothes that'll never be used for ourselves and a bunch of ingrates we call friends and family, was severely restricted, we began our tour of Thimphu. A fact I was secretly celebrating cause I absolutely hate shopping.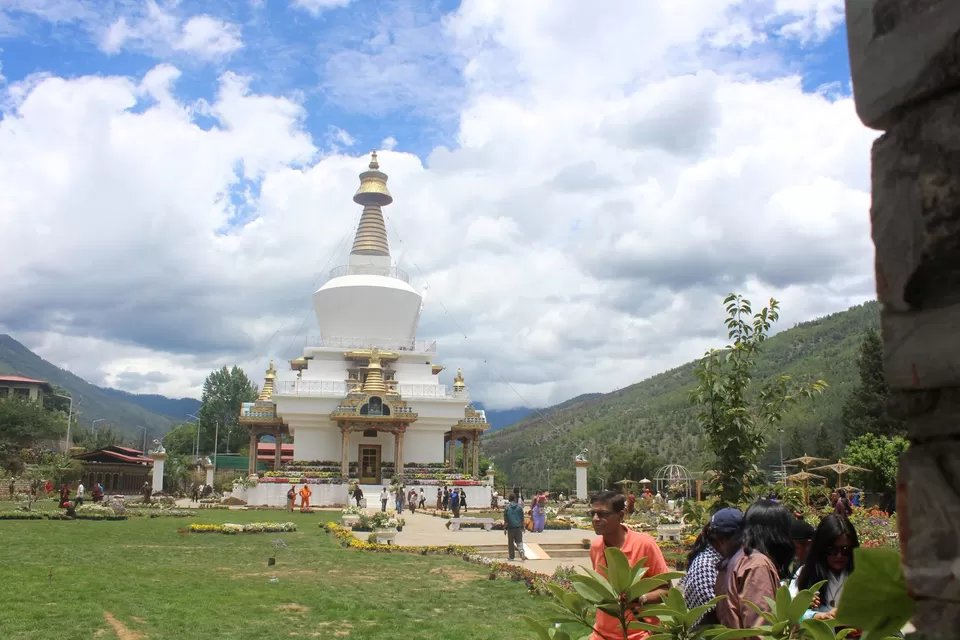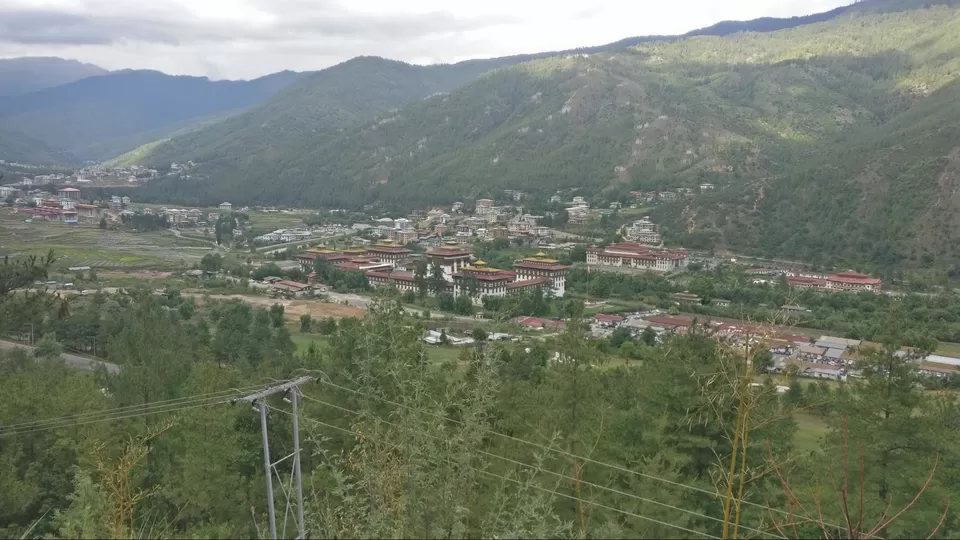 Our first stop was the botanical garden which was unfortunately under renovation. Thus we started on our way up a scenic road to our next destination. The route had a magnificent view of the city below. One can easily see the houses of parliament as well as the tiny palace next to it that is home of the Royal Family. The King's palace turned out to be a remarkably humble affair, especially compared to the massive residences the royals back home used to and currently do reside in. Next came Buddha Dordenma statue on the side of a hill overlooking the city. It's a statue built by a Chinese company in order to promote tourism in the region and to give Thimphu a landmark. Why the city needed this I did not understand but it was an interesting spot nonetheless. The statue makes you realize just how tiny you are in the scheme of things by being a whole lot bigger than you. It is truly is gigantic in size and scale.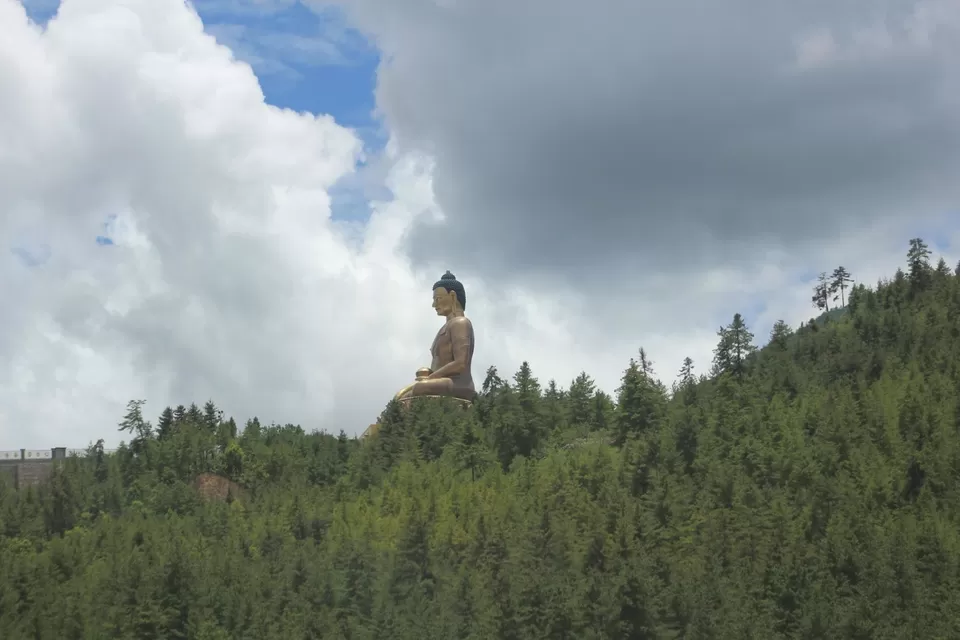 It was here we meet a rather interesting group from India. We noticed them taking pictures of us using high-end DSLR cameras. The more shy, logical ones in the group questioned their motives while the more extroverted brain-dead idiots tried to get them to take more photos. After a rabid fight of 'my pic next', we discovered that this was a group of amateur photographers from all over India. They ran a Facebook group that met up on occasion to head to exotic locations and hone their craft. After realizing that their Skills and equipment were way above ours we elected to be their subjects for the day.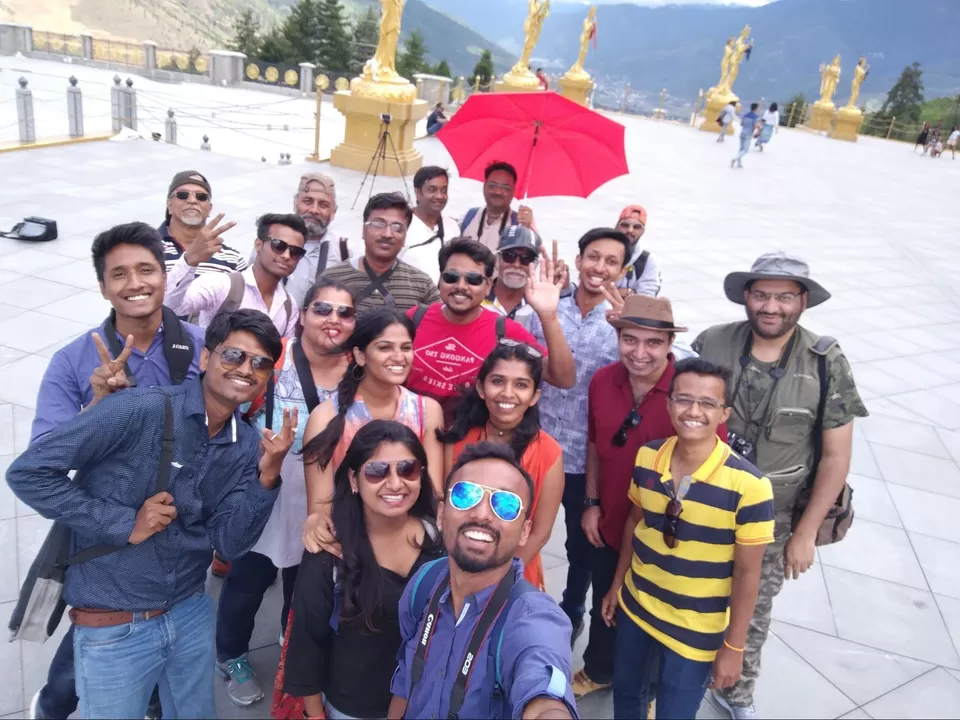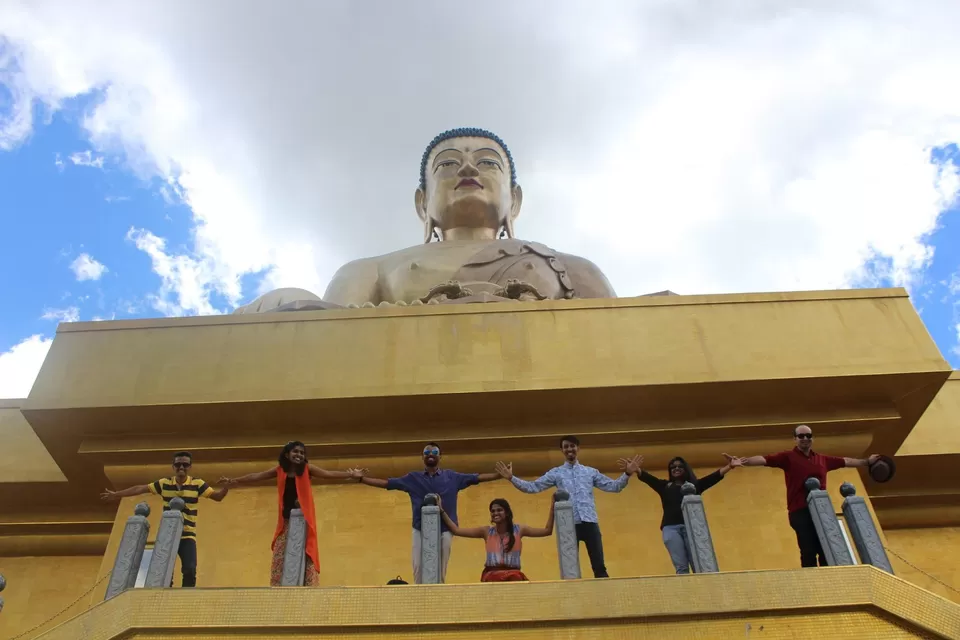 After messing around at the statue for a few hours we headed to a small animal reserve on our way back down to the city. It was here we came face to face with Bhutan's national animal, the Takin. It's a rather unusual animal that looks like the result of a DNA splicing experiment of a goat and an ox. It's apparently a very rare animal which would probably explain why it looks so alien to us tourists. It was a long walk around the entire park, but we were a young, healthy and jobless group so we decided to complete it. After sighting a few animals and fewer tourists we finally headed back to Thimphu.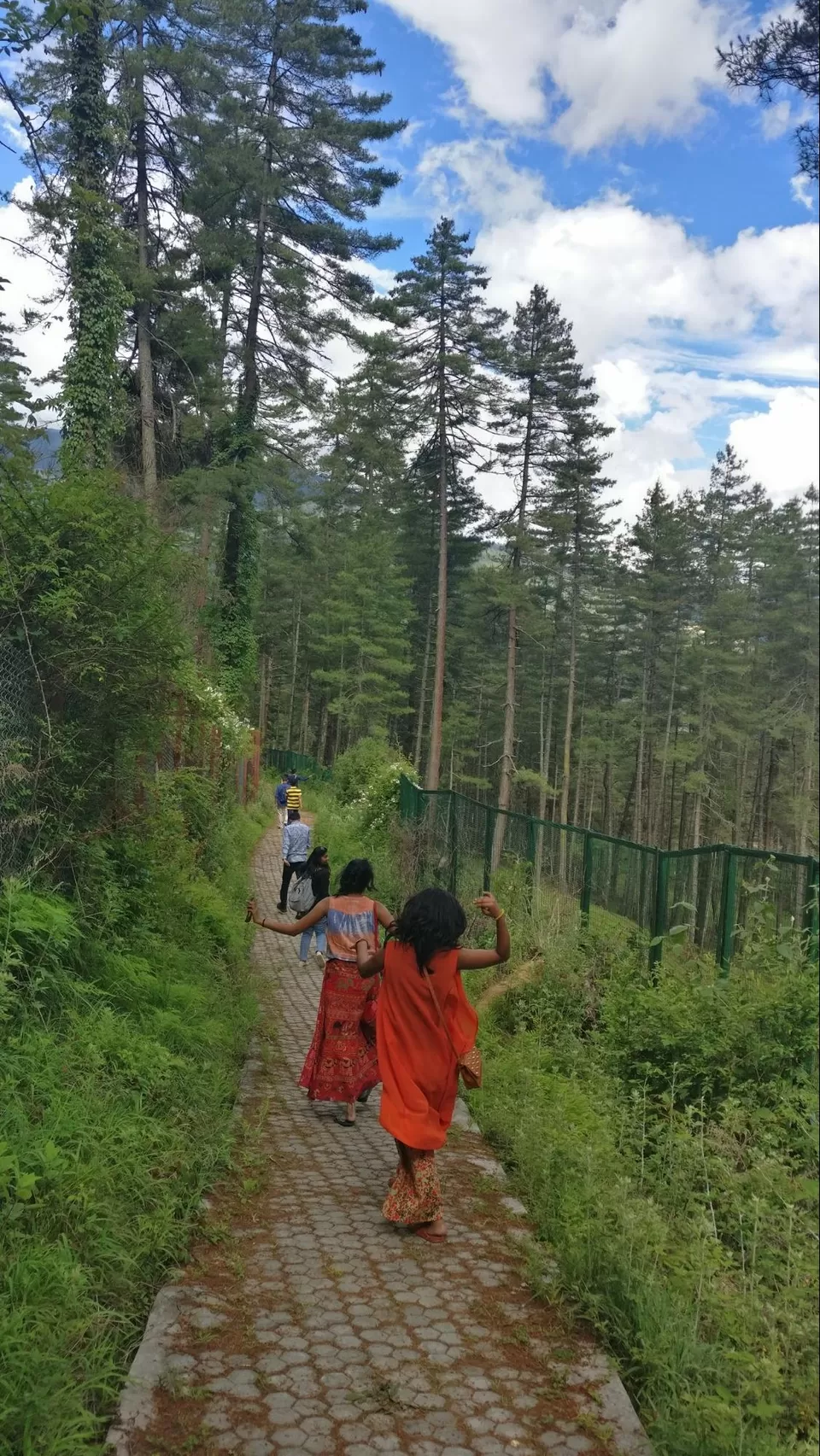 After having an Indian lunch because we realized Ema Datshi, the traditional chilli and cheese dish, wasn't really to our taste we paid the restaurant and headed back home. In most places in Bhutan is accepted. Expected would actually be a better word for what actually happens. Apparently, this is useful for the locals when they buy goods from India. While it is easy to get the local currency called the Ngultrum, converting it back to Rupees isn't as easy. Also, a lot of places don't accept notes of 500 or higher denominations as they're afraid of counterfeits. While there are ATMs and POS machines in shops these aren't all that wide-spread. Also, be ready to be it with a high transaction fee if you do use your card cause banks be evil. After paying for the meal we headed back into Thimphu.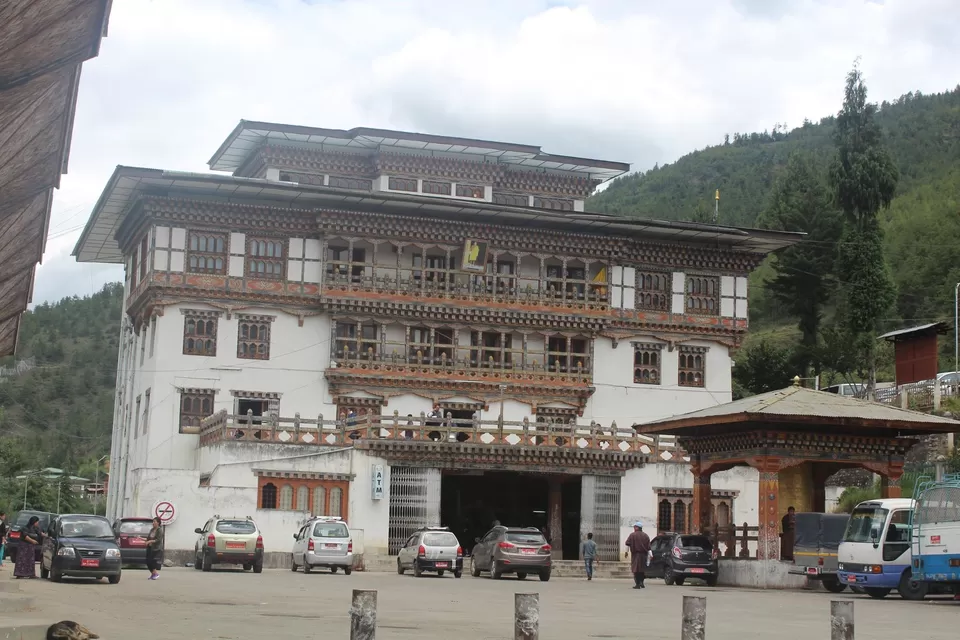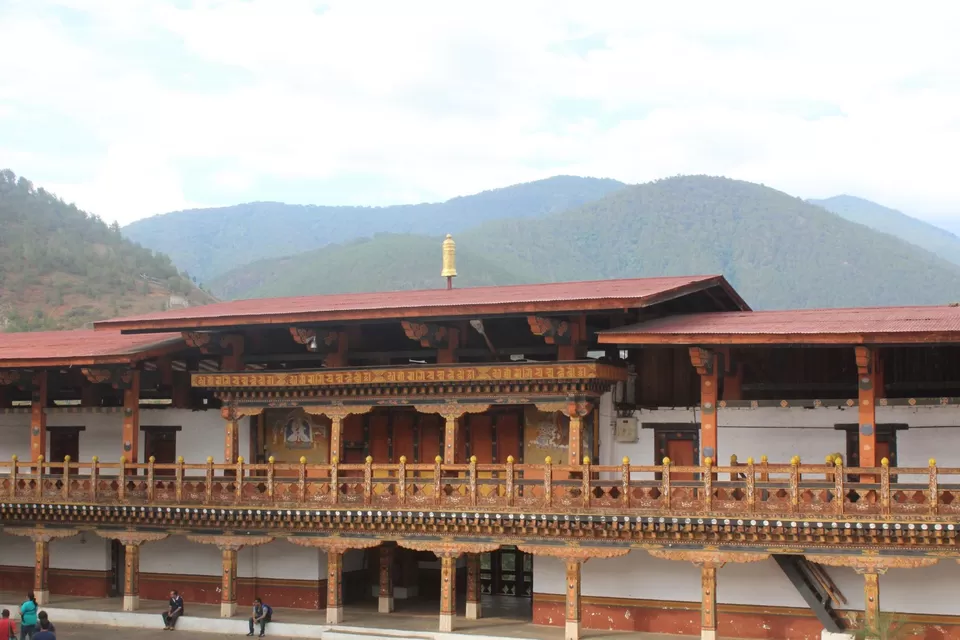 We didn't have anywhere particular in mind so we just went with what with the driver recommended. This started with a Dzong of course. We arrived in time for a prayer ceremony which was an interesting experience. It involved a lot of chanting and incense like a lot of Hindu rituals but seemed a lot less frenetic. We stayed for a while before moving on. We also lost a pair of sunglasses here, the first of many such loses.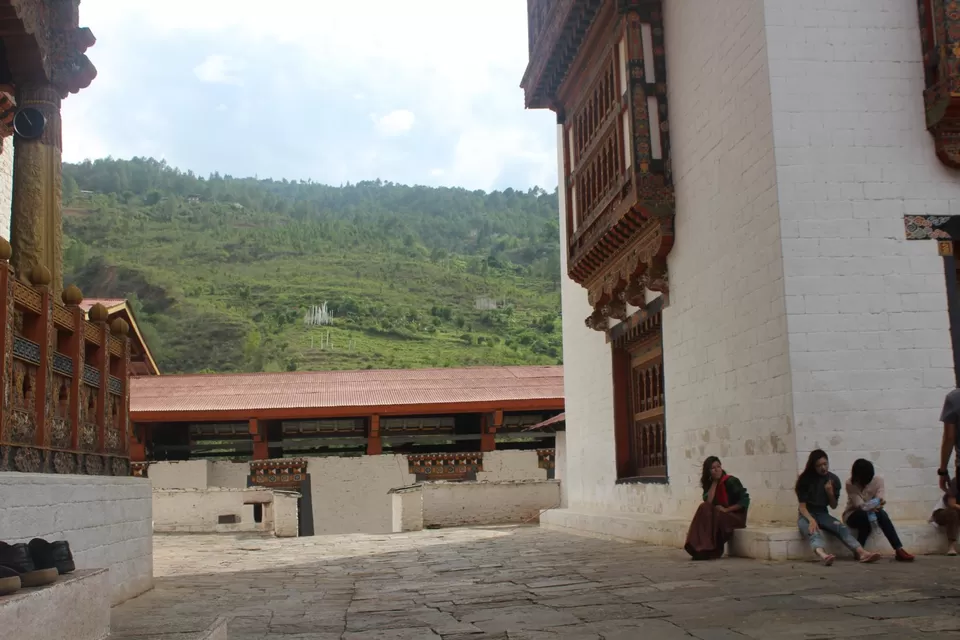 The next stop was a traditional artisan school which took us a while to find. It is schools like this that show what is wrong with the world. These people study their desired art for years with unwavering dedication only to have to peddle their wares in gift and novelty shops. While IT monkeys like me get a good salary, comfortable living and a heart attack early in life.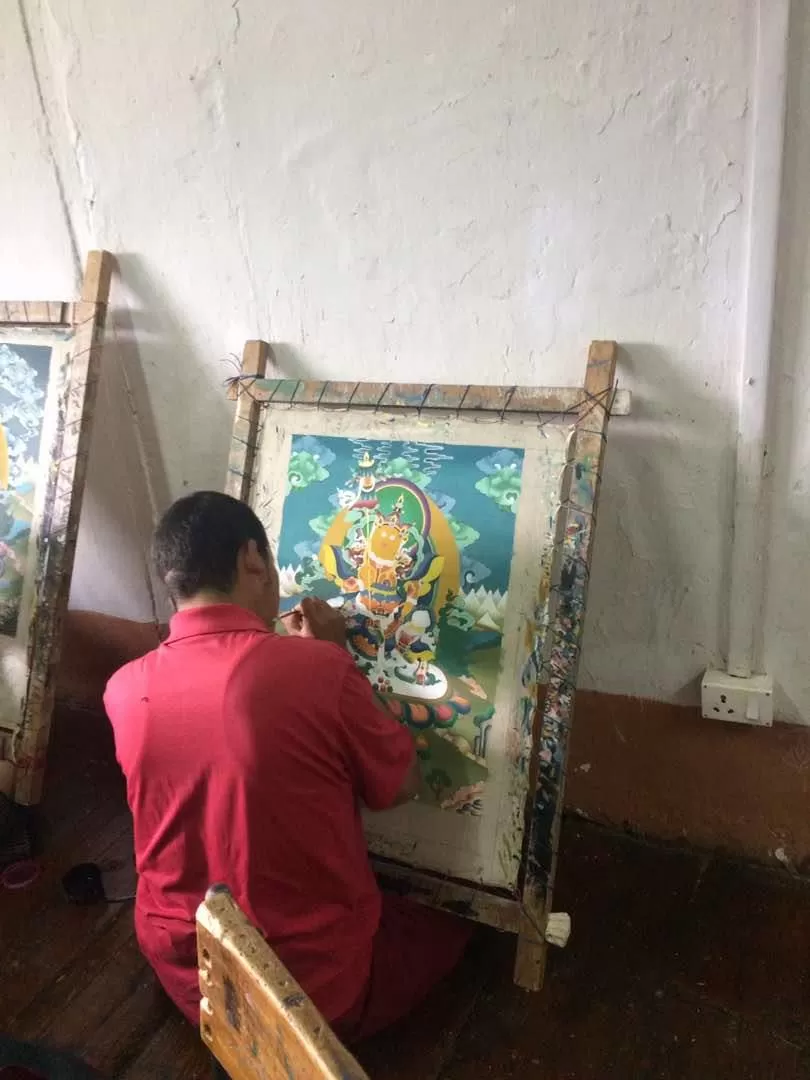 There were people carving intricate designs into wood and others printing exquisite patterns on cloth. We were allowed to stand and watch them which was weird, to say the least. It was a weird experience since the students were basically practicing their lessons while we just stood among them. This seemed to be particularly distracting to the people in the painting classes.
We saw few more sights including a park and the local football stadium. Apparently, Bhutan is football crazy and had an important match coming up the next day. While we initially toyed with the idea of buying tickets for the match we decided against it. We did end up watching a little of the match the next day on TV at a restaurant though I don't quite recall who won.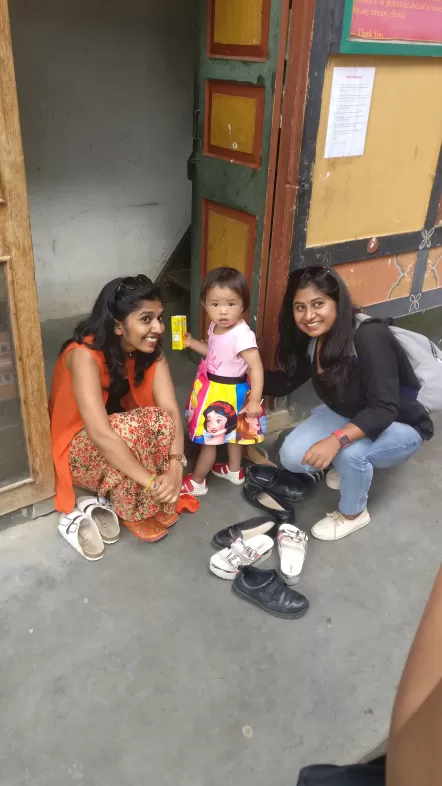 The day ended with a little grocery shopping where we discovered that a lot of the products you get in Bhutan are just re-branded Indian products. This is especially true with food and beverages where you can see the Indian companies name embossed on the bottles even though it has a Bhutanese label.
A long, partially alcohol-fueled discussion at night about the various topics that haunt us ensued before bed. These included past loves, present loves. arranged vs love marriage, work, college days and what is body scrub and why does it cost so much. After a lot of heated arguments and tears about the various topics, except the body scrub for some reason, we came to the inspired conclusion that all our lives are miserable while sitting in a hotel room, in a foreign country, in the Himalayas. We finally headed to bed late into the night after a surprisingly memorable discussion.
Day 5: Punakha and beyond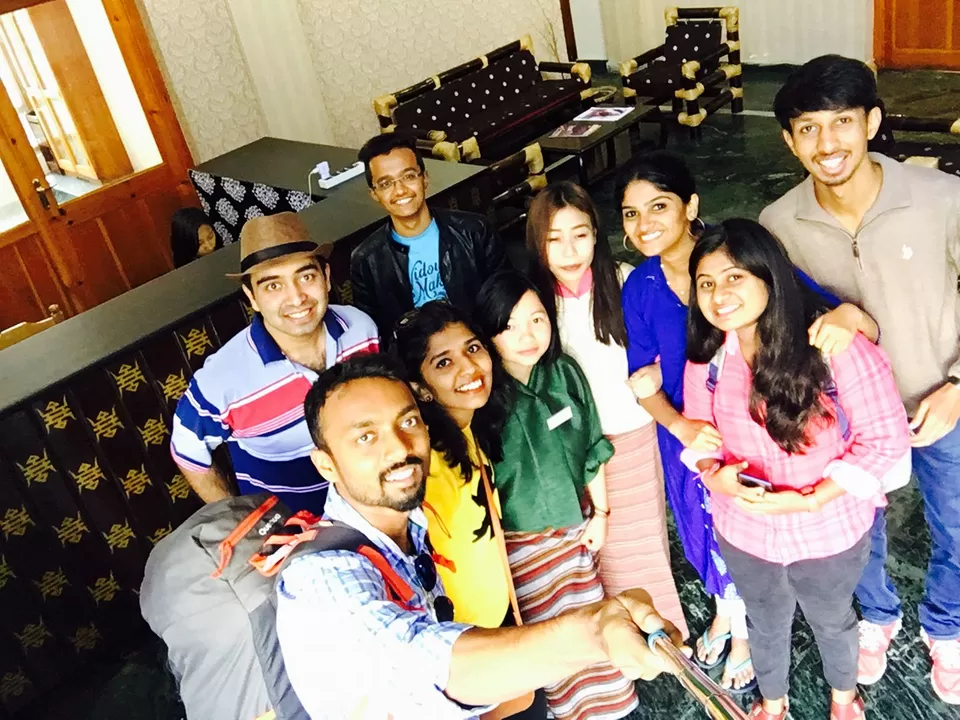 After checking out of our hotel and picking up yet another permit, we began on our way to Punakha. This permit allows you to visit a few areas beyond Thimphu and Paro and can be picked up from the customs office in Thimphu. This didn't take long thankfully. Punakha is about two and half hours of slow progress from the capital, with a few interesting sights along the way.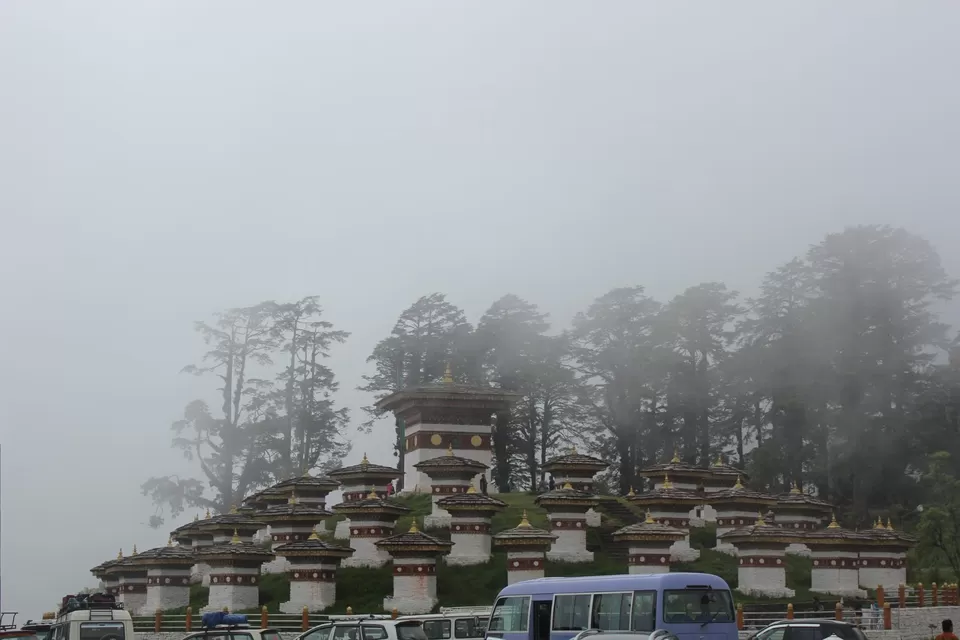 Our first stop was at Dochula Pass. the place has 108 memorial Chortens or Stupas known as "Druk Wangyal Chortens" have been built by Ashi Dorji Wangmo Wangchuck, the eldest Queen Mother, as can be discerned by reading the information board at the entrance. The place had a little cafe as well where one can get the usual fair of noodles and tea or coffee as well as a few other snacks.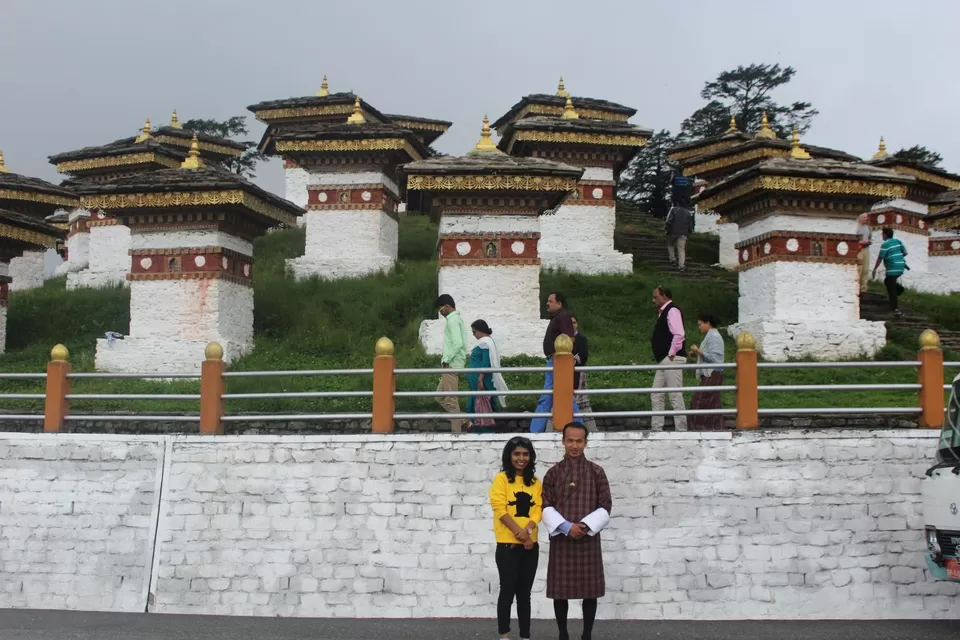 We also came across a large group of South Koreans. At least that's what the more excitable of our group claimed they were Koreans, the rest of us didn't really bother to take the matter further. While we did initially attempt to talk to them, all but the most enthusiastic of us gave up almost immediately and went for a much-needed coffee. The weather was cold and foggy and being outdoors didn't seem to be the best idea. A hot coffee or tea, even a mediocre one, in the middle of cold Himalayan pass is one of those things that will inspire poets to write about the heavens, it's good enough to inspire grand stories of spies fighting on the mountainsides or as in our case, inspire us to take pictures of the cup.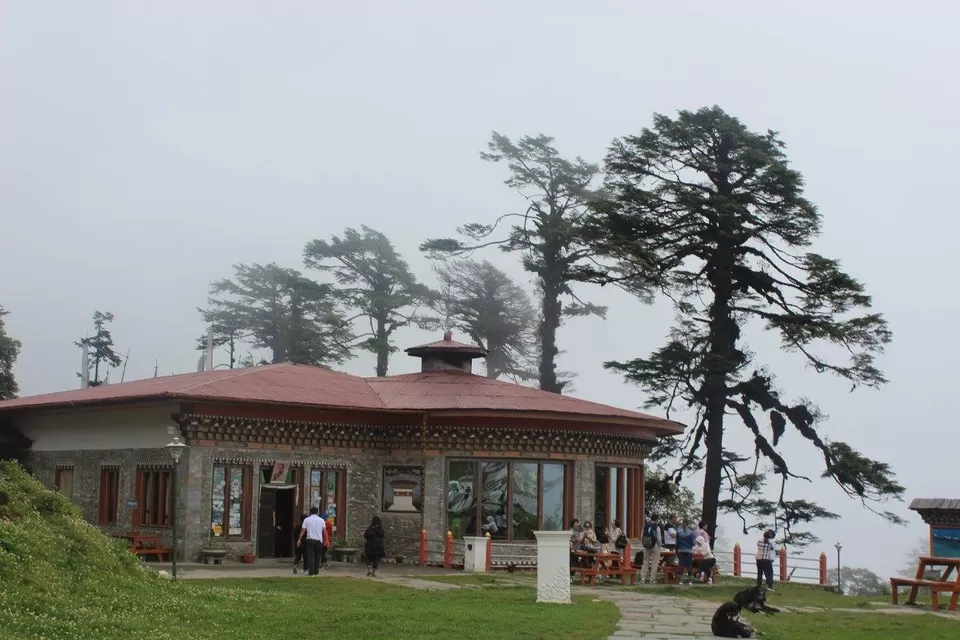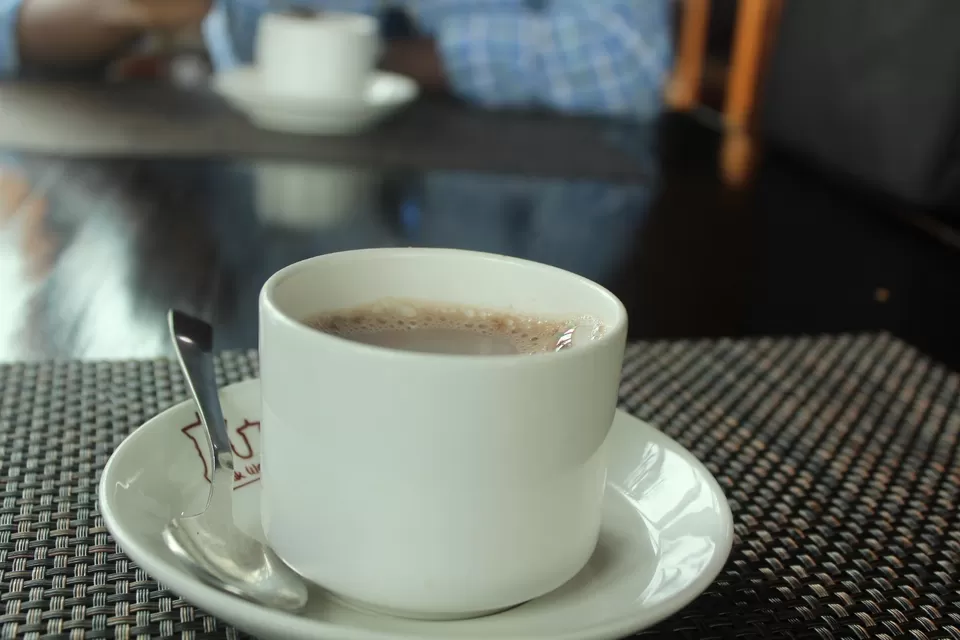 The Chortens themselves were in an area encircled by the road. After spending an hour or so exploring the place we realized we were running late and continued on our way to Punakha. After a few hours of travelling and a fight with our driver about the amount of time we had available, we finally reached a place that would be one of the highlights of the trip, the Punakha valley.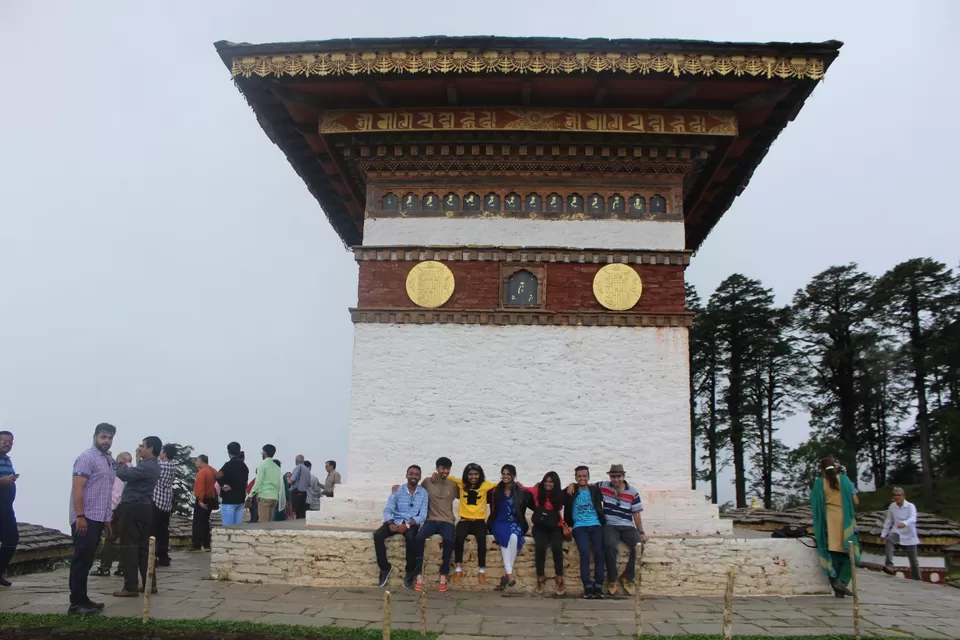 With no plan, other than to experience the white water rafting and if we had the time, visit the magnificent old Dzong here as well. The river rafting is split between 2 rivers, one with milder rapids referred to as the "Female river" by our guide and one with far more intense rapids called the "Male river". While the former is used mainly by novices to just for the experience, a group including us, the latter is considered far more advanced and is usually only traversed by visitors with some experience in whitewater rafting. While the starting point on each river is different, both of them end at the same place. The starting point of the female river is a few kilometres up the road from the Dzong, which is where we went.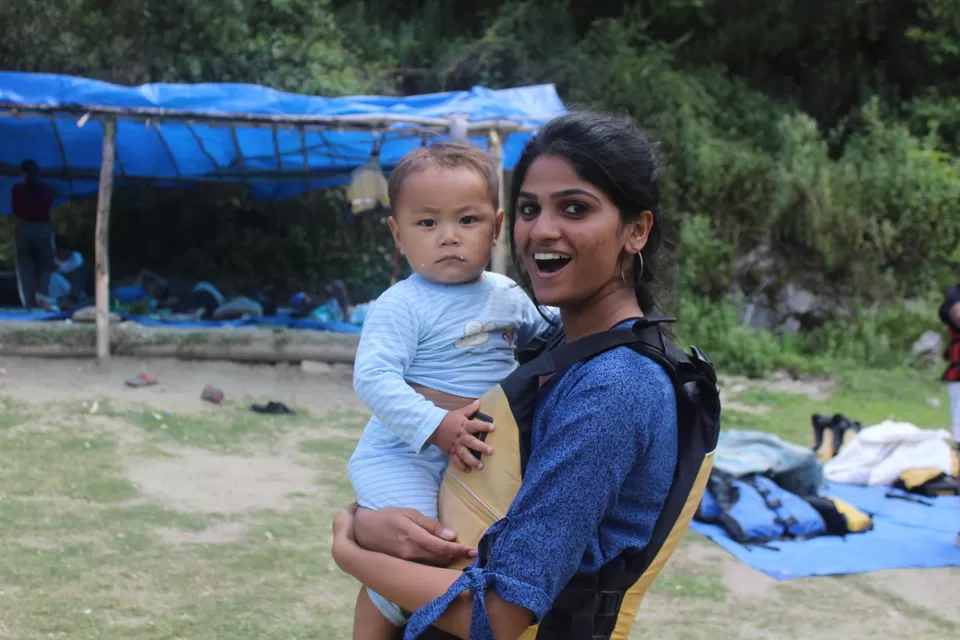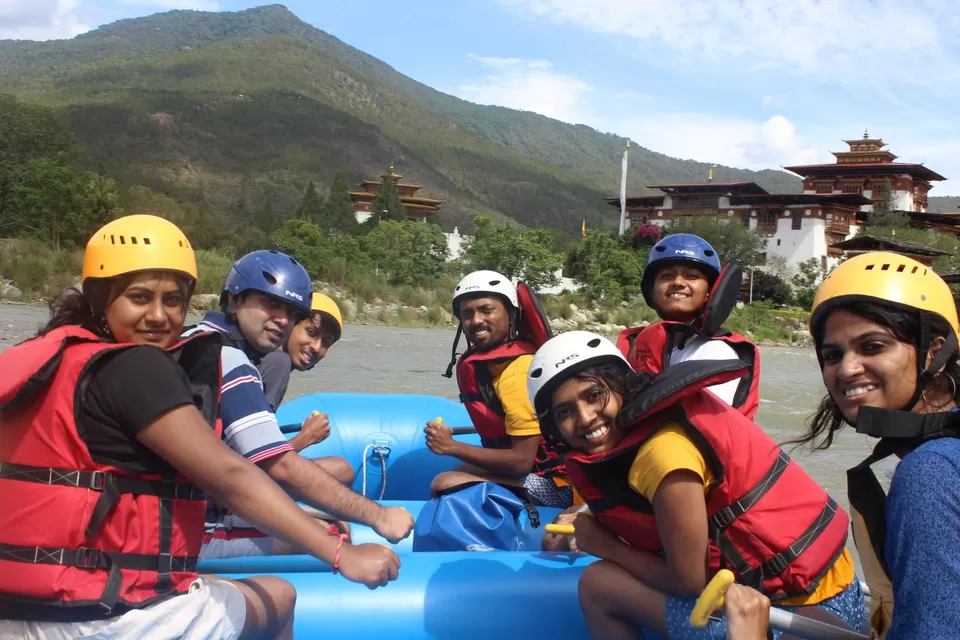 We met the guide who'll actually join us on the raft and after negotiating what turned out to be a remarkably reasonable price for what turned out to be a 2 hour, 14-kilometre adventure, we coughed up the money. Our driver was to join us at the other end and we left most of our electronics and cash in the car and were given a plastic bag to protect whatever we were taking with us, which turned out to be the camera and 2 phones. After we were given a safety briefing that assured us that yes, it is safe. No, nobody will drown. Yes, we know drowning our patrons is not good for business. After we were reasonably convinced we boarded our raft and started on our little adventure.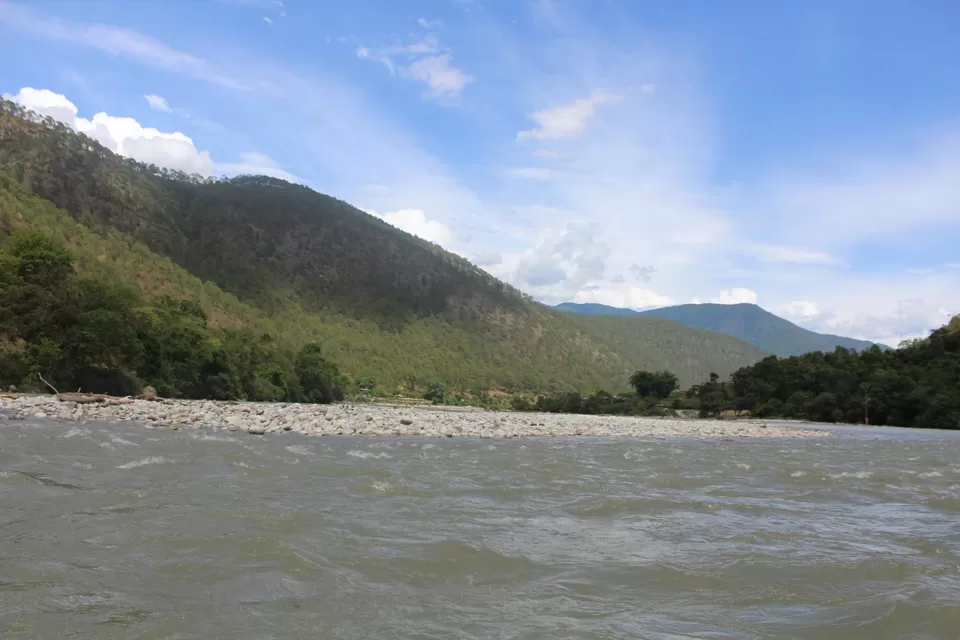 The ride was unforgettable. The water was clean, cool and pristine. Almost glassy where the river was calm. The guide would tell us when to take the camera out and take photos and when to pack it all in and brace for rapids. It wasn't a fast journey, which was fine with us as we didn't want it to end. Also, with our uncoordinated flailing with the oars under the pretext of rowing, it was probably safer too.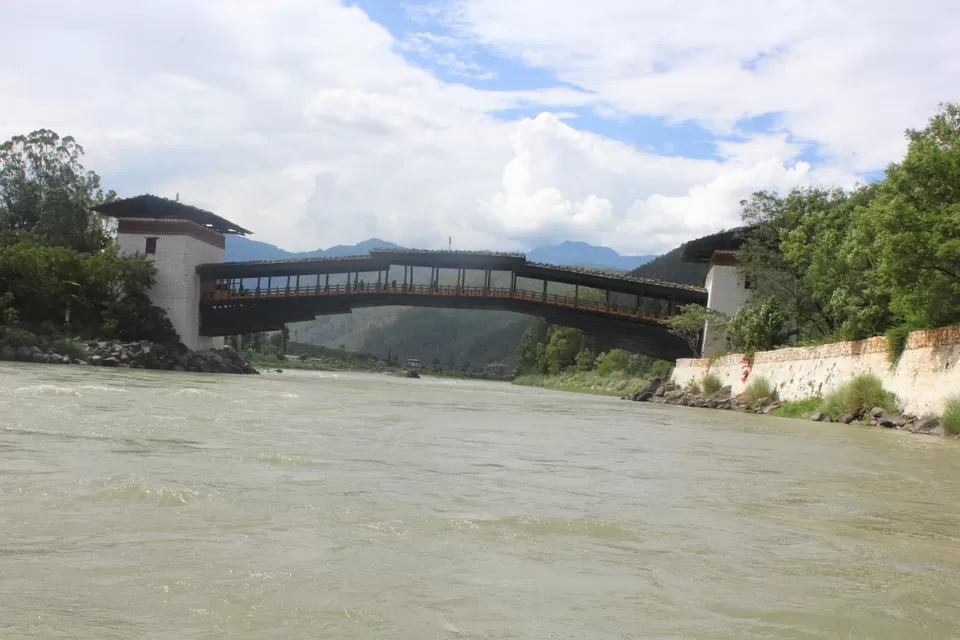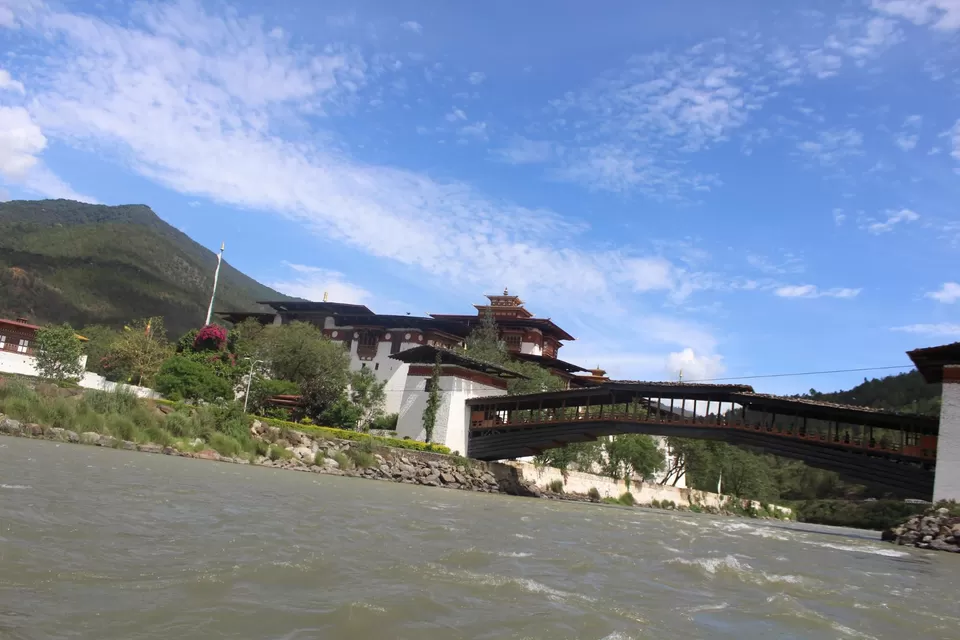 We were regaled with the tragic tale of the Romeo and Juliet of Bhutan and the same tragedy with a Bhutanese twist. We took in all the beautiful scenery of the mountains and the occasional quaint house we passed, the sight of the new Taj hotel we would never be able to afford and finally the might Dzong with a bridge over the river. We were the muse for the multitude of people on the bridge to take photos of and we in return took photos of them. It really was one of the most interesting experiences of a very interesting trip.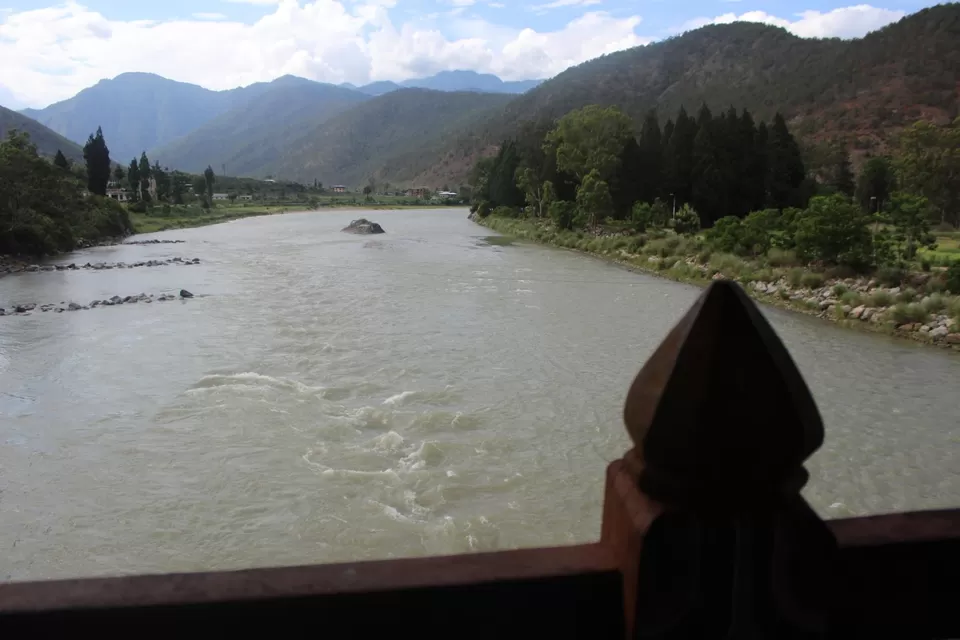 The ride ended at the confluence of the male and female rivers, with a quick swim in icy water. After saying goodbye to our Nepali guide and promising him that his homeland would definitely be our next destination, we went to change. All of which would have been amazing except for the fact that there were no changing rooms. After much deliberation, we decided to suck it up and change near the car. The guys took turns change with the one towel we had while the girls took all the other towels and went to a secluded spot to change in peace. After this slightly awkward moment, we continued on to the Dzong.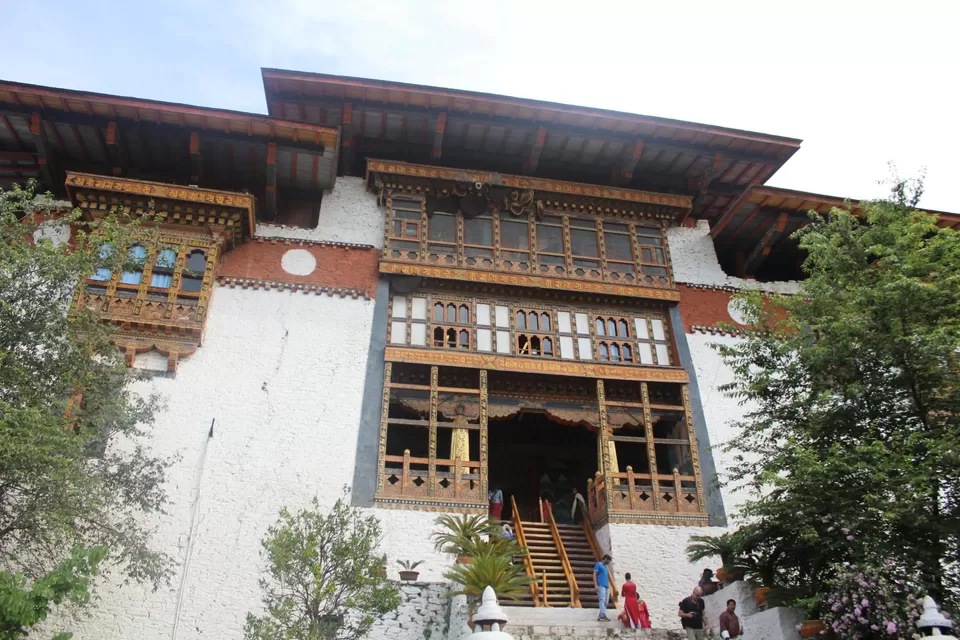 The Dzong was on the other side of the river from the road and was connected to it with a rustic wooden bridge the went over the river we just rafted down. It's a massive place and is one of the oldest in Bhutan. It's definitely worth a look. After saying hi to the photographer group we bumped into again at the Dzong and forcing them to take our pictures we began the slow journey to our final destination in Bhutan and the location of our night hotel, Paro.
Day 6: Paro and The Tiger's Nest
Paro is the largest tourist hub in the country. It is also the only city in Bhutan with a major airport. It contains a palace, Dzongs, viewpoints and a major shopping area that was thankfully open this time, as going back home empty-handed would have been close to suicidal.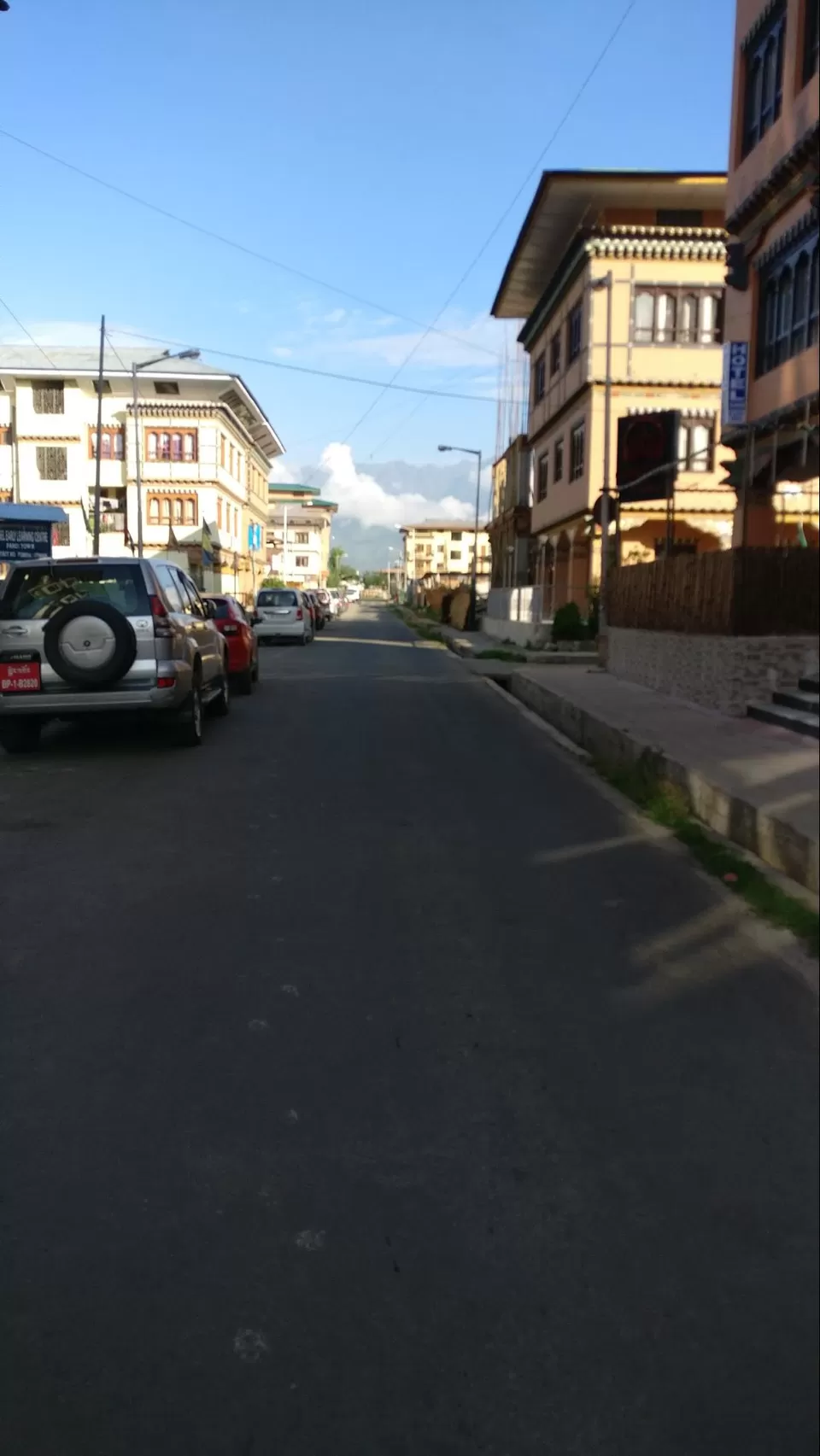 It's the city with Bhutan's primary airport. So if you're one of the people rich enough to afford the ticket fare this is where you land. No fuss at the border or anything interesting like that. While you do get a quick entrance and exit to the country with a quick view of the Himalayas, it just doesn't have the sense of adventure that taking the road into the country has. So if you're rich or don't have the time, take the plane, if you're young, poor or just have the time and are willing to be thrown around a little, take a car.
An early start the next day took us to what would be another highlight of the trip. A 7 kilometre trek to and from the Tiger's Nest monastery. The monastery is what is usually on postcards of Bhutan and is a must visit. It's one of the most beautiful treks in the country and isn't difficult at all, also you can use it to prove to your friends that you are a better traveller than then them.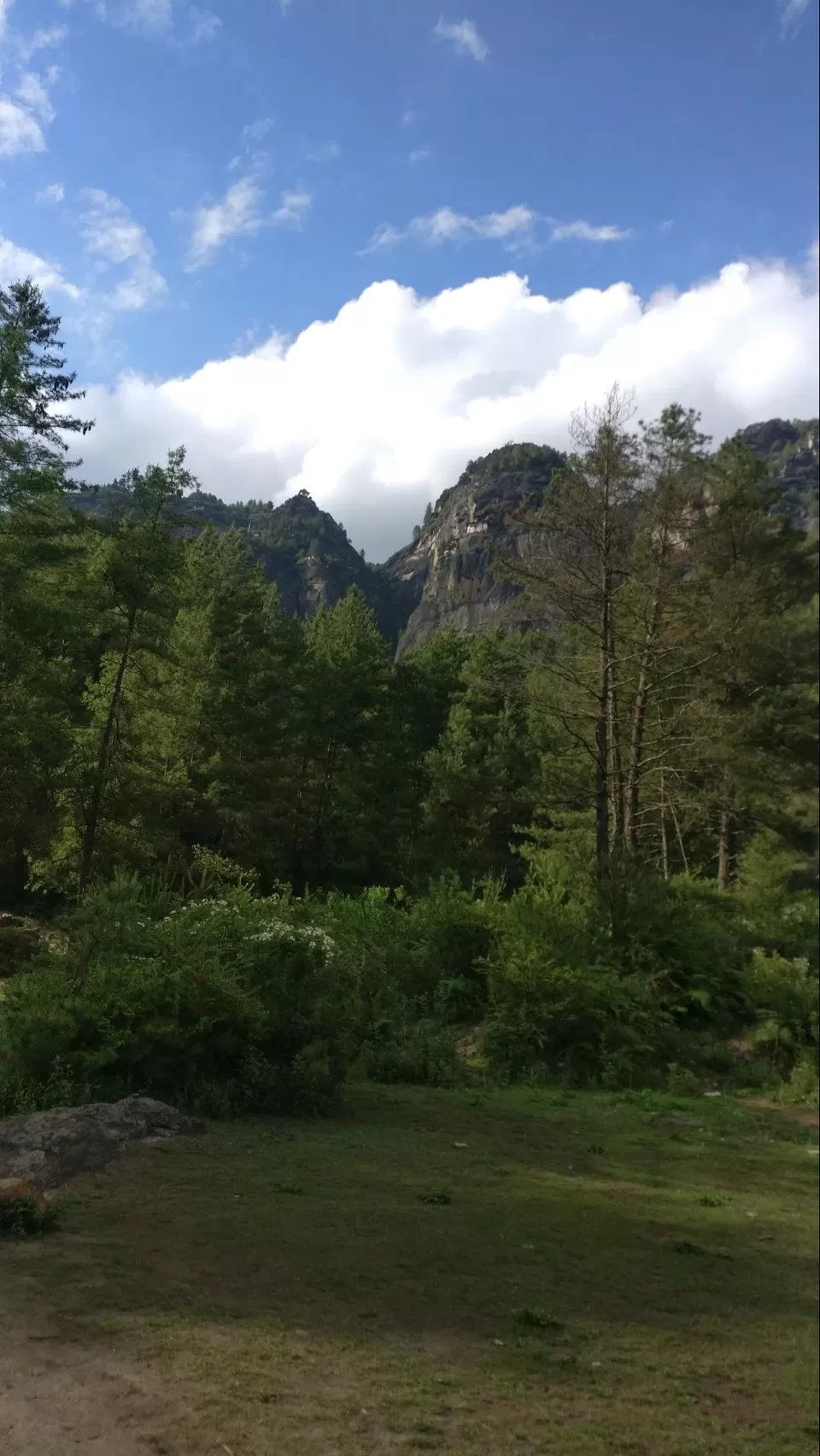 The trek begins around 10 km from Paro town, in the forests to the north of the city. There's a parking area for cars and a little market that sell trinkets for travellers. I actually bought most of my souvenirs from here. One can also hire a donkey to take you halfway up the hill from here. There is a 300 rupee entry fee for the monastery on the top which needs be bought before starting the trek up. The tourist office at the start of the trek provides the same. Why the tickets need to be bought at the start of the trek and not at the monastery itself still eludes me, but then again the world works in mysterious ways.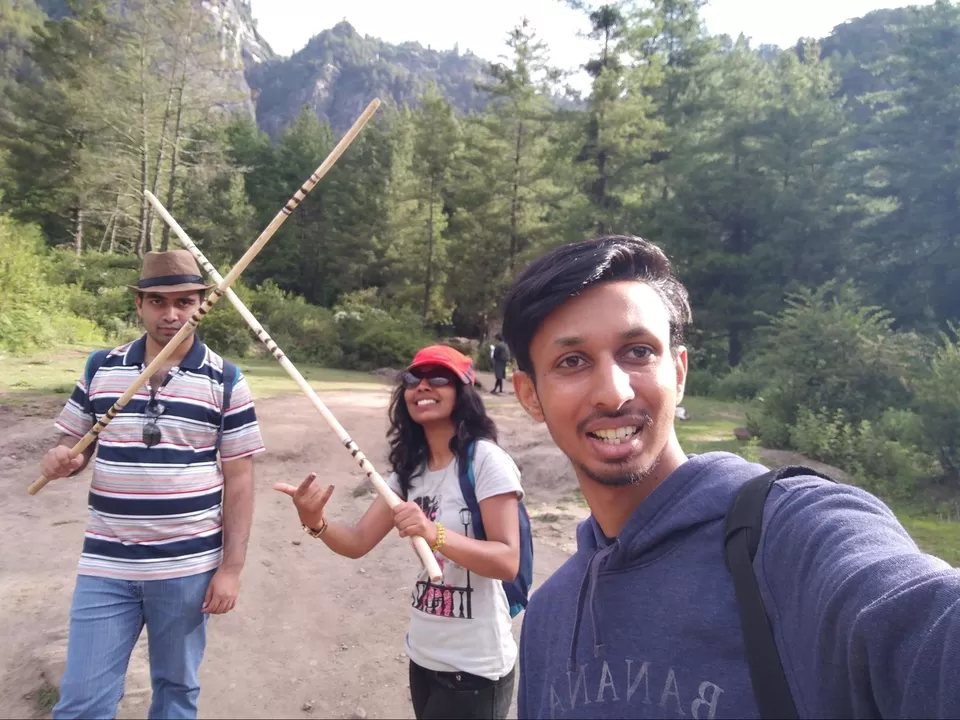 After buying a bunch of trekking sticks more for show than actual purpose, we began the journey up. While most of us decided to trek all the way up, we had one weakling in the group who decided to go halfway up the hill on a donkey. It was sunny for the first part of the trek, though it was never hot. It wasn't a difficult trek but our progress was hampered by the fact that some of us had the same stamina level as a geriatric panda bear. After a lot of panting, whining and grumbling we reached the restaurant at the halfway point.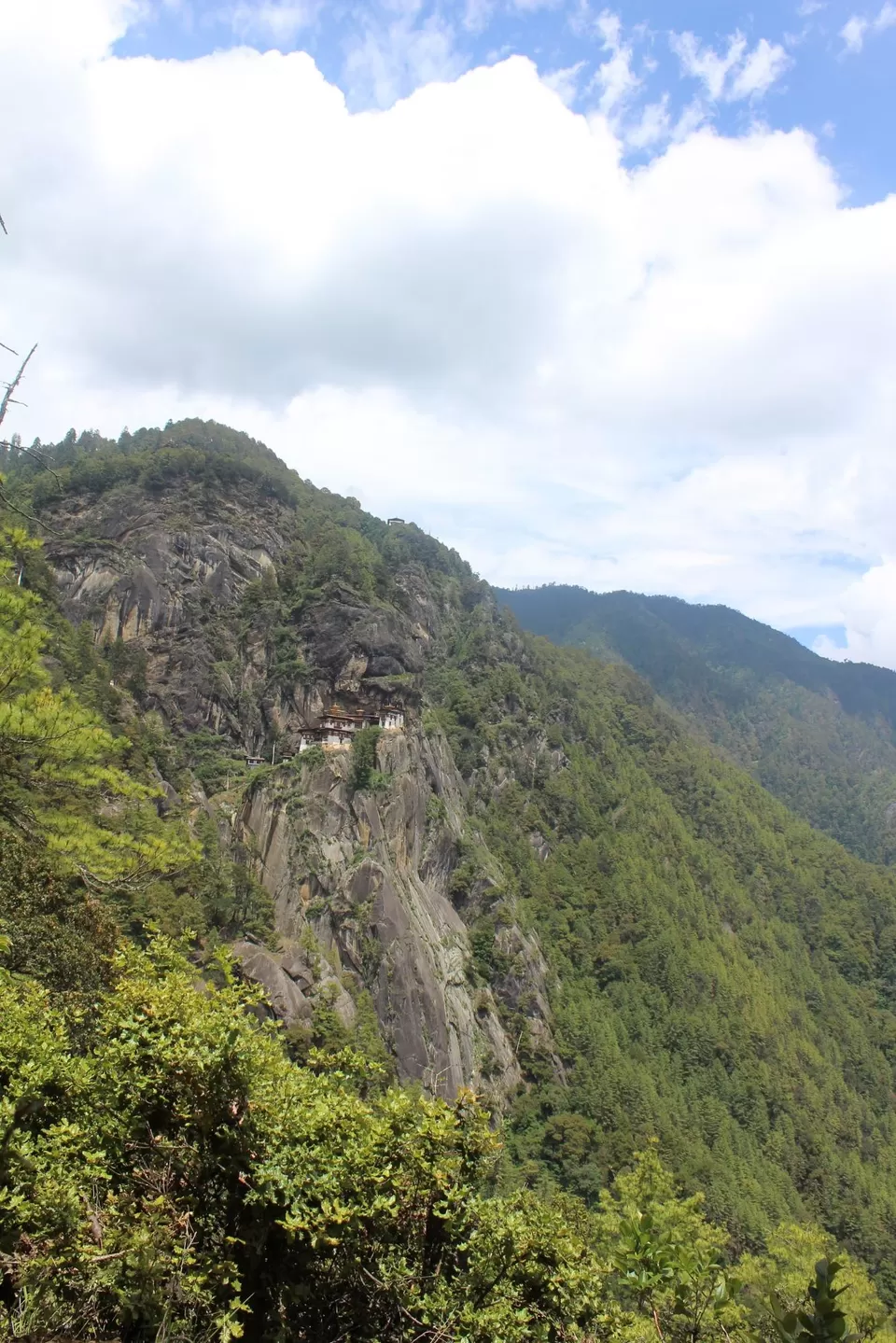 An overpriced snack and drink later we continued up the rest of the route in 3 groups. The 1st group were those who actually were fit enough to carry on comfortably, a group I thought I would be in but wasn't. The 2nd group were those who struggled a little but still managed to keep up a steady slow pace, a group I actually was in. The 3rd group were those who gave up midway and took a nap in the forest, a group I will soon be joining given how lazy and out of shape I've become. While we did wait for this group at a viewpoint, they apparently reached the monastery first, or so they claim. Maybe there was a rift in the space-time continuum.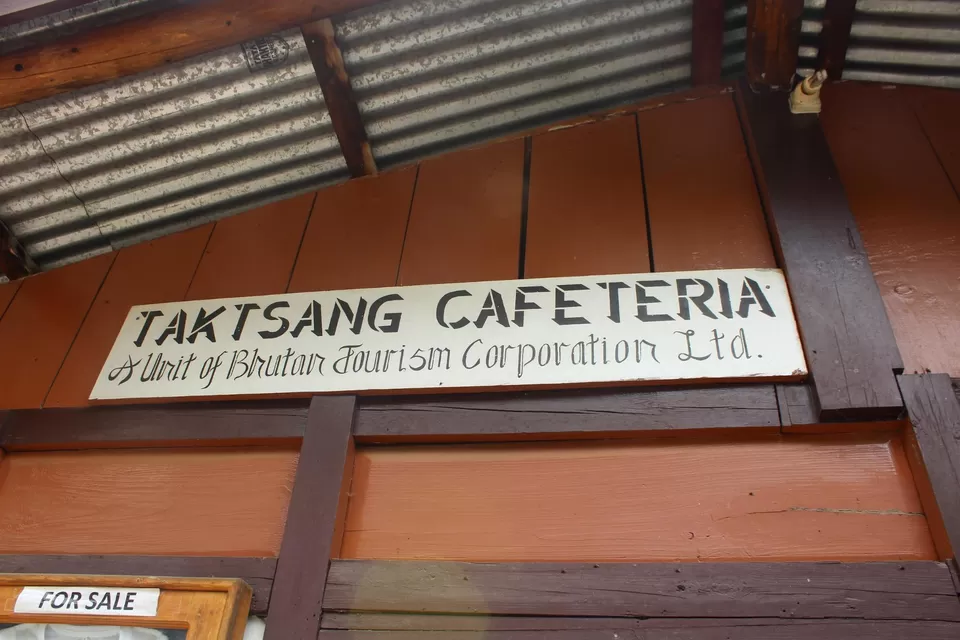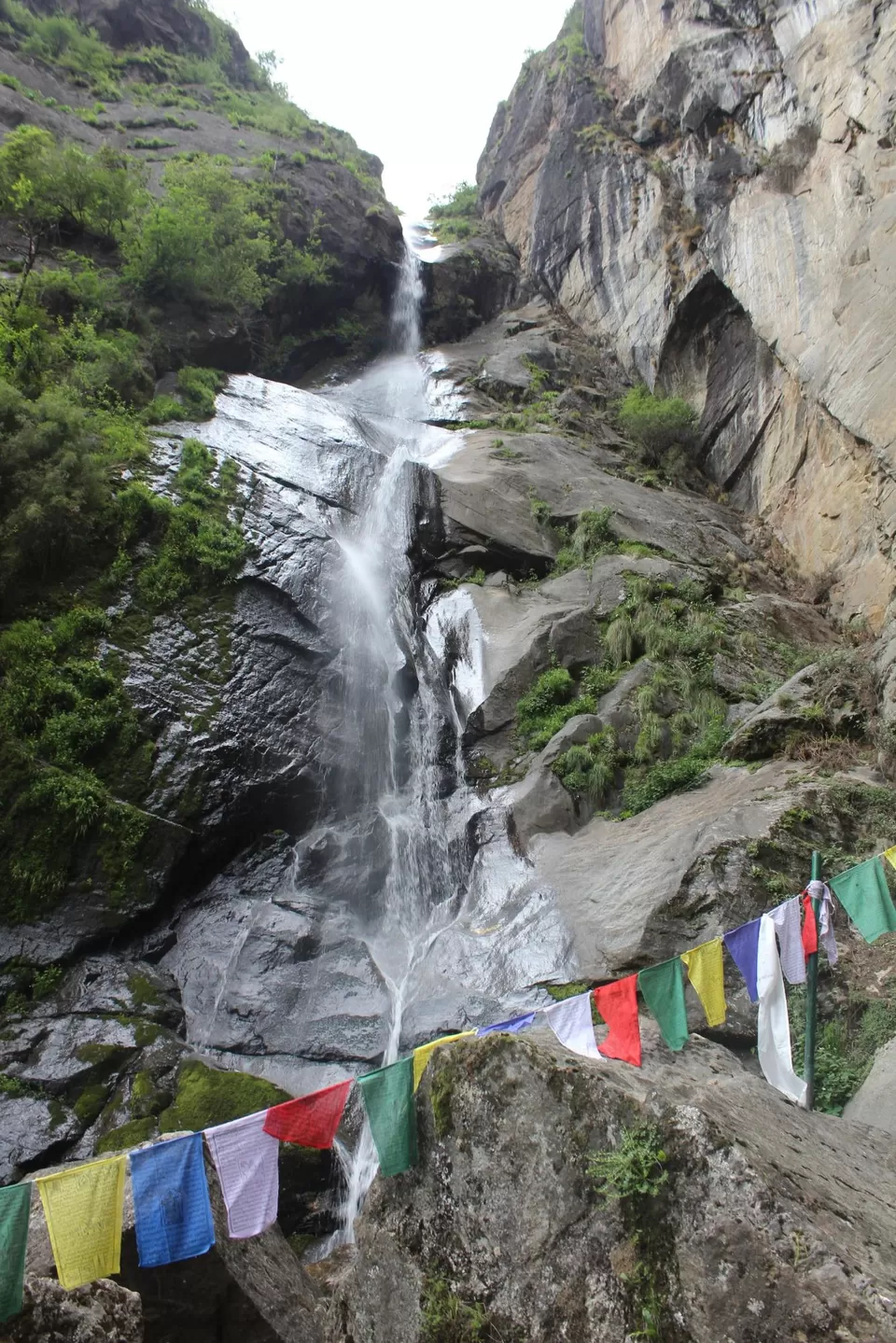 The final stretch is a set of 300 odd steps down to a waterfall and then back up to the monastery. This was by far the most painful section as it messes up your knees and ankles. After the climb down, we had a photo stop at the waterfall. It was here we met an old couple slowly making their way back from the monastery. They would have easily been in their 70's and though they seemed to be struggling a little had managed to trek all the way up here, a fact that put us out of shape youngsters to shame. After a quick chat with them, we discovered they were from Andhra Pradesh, a fact highlighted by their joy in talking Telugu to those who spoke it in our group and had decided to travel a little and see the world after their retirement. After some encouraging words to us to finish the trek, which was a little embarrassing, to say the least, we continued on our way. Knowing that people even in their old age are still bitten by the travel bug is inspiring in its own little way.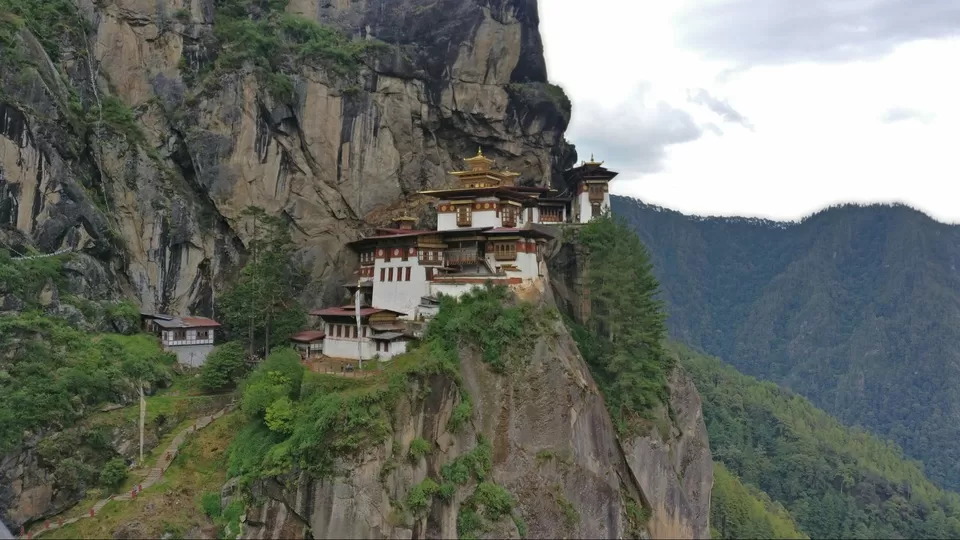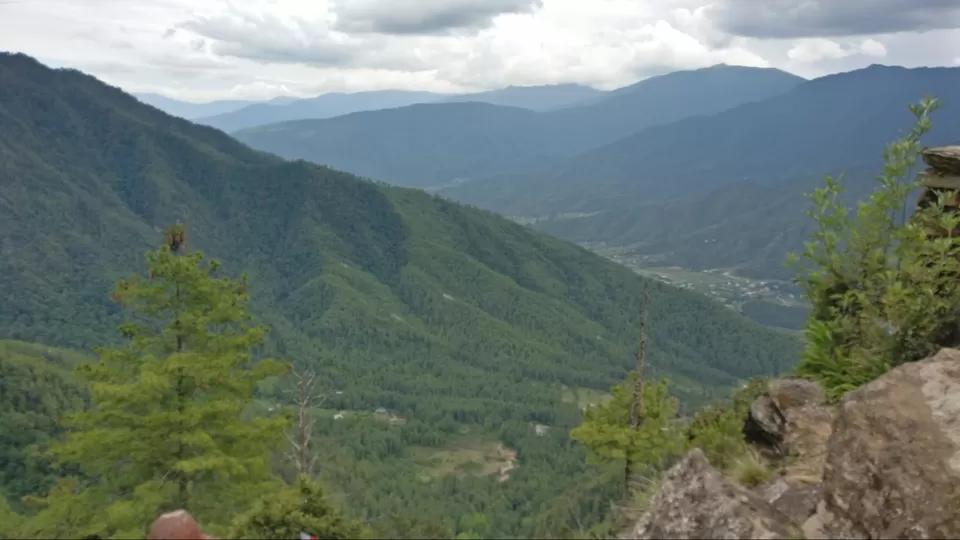 Once we were at the top we had another photoshoot as well as a light drizzle which was very welcome. The views at the monastery and at the various viewpoints and the clean air up on the mountain make it a trek worth taking. It was never crowded and the serene vistas one sees from the top is enough to inspire the most divine paintings and poetry, or in our case, another photo shoot and this blog. We didn't enter the monastery as we didn't buy the tickets nor did we feel the need to either.
The trek back down was uneventful in comparison. The only highlight being meeting a group who had been split in 2 and didn't have the tickets to enter with them due to some confusion, stressing my point that having the ticket office at the start of the trek makes no sense. We trekked at a relaxed pace down the mountain while listening to music the whole way. We even broke out into the occasional song and dance routine, which unfortunately there's video proof of as we recorded it as well. Unfortunate because I can neither sing nor dance.
At the bottom, we bought a whole lot of souvenirs at the market as it was cheap and of decent quality. After confirming with friends that my gifts weren't too tacky we finally headed back to the taxi after we had exhausted all our money. We ended the day with the stroll through Paro for some more souvenirs and of course, another photo shoot.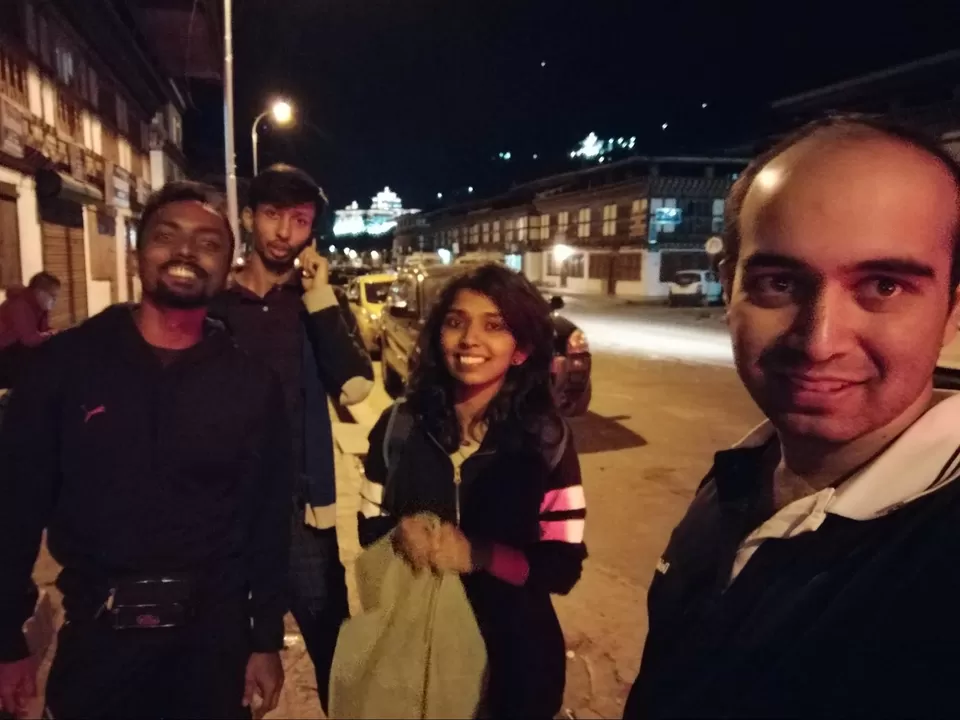 We began our descent back towards India from Paro early the next morning. It was a 7-hour drive back to Phuentsholing and the India border. We just relaxed most of the way as we were all exhausted due to an early start after an exhausting day. Our progress was slow due to heavy fog which was to be expected during June.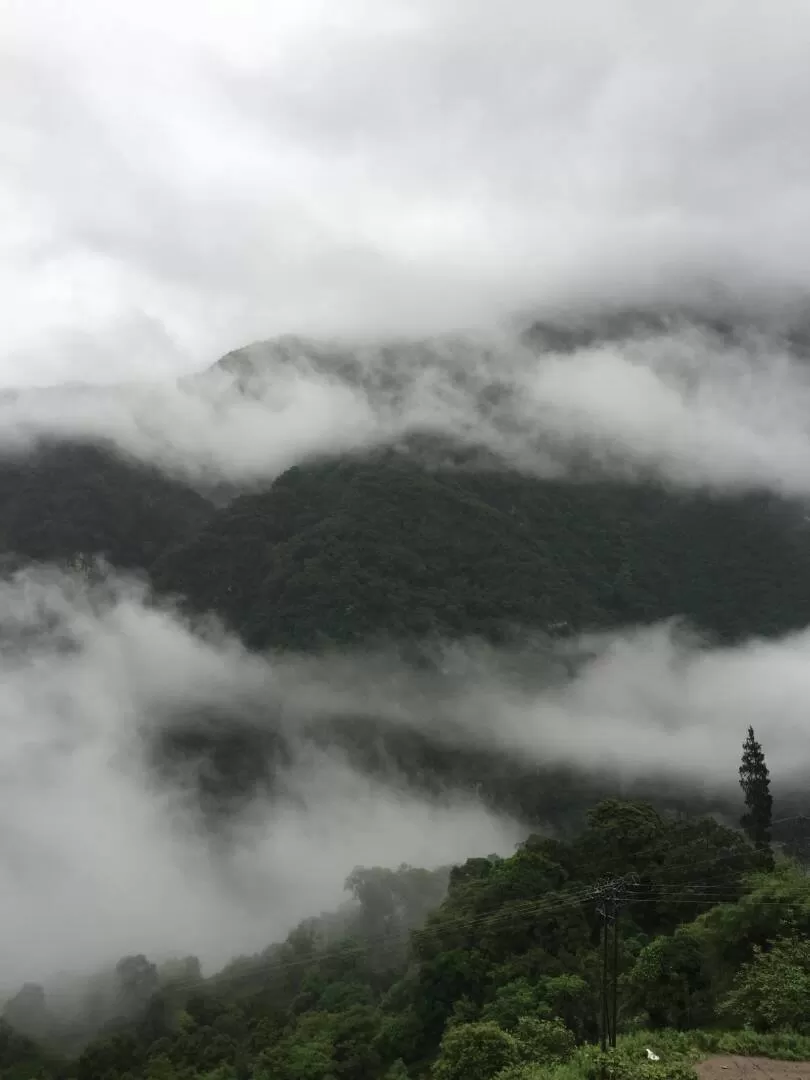 We came across an Indian Army canteen along the way. This was our first taste of south Indian food in a week and it was heavenly. We emotionally ordered practically everything on the menu. After eating way more than we usually do, which proved to be unwise since we were heading into a hilly section of road, we profusely thanked the cook and left a healthy tip as well.
We finally entered India at around 1 pm and were dropped off at New Alipurduar Railway Station, which is the nearest major railhead to the border. After a futile hunt for a proper lunch, we boarded the train and began our journey through the Dooars and overnight to Kolkata.
We ended up whiling away the day in Kolkata as we had nothing specific planned. We hadn't booked a hotel and the one we did try sent us away because they had issues taking in a mixed group with unmarried girls even though the girls would be staying in a separate room. This happening in this day and age came as a bit of surprise. We finally ended up crashing at a house of a family friend of one of our group.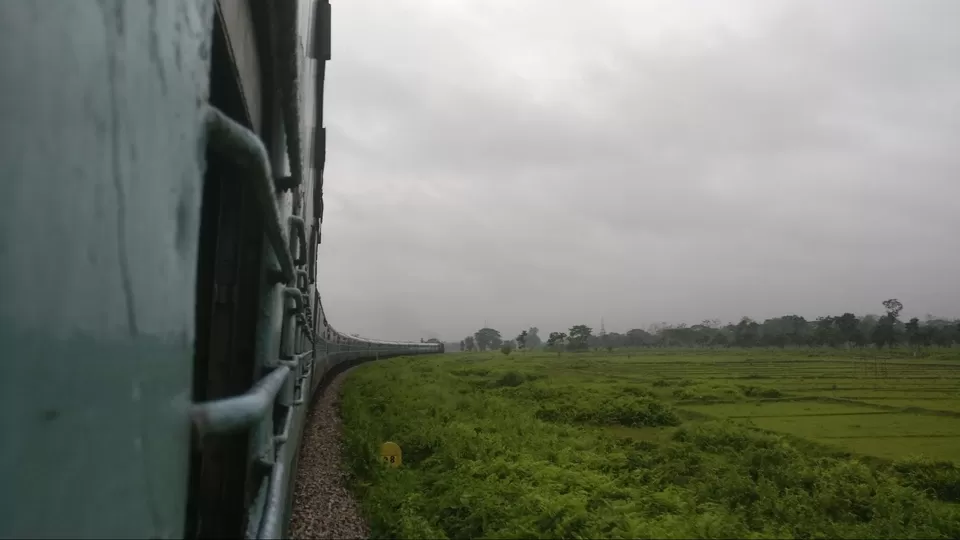 A red-eye flight back to Bangalore from the surprisingly empty Kolkata airport concluded our first international trip. Though as with most trips, the process of sharing photos and settling up bills will go on for months.
The conclusion
Bhutan is an easy and friendly country to visit. It's remarkably clean and green and really attempts to keep things that way. Tourism is a major industry here and is one of the primary sources of income for the locals, so things are kept tourist friendly. Due to the mountainous terrain, the drive within the country may cause issues for people who get easily car sick and all the climbing involved may be a bit of a turn off for the elderly. Food may also be an issue, especially for vegetarians.
Indian currency is widely accepted though higher denomination notes are not. Cards aren't as common and are usually found only in large outlets in the cities. It's treated as an international transaction so be prepared for a few fees. The same goes for ATM transactions. Language isn't a barrier either as Hindi, Bengali and English are widely understood. It's a relatively cheap experience too as the entire trip including shopping cost us far less than 25000 Indian rupees. While a passport isn't required to enter the country, it's recommended to carry yours if you have one as it makes things easier.
It's a place of religion and mysticism which is a big draw to many. There are numerous activities for the more adventurous lot and those who just want to relax will have fresh air and beautiful mountain views to do so in.
Bhutan was my first international trip with friends and it's a country I hope to visit again soon.
Frequent searches leading to this page:-
tour plan for Bhutan, Bhutan adventure tour, Bhutan luxury travel, trips to Bhutan tours, Bhutan travel guide, vacation tour packages