I would like to share about my first trekking experience. As I have only heard about trekking and trekkers through my friends and social media, I always wished to experience trekking at least once. As everyone use to say trekking is very adventurous and many risks involved, I initially was bit scared to go for a trek.
But as my friends encouraged I made up my mind to go for a trek to Sinhgad fort located nearby Pune, Maharashtra. I was really thrilled to go on a trek for the first time. I was all set to leave for Sinhgad in bike with my friends on a rainy morning. As monsoon is the best season to visit such beautiful hill stations in and around Pune, it took hardly an hour to reach Sinhgad from Sus road where I stay. Sinhgad is located around 30 kilometers southwest of the city of Pune. It is one of the popular destinations of the people who are living in Pune.
After looking at the hill I backed off and said that I am not gonna make it, let me reach the top of the hill in my bike through proper roadways. But my friends convinced me by saying that we can reach that top of the hill within half an hour, and it wont be that difficult as it is a very small mountain. I also believed them naively. As we started the trek I was amazed by the beauty of the mountains. Greenish bushes, water rolling down from rocks and forming small waterfalls, gentle breeze, misty clouds, drizzling rain drops gave me a heavenly feeling.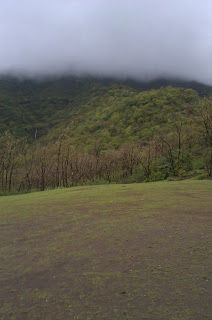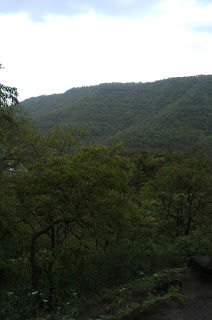 After a while I really got dog tired. It was very difficult for me to go on than I imagined. I realized the meaning of coming through the hurdles only by then in my life. We took rest for a while and regained strength to proceed with our trek. We had something to munch like corn, cucumber, mangoes, lemon juice on the way. I really wondered how these people climb up daily to run their business.
It took more than two hours for us to reach the top of the hill. After reaching the top, it was yet another pleasant surprise for me. I was awestruck by the scenic beauty of Sinhgad. There was a ruined fort which has its own historic value, caves, Kaundinyeshwar temple, small ponds, view points of the valleys, gave me a pleasant experience and made me to say nature at its best.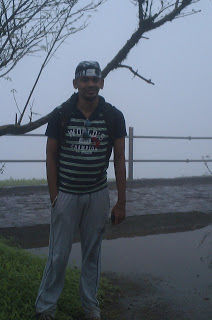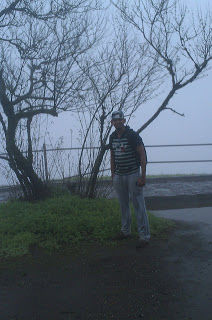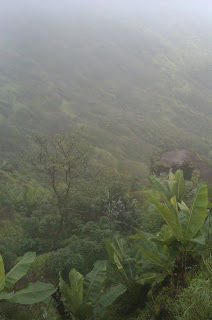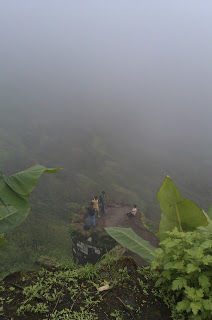 There is one point in Sinhgad called Wind Point in which heavy gentle winds will be striking against you from the valley. It will be an awesome cool chill experience.
There are many small huts where we can get traditional foods like bakri, Khandha bajji (onion bajji), chapatis and rotis along with baingan masala, pudi, and Daal. It will be somewhat spicy, but it will be yummy for the weather. They also serve curd in small mud cups which I adored a lot.
After having the lunch again we took those toughest paths to reach our destination. This time I took more than three hours to trek down, as I was exhausted in the midway itself. I even thought of giving up and started checking with my friends will there be any automobile available from here to take me down. But still I wanted to complete my trek, I took a long rest, regained all my strength and will power to complete my trek successfully. Altogether it was such a fascinating experience for me.
After that I went to Sinhgad three times out of which one time again for a night trek which was also a wonderful experience.
My Learnings from my first trek
1. Should have a deep sound sleep the previous night of the trek
2. Take a bottle of water and another bottle of glucose
3. Wear a reliable branded trekking shoes
4. Take enough rest and then proceed with the trek
5. Have a light breakfast before start of the trek