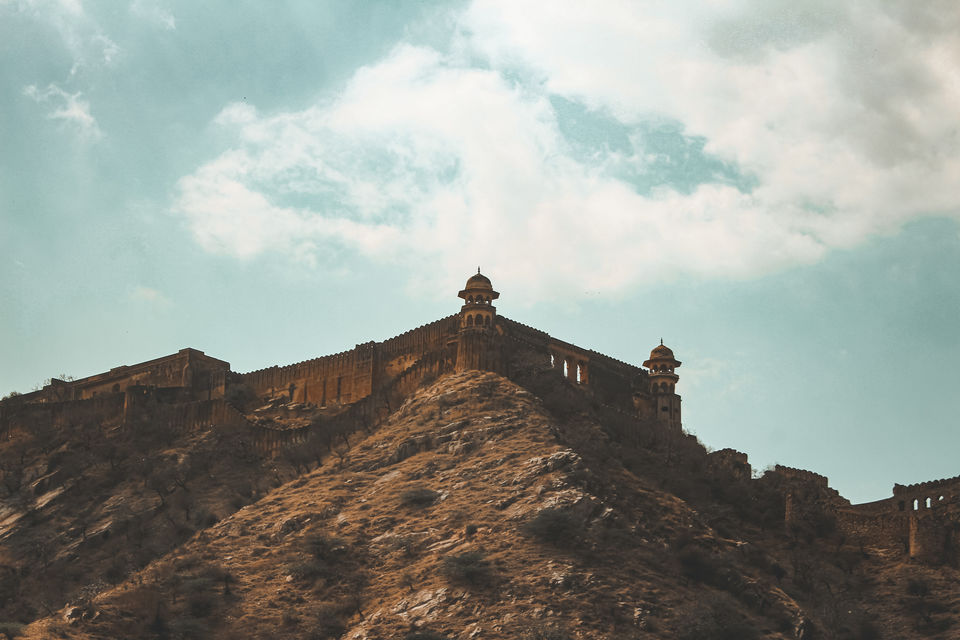 One of the most colorful cities in the country, Jaipur offers an insight into the royal era. The bustling and bumbling city brings together a unique mix of the old and the new that attracts thousands of visitors each year. Jaipur's handicrafts, jewelry, and Clothes will turn you into a shopaholic on the spot, and its interesting mixes savories and sweets, from Kachoris to Ghewar, and the mighty Rajasthani thali will transform you into a foodie. Amidst all of this, Rajasthan is quite famous for the historical monuments that will blow your mind.
As the largest state in India, exploring the whole of Rajasthan will take much more than just a few days (although very exciting). We had a chance of being in the city for 2 days.
Almost all the city's attractions can be covered in two days. You can simply take an auto-rickshaw or a cab to drive you around to explore colorful lanes reflecting the vibrant culture and tradition of the state. But we decided to rent scooters.
Day 1
Early morning we arrived in the capital of Rajasthan, Jaipur. We booked a hostel after arriving. Don't worry about reservations you have got plenty of places to stay in Jaipur. Leave your luggage at the hotel and head to explore the pink city. You will notice straight away that many of the walls and structures are painted pink. Originally, this was done during the regime of Sawai Ram Singh to welcome the Prince of Wales in the city in 1853.
Amber Fort
In Old Jaipur, your 1st stop is the Amber Fort. Exploration time is a minimum of 3 to 4 hours, although you may choose to stay longer as the fort is really massive. Nearby there are really cool handicrafts and jewelry that you can shop in here. Also, check out the cool collection of camel leather products.
Entry fee; 100
Timings; 8 am to 5:30 pm
Also just take a sneak peek at the Panna Meena ka Kund for some cool Instagram pics.
On the way back, check out Jal Mahal. I would personally suggest you have a royal Rajasthani meal if you are here to explore some of the marwadi cuisines. Post lunch, visit the City Palace. A huge palace complex with some museums and shops. Inside the Diwan-e-Khas of the palace, don't forget to spot the 2 large silver vessels. These hold Guinness records as the world's largest sterling silver vessels. An Instrument at Jantar Mantar Adjoining City Palace is the UNESCO world heritage site of Jantar Mantar. Busy markets are just around the corner of Jantar Mantar and City palace in case you feel like shopping, else head back to your hotel for some rest from a really long day. At night we went for a ride exploring some of the cafes and nightlife of the pink city.
Day 2
Start the 2nd day of your Jaipur itinerary with a classic pyaz kachori and lassi breakfast. The city is a delightful extravaganza of forts and palaces that speak about the massive opulence and grandeur of the rulers that once established this place.Constructed out of red and pink sandstone, Hawa Mahal is a unique example of Rajputana architecture that sits on the edge of the City Palace. Constructed by Maharaja Sawai Pratap Singh in 1799, the palace has been built akin to the honeycomb of a beehive. It uses jharokhas or windows that let air circulate throughout the palace all through the day, keeping it cool and airy even during peak summers. One of Jaipur's main attractions, it is situated close to the City Palace, and visiting this marvel is one of the most sought-after things to do in Jaipur.
Entry fee: ₹50 per person
Timings: 9 am to 5 pm
Also head to the cafe right in front of the Hawa mahal for some nice pictures for your Instagram feed. Tattoo cafe is my personal favorite. Also just stop by one of the oldest cameras available in India right now for some old-school photographs. it may cost you 250/- for a pic from the vintage camera.
Nahargarh fort
Located on the other end of the city from Amer, Nahargarh Fort is also perched on top of a hill. The two forts along with the Jaigarh fort formed a fortress that protected the city of Jaipur from outside attackers. Nahargarh overlooks a lake and offers some of the most beautiful views of the city. There's a wax museum and sheesh mahal situated at the entrance of the fort and both are worth a visit. You reach Nahargarh through some scenic views, so keep your cameras charged if you don't want to miss having photos for your Instagram feed.
Entry fee: ₹50 per person
Timings: 10 am to 5.30 pm
Afterward head to Bapu Bazar for your fix of shopping. You will find handicrafts, accessories, clothes, and even jewelry here for very reasonable prices. Make sure to bargain, however, because since Jaipur has become a popular tourist place, shopkeepers will quote a higher price for their items.
It cost us 400/- per person for 2 days stay at the dorm which was quite well equipped with all amenities like AC, indoor games, Meals, etc.
It cost us 1500/- for 2 scooters for 2 days also you should give a refundable deposit of 1500 while the time of booking.
Tips for travelers
# Carry your student id card if you are a student because that may give you a 90% price slash in your entry to the monuments. It is just 10 rs for students compared to 100 rs for others.
# Most of the alcohol shops close by 8.00 pm so get your stuff before if you are not a teetotaller
# Also Liquor is now costly in Rajasthan as the state government has imposed 20 percent surcharge on all brands for bovine protection
# Must try the Rajasthani Thali which is a traditional delicious meal where you have an array of traditional Rajasthani dishes served on a platter.
# Most of the late-night and rooftop restaurants are open till 2.00 am so have some fun outdoors late-night.
# Look out for camel leather handbags and juttis. You will get them here for dirt cheap prices.
# checkout this place for some late night activities
follow me on Instagram to get more updates on my travel
Instagram handle ; @nomad1c_