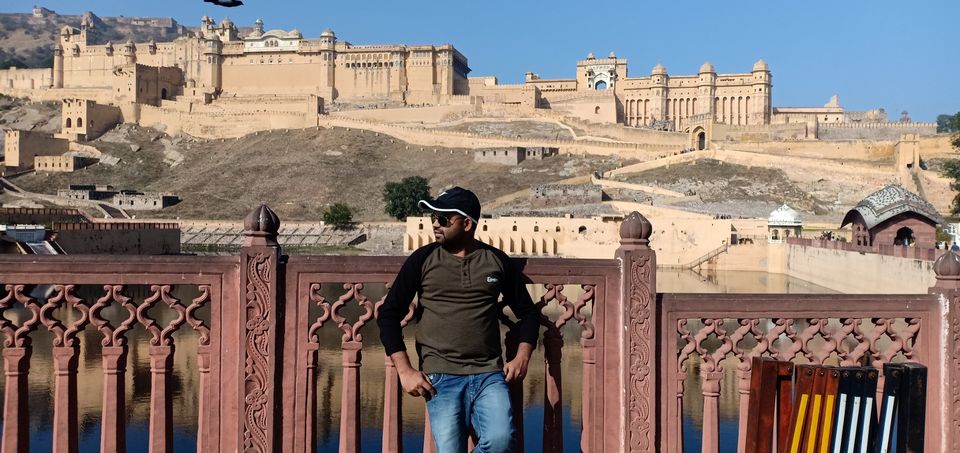 Hello my navigator world
Hope all is well.
CheLa The Excited Traveler welcome you again
Today we discuss about special gateway of India capital ......Pink City Jaipur , capital of Rajasthan .
It's a world wide famous tourism destination in winter vacation .
UNESCO Welcomes The Pink City to its List of World Heritage Sites!
Founded in 1727 AD under the patronage of Sawai Jai Singh II who ruled the Kingdom of Amber, Jaipur which now serves as the capital of culture-rich Rajasthan has finally found its place among the World Heritage sites list on July 6. The announcement came after deliberation by the UNESCO World Heritage Committee during its 43rd session examining the nomination of the Pink City. Jaipur is now the second city in India after Ahmedabad that has a place in the World Heritage list.
The city of Jaipur is known for its exquisite architectural prowess that has influences from Hindu, Mughal and Western designs and the vibrant culture it exudes with sites like the aesthetically pleasing Hawa Mahal, Jantar Mantar, Amer Fort and more. In addition to its architectural achievements, the city also serves as an excellent example for a medieval trade town which put forth new concepts in commercial trading and revolutionizing the market at the time while also making contributions to artistic crafts taking it to an international level.
The nomination for Jaipur came into consideration because of its cultural, architectural, traditional and artistic significance showing exemplary development in town planning and exchange of various ideas in the late medieval period. The UNESCO World Heritage status will help Jaipur in attracting even more tourists boosting the local economy and will be a benefit to the surrounding cities too.
A colorful amalgamation of the old and the new mingle in Jaipur. Here you will come across a multitude of forts and palaces as well as urban neighborhoods and shopping areas. And exploring these attractions offers a range of fun things to do in Jaipur. Create a treasure-trove of memories on your trip to Jaipur by exploring the various forts, monuments, bazaars and cafes. You can also go on a camel safari, experience Rajasthani culture at the village resort, pick up Rajasthani jootis and trinkets at the bazaars and enjoy mouthwatering Lal Maas and Ghewar on your trip to this majestic city. Take a trip through the royal corridors of this Pink City and have an enjoyable experience.
34 Best Things To Do In Jaipur
Jaipur is a city full of experiences. This regal city has a plethora of not just royal palaces and forts for you to visit and explore, but also fun and adventurous to quench your thirst for the thrill. Here is what all things you should do next time you are in the Pink City for a memorable and fun-filled vacation.
Jal Mahal
Hawa Mahal
Lohagarh Fort Resort
Nahargarh Fort
Chokhi Dhani
Jaipur Bazaars
Rajasthani Cuisine
Jaipur Nightlife
Folk Festivals
Jaipur Literature Fest
Heritage Hotel
Tree House Resort
Ranthambhore National Park
Jeep Safari
Hot Air Ballooning
Amer Fort
Jhalana Leopard Conservation Reserve
Nahargarh Sanctuary
City Palace
Jantar Mantar
Birla Mandir
Raj Mandir
Elephantastic Elephant Farm
Bhuteshwar Nath Mahadev Trek
Adventure Activities
Snow Planet
Ramgarh Lake
Jawahar Kala Kendra
Jaipur Wax Museum
Vintage Car Rally
Massage
Elephant Polo
Hathni Kund Trek
Rappelling
It's a package of 3 day n 2 night to explore Pink City Jaipur .
On 14th December we make suddenly plan to hangout Pink City from Delhi.
Than early morning we reached their ,and take rest in hotel after breakfast , proceed to local sightseeing of Pink City .
First of all we went Amer Fort and click some memories.
Amer Fort is an iconic tourist attraction in Jaipur. Located on a hill in Amer, the fort covers an area of 4 sq. km. The palace fort built in a blended style of Indian and Mughal architecture is so beautiful that even the invaders did not want to destroy it. During its golden time, Amer Fort was a strong defence ring around the city. If you are visiting this fort, you must surely see the Light and Sound show that displays the glorious history of this fort Amer Fort and the city.
Than take a local bus and reached Jal Mahal
Jal Mahal
Admire the exotic architectural styles that combine both Mughal and Rajput characteristics at Jal Mahal or Water Palace in Jaipur. This fort is like a jewel nestled among the Nahargarh hills and situated on the Mansagar Lake. It was built as a summer resort for the royal family and was used to host duck-hunting parties. However, it is not possible to stay at the palace as it is undergoing renovation work.
After that we took tok tok close to Jal Mahal for Hawa Mahal
Hawa Mahal or the 'Palace Of The Winds' located in the heart of the beautiful Pink City of Jaipur in Rajasthan, India, is one of the most famous tourist attractions and a prominent landmark of the city that is renowned for its rich cultural and architectural history. Built in 1799 by Maharaja Sawai Pratap Singh of the Kachhwaha Rajput dynasty, this beautiful structure is predominantly a high screen wall made of pink and red sandstone that facilitated royal women to get an eyeful of the street festivals and busy city life while remaining out of the view of public. This five-storey building in the shape of a crown of Lord Krishna with 953 jharokhas or windows and a beautifully decorated façade resembling a honeycomb of a beehive that gives one a feel of the rich heritage of the Rajputs.
Than back to hotel from Hawa Mahal , finish dinner and ready to drop & see off my friend on airport .
At night journey by train back to home .
At last we also focus some questions asked by excited Traveler . These are mentioned below :
Frequently Asked Questions About Things To Do In Jaipur
Q. What is famous in Jaipur for eating?
A. Dal bati churma, the authentic Rajasthani food is famous in Jaipur for eating.
Q. What are the best places to visit in Jaipur with family?
A. Some of the best places to visit in Jaipur with family are:
1. Jal Mahal
2. Nahargarh Fort
3. Hawa Mahal
4. Amer Fort and Palace
Q. Which are some of the best resorts in Jaipur?
A. Some of the best resorts in Jaipur for a comfortable stay are Treehouse Resort, Chokhi Dhani Resort, Savista Resort and Sunrise Health Resort.
Q. What can we do in Jaipur at night?
A. There are plenty of things to do in Jaipur at night. You could go to any of the fine dining restaurants in Jaipur to have a dinner date, or check out the nightlife scene in its various pubs and clubs. You could visit forts in the night to see how spectacularly lit these are in the night.
Q. What is there to do in Jaipur?
A. There are lots of things to do in Jaipur.
1. Visit Hawa Mahal and the famous Amer Fort. Nahargarh Fort is another famous spot in Jaipur.
2. Go shopping – from textiles to jewelry, footwear to handicrafts, the list of best souvenirs is endless.
3. Try authentic rajasthini cuisine dal bati churma, and mirchi bada.
Q. Is it safe to walk around Jaipur?
A. If you are talking about walking around Jaipur at night, then you should know that no place is safe to roam around at night, especially when you are alone in a tourist destination. There is always a risk of getting mobbed or harassed. However, Jaipur is safe to wander around in the broad daylight even for solo travelers.
Q. Which is better Agra or Jaipur?
A. There is no comparison between the two destinations. Agra is known for the epitome of love, Taj Mahal and Jaipur is known for its royal architecture and elegance. Both these places provide you a different experience in terms of architecture, culture, and food. Since both these places form Golden Quadrilateral, you should explore both if you have enough time. Agra can be easily covered in a day and you can keep aside a couple of days for Jaipur.
Thanks for pay attention and motivate me to explore Untravel destination .
Best regards
CheLa