Till last Sunday it was my misfortune when I used to say that I've never been to Nahargarh fort after having Jaipur city as one of my hometown, to remove this stamp of misery I decided to discover the majestic fort with my family primly to spend a day with our kiddo. And it is not wrong if I mention this small trip left us jovial to know that she is a little sightseer might catch enjoyment affair in travelling from us.
Started our day at 12 o'clock with impression of getting late and was in dilemma either we'd cover up both the places i.e. Nahargarh Fort and City Palace before night or not as sometimes it become difficult to handle a unpredictable toddler in a whole day out but on the contrast she presents herself as a charged packet of joy.
On that way our own car makes us comfortable by avoiding the dependency on the hired cab and as usual Chiyu took the charge of front seat with his daddy that left me snug to focus on the roads and the colors of the market. Jaipur's markets are more famous for their tradition, handicrafts, blue pottery, block printed textiles, mojari (rajasthani footwear), stone carvings and so on, the list is long and need a total separate coverage of it, don't worry I'll do later????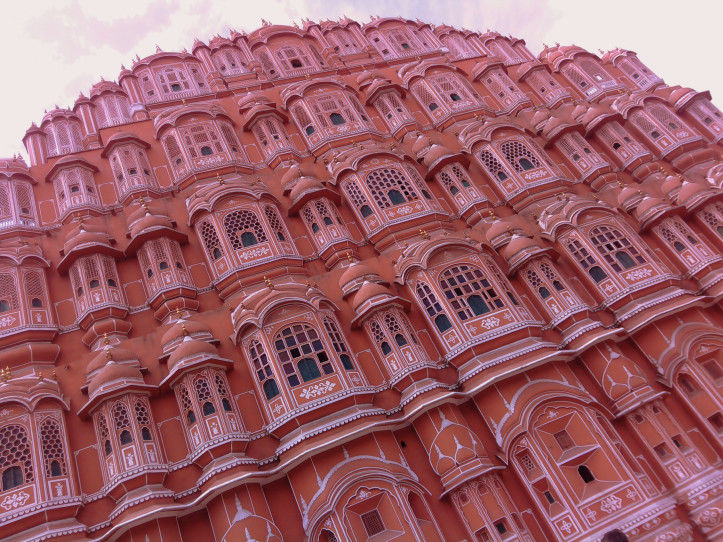 Ahead towards the desired destination I took pictures of Albert Museum and . As we were on the same side of the road adjacent to the Hawa mahal that was making me resistant to capture it uncut but still the result was rewarding. This place is known as Badi Chaupar, here the term 'Badi' means big and 'Chaupar' is a traditional game used to play by kings, if anyone has depth knowledge of Mahabharata could easily recalls the term. Similar to this there is Choti Chaupar where 'Choti' signifies to small. Streets and roads of Jaipur has been structured and based on this ancient game and there is a prominent credence among population that nobody could forget his path in the city as all of it's streets are intersecting.
When we about to continue to embark our journey we saw a healthful massive sized Saint Bernard dog in an open jeep that left us astonished and pleased; by stating this incident you can judge my animal love. Forwarding towards the destination we turned to the direction from where the elevation starts but mounting and mapping the length of the streets left Chiyu bored enough to fall asleep. But she shoot out off the car in a second when she had been informed about our reach.
After parking, we approached the entrance there we found a bunch of vendors were selling eatables like fruit chaat, rice papad insisting us to purchase. Entrance ticket charge was very nominal, camera charges additional. A small shivling located at the admittance where flock of pigeons enjoying and on a small distance a cluster of friends was shouting in happiness as they got an old tree to frame them together.
On the left side there was a well conserved old building used as soldiers rest house. This is end of the month January that means winters but scorching heat of sun made us realize to come out of our jackets. Moving ahead we found thick boundaries built for the purpose of security extension to Amer fort. As per the history it was built in 1734 by Maharaja Sawai Jai Singh || that was overshadowed with the profuse belief that the place was haunted by the spirit of "Nahar Singh Bhumia" but later on it hushed by the formation of a small temple in the campus.
Anybody can feel the presence of tranquility with the feeling time halt in history. The vistas of the city from the walls of the fort left you magnetized. Two canons beautifully placed at the entrance of the palace named "Madhvendra Bhawan" extending the pride of the place. Till the time Chiyu's long run and jumps while paving the path of the fort made her tired and she wants to lie on his daddy's shoulder, her favorite gesture. Were arriving in the compound of the palace we noticed ravishingly designed same alike 2 story total 12 suites made for queens that linked with one another. For dominance and holding the command or can say as the family leader king's suite grabbing the center location location, it's structure allowed him to visit any of the queen's room without the knowledge of the other. This is as "the opulence living by our legends". All rooms are linked with ventilated corridors where walls interiors adorned with frescoes created with vegetables colors (natural) and government provide required touch ups to these designs on intervals.
Two restaurants- Durg cafeteria and Padao restaurant-refreshment and drinks available here. This fort is famous specially among the youth, some of the youngsters prefer to go in night because of their attraction towards bikes, mountains sum up to adventure and a majestic view. that's why few scenes of two famous Bollywood movies and shot here.
Here we took some pictures, paved on the boundaries, captured the whole city panorama in our eyes after spending gala time by feeling the lifestyle of the emperors we moved out the premises to continue our remaining journey towards Hawa Mahal and City Palace.
Take nothing but memories, leave nothing but footprints- Chief seattle
This blog was originally published on 'The Flying Wayfarer'