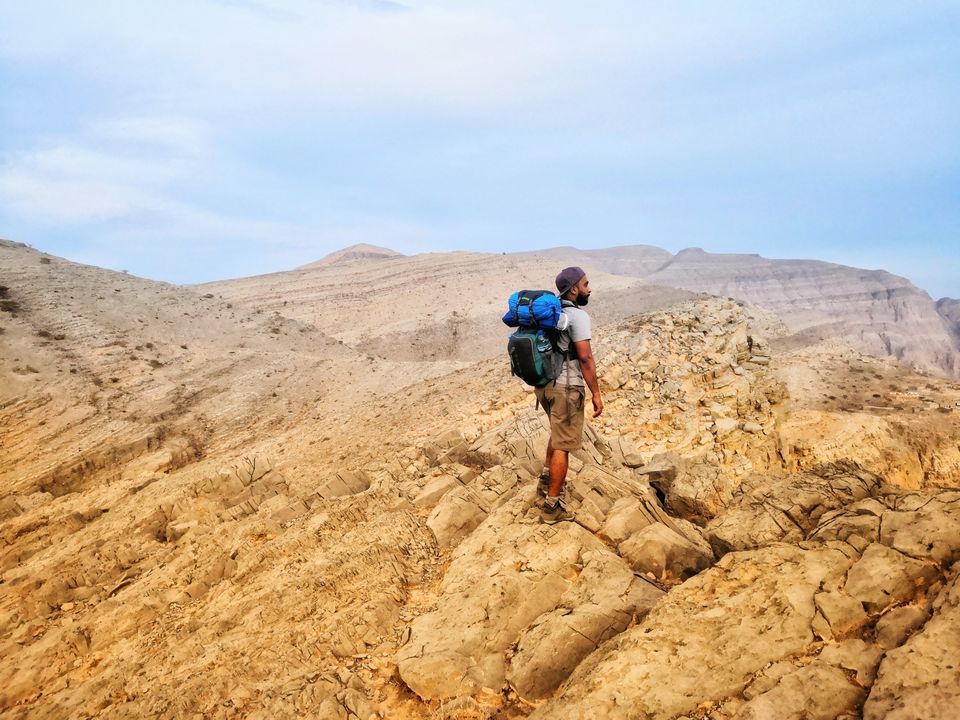 How well do we know about camping in UAE?
Yes, there are many camping spots available in almost every part of uae. Some of the most popular ones are Al Qudra lakes, fujeirah & umm al quwain beaches and at the top of jebel jais view point. Well, these spots are easily accessible and it gets crowded on weekends and other holidays.
Here i am sharing my camping experience spent in the midst of Wadi Naqab Mountains, where there is no networks or any other man made reach.
Wadi naqab is one of the most famous hikers paradise in RAK. We were a group of 7 people who planned to hike and camp at this place. We drove up above to one of the Naqab mountains off roading about 7 kms and reached the highest point where we parked our cars(Route -Yanis). Packing on the hiking gears, we stepped our path through the cloudy mointain top. We could literally smell and touch the clouds around us. Hiking in the evening are always fun. One will have a good energy and watching sunset from the top of mountaims is always special.
We had to climb down and up 2 mountains to reach our camping spot. Started at 3.30 pm and managed to reach by 7.pm. Final hour of the journey, we had to use our head lamp as it got darker after sunset. We could spot many villages around mountains on our way. Our camping spot were near one of these villages. As soon we reached our spot, we could hear sound of shot gun firing to the sky from nearby village. We were not sure whether its a welcome sign or danger signal. Anyway, firing shut after some time and then we started pitching up our tents. Then we collected dry woods from surrounding area for campfire. We planned to light the fire in complete natural way without using oil or papers to make our camping experience more wilder. It took us 20 minutes to light it in flint and steel by taking rounds. Our mood turned up high on lighting the fire. Everyone were overwhelmed. We shared our foods, prepared cofee, telling stories and singing etc. As the time flew faster in the dark, it started getting cold. I wondered life is just awsome without internet.
That night is one of the most memorable. Collecting woods in the dark, lighting fire the natural way, pitching the tents, throwing wood stick to fire and watch it burning when hearing the stories, watching the sky laying near the campfire in the chilling night and more over spending the time with like minded people made that night special.
Next day morning i woke up 30 mins before sunrise and climbed mountains around us with camera to get the perfect photos of sunrise. Unluckily i couldnt find coz mountains were surrounded one after the other. I found many abandoned houses build in rocks decades ago. I was amazed to see some of their remains like water storage area, rock grinders etc. I also collected the bullets which i found on my way.
Around 8 am, one of the villager approached us & asked us to leave the place at the earliest. He stayed still untill we packed our things. By then we came to know that last night firing was a warning for us to leave. He told us his bad experience with hikers who spoil the places by littering and leaving their trash behind. It is very dissapointing to know how an hiker can leave their trash. We then moved back.
Tips -
* Never leave your trash.
* Always be prepared and carry enough food, water, head lamp etc.
* Firing sound are not always welcoming.
* Carry enough woollen as it gets chilling at night.
#rasalkhaima #hiking #trekking #dubai #uae #mountains #jebeljais