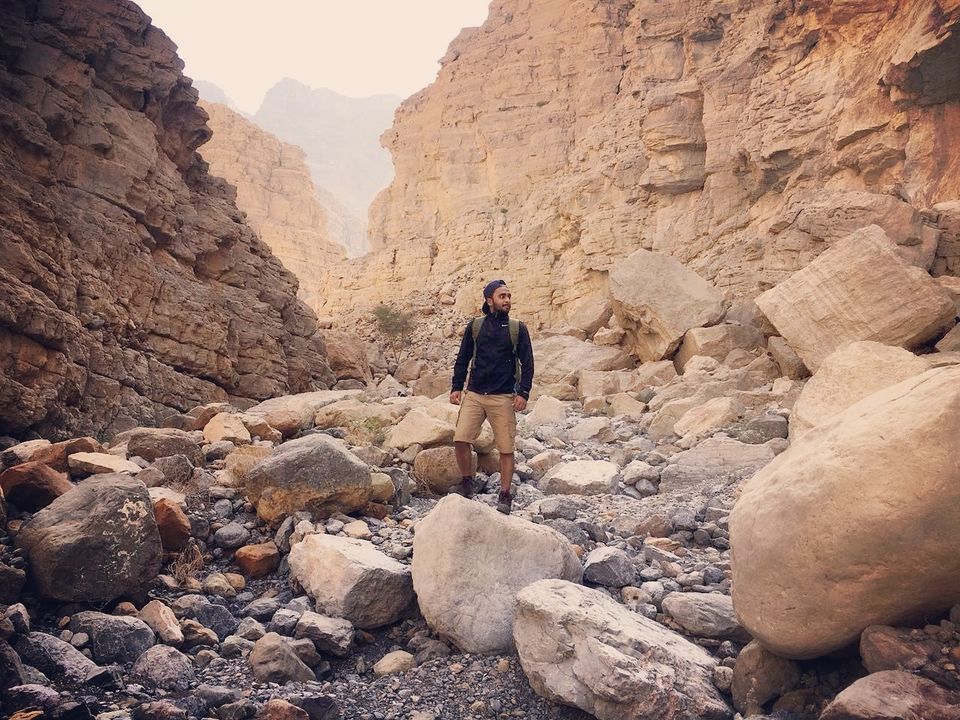 On my previous hike to wadi nimr in rak, i have heard from my fellow hikers about wadi shah adventures. Felt like i must do wadi shah trial when heard about scrambling & walking through the mountain edges throughout the hike.
But wadi shah gave me much more than what i had expected. Had a great scenic view from mountain to mountain.
Yes, the hike was really challenging. 15km round hike. Lots of bouldering and scrambling on first 7 kms, which will take approx 4 hrs that will lead to uphill all the way to plain abandoned farm field. People also camp in this plain fields. This place is halfway point in the hike. Moving further though plain area above the mountain, passing through old bedouin cemetery, we reach to the summit where a big cairn has been made. Stunning views. It was just mountains, sky and us.
Most of us were exhausted at this stage as it was only bouldering and ascending. Gatorade, the energy drink saved us. We were running out of water.
Then comes the descending part. Walking for next half an hour lead us to a small house were we saw water is reserved in tanks. 2 people living there waved at us and invited for a tea. Those guys were very down to earth. Even though they had very limited qty of food supply, they offered us whatever they had. Their story of living in the mountains are amazing.
After resting there for few minutes, we continued descending downhill. Walking through the narrow mountain edge, it felt like bliss. we came accross some mountain goats going downwards our same route. Couldnt compete with them as they already made it to down when we were still halfway.
Final point down is a dry valley. By reaching there, its only 15 mins walk to the end point.
I would suggest to hike wadi shah in 2 days itinerary. My proposal is start by 2.pm, reach the abandoned field by 6.pm, camp there for the night & do the rest early morning next day.
- A moderate plus hike.
- Flights climbed 115 floors
- 15 kms round.
Tips :
* Hike in winters
* Get minimum 5 liters of water, energy bars etc
* Be extra cautious while descending.
#uae #hikinguae #rasalkhaima #jebeljais #mountains #uaemountains #dubai #dubaiholiday.