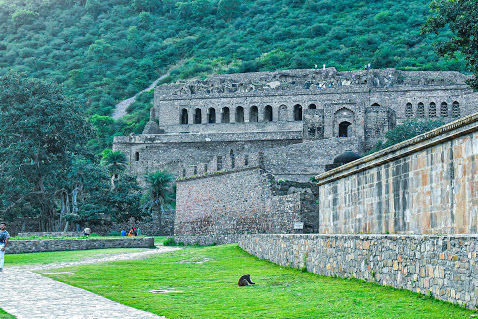 Jaipur has been a delightful escape for us. It has offered us culture, history, heritage, delicious food and amazing people. But it still has got more to explore. Any tourist can figure out why Jaipur is called "Pink City" after visiting places like Hawa Mahal, City Palace etc.
Places to visit

1. Jantar Mantar
The Jantar Mantar is a collection of 19 architectural astronomical instruments. It features the world's largest stone sundial and has been declared a UNESCO World Heritage Site. These instruments allow the observation of astronomical positions of celestial bodies with the naked eye. It is so fascinating to understand how these instruments work.

Entry fee : ₹50 per person
Timings : 9am to 4.30pm
Note : Visit the Jantar Mantar either in morning or in evening to save yourself from heatstroke.Also either hire a tourist guide or download the app to understand the instruments.
2. City Palace
The majestic City Palace is one of the major attraction in the Pink city and was built by the founder of Jaipur city i.e. Maharaja Sawai Jai Singh. It is a vast beautiful complex and has a fusion of both Mughal and Rajput architecture. It is still home for the last ruling family. The palace is divided into multiple courtyards, buildings and gardens including the Chandra Mahal and the Mubarak Mahal. The museum showcases several unique handcrafted products and other things that belong to the royal heritage of the City Palace.

Entry fee : Entry fees for visiting the courtyards, museums, and the queen's chambers, are ₹100, ₹130, and around ₹1,000 respectively
Timings : 9.30am to 5pm
Note : Plan to visit the Mubarak Mahal too. Also it needs 2 - 3 hrs so plan your visit accordingly.
3. Bhangarh
Bhangarh is a deserted village in Rajgarh Alwar, 85 km from Jaipur. It is famous for its historical ruins and the Fort located within its premises. It is considered to be the most haunted place among many haunted places in India. As per the notice put up by the Archaeological Survey of India, no one is allowed inside the fort at night.
Entry fee : ₹25 per person
Timing : 6am to 6pm
Note : Leave the Bhangarh Fort at a time so that you can reach back to Jaipur as the road to Bhangarh has no proper street lights and are deserted.
4. Bapu Bazar
Bapu Bazar is one of the most popular shopping markets for traditional stuff like Jutis, Bangles, Dupattas, Sarees etc. Located in the heart of the city, it attracts tourists from all over India for traditional, authentic and affordable products.

Entry fee : Free
Timings : 11am to 9pm
Note : Bargaining is the key.
Itinerary for Day 3 and Day 4
Day 3
Bapu Bazaar - For traditional Jutis, Bangles, Dupattas, Sarees etc.
I hope I could help you in planning your itinerary for Jaipur with my experiences. Jaipur is a nice place and must be in travel list of every traveller.
Click here to read part 1 and here to part 2.
Stay tuned for more of Rajasthan Delights.
Love, Laugh, Live and Travel!!
Also follow us on instagram
https://www.instagram.com/trawheeling
Then we went to Hawa Mahal as we have not been inside Hawa Mahal before. Hawa Mahal has got multiple floors and exploring each floor is a delight.
After proper rest, we started our dinner with breakfast. Then we decided to go to Jantar Mantar first in the morning.We downloaded the app so that we can understand what each instrument does. It was a great experience.
After lunch, we visited the City Palace. Since its such a large complex, we spent most of our day in City Palace and the pink city around. We watched the puppet show inside the complex. There are many museums and small courtyards and gardens to visit.
Since we were tired from the last day, we get up late. Bhangarh has always been on my list since its the most haunted place in India. And now that, I am in Jaipur, I could not miss the chance to visit this deserted place. We started around 1 for Bhangarh and since its a deserted place there are no proper signboards and you have to use your instincts sometimes to reach the place.
In the evening we went shopping in the Bapu Bazaar as suggested by locals. This market is must visit place for shopaholics and, even if, you are not shopaholic still you will love the place for its authentic and traditional collections. This should be in everyone's list.
After shopping, we were so tired that we decided to have our dinner and go back to hotel.
Day 4
It was about 85 km ride. It was exciting and thrilling to visit the haunted place. We have heard so many stories about the place. When we entered the premises, it was scary as we couldn't see anyone around. But it was fun exploring the whole fort and village. We spent our evening there and then started back to Jaipur and fortunately nothing happened.