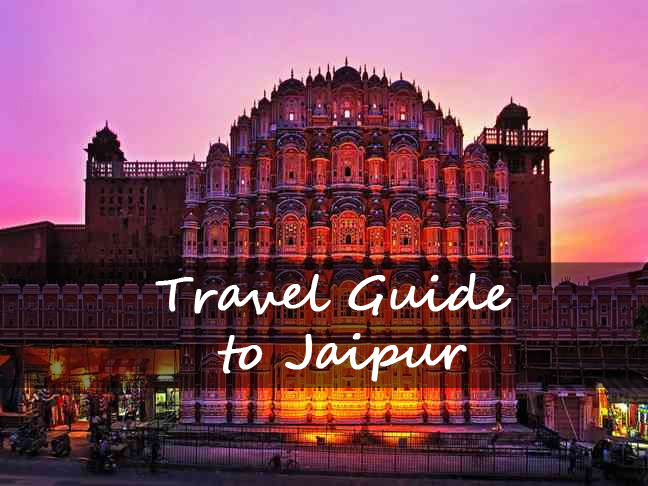 The city of Jaipur is in Rajasthan and is popularly called the pink city and the country's first planned city! The magnificent architects and the neat streets are simply mesmerizing. I just fell in love with this royal city!
Forts and foods were the main highlights of our 3 day Jaipur itinerary. Several good eateries did become part of our itinerary, which we ensured not to miss out. Shopping and sightseeing also topped the list. The 3 day Jaipur itinerary given below helped us to cover all the places of interest here.
3 day Jaipur itinerary in details
Day 1: Hawa Mahal, Jaipur City Palace, Jantar Mantar, Jal Mahal/Shopping
We started our day with Kota Kachori among the best places to try out onion (pyaz) kachoris.
Then we headed towards Hawa Mahal, a real architectural marvel. It means 'Palace of Winds'. It has been designed to allow cool air to enter the palace through its innumerous vents and lower down the temperature inside.
Next, we went to the City Palace to enjoy its architectural beauty and to get to witness how the royals lead their lifestyle here. But there were restrictions in photography.
The third spot we visited was Jantar Mantar, another architecture monument and quite scientific. Ancient scientific instruments are displayed there were once used to study astronomy. It is near the City Palace and Hawa Mahal.
We then had lunch break at the famous Santosh Bhojanalaya. This restaurant based at Sindhi camp offers authentic and delicious hot Rajasthani cuisine. Laxmi Mishthan Bhandar (LMB) is another place to have vegetarian food.
On completion of lunch, we went to the nearby Johri Bazar for local shopping. This place is a real shopper's paradise, where you can indulge in buying Rajasthani jewellery, gems and Jaipuri quilts. Another place is Bapu Bazaar which offers authentic Rajasthani handicraft items, Jaipuri items like cushions, chappals, bedsheets, kurtas, salwar suits, etc.
The day finally culminated with us having ice cold, fresh lassi at Lassiwala, located inside Bapu Bazaar.
In case, you are not into shopping, then you can use this time to visit the much spectacular Jal Mahal. During the evening, Jal Mahal's elegance and grandeur only magnifies, a sight that should not be missed out. But there is no permission to enter the premises, although you can click some pictures from a distance.
At Thali House, we had a great meal and the food here is not only good but also quite affordable.
Day 2: Amer Fort, Jaigarh Fort, Nahargarh Fort
We had breakfast like flavored milk and kachoris at the famous Rawat Mishthan Bhangar.
Then we started our trip with the visit to Amer Fort also called Amber Fort. It is indeed an architectural delight and does offer beautiful views. This is among the finest Indian forts.
The next on the list was Jaigarh Fort that was quite close no built on a mountain. It is named 'Hill of Eagles' literally. It is a wonderful architecture offering great views. Jaivana cannon is the major attraction here, considered to be the biggest wheeled cannon in the world to ever have been created. It had been indigenously manufactured at the fort. We could explore the fort sitting inside our car!
The last place to visit was Nahagarh Fort, located at about 8km from Jaigarh Fort. You can get to see the whole Jaipur City from this fort. The fort also appeared beautiful in the evening with its splendid backdrop. A scene from the popular Bollywood movie 'Rang De Basanti', was shot here. There is a restaurant within the fort named Padao and sip on hot coffee.
We then had gatte ki sabzi at the popular restaurant Sri Balaji.
Day 3: Bhangar Fort, Birla Mandir
Prior to starting the day we had breakfast at Bombay Mishthanna Bhandar.
Bhangarh fort, according to the locals here is said to be haunted by ghosts, which did add much excitement and interest to the trip. This fort is also stated to be Asia's most haunted place and is at a distance of about 83kms from the city. We explored the fort and its runs and wondered how the royals had once lived here, leading a lavish life. But in its current ruin state, it did look very spooky! From the palace top, we could get to have mesmerizing view of the surroundings.
Then we visited the Birla Temple also called as Lakshmi Narayan Temple, which is equally an architectural marvel. Moreover, the intricate carvings were simply amazing. We could enjoy a tranquil and serene aura within the temple premises.
After having completed our tour, we headed back to the airport to take our flight to our city of residence. Overall, the whole trip of Jaipur city and its surroundings was amazing!