Pushkar was always in my mind. After so many plans of riding to pushkar from delhi being cancelled since 2015, Finally this plan came to reality in November 2017. Although delayed this final plan was made to visit pushkar during the famous pushkar fair of 2017. The festival dates as per rajasthan tourism was from 28 Oct to 4 November 2017. Due to my office commitments i just got the 04 November to witness this fair. 4 November being Saturday and the last day of fair i decided to start early morning so that at least i could witness half day of the famous pushkar fair. A week before, as usual i made my planning fixed, booked my hotel and prepared my flag for this trip. The flag after printing looked like below: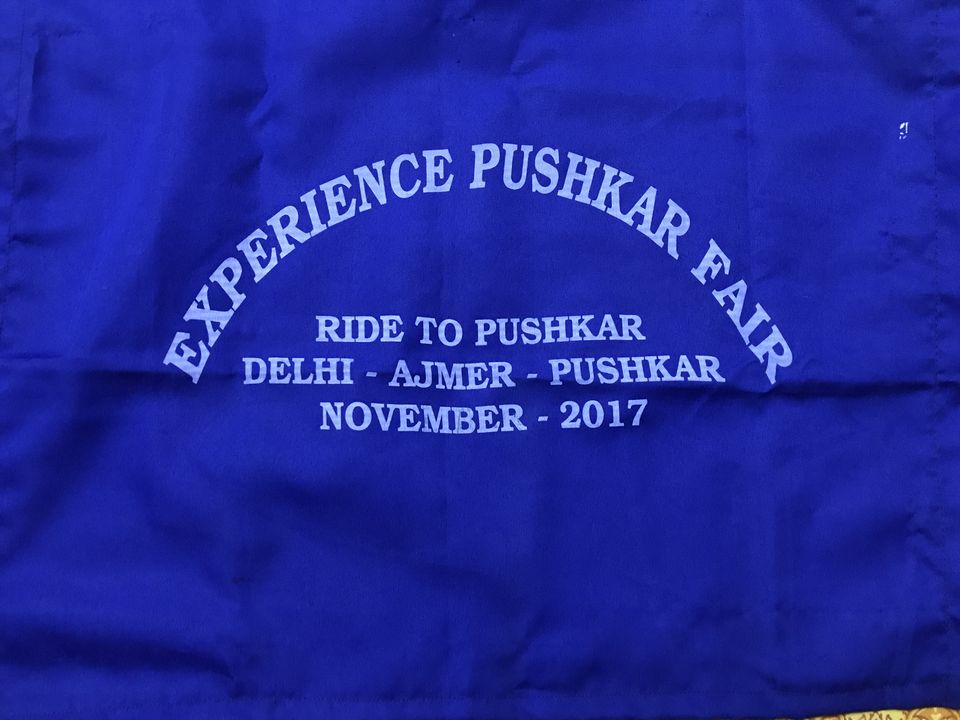 After attending office on 03 November, In the evening i started packing my stuff for the next day ride. I planned to leave delhi by 0500 am As the google map showed a distance of approx. 450 kms and time of 8 hours journey. I decided to leave 0500 am sharp so that i can reach by 1300 hours and can witness the fair from noon to night.
As always my dad helped in packing and i organised my riding gears. I was excited for the ride as i had bought my riding pants and sj4000 cam, so this time i would be riding with my riding pants and sj4000 cam (mounted on my helmet) the feeling to get in riding gears and use of sj4000 cam was making me excited. So by 2130 hours i had done my dinner and went to sleep by 2300 hours. Before going to bed i just clicked this pic of my packed saddle bag and my riding gears.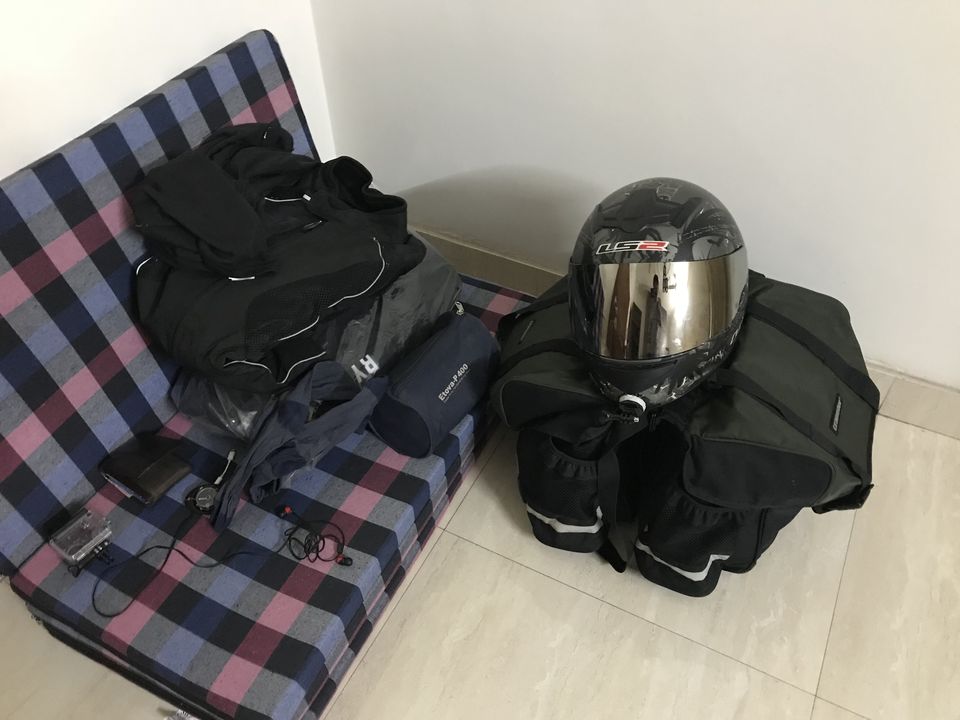 I was dreaming of making videos through my sj cam while riding when suddenly i heard sound of my alarm. I quickly stepped out of bed and saw the time it was 0405 hours. I quickly got freshen up took shower and got ready by 0435 hours. As I carried my luggage to tie on my bike i saw that my mom was awake and preparing tea for me. I am happy to have such lovely parents who supports my travelling.
I finished my tea and got ready to start my bull to roll. When i kick started i saw my watch and it was reading 0505 hours. So i was on time as per my plan. I stopped at temple near my house to receive blessings of GOD for my yet another bike trip. I was cruising at a speed of 60 kmph. Quickly entered the jaipur highway and was rolling smoothly at 70 kmph. Since i was used to this route i planned to cover maximum before i stop for break fast. I was enjoying the sunrise as i crossed dharuhera . I was rolling at a speed of 80 kmph and crossed neemrana and then kotputli. After crossing kotputli my stomach started raising alarms to stop for brekfast so just near shahpura about 40 kms before jaipur by pass i stopped for breakfast at Hotel Highway King. This was the same stop i took during my delhi udaipur ride. I quickly ordered pyaz parantha and it looked like this: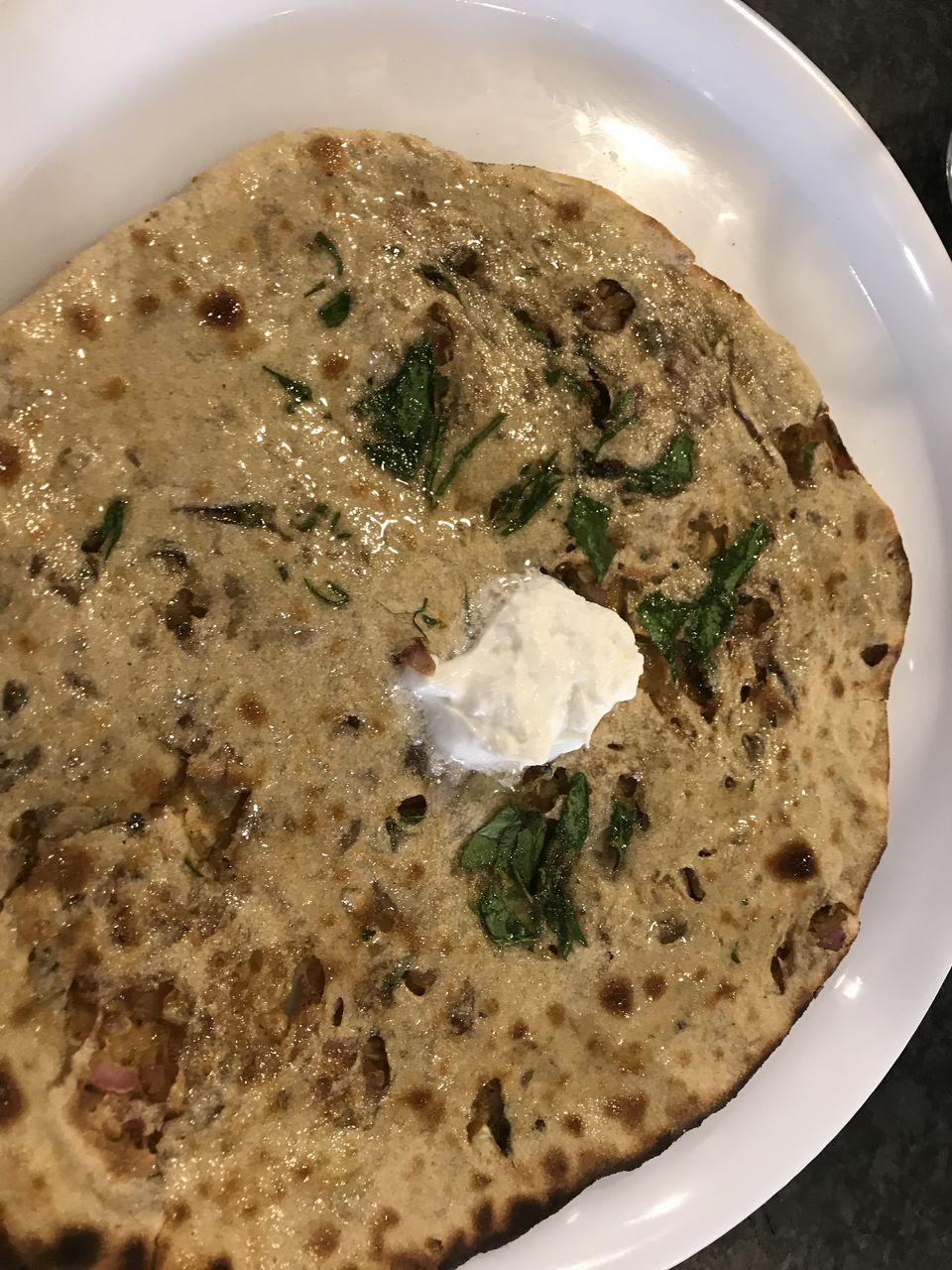 After filling my tummy i again kick started as i had to reach pushkar by 1300 hours. I started my journey again and enjoyed the beautiful roads of jaipur by pass. I crossed jaipur rolling at speed of 80 kmph getting thumbs up from fellow tourist cars and bikes . Since the heat was increasing i needed a water break so i stopped at a road side stall near a place called dudu. I stopped at 1115 hours and took one water bottle while gulping my water i inquired from the stall owner and he said you are just 80-85 kms far from pushkar. I was happy that i was following timings as per my plans and ask the owner to take few pics of mine that looked like below: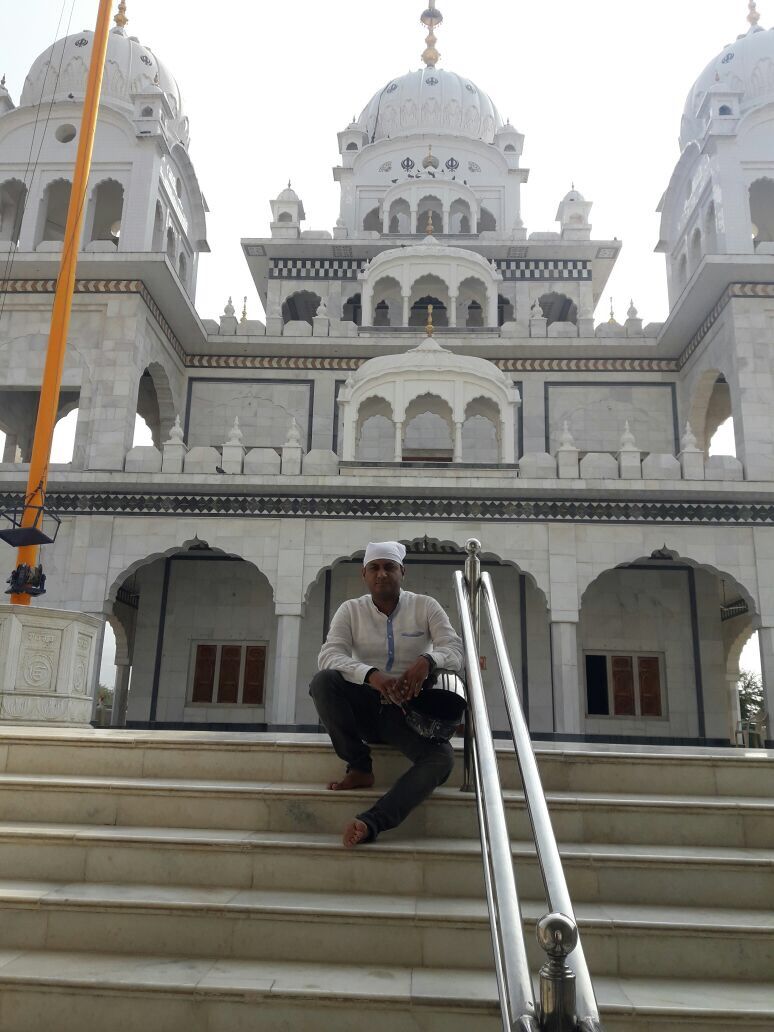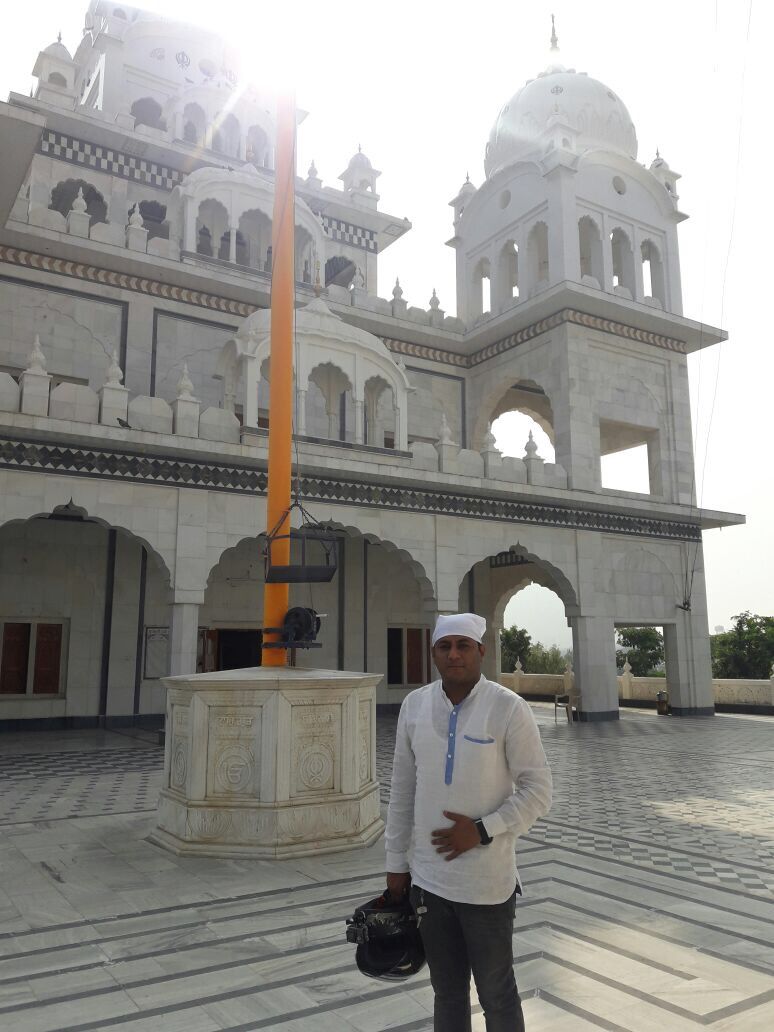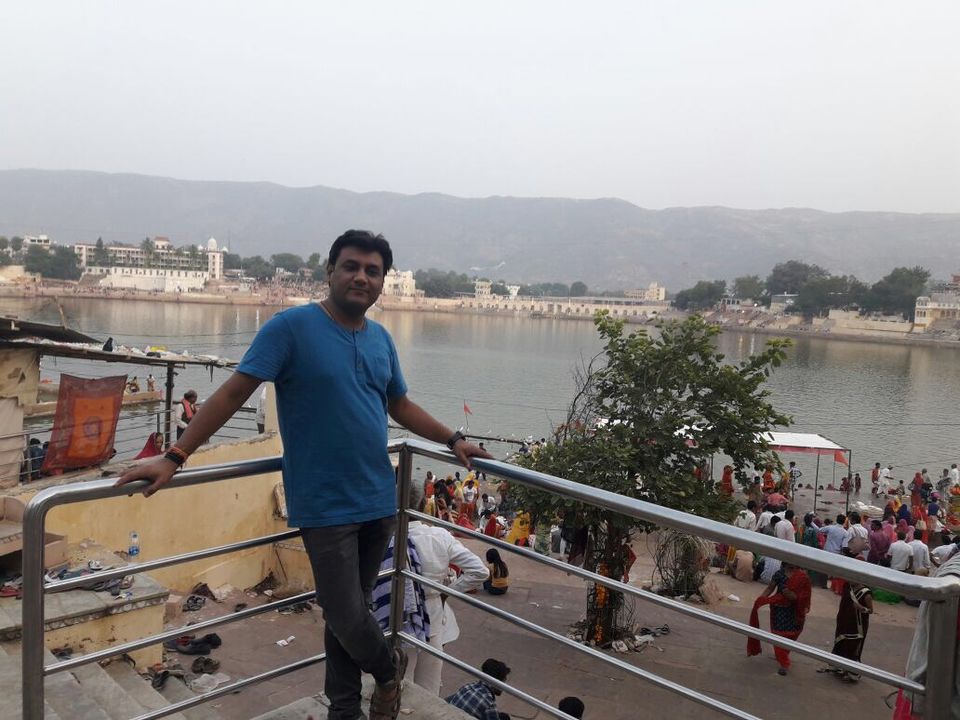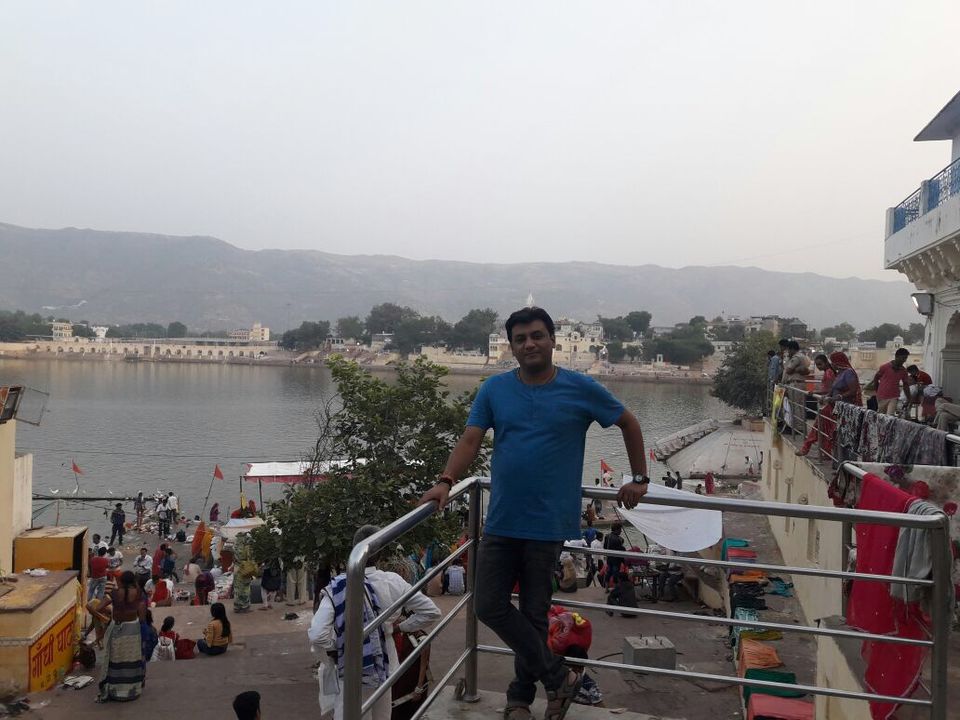 I started my further journey and crossed kishangarh and reached ajmer bypass. i decided to not enter ajmer and took the bypass. I was rolling at a speed of 60 kmph on this road and stopped for a quick pic of my bike just 8 kms before pushkar: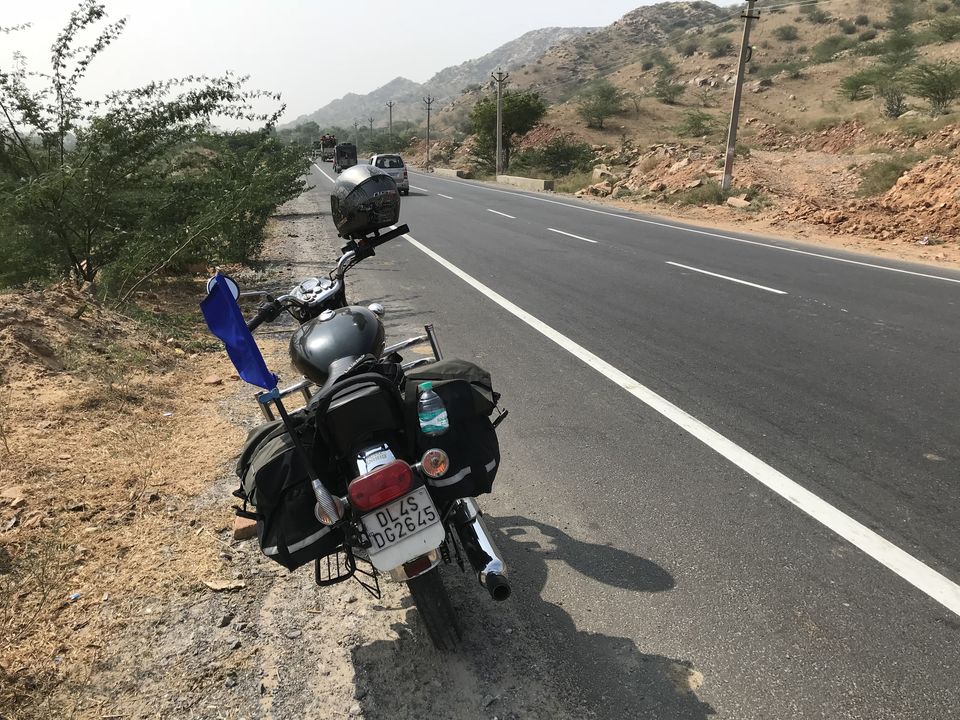 By 1250 i was about to entered pushkar when i got stuck in a 2 km jam. Yes this huge jam was because of the last day of the pushkar fair. I observed sea of people who were trying to enter pushkar in buses, trolleys, cars, bikes . It took me one hour to enter the pushkar and another half hour to cross the sea of people who were on road to reach my hotel. With my experience i must say that never try to visit this fair on last day specially if you are coming in your own vehicle it will consume hell lot of time to cross the crowd. Finally by 0215 i reached and check in to my resort.It was "Lohana village Resort" that i had booked for my stay for two nights. I quickly arranged my stuff in room took a warm shower and got ready to leave my room by 1530 to go to the mela ground. Few pics of the resort are below: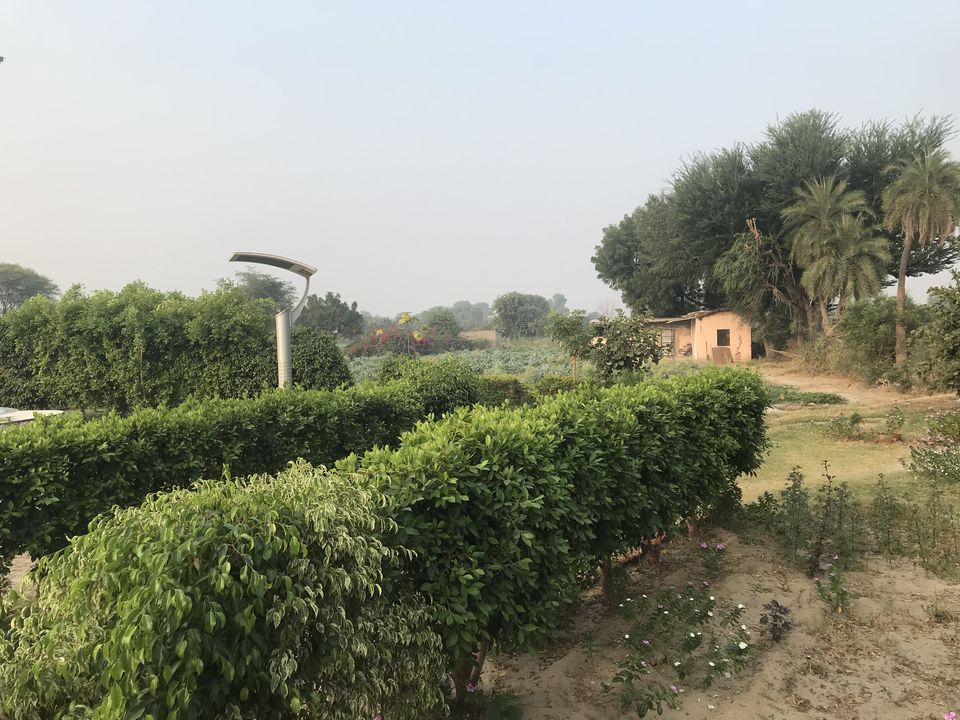 Its a beautiful resort to stay in. When i asked the person at reception when mela will get closed he said today is last day so it will remain open till midnight. I was happy that finally i made it and will explore the mela till late night. I decided not to take bike as its too crowded and went on foot. I witnessed many stalls of animals. People from different part of the country have gathered to sell animals like horses, camel, cows,. There were lot of stalls of food, stalls that were selling accessories for the horses. It was a huge ground at one end there were animals on display, at other end there was a giant wheel, so many announcements being made for the lost ones( as it was a huge crowd gathered to witness the last day). I have no words to explain how the atmosphere looked like so colorful & vibrant.
After exploring the mela i reached hotel as when the sun set down i could feel the chillness in the weather. I took my sweatshirt from hotel and again left to witness the famous and sacred pushkar sarovar. It was looking beautiful in night.
While returning back from the sarovar i observed a gali named hanuman gali that reminded me of the famous TV serial "Diya aur baati hum" of start plus. Hope people who have ever seen the serial can remember hanuman gali.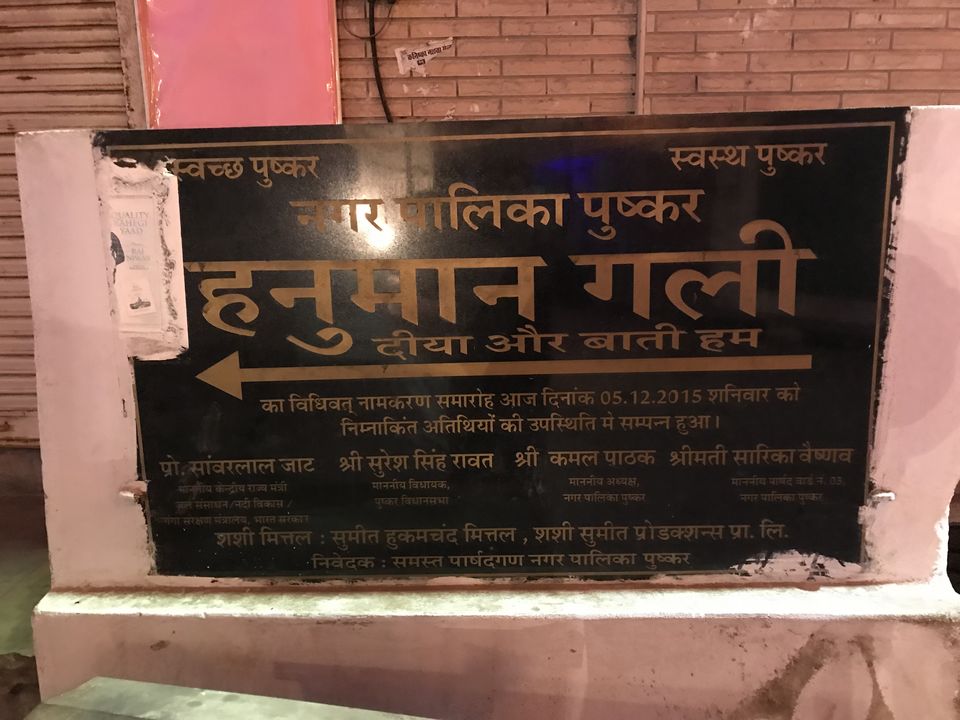 It was 2300 hours and still the shops were opened . Slowly the crowd was getting less but still there were lot of people who were walking and purchasing from the stalls. I had my dinner and left for my hotel by 0030 hours. I ended my day at 0100 hours when i finally reached my bed. Before going to sleep i quickly analysed my day and believe me i was not feeling tired although i traveled 455 kms and then explored the mela. I was happy that once the dream destination has come to reality. I dint remember the time when i fallen to sleep.
Next morning i got up by 0900 hours. Got ready and decided to visit ajmer dargah. I started my bike and followed the way to ajmer sharif.
After visiting ajmer dargah i had my breakfast and rolled back to pushkar. I visited the famous and only brahma temple in india, gurudwara sahib and sarasvati temple.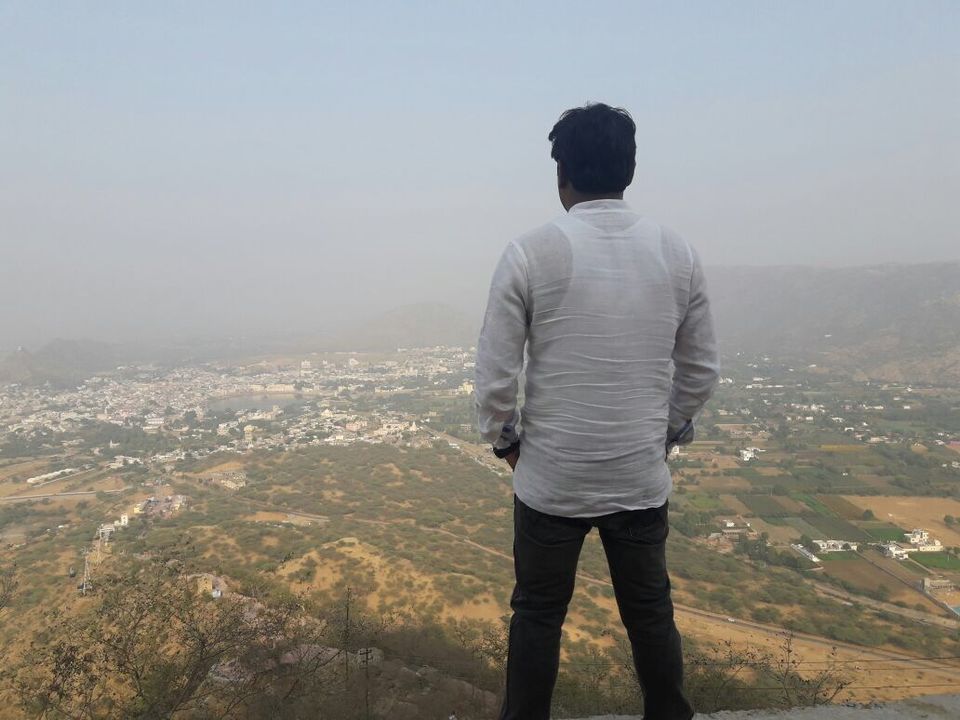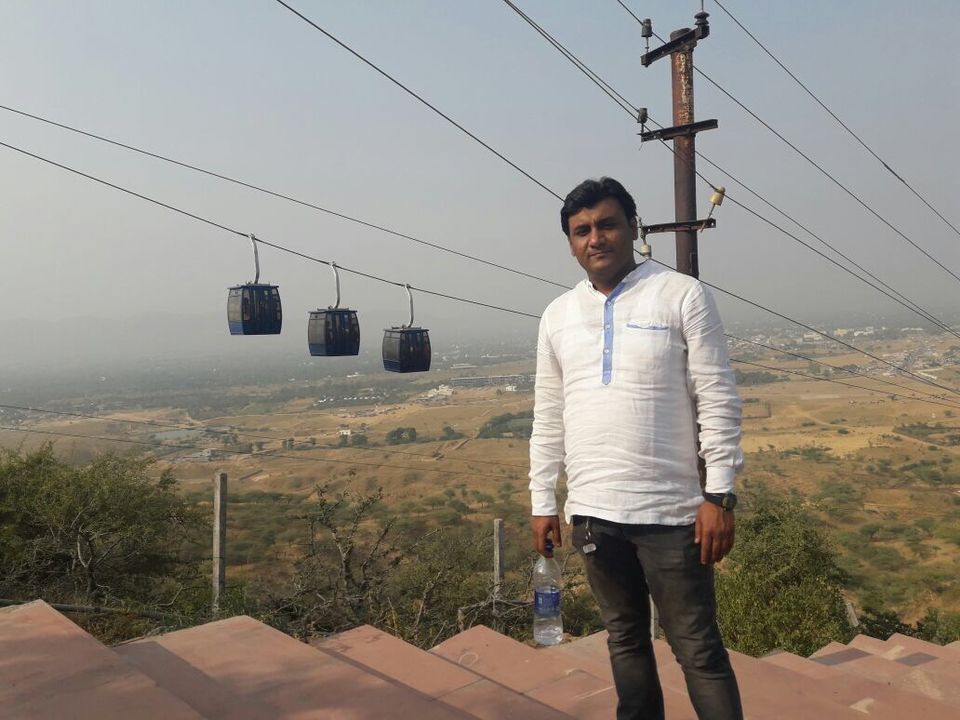 I almost explored all the places of pushkar on my Day-2 and decided to have local rajasthani food in my dinner. I inquired and reached to a dhaba that served great food for my dinner: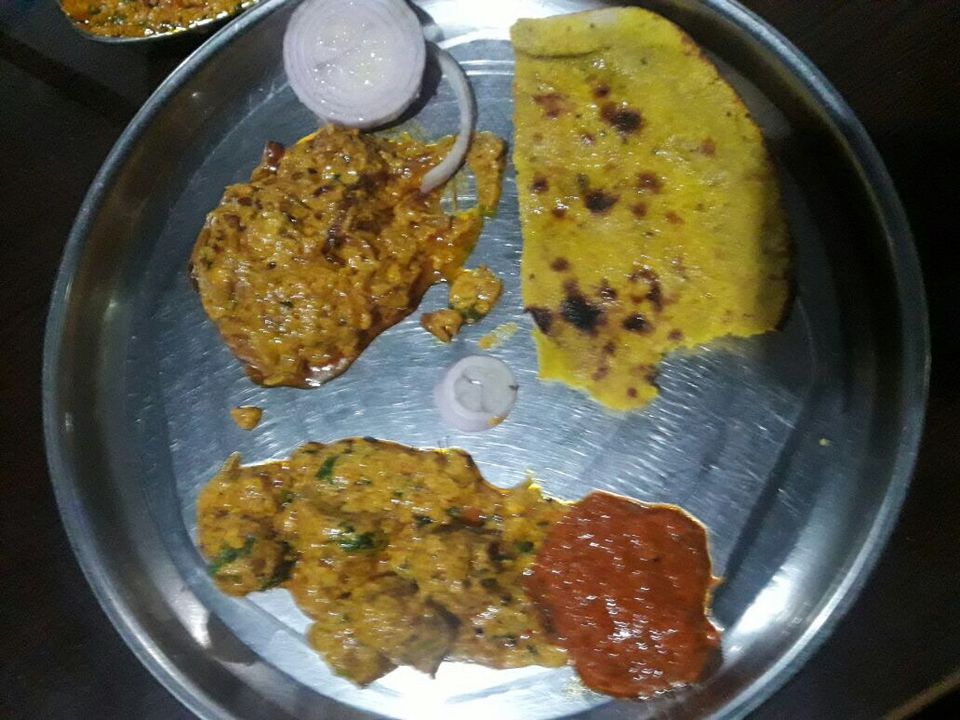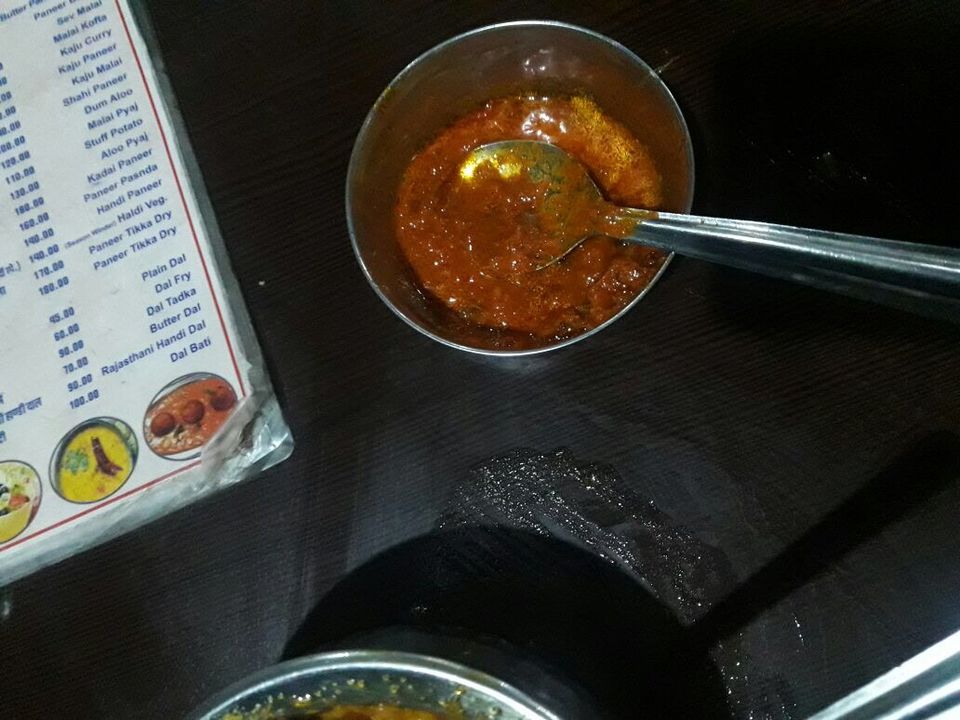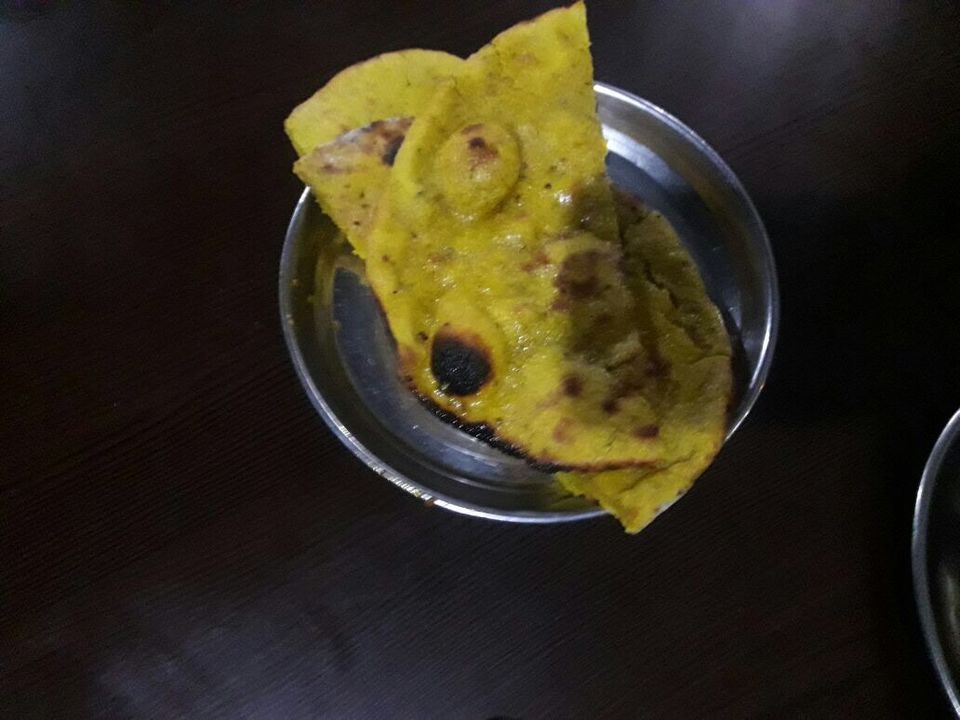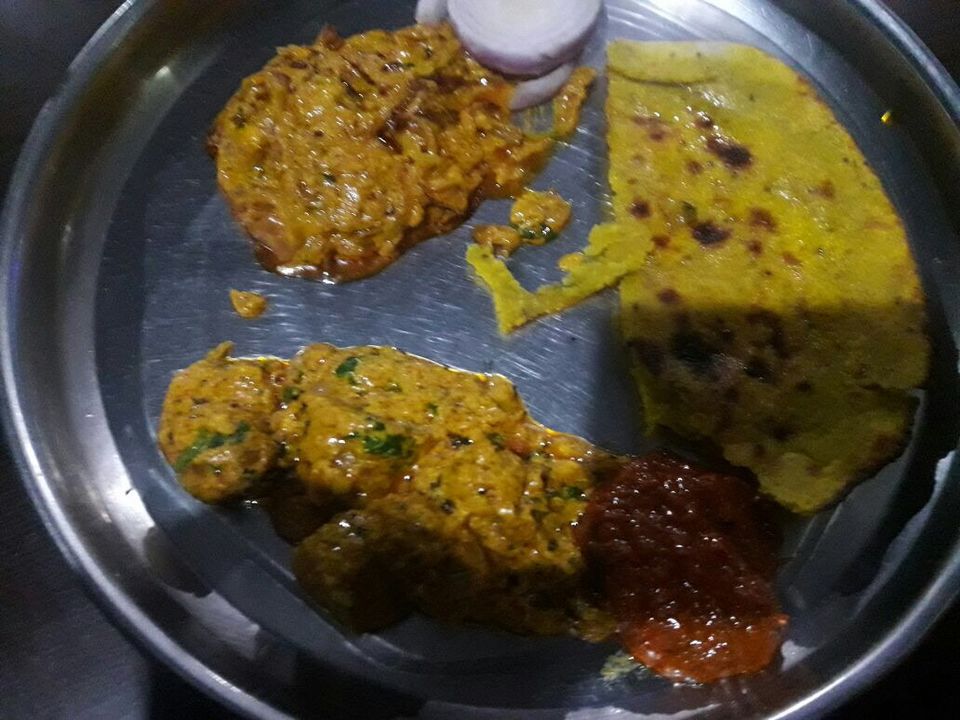 After having dinner i call it a day for my second day in pushkar and went to sleep by 0000 hours.
Next day i checked out by 0900 hours it was a nice stay at lohana village resort. I recommend this property as its a beautiful place to stay in pushkar.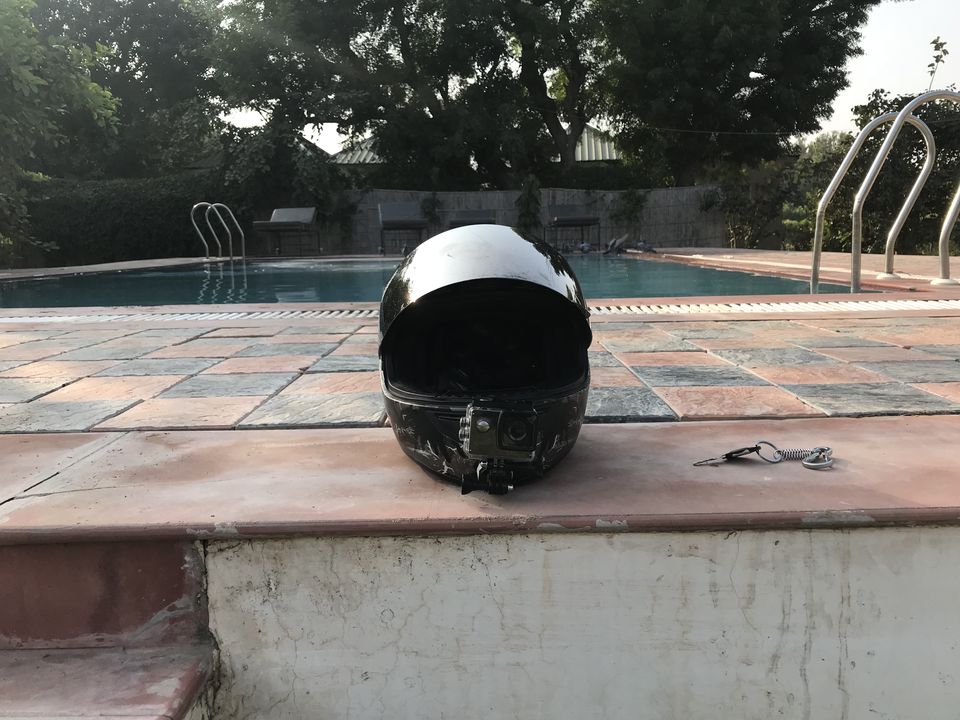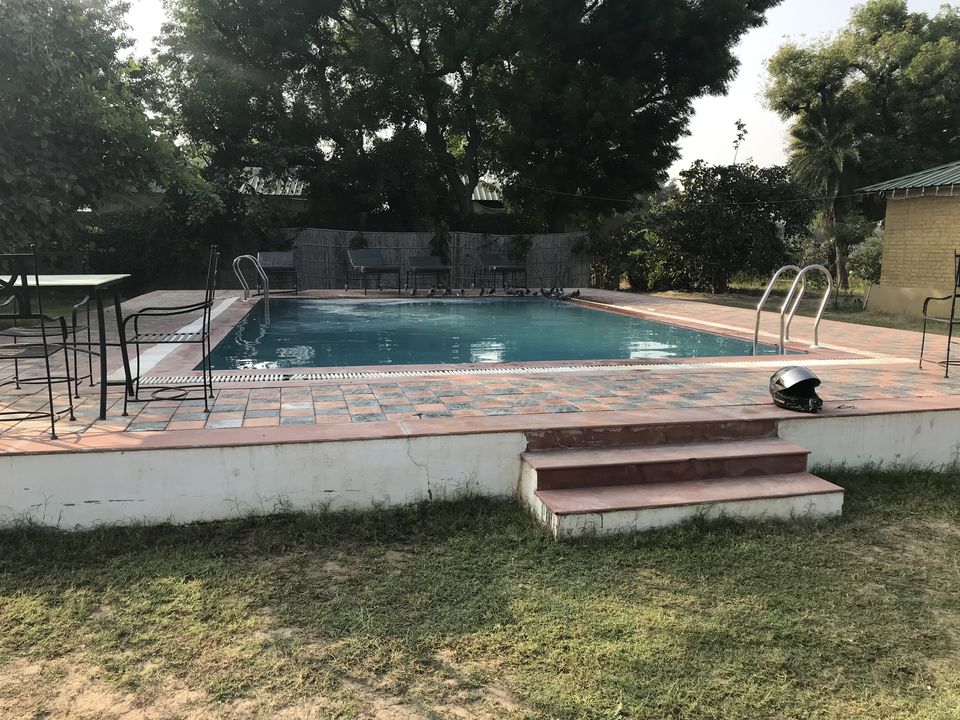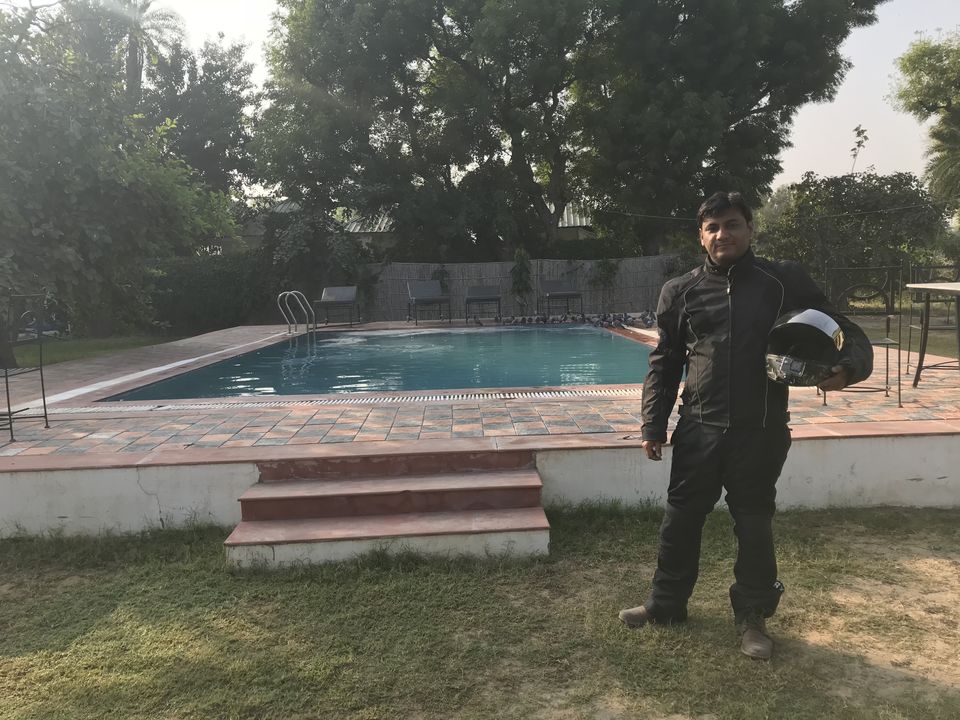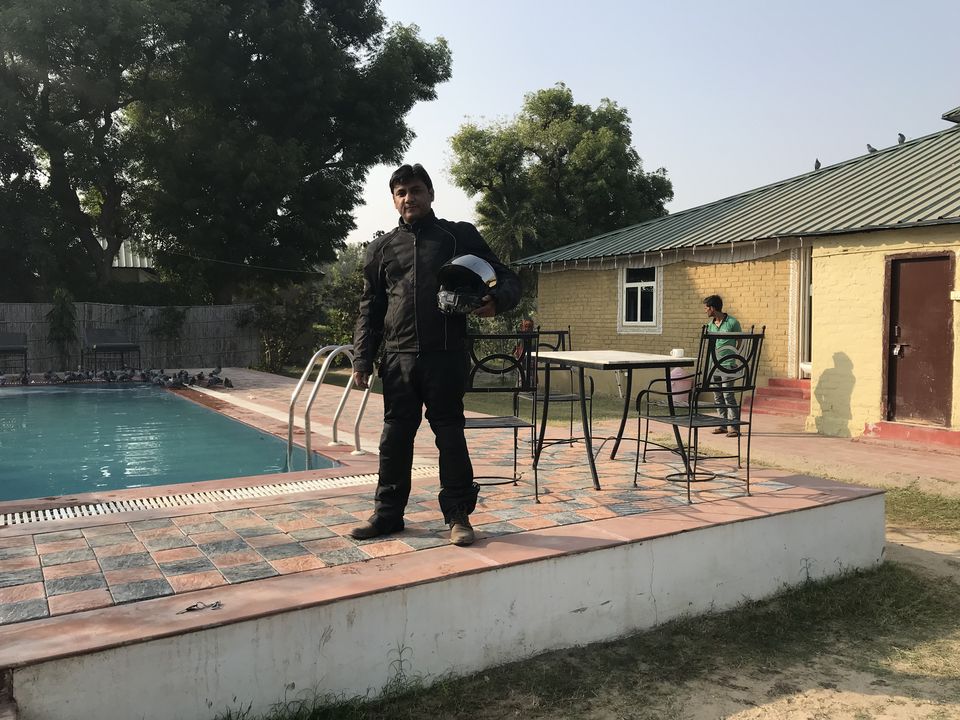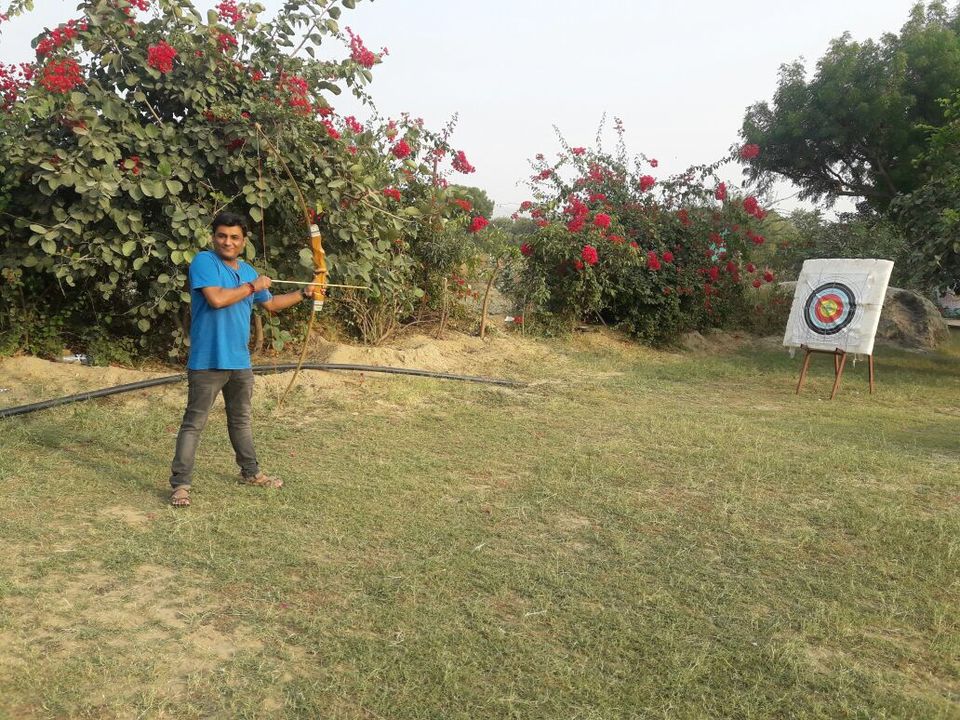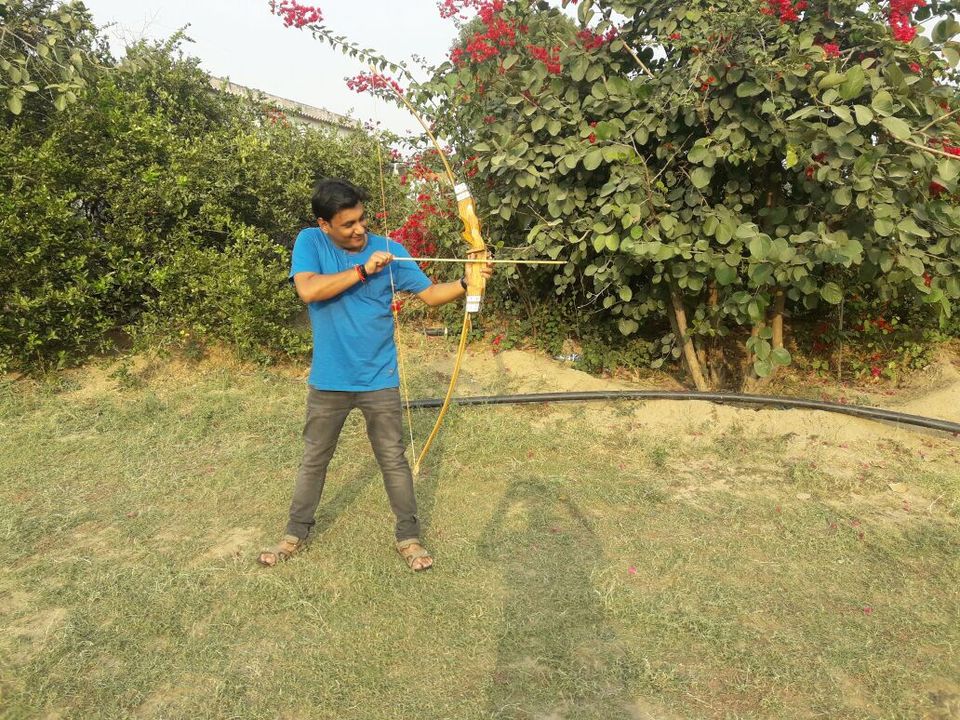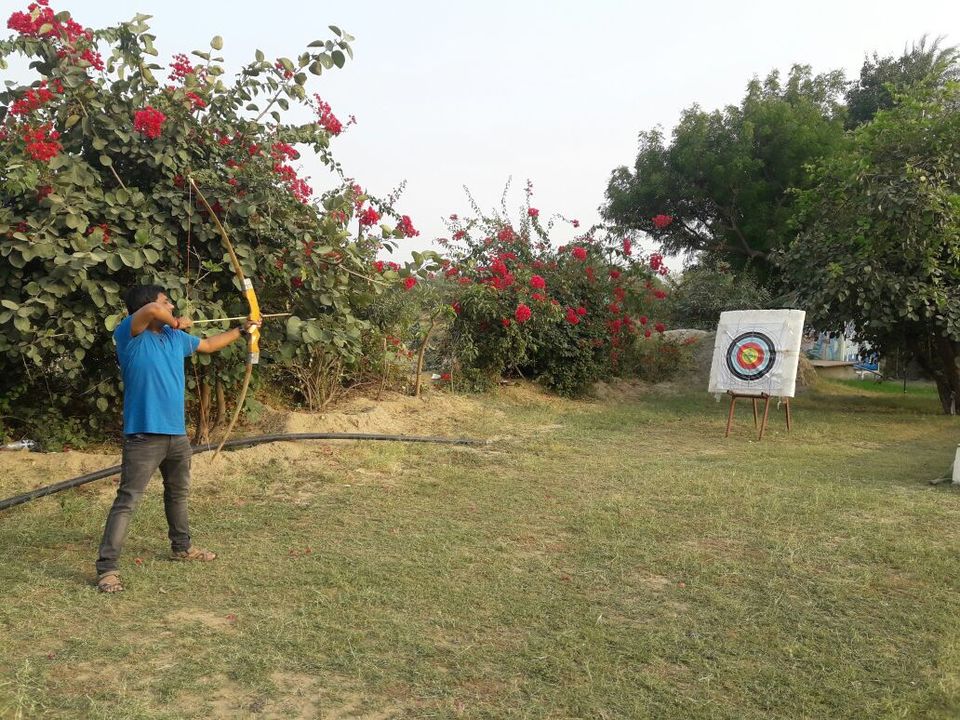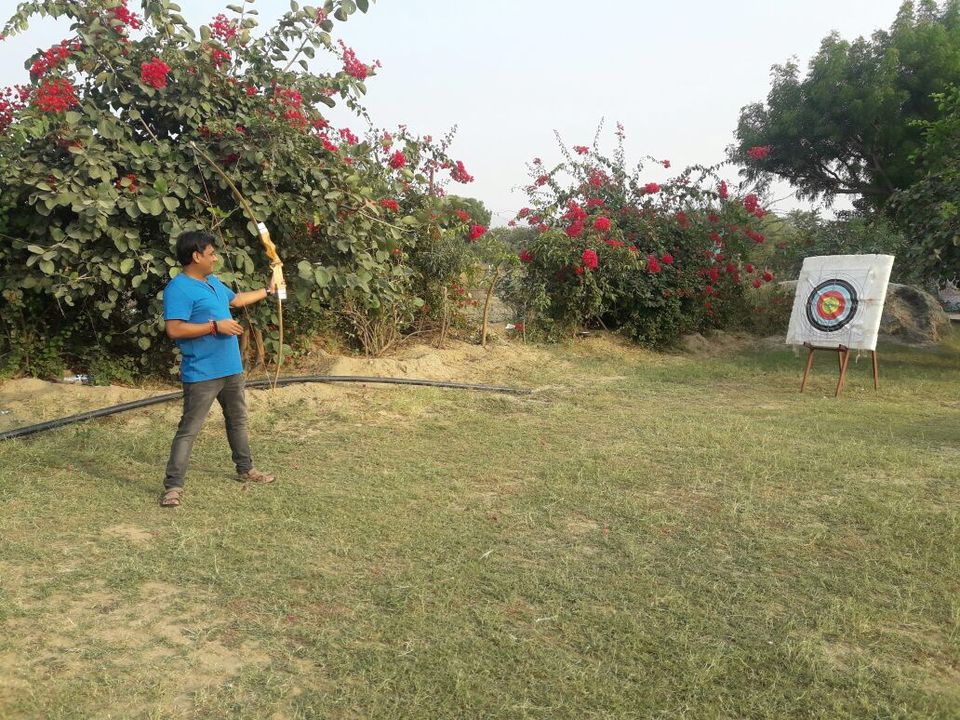 Its always a sad feeling to start journey back. But it also motivates to reach back home safely to plan yet another road trip. So with a blend of sad and happy feelings i took these pics before leaving the resort: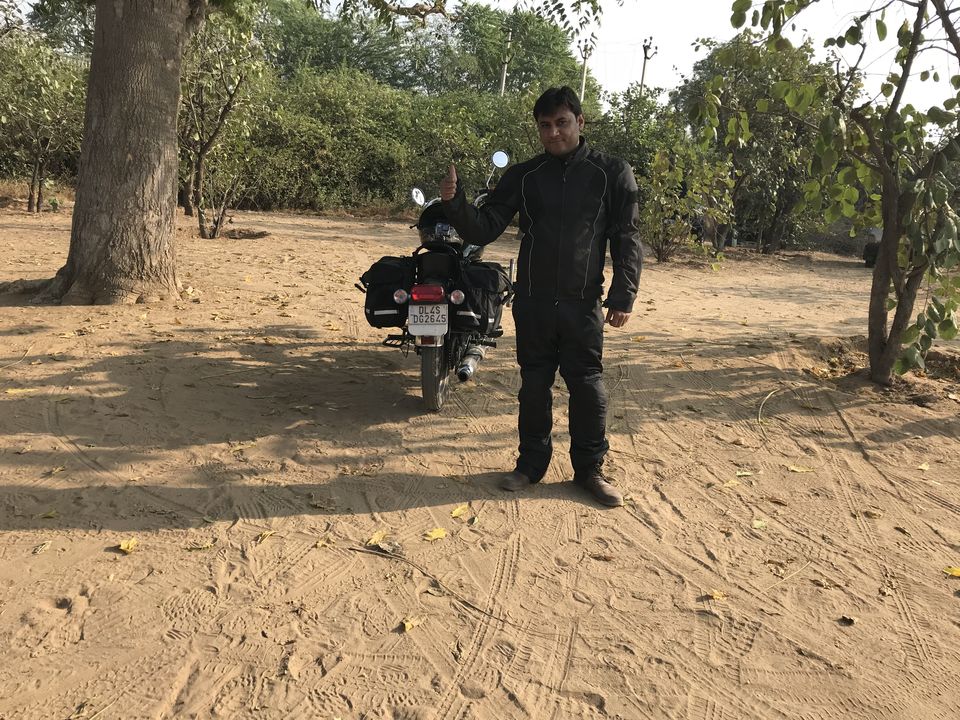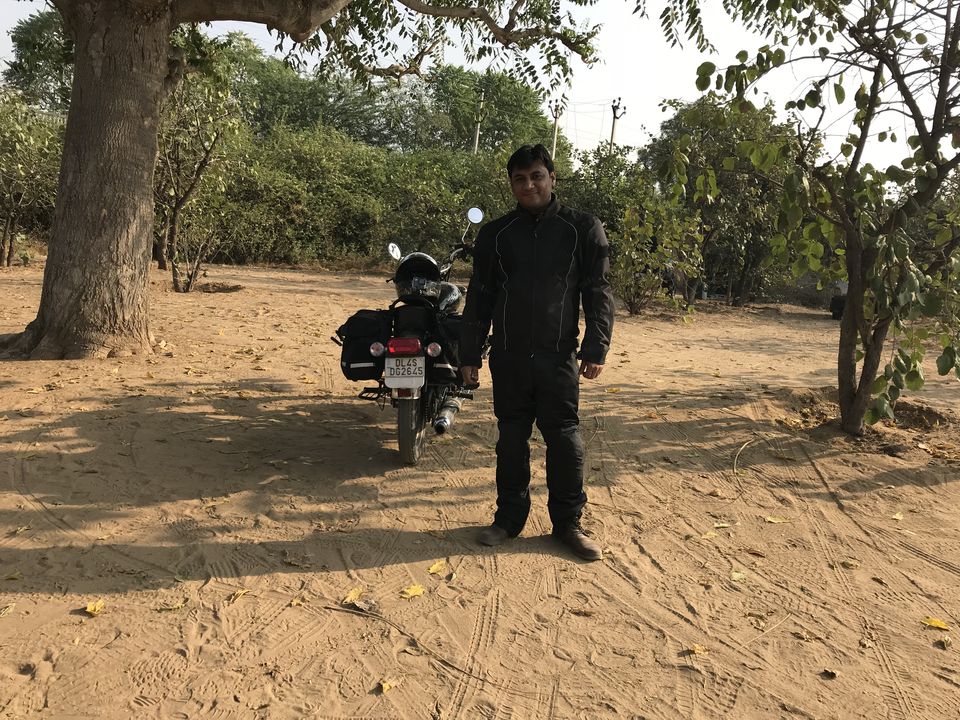 I started my bike at 1000 hours and rolled back towards delhi. Return journey is always boring as you leave behind the memories of the beautiful place which you have visited. I maintained a constant speed of 80 kmph and took my lunch break before few kms from jaipur. Had this simple daal & roti: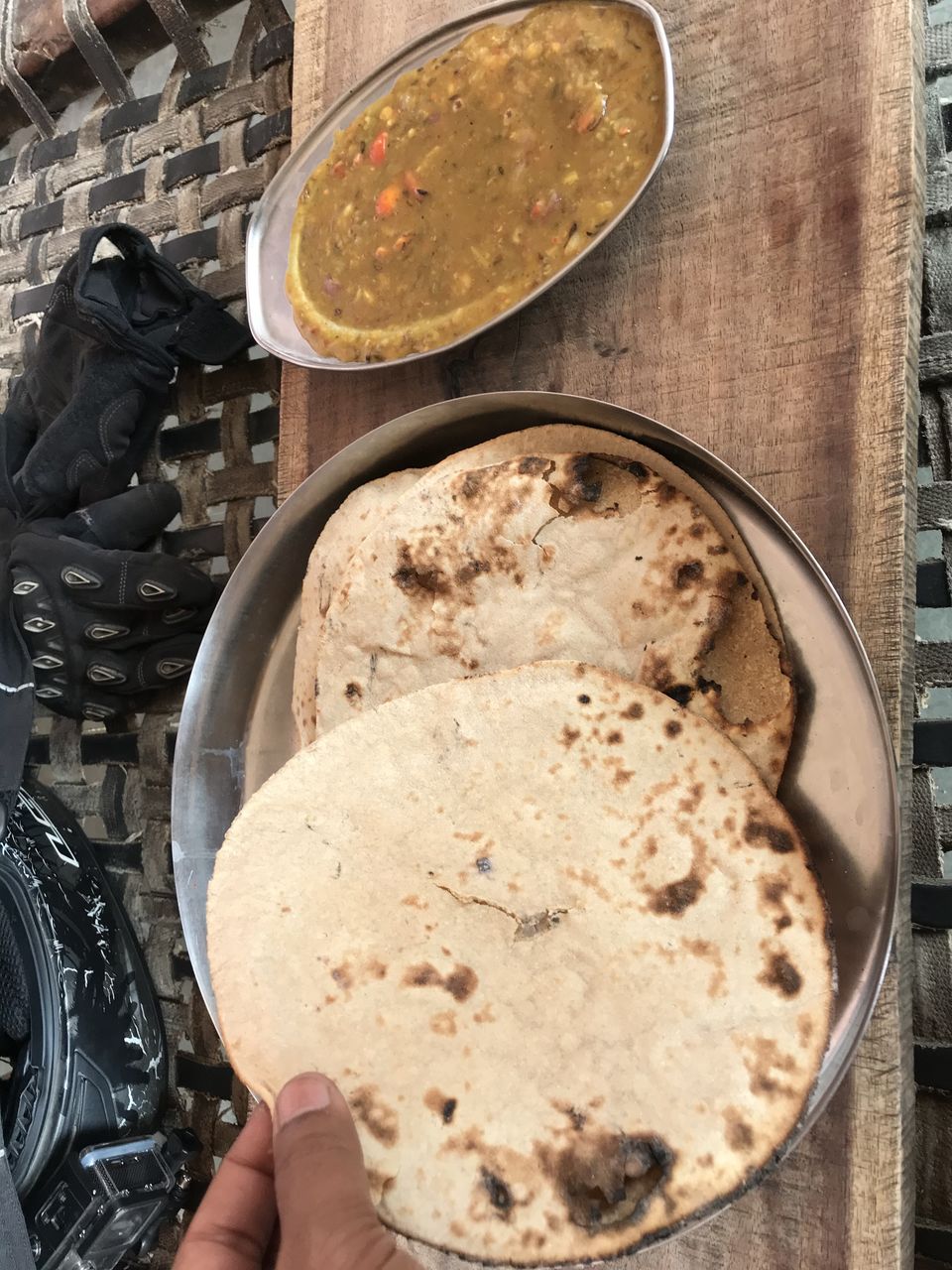 After lunch started again and took one water break in mid of jaipur bypass road. Again rolled and took tea break at neemrana. I entered gurgaon by 1600 hours and finally reached home by 1700 hours.
With this my pushkar trip ended. It was a great ride and a great experience to explore pushkar. And yeah guys one can rent scooty or bike in pushkar just like Goa. There are many shops that deals in letting you rent a scooty or bike to explore in and around pushkar.
I hereby end this experience by sharing this thought from Lin Yutang.
"No one realizes how beautiful it is to travel until he comes home and rests his head on his old, familiar pillow." – Lin Yutang