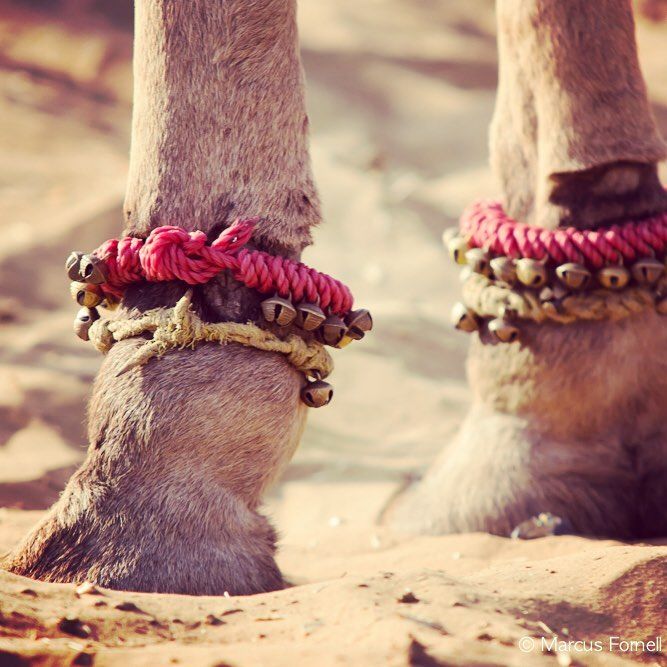 Image by: Marcus Fornell Photography
Feeling really peaceful after visiting the holy Ajmer Sharif? Wait just yet. And travel another 14 km down to one of the oldest cities of India: Pushkar.
According to Hindu mythology, Brahma, the creator, sprouted the Pushkar lake, along which, the beautiful Pushkar town was built. Adding to this, the city has a record 500+ Hindu temples that are thronged by millions of devotees all around the year. However, it is during the month of Kartik Purnima that this city takes on a different character altogether! It gets a new lease of life, and the already touristy Pushkar is flooded by traders and artisans and tourists and devotees from all over the world. Such is the magnanimity of Pushkar Mela!
PUSHKAR MELA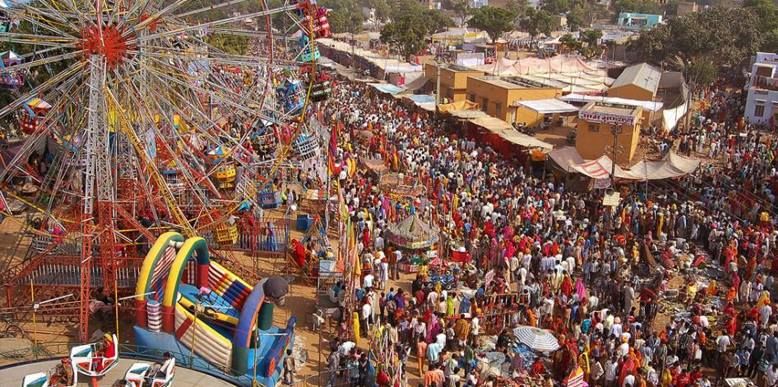 Image by: Rajasthan Tourism
Pushkar Mela is a 5-day long festival that begins on Kartik Ekadashi and finishes on Kartik Purnima (Full moon day). The Pushkar Fair is a beautiful amalgamation of culture, religion, and commerce. It displays the rich cultural heritage of Rajasthan through various folk dances and other art forms.
However, it is the Bazaar that will catch your attention in the first go! Little, little shops are lined up at a distance of 100 meters, and they sell almost everything from jewelry to tie and dye fabrics to artifacts to what not! It is safe to say that Pushkar Fair is a top notch revenue generating festival for the Rajasthan government! At the same time, the Pushkar Mela also assumes major religious significance, especially on the day of Kartik Purnima. It is on this day that thousands of devotees from across the globe take a dip in the holy Pushkar lake.
PUSHKAR CAMEL FAIR
Any discussion on the Pushkar Mela is incomplete without mentioning the most important aspect of it: the Pushkar Camel Fair. It is this Camel Fair that is the pride of the Pushkar Fair. Traders from all over the world assemble in Pushkar to indulge in Cattle trade. Though Sheep and Horses and Cows are also traded, it is the Camels that take the cake! This symbolic importance of Camels is represented through dressing up of Camels in beautiful, colorful clothes and ornaments; beauty competitions and Camel races; and ritualized Camel nose piercing, akin to dressing up as a bride.
Hundreds of traders from hundreds of cities come together to buy and sell thousands of Camels. No wonder the Pushkar Camel Fair is the world's largest Camel Fair!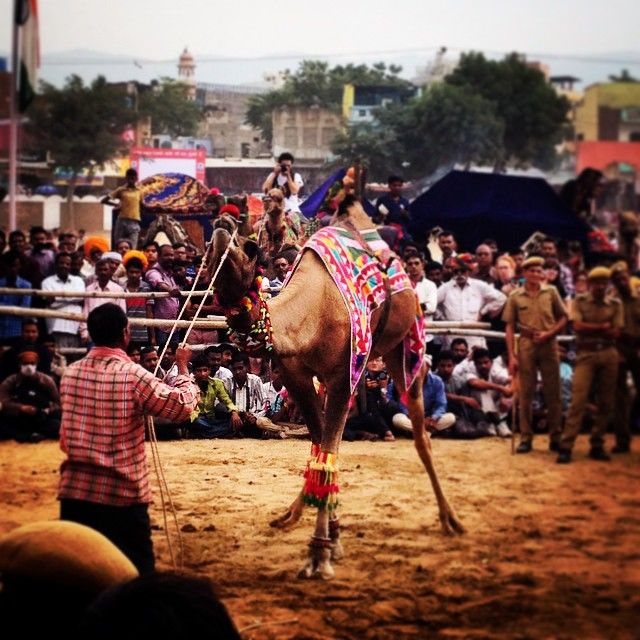 Image by: Facebook/ Sivesh Chauhan
PUSHKAR CAMEL FAIR 2016
Come November, and all your senses will be awakened. The Pushkar Fair 2016 is from 8th November to 14th November. It offers a buffet of events like the famous Camel race, the Camel beauty contest, the bridal contest, the Matka Phod contest, the turban tying competition and the Kabaddi matches amidst a plethora of art and cultural programs. So, come, immerse yourself in the beauty of zeal and colors and of course, Camels!
How to reach?
You can easily reach the Pushkar Fair 2016 by all modes of conveyance. The closest airport is the Jaipur International Airport, from where a bus/taxi would take you to Pushkar. By rail, Ajmer is the closest station to Pushkar and a lot of trains like Shatabdi Express and Pink City Express ply to Ajmer on a daily basis. However, the easiest and the most economical way to reach Pushkar is through roadway buses that will drop you at Marwar or Ajmer bus stands. The frequency of these buses is really good too.
Where to stay?
Though there is still a lot of time for the Pushkar Camel Fair 2016, considering the frenzy of the festival and the sheer grandiosity of it, it is advisable that you book an accommodation at the earliest. Pushkar hotels range from heritage hotels to luxury hotels to budget hotels; while other kinds of accommodation include camp and farm stays.
If you're the type that would kill for a good view, book yourself an exotic resort that would let you beam through the majestic city of Pushkar from sunrise to sunset. Some options include the J.P. Village Resort, the Green Park Resort, the Pushkar Bagh and the Pushkar Resort.
If luxury is your thing, a wide variety of Pushkar hotels are waiting to treat you like the Supremes! Some of them include the Pratap Palace and Dera Masuda.
If you're an enthusiast of the rich cultural heritage of Rajasthan, again, a number of Pushkar hotels are lined up for you. Some of these are the WelcomHeritage and the Pushkar Palace.
Pushkar Mela is an experience in itself, and if that is what has driven you to come here, there are plenty and plenty of budget hotels too. Also, a lot of locals have now opened up their houses and farms for tourists to stay, as well. Apart from this, you could also choose to stay at a camp, like the Bliss camp, for a blissful experience!
So, what did we learn? That even though there are endless Pushkar hotels to accommodate endless devotees and tourists and traders, you should pick your best bet at the earliest, so you can experience the magic of Pushkar Camel Fair 2016 hassle-free! Hurry!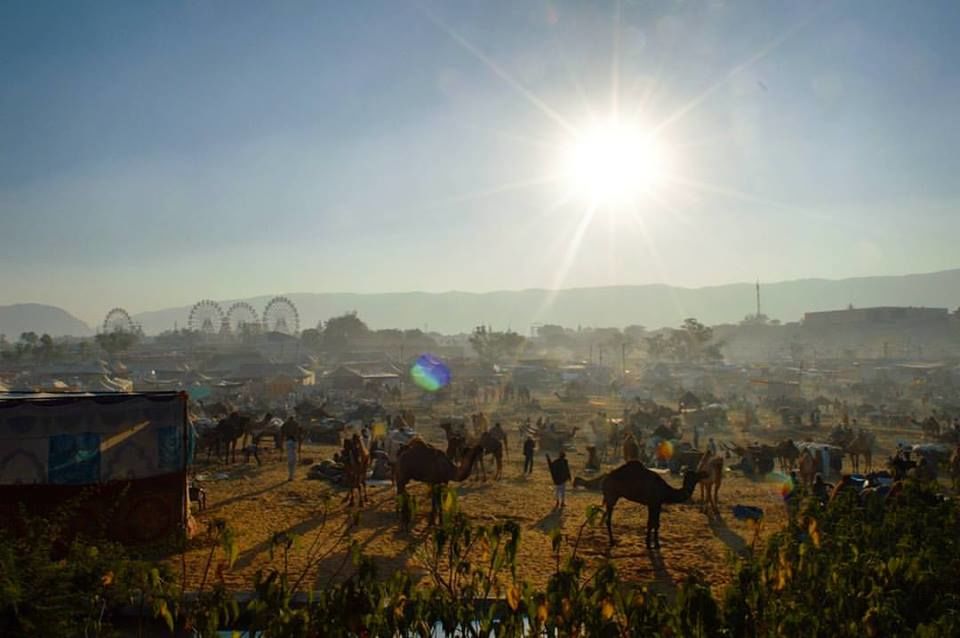 Image by: Facebook/ Abhijit Prabhu Patturhallimath