The below travelogue is an itinerary of Road Trip to Rajasthan from Pune. It covers Pune - Mount Abu - Jodhpur - Jaisalmer - Gandhinagar - Mumbai - Pune. The trip was done during December 2017 and we traveled 2600 km in the span of 10 days.
When you think about Rajasthan, images of majestic forts, palaces and the Thar Desert flashes through the mind. Rajasthan literally means - Land of Kings. It has been home to the mighty Rajputs who ruled most parts of the region during the medieval period. We had already visited Jaipur and Jodhpur in the past. In 2017, we decided a road trip to Rajasthan to explore the rest of the major attractions.We identified Mount Abu, Jodhpur and Jaisalmer as the travel destinations. To break the journey and complete the round trip, we included Gandhinagar (Gujarat) in our itinerary. After staying in Pune for almost 4 years, we never got a chance to visit Mumbai, so the 'city of dreams' was also included in our list.
Prerequisites
We planned 10-day trip covering all of the above destinations. There are certain things to keep in mind before planning for a road trip in India. Please refer to my below page for some tips.
Road Travel Tips
Plan
1. Point of Interests (POIs): We zeroed down to the below POIs for this trip.
Mount Abu: Nakki Lake, Dilwara Temple Jodhpur: Umaid Bhawan Palace, Mehrangarh Fort, Jaswant Thada Jaisalmer: War Museum, Jaisalmer Fort, Gadisagar Lake, Kuldhara, Thar Desert Gandhinagar: Akshar Dham, Dandi Kutir Museum Mumbai: Guided bus tour of the city.2. Set the Itinerary: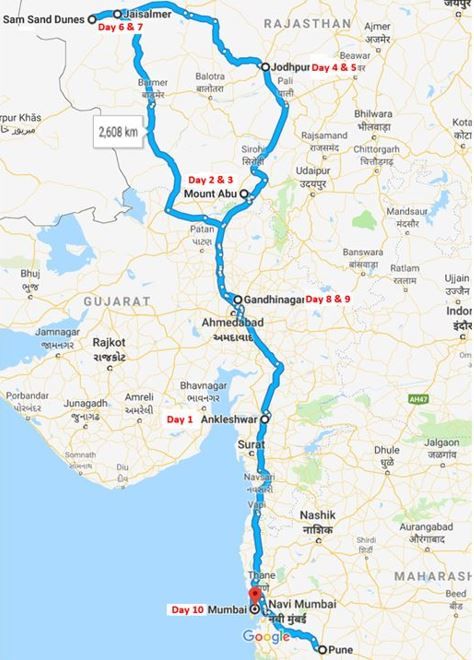 Rajasthan Itenerary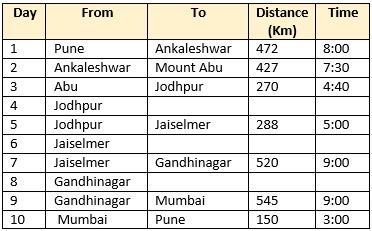 3. Book Hotels: The below hotels were booked based on the criteria mentioned in the Prerequisites.
Note: While planning, I have taken inputs on road conditions from and would like to thank the community for their contributions. Most of my online hotel bookings are done via makemytrip and
The Journey
Our ride was petrol variant sedan - Maruti Swift Dezire with 1197 cc engine. My fellow passengers were my wife and 2 kids. Me and my wife were to take turns to drive.
Day 1: Drive from Pune to Ankleshwar (472 km, 8 Hrs)
We left Pune at 8 am and took NH48 (Pune-Mumbai Expressway). The first stop was for having breakfast at Expressway Food Plaza at Khopoli. It is a nice place to stop between Pune and Mumbai for a quick bite. It offers plenty of different types of food options and good enough parking space. After having breakfast we continued our journey towards Mumbai. By 12 pm we entered Mumbai. Our route passed via Panvel - Kharghar - Airoli - Thane and joined NH-48. We had lunch at Parsi da Dhaba, which is on the highway in village Talasari and serves authentic Parsi dishes. We ordered chicken farcha, salli kheemo with tandoori roti.
Continued our journey and checked-in our hotel (Hotel Apex) by 7 PM. The hotel is conveniently located close to the highway. We had dinner at the nearby restaurant and retired for the day.
Toll Paid: 230+35+65+65+60+65+60+70 = 650
Day 2: Drive from Ankleshwar to Mount Abu (427 km, 8 Hrs)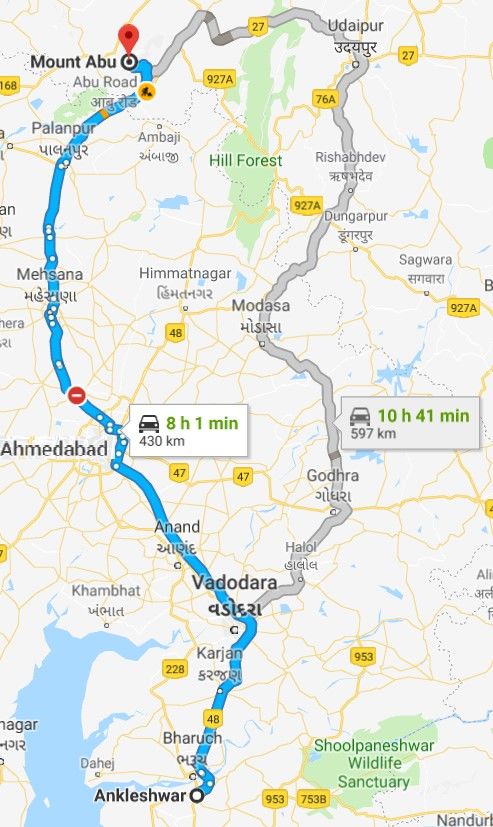 Ankaleshwar - Mount Abu
We checked in the hotel - Hotel Blue Valley, by 4 pm. In the evening we visited the Dilwara Jain temple and Nakki Lake.Dilwara temple were built between 11-13th century. The temple seems simple and ordinary from outside but its interiors of marble stone carvings are phenomenal and unmatched. The minutely carved ceilings and the pillars are just amazing. The temple opens between 12-6 pm and photography is not allowed inside the temple.
Nakki Lake is the only Indian artificial lake which is situated at a height of 1200 km above sea level. As per legends, this lake was made by deities by using nakh's or nails. That is why it is famous by the name of Nakki Lake. The hill station goes pretty cold during night at winters, therefore it is advised to carry a woolens if you plan to travel during the months of December or January. We had dinner at one of the restaurants near the lake and returned back to our hotel by 9 pm.Toll Paid: 20+90+95+55= 260
Day 3: Drive from Mount Abu to Jodhpur (270 km, 5 Hrs)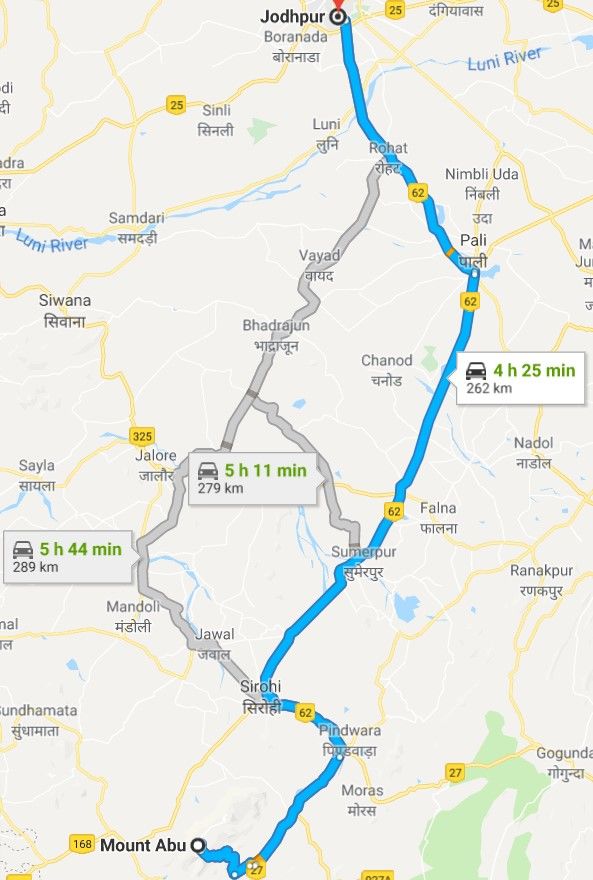 Mount Abu-Jodhpur
We tried the famous -"Mawa Kachori" (palm-sized Kachori dipped in sugar syrup) and "Makkania Lassi" at "Shri Mishrilal Hotel", which is close to the Clock Tower. Walking distance from there is - "Shahi Samosa". As the name suggests, the shop is famous for its samosa which is stuffed with dry fruits along with regular potato, onion and spices. Near to the shop is "Arora Chat Bhandar" which serves regular chat items. All of these places are very popular with the locals and tourists and is always packed. Further at a distance of approximately 500 meters is "Janta Sweet house". This renowned eatery is known for its quick snacks like Onion & Mawa Kachori, fast food and juice counters.
After gorging on so many delicacies we had to skip our dinner. We were back to our hotel by 9 PM.
Toll Paid: 35+105+75+40=295
Day 4: Explore Jodhpur
Day 4 was for exploring magnificent palaces of Jodhpur. We visited them in the below sequence.
Umaid Bhawan Palace - The construction of Umaid Bhawan Palace was started in the year 1929 and it was completed in 1943. The palace is situated on the highest point in the city. The palace boasts of a combination of Indian and European style of architecture. A part of the palace still serves as a residence to the former royal family, while other two parts of the palace are converted into Taj Palace Hotel and museum. The museum is open to the public, while the hotel is only accessible to the guests and the entry to the residence is prohibited.
Opening Timings: Open on all days (10am to 4:30pm). Time required: 1-2 hours.
Mehrangarh Fort - It is one among the largest Indian forts. This invincible fort stands magnificently 400 feet above the city. Rao Jodha constructed the fort in 1459 AD. The fort took several centuries to get completed, hence various style of architecture are visible in the fort. Hollywood movie - "Dark Knight Rises" was shot here.
Opening Timings: Open on all days (9am to 5pm). Time required: 2-3 hours
Jaswant Thada - Jaswant Thada was built in memory of Maharaja Jaswant Singh - II, the year 1899. This is close to Mehrangarh Fort. It's made of marble with beautiful carvings. Inside, portraits of the Rathore rulers are displaced on the walls. The grounds of Jaswant Thada consist of a stunning multilevel garden and a pond.
Opening Timings: Open on all weekdays (9am to 5pm). Closed on all gazette holidays. Time required: 1.5-2 hours.
Day 5: Drive from Jodhpur to Jaisalmer and Explore Jaisalmer (288 km, 5 Hrs)
We were schedule to travel to Jaisalmer on Day 5. We checked out of the hotel at 9 am and took NH-125 till Pokhran and later joined NH-11 till Jaisalmer.
10 km short of Jaisalmer is the Jaisalmer War Museum. Though, the war museum was not part of the schedule, we decided to pay a visit. The Museum displays war exhibits which include vehicles and equipment captured during Indo-Pak war in 1965 and 1971. The museum is open on all days including Sundays and public holidays from 9AM to 7PM. The entry for the museum is free and has got an ample free parking area.
After spending an hour at the war museum, we continued our journey to reach our stay in Jaisalmer - Hostel Fort side, which we reached at 3:30 PM. As the name suggests, this place is more like hostel rather than a hotel. It is a preferred option for backpackers mostly from Europe. The hostel is in narrow by-lanes and does not have a parking facility. The hostel Manager made arrangements at a nearby open space for parking our car.
We visited the Gadisagar lake in the evening. The lake is walking distance from the hostel. It was constructed by Raja Rawal Jaisal and later reconstructed by Maharawal Garsi in 1367. The people of the desert city depended on this tank for their water needs. Temples and shrines can be found around the banks of this lake. The entrance of the lake is made of yellow sandstone and offers a beautiful view. After spending some time at the banks of the lake we returned back to our hotel before sunset.
The best part of Hostel Fort Side is its proximity to the Jaisalmer fort which looks beautiful during the evening from its rooftop.
We visited the famous restaurant - "The Trio" for dinner. The restaurant serves some delicious Rajasthani dishes. The live Rajasthani music performances with harmonium and dholak add to the ambiance.
After dinner we returned back to the hotel and crashed into our beds. Next day was for visiting the Jaisalmer Fort early in the morning and then drive to see the Haunted city of Kuldhara and Sam sand dunes.
Toll Paid: 50+50=100
Day 6: Drive from Jaisalmer to Kuldhara & Desert Resort at Sam
We got up early in the morning and walked to the Jaisalmer Fort. Jaisalmer fort is built on a hill that rises above the surrounding city. Inside the fort complex ones can find several architectural buildings which include palaces, houses and temples made up of soft yellow sandstone. The fort is so expansive that almost one-quarter of the town's population is located in this fort itself.
* Tickets: 30 INR for Indians, 70 INR for other nationalities. 50 INR for still camera and 150 INR for videography.* Opening Timings: Open all days (9 AM - 5 PM).* Duration: 2-2.5 hours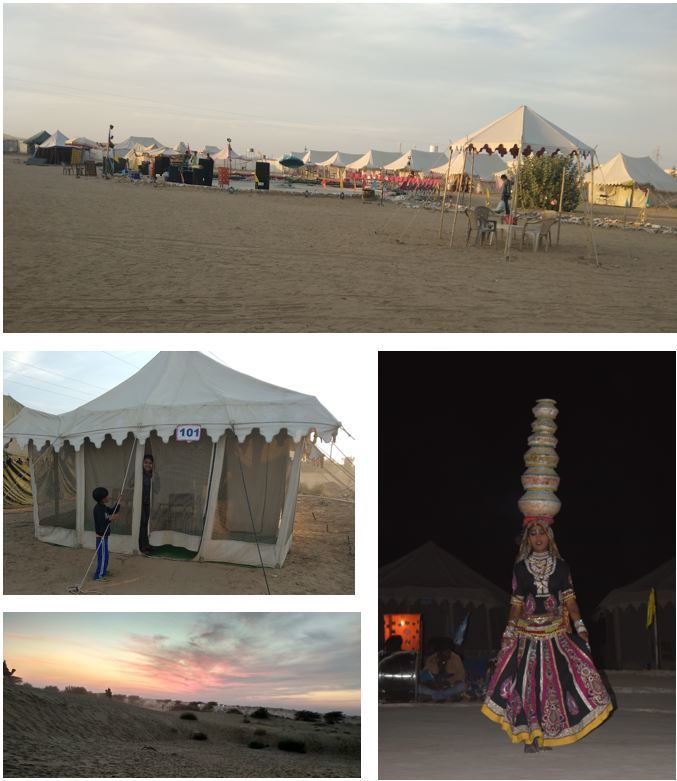 Divine Jaisalmer Desert Resort
We were back to our hostel by 12 pm. We checked out and headed for Sam via Kuldhara. The road from Jaisalmer to Sam is maintained by Border Security Force (BSF) and is in an excellent condition.
Kuldhara - It is 19 km from Jaisalmer and it seems to have been abandoned in early 19th century possibly because of dwindling water supply or an earthquake. There is also a local legend that - Salim Singh, the cruel diwan of Jaisalmer, was hell bent on marring daughter of the local chief. Fearing the wrath of the diwan, the residents of the entire village fled one dark night, leaving behind their homes and everything within them. They cursed the town when they left - that no one would ever be able to settle down in Kuldhara again.

Camel Desert Safari
After spending an hour at Kuldhara, we drove to Sam. 4 pm, we checked in the Desert camp- Divine Jaisalmer Desert Resort. The camp offers accommodation in Swiss camps. We drove to a near by Sand Dunes in the evening. There were series of folk dance and music events organized at the camp during the night.Toll Paid: 0. This route does not have any tolls.
Day 7: Drive from Sam to Gandhinagar (550 km, 12 Hrs)
We started our day with camel safari to a couple of nearby sand dunes.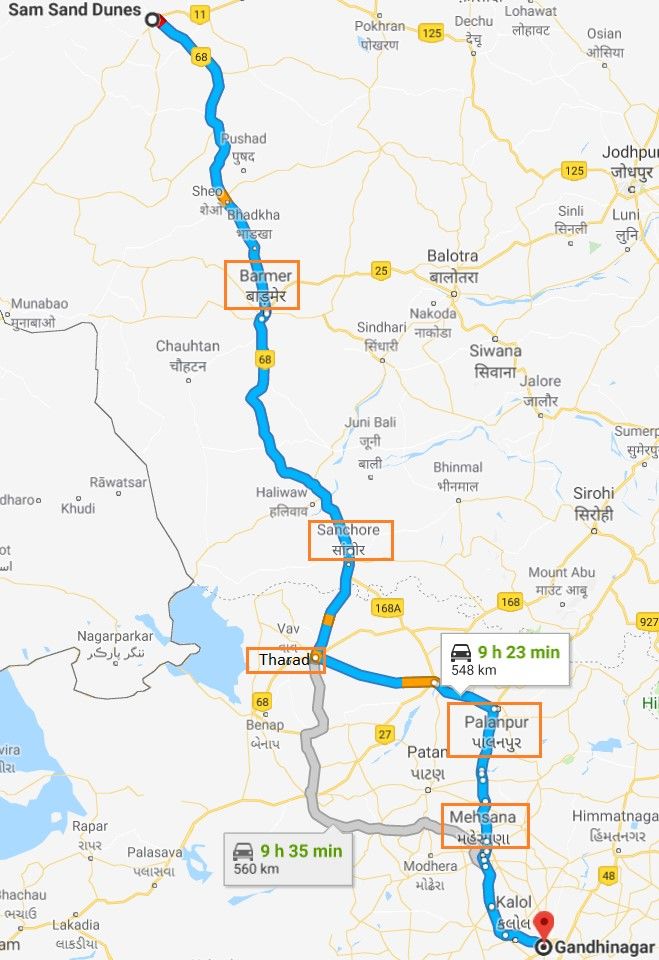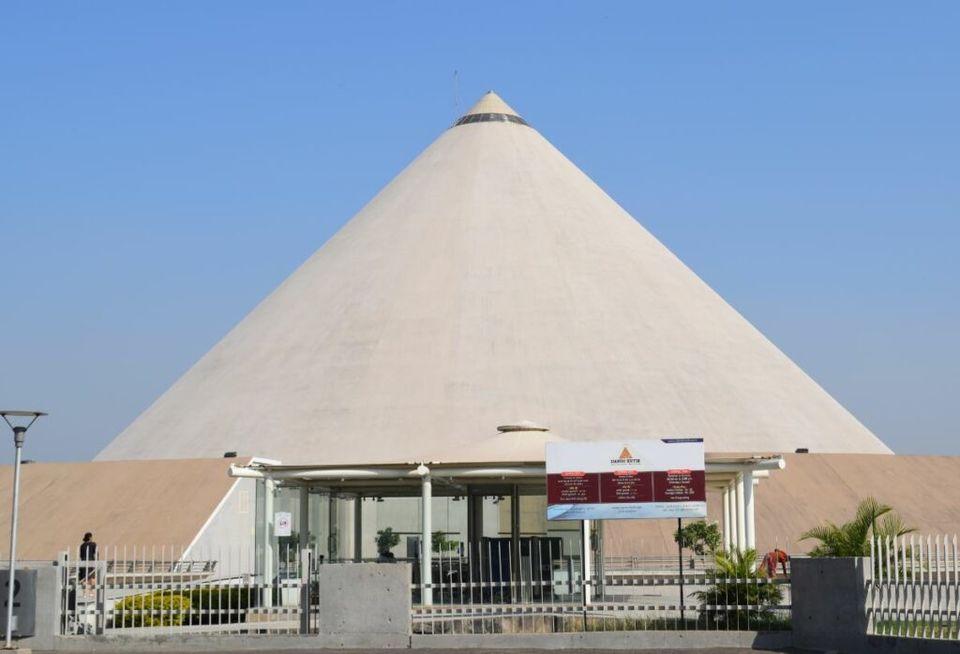 Dandi Kutir Day 8: Explore Gandhinagar
Day 8 was for exploring the beautiful city of Gandhinagar. It is the capital of Gujarat and a well-planned city, which reminds of Chandigarh. We planned to visit the 2 most famous destinations of the Gandinagar - Akshardham and Dandi Kutir.
Dandi Kutir is a salt-mound-shaped museum dedicated to the life of Mahatma Gandhi, creatively portrayed with the help of sophisticated technologies such as 3D mapping, holography, 360 projections, transparent LED screens etc. It is a must visit destination if you are in Gandhinagar.
Time Required: 01.30 hoursTimings: Tuesday to Sunday. 10.30 AM to 5.00 PMCharges: Rs. 10/- for Indian Nationals and Rs. 200/- for Foreign Tourists
We drove to the Infocity Super Mall for having lunch. One can find lot of eating options to select at this this mall. After lunch, we headed for the Akshardham Temple. Akshardham temple is one of the biggest temples in India. It is dedicated to Lord Swaminarayan and has been constructed from pink sandstone, brought from Rajasthan. The temple consists of a huge monument and a surrounding garden. During evening, they put up a laser water show, which is mesmerizing and is a must see. Unfortunately cameras are not allowed inside the temple, so we could not take any snaps. There are lot of eating options within the temple premises.
Day 9: Drive from Gandhinagar to Vasai (Mumbai) (545 km, 9 Hrs)
Day 9 was scheduled for driving till Mumbai. We had booked Sai Residency at Vasai for our night stay.
Note: If you have time, you can visit the Adalaj Step Well, which is a bit off-way on the Gandhinagar-Ahemdabad highway. Set in the quiet village of Adalaj, it has served as a resting place for hundreds of years for many pilgrims and caravans along their trade routes. The step well is a spectacular example of Indo-Islamic architecture and design. Visiting Hours: 06:00 am to 06:00 pm, every day.
We checked out from our Hotel in Gandhinagar at 9 am and took NH-48 to reached Vasai by 6 PM. Hotel- Sai Residency was pretty close to the highway. We slept early as the next day for scheduled for exploring the city of dreams - Mumbai.
Toll Paid: 95+90+20+70+60+65+60+65=525
Day 10: Explore Mumbai and Drive to Pune (150 km, 3 Hrs)
Early morning at 7 am, we drove though Mumbai to parking lot at Kalaghoda near Gateway of India. We walked to Gateway on India and spend some time there. Gateway of India was built during British rule to honor King George V and Queen Mary on their visit to India.
At Gateway of India, there are a lot of private operators which do a guided tour of the city on bus. They charge anything between 500-700 per person and make you visit the most prominent places in Mumbai. We took one of this guided tours and visited the below places in the same sequence.
* Museum (Chhatrapati Shivaji Maharaj Vastu Sangrahalaya): It is the biggest and main museum in Mumbai. It houses an outstanding collection of sculptures, excavated artifacts from the Harappan sites, paintings, porcelain and ivories from China and Japan, etc. One can easily spend 4-5 hours in the museum. * Marine Drive - It is a 3 km long C-shaped road which runs by the coastline. The view of the Arabian sea and the Palm trees on the sides provide an excellent ambiance for walking along the Marine drive. On the northern end of Marine Drive is the Chowpatty beach, which is lined by food stalls and hawkers, restaurants and various other entertaining choices like merry-go-round, ferris wheels etc.* Hanging Garden - The famous garden located on the Malabar Hills is built on a water reservoir. It covers a vast area and is known for its splendid green vegetation and animal shaped hedges.
* Mahalakshmi Temple & Haji Ali - Mahalaxmi temple is one of the oldest temples dedicated to 'Goddess Mahalaxmi'. Walking distance from the Mahalaxmi temple is Mosque of Haji Ali which is located on an island near Worli coast. It can be reached during low tide via a narrow approach road. * Bandra-Worli Sea link - We passed via the iconic Bandra-Worli Sea Link which is a cable-stayed bridge built across the Arabian sea. It's an architectural marvel and reduces travel time between Bandra and Worli from 20-30 minutes to 10 minutes.* Science Museum (Nehru Science Center) -Located in Worli, it is India's largest science center and has variety of science exhibits. The place is huge and easily takes 2-3 hours to visit all the sections.* Juhu - It is among the most affluent areas of Mumbai and home to many Bollywood celebrities. Our bus drove through the residents of Bollywood's Khans and a couple of other celebrities.
Juhu was the last point of the guided tour. From there the bus returned back and dropped us to the car parking at Kala Ghoda by 7 PM. The parking rates at Mumbai are on hourly basis and are pretty costly. Fortunately, it being a Sunday, parking was free. We drove back to Pune via the expressway and were home by 10 PM.