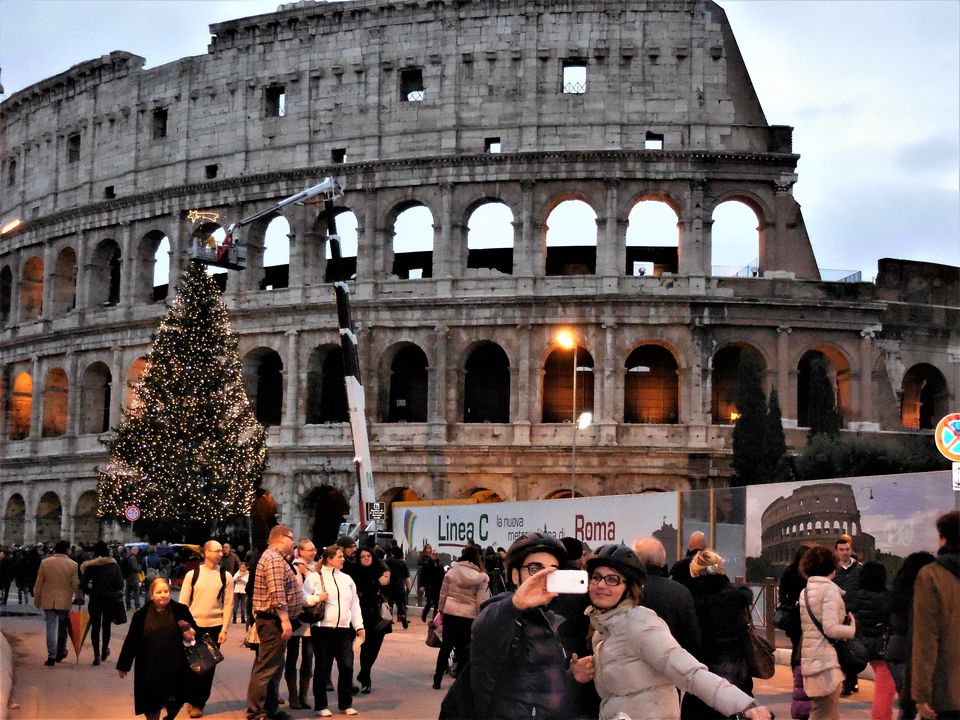 Rome, the Eternal City, has rich history of culture, art, food and engineering marvels. The monuments like Colosseum, The Spanish Steps, Patheon and Trevi Fountain have been written and read about countless times.
Rome was not built in a day – John Heywood
The words of John Heywood are so true and you can literally feel it when in Rome.
A 3 days or 5 days trip will also not be enough to visit Rome because Rome has too much to offer and you feel like you can't miss any of those sights.
Whether its 1 day or 3 days or 5 days visit, Rome definitely needs a plan in place because :
• Most of the sights have opening and closing time
• There is entry fee for important sights (specially all those ones which you can't miss)
• There are long…very long queues for entry
I did Rome in 3 days and covered almost all must to see places including attending the 15 minutes address by Pope of the Vatican City for which you have to literally keep half a day aside. You can check 3 days's itinerary in my blog - How to Visit Rome in 3 Days: The Perfect Itinerary , on my website. For now let me share with you a plan to do Rome in 1 day. Even if you have just 1 day in hand, you can ensure visiting top must to do places if done in same sequence as proposed here.
Vatican City : Start the day with visit to Vatican – the smallest country in the world. Its amazing to visit a country which is situated in the centre of a city (Rome). You won't even realize when you have crossed the border and entered a new country while just walking. The queue outside Vatican will be huge and it takes around 2 hours or more to reach the entrance gate. Since we don't have that kind of time , our plan should be to admire beauty of St Peter's Basilica from outside, the Egyptian Obelisk at the centre of St Peter's Square and a visit to the post office of Vatican City which is in St. Peter's Square only.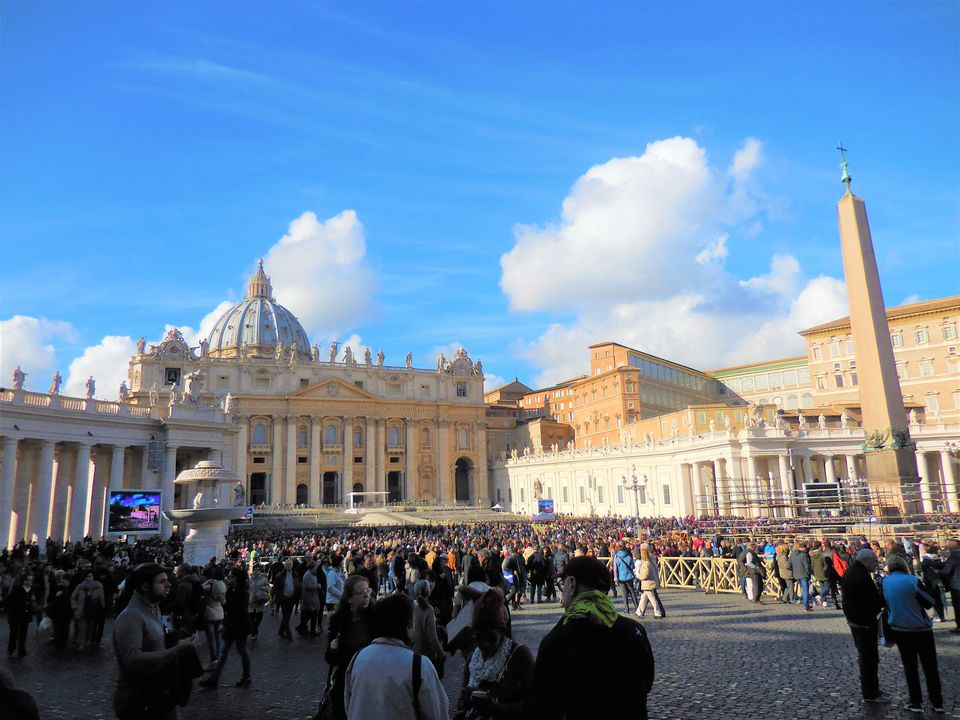 You start for Piazza Venezia when you are done with Vatican city. On the way you will cross Castle Sant' Angel which is situated on the banks of the Tiber river. Do not forget to take some nice pics of these sights too ;-)
When you reach Piazza Venezia, you will see a huge structure made with white marble (very different from all other sights which are mostly brown). Its Altare della Patria (Altar of the Fatherland). Currently it's a museum and I don't suggest you to visit this museum simply because of lack of time. You can surely miss that but the view from the terrace of this monument is amazing and not to be missed. You will not only get good view of the city Rome but also will be able to see Roman Forum, Trajan's market and the famous Colosseum.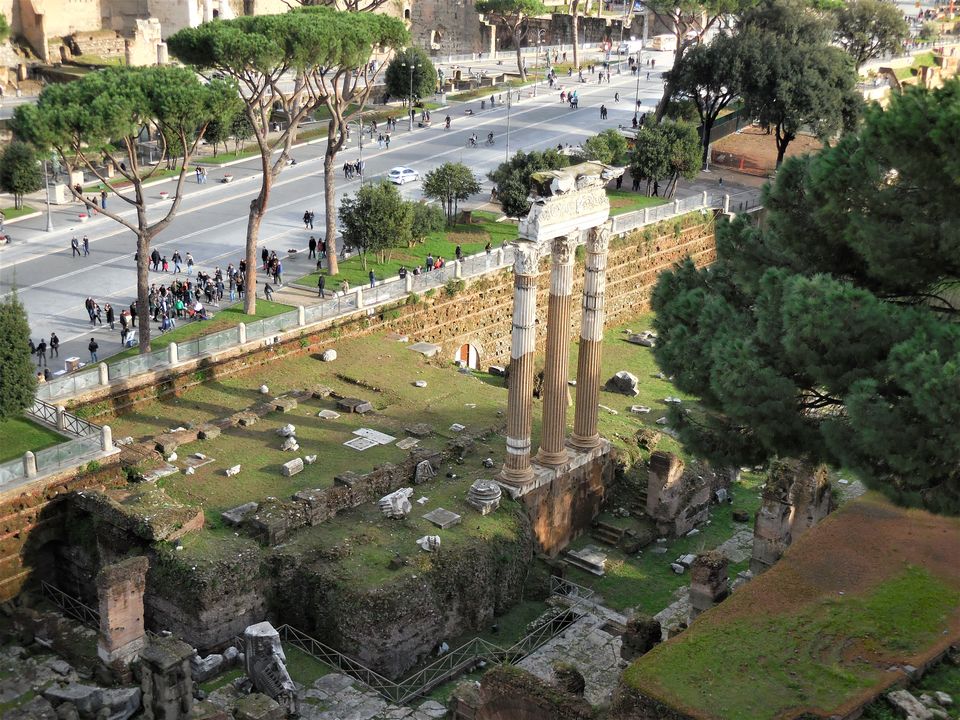 Once done with terrace view, start walking towards colosseum. On the way pick something to eat for lunch from a food truck or some vendor. Do not stop for shopping from the street vendors as you need to purchase entry ticket for colosseum and yes, one long queue is waiting for you at the entry gate. Once you enter the monument, you can take as much time as you want.
Colosseum : Colosseum (one of the New7Wonders of the world) looks so grand even today when nature , wars and robbers have damaged it time and again. Its world's largest amphitheatre and may be one of the oldest too. First thing which comes in mind seeing colosseum is gladiator fights but you will be surprised to know that colosseum was used for many other activities like exhibition of exotic animals, executions, re-enactments of famous battles and mock sea battles (yes that's true! They used to fill the colosseum with water to conduct these mock sea battles. Can you believe it? Well Rome is full of many such Interesting Facts and Stories). Later it was also used as storehouse, castle for nobles , church , fortress etc. Well, there has to be such array of uses if the building is standing tall even after 2000 years.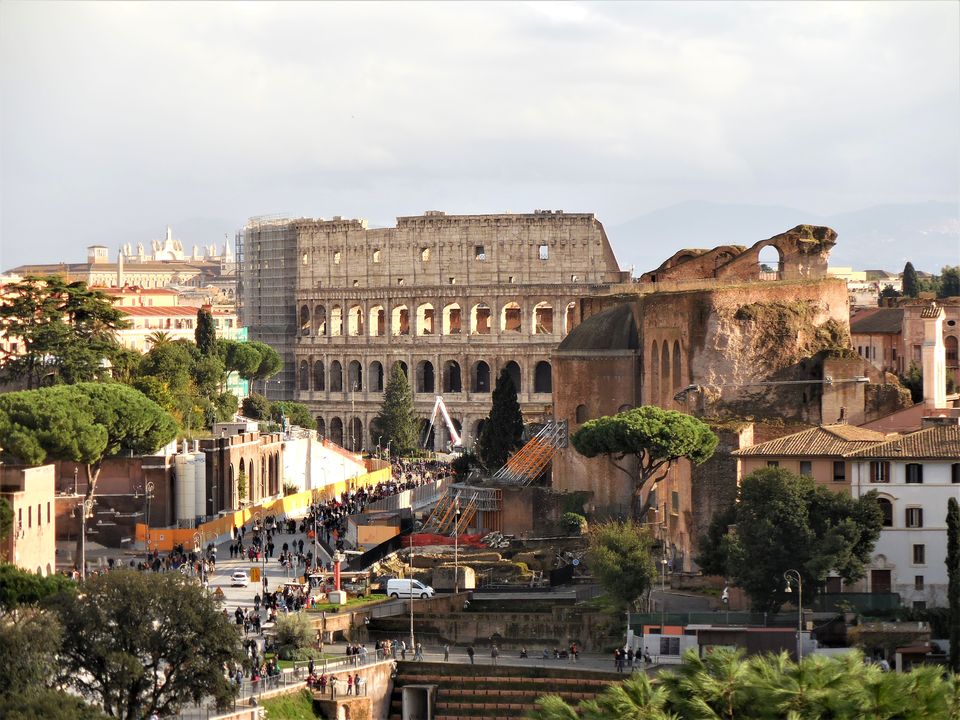 After Colosseum , head to Trevi Fountain. You can do some shopping of souvenirs or other interesting stuff.
Trevi Fountain : There are more than 2000 fountains in Rome but Trevi Fountain is the most popular one and not to be missed. When I visited Rome, this fountain was under renovation so I couldn't see this grand fountain as it is but still threw a coin in it like all other tourists. Its believed that if you throw a coin in Trevi Fountain, you will return to Rome in future. Even if you do not believe in this legend, do throw a coin as the coins thrown in Trevi Fountain are collected every night and used for the needy. Indirectly you would be making contribution to a good cause just by throwing a coin in the Trevi Fountain. Any guesses what is the collection of every day? Its not 100..500…1000 or 2000 but around 3000 euros every single day. WOW that's really amazing! There is really no dearth of such Interesting Facts about Rome.
Its crime to pick coin from the Trevi Fountain , so please even by mistake or for fun do not try anything like this.
Every famous European city has a central place with loads of activities and cafes. In Rome it is Piazza Navona. You had a long day so now spend some relaxed time here while having your dinner in one of the cafés.
Mesmerised with what Rome has to offer? Already thinking to plan a longer trip to Rome? Then read about Roman Holiday in 3 days , ensuring you visit all important and must to do monuments without rushing and enjoy the trip to the fullest.