Can we just take a minute to admire penguins? Actually, what I mean is can we take a minute to gush over how incredibly adorable they are! So much so that I suspect even the Grinch would melt at their sight. I mean, look at them. The flightless birds tread upon land and have swapped their lack of flying with adapted flippers. Wondering what that means? Flippers are what helps them in swimming up to 500 metres deep in the water!
Most penguins live in the Southern Hemisphere with only one species living north of the equator (We will get to that soon!). And, yes, while you and I were busy going "ooh" and "aah" over the cuties from Happy Feet, the reality is that there exist 18 species of penguins. And, if your dream is to see them in person, then look no further because today we're telling you the best possible options for you to see them with your own eyes! Don't worry, we are not sending you all the way to Antarctica for this.
1. Punta Tombo, Argentina
How to reach: You will first have to reach Puerto Madryn and then make this one-day visit. You can reach Puerto Madryn by first flying down to Buenos Aires and then taking an overnight bus till your destination.
Best time to visit: November to March
Species: Magellan Penguins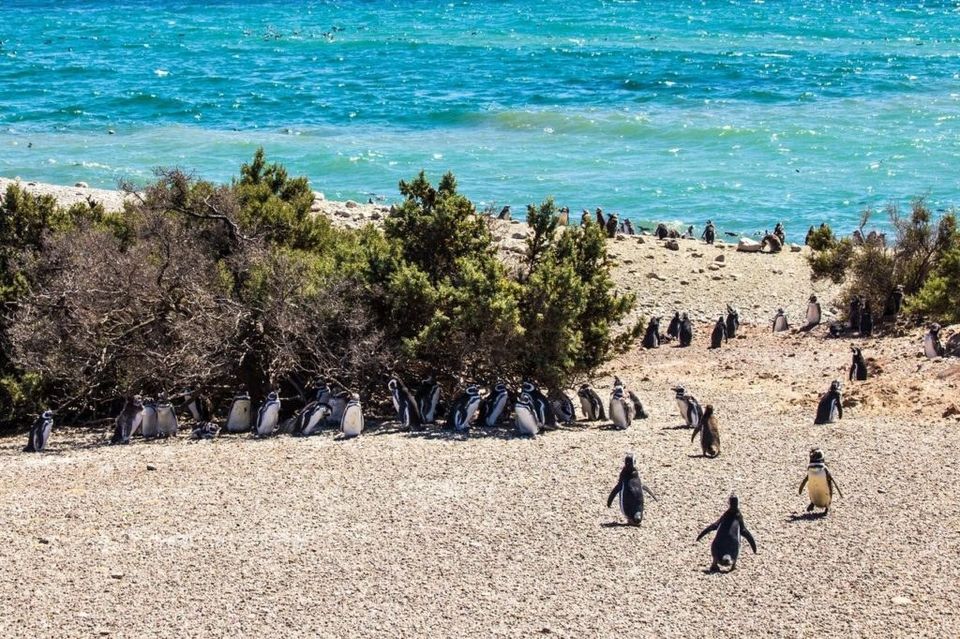 The excursion to Punta Tombo is considered to be one of the most unique experiences to take worldwide. Why? Well, you can spot 1 million penguins together! Yes, that's right. Other than Africa, this is the only other colony of such a large size which can be witnessed by us. This particular species was named after the Spanish ruler Ferdinand Magellan who discovered them somewhere during the 16th century.
A visit to this national park is fascinating because as you start to walk on the trail, you will see the penguins roaming about in complete ease in their habitat. Occasionally, one may even start walking alongside you on the path! They walk just a metre's distance from their human visitors, quite unbothered by their visits. You can hear them calling out to each other, laying in their nest or even heading towards the blue water.
2. Falkland Islands
How to reach: Fly via UK or South America or for the ones who seek plunging into luxury, there's even a cruise!
Best time to visit: November to February
Species: Gentoo, King Penguin, Magellanic, Macaroni and Southern Rockhopper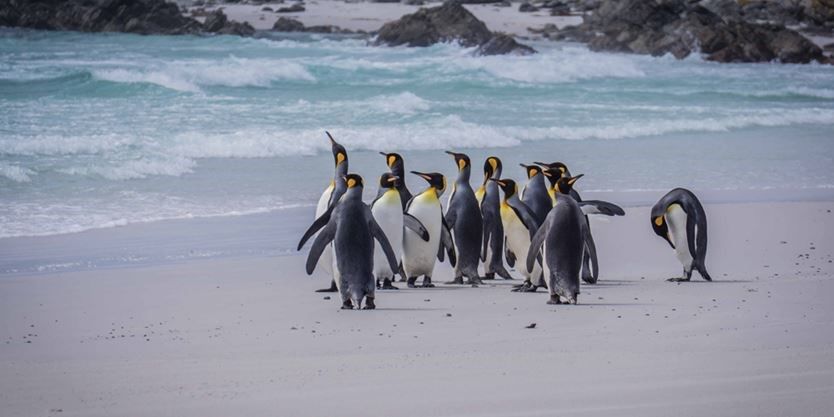 Home to as many as 5 species of penguins, the Falkland Islands are another point of fascination for those enthralled by the chance of seeing these birds. There are different excursions that one can take out here. The island can be pretty windy, a fact due to which you will even see their elder ones encircling the younger ones in between in order to protect them. You will see them walk towards the water or even lounge back in their nests.
A key factor of this region is also how the war between Argentina and Great Britain led to the presence of mines in this area. Efforts are being made to remove them, in the meanwhile paths are well-marked to avoid mishaps.
3. Boulders Beach, South Africa
How to reach: To reach South Africa one would have to catch a flight with a layover in either Ethiopia or Kenya. You can fly in directly to Capetown or catch a connecting flight domestically and then head by road to this beach.
Best time to visit: Throughout the year
Species: African Penguins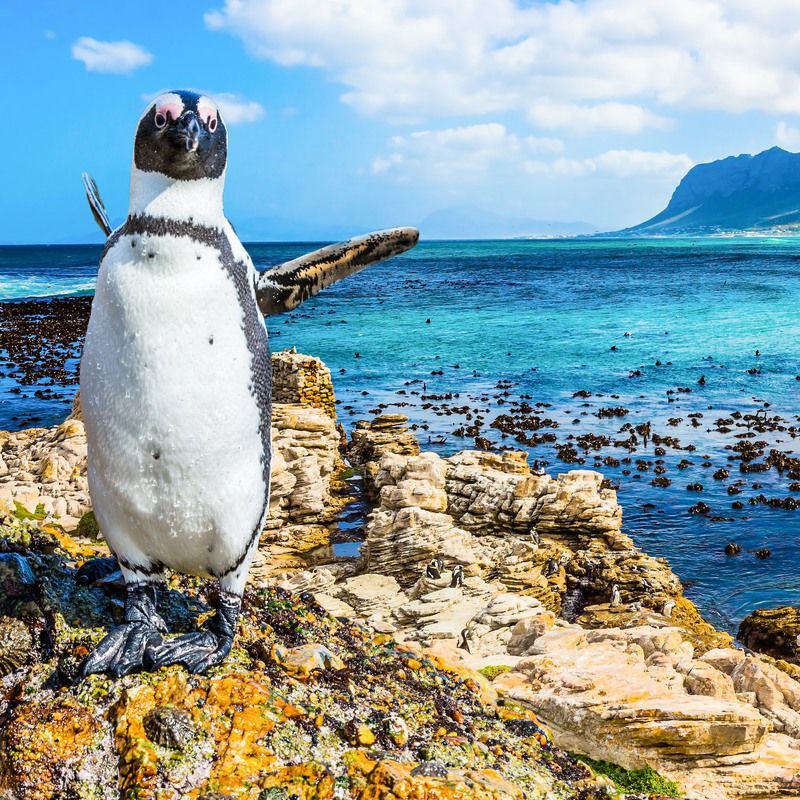 Capetown is a dreamy destination for many reasons. It has a number of waterfronts and a lot of scenic beauty. And, it just gets more beautiful as it is home to the endangered African Penguins. They were originally called the "jackass penguins" on account of the peculiar sounds they made but erm thankfully and respectfully that name has been dropped! Amidst Capetown's beaches, Boulders has earned itself quite the name for the presence of the penguins here.
There are actually 28 colonies of the African Penguins throughout South Africa, however, the sighting here is unparalleled. In fact, you can simply go about your beach day, walking in the soft sand, swimming in the gorgeous water... and find penguins right beside you! Efforts are of course imperative to ensure that the conservation efforts for this rare species bear fruit.
4. Galapagos Islands
How to reach: Fly in to Baltra island, take a bus or ferry till Santa Cruz island and then take a ferry till Galapagos island.
Best time to visit: June to November
Species: Galapagos Penguins
The Galapagos Islands are known for being home to some rich and rarely seen wildlife. The islands are home to lesser seen wonders. And thus, it comes as no surprise that even the penguins here are endemic to the island but unfortunately, endangered as well. This is the only place north of the equator where penguins have made their home. You can see them while you're snorkeling or even while just swimming casually.
These penguins are the second smallest one over the world with a height that just about touches 1.5 feet! But hey, if you're thinking of challenging a penguin while swimming, you are in for some serious competition, my friend, because they can swim as fast as 21 miles an hour! Adding to their endless charm is the fact that they are one of the very few species that mate for life. All this while we'd been thinking that we are the romantic ones but looks like Richard Gere needs to up his game because penguins are ahead of homo sapiens!
5. Ballestas Islands, Peru
How to reach: Fly in to Lima and from there take a bus till Paracas. From Paracas you can take a boat till Ballestas.
Best time to visit: December to February
Species: Humboldt Penguin
The Ballestas Islands are known as the "poor man's Galapagos Islands". Cheeky as it may be, this name comes from the fact that it's equipped with relatively easier connectivity and also works out significantly more cost effective leaving the traveler's pockets pleased! Here you can spot another rare kind of penguin species, that of the Humboldt Penguins.
Amidst the tall standing rocky cliffs and overhanging above the rocks and the water, you will spot this somewhat rare penguin. Additionally, you can spot a number of other wildlife species too over here such as the Peruvian Pelicans and the Blue-footed Boobies to name just a few, making this quite the experience as a whole.
So, whether you're smitten by these creatures thanks to vividly animated series or rather on account of Sir David Attenborough's inviting description of them, the question is you too are aching with eagerness to see penguins? And, if yes, then which of these destinations would be your first pick in order to take on that rare experience?
This article was first published on onhisowntrip.com